New Age Islam News Bureau
18 Jun 2017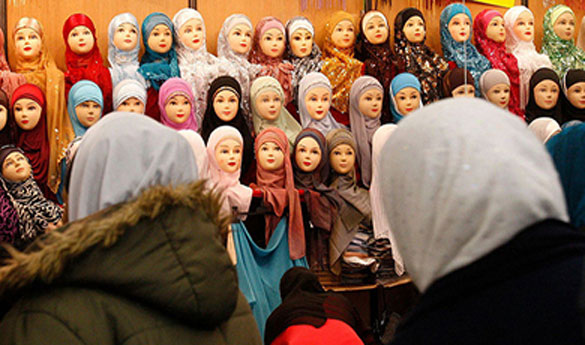 Photo: Kazakhstan plans to ban headscarves, burqa worn by Muslim women
-----
• Wonder Woman Kindles Controversy in the Arab World
• Israel's Christian-Arab Transgender Beauty Queen Opens Up: 'I'm Lucky to Be an Israeli'
• Kurdish Female Commander Klara Reqa Fights against ISIS in Raqqa: Syria
• Art Student Challenges Stereotypes of British Muslim Women
• Sporty Hijabs Encourage Muslim Girls to Hit Field of Play
• Woman Hopes To Become Department's First Cop to Wear Hijab
• Muslim Women File Human Rights Complaint in Canada
• Reducing Gender Gaps Would Significantly Benefit Women and Society
Compiled by New Age Islam News Bureau
URL: https://www.newageislam.com/islam-women-feminism/kazakhstan-plans-ban-headscarves-burqa/d/111584
---------
Kazakhstan plans to ban headscarves, burqa worn by Muslim women
June 17, 2017
The Government of Kazakhstan is working on a legislation to ban the use of headscarves and burqas by Muslim women in public spaces, reports said Saturday.
The Kazakh Religious Affairs Minister Nurlan Ermekbayev has reportedly told Sputnik that they are working on a draft law to prohibit headscarves and burqa, and that the law is necessary for the country's future.
70 percent of the Central Asian country is Muslim, while 24.7 percent of the population consists of Orthodox Christians.
In April, the Kazakh government announced that citizens convicted of membership in Daesh terrorist group will be stripped of their citizenship.
Burqa and headscarf is frequently discussed in European countries, on neutrality and integration grounds.
Austria was the latest country in Europe to ban the use of burqas.
dailysabah.com/asia/2017/06/17/kazakhstan-plans-to-ban-headscarves-burqa-worn-by-muslim-women
-------
Wonder Woman kindles controversy in the Arab world
2017-06-17
She may be 76 years old, but Wonder Woman is stirring passions like never before.
The controversy surrounding the Amazonian superhero began last October, when more than 1,000 UN staffers signed a petition protesting at her being named an Honorary Ambassador for the Empowerment of Women and Girls because they thought her image was "overtly sexualised".
One might think it would be the same scanty outfit and voluptuous curves that had North African and Arab countries banning the summer blockbuster "Wonder Woman" movie, but, no, the stated reason was that Gal Gadot, the actress playing the main character, is Israeli.
First the film was prohibited in Lebanon. Then it was pulled from the Nuits du Cinéma film festival in the Algerian capital, Algiers. Then Jordan banned it, then Tunisia suspended its release, and then Jordan unbanned it—reportedly sparking a backlash. The Times of Israel said that at least one theatre in the Jordanian capital of Amman apologised for showing the movie and cancelled further screenings. The film is currently scheduled to be released in theatres throughout Jordan in July.
There have been other Israeli actors in big movies, and many of those were screened in the Arab-speaking world without the same commotion—even some starring Gadot, including "Batman v Superman: Dawn of Justice" (although activists tried and failed to get it banned) and "The Fast and Furious" films. Natalie Portman has Israeli citizenship and her films haven't raised similar ire in the region.
Much of the problem with Gadot traces back to public statements she made in support of the Israeli military action in Gaza in 2014 and of the Israeli Defence Force (IDF), in which the former Miss Israel served for two years, in accordance with Israeli law.
Gadot isn't the first Israeli actor to come under fire. In 1959, "Ben Hur" was banned by all of the countries in the Arab League because its leading lady Haya Harareet was Israeli. The 1960 version of "Exodus" was banned in Egypt and Syria and boycotted in much of the Arab world along with Paul Newman's other films due to Newman's "material support for Zionism and Israel", according to the book "Cinematic Terror: a Global History of Terrorism on Film" by Tony Shaw.
Beginning as early as 1948, Arab nations routinely banned movies starring actors deemed to be pro-Zionist, including Danny Kaye, Mickey Rooney and Elizabeth Taylor.
The movement to ban "Wonder Woman" in Lebanon was spearheaded by a social media campaign called the Campaign to Boycott Supporters of Israel in Lebanon. Rania Masri, who is affiliated with the campaign, told the Associated Press why the group opposed the screening of Gadot's film:
"First and foremost, she is Israeli. We don't distinguish between a good Israeli and a bad Israeli," she said. She explained that the group aims to resist any move towards normalising relations between the two nations. Lebanon is officially at war with Israel and bans all Israeli products.
In Tunisia the film's premiere was suspended after the secular nationalist People's Movement Party and the Tunisian Young Lawyers Association filed a lawsuit seeking a ban of the film. The suit is currently under review.
It's fitting that the powerful demigoddess is ruffling feathers. Her very conception was a study in cultural rebellion. When he conceived of the character in 1941, William Moulton Marston, who used the pen name Charles Moulton, was inspired both by his wife Elizabeth Holloway Marston and their live-in companion, Olive Byrne. The two women were powerful renegades in their own rights.
Elizabeth Marston was a psychologist and a lawyer who was one of only three women in her graduating class at law school. Byrne was William Marston's researcher and had her own feminist pedigree: Her mother, Ethel Byrne, opened the first birth-control clinic in the US, along with her sister Margaret Sanger, the famed birth control activist.
Marston had children with both of the women, and his wife even named one of her children Olive Ann, after Byrne.
Unorthodoxy breeds controversy, but neither the character's unusual genesis nor the current imbroglio seems to be hurting the film a whit. The film topped the box office in its opening weekend and has already earned more than $500,000 million worldwide.
france24.com/en/20170617-wonder-woman-kindles-controversy-arab-world
-------
Israel's Christian-Arab Transgender Beauty Queen Opens Up: 'I'm Lucky to Be an Israeli'
Jun 17, 2017
Transcending beauty: Israeli beauty pageant for transgender women signals desire for normalcy
Israel's U.S. envoy at pride event: 'Hatred toward LGBT community threatens all of us'
Israel holds its first transgender beauty contest
The Israeli Embassy marked LGBT Pride Month with a reception for Jewish and Israeli activists and leaders.
About 100 people attended the event, which featured an address by Talleen Abu Hana, an Arab Christian from Nazareth who won the first Miss Trans Israel beauty pageant in 2016.
The embassy also paid tribute to the 49 victims of last year's massacre at the gay nightclub Pulse in Orlando, Florida.
"Just as the noxious fumes of anti-Semitism ultimately poison all of society, so too hatred towards the LGBT community threatens all of us," Ron Dermer, the Israeli ambassador to Washington, said in brief remarks.
Talleen Abu Hana at a reception at the President's residence with President Reuven Rivlin, May 8, 2017.
Talleen Abu Hana at a reception at the President's residence with President Reuven Rivlin, May 8, 2017.Mark Nayman / GPO
He also asserted that Israel is the sole country in the Middle East with the "values that progressives are supposed to champion," referring to Israel's legal and popular support for gay rights.
Abu Hana spoke about her experience as a transgender woman in Israel. After winning the beauty pageant, she was runner-up at the Miss Trans Star International Pageant and a contestant on Israel's "Big Brother."
As a boy growing up in Nazareth, Abu Hana grappled with an intense internal conflict between "body and soul," she said. When she showed an interest in women's clothes and makeup, her father lashed out at her.
"Transforming from the most beloved child to the one everyone hated I was lost and started thinking of killing myself," she said.
Abu Hana moved to Tel Aviv, where the LGBT community is known to be strong and accepting. One evening while hanging out with new friends, a transgender woman was talking about her transition.
"I didn't get what she was talking about," Abu Hana recalled.
Talleen Abu Hana
Talleen Abu HannaEitan Tal
Another male friend said, "She's transgender, just like you."
Abu Hana was taken aback and insisted she was not. The male friend then took her face in his hands and said, "You are going to be a woman and a beautiful one."
In an interview before the Pride event, Talleen emphasized the importance of moving to Tel Aviv, where the support she found as a Christian and an Arab facilitated her transition.
Israel's universal health service covers the costs of sex-reassignment surgery.
"The law is on your side," Talleen said, referring to the ease of changing one's gender and name on government-issued documents.
After winning Miss Trans in 2016, Abu Hana quickly rose to fame in Israel, where she is often mobbed by fans eager to take a selfie. In addition to modeling, she speaks to transgender youth at shelters in Tel Aviv and most recently at Casa Ruby, an LGBTQ community center in Washington. She said she is humbled to be "an ambassador for peace between one's soul [and] one's body."
Abu Hana now lives with her boyfriend, who she met before her transition on a night of dancing at a Tel Aviv club.
"I'm lucky to be an Israeli," she said. "Being an Israeli means being truly free."
haaretz.com/israel-news/1.796244
-------
Kurdish Female Commander Klara Reqa Fights against ISIS in Raqqa: Syria
By NewsGram Desk - June 18, 2017
Her land, where she grew up, where she smiled and cried, is today standing in ruins
June 18, 2017: ISIS terrorist group is bent on destroying this world in the name of power. Terrorism is eating this planet, taking many innocent lives. Humanity is dying a slow death. But in all this negativity around, there are still the positive streaks trying to paint this world with humanitarian colors. One of them is the unfortunate victim of this terrorism who lost her closed ones in the wake of this power struggle.
Klara Reqa is a top-ranking Kurdish female commander of the US-backed Syrian Democratic Forces leading the assault on the Islamic State's self-proclaimed capital, Raqqa.
She is the epitome of bravery, love, and beauty. She stands strong in the face of adversity, trying to inspire many others to save their land from the merciless vultures. She is an unsung hero in this fight against those who have lost humanity. Her land, where she grew up, where she smiled and cried, is today standing in ruins. But the love for that land stands strong, the emotions attached to that land holds her heart strong, giving her the courage to protect it from the enemies of the world.
In an interview with VOI's Mahmoud Bali, she said, "As I look at Raqqa here, I remember my childhood when I was going to school and playing in the streets." One can realize her pain as her entire childhood would always flash in front of her eyes whenever she looks at the ruins of her motherland.
I want to salute this brave heart woman who not only aspires to rebuild her land by taking it away from the clutches of ISIS but also dreams to empower the women.
She said," IS oppressed women. My goal is not to only help Yazidi women, but also Arab and Kurdish women."
This is the beauty of a woman who can stand tall against all odds and thinks of empowering other women instead of pulling them down. She has proved that in the patriarchal world of ours, a woman is not less than anyone and empowering others is the only way of climbing the ladder of success because humanity teaches us to be one, to stay united and to help each other.
But in the race of power, man has lost his identity of a human being. He seized to be one, the day he started pulling down others and killing people in the name of religion. By God's grace, still, some noble beings are there who enforce our trust in humanity, brotherhood, and unity.
– by Supreet Aneja of NewsGram. Twitter: @supreet_aneja
newsgram.com/kurdish-female-commander-klara-reqa-fights-isis-in-raqqa/
-------
Art student challenges stereotypes of British Muslim women
June 17, 2017
An art student has used her painting skills to challenge the stereotypes of British Muslim women.
Fine artist Azraa Motala from the University of Central Lancashire (UCLan) has created three large paintings of herself for her final year project.
Based on photographs of her face and hands they consider religion, modesty and Azraa's own position as a British Muslim in a society that often sees the hijab and veil as repressive.
The 21-year-old from Preston said: "The paintings are all very personal to me and it's the first time I've ever painted myself.
"During the 19th century the veil was seen as a signifier of the impenetrable private chambers of the harem, religion, sexual segregation, polygamy, exoticism and sadism.
"Paintings from this time, such as The Turkish Bath, reflect exotic fantasies of Middle Eastern women and through my work I wanted to re-appropriate the image of the female body and the Muslim woman, stripping it away from stereotypes of the past and modern society."
Azraa used oils and acrylics on canvases she made herself by hand to create the paintings.
Asian Image:
One is a close-up self portrait and the other two are of her hands.
She said: "Hands are able to show emotion in so many ways including in worship and prayer and I want to challenge the people looking at my paintings and make then think; is the hand holding the black cloth or is it bound by it?"
The former Penwortham Girls' High School and Cardinal Newman College pupil has been interested in art from a young age but only took up painting while at college. After graduating from UCLan in July, she plans to apply to art college to study for a Masters in fine art.
Azraa said: "For a long time I dabbled in different mediums and it was only in the last year that I feel like I've found my medium in oil painting. I definitely had a lightbulb moment when I realised I'd found my niche."
Azraa's work was on display at UCLan's Preston campus from 9-16 June as part of the Lancashire Arts Festival Degree Show. See lancashireartsfestival.co.uk
asianimage.co.uk/news/education/15352756.-/
-------
Sporty hijabs encourage Muslim girls to hit field of play
Jun 17, 2017
In this June 1, 2017, photo Israa Enan wears a stylish hijab during an interview at Deering High School in Portland, Maine. Enan, who recently graduated, admitted she shied away from going out for high school sports teams because of the embarrassment she would have felt if her stylish scarf fell off during competition. (AP Photo/Robert F. Bukaty)
PORTLAND, Maine (AP) — Muslim student athletes at one U.S. high school no longer have to be slowed down by worries that their headscarves might fall off.
Deering High School in Portland, Maine, is providing sport hijabs with the goal of making Muslim girls comfortable — and boosting their participation in sports. The lightweight scarves stay put and are less bulky than other hijabs, garments that cover the hair and are worn by many Muslim women to express their faith.
"We're more confident on the field," said junior lacrosse player Fadumo Adan. "This one doesn't fall off. No matter what I do, it won't fall off."
Tennis co-captains Liva Pierce and Anaise Manikunda raised more than $800 online to buy the sporty hijabs for their Muslim teammates after the school's athletic director learned of the product. They solicited private donations to avoid criticism for using taxpayer funds on religious apparel, and ended up with enough to outfit all teams, including lacrosse, soccer, volleyball, softball, field hockey and track.
The high school is believed to be the first in the United States to provide hijabs for Muslim athletes, as opposed to students providing their own headscarves, said Ibrahim Hooper, spokesman for the Council on American-Islamic Relations.
The move is part of a trend around the world of more Muslim women finding ways to play sports while wearing hijabs. Some Muslim countries, like Saudi Arabia, impose severe limitations on women engaging in sports, while cultural sensitivities and family opposition can also pose hurdles.
The International Basketball Federation and the international soccer organization FIFA lifted bans on head coverings in recent years, and Ibtihaj Muhammad became the first American to compete at the Olympics while wearing a hijab when she won a bronze medal in fencing at the 2016 Rio Games.
Muslim students at Deering said they were grateful for the support at a time when Republican President Donald Trump has pushed to ban travel from several Muslim countries.
Israa Enan, a senior who was born in Iraq, said she stayed off the school's tennis team because her parents had concerns about the uniform and lack of hijab.
"I wished I was one of these girls who wear the hijabs and play with it, but it's OK," Enan said. "I'm too late now." She said she's "happy for the other girls who have the opportunity now to wear the hijab and be more comfortable doing the things they like to do."
Maine — the nation's whitest state — is becoming more culturally and racially diverse with immigration. There are about 10,000 African newcomers, mostly from Somalia and Sudan in Maine's two largest cities, while others have come from the Middle East.
The tennis co-captains are not Muslim, but Pierce said there was a "duh!" moment when she discussed the idea with Melanie Craig, the athletic director.
"This makes so much sense. If there's something that we can do to make our teammates feel more comfortable, then why not just do it?" Pierce said.
Her Muslim teammates appreciated the effort.
"There are some people who actually care, respect and love others, and they are actually accepting of others, which makes me really happy," said sophomore tennis team member Tabarek Kadhim, who moved to Maine four years ago from Jordan.
Nike announced last month that it'll begin marketing a sport hijab next year, bringing the product into the mainstream. But Craig didn't wait, finding a sport hijab manufactured by Asiya, a company that raised more than $39,000 in November to expand beyond selling locally in Minnesota.
Asiya is preparing to move manufacturing to New York to keep up with demand, said Fatimah Hussein, a Somalia native who coaches basketball and co-founded the business. The apparel company is named for Asiya bint Muzahim, a key figure in Islamic history known for standing up to injustice.
The market has potential: There are more than 610,000 Muslim women under 20 across the United States, according to the Pew Research Center.
"We're hopeful that this does encourage more Muslim female athletes to participate," said Craig. "I do believe it has held some of them back. It takes courage for them to stand out here and honor who they are and their diversity."
gillettenewsrecord.com/ap/lifestyles/article_b251acba-bac0-567c-ac55-731655125cc0.html
-------
Woman Hopes To Become Department's First Cop to Wear Hijab
BY SVETLANA SHKOLNIKOVA
A marble cutting machine had been stolen from her family's backyard and police, citing a lack of witnesses and video footage, could not help.
So Shalabi thought she'd try. She remembered where the machine was last seen and that her father had been cutting red marble slabs with it the day before.
When she returned to the spot, Shalabi noticed the machine had left behind a pink residue trail. She followed it through the backyard, through the driveway, up the street and finally, to the perpetrator's house.
Officers who were called to the scene were shocked, Shalabi recalled.
"One of them told me, 'You can be a detective, a cop with a great mind like that,'" she told
Now 20, Shalabi is well on her way.
Last month, she wrapped up an internship with the Paterson Police Department, earned an associate's degree in criminal justice from Berkeley College in Woodland Park and began working at the Paterson Task Force for Community Action, a social services organization.
Shalabi's goals for the next few years are lofty: graduate from Berkeley College with a bachelor's degree in national security with a specialization in homeland security and become "the first Arab Muslim female officer who wears a hijab" in the Paterson Police Department.
"It would mean the world to me, like I achieved something, that I'm unique, that I stand out," she said. "I could be a role model to other Arab females in my community."
South Paterson, where Shalabi grew up as the fourth of 11 children born to Palestinian immigrant parents, is home to one of the largest Arab-American populations in the country, numbering about 20,000.
Women in the neighborhood are expected to either become housewives or choose careers that keep them largely indoors, Shalabi said. But her family never subscribed to such limitations.
"I want all my daughters to finish college and work with their degrees," her mother, Sana Shalabi said. "Many people have said, 'It's very dangerous for her to choose this job, she's a girl' but I told them she likes this job and I want her to study what she likes."
Her oldest brother, Mohammed, said he tried to persuade Shalabi to choose a safer career path but could not break her resolve.
"I realized that what she wants is to help out the community," he said.
If she is sworn into the Paterson police force, Shalabi would make history, according to Det. David D'Arco of the Chief's office.
"I've been here 19 years and there's never been a female that's worn it as far as I know and there's never been a female that's asked to wear one," he said referring to her hijab.
There are currently 18 Middle Eastern officers serving in Paterson — all of them are men. About 13 percent of the 382-member department are women, according to the police department.
The department does not have a written policy on wearing a hijab, said D'Arco, but would likely treat it like any other religious exception.
"We'll cross that bridge when we come to it," he said.
In New York City, four or five women wear the hijab on duty, Det. Ahmed Nasser, a department spokesman, said.
The department began allowing hijabs around 2007. The hijab must be easily removable in an emergency and it must fit under the police cap to be allowed, Nasser said.
"Anybody who wants a religious accommodation when it comes to head covering, the NYPD is willing to work with them," he said.
Salua Kharoufeh, serves as a special police officer, a rank with fewer powers than a police officer and is not permitted to carry a sidearm, in Cliffside Park.
Jim Sues, the executive director of the New Jersey chapter of the Council on American-Islamic Relations, is not aware of any other Muslim police officers in the state who serve with a hijab but hopes those who pave the way are not treated differently.
"It shouldn't be a big deal," he said. "I'm sure they'll wear the rest of the uniform and the normal hat. The hijab should just be incidental."
mcclatchydc.com/news/politics-government/national-politics/article156738179.html
-------
Muslim women file human rights complaint in Canada
June 17, 2017
Three Muslim workers have filed a human rights complaint alleging Islamophobia after they were fired from a maintenance project in western Canada, Canadian media reported Thursday.
Amino Rashid told the Canadian Broadcasting Corporation (CBC) that she and two of her colleagues were dismissed from a maintenance project at the Husky Energy facility in Lloydminster, along the Alberta-Saskatchewan border, after reporting incidents of harassment from other staff.
Rashid said two male workers told her "there are people who feel uncomfortable" with her wearing a hijab, and the one of the pair told her to take off the "hoodie", the CBC reported. She told them it was not a hoodie, but a religious headscarf.
Rashid said she reported the incident to management at her employer, Newcart Contracting Ltd. – the firm had been contracted by Husky Energy to do the maintenance work at the Lloydminster facility – but the harassment continued. The two other Muslims were also targeted with remarks a few days later on June 3.
That same day, the three were dismissed.
"I was shocked," Rashid told the CBC, "because usually in a situation like that you fire the person who was the one who was being the bully. You don't fire the victim. You don't fire the person who was trying to stand up for themselves."
Rashid said that when she was hired, supervisors for both Husky and Newcart said they had no problem with her wearing a hijab.
On Tuesday, the three filed complaints with the Alberta Human Rights Commission, as well as Husky, and when informed of the incident, Husky launched an investigation.
"Given the seriousness of these allegations, we will be investigating with the contractor to ensure all of Husky's policies and procedures were being followed," company spokesman Mel Duvall told the CBC. Husky, a large energy company in the Alberta Oilsands, requires all its contractors to follow a workplace diversity policy.
Newcart officials declined direct comment on the situation, but did note that more than 30 percent of its workforce is born outside of Canada.
Reaction on a Facebook page dedicated to the incident was mixed, with some citing safety rules regarding headgear on a work site.
One person wrote: "Safety rules apply to everyone, there's no religious exceptions. Do Muslims want to be treated equally or are they asking for special privlages (sic) here??"
Another commented: "Not a safety concern: the employer clearly says it's not an issue."
aa.com.tr/en/americas/muslim-women-file-human-rights-complaint-in-canada/842673
-------
Reducing Gender Gaps Would Significantly Benefit Women And Society
17-Jun-2017
Reducing gender gaps would significantly benefit women, society and the economy, a new International Labour Organisation (ILO) report has revealed.
It shows that closing the gender gap by 25 per cent by 2025 could add 5.8 trillion dollars to the global economy and boost tax revenue.
The report, dubbed: "World Employment and Social Outlook Trends for Women 2017" was made available on Thursday to the Ghana News Agency.
The report said gender gaps remained one of the most pressing challenges facing the world of work.
It shows that women were substantially less likely than men to participate in the labour market and once in the job market, they were less likely than men to find a job and the quality of employment they find remains a key concern.
"Helping women access the labour market is nevertheless an important first step. Yet, in 2017, the global labour force participation rate for women – at just over 49 per cent – is nearly 27 percentage points lower than the rate for men and is forecast to remain unchanged in 2018," it said.
The report said in 2014 G20 leaders made a commitment to reducing the gap in participation rates between men and women by 25 per cent by the year 2025.
The report estimates that if this goal was realised at the global level, it has the potential to add 5.8 trillion dollars to the global economy; this could also unlock large potential tax revenues.
It said, for example, that global tax revenue could increase by 1.5 trillion dollars with most of it in emerging and developed countries.
The report said Northern Africa, the Arab States and Southern Asia would see the greatest benefits as the gaps in participation rates between men and women exceeded 50 percentage points in these regions.
It noted that on top of the significant economic benefits, engaging more women in the world of work would have a positive impact on their well-being since most women would like to work.
The report said the most immediate concern for policy makers, therefore, should be to alleviate the constraints that women faced in choosing to enter the labour market and address the barriers they were confronted with at the workplace.
The report said when women do participate in the labour market they were more likely than their male counterparts to be unemployed.
It said globally, the unemployment rate for women stood at 6.2 per cent in 2017, representing a gap of 0.7 percentage points from the male unemployment rate of 5.5 per cent.
The report said among employed women worldwide, nearly 15 per cent were contributing family workers compared to over five per cent among men.
It said in developing countries where nearly 36.6 per cent of women and only 17.2 per cent of men were employed as contributing family workers, the gap was widest at 19 percentage points.
"We need to start by changing our attitudes towards the role of women in the world of work and in society. Far too often some members of society still fall back on the excuse that it is "unacceptable" for a woman to have a paid job," said Steven Tobin, lead author of the report.
The report called for comprehensive measures to improve equality in labour conditions and reshape gender roles.
These include promoting equal pay for work of equal value, tackling the root causes of occupational and sectoral segregation and transforming institutions to eliminate discrimination, violence and harassment against women in the world of work.
peacefmonline.com/pages/local/social/201706/317813.php
URL: https://www.newageislam.com/islam-women-feminism/kazakhstan-plans-ban-headscarves-burqa/d/111584
New Age Islam, Islam Online, Islamic Website, African Muslim News, Arab World News, South Asia News, Indian Muslim News, World Muslim News, Womens in Islam, Islamic Feminism, Arab Women, Womens In Arab, Islamphobia in America, Muslim Women in West, Islam Women and Feminism