New Age Islam News Bureau
12 May 2018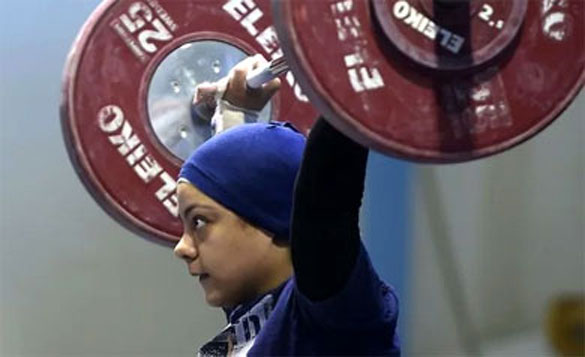 The exploits of Sara Samir, known in competitions as Sara Ahmed, 20, has boosted female participation in Egyptian weightlifting championships. (AFP)
-----
• Women Standing in Iraq Election Battling Abuse Including Sex Tapes
• First Muslim Woman from Telangana to Crack UPSC Has A Message
• Egyptian Weightlifter Sara Samir Raises the Bar for Women
• Karnataka Election 2018: Muslim Woman Asked To Remove Burqa at Polling Booth, Starts to Cry
• Militants Continue To Target Girl Schools in North Waziristan
• Iran: Plundered women and female students protest in Tehran, Orumiyeh
• Iran: An Elementary Girl's Hair Is Cut At School Formal-Veiling
Compiled by New Age Islam News Bureau
URL: https://www.newageislam.com/islam-women-feminism/kasur-rape-victim-father-sue/d/115226
--------
Kasur Rape Victim's Father to Sue Pakistan TV Channel for Making Telefilm on Daughter
May 11, 2018
LAHORE: The father of a seven-year-old Pakistani girl who was raped and brutally murdered in January triggering a nation-wide outrage has said he will file a case against a private TV channel which is making a telefilm on his daughter.
The father said that he would not allow anyone to use his daughter's name for vested interest, the Dawn news reported.
"The TV channel did not bother to seek my permission. I would not allow anyone to use the name of my daughter for one's vested interest. I am going to sue the TV channel that has announced making a telefilm on my daughter," the father said.
The move of a private TV channel for making a telefilm on the girls' rape and murder case that had jolted the country has drawn criticism not only from her family but the local public as well as social media, the daily said.
The girl had gone missing on January 4 and her body was found on a garbage dump in Kasur city, some 50 kilometres from Lahore on January 9. Her rapist and murderer was arrested about three weeks later.
He was awarded death sentence by an anti-terrorism court (ATC) in February, in the first ever trial in the country's history that concluded in shortest period of four days.
The girl's father has said that he will also sue a UK-based non-government organisation (NGO) for "misusing" the name of his daughter for its vested interest.
He said the case has nothing to do with the NGO that is bent upon making money in her name.
"The UK-based NGO recently visited Kasur and did video recording in our locality. Its representatives visited my daughter's school as is shown in the video clip where they met the school administration, teachers and students," he was quoted as saying by the daily.
He said that like the TV channel, the NGO also did not bother to see him and seek his permission.
He said the NGO has no right to use his daughter's name for fundraising.
https://timesofindia.indiatimes.com/world/pakistan/kasur-rape-victims-father-to-sue-pakistan-tv-channel-for-making-telefilm-on-daughter/articleshow/64126321.cms
--------
Women Standing in Iraq Election Battling Abuse Including Sex Tapes
MAY 11, 2018
LONDON (Thomson Reuters Foundation) - Women standing for election in Iraq have faced an unprecedented deluge of abuse and intimidation - including the publication of sex tapes - to scare them away from politics, the United Nations, candidates and activists said ahead of Saturday's vote.
Two sex tapes purporting to feature women MPs have been posted on social media, according to Alice Walpole, a senior official in the U.N.'s office in Iraq.
Both women said the tapes were fake but one of them, Intidhar Ahmed Jassim, withdrew from the election last month.
Another candidate came under fire for an outfit she wore after a video from her mobile phone was put on social media after it was stolen.
Posters of women candidates have also been vandalized, according to activists, with beards and moustaches drawn on their faces in some cases.
Rasha Al-Soltani, a candidate in Baghdad, said harassment of all women in public life had become a problem, but politicians were particularly at risk.
"I can't count the number of cases of online abuse I've come across," she told the Thomson Reuters Foundation.
The United Nations has branded the harassment "alarming" with the United Nations Assistance Mission for Iraq this week launching a campaign called #WhyNot or #Shakobeha to encourage women into politics which will run beyond the election.
The poll is the first in Iraq since the defeat of Islamic State militants who seized a swathe of the country in 2014.
Nearly 30 percent of more than 7,000 candidates are women. Under electoral law a quarter of parliament's 329 seats must be held by women.
Women's rights activist Hanaa Edwar said "electronic armies" were taking to social media to denigrate women candidates, using misogynist language, including calling them "whores".
"People have been attacking their (campaign) posters and defaming them on social media. It has hurt their families' honour and dignity," she said by phone.
"The attacks are obviously to (make) women withdraw from political life. It's disgusting. This is not our tradition in Iraq."
She criticized political parties for failing to defend their own candidates.
Walpole, the Deputy U.N. Special Representative for Iraq, urged women to press on despite the intimidation.
She said there were some "fantastic role models" running for office but her office had received reports of around 10 attacks against female candidates.
"Women are moving in larger numbers into the political sphere. Most of the electorate is absolutely open to that ... but I think there are a few who are intimidated by it," she said.
https://www.reuters.com/article/us-iraq-women-abuse/women-standing-in-iraq-election-battling-abuse-including-sex-tapes-idUSKBN1IC18V
--------
First Muslim Woman from Telangana to Crack UPSC Has A Message
12th May 2018
HYDERABAD: Urging Muslim women UPSC aspirants to take inspiration from her, Jameel Fathima Zeba, the first Muslim woman from Telangana to crack the examinations, on Friday said that it shouldn't take time for others to secure an equally good rank in the test. Speaking at a felicitation organised by the State Minorities Welfare Department, Zeba, who secured 62nd in the examinations, urged aspirants to not give up, work hard and be patient.
Recounting an incident from her time preparing for the test, Zeba said, "I was not at all prepared for tests on optional subjects. Those tests were on the last day of examinations and I hadn't slept the previous day. I could have given up, but I chose not to.""On Friday morning, when I received the marksheet of the exams, I saw that I fared very well in those subjects and in all probability scored the most nationally," Zeba, said after being presented with bouquets and shawls from well wishers and prominent personalities, which include AK Khan, retired IPS officer and an advisor to the State government.
Khan underlined the importance of the education of women among Muslims. He said, "This community has to send the message that though education for everyone is important, the importance of a girl's education is a little more than that." Reiterating the same point, Shahnawaz Qasim, an IPS officer and director of Minorities Welfare Department, said, "If you want to see Muslims succeed, educate women. There's no substitute to education." Also present in the event were MA Waheed, IFS (retd), Syed Israr Ahmed, Zeba's father and other personalities.
http://www.newindianexpress.com/cities/hyderabad/2018/may/12/first-muslim-woman-from-telangana-to-crack-upsc-has-a-message-1813580.html
--------
Egyptian Weightlifter Sara Samir Raises the Bar for Women
11 May 2018
Her sinews stretched above the neckline of a long-sleeved training top, 20-year-old Egyptian Sara Samir propels a barbell carrying more than 90 kilos above her head, before the weights smash back to earth.
Even before this impressive lift, it's clear Samir has a commanding presence in the national team's weightlifting hall in Cairo.
She has become something of a trendsetter since winning bronze in the 69kg class at the 2016 Olympic Games — the first female Egyptian Olympian to be presented with a medal on the podium.
"After I won the medal in Rio, girls started weightlifting in a big way in Ismailiya," she said with a beaming smile, referring to her home province.
But it wasn't always like that for Samir, who competes under the name "Sara Ahmed."
"People would tell me things like 'Oh, you weightlift? Can you carry me?'" she said of her experience aged 11, when she first began training.
On the back of her Olympic success, the number of girls competing seriously in weightlifting has surged nearly tenfold.
"Female participants in weightlifting championships were no more than 30 or 40 girls," said Mohamed Eldib, head coach of the national weightlifting team, after he supervised Samir and her peers in the southern Cairo district of Maadi.
Now more than 300 girls are registered with the Egyptian Weightlifting Federation, he said.
"Winning forms a strong motivation for female athletes ... and gives hope in the possibility of accomplishing wins, whatever the difficulties," sports analyst Mohamed Seif told AFP.
The challenges include a "lack of interest of the family which cares first about the boy" since girls are expected to stop practicing sport when they get married, Seif said.
Girls are encouraged to take part in other sports such as swimming or gymnastics, he said, rather than weightlifting or athletics.
Before Samir's bronze, Egypt had not won a single weightlifting medal since 1948 — a drought of nearly 70 years.
Her triumph was followed the same day by another bronze won by male weightlifter Mohamed Mahmoud.
Samir is completely absorbed by her training. "Her whole mind is weightlifting," said her coach proudly.
She has also benefited from supportive parents — as a girl, it was Samir's father who accepted her wish to start weightlifting and took her to training.
Months later, she won a gold medal in Egypt's national championships in the under-14 age group. At just 13, she joined the national team.
But Samir is not the only Egyptian woman to have made it big on the world weightlifting stage.
Years after competing, compatriot Abeer Abdelrahman is due to be handed Olympic medals retroactively, after podium winners were stripped of their medals due to testing positive for doping.
Abdelrahman had originally come fifth in both the 2008 Olympics in Beijing and the 2012 Olympics in London.
In 2016, she was informed she had won a silver medal in London, and a few months later that she would be awarded a bronze medal for Beijing.
And last year, Shaimaa Khalaf, 26, won silver and bronze at the US World Championships in the +90kg weight category.
But despite such major successes, weightlifting and other sports are not the government's top priority — a spot reserved for football in Egypt.
"The state usually reacts at the moment of the accomplishment ... and then as time passes we forget and focus on football," said Seif.
Eldib said that while state funding covers the national team's needs, the lack of funding for gyms limits potential champions because many people do not have access to weightlifting training.
All of Samir's medals since she began competing — more than 50, she said — are gold, except for two bronze, including the Rio Olympic medal.
Her secret?
"It all depends on how much you want to achieve," she said, echoing her coach Eldib, who believes girls "have higher levels of tolerance in training than boys."
http://www.arabnews.com/node/1300846/sport
--------
Karnataka Election 2018: Muslim Woman Asked To Remove Burqa at Polling Booth, Starts to Cry
May 12, 2018
A Muslim woman was standing in the queue at polling booth 185 in Belagavi, Karnataka, to cast her vote when she was asked to remove her burqa for identification. Appalled, the woman refused and started crying.
This isn't the first time that such incident has been reported. Earlier a similar incident took place at a rally in Uttar Pradesh's Ballia in November, 2017, that created a lot of heat all over the country.
The police had asked a woman to remove her burqa at the rally which was attended by Chief Minister Yogi Adityanath in Ballia.
FOR LIVE UPDATES: KARNATAKA ASSEMBLY ELECTION 2018
According to several media reports, the woman was said to be a BJP worker. ANI had even posted a video of the incident on its Twitter page which showed three policewomen standing next to the woman.
Karnataka election today will witness a three-cornered contest between the BJP, the Congress and the JD(S). Counting of votes will be taken up on May 15 and results will be declared the same day.
The southern state will elect a new Assembly on May 15.
https://www.indiatoday.in/elections/karnataka-election-2018/story/karnataka-election-2018-muslim-woman-asked-to-remove-Burqa-at-polling-booth-starts-to-cry-1232077-2018-05-12
--------
Militants Continue To Target Girl Schools in North Waziristan
Omer Farooq Khan
May 11, 2018
ISLAMABAD: Two schools for girls were bombed in North Waziristan tribal region bordering Afghanistan after militants widely distributed pamphlets warning locals not to send grown-up girls to educational institutions.
The bombing of schools and distribution of pamphlets shattered the claims of civilian and military authorities, that tribal areas, particularly North Waziristan, which for a long time was considered as global headquarters of terrorism, have been cleared of militancy.
According to local residents, a middle school for girls, was blown up on Thursday in the remote village of Hassokhel in North Waziristan and another school was bombed two days ago in Mirali tehsil of the region.
A militant group, Ittehadul Mujahideen North Waziristan, distributed pamphlets in several parts of the tribal region, warning locals against sending girls to schools. "We warn all tribal people to stop sending their grown-up girls to schools. We will not tolerate it," the pamphlet read. Copies of pamphlet were sent to schools, teachers and tribal elders.
North Waziristan, one of Pakistan's seven tribal agencies, was a hotbed for local and international terrorist groups before the launch of military offensive, codenamed Zarb-i-Azb, in June 2014. The operation to drive out militants from the region displaced the entire population of North Waziristan, forcing them to relocate to other parts of Pakistan. Devastated by war and eager to return to their homes, the population has been facing tough challenges while rebuilding their lives from scratch.
Incidents of targeted killing and bomb blasts are still frequently reported from the area. In the last decade, about 1,500 schools were destroyed in the tribal belt. Before the launch of Zarb-i-Azb operation, only one school for girls was operational in Miramshah tehsil of North Waziristan inside a high-security zone.
https://timesofindia.indiatimes.com/world/pakistan/militants-continue-to-target-girl-schools-in-north-waziristan/articleshow/64126093.cms
--------
Iran: Plundered women and female students protest in Tehran, Orumiyeh
11 May 2018
A group of plundered depositors of Ayandeh Bank, including a good number of women, held a protest in front of the bank's branch located on Panzdah-e Khordad Street in the Iranian capital, Tehran, in the morning of Thursday, May 10, 2018. They chanted "Ayandeh Bank steals our money."
The State Security forces were present at the site to prevent the protest from spreading.
On Wednesday, May 9, 2018, the students of Orumiyeh University spread empty tablecothes on the ground in protest to a plan for charging students for course units.
Orumiyeh is the capital of West Azerbaijan, in northwestern Iran.
https://women.ncr-iran.org/iran-women-news/5062-iran-plundered-women-and-female-students-protest-in-tehran-orumiyeh
--------
Iran: An Elementary Girl's Hair Is Cut At School Formal-Veiling
11 May 2018
The superintendent of an elementary school in Abadan, south-western Iran, cut a girl's hair for not properly covering it.
On May 6, 2018, in an all-girl elementary school in Golestanshahr of Abadan, the superintendent used scissors and cut the hair of a girl child because it had stuck out of her veil.
The girl called Narges who suffers from astma had an attack because of this offensive treatment and was taken to hospital.
In response to objections to such offending measure, the superintendent said, "The schoolmaster is a man and her hair sticking out could have roused him."
In a similar incident in December 2017, officials of a girls' school in Islamabad village in Orumiyeh, capital of the West Azerbaijan Province, the school's principal and master went to the court yard in the company of several State Security forces cut the hair of those girls whose hair stuck out of their scarves.
https://women.ncr-iran.org/iran-women-news/5061-iran-an-elementary-girl-s-hair-is-cut-at-school-for-mal-veiling
--------
URL: https://www.newageislam.com/islam-women-feminism/kasur-rape-victim-father-sue/d/115226
New Age Islam, Islam Online, Islamic Website, African Muslim News, Arab World News, South Asia News, Indian Muslim News, World Muslim News, Women in Islam, Islamic Feminism, Arab Women, Women In Arab, Islamophobia in America, Muslim Women in West, Islam Women and Feminism