New Age Islam News Bureau
15 June 2022
• French Burkini Ban Challenged By the City Of Grenoble in Top Court
• Actor Momin Saqib and Women Rights Activist Malala Join Hands for Oxford Pakistan Programme
• Saudi Arabia Makes It Mandatory for Women below 45 Years of Age to Have a Male Guardian • during the Pilgrimage
• US Woman Flies to Turkey to Get Haircut After Local Salon Quotes Her Rs 3 Lakh
• Egyptian Woman Kidnapped By Father, Rescued After Intense Social Media Campaign
Compiled by New Age Islam News Bureau
URL: https://newageislam.com/islam-women-feminism/kashmiri-slavery-uae/d/127254
--------
Kashmiri Women Lured Into Slavery in the United Arab Emirates: Nikkei Asia Reports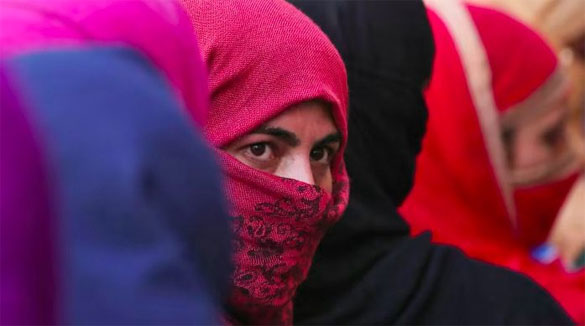 Photo: Human Trafficking Search
----
Iris Hoffman
June 13, 2022
The Nikkei Asia has reported last week cases of Kashmiri women being enticed into modern-day slavery in the United Arab Emirates. The women, seeking opportunities outside the borders of a country that has been troubled by decades of conflict, travel to Dubai under the assumption that they got offered steady, decently paid jobs. Nothing could be further from the truth, as the offers quickly reveal to be fraudulent schemes to force women into domestic work or sex trafficking. Once in the U.A.E., they are put under barbaric working hours, terrible living conditions, no wages, and no possibility of contacting the outside world. The women are stripped from their human rights and free will, and often face abuse and/or sexual violence.
This method of human trafficking is not new in the Gulf countries. Human Rights Watch already published a report on the alarming matter in 2014, stating that at the time at least 146,000 female migrant domestic workers were employed in the U.A.E. The women usually derive from conflicted areas or poverty, hunting for opportunities abroad. Recruiters fuel their hopes and dreams by offering high salaries, decent living conditions, and basic needs such as health care and days off.
The wealthy and rapidly prospering Arabian Gulf states have always attracted labour migrants. In fact, according to the International Labour Organization, the U.A.E. hosts among the highest number of migrant workers in the world which reaches up to an immigrant-to-national ratio of more than 80 percent. This is for the Kafala system, that appoints private employers as visa sponsors, essentially binding the employer and employee by visas. The system creates an absolute dependency on the employer, as migrant workers have no right to reside in the hosting country without their sponsorships.
The kafala system is fickle and very sensitive to fraud, for giving these women tourist visas or no papers at all puts them outside any protection by law. On top of that, the U.A.E.'s labour law mainly excludes domestic workers. A separate law was instigated for domestic work in 2017, yet it is still not uniform with the regular labour law. The Global Slavery Index reveals that the wealthier nations in the Arab states, like the GCC (Gulf Cooperation Council) states, foresee weak security guarantees for migrant workers and take far less action to tackle inhumane working conditions than would be expected of such stable countries, whereas other countries in the Arab states region have set some protections for migrants but are too caught up in ongoing conflict.
Last week's report on Kashmiri women demonstrates that despite several reports and calls from international organizations to put an end to modern-day slavery in the U.A.E. and other GCC states, its authorities produced limited response. A complex combination of transnational factors makes these Kashmiri women extra vulnerable to modern slavery. Civilians in Indian-administered Kashmir underwent decades of conflict, numerous deaths, and extreme cases of human rights violations. The high number of casualties left many women breadwinners of the house. Mass cases of brutal rape by Indian forces left other women displaced from their communities. In 2019, former Jammu and Kashmir lost their status of semi-autonomy to India. Financial instability, uncertainties, violence, unsettlement in a patriarchal society, and diminishments of freedom are all reasons as to why Kashmiri women would seek to find their luck in GCC countries now. It is all the more shameful that they find their human rights violated overseas once more, and the escalation in Kashmir predicts many more migrants for the future.
Though, in the midst of a pandemic, Amnesty International sees an opportunity for change. The organization released a report in April 2020 stating that Covid-19 is shining light on the inhumane, and often overcrowded, conditions many migrant workers in the GCC states live in. "Suddenly, the consequences of denying people their basic rights are impossible to ignore." The report follows up with a detailed action plan dedicated to employers and governments. It is so important for these countries that rely and prosper heavily from migrant workers, to take genuine action to protect their workers' rights equally.
Source: The OWP
https://theowp.org/kashmiri-women-lured-into-slavery-in-the-united-arab-emirates/
--------
French Burkini Ban Challenged By the City Of Grenoble in Top Court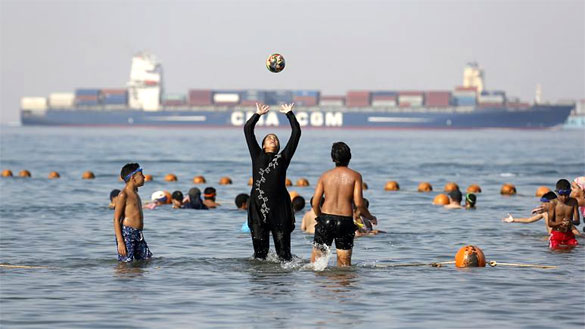 The Burkini is a swimsuit worn by conservative Muslims to cover the entire body - Copyright AP Photo/Amr Nabil, File
------
June 14, 2022
PARIS — The city of Grenoble has gone to France's highest administrative court to challenge a ban imposed on a new city rule allowing full-body "Burkini" swimsuits in public pools.
Grenoble's decision to authorize all swimwear, including Burkinis, sparked a legal battle with the government.
Burkinis are worn largely by Muslim women, as a way of preserving modesty and upholding their faith.
Ahead of Tuesday's court case, Interior Minister Gérald Darmanin described Grenoble city council's swimwear policy as an "unacceptable provocation" that was contrary to French secular values. Last month, a local court in Grenoble suspended the policy on the grounds that it seriously undermined the principle of neutrality in public services.
The ban on burkinis in state-run pools is also advocated for reasons of hygiene. Men are normally obliged to wear tight-fitting swimming trunks - another rule that Grenoble has decided to overturn. The city council has also permitted men to use Bermuda shorts, which are not usually allowed.
French opposition to the burkini stretches as far back as 2016, when several local municipalities attempted to outlaw it on beaches for violating the country's strict separation between religion and the state.
State officials are not allowed to wear religious emblems at work, but the mayor of Grenoble, Eric Piolle, argues that this should not stop users of public services, such as swimming pools, from dressing as they wish.
His administration's moves to relax the swimwear rules are opposed by the national government, which has invoked a law passed last year to combat "Islamist separatism".
The row has now reached the Council of State, which has previously ruled against a burkini ban elsewhere in France.
Critics of the burkini see it as offering a separatist vision of French society and argue that allowing it also puts pressure on Muslim women to wear it. Far-right leader Marine Le Pen has condemned the burkini as "clothing of Islamist propaganda".
However, those in favor of allowing it say women should have the choice to keep their bodies covered if they want to and that this does not imply religious extremism.
The court is due to deliver its ruling in the coming days. — BBC
Source: Saudi Gazette
https://saudigazette.com.sa/article/621765
--------
Actor Momin Saqib and Women Rights Activist Malala Join Hands for Oxford Pakistan Programme
JUNE 15, 2022
Vlogger turned actor Momin Saqib and Pakistani activist Malala Yousafzai have joined hands with Oxford Pakistan Programme.
Turning to his Instagram handle, Monday, Saqib shared a picture from UK, as he posed with women rights activist Malala Yousafzai and Ahmad Nawaz, a Pakistani student, who is the President of a debating society, Oxford Union.
"What a wonderful evening spent at Lady Margaret Hall, in support of the #OxfordPakistanProgramme" Momin noted in the caption, adding that the programme is "the first initiative of its kind to generate momentum on various Pakistan-related activities and to create more opportunities for deserving Pakistani students to get graduate scholarships and for faculty members to get visiting fellowships."
He further added: "It's always a pleasure catching up with amazing @Malala, and seeing her active work and advocacy for women's education." Saqib was also 'particularly impressed' by Nawaz and "his work around youth empowerment."
"Education is the very tool which will accelerate the development of our country through the potential of the majority of our population i.e the youth! Hopeful that many more such initiatives continue to emerge, to make education more accessible," Saqib wrote on the social media application.
'Oxford Pakistan Programme' is a platform launched at Lady Margaret Hall, for 'academic access and public diplomacy' for Pakistani students. LMH is a part of the prestigious University of Oxford and has Benazir Bhutto and Malala Yousafzai as alumni.
For those unversed, Ahmad Nawaz is the Pakistani student who survived the terrorist attack at Army Public School, Peshawar, in 2014. Nawaz was seriously injured by the shot fired in his arm by one of the militants but survived. However, his brother Haris and at least 130 other children were killed in the massacre.
Source: Daily Times Pakistan
https://dailytimes.com.pk/952320/momin-saqib-and-malala-join-hands-for-oxford-pakistan-programme/
--------
Saudi Arabia Makes It Mandatory for Women below 45 Years of Age to Have a Male Guardian during the Pilgrimage
Sameer Tahir
June 15, 2022
Saudi Arabia has made it mandatory for women under the age of 45 to travel to the country with their male guardians for Hajj.
Women in this age category who fly to Saudi Arabia without a Mahram would be deported immediately, according to the General Authority of Civil Aviation (GACA) .
The aviation authorities also stated that airlines that break the rules will be penalized.
After two years of Covid epidemic, the Kingdom has authorized up to one million individuals to participate in the Hajj pilgrimage this year, opening it up to overseas travellers.
For this year's Hajj, Pakistan has been allocated a quota of 81,132 pilgrims, with 32,000 utilizing a government scheme and 48,000 using commercial operators.
Source: Urdu Point
https://www.urdupoint.com/en/world/saudi-arabia-makes-it-mandatory-for-women-bel-1525630.html
--------
US woman flies to Turkey to get haircut after local salon quotes her Rs 3 lakh
Jun 14, 2022
A US woman said that she flew to Turkey to get a cheaper haircut after her hairdresser quoted her $4,000 (Rs 3.12 lakh).
Bryn Elise said that she was quoted thousands of dollars after sharing a "hair inspiration" photo with her regular US salon. She decided to travel over 6000 miles (10,000 kilometres) to Turkey to get the haircut at a much cheaper price.
Bryn shared a video of her before and after hair transformation. "When you're quoted $4000 to get your dream hair in the US so you fly to Turkey and get it done there instead," the on-screen text read.
"It cost less, INCLUDING my two week vacation here," she said in the video's caption.
In total, Bryn spent $2,200 (Rs 17.16 lakh) on her flights, hair, and a two-week stay in Turkey.
In the comments section, Bryn said that her original hairdressers had increased due to inflation and "to keep up with demand."
She explained, "I paid $450 plus tip in Turkey for 8 hours of blonding, toning, and high-quality 24″hair extensions for my super thick hair! No, my salon in the US wasn't trying to rip me off, I've been going to them for years and they've been slowly increasing their prices to keep up with demand."
She continued, "But when they raised extension prices for my colour, length and amount from $2000 to $3000, I figured with the colour I needed, treatments and tip it would come out to be over $4000 and that's why I chose Turkey."
Bryn added, "I took a look at my favourite 'hair inspiration picture' I had saved on Instagram, saw that the stylist who did it lives in Turkey and thought, if I'm going to spend a small fortune on my hair I might as well get it done by my dream stylist! Two months later, I made it to Turkey, got my dream hair done by my dream stylist for $450 and fell in love with this beautiful country along the way!"
One user said, "Frankly, we all should be flying elsewhere to get things done." Another called the $450 bill "a steal" deal. Yet another added, ""Well it looks good! Happy you turned one hair appointment into a vacation while still getting your hair done."
Source: Times Now News
https://www.timesnownews.com/viral/us-woman-flies-to-turkey-to-get-haircut-after-local-salon-quotes-her-rs-3-lakh-article-92199071
--------
Egyptian Woman Kidnapped By Father, Rescued After Intense Social Media Campaign
SHEREIF BARAKAT
14 JUNE 2022
On Sunday, 12 June, Noura Essam, a 23-year-old Egyptian woman, became the subject of a fervent nationwide search after her alleged kidnapping by her estranged father was shared across social media.
Two days later, on Tuesday, 14 June, Egypt's Public Prosecution announced her safe return and the subsequent arrest of her father. The prosecution's statement, shared through their official social media pages, explained the details of the incident.
In the two days between the newsbreak and her eventual return, a momentous social media campaign – ignited by writer and activist Sabah Khodir – brought light to the Noura's situation and the father's ill-treatment of his daughter.
The public prosecution's statement also acknowledged the role social media played in directing their attention to the case.
A KIDNAPPING YEARS IN THE MAKING
Noura had been kidnapped since 4 June, according to the prosecution's report. Held captive by her father, the case indicates that the situation had been escalating years before the crime occurred.
According to the statement, Noura's stepgrandmother testified that Noura's grandfather, who passed away prior to the kidnapping, had legal custody of her and her educational guardianship until his death.
"[Noura] testified that she resided with her grandfather and his wife since she was five months old, while her father resided in Japan," the prosecution's statement reads.
"She [later] refused her father's request to continue her studies abroad, granting the grandfather legal custody [of Noura], and cut ties with her father up until the passing of her grandfather," continues the statement.
A post by Khodir, which sparked the social media campaign leading to the father's arrest, reports additional details of Noura's estrangement from her father.
Upon her grandfather's passing, Noura's father forced himself back into her life to discuss an issue of inheritance, according to the prosecution's testimonials. This led to disputes between the two once it was revealed that Noura's grandfather left her a third of his estate in his will.
The disagreement culminated in Noura's father entering the house, physically injuring her, and then kidnapping her; the incident was witnessed by two nearby security guards, according to the prosecution's report.
Prominent lawyer and founder of Egypt's Center for Women's Rights, Nehad Abo El Komsan, also took a direct part in the campaign leading up to Noura's return. In an Instagram post on 13 June, the day before news of Noura's return, Abo El Komsan indicated that a case had been filed and sent to the public prosecution.
"The kidnapping of Noura is a crime, even if it's by the father or her close relatives," Abo El Komsan's post reads.
Upon questioning, the public prosecution attributed the kidnapping to the father, identifying acts of coercion, assault, and theft (of her phone and other belongings). The father denied the accusations.
"Accordingly, the Public Prosecution ordered the detention of the accused and filed for a police investigation. It also directed the victim to forensic authorities to identify injuries, while investigations continue," the public prosecution concludes.
Social media has since reacted with relief and jubilation, as users welcomed Noura back in comments, stories, and posts.
Noura, who is half-Korean, was also a subject of concern for the Korean Embassy in Egypt.
"The Embassy is thankful and assured for the timely address on Ms. Nora's case by the Egyptian relevant authorities according to the request of the Embassy," an official tweet reads.
Noura's case is another example of Egypt's growing utilization of social media and the virality of posts in bringing justice to victims. Egypt's social media campaigns continue to cultivate conversations on social issues and crimes that impact its society, as seen in the 2020 Fairmont case or the Teleperformance suicide case.
Source: Egyptian Streets
https://egyptianstreets.com/2022/06/14/egyptian-woman-kidnapped-by-father-rescued-after-intense-social-media-campaign/
--------
URL: https://newageislam.com/islam-women-feminism/kashmiri-slavery-uae/d/127254
New Age Islam Islam Online, Islamic Website, African Muslim News, Arab World News, South Asia News, Indian Muslim News, World Muslim News, Women in Islam, Islamic Feminism, Arab Women, Women In Arab, Islamophobia in America, Muslim Women in West, Islam Women and Feminism