17 April 2022
• Kashmiri Girl Memorises Holy Quran Just In 38 Days
• Pope Francis' Vigil Message: Let The Women Lead Out Of The Darkness Of War
• Hummel Backs Afghanistan Women Equality Fight With New Home Shirt Design
• Hundreds Rally Against Threat To Close Turkish Women's Rights Group
• Survivors Of Violence Create Tapestry That Tells Women's Tale
• Nigeria's Chibok Girls: Why Was This Former Captive Treated Differently?
Compiled by New Age Islam News Bureau
URL: https://www.newageislam.com/islam-women-feminism/kashmiri-memorises-quran-/d/126810
--------
Kashmiri Girl Memorises Holy Quran Just In 38 Days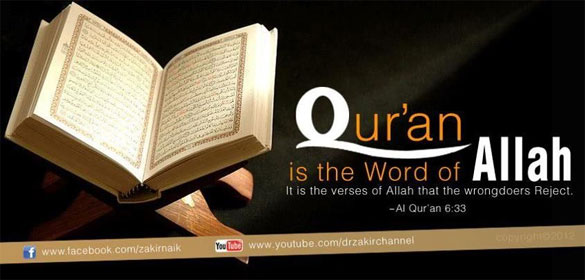 April 17, 2022
For the first time, a young girl memorised 30 chapters of the holy Quran in just 38 days.
She is part of nine girls from Kashmir who have completed memorising 30 chapters of the holy Quran within a year.
Hailing from Srinagar, Bandipora and Kupwara, these girls are aged between 11 to 18 years.
One girl memorised the Quran in 38 days, others two months and the rest within 4 months.
"I wanted to learn all the Aloom (science) and translation of the Quran in the future," said a girl.
"I want to become Alima (scholar) in the future and want to fulfil the dream of my parents."
A teacher of the girls said "I am thankful to Allah. It is like a dream come true after these girls completed memorising the Quran within a year and this record has been created from here."
"I suggest parents to give Quranic education with other educations like English, Urdu, science etc," he said.
Source: Kashmir Walla
https://en.abna24.com/news//kashmiri-girl-memorises-holy-quran-just-in-38-days_1248587.html
-----
Pope Francis' Vigil Message: Let The Women Lead Out Of The Darkness Of War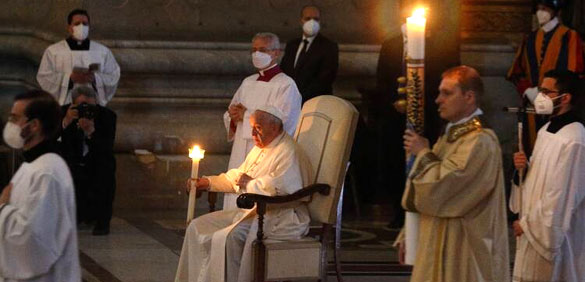 Pope Francis holds a candle as he attends the Easter Vigil celebrated by Cardinal Giovanni Battista Re in St. Peter's Basilica at the Vatican April 16, 2022. (CNS photo/Paul Haring)
-----
Pope Francis
April 16, 2022
Many writers have evoked the beauty of starlit nights. The nights of war, however, are riven by streams of light that portend death. On this night, brothers and sisters, let us allow the women of the Gospel to lead us by the hand, so that, with them, we may glimpse the first rays of the dawn of God's life rising in the darkness of our world. As the shadows of night were dispelled before the quiet coming of the light, the women set out for the tomb, to anoint the body of Jesus. There they had a disconcerting experience. First, they discovered that the tomb was empty; then they saw two figures in dazzling garments who told them that Jesus was risen. Immediately they ran back to proclaim the news to the other disciples (cf. Lk 24:1-10). They saw, they heard, they proclaimed. With these three verbs, may we too enter into the passover of the Lord from death to life.
How beautiful is a Church that can run this way through the streets of our world! Without fear, without schemes and stratagems, but solely with the desire to lead everyone to the joy of the Gospel.
The women saw. The first proclamation of the resurrection was not a statement to be unpacked, but a sign to be contemplated. In a burial ground, near a grave, in a place where everything should be orderly and peaceful, the women "found the stone rolled away from the tomb; but when they went in, they did not find the body" (vv. 2-3). Easter begins by upsetting our expectations. It comes with the gift of a hope that surprises and amazes us. Yet it is not easy to welcome that gift. At times—we must admit—this hope does not find a place in our hearts. Like the women in the Gospel, we are overtaken by questions and doubts, and our first reaction before the unexpected sign is one of fear: "They were terrified and bowed their faces to the ground" (v. 5).
All too often we look at life and reality with downcast eyes; we fix our gaze only on this passing day, disenchanted by the future, concerned only with ourselves and our needs, settled into the prison of our apathy, even as we keep complaining that things will never change. In this way, we halt before the tomb of resignation and fatalism; we bury the joy of living. Yet tonight the Lord wants to give us different eyes, alive with hope that fear, pain and death will not have the last word over us. Thanks to Jesus' paschal mystery, we can make the leap from nothingness to life. "Death will no longer be able to rob our life" (K. Rahner), for that life is now completely and eternally embraced by the boundless love of God. True, death can fill us with dread; it can paralyze us. But the Lord is risen! Let us lift up our gaze, remove the veil of sadness and sorrow from our eyes, and open our hearts to the hope that God brings!
In the second place, the women heard. After they had seen the empty tomb, the two men in dazzling garments said to them, "Why do you look for the living among the dead? He is not here, but has risen" (vv. 5-6). We do well to listen to those words and to repeat them: He is not here! Whenever we think we have understood everything there is to know about God, and can pigeonhole him in our own ideas and categories, let us repeat to ourselves: He is not here! Whenever we seek him only in times of trouble and moments of need, only to set him aside and forget about him in the rest of our daily life and decisions, let us repeat: He is not here! And whenever we think we can imprison him in our words and our customary ways of thinking and acting, and neglect to seek him in the darkest corners of life, where people weep, struggle, suffer and hope, let us repeat: He is not here!
May we too hear the question asked of the women: "Why do you look for the living among the dead?" We cannot celebrate Easter if we continue to be dead; if we remain prisoners of the past; if in our lives we lack the courage to let ourselves be forgiven by God; if we fail to change, to break with the works of evil, to decide for Jesus and his love. If we reduce faith to a talisman, making God a lovely memory from times past, instead of encountering him today as the living God who desires to change us and to change our world. A Christianity that seeks the Lord among the ruins of the past and encloses him in the tomb of habit is a Christianity without Easter. Yet the Lord is risen! Let us not tarry among the tombs, but run to find him, the Living One! Nor may we be afraid to seek him also in the faces of our brothers and sisters, in the stories of those who hope and dream, in the pain of those who we suffer: God is there!
Finally, the women proclaimed. What did they proclaim? The joy of the resurrection. Easter did not occur simply to console those who mourned the death of Jesus, but to open hearts to the extraordinary message of God's triumph over evil and death. The light of the resurrection was not meant to let the women bask in a transport of joy, but to generate missionary disciples who "return from the tomb" (v. 9) in order to bring to all the Gospel of the risen Christ. That is why, after seeing and hearing, the women ran to proclaim to the disciples the joy of the resurrection. They knew that the others might think they were mad; indeed, the Gospel says that the women's words "seemed to them an idle tale" (v. 11). Yet those women were not concerned for their reputation, for preserving their image; they did not contain their emotions or measure their words.
Source: America Magazine
https://www.americamagazine.org/faith/2022/04/16/pope-francis-easter-vigil-message-homily-resurrection-war-242835
-----
Hummel backs Afghanistan Women equality fight with new home shirt design
By Georgia Goulding
17 Apr 2022
The team is rebuilding its identity after being forced to flee the country following the Taliban takeover in August last year.
Not only were the women's football players forced to suspend action, Zakia Khudadadi missed the opportunity to make history at the 2020 Paralympics due to the ongoing turmoil.
Khudadadi was due to compete in the Para-taekwondo contest and would have become Afghanistan's first ever female athlete at the Paralympic Games.
Afghan women were placed in huge danger after Kabul fell to the extremist group. The movement previously held power between 1996 and 2001, during which time it enforced its own version of Sharia law, severely restricting the rights and freedom of women.
The regime forbade women to work or study, with imprisonment and even execution facing those who went against these newly enforced laws.
The Afghanistan national team was reunited in Australia after being granted visas and recently announced its return to competitive football.
The youth team was also successfully evacuated following help from former captain Khalida Popal. Media personality and businesswoman Kim Kardashian also supported the operation, pledging a donation to help fund the flight to the UK.
Australia's Football Victoria structure has accepted the senior Afghan side and it will become a full contender for the 2022 season.
In preparation for the campaign, hummel has provided new shirts for the players and replaced the old crest with a new one bearing the message: 'Let's play an equal game'.
The sportswear brand is keen to help re-establish the team out in Australia, providing them with a new opportunity but also keeping their identity as the official national women's team of Afghanistan.
"There's no doubt that these women are extremely proud of their country," said hummel CEO Allan Vad Nielsen. "That's also why we wanted to use their previous shirts as a symbol of their love for Afghanistan. And together with the team, we've designed a new logo, which symbolises their fight for freedom and equality.
"Simply because we want to use their voices to raise awareness of all women's right to play sport. And because we want to continue changing the world through sports, so that everyone can play an equal game."
Source: Give Mesport
https://www.givemesport.com/87995932-hummel-backs-afghanistan-women-equality-fight-with-new-home-shirt-design
-----
Hundreds rally against threat to close Turkish women's rights group
16/04/2022
Ankara (AFP) – Hundreds of people demonstrated on Saturday in several Turkish cities including Istanbul and Ankara against a move to close one of the country's most respected women's rights groups.
"It is not possible to stop our fight. We are not going to allow the closure of our association," the secretary-general of We Will Stop Femicide, Fidan Ataselim, told AFP.
An Istanbul prosecutor on Wednesday filed a lawsuit aimed at shutting down the association for "activity against law and morals".
We Will Stop Femicide publicises the murder and abuse of women in the mostly Muslim but officially secular state.
According to Ataselim, the lawsuit accuses the group of conducting activities that violate Turkey's "laws and morals".
The association was a vocal critic of President Recep Tayyip Erdogan's decision last year to pull Turkey out of the Istanbul Convention, which requires countries to set up laws aimed at preventing and prosecuting violence against women.
We Will Stop Femicide says 280 women were killed in Turkey last year, many of the murders committed by family members.
Another 217 women died in suspicious circumstances, including those officially registered as suicide, the group says.
Ataselim said the lawsuit was filed based on a complaint registered by a group of Turks through a website set up by the presidency to field citizens' requests.
The complaint accused the group of "destroying the family based on the pretext of defending women's rights", Ataselim said.
The language is similar to that used by Erdogan in his decision to withdraw from the Istanbul Convention, which Turkey signed in 2011.
Social conservatives in Turkey claim the convention promotes homosexuality and threatens traditional family values.
"Don't prosecute women, but murderers!" Hundreds of demonstrators gathered in Istanbul shouted.
Representatives of opposition parties as well as relatives of domestic abuse victims took part in the demonstration.
"These women are fighters... I wanted to be there to support them," said Nihat Palandoken, the father of a young girl killed in 2017.
Source: France 24
https://www.france24.com/en/live-news/20220416-hundreds-rally-against-threat-to-close-turkish-women-s-rights-group
-----
Survivors of violence create tapestry that tells women's tale
JHINUK MAZUMDAR
17.04.22
Women from urban and rural areas of the state who are survivors of violence have created a tapestry that brings out their voices aspirations and expectations of a violence-free world.
The 41ft-long and 8ft-high tapestry that contains the work of 354 women through painting, embroidery and words is on display at an exhibition titled "Weaving Dreams — Women Imagine a Violence-free World", organised by Swayam and The Indian Museum.
The exhibition was inaugurated by Astrid Wege, director, Goethe Institute/ Max Mueller Bhavan, on Saturday at the Pre and Proto History Hall of Indian Museum.
"It is wonderful that we are using this historical space for this tapestry... I would congratulate all the women who brought their vision to the public realm. I wish many people see it and acknowledge the feelings of women," said Wege.
What many of the survivors want is something as basic as "a happy home" or "the ability to fly" and not be confined within the four walls, indicative of how many of them had been unsafe in their own homes or forced to forego their dreams.
The fight for many of the women is not alone in their marital homes but also in homes where they were born and grew up, Kapoor shared.
A 35-year-old woman drew herself reading under the open sky. It was her education that helped her to raise her voice which her own family — parents and brother — threatened to take away from her.
"On multiple occasions while I was in school and college, they tried to marry me off. I resisted and was able to complete masters," she said.
She is still living in the same home and fighting for her rights. It took her many years to accept the fact that it was her own family that has been against her "for being born a girl."
The tapestry was a result of six interactive workshops that Swayam conducted with the women from urban and rural areas. Their work on small pieces of fabric was put together by artist and Swayam board chair Jael Silliman and vocational arts trainer Sarita Mandana.
"Art is a simple and powerful medium to raise consciousness, spark conversation, challenge inequalities and shape the way we think about society, as it touches people's heart and mind... The tapestry invites the visitors to look inwards and looks to change thoughts, attitudes and behaviour that discriminate against women," said Anuradha Kapoor, director and founder of Swayam.
Indian Museum librarian Ananya Das said: "As a woman we are in charge of protecting our identity as many people try to bring us down. We should not lose our willpower," said
The exhibition will continue till April 30 from 10am to 5pm daily except Mondays.
Source: Telegraph India
https://www.telegraphindia.com/my-kolkata/news/survivors-of-violence-create-tapestry-that-tells-womens-tale/cid/1860994
-----
Nigeria's Chibok girls: Why was this former captive treated differently?
By Adaobi Tricia Nwaubani
17-04-2022
In our series of letters from African journalists, to mark eight years since the Chibok school abductions, Nigerian journalist and novelist Adaobi Tricia Nwaubani speaks to a rescued girl who has been treated very differently to her former classmates who were freed earlier.
Hassana Adamu is delighted to be back home with her family almost eight years after she was kidnapped by Boko Haram jihadists from her school in the north-eastern Nigerian town of Chibok, but she is distressed that she is not receiving the same special treatment as her classmates who were freed long before her.
Ms Adamu, then 18, was among the more than 200 girls stolen from their school dormitory in the middle of the night on 14 April 2014. She and two of her former classmates were finally reunited with their families in January, bringing the total number of girls freed so far to more than 100.
Between 2016 and 2018, three Chibok girls were found or rescued in the Sambisa forest hideout of Boko Haram by the Nigerian military, while 103 were freed following negotiations between the Nigerian government and the militants.
Their return home was followed by global fanfare. International media scrambled to capture their stories and snapshots. Nigerian President Muhammadu Buhari invited them to meet him in the capital city, Abuja, with state governors and other top government officials in attendance.
For the next several months, the girls were kept in government accommodation at a ministry of women affairs facility in Abuja, where they were put through a government-sponsored rehabilitation programme that included medical and psychological care.
They were fed three square meals a day and provided free clothes and gadgets such as laptops and phones. They received visits from international dignitaries, such as Nobel-Prize winning Pakistani activist Malala Yousafzai, who was shot in the head by Taliban militants for going to school in 2012.
Thereafter, they were sent to begin a specially designed programme at the American University of Nigeria (AUN) in Yola, north-eastern Nigeria, on full government scholarships. More than four years later, the government is still sponsoring the Chibok girls who have chosen to remain at the AUN.
"The girls in the school are the ones who told me how the government is taking care of them," said Ms Adamu, who has reconnected with her former classmates by phone since regaining her freedom. "They told me how they stayed in Abuja before they were sent to school."
"Is it because we stayed so long or because we were already married? Maybe that is why the government does not want to take care of us," she added.
Ms Adamu got "married" to a Boko Haram fighter about two years into her captivity - many of the girls felt they had little choice - and her so-called husband is among the many militants that have surrendered to the Nigerian government in the past year, following intensified anti-terror operations by the military. The Nigerian military stated that 7,000 jihadists surrendered during one week in March alone.
Ms Adamu and her "husband" spent about five months in Maidugiri, the Borno state capital, in separate sections of a camp for repentant Boko Haram fighters and their wives. Afterwards, she and her two children were sent home to her parents in Chibok while the man returned to his family in the north-eastern border town of Banki.
"They were released with children and sent home with nothing," said Yakubu Nkeki, the chairman of the missing girls' parents association. "These three girls, they are suffering a lot."
Mr Nkeki worries that the government's apparent loss of interest in the Chibok girls could mean that the 109 still missing may never be reunited with their families, even if they are or can be rescued.
The Minister for Women's Affairs, Dame Pauline Tallen, told me that President Buhari had not yet had the chance to meet the three recently freed Chibok girls, but would happily do so when the opportunity arose.
Some of the stolen students have contacted their parents to say that they are in government camps in Maidugiri, he added, while some others have phoned their families from remote towns. In the past, such information would have led to frenzied activity by the government to find and display them to the world.
"About five of the girls are calling their parents from the Sambisa [forest]. They say that they are on top of the Gwoza mountain," Mr Nkeki said.
"About five are with the state government. The girls are calling us. One of the girls called her parents during our meeting and he left it on speaker for us to hear what she is saying. We don't know if the government knows that they are Chibok girls."
Whether or not the government is aware of their origin may not make much of a difference. Once upon a time, the Chibok girls were victims of a most shocking and unusual incident - children stolen from inside the four walls of their school. But in the past two years, Nigeria has experienced a spate of school kidnappings carried out by armed gangs known in local parlance as bandits.
At least 1,409 students were kidnapped from their schools in northern Nigeria in the 19 months between March 2020 and September 2021, according to Nigerian intelligence platform SBM, and at least 220 million naira ($530,000; £410,000) paid out as ransoms.
While the Nigerian government reportedly paid 3 million euro ($3.3m; £2.4m) to Boko Haram as ransom for the Chibok girls freed in negotiations, the recent school kidnappings have seen little government involvement, with the parents and relatives left to pay the amounts demanded by the bandits for their children's release.
Nevertheless, Ms Adamu believes that she is entitled to the same opportunities as her classmates. If nothing else, she wants to be included in the scholarship scheme at the AUN.
"It worries me so much because we started the suffering together but the other girls have become like American people while I am at home taking care of babies," she said.
Source: bbc
https://www.bbc.com/news/world-africa-61092882
-----
URL: https://www.newageislam.com/islam-women-feminism/kashmiri-memorises-quran-/d/126810
New Age Islam, Islam Online, Islamic Website, African Muslim News, Arab World News, South Asia News, Indian Muslim News, World Muslim News, Women in Islam, Islamic Feminism, Arab Women, Women In Arab, Islamophobia in America, Muslim Women in West, Islam Women and Feminism