New Age Islam News Bureau
24 Jan 2015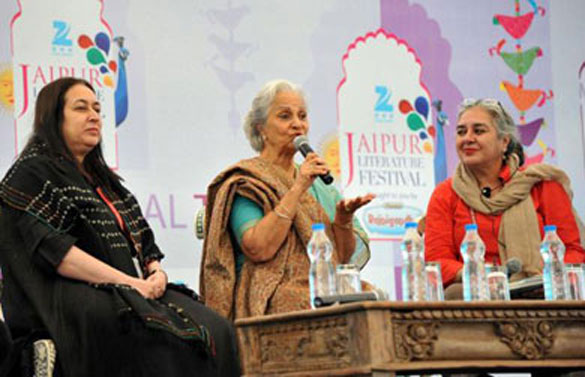 Veteran actor Waheeda Rehman in conversation with Nasreen Munni Kabir and Arshia Sattar at the Diggi Palace in Jaipur on Thursday.— PHOTO: ROHIT JAIN PARAS
------------
• The Girls Training To Fight ISIS
• Two Montreal Women Left To Join ISIS
• Cairo Conference Urges Women to Combat Extremism
• Curb Increasing Numbers of Child Marriages in Saudi Arabia
• Guru Dutt Wanted Me to Change My Name: Indian Actress Waheeda Rehman
• China Official Calls for Reduced Birth Rates in Xinjiang
• Shannon Conley Gets 4-Year Prison Term for Trying To Join Islamic State
• Muslim Women, Israeli Settlers and the Struggle for Al-Aqsa Mosque
• Late Saudi King Abdullah Leaves (Relative) Legacy as Women's Rights Advocate
• At Least 250,000 Children Being Used In Wars around the World
• The Golden Era for Saudi Women
• Taxi Driver's Muslim Daughter Clears CA In 1st Attempt in Ahmedabad
• Asian Football Community "Happy" To Bar Women In Order To Comply With Iranian and Saudi Restrictions
Compiled by New Age Islam News Bureau
URL: https://newageislam.com/islam-women-feminism/kashmir-girls-celebrate-gendered-stereotypes/d/101196
-----------
Kashmir Girls Have Not Much to Celebrate As Gendered Stereotypes Persist
Jan 24, 2015
Srinagar, Jan 24: India, a country that worships mother as goddess, kills its girl child before it is born and those who survive this infanticide are subjected to all kinds of violence.
The story is no different for Jammu and Kashmir, the only Muslim majority state, where red flags flattered after the 2011 Census exposed its female child ratio had gone down below Haryana and other north Indian states notorious for female fetal abortions.
Sharing her experiences vis-à-vis pre-birth gender selection, a Valley-based gynaecologist Dr. Syed Snober said, "Once a woman with five-month-old pregnancy came to me for medical consultation. I studied her medical history and was amazed to find that the woman had voluntarily aborted her foetus twice.
"I took the case as high-risk pregnancy and put her under proper medical surveillance," the doctor said.
The doctor says that in certain pockets of the Valley some medical practitioners including some imposters conduct abortions in their clinics in exchange of hefty fees. If these women developed any complications, they land up in referral hospitals.
Social activist, Dr. Nighat Pandit believes said that "one of the major reasons for this kind of discrimination is that people consider women to be weak and unequal to men and this thought affects her rights and her overall treatment by the society.
"Though our economic growth has been too fast but our behaviour towards women continues to be a depressing phenomenon and the trend has now percolated to the rural communities as well."
Lawyer and social activist, Abdul Rashid Hanjoora believes that plight of girl child is not as bad here as in other Indian states like Punjab, Harayana, etc. "But, yes conflict of more than two decades has escalated the problems of girl child, especially in rural areas in many ways, particularly on the education front," he adds.
Hanjura recalls an incident when he visited some areas in south Kashmir and found many young girls uneducated. "When I asked their parents why they were not sending their daughters to schools, they said they can't afford it as the girls have to cross government forces' camps and there was no guarantee of their safety," he recalled.
The lawyer believes that for the protection of girl child, the state government needs to devise and implement programmes that have a provision of some special financial assistance and skill development for the girls. They can also go for job reservations in state sector for a girl in a family that has more than one daughter.
It is disheartening to point out that the Integrated Child Protection Scheme (ICPS) launched by the Government of India more than six years ago has half-heartedly been implemented in Jammu and Kashmir.
Although the flagship child protection scheme is operational in majority of other Indian states since its launch in 2009, JK has failed to reap its benefits owing to the "careless approach" and "inefficiency" of the government officials over past many years, say experts.
http://www.dailykashmirimages.com/news-kashmirgirls-have-not-much-to-celebrate-as-gendered-stereotypes-persist-71578.aspx#sthash.jPYoAC4Z.dpuf
-------------
The Girls Training To Fight ISIS
Jan 24, 2015
SURUÇ, Turkey — Jalilia Shikho, 50, has been living in a plastic-sheet tent camp next to a warehouse here close to the Syrian border for four months. When she fled a village near the besieged town of Kobani with her family, her 16-year-old daughter stayed behind to fight. The two were briefly reunited in December after her daughter was brought to Turkey to recover in a Kurdish-run municipal hospital after being wounded in the hand and leg. But after the girl's clandestine treatment and a brief stay with her mother in the camp, Shikho's daughter decided to return to the front.
"Girls should go to school, but in Kobani they have to take up arms," says Shikho with a mix of anxiety for her daughter's safety and pride in her sense of responsibility to her community. Shikho has had no contact with her daughter since she returned to fighting and has no idea if she is even still alive. While the mother is clearly distraught by the threat to her child's life, she was unwilling to stand in her daughter's way in such desperate circumstances.
"ISIS is attacking us but no one is helping," she said.
That's a common sentiment amongst Kurdish refugees. U.S.-led coalition air strikes have been instrumental slowing and stopping the advance of forces from the so-called Islamic State that seemed destined to conquer Kobani once and for all last fall. But the siege and the fighting have continued, now, into a fifth month, and ultimately the battle will be won or lost on the ground. So the critical question is where the defenders of Kobani will get the reinforcements they need not only to hold out, but finally to drive the ISIS fighters away and make sure they will not return.
Kurds throughout the region and in Europe see this as a decisive battle to defeat radical jihadist forces, solidifty more territorial control and once again assert their national identity. A great many are prepared to join the ranks of Kobani fighters.
But the Turkish government, notorious for turning a blind eye to the jihadists transiting it territory to join the ranks of ISIS, has thrown up multiple obstacles to keep Kurds from joining the fight against those same agents of the so-called caliphate who have used medieval terror to instil their version a bloody, totalitarian religious rule.
Instead of easy passage to the front and access to safe havens, most Kurds and their left-wing sympathizers in Turkey run into a wall of intense state surveillance and tight border controls preventing them from joining the defenders of Kobani.
The logic of the Turkish policy, such as it is, lies in Ankara's concerns that the same people defending Kobani eventually will turn their guns—or at least their political ambitions—against the Turkish government. Turkey's actions show clearly that it considers the Kurdish movement, with which it is now in dialogue, as a greater threat than the brutal "caliphate" of ISIS.
The net result is that Turkish security forces continue to focus on containing the left-wing, secular, nationalist Kurdistan Workers Party (PKK) and in the process weaken resistance to ISIS. Kurds with Turkish citizenship are simply blocked from joining the anti-ISIS struggle, while injured Syrian Kurds who cross the border are unable to get treated in Turkish government hospitals for fear of arrest.
Ankara's concerns are clear: The Kurds make up 15-25 percent of Turkey's population and overwhelmingly support the PKK , which has been listed as a terrorist organization in Turkey and most of the West for the tactics it employed in its long armed uprising. From 1984 to 2013, the PKK carried out attacks on the Turkish military and police forces, bombings and assassinations, which killed both security forces and civilians. PKK leader Abdullah Öcalan has been in a Turkish prison since 1999.
The government of Turkish President Recep Tayyip Erdoğan has been in shaky peace talks with the PKK aimed at ending the 30-year-guerrilla war, but the signs of enduring mistrust are everywhere in Suruç. Turkish military and police are massed between the multiple, ballooning refugee camps that are filled with Kobani's residents. They run multiple, rigorous, checkpoints. While the local municipality is run by the HDP—Turkey's recognized Kurdish party—the armored vehicles and military barracks in the center of this working-class town show who's really in charge. The feeling of occupation is omnipresent.
Kobani is just a few miles away and the explosions and gunfire from the raging battles there are regularly seen and heard in the distance. However, it is in these Turkish camps, amid the people living in poorly equipped rows of tents on dirt and gravel lanes that have turned to mud in the winter rains, that the cost of the war is seen.
Turkey estimates that over 192,000 Kurds from the Kobani area have taken refuge on its side of the Syrian border, many of whom live in the makeshift shelters around Suruç. Some have limited heat and electricity in their tents while others don't even have candles to light their freezing dwellings at night. It is here that the YPG, a Kurdish fighting force that emerged with Syria's civil war and is a sister organization to the PKK, has focused its efforts on recruiting fighters to return to Kobani to try and repel ISIS.
Illness is spreading in the camps because of the harsh conditions. Many people are either too old to take up arms, or too young. But there are still potential fighters to be found. Stories of kids as young as 16 volunteering to join the YPG are common.
"People from Kobani can legally go [to Syria], so we are helping organize them," says Ayşe Efendi, a leading representative of Syrian Kurds in Turkey and the wife of Syrian Kurdish leader Salih Muslim Mohammad—who was one of the first Kurdish leaders to join the anti-Assad camp. She insists that those returning to take up arms are all volunteers.
Conducting the interview at the local HDP offices just before a meeting about recruiting fighters, I realize that Efendi presents herself almost as a mother of her nation. She appears aged far beyond her 55 years, but her personal suffering has helped her to embody and express the determination of the Kurds to keep on fighting. She has lost one son in the civil war, has another who is a guerrilla in Turkey with the PKK, and she hasn't seen her husband since the attacks on Kobani began. The other delegations arriving for the meeting hang on her every word as she argues the need to return to fight in Syria, to liberate Kurdish territory, and create a democratic region.
Efendi condemns Turkey for blocking Turkish Kurds from joining the battle and arresting injured YPG fighters who seek treatment in Turkish government hospitals. She says that the Kobani fighters rely mostly on machine guns and light arms, and while the coalition bombing may have been helpful, Efendi argues that repelling ISIS would be much easier if the PKK were taken off U.S., European Union and Turkish terror lists. "They don't send us the heavy weapons," she said. "It means people don't recognize us."
And so, as Kurds in Turkey struggle to find a way to fight ISIS that Ankera doesn't obstruct, the battle for Kobani goes on.
http://www.thedailybeast.com/articles/2015/01/24/the-girls-training-to-fight-isis.html
------------
Two Montreal Women Left To Join ISIS
Jan 24, 2015
MONTREAL — Two Montreal women, ages 18 and 19, were reported missing by their families in November and Canadian authorities believe they have joined Islamic State (ISIS) in Syria.
Police fear the women have become "slaves" of jihadist fighters, said Insp. Andre-Guy Lamothe of the Montreal police anti-terrorism unit.
"There were signs of radicalization," he said. "Unfortunately, we lost them, they've already arrived there. They'll be used as slaves for the people there."
Lamothe wouldn't say exactly where he believes they went.
Both Montrealers are considered high-risk travellers and are being investigated by Canada's Integrated National Security Enforcement Teams, a source close to the investigation told QMI Agency. The two women are friends.
The Criminal Code bars any Canadian from joining terrorist groups such as ISIS or providing money or assistance of any kind.
At the request of police, QMI Agency isn't revealing the women's names to prevent others in their inner circle from becoming radicalized. Police say they have a close relationship with the grieving families.
A CSIS agent told QMI that 10% to 15% of young people who leave their families to join ISIS are women.
"Radicalization used to take three, four or five years," the agent said. "Now we're talking about months."
He recalled holding sobbing parents in his arms after informing them that their children left to fight with terrorists.
"I've met many parents and it's sad," the spy said. "They didn't know. It's too late. They're gone."
He said people can become radicalized in front of their computers and recruitment can take just a few weeks.
"We couldn't detect them," he said.
RCMP Sgt. Hakim Bellal, head of a community outreach program on radicalization and national security, has also seen firsthand how families are affected by the radicalization of their children.
"The families are the victims," he said. "They don't even know their children are gone (to Iraq or Syria). They think they're just missing."
Last fall, the head of Canada's spy agency said authorities are monitoring 80 suspected Canadian terrorists who have returned home from violent hot spots around the world.
Montreal police officers discussed the foreign fighter problem this week at a special training session on terrorism and radicalization.
The session, organized by the RCMP, also included Quebec provincial police and intelligence agents. About 100 officers received the training.
http://www.torontosun.com/2015/01/23/two-montreal-women-left-to-join-isis-police
------------
Cairo conference urges women to combat extremism
Jan 24, 2015
Egyptian women gathered at a Cairo conference this week to encourage women to play an active role in combating violence and extremism in the country and Arab world.
The National Council for Women conference, which was attended by representatives of all ministries, official institutions and the judiciary, as well as the heads of political parties and a large number of writers, intellectuals and artists, was titled "She and Terrorism" and discussed how to activate the role of women in carrying out anti-violence and anti-extremism policies.
The conference concluded with the launch of a republic-wide comprehensive awareness campaign to mobilise efforts in support of the role of women in combating terrorism.
It presented a number of recommendations, key among them the affirmation that "Egyptian and Arab women are the first line of defence of national security because they play the principal role in combating terrorism, especially as women and children are the most affected by its consequences."
The conference also recommended renewing the religious discourse and raising awareness about the status of women in Islam, in addition to promoting the role of research and media centres in expanding intellectual production in the field of counter-terrorism policies, "upholding citizenship and tolerance, and achieving greater equality between the sexes".
Ambassador Mervat el-Tallawy, president of the National Council for Women, told Al-Shorfa on the side-lines of the conference that the conference aimed to produce recommendations and urge all state institutions to involve women in counter-terrorism efforts in an effective manner.
"Women play a key role in teaching children correct non-extremist thinking and love of country, and are capable of raising new generations with new ideas," she said.
Safeguarding Egyptian national security against terrorism is a duty and an important mission for women, she said, so they may be able to "build a generation that is capable of meeting the challenges surrounding society, the most serious of which are the terrorism phenomenon and takfiri thought".
Women can fulfil this role if they are empowered politically, economically and socially, she added.
ADVOCACY CARAVANS
Egypt's Minister of Religious Endowments, Mohammed Mokhtar Gomaa, said in his speech at the conference that the ministry, the authority that governs advocacy in Egypt, "is keen on the role of women in confronting terrorism" and has opened Islamic advocacy positions to female graduates of Al-Azhar University -- an effort to encourage them to disseminate the moderate teachings of Islam.
Boosting Islamic advocacy with sermons will contribute to the dissemination of moderate Islam, which fights extremist takfiri views, he said.
He added that the ministry regularly sends advocacy caravans across Egypt to conduct dialogue with young men and women at universities and youth centres to raise awareness about the dangers of terrorism and takfiri thought and how they can protect themselves.
"Counter-terrorism policies must evolve to keep pace with the tactics of radical groups in conducting operations, most importantly recruitment [tactics]," said Maj. Gen. Sameh Seif al-Yazal, director of Al-Gomhouria Centre for Strategic Studies.
Many of the young members of such groups are recruited online, he told Al-Shorfa, and therefore every family and mother must protect her children from being drawn to extremist ideas through dialogue, constant discussion and open debate about all the ideas to which they may be exposed.
EMPOWERING WOMEN
Amna Nosseir, a professor of Islamic philosophy at Al-Azhar University and member of the National Council for Women, called for the political and social empowerment of educated Egyptian and Arab women so they can effectively contribute to defeating extremist thought through improving school curricula at all academic levels.
Women can also contribute to spreading awareness about correct and moderate Islamic thought via campaigns conducted across the country targeting low-income citizens in rural areas, she said.
In such areas, Nosseir added, women are marginalised and "obtaining their support in the fight against terrorism is half the battle in stopping the spread of extremist thought amongst the rural populace".
http://al-shorfa.com/en_GB/articles/meii/features/2015/01/23/feature-01
------------
Curb Increasing Numbers of Child Marriages in Saudi Arabia
Jan 24, 2015
There has been a rising tide of marriages of minors in the Kingdom. There are several reasons for this, the most important being economic, especially poverty, and greed. There are also social factors, which include customs and traditions, and the dire situation as a result of families breaking up. Aside from this, there are also religious factors. The marriage of minors is deemed permissible in Islam.
Recently, the issue of child marriages created a brouhaha in Saudi society. This was triggered by a fatwa (religious edict) issued by the Grand Mufti Sheikh Abdulaziz Al-Asheikh. When he was asked whether the marriage of girls below the age of 15 is permissible in Islam, the grand mufti said yes. The uproar over this statement is yet to subside.
The grand mufti answered clearly and honestly according to Islamic law. There are no fundamental religious tenets that forbid child marriages. But the media outcry over this issue begs the question of whether there is an agenda to make us doubt the system by which fatwas are issued.
Time and change in location underscore the need to review some religious matters. In this context, some things that were permissible in the early period of Islam are now prohibited. Slavery is an example of this. The Saudi government banned slavery following an administrative decision taken by the late King Faisal. This ruling was issued because slavery is inhuman and, in the contemporary world, deprives individuals of their human rights. We have to be aware of the period in which we live and adopt practical approaches accordingly.
There is every possibility of negatively impacting the social, psychological and health of children whose mothers themselves are minors. As for such mothers, they themselves are deprived of the right to be educated, not to mention the psychological damage they experience. This also leads to negatively impacting families in particular and society in general.
This issue needs to be dealt with by the Ministry of Justice. Under the King Abdullah Project for Judicial Reforms, some initiatives have been taken to support women; this includes the historic decision to grant divorcees custody of their children.
The ministry also announced a plan under which the marriage of minors is only allowed under certain strict conditions. The project stipulates that the marriage of girls under 15 will be allowed after fulfilling three conditions: a medical report from a specialized committee certifying that the girl is fit to get married physically, mentally and intellectually, and that the marriage would not be dangerous for her; the consent of both the mother and the girl, especially if the mother is a divorcee; and assurances that the girl is mentally prepared for marriage.
I would like to point out one major thing with regards to allowing the marriage of girls under 15, and this is something that could be taken into account while implementing this project. The Kingdom has signed the UN Convention on the Rights of the Child which forbids such marriages. The Council of Ministers, on Nov. 17, also approved the Child Protection Law, article 1 of which defines a child as any human being under 18. The Kingdom is bound to abide by the UN Convention and the Child Protection Law. Hence, the Ministry of Justice should enact a law fixing the minimum marriage age for young women at 18.
http://www.saudigazette.com.sa/index.cfm?method=home.regcon&contentid=20150124231452
------------
Guru Dutt Wanted Me to Change My Name: Waheeda Rehman
AARTI DHAR
Jan 24, 2015
Guru Dutt was a perfectionist when it came to work, Ms. Rehman said.
Yesteryear actor Waheeda Rehman continues to draw as much crowd, attention and admiration today as she did in her heydays.
Braving heavy rain and biting cold, thousands gathered at the 'Mughal Tent' on Thursday afternoon to catch a glimpse of the veteran who ruled Hindi cinema for several decades. Recalling her interaction with Guru Dutt when she was called from Chennai to Mumbai to sign C.I.D, Ms. Rehman said he wanted her to change her name which he felt was too long and lacked appeal. "He cited examples of Dilip Kumar, Madhubala and many others who had adopted a screen name. But he failed to convince me and finally had to give up," she told the audience at a session "Mujhe Jeene Do: Conversation with Waheeda Rehman" at the eighth ZEE Jaipur Literature Festival.
"Guru Dutt must have been surprised, considering I was a minor. But yes, I was very stubborn and was hurt when he told me that my name was not good," she said.
Guru Dutt was a perfectionist when it came to work, Ms. Rehman said. He was very hard to please and once shot a scene with Mala Sinha 76 times before approving it.
Comparatively, Satyajit Ray had clarity of thought. He knew how and where to edit a shot and so was flexible with his actors.
"He would often say Bangla movies are made on a small budget and he could not afford to waste his resources on re-takes."
http://www.thehindu.com/news/national/other-states/guru-dutt-wanted-me-to-change-my-name-waheeda-rehman/article6812390.ece
------------
China official calls for reduced birth rates in Xinjiang
Jan 24, 2015
An official from China's restive far-western Xinjiang called for strict measures to prevent early marriages and high birth rates in southern parts of the region, state media said today, a move likely to raise concerns among ethnic Uighurs.
Xinjiang, which borders Central Asia, Pakistan and Afghanistan, has struggled with violence in recent years between majority Han Chinese and mostly Muslim Uighurs.
The government says Islamist separatists want their own state called East Turkestan, but human rights advocates argue that economic marginalisation of Uighurs and curbs on their culture and religion are main causes of the unrest.
Rural areas in southern Xinjiang have "worryingly high birth rates" and "local couples" often choose religious marriage instead of registering with authorities, said Hou Hanmin, a member of the Xinjiang committee to the Chinese People's Political Consultative Conference, a parliamentary advisory body.
"This negatively affects not only the physical and mental health of children and women, but also the population quality in the region, posing risks to social stability," the ruling Communist Party's Global Times tabloid cited Hou as saying at a Wednesday meeting.
Hou said that refusal to follow marriage laws made it hard for women to defend against domestic violence.
The Global Times did not say what measures Hou advocated, but her comments are the latest in a series from officials hinting at policies that could heighten ethnic tensions.
In August, the region's Communist Party boss, Zhang Chunxian, wrote in an official party magazine that all ethnic groups in Xinjiang should be held to the same family planning policies in an effort to lower birth rates. Xinjiang officials have also offered cash to encourage inter-ethnic marriages.
Critics see such policies as an attempt to reduce the proportion of minorities in Xinjiang or increase cultural assimilation. Uighurs already chafe at what they see as an influx of Han Chinese in the region.
Minorities currently face more lenient rules under China's one-child policy, exceptions to which allow most rural and urban Uighur families to have three children and two children, respectively.
A separate report in the English-language China Daily said the military would boost its presence in Xinjiang to secure its borders, as the United States reduces its military footprint in Afghanistan.
"We have the responsibility to stay on high alert and strike hard against terrorist activities in the region," Peng Yong, Commander of the People's Liberation Army Xinjiang military region, said.
http://www.themalaysianinsider.com/world/article/china-official-calls-for-reduced-birth-rates-in-xinjiang#sthash.e7bucJQD.dpuf
------------
Shannon Conley Gets 4-Year Prison Term For Trying To Join Islamic State
Jan 24, 2015
A 19-year-old Colorado woman who attempted to fly to Syria to assist the Islamic State group was sentenced Friday to four years in prison, NBC News reported. The sentence was handed down after Denver resident Shannon Conley pleaded guilty in September to a terrorism-related charge.
Conley, who now wants to be referred to as Amatullah, a Muslim name that means "servant of Allah," was drawn to the ISIS cause after she met a man online who said he was fighting with the militant group, CNN reported. The 19-year-old tried to get on a flight from Denver International Airport to Turkey and eventually Syria but she was arrested by authorities at the airport. A certified nurse's aide, the teenager wanted to be a nurse at an ISIS camp, according to the network.
While Conley received a four-year sentence, she may be in prison for as many as five years, depending on how well she cooperates with the government about other Americans she may know who joined or are planning to join ISIS, according NBC News. The judge who gave the sentence described Conley as an attention seeker and described her mental state as being "a bit of a mess," Denver NBC affiliate KUSA reported.
Conley pleaded guilty in September to conspiracy to provide material support to a designated terrorist organization, according to Denver ABC affiliate KMGH. She apologized for her actions before her sentencing, and said she wasn't planning on going to Syria to inflict violence.
"Even though I supported a jihad, it was never to hurt anyone. It was always in the defense of Muslims," she said. "I do not believe I am a threat to society and would appreciate an opportunity to prove it."
Conley's mother, AnaMaria Conley, said her daughter was misguided.
"She was clueless. She's just a teenager, young, with a big mouth," she told CNN in an interview last year. "I think another time, another place, she would just be another kid with a big mouth."
http://www.ibtimes.com/isis-denver-girl-sentenced-shannon-conley-gets-4-year-prison-term-trying-join-islamic-1793646
------------
Muslim women, Israeli settlers and the struggle for Al-Aqsa Mosque
Jan 24, 2015
sraeli settlers come to Al-Aqsa every day, but Palestinians don't like it. They think the Israelis want to take the mosque away from the Muslims, as they did with the Ibrahim Mosque in Hebron. Crying 'Allahu Akbar' is their only weapon.
Several women put up posters calling for their shrine's protection in a small yard of Jerusalem's Old City near the gates of Al-Aqsa. They come here early in the morning. They eat sandwiches for lunch. They are forbidden to enter Al-Aqsa. At 11.30 am they go to the closest army checkpoint, spread their prayer mats, perform salat (ritualistic prayer in Islam) and leave to return the next morning.
Latife Abdellatif, a Palestinian woman resident in Jerusalem, is 24. She is a Maths teacher and has been coming to Al-Aqsa to pray since her childhood. In November, she was banned by Israeli security officials from approaching the mosque for saying 'Allahu Akbar' when approaching Israeli settlers in Al-Aqsa.
Latife is one of the Muslim women protesting against Israeli settlers' flocking to the Al-Aqsa mosque.
Palestinians establish different groups and foundations to protect Al-Aqsa, which are then shut down by Israeli authorities, one by one, under various pretexts.
Latife received a three-month ban; for some this is six months. Sometimes, Israeli policemen confiscate IDs, which are vital for Palestinian women in Jerusalem. Others have been sentenced to house arrest.
What's behind the Al-Aqsa protests?
There are two mosques in this compound in Jerusalem's Old City – the Al-Aqsa Mosque and the Dome of the Rock. These mosques are controlled and managed by the Jerusalem Islamic Waqf, an Islamic trust. But access to the Al-Aqsa compound is controlled by Israeli army units, which are also allowed to enter and search the premises daily, and to arrest Palestinians. You don't find any Palestinian police units here.
This conflict is not merely religious; it also involves politicians, historians and even archeologists.
Al-Aqsa is the third holiest site for Muslims following Mecca and Medina. Muslims believe this is where Christ's Second Coming and the Final Judgment will occur.
Jews believe the Dome of the Rock is built on the site of Solomon's temple. They are certain the Temple Mount is the site where Abraham was going to sacrifice his firstborn son Isaac. They agree the Final Judgment will happen here, but they believe it will only be for the Jews following the coming of the Messiah.
Muslims don't agree with the name 'the Temple Mount' because they don't believe this is the site of the Jewish temple. They believe that Abraham's firstborn son was Ismael, not Isaac, and that Abraham was supposed to sacrifice him not in Jerusalem, but in Mecca. These are facts known by any person practicing Islam and preparing for the Hajj.
Muslims deny all Jewish claims to the Al-Aqsa compound. They believe the state of Israel is simply using fundamentalists to seize yet another piece of land.
Muslims and many scientists, including Israeli archeologists and Israel's leftists, say that despite massive excavation work conducted here by Israelites, they were unable to uncover a single artifact proving that Solomon's temple was sited here, or any archeological proof that Jews used to live in the Holy Land before the time of King Herod.
The idea of the protest
The idea of the protest is as follows: as soon as the women see Israeli settlers or their guards walking around the mosque, they start chanting "Allahu Akbar." The Israeli army and security services see to it that settlers come here without their prayer paraphernalia. They also make sure women don't approach settlers. They photograph and videotape these women while the latter do their best to hide their faces, because as soon as they are identified they will be banned from entering the area.
Men also used to take part in the protests in the summer. But they received much harsher treatment: some were arrested, others beaten up. In October, the Israeli authorities banned men under 50 and women from entering the compound. The latter started using their voices to protest.
This ideological and religious standoff has been going on for almost six months, but it has been particularly fierce since November.
The schedule of the protest
The Mughrabi Gate is open from 7.30 am, Sunday through Thursday for Jews, Christians and tourists to visit the sacred mosque.
Muslims have a few other gates open to them. If a Muslim goes to the mosque with a non-Muslim friend, they cannot use the same gate.
Only Muslims are allowed to enter on Friday and Saturday. And only they are allowed inside the mosque. The restriction was imposed after an incident in 1969, when an Australian from a fundamentalist Christian church set Al-Aqsa on fire.
Israeli soldiers check all the rooms inside the mosques every evening. This is the only mosque in the world where pilgrims aren't allowed to spend the night.
Groups of settlers come here every day (except Friday and Saturday) from early morning. They take their shoes off and walk around the Dome of the Rock because they think it's where the Jewish temple stood before the Romans destroyed it in the 1st century AD.
Muslims think that settlers' visits have been intentionally provocative over the past six months.
They were particularly outraged when the authorities closed the compound for people under 50 during the month of Ramadan, and even more disturbed when settlers brought in wine and started drinking it. From time to time, Muslims aren't even allowed to approach the mosque.
In 2000, future prime minister Ariel Sharon came to Al-Aqsa to pray together with settlers, which started a Palestinian uprising.
Muslims say that settlers' rituals and attempts to pray are all part of a political plan to seize this sacrosanct Muslim holy place, as has been done with many other mosques in the past. Israel has complete control over the mosque outside Bethlehem where Rachel is buried and the Ibrahimi Mosque in Hebron (Al-Khalil). There is also a campaign under way to gain control of the mosque in Nablus, the site of Joseph's burial.
Why women?
"Women opened their eyes. There are a lot of us. When they ban some of us, others come instead," Latife says.
She is outraged that the Israeli army prevents them from saying "Allahu Akbar" on mosque grounds. These are the first words of adhan, the call for prayer, which Israel has made numerous attempts to ban or mute.
"These words mean 'God is great'. Why is saying them punishable? What's next? They have already forbidden men under 50 to attend the mosque. They banned women from coming here," Latife says.
She thinks when their IDs are confiscated at the entrance, it's a sign of discrimination against women. They rarely give IDs back and this makes life difficult for the women, because without ID they can be arrested.
"If my brother and I go to a prayer on Friday, they'll take only my ID," Latife says.
She says it's an outrage that women are persecuted by the police for the expression of their faith.
"It has happened many times: I walk up to the security guards at the gate, and they already know my name and my address. Is that a threat? Are they showing us that they know everything about us?" she asks.
"We come here every day and sit in front of the entrance. Nothing will stop me from doing so. They think we are afraid of them, but we are not," Latife says.
Latife's father owns a book shop. When he was young he also took part in the resistance, which landed him in an Israeli prison for 13 years. Latife's mother worked as a secretary in the Orient House, and her brother is an architect and an IT specialist.
"Our parents try to stop us, since they only have two children, my brother and me. But young people don't want to put up with this anymore," she says. "In the course of five years, they forbade 50 women to come to the mosque. It's against the law. All women who come to protest got beaten or arrested."
She stresses that women try to avoid signing papers saying they are banned from the mosque, although this has consequences.
"If you don't sign, you'll be sent to a prison in Ramle, near Tel Aviv. They'll pass a sentence there and determine the duration of the ban," Latife explains.
Organized protests against the settlers attending the mosque unchecked started in 2011.
Latife has been coming to Al-Aqsa to pray since she was little and she fails to understand on what grounds this right was taken away from her.
Why Muslims are against settlers praying in Al-Aqsa
"The settlers pray here and drink wine. They've done it two or three times without suffering any consequences. The law is not the same for everyone. The army is always on their side," Latife says, bringing up the Second Intifada that began after Ariel Sharon visited Al-Aqsa in 2000. After these events, the settlers were forbidden to attend for a while, but that's history and they are there again.
"We believe that Al-Aqsa is for Muslims and that the second coming of Jesus will happen in Jerusalem. I'm not against any religion. Prophet Muhammad got along with the Jews. We understand that there are different religious tenets, but we are against the settlers' plan to demolish Al-Aqsa and build a temple of Solomon in its place," Latife says.
She points out that no such problems exist between Muslims and Christians.
"During the 51-day war the Christians living in Gaza opened the doors of their churches to Muslims, so that they could pray there, as many mosques were destroyed," Latife says.
She also talks about a Palestinian Christian who walks the streets during Ramadan to remind Muslims about iftar (the evening meal when Muslims end their daily Ramadan fast at sunset).
"There are many stories like that. The keys to the Church of the Resurrection in Jerusalem have been kept by Muslim custodians for centuries," Latife says.
She resents such intrusion into Muslim holy places. "Muslims have always been considerate towards other religions. For example, Caliph Uthman purposefully didn't pray in the Church of the Resurrection when he came to Jerusalem, so that it wouldn't get turned into a mosque," Latife says.
She thinks the settlers deliberately come to the mosque to pray, aiming to seize this place later. "The settlers take their shoes off, bow to the Dome of the Rock and don't turn their backs on it even when they are leaving, because they believe their temple was there."
"We're not against them because they are Jewish, we are against them because they are settlers and they take our land, our houses and they want to take Al-Aqsa, too," Latife says.
According to the young Maths teacher, Muslims aren't opposed to tourists visiting the mosque, because they don't pray and don't want to seize it.
"Just now one of the officials from the Al-Aqsa administration responsible for public relations was arrested," Latife says, looking through the news on her phone.
"We're against throwing stones. It doesn't change anything, only exacerbates the situation. Our protest is a peaceful one," she explains.
The women walk up to the security post. They spread their prayer rugs and pray. American tourists led by a guide pass by, they exchange a few remarks with the soldiers and take pictures with them. The guide, either talking to himself or to the Muslim women, crisply explains that the Temple Mount is the mountain of the Third Temple. The tourists leave with him.
How does a Christian woman get to Al-Aqsa?
In order to get to the Mughrabi Bridge, you have to go through a checkpoint with a metal detector, show the contents of your purse and walk along the Wailing Wall, then go through another checkpoint. Soldiers ask to see my passport, inspect my purse once again and look askance at the scarf on my head: "You're not a Muslim? You're a Christian? OK, you can go. You don't have a knife, do you?"
The ugly wooden bridge starts here and from it you can see Jews praying at the wall.
And finally there's the Mughrabi Gate.
On the temple-square in front of Al-Aqsa, men and women are sitting in a circle, reading the Quran. Some elderly men are dotted about here and there. They all wear a keffiyeh. A temple attendant is feeding some fat cats.
Israeli soldiers are everywhere, patrolling the area, communicating on their walkie-talkies. There are groups of tourists with tour guides telling them stories about the mosque in low voices. The signs indicating visit hours for the tourists are so old half the words are worn away. They have been here since 1969.
I hear a faint sound of women chanting "Allahu Akbar" somewhere in the distance and it gets louder.
I come closer. A group of young women covering their faces with veils passes me in a hurry. Right next to them some soldiers appear from nowhere, reporting something loudly on their radios.
People start saying quietly, "Look, settlers, settlers - over there."
The elders don't even stir, their eyes glued on the Quran.
Some twenty meters away I see two settlers walking, hands in their pockets. They suddenly change their route – either to avoid the women, or because they have been instructed to do so by the soldiers. They stay away from the mosque. The pair is accompanied by some sort of security detail, also settlers. Every now and then they slow down and exchange some remarks in an undertone. The settlers videotaping the whole procession slowdown in sync.
The young women are nowhere to be seen. I hear they have already been apprehended.
"There are not too many of them today. Settlers come in groups of thirty usually. And the soldiers are always on their side," says an elderly Palestinian.
The women's chanting dies down. But now the men's voices are picking up: "Allahu Akbar."
Abdallah, a Palestinian resident of Jerusalem, who is banned by the age restriction from visiting Al-Aqsa, explains: "When we say "Allahu Akbar" we remind ourselves of the presence of the Almighty in our lives to encourage each other when we are in distress or scared, and when we need to be reminded of what really matters. These words are not meant to threaten the others. But somehow they do feel threatened by them."
http://rt.com/op-edge/225487-muslim-woman-israel-palestine-restrictions/
------------
Late Saudi King Abdullah Leaves (Relative) Legacy As Women's Rights Advocate
Jan 24, 2015
An earlier version of the story painted the late King Abdullah as an advocate for women's rights in absolute terms. A mention that the definition was apt in the Saudi context, while not by Western standards, that had been dropped in editing has since been restored.
Saudi Arabia's late King Abdullah was one of the most powerful monarchs in the world. While he is credited for leading the state through challenging times, like the Arab Spring and the rise of the Islamic State, one of the King's biggest legacies was his effort to nudge the country toward improved human rights.
While Saudi Arabia is often criticized for its abysmal human rights record, especially when it comes to women, Abdullah led the slow movement toward a more equal society -- by Saudi, if not, by Western, terms. Despite the Kingdom's strict adherence to Shariah, Islam's moral code and the country's legal code, King Abdullah slowly put in motion laws and organizations that would facilitate equality for women as the country shifted toward cultural and economic modernity.
He is recognized for allowing women to hold jobs as supermarket cashiers and appointed Saudi Arabia's first female member of the Council of Ministers, Norah al-Faiz, as one of his deputy ministers to represent the interests of women's education.
Female education was part of King Abdullah's hallmark advocacies. According to a report by World Policy Journal, Abdullah's focus was on female higher education. "King Abdullah's reign is considered as the golden era for women's higher education," Sabria Jawhar, a columnist and former Jeddah bureau chief for the Saudi Gazette, said in the report. "Since he assumed the throne in 2005, he has made it very clear that he believes educating Saudi women is a top priority for him."
The $12.5 billion King Abdullah University of Science and Technology that he built and named after himself was the first Saudi school of higher education to allow men and women to study together, as opposed to segregated men's and women's colleges. And in 2011, Abdullah made a monumental ruling that would allow women to vote and run in future municipal elections. That has not happened yet. "We refuse to marginalize the role of women in Saudi society," the king said in an address at the time, according to the New York Times.
Abdullah had advocated for even more rights for women, but was often met with resistance as a result of the kingdom's cultural traditions. In an interview with Barbara Walters in 2005, Abdullah promised that he would allow women to drive, one of the biggest symbols of independence in Saudi Arabia. However, pushback from Saudi conservatives over a council advisory meeting about allowing women on the roads eventually halted consideration of women's "right to drive."
http://www.ibtimes.com/late-saudi-king-abdullah-leaves-relative-legacy-womens-rights-advocate-1792288
------------
At least 250,000 children being used in wars around the world
Jan 24, 2015
THAT the latest Islamic State video — purporting to show a young boy executing two men — shocked anyone says more about the West and what we ignore than Islamic State's vile tactics.
Because, as horrific as it is, the use — and abuse — of child soldiers, as young as eight, is nothing new.
Since 2000, the participation of child soldiers has been reported in most armed conflicts and in almost every region of the world, according to Child Soldiers International.
Child combatants have been found on battlefields throughout history and in at least 19 countries since 2011.
There are no exact figures but UNICEF estimates there are over 250,000 children involved with armed groups, being used for everything from frontline fighters, suicide bombers or human shields to porters, couriers, spies, messengers and guards.
They are also used to perform domestic duties such as cooking and cleaning.
Both boys and girls face the risk of sexual abuse, while girls are often forced into marriage.
There are reports out of The Council on Foreign Relations that girls, impregnated by their commanders, have even been forced to fight with their babies strapped to their backs.
Experts say some of the benefits of using children include that they are vulnerable, easily intimidated and easily manipulated.
Human Rights Watch says many are abducted or recruited by force, while others join out of desperation, believing that armed groups offer their best chance for survival.
"Children are sometimes forced to commit atrocities against their own family or neighbours.
Such practices help ensure that the child is 'stigmatised' and unable to return to his or her
home community," according to a HRW report.
"Children are uniquely vulnerable to military recruitment because of their emotional and
physical immaturity. They are easily manipulated and can be drawn into violence that they
are too young to resist or understand."
Given the widespread use of child soldiers, the recent Islamic State video purporting to show a young boy executing two 'Russian spies' shouldn't shock anyone.
The video, released last week, shows the child fatally shooting the pair after they were interrogated on camera about their alleged attempts to infiltrate the IS group in Syria.
The end of the video appears to feature footage of the same boy from an earlier IS propaganda video telling an interviewer he wants to grow up to kill "infidels".
In the earlier video, the boy gave his name as Abdallah, and said he was from Kazakhstan.
Abdallah's story echoes that of thousands of children who are illegally recruited, either by force or below the legal age, across dozens of countries where conflicts currently rage.
Under international law, the recruitment and use of children under 15 is a war crime.
Yet hundreds of thousands of children are still being stolen into government armed forces, paramilitaries, civil militia and a variety of other armed groups.
"Sometimes they are forcibly abducted. In some instances for example in northern Uganda, the Lord's Resistance Army actually forces children to kill some of their relatives to make sure that they don't go back." UNICEF's director of emergency programs Nils Kastberg once told CNN.
In recent years, Amnesty International has documented use or allegations of use of child soldiers in numerous other countries, including Central African Republic, Chad, Côte d'Ivoire, Democratic Republic of Congo, Sri Lanka, Somalia, and Yemen.
Full report at:
http://www.news.com.au/world/at-least-250000-children-being-used-in-wars-around-the-world/story-fndir2ev-1227194842435
------------
The golden era for Saudi women
Jan 24, 2015
JEDDAH — Saudi women on Friday mourned the death of a leader who whole-heartedly supported their causes and opened opportunities for them to advance in education, employment and business.
Speaking to Saudi Gazette, they described the reign of Custodian of the Two Holy Mosques King Abdullah as "the golden age for Saudi women".
They considered King Abdullah an "affectionate father" who granted them several concessions and privileges, which included the right to their own distinct ID cards and abolishing the need for a legal representative to carry out commercial activities and official transactions on their behalf.
His eponymous foreign scholarship program helped some 30,000 female students to pursue higher education in different specializations in top institutions around the world. Many others enrolled in local private colleges and universities under other scholarship programs.
Saudi women were unanimous in their opinion that the doors of success were opened to them by King Abdullah during the last nine years.
In 2009, King Abdullah appointed the first female deputy minister in the Ministry of Education. In another brave decision, the King in 2011 decided to name women to the country's consultative Shoura Council.
Over the past nine years several women were appointed to key positions in the government and public sectors. They became members of the boards of chambers of commerce and industry as well as heads of chamber committees.
Women with lesser skills were given the opportunity for the first time to work in the retail sector as cashiers and saleswomen. They also received support to start their own small businesses and were able to obtain real estate loans. They also won the right to sponsor their non-Saudi children, something that was not permitted previously.
Female students were no longer restricted to study specializations in education, humanities and medicine, but were given the freedom to choose from a variety of specializations and career options, including engineering and legal practice. They now have access to such specializations in newly launched university departments in the Kingdom.
Mona Al-Dosary, a Shoura Council member, said Saudi women were not just given the chance to sit in the council as observers, but were considered active members. She said they were given every right their male counterparts enjoyed.
"We have been making valid proposals and constructive comments that are appreciated by our male colleagues. Recently, a female member was named the deputy head of a committee."
Professor Rouqaya Kashgari of King Abudulaziz University in Jeddah said the mentality of male domination many sectors changed during the King's era.
"I was elected to be the first female head of a scientific society at King Abdulaziz University three years ago. The move to include women was not restricted to the Shoura Council alone but was applied in our sector as well," she said.
Amal Al-Hamdi, a reporter at Al-Eqtisadiah newspaper, agreed that King Abdullah's reign could be rightly called the "golden age for Saudi women."
She said women were given the opportunity to participate more in the development of the country.
In addition to different leading positions they hold in the private sector, women now make their presence felt in the retail sector.
"Women are now present in the Shoura; we contested elections to the chambers of commerce and voted in municipal council elections. The decision to employ women in the private sector has paved the way for more than 300,000 females to become productive members of society," Al-Hamdi said.
Madhawi Al-Hassoun, head of the beauty salons committee at the Jeddah Chamber of Commerce and Industry, said Saudi women have lost their "protector."
She noted that King Abdullah has put women on the spotlight and made them partners in the country's development.
"We were given awards and provided with education and training. Huge budgets were allocated to educate women, employ them and increase awareness among the public about their important role in society," Al-Hassoun said.
Enas Malaibari, an electronic and computer engineering student at Effat University, described the King as an "affectionate father" who granted scholarships to women to pursue education aboard and also locally for those who cannot travel. "This is an achievement that we will not forget. He is the father who believed in his daughters and believed that a woman's place is not inside her home."
http://www.saudigazette.com.sa/index.cfm?method=home.regcon&contentid=20150124231515
------------
Taxi driver's Muslim daughter clears CA in 1st attempt in Ahmedabad
TNN | Jan 24, 2015
AHMEDABAD: Nagma Pathan was the first person in her family to have gone to school. Now she has successfully cleared CA final in her first attempt.
With this achievement, Nagma is a daughter of proud parents who never went to school. Her father Yusufkhan Pathan is a taxi driver, who always used to feel low when came in contact with the educated class. "Because I and my wife are not educated, I always wanted my daughter to study well. I worked hard to provide facilities for her studies. Living in a one-room house and not celebrating Eid for the past seven years in order to save money so that I can spend on her studies were really difficult. But I think, my sacrifices have borne some fruits now," said an emotional Yusufkhan.
Nagma, who has fought hard to reach this stage, is of the opinion that Muslim girls should not limit their thoughts to marriage. "They need to change their concept of life, which is not limited to marriage and kitchen," she said and added that her first priority is to secure a job so that she could help her parents financially to ensure education for her two younger sisters who she wants to study science.
She further said, "I want to help those poor girls who want to study."
http://timesofindia.indiatimes.com/city/ahmedabad/Taxi-drivers-daughter-clears-CA-in-1st-attempt-in-Ahmedabad/articleshow/45998864.cms
------------
Asian football community "happy" to bar women in order to comply with Iranian and Saudi restrictions
Jan 24, 2015
The Asian Football Confederation (AFC) has dropped any pretention of standing up for universal standards for equality in sports by endorsing bans on women attending football matches in stadia. In doing so, the AFC has confirmed policies adopted by the Asian group as well as world football body FIFA that effectively supports autocratic or illiberal democratic regimes in the Middle East and North Africa.
The confirmation came in remarks by AFC general secretary Dato' Alex Soosay to Agence France Press (AFP) that he is "happy" to respect Iranian laws that ban women from watching male football matches in stadia. By implication, Mr. Soosay could have also been referring to Saudi Arabia which, like Iran, bans women from stadia, and in contrast to the Islamic republic, refuses to legalize or encourage women's football.
"We're very broad-minded. In Australia there's a big Iranian community and you can't stop them from coming to the stadium because there's no restrictions here. Whereas in Iran, there has been some restrictions of women entering the stadium and watching a football match," Mr. Soosay said.
MR. SOOSAY MADE his remarks after the Iranian football federation warned members of its national team competing in the Asian Cup in Australia not to take selfies with female Australian-Iranian football fans the majority of whom do not adhere to the Islamic republic's strict dress code for women.
"National team players should be aware that they won't be used as a political tool by those who take pictures with them," Ali Akbar Mohamedzade, the head of the Islamic Republic of Iran Football Federation moral committee, told Iran's Shahrvand newspaper.
Mr. Soosay's remarks appear to be at odds with an increased focus on human and women's rights by the International Olympic Committee (IOC) and other global sports associations. IOC officials have, in recent months, privately encouraged human rights groups to take Saudi Arabia to task for its failure to allow women to freely compete in all disciplines of the Olympics.
Mr. Soosay's remarks further contrast starkly with a warning to Iran by the International Volleyball Federation (FIVB) that it would be stripped of its right to host the 2015 Under-19 men's world volleyball championship if it bans women from attending matches. The FIVB stance is relevant to the AFC given that Iran is widely seen as a frontrunner in the bidding for the right to host 2019 Asian Cup.
A FIVB spokesman said in November that his federation "will not give Iran the right to host any future FIVB directly controlled events such as World Championships, especially under age, until the ban on women attending volleyball matches is lifted." The FIVB has asked Argentina to stand-by to replace Iran as the host of the tournament. In a statement, FIVB president Ary Graca said that "women throughout the world should be allowed to watch and participate in volleyball on an equal basis."
The FIVB made its decision after talks with Human Rights Watch, which has also met with IOC president Thomas Bach. The meeting with the IOC president marked a new era in the group's attitude towards human rights. Mr. Bach's predecessor, Jacques Rogge, refused to meet with human rights groups during his tenure.
Mr. Soosay's remarks further violate a resolution adopted two years ago by the West Asian Football Federation (WAFF) and endorsed by Iran that called for putting women's sporting rights on par with those of men.
THE AFC OFFICIAL'S remarks came against the backdrop of recent international outrage at the charging of a British-Iranian law graduate for attempting to enter a stadium to watch a men's volleyball match. Ghoncheh Ghavami was detained in June. She twice went on hunger strike before being released on bail as she awaits trial.
Mr. Soosay defended his comments by noting that visiting female officials and media attending AFC events in Iran have been allowed into stadiums, provided they covered their hair. "You have to respect that they have to cover themselves. There is a code of attire which has to be respected. If it's done in Iran there's no issue at all," Mr. Soosay said. His remarks related to foreign women who were members of visiting delegations and are subject to different rules from those that apply to women fans.By endorsing discriminatory Iranian policies, Mr. Soosay effectively reiterated the AFC's longstanding refusal to insist on adherence by Middle Eastern football associations to its principles, rules and regulations. That refusal amounts to effective support for autocratic rule in a football crazy region where rulers see the game as a key tool to retain power by exercising absolute control of public space and an institution that evokes deep-seated passions.
The refusal has had over the years far-reaching consequences for the AFC, no more so since 2002 when Qatari national Mohammed Bin Hammam became the group's president until he was banned for life by FIFA from involvement in professional football eleven years later, and under the reign of his Bahraini nemesis and successor, Sheikh Salman Bin Ebrahim Al Khalifa.
The governance of both men reflects the autocratic traits of the societies they hail from. Both men are imperious, ambitious and have worked assiduously to concentrate power in their hands and side line their critics clamouring for reform. Both men, hailing from countries governed by absolute, hereditary leaders, have been accused of being willing to occupy their seats of power at whatever price.
AS A RESULT, Mr. Soosay's remarks fit the mould of AFC governance. Sheikh Salman recently used a proposal to recognize Central Asia as a separate football region in Asia to eliminate the post of a woman AFC vice president. That post is currently held by Australian Moya Dodd, a prominent reformer whose views challenge those held by Messrs. Salman and Soosay.
http://www.yourmiddleeast.com/culture/asian-football-community-happy-to-bar-women-in-order-to-comply-with-iranian-and-saudi-restrictions_29394
------------
URL: https://newageislam.com/islam-women-feminism/kashmir-girls-celebrate-gendered-stereotypes/d/101196