New Age Islam News Bureau
22 May 2020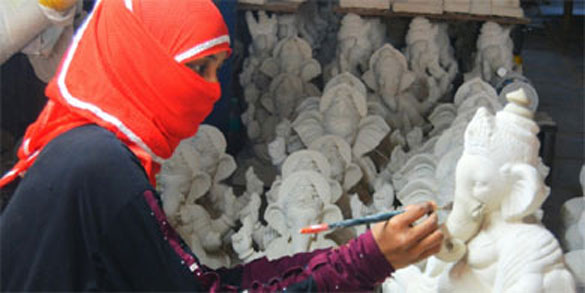 Suman Haveri is working on idols
----
• We Must Listen to Women's Warnings About the Middle East: UN Security Council
• Court Reinstates Two Muslim Bangladeshi-American Women Kicked Out Of New York Elections
• Saudi Arabia's Ministry of Justice Set to Give More Legal Rights To Women
• 'Women role crucial to ensure anti-COVID precautions at home'
Compiled by New Age Islam News Bureau
URL: https://www.newageislam.com/islam-women-feminism/karnataka-muslim-woman-making-ganesha/d/121924
--------
Karnataka Muslim Woman Making Ganesha Idols, Proves Art Has No Religion
22nd May 2020
HUBBALLI: For this woman from minority community, making Ganesha idols is a source of livelihood. Her artistic skill affirms that art has no religion.
SumanHaveri, a Muslim woman from Hubballi, is part of a team that has been involved in Ganesha idol making for the last two years.
She is an expert in giving finishing touches to Ganesha idols. The idol-making process begins in the city every year before the start of the rainy season.
Suman has been working as an assistant with idol maker ArunYadav. Along with two other women, she designs ornaments on idols and gives final touches.
She started working in an idol-making unit near her house to meet her financial requirements. She expressed happiness over making different types of idols that are unique and eco-friendly.
Yadav said: "After the ban on Plaster of Paris (POP) Ganesha idols two years ago, I started making paper idols. Since then I have employed six people who belong to different communities, including a Muslim."
"It is difficult to get good quality soil these days. Moreover, clay Ganesha idols develop cracks fast, besides weighing heavier. Therefore I thought of making idols with 'Porbandar chalk mitti' and newspaper which are popular among idol makers. The combination of chalk powder and newspaper weighs less and they don't develop cracks," he said.
He is the only person who is into making paper Ganesha idols in the region. He makes over 600 idols every year, from small to 10-ft tall size, for installation in public places during GaneshaChaturthi.
https://www.newindianexpress.com/states/karnataka/2020/may/22/this-karnataka-woman-proves-art-has-no-religion-2146612.html
--------
We Must Listen to Women's Warnings About the Middle East: UN Security Council
May 22, 2020
In 2000, the UN Security Council unanimously recognized that the key to peace and security lies in the equal participation of women in civil society. UN Resolution 1325 reaffirmed the important role of women in the prevention and resolution of conflicts, peace negotiations, peacebuilding, peacekeeping, humanitarian response and post-conflict reconstruction. Canada is one of 79 member states with a national action plan to achieve these goals. Last June, the government went one step further by appointing Jacqueline O'Neill as its first ambassador for women, peace and security.
And yet, the full participation of women in civil society is fraught with danger in countries where women's rights are lacking – especially when demanding basic human rights and speaking truth to power. For their efforts, many have been beaten, sexually abused, imprisoned or killed in an attempt to silence their call for human dignity. Now, the pandemic has multiplied the challenges faced by these courageous activists.
In late April, the Nobel Women's Initiative launched an ambitious online campaign to highlight the work of seven extraordinary women striving for human rights in the Middle East. This took place in lieu of a one-day conference originally planned for April in Ottawa, during which Nobel peace laureates Tawakkol Karman, Jody Williams and ShirinEbadi were to address delegates.
A number of common themes emerge from this campaign.
Foremost is the worry that with countries focused on domestic initiatives regarding the pandemic, less attention will be paid to human-rights abuses elsewhere. Omaima Al Najjar, an exiled Saudi human-rights activist, believes the Saudi government will further violate rights "because the world is busy with COVID-19."
Many of these activists are pleading with us to remember the vulnerable – especially in conflict zones where many of the NGOs that had been working on peacebuilding are now also helping with the COVID-19 response with very limited resources. MunaLuqman, a Yemeni peacebuilder, points out that despite the recent ceasefire, women human rights defenders (WHRDs) are now "more isolated to face the threats of warring parties on their own," given the decreased oversight of ceasefire violations. She also reminds us that the basic act of hand-washing is a challenge for many Yemenis lacking access to clean water. She fears the spread of COVID-19 through her war-ravaged country.
There is also deep concern that prisons in the Middle East will become COVID-19 hot spots – perhaps by design.
FahimaHashim of Sudan has devoted her life to women's equality and rights. Years ago, she led a successful campaign to reform rape laws. She warns that female prisoners in Sudan "are at great risk for the spread of COVID-19" due to poor living conditions, overcrowding and lack of access to health care.
Mozn Hassan, a prominent Egyptian feminist human-rights defender, has been under a travel ban and asset freeze because of her work. She reminds the world that "when priorities shift, we need not to forget WHRDs who have been jailed because of their legitimate activism. We need to call for their release."
While a number of countries have released prisoners to ease overcrowding, COVID-19 is being used to endanger the lives of political prisoners who remain incarcerated. Reem Al-Ksiri, a Syrian women's human-rights lawyer and expert on torture, leads research at the Syrian Centre for Legal Studies and Research. She has raised the alarm: "Women in prison, especially those imprisoned with children and those imprisoned for political reasons, are at present in a catastrophically dangerous situation due to the COVID-19 pandemic." She is calling for the release of all political and pre-trial detention prisoners.
Similarly, Maryam Shafipour is an Iranian human-rights activist who spent time in Evin Prison for her political views. She advocates for the release of female Iranian political prisoners, observing that "COVID-19 has become a tool in the hands of the Iranian authorities to do more harm to political prisoners" and accusing authorities of using COVID-19 to "kill political prisoners."
Finally, the spectre of increased domestic violence is on the mind of Yanar Mohammed, a prominent Iraqi feminist who heads an organization that runs underground shelters for women fleeing honour killings, sex trafficking and domestic violence. COVID-19 is a "double jeopardy," she believes, since authorities are "threatening us and trying to shut us down" while "at the same time COVID-19 has locked us in our homes." Please spare a thought for these brave women who, at great personal risk, are demanding basic rights that we often take for granted.
https://www.theglobeandmail.com/opinion/article-we-must-listen-to-womens-warnings-about-the-middle-east/
--------
Court Reinstates Two Muslim Bangladeshi-American Women Kicked Out Of New York Elections
22nd May 2020
ElhamAsaadBuaras
Two Muslim Bangladeshi-American women running for the Queens Primary in the New York State Assembly elections are back in the ballot after they were removed by the city's Board of Elections (BOE) on April 23 over "technical name errors."
On May 4, Queens Supreme Court Judge Leonard Livote ruled against the BOE's decision and ordered Mary Jobaida, who hopes to unseat Cathy Nolan in Assembly District 37, and Moumita Ahmed, who is vying to be the Democratic district leader in Assembly District 24, to appear on their respective ballots.
In a move that was branded anti-Muslim and xenophobic by the pair and their supporters the BOE had knocked the candidates off the ballot over discrepancies in their names.
The Board ruled that the name each had filed to run on didn't match the name they are registered to vote with. For instance, Jobaida is registered to vote under her legal name "Meherunnisa," but filed her petition to appear on the ballot with her nickname "Mary."
Likewise, Ahmed has campaigned for the Democratic district leader position under her personal name "Moumita," but had registered to vote under her legal name "Atqiya."
Speaking to The Muslim News Jobaida said getting "kicked off the ballot over a frivolous excuse was exactly the opposite of what I wanted to see in the most diverse borough in the whole nation. Western Queens, where I am running, is the most progressive. I am a first time candidate from an ethnic background of which no other candidate for this position has ran from before. People of all walks enthusiastically volunteered and donated to pave a movement."
"Young people from all backgrounds came together even in the freezing cold, collecting hundreds of signatures to get my name on the ballot. Facing this roadblock from the BOE was an absolute shock for us all. I am very grateful for the Judge's decision. This is another progressive step for our democracy and inclusion. This decision upholds our Queens value," added Jobaida.
Judge Livote called the BOE's ruling "impermissibly narrow." He noted previous cases where a candidate named "Michael" was allowed to run under "Mike" and another candidate named "Martin" was allowed to run under "Marty."
The argument of racial discrepancy in the application of the rules was also noted by many of their supporters including Councillor Costa Constantinides, a candidate for Queens Borough President.
"Two Muslim women were kicked off the ballot for shortening their names on their petitions. However, this is a common practice used by many elected officials, including Bill Clinton (William) and Marty Markowitz (Martin). At face value, the decision against Mary Jobaida and Moumita Ahmed was a xenophobic attempt to keep two women of colour from entering the political discourse," said Constantinides.
The South Asian American Voters Association branded the decision to kick the pair out as a "xenophobic attempt" to keep the pair off the ballot.
Judge Livote said the diversity of Queens calls for a wider view of the name requirements and what constitutes a nickname. 'In a county as diverse as Queens, with many exotic and unfamiliar names, an expansive view must be taken of what is familiar or diminutive,' he wrote. 'Thus, the position taken by the Board is impermissibly narrow.'
Both women will appear on the ballot on June 23 under their personal names.
http://muslimnews.co.uk/newspaper/islamophobia/38097-2/
--------
Saudi Arabia's Ministry of Justice Set to Give More Legal Rights To Women
May 22, 2020
Saudi Arabia plans to boost women's rights mainly in issues related to marriage, Saudi newspaper Okaz reported this week as the country recently adopted a wave of social and legal reforms.
The anticipated steps are aimed at enhancing women's independence in choosing and unequivocally agreeing on the marriage partner, according to the report.
Scholars and legal experts predict that the reformed regulations will allow a woman to attend her wedding session, check terms of the marriage contract and approve it.
"The woman's presence in her wedding contract session is part of her rights," said Qais Bin Mohammad Al Shaikh , an ex-member of the Council of Senior Scholars, which is Saudi Arabia's top Islamic body.
"She has the right to attend it or delegate her male guardian. Marriage is a lasting partnership between both sides based on the couple's wish to be linked together," he said.
The senior cleric confirmed that a woman's consent is essential for the validity of the marriage.
For his part, Issa Al Gheith, a member of the Saudi advisory Shura Council, pointed out that there are no religious or legal restrictions on the woman's presence of her wedding session to check her marriage contract.
"Her presence is seen as blocking anyone from forging her signature or practising coercion on her even under pressure of shyness," Al Gheith added. He said that the marriage contract has to verify the woman's identity and ask her to sign the contract herself.
In 2018, Saudi Arabia allowed women to drive for the first time in its history, as part of wide social and economic reforms championed by the kingdom's young Crown Prince Mohammad Bin Salman.
https://www.abouther.com/node/29321/people/features/saudi-arabia%E2%80%99s-ministry-justice-set-give-more-legal-rights-women
--------
'Women role crucial to ensure anti-COVID precautions at home'
May 22, 2020
Islamabad : First Lady SaminaAlvi Thursday said that being custodian of the household, women should play a responsible role to ensure strict enforcement of precautionary measures to protect their families from COVID-19 pandemic.
Addressing a ceremony for distribution of ration bags among the women with disabilities, the First Lady said that besides their own protection, strict adherence to precautions would also keep others from getting infected.
The event was attended by Managing Director Pakistan Bait-ul-Mal Aon Abbas Buppi, Dr Mariam from World Health Organization and dozens of women with disabilities who were distributed ration bags containing wheat flour as well as all basic food items.
The First Lady appreciated PBM for continuously serving the downtrodden communities which were hard hit by the economic impacts of coronavirus outbreak.
She said as the end to the pandemic was yet unknown, people would have to continue doing their chores but with necessary precaution else their own family as well as those in their surroundings would get infected.
She said along with others, the women with disabilities were also badly hit amidst the coronavirus situation but the government was striving to extend maximum relief to them.
The First Lady, who also distributed ration bags among the disabled women, also informed the gathering that after compilation of their data, the government would start supplying ration bags to the disabled women at their doorsteps to save them from hardship of collecting it from the designated places.
In his comments, Aon Abbas Buppi said whenever a family was faced with a financial crunch, the disabled people and elders always became the biggest casualty.
He said in one way or the other, around 20 percent of the population was facing certain disabilities either due to old age or any other physical impairment, making them dependent on their families.
https://www.thenews.com.pk/print/661923-women-role-crucial-to-ensure-anti-covid-precautions-at-home
--------
URL: https://www.newageislam.com/islam-women-feminism/karnataka-muslim-woman-making-ganesha/d/121924
New Age Islam, Islam Online, Islamic Website, African Muslim News, Arab World News, South Asia News, Indian Muslim News, World Muslim News, Women in Islam, Islamic Feminism, Arab Women, Women In Arab, Islamophobia in America, Muslim Women in West, Islam Women and Feminism