New Age Islam News Bureau
18 Nov 2019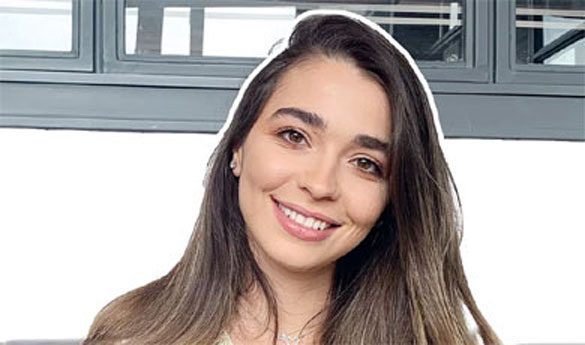 Miraim El-Moula, Lebanese designer
------
• Judge Rules That U.S.-Born Woman Who Joined ISIS Is Not a U.S. Citizen
• 'Alarming' Rise In Attacks on Muslim Women
• Islamophobic Abuse Mostly Directed At Women Wearing Headscarves While Shopping, Study Finds
• Princess Sora Bint Saud Al-Saud, Saudi Philanthropist and Entrepreneur
• Miraim El-Moula, Lebanese Designer Celebrates Saudi Arabia's Hidden Treasure Through Art
• Parsi Woman Awaits Verdict As SC Refers Sabarimala Review Petition To A Larger Bench
• Beauty Giant Mecca Facing Accusation of Discrimination, Bullying and Favouritism
Compiled By New Age Islam News Bureau
URL: https://www.newageislam.com/islam-women-feminism/judge-rules-that-us-born/d/120294
------
Congresswoman, Rashida Tlaib under Investigation for Federal Crime
November 17, 2019
Congresswoman Rashida Tlaib is under investigation by the Office of Congressional Ethics (OCE) for allegedly using campaign funds for personal use in a prohibited way. Misuse of campaign funds in this way is a federal crime.
The OCE opened the investigation against Tlaib "because there is substantial reason to believe that Rep. Tlaib converted campaign funds from Rashida Tlaib for Congress to personal use or Rep. Tlaib's campaign committee expended funds that were not attributable to bona fide campaign or political purposes."
In its complaint against Tlaib, the OCE's notes that federal rules do allow a candidate to receive a salary from campaign funds under a specific set of conditions. Tlaib maintains that she met those conditions, "however, several documents provided to the OCE by Rep. Tlaib suggest otherwise," the OCE report states.
Tlaib — along with her treasurer, campaign manager and a campaign staffer – have refused to cooperate with the OCE's investigation.
Since being elected to Congress, Tlaib has made headlines for her support of terror groups.
During on onslaught against Israel by Hamas in May 2019, Tlaib and her ideological friend Congresswoman Ilhan Omar both supported Hamas.
The United States declared Hamas a foreign terrorist organization in 1997. In 2007, Hamas declared its intention to destroy America and called on Allah to annihilate every American.
In May, Palestinian terrorists from Hamas and Islamic Jihad fired over 700 rockets into Israel in 48 hours, killing four and injuring at least 234, not including the trauma the rocket barrage brought upon the Israeli civilian population – including children.
Yet, Tlaib tweeted at the time:
Following her swearing-in ceremony in Detroit, Tlaib hosted a private dinner for close friends and family. One of her guests was Abbas Hamideh, an anti-Semite and supporter of Hezbollah, one of the world's most powerful terrorist organizations.
Meanwhile, while Tlaib was feting Hamideh, the U.S. government was busy ramping up pressure on Lebanon to clamp down on Hezbollah.
Tlaib is also a supporter of the Boycott, Divest and Sanction (BDS) Movement against Israel. According to the definition of anti-Semitism by the International Holocaust Remembrance Alliance and officially adopted by the U.S. (and 31 other nations), the BDS movement has been deemed at its core an anti-Semitic movement.
https://clarionproject.org/rashida-tlaib-under-investigation-for-federal-crime/
------
Judge Rules That U.S.-Born Woman Who Joined ISIS Is Not A U.S. Citizen
November 15, 2019
MERRIT KENNEDY
A federal judge has ruled that a U.S.-born woman who traveled to Syria and joined ISIS is not an American citizen, even though the State Department had issued her a passport when she was a child and later renewed it.
Hoda Muthana, 25, was a student at the University of Alabama at Birmingham when she traveled to Syria. She is currently being held at a detention camp in northern Syria with her young son.
In February, the State Department declared that Muthana "is not a U.S. citizen and will not be admitted into the United States." The statement from Secretary of State Mike Pompeo said that "she does not have any legal basis, no valid U.S. passport, no right to a passport, nor any visa to travel to the United States."
The next day, her father, Ahmed Ali Muthana, filed a federal lawsuit.
Hoda Muthana's citizenship was in dispute because her father was living in the U.S. and working as a diplomat for his home country, Yemen, prior to her birth. For families of diplomats, citizenship isn't automatically conferred on babies born in the U.S. because of diplomatic immunity.
The central question in this case was when Ahmed Ali Muthana's diplomatic immunity ended.
Yemen's government dismissed him as a diplomat in June 1994, several months before his daughter was born. "We all agree that his duties had ended and he was no longer a diplomat" when Muthana was born, said Christina Jump, a lawyer from the Constitutional Law Center for Muslims in America who is representing the family. "The Department of State is now trying to continue that immunity beyond that timeframe."
https://www.npr.org/2019/11/15/779788549/judge-rules-that-u-s-born-woman-who-joined-isis-is-not-a-u-s-citizen
------
'Alarming' rise in attacks on Muslim women
NOVEMBER 18 2019
The peak body for Australian Muslims says it's not surprised by a report that suggests Islamophobic incidents are on the rise, with girls and women the most likely to be abused in public.
Charles Sturt University's Islamophobia in Australia report, released on Monday, cites 349 incidents of Islamophobia over 2016 and 2017 involving "the perpetration of verbal and physical anti-Muslim abuse together with denigration of Muslim identity".
Almost three-quarters of the incidents were carried out against women, with 96 per cent of non-online female victims wearing a hijab at the time.
Almost four out of five reported perpetrators were of Anglo-Celtic origin and more than 70 per cent of all perpetrators were men.
The report also found 60 per cent of reported non-online Islamophobic incidents occurred in guarded places where police or security guards operated or where CCTV was installed such as shopping centres.
This was a 30 per cent increase on the prior two-year period.
"The report shows predominantly Muslim women and girls are being targeted with verbal abuse, profanities, physical intimidation and death threats in public places, most often while shopping, and most often by Anglo-Celtic male perpetrators," report lead author Dr Derya Iner said in a statement.
The report labels this "an alarming security problem".
Muslims Australia says the findings are troubling but not surprising.
"In an environment that has led to the Christchurch massacre and an increase in physical attacks on Mosques and community centres in Australia, these findings should be of concern to all Australians," the body said in a statement on Monday.
President Dr Rateb Jneid said: "The rise in far-right activism, racism, discrimination and the increase in cases of physical attacks is a threat to the social harmony of our country. Everyone has the right to live their life free of such hatred and vitriol."
The report found that of the 202 instances of non-online Islamophobia, 11 per cent involved damage to property and five per cent resulted in hospitalisation.
Online, some 63 per cent of the 147 reported incidents took place on Facebook, with 80 per cent "generically about Muslims" rather than targeted.
The report's authors said the data showed Islamophobic attitudes, particularly when directed towards women and children, were causing genuine harm.
A loud anti-Muslim minority also perceived a silent Australian majority as approving of public vilification, the report suggests.
"If unchecked, Islamophobia in rare but destructive cases can lead to tragic outcomes (as demonstrated in Christchurch)," the report says.
"This report serves as a call to Australian society as a whole, and to the Australian government, to overcome complacency and to actively address the dangers of religious-based vilification."
Federal Multicultural Affairs Minister David Coleman said the examples of discrimination in the report were "completely unacceptable".
"Freedom of religion is fundamental to Australian society," Mr Coleman said in a statement.
"Australians of all religions should be able to practice their faith free of prejudice.
"The behaviour outlined in the report is condemned in the strongest terms - Australia as a nation utterly rejects racism and religious discrimination of any kind."
https://www.canberratimes.com.au/story/6498222/alarming-rise-in-attacks-on-muslim-women/?cs=14231
------
Islamophobic abuse mostly directed at women wearing headscarves while shopping, study finds
Nadia Saeed was on the phone to the Queensland Premier's office when a stranger confronted her in the street.
"I don't care that your people were killed in Christchurch, you should have been shot too," he allegedly said.
The 21-year-old had just organised a Brisbane vigil for the Christchurch victims, something she thinks the man could not have known.
She was also in the process of accepting an offer to speak at Queensland's Harmony Day, an event that promotes the key message that "everyone belongs".
"I was shaking, I was beside myself. It was intense," she said.
Ms Saeed attributes the abuse to her wearing a headscarf.
Her story is not an isolated incident, according to a major Islamophobia study from Charles Sturt University, which found women wearing head coverings are most at risk of abuse.
The report analysed hundreds of alleged incidents of Islamophobia.
In only 10 cases was it reported that a bystander stopped to help the victim.
That trend makes Queensland Labor MP Duncan Pegg's actions a rarity.
Seeing Ms Saeed in distress, Mr Pegg approached the man and threatened to call the police if he did not leave.
"He was aggressive and angry," Mr Pegg said.
"It was distressing enough for me let alone her who was the target of it.
"It goes to show these events can happen anywhere … this was in the middle of the day outside a half-empty halal chicken shop."
Intervention in attacks rare
Ms Saeed reported the incident to the Islamophobia register, an online website which feeds the raw data to a research team at the Centre for Islamic Studies and Civilisation at Charles Sturt University (CSU).
The study, released today, analysed 349 incidents reported to the register between 2016 and 2017.
Almost three quarters of those behind the alleged abuse were male.
More than 70 per cent of the victims were female and almost all were wearing a hijab or scarf.
However, 41 per cent of reports lodged with the register were made by witnesses, not the victim.
"This suggests the majority of surrounding people did not ignore the case but did not intervene," the report found.
"This may have been because they did not know how to do so without putting themselves in danger."
According to one report, a male bystander saw a perpetrator trip a woman wearing a headscarf, while she was walking with her toddler.
"She didn't fall but she was looking back at the guy in terror … and no-one did anything," the bystander said.
"I was about to react but I re-thought about how he's twice my height and how the lady was still safe so I just walked off."
He went on to report it to the register.
CSU's latest Islamophobia report card is the second study released since the register was created in 2014.
The first paper, published in 2017, was billed as the first of its kind in Australia.
Derya Iner, the lead author on both reports, said she was alarmed at the increase in severe attacks requiring hospitalisation, which jumped from 2 per cent to 5 per cent.
In one alleged incident, a mother and daughter were crossing a road when they were rammed by a car.
The driver allegedly reversed and then accelerated and hit the mother again, after she had protected her child from the vehicle.
The woman rolled onto the bonnet and crumpled to the ground.
Shopping centres a hotspot for abuse
While the volume of Islamophobic attacks in Australia has remained relatively stable, where it is taking place has changed, the study found.
Perpetrators are becoming more brazen, with harassment in public areas guarded by security officers and CCTV jumping 30 per cent.
"The presence of security guards and cameras in shopping centres did not effectively deter perpetrators, nor did the presence of other people," the report states.
The second most common place for harassment was in schools and universities.
Incident reports made to the register outlined racists slurs from other students, teachers, principals and sports coaches.
"My daughter found graffiti about her in the girl's toilets at school calling her a sl**ty terrorist. Another added to it, saying 'I agree she blows things up'. Her friends scribbled over it and wrote 'if you knew her you wouldn't say that'," a mother wrote.
A high school student reported being attacked by a classmate. She was thrown to the ground and called a "f***ing Muslim terrorist" before having her headscarf ripped off so forcefully it tore out hair and required hospital treatment.
"I was called an illegal immigrant by the head of the senior school I attend. After telling my parents and the school, the perpetrator was not punished," a student said.
Another mother explained how she chose to remove her head covering before collecting her daughter from school so the girl was not identified as a Muslim and bullied.
Children not immune from racist attacks
The researchers found the presence of children did not deter abusers.
In some cases, their presence intensified the level of hatred.
Melbourne man Syed's experience with a stranger on a Brisbane train left his children so scared they have not been on public transport since.
He said the man tried to grab one of his children and threatened to throw them off the train.
"He went into my little children's faces (aged from five to 10) and said he would love to kill them all," Syed said.
"The kids got scared and started crying.
"I cannot forget that journey for my entire life as I was sitting helplessly and watching him abuse myself, my wife and my children."
Of the 147 verified online incidents, Facebook slurs were the most common (63 per cent).
More than a third of the abusive online posts were reported to the register by non-Muslims, often men.
The report also found a clear connection between race-hate posts and terror attacks overseas.
Some users were seen holding real guns in their profile pictures, while threatening to massacre Muslims.
Of particular concern, Dr Iner said, were posts that issued a call to arms.
"Let's fire bomb the mosque at Arundel with all the mozzies trapped in it," one person allegedly wrote.
Queensland cases disproportionate
Fourth generation sugar cane farmer Alma Mohammed, who lives in Gordonvale, outside Cairns in far north Queensland, has been targeted several times.
Her family has been in Australia for more than 100 years but that does not protect her from racist slurs telling her to "go back to where you come from".
The most recent incident was when Ms Mohammed was leaving a Girl Guides event with her young children.
"I'm sick of you people, why don't you f*** off … go back to where you came from" a stranger allegedly said.
"I was in defence mode, holding my baby in front and pushing my daughter behind me," Ms Mohammed told the ABC.
"He was carrying on, waving his arms around, and he had a bottle in his hand."Ms Mohammed belongs to the only Muslim family in the small Queensland town she lives in.
"I wear regular clothes, but I do wear the scarf, and I think he targeted me because of that," she said.
The researchers found the volume of incidents was generally proportionate to state population, except in Queensland.
It was the third most likely state for an Islamophobic attack despite having the nation's fifth largest Muslim population.
Harassment was also more common in culturally diverse suburbs than non-multicultural areas.
Dr Iner said Islamophobia was often a reaction to anti-Islam political rhetoric and media coverage of terrorism.
She said incidents were underreported and she feared the 349 cases analysed were just the "tip of the iceberg".
"We cannot be complacent," Dr Iner said.
"Social cohesion is something that must be nurtured and repaired by all of us for the wellbeing and security of Australia."
The next report will look at data from before and after the Christchurch massacre, in which 51 people died, 49 were injured and many more were traumatised.
https://www.abc.net.au/news/2019-11-18/muslim-women-enduring-most-islamophobia-in-australia/11708376
------
Princess Sora Bint Saud Al-Saud, Saudi Philanthropist and Entrepreneur
18 November 2019
Princess Sora bint Saud Al-Saud is a philanthropist and entrepreneur. She is the granddaughter of the late King Abdullah bin Abdul Aziz Al-Saud.
Princess Sora attained her BA in psychology from the American University, Washington, DC, in 2015.
Her philanthropic leadership experience includes establishing Ahyaha Foundation in partnership with her husband Prince Abdul Aziz bin Talal Al-Saud. The foundation focuses on improving the community through sustainable, creative, and social programs on youth and education, sustainable development, water resources and traffic safety and awareness.
On an international level, she became an honorary ambassador for Mentor International in 2017, a youth advocacy program chaired by Queen Silvia of Sweden.
Her participation within the foundation include her joining Queen Silvia and Princess Madeleine at the Mentor Foundation USA's International Gala in 2012, and co-chairing the 2018 In Light of Youth Benefit Dinner in the presence of Queen Silvia.
On Sunday, Princess Sora sponsored the celebration of the foundation's 25th anniversary at the Swedish Embassy in Washington, DC, on behalf of Queen Silvia.
In her speech, Princess Sora praised the vision and efforts of Queen Silvia, pointing out that the impact of the Foundation has reached more than 80 countries and helped more than 6 million children and adolescents through programs that contributed to empower and develop their talents and keep them away from dangerous drugs and behavior.
https://www.arabnews.com/node/1585511/saudi-arabia
------
Miraim El-Moula , Lebanese designer celebrates Saudi Arabia's hidden treasure through art
18 November 2019
RIYADH: Defectless, a six-month-old lifestyle brand is inspired by revealing hidden beauty. It started by highlighting the diversity of Saudi Arabia's landscape. Unlocking the once-hidden treasures and memorializing them into contemporary and sustainable art pieces.
"I want to create pieces that are not only aesthetically beautiful, but that tell stories of people and places and inspire human progress," 24-year-old artist Miraim El-Moula told Arab News.
"That is why I am so inspired by what's happening in Saudi Arabia and the emergence of these new destinations. These destinations were hidden from the world. Now they are shocking the consciousness of many artists, me included, with the beauty of their nature, heritage, and people. They are worth being celebrated."
Her designs are from four different regions in Saudi Arabia: Asir, AlUla, the Red Sea, and Riyadh. "That's what I want to show people, that Saudi is not just a desert country. It is much more," she said.
Hand sculpted from pure marble El-Moula's latest creation is the Guardian of AlUla. "To me, the elephant rock is a natural wonder that stood the test of time. It is proof that nature is the ultimate artist."
Inspired by the people of Asir and the community of the southern city, she recreated Asir Fortress in a contemporary handcrafted way. "I was inspired: On the one hand, the fortress represents the warriors who dedicated their lives to protect their lands, and on the other, Al-Qat pattern, engraved on it, represents the woman of Asir who enriched this community with their vibrant, colorful art."
"Red Sea Siglia" was created by her inspiration from the marine treasures of the Red Sea. "These coral reefs are 6,000 years old and irreplaceable. They are a gift to mankind that must be celebrated and protected."
She uses sustainable materials, such as concrete, to replicate the age-old corals. The center is covered with gold making it a beautiful centerpiece.
A marble tray made out of gold bowls that represent the historic Diriyah buildings — home to the leaders of Saudi Arabia — when conjoined is a representation of the UNESCO heritage site.
El-Moula knew from the beginning she wanted to be a designer. As a schoolgirl, she was infatuated with art class and even skipped other classes in school in order to develop her beloved passion.
"I feel like I was born with art in my DNA," she said. "I love to look at spaces and always have an opinion on how they can look better. I love touching material and matching colors. Creating a new piece of art brings me internal happiness."
Her first art display will be at Winter of Tantoura in AlUla.
https://www.arabnews.com/node/1585466/saudi-arabia
------
Parsi woman awaits verdict as SC refers Sabarimala review petition to a larger bench
Nov 15, 2019
Yesha Kotak
Thursday's Supreme Court judgment which referred the Sabrimala review petition to a larger bench raised the issue of Parsi women's entry to places of worship and sacred sites of ritual, raking up a matter that has caused much debate within the 61,000-strong Zoroastrian community in India.
A five-judge bench headed by the Chief Justice of India Ranjan Gogoi delivered a split verdict over the entry of women between the ages of 10-50 years inside Kerala's Hindu shrine of Sabarimala.
The majority judgment stated: "The debate about the constitutional validity of practices entailing to restriction of women generally in the place of worship is not limited to this case, but also arises in respect of entry of Muslim women in a Durgah/Mosque as also in relation to Parsi women married to a non-Parsi into the holy fire place of an Agiyari."
In 2017, the Supreme Court overruled a 2010 Gujarat high court verdict that found in favour of a customary law which prevented Mumbai-based plaintiff Goolrukh Gupta from visiting the Tower of Silence — a sacred space for death rituals — to perform her father's last rites, as she had married a non-Zoroastrian. The Supreme Court, however, directed the fire temple in Valsad, Gujarat, to allow her entry and stated, "DNA does not evaporate" after marrying outside a religion.
However, the 2017 order was an interim one, and the practice of denying entry in sacred spaces in Valsad continues.
The trustee of Valsad's Anjuman refused to comment, saying the matter is subjudice. An Anjuman is a caretaker body for all Parsi properties in an area.
Jehangir R Patel, editor of community magazine Parsiana, said that a resolution was passed by Valsad's Anjuman, in the early 2000s which restricted the entry of women inside fire temples if they married outside the Zoroastrian community.
"It is only in Valsad that women who have married non-Zoroastrians are denied entry," said Patel.
"In Mumbai or Delhi, there are no restrictions on entry of women inside the fire temple just because they have married outside the community. During our case, Anjumans of Vapi and Parbhi gave an affidavit stating that they would allow women to enter fire temples," Gupta added.
Ramiyar Karanjia, principal, Dadar Athornan Institute, the oldest Zoroastrian seminary, recalled a 100-year-old case in which a prominent industrialist married to a French woman, performed her Navjote ceremony — initiation to Zoroastrian religion — so that she could participate in ceremonies.
https://www.hindustantimes.com/india-news/parsi-woman-awaits-verdict-as-sc-refers-sabarimala-review-petition-to-larger-bench/story-X6hbDqcipSwl3Oa5t2oucO.html
------
Beauty Giant Mecca Facing Accusation of Discrimination, Bullying and Favouritism
Nov 18 2019
Dominic Powell
Beauty giant Mecca is locked in a battle to protect its reputation as one of Australia's best workplaces, with former and current employees accusing the business of discrimination, bullying and favouritism.
The popular Australasian retailer has been rocked by a stream of allegations published on an anonymous social media account, prompting founder and owner Jo Horgan to pledge reform and review the company's policies and practices.
In an email to staff, Horgan said she was "deeply saddened" to learn of the allegations, and said the company was taking the claims seriously.
"If we are not meeting these standards, we need to acknowledge this, apologise, and make the necessary changes," she said.
The complaints stem from an anonymously run Instagram account with the handle @Esteelaundry, which last month began collating and posting employees' accounts of working at the beauty giant.
More than 50 accounts of alleged mistreatment from people claiming to be former Mecca employees were posted to the page, detailing experiences of harassment from managers, racism towards staff, and a "toxic" culture of favouritism and nepotism.
Current and former employees have backed the anonymous complaints, telling The Age and The Sydney Morning Herald their experiences with the company were vastly different to the positive, fun, and "gloss and glamour" way Mecca presents itself.
Mecca is a beauty powerhouse in Australia, owning around 25 per cent of the $A2.4 billion ($NZ2.5b) top-end cosmetics market, with 100 stores across Australia and New Zealand and just over 3100 staff.
In the 2018 calendar year, the company reported revenue of $A444.4 million, a 20 per cent increase on the year prior.
The business has been named as one of Australia's top workplaces in the Great Place to Work survey six times in the last six years, most recently taking out the fourth spot for companies with more than 1000 employees.
​Narita Salima, a former retail worker, initially expected her experience would reflect these accolades, believing her time at the company would be "fun and exciting" after landing a casual job in 2016.
But, after just a few weeks, the then 22-year-old employee found herself dreading coming to work. She says she was bullied and ridiculed by managers over trivial issues, often on the shop floor in front of customers.
"It was traumatic. That whole Mecca culture, that positive workplace, it's just so fake."
After working for a month and a half, Salima says she raised concerns with her line manager about the bullying she was experiencing. She was fired shortly after.
Another former employee who worked in the head office said the environment was "cult-like". She says she was asked to quit simply because she was not "passionate" about her work.
"My manager pulled me into her office and said 'I know you're not passionate about your job, I think it's time for you to give me your resignation'," the employee says.
"I'd never had any performance issues in the history of my job there. I was shocked."
Another employee claims Mecca workers weren't regularly paid for overtime at the end of their shifts, with the company having a policy of not closing the store's doors until all shoppers had left.
This would lead to employees staying back as much as an hour overtime, often unpaid, and at other times paid with leftover test products.
Employees say attempts to resolve these issues with HR were futile, with one worker labelling the department "toothless".
Others say their time at Mecca significantly affected their mental well-being, with one former makeup artist saying the constant "bullying and belittlement" prompted her to visit a psychologist.
"I already had anxiety and [Mecca] made it so much worse," she said.
'WE WILL DO BETTER'
Following the complaints, Horgan, a former entrepreneur of the year recipient, sent a number of emails to staff recognising and addressing the claims and saying she would take action in both the short and long-term.
In these emails, seen by The Age and SMH, Horgan says she was surprised to hear of the concerns, claiming just 0.2 per cent of Mecca's retail workforce had made a bullying complaint in the last two years.
The messages also disputed the claims of unpaid overtime, saying the company's pay policies were regularly reviewed and were "guard rails" to help build the business' culture. The company says staff are paid overtime in line with legislation and all product benefits are in addition to standard pay.
Mecca has appointed an external culture specialist to commence a "listening tour" around stores and make recommendations to the company on what it can do better. It has also established a new anonymous workplace complaints hotline.
In response to a detailed list of questions from The Age and SMH, a spokesperson for Mecca said the company was striving to "do better".
"It is our aim to ensure each and every one of our team members has a positive working experience," the spokesperson said.
"To anyone for whom that has not been the case, we are truly sorry. We are listening to and taking seriously any issues raised and I recognise there are always things we can, and will, do better."
https://www.stuff.co.nz/business/world/117492979/its-all-fake-beauty-giant-mecca-facing-bullying-claims
------
URL: https://www.newageislam.com/islam-women-feminism/judge-rules-that-us-born/d/120294
New Age Islam, Islam Online, Islamic Website, African Muslim News, Arab World News, South Asia News, Indian Muslim News, World Muslim News, Women in Islam, Islamic Feminism, Arab Women, Women In Arab, Islamophobia in America, Muslim Women in West, Islam Women and Feminism