New Age Islam News Bureau
14 Apr 2013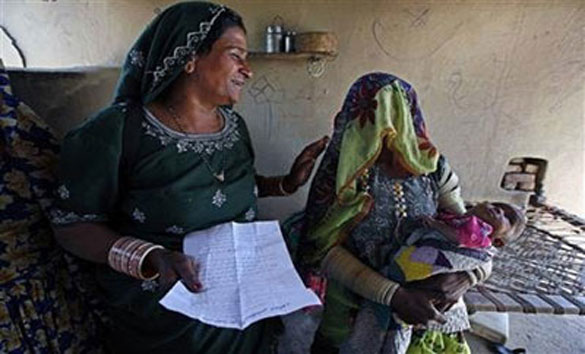 Photo: Veero Kolhi can make a claim that may resonate more powerfully with poor voters. (reuters)
---------------
• Once a Landlord's Serf, Pakistani Hindu Woman Enters Elections
• Arab Woman's Ambition Could Guide Her All The Way to the Elysee Palace
• Arab Idol Fans Applaud Contestant Singing Kurdish for the First Time
• Female Participants in Maldives Tourism Training Declining
• Angelina Jolie, Beautiful Stranger Behind Afghan School
• It's Too Easy To Make Madonna the Scapegoat for the Malawi Debacle
• Newsweek Names Saudi among World's Top Women
• Indian Nurse Deported From Dammam for Forgery
• Strengthening The Capacity of Pakistan's Women Journalists
• 23 Girls to Wed at Mass Ceremony Today In Pakistan
• Australian Muslim Women Kick New AFL Goal
Compiled by New Age Islam News Bureau
URL: https://newageislam.com/islam-women-feminism/jordan-woman-throat-slit-belly/d/11137
-----------------
Jordan Woman's Throat Slit and Belly Cut Open In 'Honour' Killing: Police
April 14, 2013
AMMAN — Jordanian police said on Sunday they found the burned body of a pregnant woman whose throat had been slit and belly cut open showing her four-month-old foetus, in an apparent "honour killing."
"We found the body of the woman at dawn in Ruseifeh (east of Amman). Her throat was slit in a hideous way. The body was burned after the murder," a police spokesman said.
"We believe it was an honor crime. The belly of the woman, who was in her twenties, was cut open and we could see her four-month-old unborn child, who was dead too. Investigations are still under way."
Between 15 and 20 women die in so-called "honor" murders each year in the Arab kingdom, despite government efforts to curb such crimes.
Murder is punishable by death in Jordan, but in "honor killings" courts can commute or reduce sentences, particularly if the victim's family asks for leniency. — AFP
http://www.saudigazette.com.sa/index.cfm?method=home.regcon&contentid=20130414161342
-----------------
Once a landlord's serf, Pakistani Hindu woman enters elections
By Reuters
April 14, 2013
HYDERABAD: When Veero Kolhi made the asset declaration required of candidates for Pakistan's May elections, she listed the following items: two beds, five mattresses, cooking pots and a bank account with life savings of 2,800 rupees ($28).
While she may lack the fortune that is the customary entry ticket to Pakistani politics, Kolhi can make a claim that may resonate more powerfully with poor voters than the wearily familiar promises of her rivals.
For Kolhi embodies a new phenomenon on the campaign trail – she is the first contestant to have escaped the thrall of a feudal-style land owner who forced his workers to toil in conditions akin to modern-day slavery.
"The landlords are sucking our blood," Kolhi told Reuters at her one-room home of mud and bamboo on the outskirts of the southern city of Hyderabad.
"Their managers behave like pimps – they take our daughters and give them to the landlords."
To her supporters, Kolhi's stand embodies a wider hope that the elections – Pakistan's first transition between elected civilian governments – will be a step towards a more progressive future for a country plagued by Islamic militancy, frequent political gridlock and the worsening persecution of minorities.
To sceptics, the fact that Kolhi has no realistic chance of victory is merely further evidence that even the landmark May 11 vote will offer only a mirage of change to a millions-strong but largely invisible rural underclass.
Yet there is no doubt that hers is a remarkable journey.
http://tribune.com.pk/story/535448/once-a-landlords-serf-pakistani-hindu-woman-enters-elections/
-----------------
Arab Woman's Ambition Could Guide Her All The Way to the Elysee Palace
Colin Randall
Apr 14, 2013
PARIS // France's best-known Muslim woman has spoken of her fierce pride in a rise to political heights that her supporters believe could lead to a historic double: the country's first female president who is also an Arab.
Rachida Dati said in an interview that she does "not necessarily" have herself in mind when she uses the phrase "why not?" to assess her prospects of reaching the Elysee palace.
She insists she is talking instead about "people like me", those from poor immigrant backgrounds who have used education, talent and a burning desire to succeed to escape from ghettos, underachievement and poverty.
But she readily recognises, indeed proclaims, that this describes her own life.
"I bring together lots of firsts within the French political system and the big political parties," Ms Dati, 47, of Algerian and Moroccan origin, said. Her office is on Paris's elegant Left Bank, where she is mayor of the seventh arrondissement, or district.
"I am a woman and the product of a disadvantaged background, of Maghrebin origin, whose parents emigrated for economic reasons, to find a better life, and from a big family.
"That's not at all similar to the traditional pattern within the French political classes and big parties.
"And yet curiously, despite a good deal of resistance from certain sections of the political establishment, I have become very popular in a France that is changing."
Aides and political observers are in no doubt about the ambition of Ms Dati. She wants to be mayor of Paris, but the common consent is that she also would love to pursue her dream to the very top.
Already, Ms Dati's flight from the familiar blight of low-income housing estates, dominated by families with roots in France's former North and sub-Saharan African colonies, has involved her serving as a member of the national assembly, the former president Nicolas Sarkozy's justice minister and, now, the mayor of a smart Parisian district and a European parliamentarian.
She says she took enormous pride in her ministerial legacy of reforms of court procedures and the way magistrates dealt with accused persons, stressing that this was a sense of achievement she felt "for people like me".
There are formidable hurdles to clear in Ms Dati's struggle to win a primaries vote at the end of May. That would establish her as the centre-right Union for a Popular Movement (UMP) candidate for the capital's top municipal job.
Municipal elections in Paris are to be held next year, and the elected councillors will then choose a new mayor to replace Bernard Delanoe, the socialist who has run city hall since 2001 but is standing down.
All that seems probable is that Mr Delanoe will be replaced by a woman.
But in Ms Dati's way, in an electoral battle that is starting to capture international attention, stand two other high-profile female politicians. Nathalie Kosciusko-Morizet, another former minister from her own party, is the favourite to win the UMP nomination, while Anne Hidalgo, a socialist, is seen by Paris's powerful left as Mr Delanoe's natural successor.
Even if she finds Ms Kosciusko-Morizet impossible to beat, or wins the primaries but fails to defy the Left in the mayoral election, Ms Dati is unlikely to fade away.
Instead, observers believe, she would use her prominent public image to fight on in the hope of restoring conservative control of the Elysee when the socialist Francois Hollande's presidential mandate ends in 2017.
She has previously said she would be happy to be president if the country wanted her.
Despite the reluctance to repeat such statements and declare outright that she is talking about herself when she says there is no reason why someone like her should not take high office, the concept is one she appears to warm to.
She cheerfully adopts questions about the sort of leader she would be in charge of the capital or the country, "for all French people, not just the partisans who belong to my party".
And the precedent of historic advances elsewhere in the world fuel her enthusiasm. "I remember when Nicolas Sarkozy met Barack Obama back in 2003 or 2004. No one would have believed this man would quite soon succeed as president of the United States," she said.
Those close to Ms Dati, as well as the pundits, say she sees herself in similar mould-breaking terms.
In Paris, she sees an opportunity to break the socialists' 13-year stranglehold because, on her analysis, her origins give her a common touch. "I will continue to campaign, arrondissement by arrondissement, trying to reach all Parisians, including those who are not otherwise in agreement with me. They all have the same preoccupations: accommodation, transport, security and restoring cleanliness in a city that has become dirty."
If the odds turn out to be stacked too heavily against her, she hopes to go on serving the residents of the seventh arrondissement who, she says, "tell me to stay with them". It is also possible she would work at city hall with Ms Kosciusko-Morizet if the latter won; "we speak to each other and are not enemies", she says.
And in the event of Mr Hollande's government collapsing, despite its comfortable majority, in the face of failures and crisis, she would be seen as a strong contender for a return to ministerial office.
foreign.desk@thenational.ae
http://www.thenational.ae/news/world/europe/arab-womans-ambition-could-guide-her-all-the-way-to-the-elysee-palace#ixzz2QRBmtYoN
-----------------
Arab Idol fans applaud contestant singing Kurdish for the first time
13 April 2013
Viewers of a pan-Arab talent show were mesmerized after hearing a participant from Iraq's semi-autonomous region of Kurdistan singing in Kurdish and for the first time in the show's history.
Despite not understanding Barwas Hussien when she sung in Kurdish, the Arab Idol's audience was enthralled and applauded her performance on Friday.
Hussien impressed the show's Arab viewers when she sung an iconic Syrian star Sabah Fakhry's "Qadoak al-Mayas," or "Your soft cheeks," song, which is a hardcore colloquial Arabic, but in Kurdish.
Her debut in the Arab talent show galvanized attention, when she first auditioned. She sang a song for Egyptian diva Umm Kolthoum's song "Enta Omri," or "You are my life," in Arabic.
While Hussien is not fluent in Arabic, her spoken Arabic is accent-free.
The contestant tediously writes the songs in Arabic, tries to understand the full meaning and completely memorize them.
When first attempted to sing and impress the judges during the tryout stage, she was accompanied by her friend Farhank Jamil, who acted as a Kurdish-Arabic translator during her conversation with the show's judges. Captivated by her voice, the four panelists passed her to the next stage.
Ragheb Alama, a famed Lebanese singer and one of the show's judges, praised Hussein's singing on Friday and encouraged her to sing in Kurdish.
Alama said Hussein's singing in Kurdish, links Kurdistan's art with the Arab world.
Also, the Lebanese star and judge at Arab Idol, Nancy Ajram, also impressed by Hussien, asked the Kurdish participant to teach her how to sing in the Kurdish language.
"You made me try to understand what you were singing…I wish you can teach me sing a Kurdish song. I would love to sing with you," Ajram said during the show on Friday.
Kurdistan in Iraq is home for around five million people. Political disputes inside Iraq and the region stood against forming an independent Kurdish state and have marred Arab-Kurdish relations.
Iraq having the first Kurdish president in the Arab world didn't stop Kurds from wanting more independence from Baghdad.
http://english.alarabiya.net/en/life-style/entertainment/2013/04/13/Arab-Idol-fans-applaud-contestant-singing-Kurdish-for-the-first-time.html
-----------------
Female Participants In Maldives Tourism Training Declining
By Minivan News | April 13th, 2013
The Four Seasons Hotels group has encouraged the government to promote technical and vocational training "much more aggressively", while also expressing concern at declining female participation over the last decade in its apprenticeship program.
Four Seasons has graduated 288 apprenticeship students in the Maldives over the last 12 years, with 47 youths completing the latest program in 2013. However, only one female graduated from the scheme today during a special ceremony held in the capital Male', while two women are enrolled in the 2014 program.
Four Seasons Resorts Maldives Regional Vice President and General Manager Armando Kraenzlin explained to Minivan News today (April 13) that the number of female apprenticeship program participants has been declining over the last 10 years.
"We never had many participants – 5 to 7 per batch – but it used to be easier [to recruit women] about ten years ago. Unfortunately, numbers have dropped," he said.
Kraenzlin said he believed the declining number of women in the training program could be the result of more jobs being available outside of the tourism sector, or parents hesitating to let their daughters work at resorts.
Full report at:
http://minivannews.com/politics/female-participants-in-maldives-tourism-training-declining-four-seasons-hotels-56152
-----------------
Angelina Jolie, Beautiful Stranger Behind Afghan School
April 14, 2013
QALA-I-GUDAR, Afghanistan: At a school in a bombed-out Afghan village near Kabul, Angelina Jolie is known as an aid worker or engineer — never as one of the world's most famous film stars.
Jolie, a special envoy of the UN High Commissioner for Refugees, built the school in Qala-i-Gudar last year and is planning to open more in Afghanistan with profits from a newly-launched jewellery line that she has designed.
The Hollywood star visited Qala-i-Gudar in 2011, and she retains an avid fan base among residents who have never seen any of her films and have no idea about her global fame as an actress.
Full report at:
http://dawn.com/2013/04/14/angelina-jolie-beautiful-stranger-behind-afghan-school/
-----------------
It's too easy to make Madonna the scapegoat for the Malawi debacle
What just happened in Malawi seems to say far less about Madonna, and more about our irrational hatred for "do-gooding" celebrities
Barbara Ellen
14 April 2013
You'd need a lot more space than this to examine fully Madonna's dealings with Malawi, the African country where she adopted her children, David and Mercy. It was also where she intended to build an academy for girls, which never happened (though Madonna still helped build classrooms), all against a backdrop of missing millions, for which Madonna's side blamed the sacked prospective academy headmistress (also the Malawian president's sister), while there has been an ongoing investigation into the role of the Kabbalah Centre in New York … and (phew) see what I mean?
Last week, the theme of Madonna and Malawi produced astonishing (and frequently hilarious) levels of mayhem, which went something like this: Madonna takes her brood to Malawi, then asks for an audience with President Joyce Banda, which doesn't happen. Returning to the airport, Madonna and her entourage are stripped of VIP status, which they are fine/furious about (delete as appropriate).
Full report at:
http://www.guardian.co.uk/commentisfree/2013/apr/14/dont-make-madonna-malawi-scapegoat
-----------------
Newsweek Names Saudi among World's Top Women
April 14, 2013
JEDDAH — Saudi academic and author Doctor Fawzyeh Al-Bikr made it into Newsweek magazine's list of 125 women who have significantly and visibly influenced their societies.
Bikr, who writes in the daily Al-Jazeera, told Al-Arabiya that she might have been chosen for her work on women and citizenship rights.
She said that being on the list is a huge responsibility and is glad her efforts and achievements were recognized and appreciated, even though it was a Western organization that did so.
In 2009, she won an award for outstanding research from the Vienna-based Women-Without-Borders, an international advocacy and research organization.
The magazine said it "honours 125 women who changed the world, drove dialogue and inspired innovation this year."
Others on the list included the teenager known as Pakistan's champion for women's education Malala Yousufzai, who survived after the Taliban shot her with the intent to kill. — Al Arabiya
http://www.saudigazette.com.sa/index.cfm?method=home.regcon&contentid=20130414161333
-----------------
Indian Nurse Deported From Dammam for Forgery
14 April 2013
An Indian nurse was deported yesterday for forging her education certificates.
The nurse, whose name is being withheld, worked at a private clinic in Dammam. It was recently discovered that her education certificates were fraudulently attested in India.
The forgery came to light during a routine inspection by a specialized company contracted by the Saudi Commission for Health Specialties (SCHS).
Last year, the SCHS ordered all foreign health care employees to submit their professional certificates for verification in the countries of origin. The SCHS has been uncovering forged certificates regularly.
http://www.arabnews.com/news/448084
-----------------
Strengthening The Capacity of Pakistan's Women Journalists
April 14, 2013
KARACHI: A four-day workshop for Pakistan's women television journalists and funded by the UNESCO's International Programme for the Development of Communication (IPDC) concluded on Saturday. Former Senator and Pakistan People's Part General Secretary Taj Haider, while speaking at the concluding ceremony of the workshop said that the journalists have to reach out and understand forces that bring societal change. Advising the young journalists to learn from experiences, he shared a few of his valuable insights. Women Media Centre (WMC) of Pakistan Executive Director talked about biased and unbiased reporting, journalist and anchor credibility, qualities and necessary skills.
http://www.dailytimes.com.pk/default.asp?page=2013\04\14\story_14-4-2013_pg12_10
-----------------
23 Girls to Wed at Mass Ceremony Today In Pakistan
April 14, 2013
LAHORE: As many as 23 poor girls will tie the knot today at a mass marriage ceremony to be held under the auspices of Minhaj Welfare Foundation (MWF), a subsidiary of Minhaj ul Quran International.
MWF deputy director, Mian Iftikhar Ahmad said all arrangement had been finalised to hold the mass marriage ceremony in a befitting manner. He said poor families have to face problems in getting their daughters married and for this reason the MWF was "playing a significant role in arranging, mass marriage ceremony in the country." A dowry package will be given to all girls and will include clothes, blankets, jewellery set, crockery, double bed, furniture, pedestal fan, mild steel box (Petti) sewing machine, TV, DVD and washing machine.
http://www.dailytimes.com.pk/default.asp?page=2013\04\14\story_14-4-2013_pg13_3
-----------------
Australian Muslim Women Kick New AFL Goal
Briana Domjen
April 14, 2013
THEY are the Muslim women using sport to smash cultural stereotypes - just don't ask them who Adam Goodes is.
The Auburn Tigers are the first predominantly Muslim women's AFL team in the country, and although they admit to not knowing much about Aussie rules, that hasn't stopped them using the sport to build cultural awareness.
The team suffered a 130-0 loss to Macquarie University yesterday, but captain Lael Kassem said they want much more than to just put points on the scoreboard.
Ms Kassem, 21, from Auburn, said: "Sport can change everyone's lives and it has done that for so many of our girls.
Full report at:
http://www.dailytelegraph.com.au/news/muslim-women-kick-new-afl-goal/story-e6freuy9-1226619890600
-----------------
URL: https://newageislam.com/islam-women-feminism/jordan-woman-throat-slit-belly/d/11137