New Age Islam News Bureau
16 November 2021
• Miss Universe Opens Online Voting Poll Ahead Of Pageant to Be Held In Israel; So They Can Move On To the Semi-Finals
• Kuwaiti Official: Violence against Women Violates Moral Principles and Infringes Upon Teachings of Islam
• Artificial Intelligence to Assist Police's Cyber Support for Women Wing
• Turkish Woman, World's Tallest, Wants To Tour The World
Compiled by New Age Islam News Bureau
URL: https://www.newageislam.com/islam-women-feminism/jordan-gender-female-iran/d/125779
--------
Jordan Requests Gender Confirmation Of Female Iran Player, Claims Goalie Is A Man
15 November 2021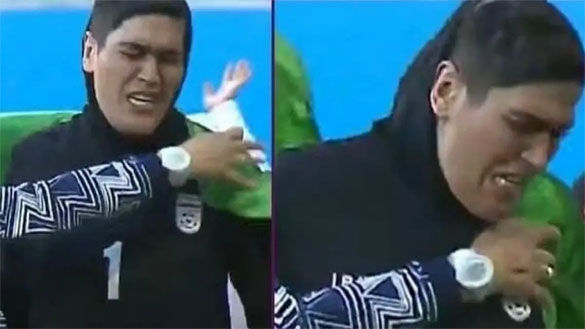 The player in question played in the goalkeeper's position and helped Iran defeat Jordan in penalties, securing Tehran's spot in the 2022 AFC
-----
Jordan's Football Association has petitioned a formal complaint to request a gender verification of an Iranian player after its women's team lost to the Iranian team, casting doubt whether Iran's goalkeeper is a man or a woman.
Former FIFA vice president Prince Ali Bin Al Hussein of Jordan shared the formal complaint letter filed by the JFA dated November 5, calling on the Asian Football Confederation (AFC) to investigate the player in question.
"Considering the evidence submitted by JFA and given the importance of this competition, we request the AFC to initiate a transparent and clear investigation by a panel of independent medical experts to investigate the eligibility of the player in question," read the letter.
The player in question, Zohreh Koudaei, played in the goalkeeper's position and helped Iran defeat Jordan in penalties, securing Tehran's spot in the 2022 AFC Women's Asia Cup. Koudaei has been questioned over her gender status, defending herself several times in Iranian newspapers in the past.
"The widespread talk about the goalkeeper's gender is just an excuse not to accept defeat against Iranian women," Maryam Irandoost the coach of the Iranian women's team, was quoted as saying in statements carried by the Iranian Fars news agency.
"After the Jordanian team's defeat, it was natural for them to try to calm themselves under false pretexts," she added. "I want to confirm that before the start of our qualifying journey, we conducted the necessary tests, as the medical staff carefully examined each player in the national team so that we would not face any problem in this regard."
Iran has in the past been accused of fielding male players on its women's national team. In 2015, eight players in the Iran women's football team were alleged to be men awaiting gender reassignment operations.
"[Eight players] have been playing with Iran's female team without completing sex change operations," Mojtabi Sharifi, an official close to the Iranian league, said during an interview with the Iranian website Young Journalists Club at the time.
There were also claims that four players on the women's team were men and in 2010 questions were raised about the gender of the national team's goalkeeper.
Source: Al Arabiya
https://english.alarabiya.net/sports/2021/11/15/Jordan-requests-gender-confirmation-of-Iran-player-after-loss-claims-goalie-is-a-man
--------
Miss Universe Opens Online Voting Poll Ahead Of Pageant to Be Held In Israel; So They Can Move On To the Semi-Finals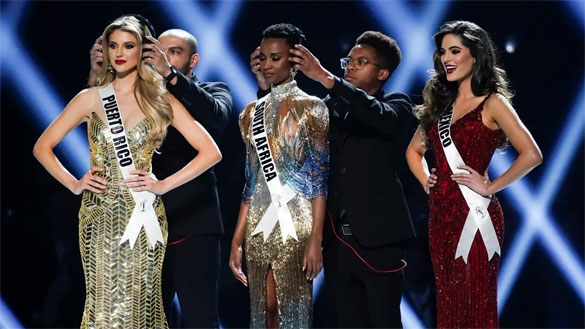 Earmuffs are placed on the heads of first runner up, Madison Anderson of Puerto Rico, and Miss Universe 2019, Zozibini Tunzi of South Africa,
------
16 November, 2021
The organizers of the 70th Miss Universe competition have officially opened the online voting poll which has headshots of each participating country's representative, including biographies, while some nations, such as the United Arab Emirates, have been left with a blank space.
The online voting platform asks fans to pick their favorites so they can move on to the semi-finals where they'll compete in a live show to be broadcast from Israel on December 12, 2021.
Israeli singing sensation Noa Kirel is set to open the show which will be held in the Middle East for the first time.
"I'm so excited and honoured to be performing at Miss Universe," said Kirel, who will perform at the global beauty pageant in the Israeli city of Eilat.
"By believing in themselves and fearlessly chasing their dreams, these women from around the world live and breathe the values of the Miss Universe Organization, and I can't wait to share this celebratory moment with all of them on this incredible global stage."
UAE, Morocco at Miss Universe
This year's competition is also set to feature two other contestants from the region: Miss Universe United Arab Emirates and Miss Universe Morocco.
This will mark the first time that a delegate from the United Arab Emirates has competed in the competition, although organizers behind the first-ever Miss Universe UAE canceled a planned coronation night for the inaugural beauty contest earlier this month.
The event, which was supposed to be held on Sunday, November 7, was called off "due to time constraints," according to a statement posted by organizers on their Instagram story.
No updates were posted on the organization's dedicated Twitter page and a new date has not been announced.
The names of 30 UAE finalists, which would have included people of all nationalities living in the UAE, were to be announced ahead of the historic coronation night.
Organizers have not responded to requests from Al Arabiya English for an update on the Miss Universe UAE competition or its participation in the Miss Universe final.
Additionally, Miss Universe Morocco returns to the competition for the first time in over four decades.
In a statement posted on the Miss Universe website, Israeli Tourism Minister Yoel Razvozov welcomed the countdown to the Miss Universe competition.
"Despite the challenges the COVID-19 pandemic placed in our path, we knew how to maintain the balance between health and the economy, to bring tourism back to Israel," he said.
"We needed to create tourism anchors that will promote and present Israel to the world as a vaccination nation that invites tourists to visit. The Miss Universe pageant is without doubt an important and significant anchor of this plan."
The organization also unveiled details for the competition's venue, a state-of-the-art, bespoke arena.
The custom "Universe Arena," which was imported from Portugal, rises to a height of 16.5 meters and has the capacity to hold over 70 tons of equipment.
The building is treated to accommodate television filming and contains a stage and approximately 5,000 seats.
Senior members of the Miss Universe Organization were in Israel throughout October to tour the country and attend planning meetings.
They met with Mayor of Eilat, Eli Lankri, and closely supervised the infrastructure and construction work of the Miss Universe complex.
"The choice of Eilat will continue to strengthen its position as a leading international tourist city," said Lankri. "Hundreds of millions of spectators around the globe will be able to enjoy the rare beauty of the city of Eilat and its spectacular sites."
The contestants will arrive in Israel ahead of the competition to explore all the host country has to offer, beginning in Jerusalem and ending their trip in Eilat, where the competition will take place.
The pageant, in addition to celebrating the past 70 years of championing strong women and their platforms, will also shine a spotlight on the issue of global warming as part of a green agenda that corresponds with the values of the host country.
Using the Miss Universe platform, the December 12 production will highlight both the contestants of the past and the social and global issues they faced in their time, and the fact that climate change is on the world agenda for the next generation of women.
The broadcast will aim to raise awareness amongst the hundreds of millions of spectators, with the hopes of inspiring action in contestants' community.
Paula M. Shugart, president of the Miss Universe Organization, said: "As a company that has the distinct advantage of bringing a global spotlight to world issues, I look forward to showcasing both how our contestants can make a difference in their communities and around the world."
She continued, "I know that the city of Eilat will provide a great space for our contestants to learn and grow together."
Miss South Africa controversy
The competition in Israel has not been without its controversy.
South Africa's government is urging its national pageant winner to boycott this year's Miss Universe contest due to its location in Israel.
Government officials said they would not support the decision by Lalela Mswane, the winner of the country's beauty contest, and the organizers of the national pageant to participate in the contest in Israel.
The officials cited Israel's "atrocities against Palestinians" as the reason for their disavowal of the competition, according to The Times of Israel.
South Africa's ruling party, the African National Congress, also called on organizers of South Africa's pageant to discourage Mswane from participating in the contest in Israel.
Source: Al Arabiya
https://english.alarabiya.net/News/middle-east/2021/11/16/Miss-Universe-opens-online-voting-poll-ahead-of-pageant-to-be-held-in-Israel
--------
Kuwaiti Official: Violence against Women Violates Moral Principles and Infringes Upon Teachings of Islam
15/11/2021
CAIRO: Assistant minister for human rights affairs at Kuwait's Foreign Ministry Ambassador Talal Al-Mutairi said yesterday that violence against women violates moral principles and infringes upon teachings of Islam. This came in his inaugural speech when chairing the meeting of the 'open membership working group'; a group formed by the Arab League's permanent committee on human rights and designated for reviewing Arab declarations opposing all forms of violence against women and girls.
Mutairi hoped a unanimously agreed upon formula would be reached, because violence against women is a central issue in relation to human rights. He also expressed appreciation for all member states for their support of women within their communities, and stated that the meeting reflects a deeply rooted interest in morals boosting rights, freedom and tolerance, as they are key components in modern societies. Mutairi mentioned that the State of Kuwait proposed issuing an Arab declaration against domestic violence, during last human rights committee session, held in August.
Head of Social Sector in League of Arab States, Ambassador Haifa Abu Ghazaleh, voiced appreciation to member states for institutional and legislative efforts made to empower women. Abu Ghazaleh added in a similar speech that this comes within positive privilege proposed by Islamic and other Abrahamic religions, as well as regional and international resolutions. She clarified that a proposed project is to be discussed in three days, within the framework of the working group, adding that the meeting represents a moral commitment to raising awareness in regards to the impact of violence against women, on their psyche and their position within family and community.
Abu Ghazaleh articulated that that meeting is considered a stepping-stone in developing joint Arab work and accomplishing sustained development goals. She also added that amongst Arab efforts is an initiative proposed by a coalition of women MPs in Arab countries to combat violence against Arab women in 2016. The initiative revolves around the Arab declaration opposing all violence against girls and women, and subsequent developments in this regard. – KUNA
Source: Kuwait Times
https://news.kuwaittimes.net/website/violence-against-women-violates-islam-kuwaiti-official/
--------
Artificial Intelligence to Assist Police's Cyber Support for Women Wing
Mohammad Jamil Khan
Tue Nov 16, 2021
With an aim to provide quick support to victims of cyber harassment, the police headquarters (PHQ) is going to introduce an artificial intelligence (AI) tool with all-women special wing called "Police Cyber Support for Women" (PCSW).
This AI controlled bot (software programme that performs automated, repetitive, predefined tasks) will take complaints from women 24/7.
If the allegation is serious in nature, the AI will immediately ring an alarm bell for taking immediate action by an official of the wing, according to officials.
On November 16 last year, the PHQ launched the wing to contain the rising trends of cyber harassment. PHQ is set to hold a press conference today marking one-year anniversary.
In last one year, around 17,280 service seekers has communicated with the desk, out of them, around 12,641 were victims of cyber harassment, according to database.
Of the service seekers, around 58 percent were aged between 18 to 24 years and 16 percent were below 18, reads the database of PHQ.
The rest, around 8,221 victims, were provided necessary legal support and advice from the wing.
Mir Abu Touhid, assistant inspector general of Lawful Interception Cell (LIC) at PHQ, told The Daily Star yesterday that they have already taken initiatives to introduce the AI and a smart database system in the special wing.
"Presently, the officials take information and make the database manually. Once introduced, then AI will automatically assign officials making category of the complaints," he said, adding, "It will speed up service of the wing and the victim will get assistance fast."
"In the desk, we are receiving a huge number of complaints daily. Error can be made by humans while working round the clock but these will be addressed with introduction of AI," he explained.
For example, if the AI found any complaint's primary information showing that the victim is in immediate danger or can harm themselves due to cyber harassment, it will ring the alarm, added the AIG.
PHQ database shows, the wing mainly receives complaints from victims of blackmailing -- with private photos, videos -- on social media, harassment through objectionable picture or language, social media ID hacking and harassing calls.
According to last one year's database, maximum 5,475 complaints were for publishing message and information from fake social media ID, 1,451 complaints for blackmailing, 1,321 complaints for ID hacking and 992 complaints for sending objectionable picture, video and message.
Of the complaints, the maximum 64 percent service seekers were from Dhaka division and 17 percent from Chattogram division.
Officials said, the majority of the service seekers did not want to take legal action after primary investigation and identification of the accused.
They only seek support to report the ID and delete the objectionable content, they said. Database shows, only 12 percent of the service seekers filed general diary or case.
So far, around 352 people's locations outside the country were identified, who intended to commit crime using social media.
One can be seek service from PCSW through its Facebook page or email: cybersupport.women@police.gov.bd and hotline number: 01320000888.
Source: The Daily Star
https://www.thedailystar.net/news/bangladesh/crime-justice/news/ai-assist-polices-cyber-support-women-wing-2230966
--------
Turkish woman, world's tallest, wants to tour the world
NOV 15, 2021
Rümeysa Gelgi is the world's tallest woman, but this title brings numerous health problems with it. Confined to a wheelchair and walker, the 24-year-old Turkish woman dreams of traveling the world and learning about diverse cultures.
Last month, Guinness World Records named Gelgi the world's tallest living woman, standing at 215.16 centimeters (7.07 feet). She first received the title of tallest teen living (female) in 2014, when she was 18 years old.
She has always traveled by road and has never taken a flight, Gelgi told Anadolu Agency (AA) on Monday, adding that she has never been abroad because of her condition – which requires her to use a wheelchair most of the time but allows her to walk for a short period.
She said seeing different countries and cultures is one of her strongest desires and that she had received invitations from Poland and France when she first broke the record. "Unfortunately, I could not go," Gelgi said. "This time, I received an invitation from Russia, of course, I would like to this time."
She needs to rest lying down even though she can sit for two hours straight, she informed, explaining that she cannot sit through a plane journey. "There should be someplace for me to lie down. This is where my physical characteristics play a part in my day-to-day life. I can't sit in a seat that is lower than 50-55 centimeters because of my knee joint problem," she said.
"I can't even lie down on reclining seats. The only way for me to travel is on a stretcher, but that's a really exhausting procedure," Gelgi remarked.
Underlining that her biggest supporter is her family, Gelgi said: "I have physical challenges, and I am in need of support all the time."
"I don't have a sickness. Even though Weaver syndrome is defined as a disease ... I am not a sick person," she argued, adding that the syndrome's drawbacks are what she is concerned about. "I've been coping with syndrome-related problems since I was born, and I've undergone therapies and surgeries with no complications," she said, adding: "My major issue is lack of physical movement."
"I want ramps built at a level where wheelchair users can easily utilize them, and I don't want cars parked in front of them. It would also be better if disabled parking places were not occupied by healthy people," she proposed.
Gelgi was born in Turkey, weighing over 5 kilograms (about 11 pounds) and standing at 59 centimeters. Two months after her birth, she was diagnosed with a hole in her heart, necessitating a heart operation. At the age of 6, she stood 1.76 meters (about 5.77 feet) tall and weighed 65 kilograms (approximately 143 pounds). She had grown to 2.05 meters in height by her 11th birthday.
Gelgi has Weaver syndrome, a disorder characterized by skeletal abnormalities and developmental delay. The bones of affected individuals grow and develop more quickly than usual before and after birth.
Source: Daily Sabah
https://www.dailysabah.com/turkey/turkish-woman-worlds-tallest-wants-to-tour-the-world/news
--------
URL: https://www.newageislam.com/islam-women-feminism/jordan-gender-female-iran/d/125779
ew Age Islam, Islam Online, Islamic Website, African Muslim News, Arab World News, South Asia News, Indian Muslim News, World Muslim News, Women in Islam, Islamic Feminism, Arab Women, Women In Arab, Islamophobia in America, Muslim Women in West, Islam Women and Feminism