New Age Islam News Bureau
2 Aug 2017
• AIOU to Provide Free Education to Prisoners, Drop-Out Girl Students
• Woman Relates Personal Trauma of Child Marriage
• British Muslims Banned From Portuguese Poolside for Wearing Burkinis
Compiled by New Age Islam News Bureau
URL: https://www.newageislam.com/islam-women-feminism/jihadi-glamour-pakistani-taliban-launches/d/112061
--------
Jihadi Glamour: Pakistani Taliban Launches Women's Magazine
August 01, 2017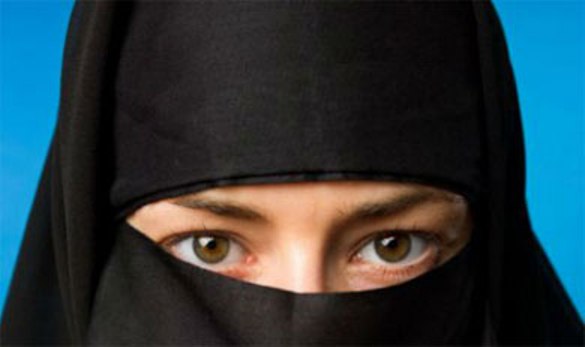 The column advises the womenfolk to 'organise secret gatherings at home and invite like-minded Jihadi sisters. (Representational Image)
ISLAMABAD: The Pakistani Taliban on Tuesday released the first edition of a magazine for women, apparently aiming to convince its target readership to join the terrorist group and take up jihad.
The first edition of "Sunnat E Khaula" -- which translates as 'The Way of Khaula', referring to an early female follower of the Prophet Muhammad -- published by the Tehreek-e-Taliban Pakistan (TTP) features a picture of a women veiled from head to toe on its front cover.
Inside is an interview with the TTP's leader's wife, who is not named, in which she talks about being married to the head of the terrorist group, Fazlullah Khorasani, at the age of 14.
"I ask you why now everywhere there is hue and cry about underage marriages... We have to understand that mature boys and girls if left unmarried for too long can become a source of moral destruction of the society," the terrorist leader's wife tells the interviewer.
"We want to provoke women of Islam to come forward and join the ranks of mujahideen e (holy warriors of) Islam," reads the opening editorial of the magazine, which includes an advice column for would-be lady jihadists.
"Organise secret gatherings at home and invite like-minded jihadi sisters," the column suggests.
"Distribute literature reflecting on the obligation of jihad, arrange physical training classes for sisters. Learn how to operate simple weapons. Learn the use of grenades."
The English-language magazine also includes an article written by a Pakistani female doctor describing her decision to shun her western education and embrace Islam, titled "My journey from ignorance to guidance".
At the height of the Taliban's influence in Pakistan, the terrorist group regularly put out publications in Urdu and English, hoping to attract recruits to its ranks.
The terrorist group was also active on Facebook and Twitter, but most of its social media pages have now been closed.
Pakistan's military launched an offensive against insurgent groups in the country's northwest in late 2014 after the Taliban attacked a military-run school killing more than 150 people, mostly children.
Security has since improved, though the Taliban continues to sporadically launch attacks, including one last month on a market in Lahore that killed 26 people.
http://www.ndtv.com/world-news/jihadi-glamour-pakistani-taliban-launches-womens-magazine-1732147
--------
AIOU to provide free education to prisoners, drop-out girl students
August 02, 2017
Islamabad-Allama Iqbal Open University (AIOU) would provide free education to prisoners, disabled of all categories and drop-out girl students, with additional support, that includes provision of textbooks and allied material, an official said on Tuesday. These marginalised sections of the society will be eligible to take admission in any academic program, as already approved by the University's Executive Council, this was announced by the Vice Chancellor (VC) Prof Dr Shahid Siddiqui while addressing a ceremony arranged here by the Officers Welfare Association (OWA). University's retired employees were given shields in the ceremony, as a token of their outstanding contribution in the development of AIOU's as a leading educational institution of the country, having 1.3 million students.
While eulogizing the hard work and devotion of the out-going employees, he said their contribution had been remarkable in expanding the scope of education and enabling the University to take care of even those who are unable to undertake their study due to financial constraints.
There are about nine financial assistance/scholarships' schemes which support such students, he said. "
We want to ensure that fee-payment should not be a hurdle in educational pursuits," he added.
The students could apply for these scholarships while applying for admission, autumn 2017. The last date for the admission is September 5.
The VC also highlighted steps taken during the last two and half years for the welfare of the employees, including regularisation of daily wages' employees, promotion and selection of the working staff to the next grades, as well as enhancing their medical facilities.
President OWA Malik Mazhar Saeedi in his address on the thanked the VC for his support to regular and retired employees, improving their living conditions. The work done for their welfare in recent years has been unprecedented, he added.
http://nation.com.pk/islamabad/02-Aug-2017/aiou-to-provide-free-education-to-prisoners-drop-out-girl-students
--------
Woman relates personal trauma of child marriage
August 2, 2017
PETALING JAYA: Anna (not her real name) got married when she was 16, although she had no say in the matter.
In fact, it was her father's choice. After Anna failed to get good grades in the Form Three SRP examination when she was 15, her father decided to marry her off because he felt she wouldn't succeed in life.
His choice for her was an unemployed 24-year-old.
Today, her husband is still jobless and not a day goes by without her enduring some form of physical or emotional abuse.
"It all boils down to us getting hitched when we were 'children'," she told FMT.
The mother of four, who is only putting up with the abuse by her husband for the sake of her children, was commenting on a recent statement made by a minister on underage marriages.
On Monday, Minister in the Prime Minister's Department Jamil Khir Baharom said underage marriages were meant to prevent people from engaging in pre-marital sex, which he stressed was a sin in Islam.
For Anna, while marriage could resolve one problem, it created many others such as financial concerns and the lack of a partner with whom to properly raise her children.
She claimed her husband would rather spend money on his car than buy medicine for her children when they fall sick.
Now 36, she is forced to battle her demons and lead a life filled with "what ifs" and regrets.
"Then there's me striving hard to accept my marriage to a man whom I now realise has issues of his own.
"He is a father, yet he behaves like a child himself most of the time. He is impatient and flares up in a rage when his demands aren't met."
Those who oppose child marriages often cite studies showing that they have negative effects, both mentally and physically.
Last year, Women, Family and Community Development Minister Rohani Abdul Karim said marriages among children were not encouraged in Malaysia as it would affect their health and psychological development.
In July, DAP's Kulai MP Teo Nie Ching also said such marriages would increase the risk of domestic and sexual abuse.
Of course, not everyone goes through the same experience.
Azira Afika Ali got married in 2012 at the relatively young age of 19, but she is happy.
She says the only difficult phase she went through was having to put up with judgemental stares.
"People looked at me funny because at that time, getting married at 19 was not a trend."
Meanwhile, Siti Haslin, who got married when she was 18, agreed with the concept of child marriages.
"It will ensure there are are fewer babies born out of wedlock," the 49-year-old mother of four said.
http://www.freemalaysiatoday.com/category/nation/2017/08/02/woman-relates-personal-trauma-of-child-marriage/
--------
British Muslims banned from Portuguese poolside for wearing burkinis
1 August 2017
DUBAI: Two holidaying British Muslim women have been left humiliated after they were told to leave a pool because they were wearing burkinis.
Maryya Dean and her sister-in-law Hina were on holiday in Albufeira, Portugal with their children and were sitting by a pool when staff told them their swimwear was "not acceptable for the pool."
They say they were also told they "must wear a bikini to follow Portuguese culture."
Dean told British website Mirror Online that things got even worse when a maintenance worker at the pool made her 9-year-old daughter stand up so he could show what was an acceptable costume to be wearing.
"Given my cultural background I was wearing a burkini," Dean explained.
"I was approached by the building security manager as someone made a complaint that I was not wearing a bikini and therefore not appropriate to be in the pool… I was compared to my 9-year-old daughter who was told to stand up out of the pool to see what she was wearing which I found completely rude – I was told I should wear that to swim."
"I was not allowed to wear swimming gear that I am comfortable in and that was actually made for women like me to wear."
She said she said she asked to see a sign that indicated the requirement for women to wear a bikini, but added that were none.
The 36-year-old added: "The man then started making cultural references and said that Portuguese people wear bikinis and so should we… We were embarrassed as we came out of the pool with four children and people were watching us like we'd committed a crime."
Neither Dean nor her sister-in-law was wearing full burkinis, but instead covered swim suits. The outfits were three-quarter length leggings and tops with sleeves down to their elbows.
Hina explained that she saw another tourist commenting to one of the children about their outfits, then she said the maintenance man approached them.
"He said it wasn't possible for me to be in the pool with clothes on, and said I must wear a bikini."
"We told him it was swimwear but he said 'you have to wear a bikini or shorts. In Portuguese culture, it's not acceptable.' He said we had to abide by Portuguese culture if we were in the country."
"We told him we didn't wear bikinis because we weren't comfortable in them. It was a confidence thing… But he kept repeating 'you have to wear a bikini.' We were feeling really humiliated."
She added: "I keep thinking about it. We had to do a 'walk of shame' back to the apartment, it was disgusting."
Both women said they wear the modest swimsuits for cultural and confidence reasons.
The two women said the experience left them feeling embarrassed and they did not use the pool again.
The French sparked outrage among Muslims last year when a number of women were approached by police on beeches because they were wearing burkinis.
In late July, 2016, the Mayor of Cannes, David Lisnard, banned the burkini on public beaches, calling them "the uniform of extremist Islamism."
His announcement prompted a number of mayors throughout France to take similar action.
On Aug. 26, the French Council of State, France's highest administrative court, ruled that the mayors did not have the right to ban burkinis and overturned the ban.
But many of the mayors said they intended to ignore the ban.
http://www.arabnews.com/node/1137896/offbeat
--------
URL:https://www.newageislam.com/islam-women-feminism/jihadi-glamour-pakistani-taliban-launches/d/112061
New Age Islam, Islam Online, Islamic Website, African Muslim News, Arab World News, South Asia News, Indian Muslim News, World Muslim News, Women in Islam, Islamic Feminism, Arab Women, Women In Arab, Islamophobia in America, Muslim Women in West, Islam Women and Feminism