New Age Islam News Bureau
28 Dec 2014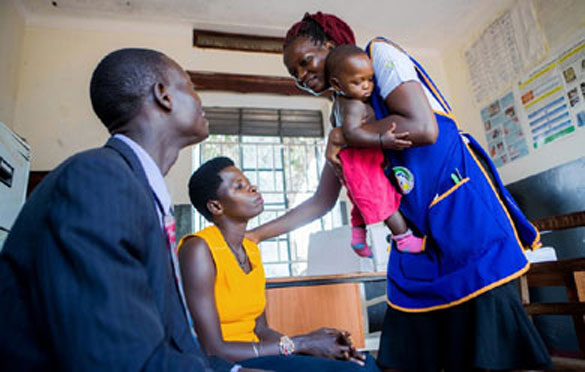 A 'Mentor Mother'helps a couple at a health center in Nsinze, Uganda, Karin Schermbrucker/
Mothers2mothers
------------
• Kidney Swap Binds Hindu, Muslim Families Together
• Riyadh Metro Project to Hire Saudi Women
• 'Boko Haram Has Made Society Alienate Women in Niqab'
• When It Comes To Women Driving In Saudi Arabia, We Are All on the Nation's Borders
• Saudi Lawyer Zahran Named World's Most Influential Woman
• Nigeria: Christmas without Their Daughters
• Bristol Steps Up Effort to End Female Genital Mutilation
• Women Rise Up Empowers Lumley Taskforce
• India: Kerala Emerging as Emulative Model for Muslim Women's Education: IUML MP
• Gynos to Erdoğan: 'If You Don't Want Abortions, You Need Birth Control'
• In South Africa, HIV-Positive Mothers Help Others Fight AIDS
Compiled by New Age Islam News Bureau
URL: https://newageislam.com/islam-women-feminism/jihad-bride-spouts-hate-social/d/100726
-----------
Jihad Bride Spouts Hate On Social Media
Dec 28, 2014
A YOUNG Melbourne woman has become one of the latest in a string of Australians to be seduced by the Islamic State death cult, sneaking to Syria to marry a Jihadi playboy.
Zehra Duman's distraught parents say the 21-year-old has been "brainwashed" and they are desperately working with authorities to bring her home.
The former Isik College Keysborough student declared she would burn her Australian passport as she travelled to meet Mahmoud Abullatif, a former Melbourne party boy-turned Muslim extremist who earlier this year joined the barbaric IS terrorist fighters in the Middle East.
The pair announced their marriage online on December 11 with the hashtag ­#TheIslamicState, and posted a photograph of their Mehr (dowry) which included an automatic weapon for the young bride.
Despite attempts from family and friends to bring her home, Duman's social media pages paint a picture of a woman filled with hate for non-Muslims.
Her father, Davut Duman, said her behaviour was out of character and he feared for his daughter's safety.
"She's been brainwashed, she wasn't like this three or four months ago," Mr Duman said.
"We're trying desperately; trying to bring our daughter home ... we've got the police ­involved. It's very difficult for us to cope."
Relatives did not know how the couple met but Muslim sources said young Australian women were being seduced via social media to travel to — and marry in — Syria.
It's understood the newlyweds are now living in the de facto IS capital, Raqqa, where Duman is mainly confined indoors while Abullatif spends weeks away fighting in conflict zones.
Hate posts on Twitter and Facebook, reportedly written by Duman, condemn US military air strikes on Syria, with some describing the sounds of planes flying abover her home.
Sources say Du­man was a loving sister and aunt and, until four months ago, a "normal Turkish Melbourne girl".
But her radicalisation was swift and by late November she had flown to Syria without her parents' knowledge.
Abdullatif made headlines last month after posting photographs of young boys holding guns.
He had been living in Melbourne, chasing girls, going to the gym and partying at night clubs.
His uncle by marriage is Hany Taha, who was acquitted at trial of a terrorist plot to blow up Melbourne landmarks masterminded by ­Abdul Nacer ­Benbrika.
http://www.heraldsun.com.au/news/victoria/jihad-bride-spouts-hate-on-social-media/story-fni0fit3-1227168724143
-----------
Kidney swap binds Hindu, Muslim families together
Nazar Abbas,TNN | Dec 28, 2014
AMROHA: Jyoti Chaurasia from Ayodhya and Kishwari Jahan from Amroha can't bear talk of ghar wapsi or Ram mandir. They won't indulge neighbours either when there is discussion around the faith divide in Uttar Pradesh that has pitched Hindus against Muslims in large swathes of this restive state. And why not. Jyoti has just decided to give one of her kidneys to Naushad, the husband of Kishwari. On her part, the Muslim woman will give hers to Ramesh, who is Jyoti's brother-in-law.
At a time when not too many communal harmony stories have been coming from western Uttar Pradesh, the two women have set an example that has warmed many hearts, both within their community and outside.
Kishwari, 25, a resident of Amroha, says, "Every namaz, I send up prayers for Ramesh Chaurasia and his family. I cannot possibly spend Rs 25 lakh on the kidney transplant my husband needs. When I felt deserted by my own family and loved ones, Allah sent me this Hindu family, and through them, the life of my husband will be saved."
Jahan had been waiting as attendant to her husband Naushad, 35, a patient at Ganga Ram Hospital in New Delhi, when she met the Chaurasias from Ayodhya. Both families had men long suffering with kidneys damaged by infection and in need of regular dialysis.
Doctors told Jahan that her husband Naushad would need a kidney transplant. Meanwhile, Jyoti, 32, was informed that her brother-in-law Ramesh, 40, owner of a grocery shop and father of two, had lost the function of his kidneys to an infection that had set in at least three years ago.
The women were hard-pressed to find donors, and wondered if each of them could donate to the man in the other family. Hospital authorities said the blood group of Kishwari matched Ramesh; Jyoti was found to have a blood group compatible with Naushad's.
Doctors confirmed that while Kishwari could donate her kidney to Ramesh, Jyoti could donate her organ to Naushad. The surgeries to perform the transplants are scheduled for early January.
Both women remember the time they found solace in each other in the corridors of the Ganga Ram Hospital a year ago. The early conversations were filled with an outpouring of grief. The relationship deepened with time.
Jyoti told TOI, "I could not bear to see how long Ramesh had been suffering. We wanted him alive, at any cost. Kishwari was heaven sent."
A relieved Naushad said, "The paperwork for the donation is done. Both families have no objection to the transplantation of the kidneys. We have submitted an affidavit in the office of the district magistrate, undertaking that while my wife will give her kidney to Ramesh, Jyoti will donate her kidney to me. Doctors have agreed to conduct the procedure after seeing the legal documents."
There are, however, still money issues to settle. Both families have limited means, and their resources are stretched already.
Ramesh said, "We have to deposit Rs 7 lakh for the operation and transplantation. We have collected Rs 3 lakh so far. Both our families have applied for assistance under the Chief Minister's Relief Fund. We hope to receive help from the state government."
Vineet Bhargav, consultant nephrologist at Sir Ganga Ram Hospital, New Delhi, told TOI, "The two parties, one Hindu and the other Muslim, have approached us for kidney transplant and their blood groups match. Legal documents have also been submitted to the hospital. The transplant is going to take place in the first week of January."
http://timesofindia.indiatimes.com/city/bareilly/Kidney-swap-binds-Hindu-Muslim-families-together/articleshow/45662101.cms
-----------
Riyadh metro project to hire Saudi women
Dec 28, 2014
Plans are under way to hire Saudi women to work on the multibillion-riyal metro in the capital city, said Riyadh Gov. Prince Turki bin Abdullah bin Abdul Aziz.
Opening the Producers Exhibition and Conference at the Riyadh International Convention Center, Prince Turki also urged the Riyadh Chamber of Commerce and Industry (RCCI) to support efforts to create jobs for women.
He said there should be more support for the computer repair and maintenance businesses run by Saudi women. "Having home services offered by Saudi women is better and safer than relying on migrant workers or men for these services," he said.
Prince Turki described Saudi women as the compassionate half of the nation.
"We are proud of the participation of women in handicrafts, and have noticed their development in the field."
Mansour Shathri, chairman of the board of trustees of the Riyadh Center for the Development of Small and Medium Enterprises, said that the exhibition was being held to support women-owned businesses.
"The chamber is supporting computer repair and maintenance enterprises run by women by providing their contact information to all businesses. This will spread the word about their services," he said.
Shathri said 550 women are participating in the exhibition, out of 2,300 female applicants who submitted their work.
He said the RCCI is posting their numbers and information at the exhibition site.
Hiba Anqawi, founder of "My Special Computer" business, said she was happy with the support from Prince Turki.
"I started my business four years ago. I used to provide my services free at the beginning to build up a customer base. Many people were skeptical about dealing with Saudi women or preferred to rely on men," she said.
She soon attracted 50 requests a month for computer repairs, and eventually began providing at-home services to reduce the transportation burden.
http://www.arabnews.com/saudi-arabia/news/680451
-----------
'Boko Haram Has Made Society Alienate Women in Niqab'
Dec 28, 2014
Since the outbreak of insurgency in the country, and especially the use of female suicide bombers by Boko Haram, many Nigerians have become very wary of women who wear traditional Islamic outfits' Niqab, Hijab or even Burqa. DAVID ADUGE-ANI writes on the ordeal of such women.
On November 15, 2014 a woman caused a stir at a banking hall in Nyanya, Abuja when she tried to answer a call on her mobile phone in the presence of other customers. The woman in question was wearing a Niqab (a cloth which covers the face) and when her phone rang, she picked the call in a manner that made other customers in the bank suspicious of her.
The woman stowed the phone under her dress and spoke in a very low tone with her caller, causing panic in the banking hall as many customers who were present tried to flee from the area, thinking that the woman might be answering a call from terrorists who might want to attack the bank.
This attracted the attention of security officers of the bank who subjected the woman to a thorough search and scrutiny. It took some time before sanity returned to the banking hall, after it was ascertained that the woman was not part of any insurgent group.
There is no doubt the incident caused a lot of embarrassment to not only the bank customers, but also the woman in question.
Many Muslim women today suffer various forms of harassment and even rejection because of the way they dress. This is because for many, women wearing the Burqa or Niqab are an oddity since it is not a common sight, as only a minority of Muslim women wear it, and as such it is unfamiliar to them. In many instances taxi drivers and even traders in the markets in Abuja have refused to interact with women dressed that way, believing that dealing with such a person is like dealing with a masquerade or a faceless person, whose identity is unknown.
There are three main types of Islamic dress relating to women when in public: the Hijab, the Niqab and the Burqa. The Hijab is the most common type of Islamic dress, which covers the woman's body, leaving only her face and hands visible. A Niqab is like the Hijab, except that it also covers part of the face, leaving only the eyes visible, while the Burqa is the least common, and involves covering the whole body as well as covering the face with mesh, so that even the eyes are not visible.
Ameena Lemu Salihu is a 15-year-old girl who lives in Abuja. She wears a niqab whenever she is in public. She told LEADERSHIP Weekend that many people who meet her usually react to her dressing. "Whenever I pass through the streets, I hear people talking about my dressing. Many of them usually ask me whether I have something to hide because I am dressed this way. They would say, "are you getting married? Who will even marry you the way you dress? How will you appear on your wedding day? Many people who come across me usually don't want to have anything to do with me," she said.
She continued: "Even when I walk in the market people would keep commenting on why I am dressed like that. The security personnel would even search me thoroughly. But I know I don't have any bad intentions," she asserted.
Ameena told our reporter that through her mode of dressing she wants to be a role model for Muslim women, adding that the niqab is like a shell that when opened, exposes the beauty it's been protecting inside.
The chief Imam of Jabi Central Motor Park mosque, Mallam Mohammed Auwal Hashim, told LEADERSHIP Weekend that the Quran stipulates that it is necessarily for Muslim women to cover themselves with Niqab, Hijab or Burqa. According to him, this was to protect them, especially the married ones, from being ogled by other men.
Mallam Hashim noted that many Muslim women don't put it on because they don't know the value. "Those Muslim women who know the value of hijab, niqab or burqa put them on. Any woman who does not put it does not know the value. Those who are avoiding them are ignorant of what they are doing," he said.
Member, missionary board of Ansar ul Islam national mosque, Utako, Abuja, Ustaz Maaruf Sa'ad Onimago told LEADERSHIP Weekend that In Quran 24 verse 31, Almighty Allah says "Muslim women should cover their body using hijab or niqab, except those parts of the body that are opened, to prevent immoral acts or prostitution". He continued: "The Ulamas then started asking the question that which parts of the body are considered open. So they arrived that the face, the two hands and the feet are the open parts of the body. So there is nothing bad if a Muslim woman leaves those parts of her body uncovered. But if a woman is married it is not a sin if she covers her whole body, including the face, the hands and the feet, so that only her husband sees her body."
Ustaz Onimago explained that if a woman is not married she can leave the face, hands and feet uncovered because there is no way a man would approach such a lady for marriage if he does not see her face. "That is why Islam says that if you are not married you can leave your face, hands and feet open, so that you can be attractive to a Muslim man who might want to marry you."
He advised Muslim women to continue to use the Niqab and the Hijab to deter immorality, adding that it is compulsory, but not obligatory for every Muslim woman to wear any of these dresses that cover the body. Mallam Hashim however noted that people should stop avoiding women wearing Hijab, Niqab or Burqa, because they are not troublesome or terrorists as some people believe.
http://leadership.ng/features/397962/boko-haram-made-society-alienate-women-niqab
http://www.globalterrorwatch.ch/index.php/boko-haram-has-made-society-alienate-women-in-niqab/
-----------
When it comes to women driving in Saudi Arabia, we are all on the nation's borders
Dec 28, 2014
Do you want the truth? It is not only Lujain Al-Hathloul or Maysa Al-Amoudi who have been stopped at the Kingdom's borders because they were driving a car. The fact is, we all are there with them.
A woman driving a car, whether right or wrong, cannot logically occupy the energies of an entire nation. We deal with women driving as if our nation has been swamped by a mighty hurricane. How can that be right? In spite of all the dangers that exist along our nation's borders, dangers that threaten our very existence, the only thing we can do is to stand united in fussing over a woman driving a car? We sadly do not know what our priorities really are.
If the issue had been a foreign invasion, then I would have understood the uproar. If it had been about the economy being negatively affected by our roads not being in a proper state on account of potholes, then I would also have understood. If the matter had been in relation to a person's life, income, safety and home, then I would have understood. If the fuss had been over how to employ the tens of thousands of students we have sent abroad for higher education after they return, then I would have appreciated the furore. But why are we collectively so upset about a young woman driving a car along the Kingdom's borders? This is what I cannot understand.
Please wake me up from my deep slumber if I am having a bad dream. Women will continue driving cars in succession just like pieces of dominoes when they fall one after another. Ultimately, women will be allowed to drive. However, this will happen without any proper prior preparations or a setting of the stage. As a result, there will be problems which we may not anticipate. I have a suggestion and I do not mind if it is not taken seriously. All that matters to me is that I have taken my time to think of it and nobody can accuse me of being rash.
The government should firstly announce that women will be allowed to drive after some time, perhaps in five years. This would pacify those who campaign for women to be allowed to drive. Their calls will subside. People will become patient because they will now see light at the end of the tunnel.
A task force should then be formed made up of Muslim scholars, planners, educationalists, road and infrastructure experts, police representatives, logistics officials, economic experts, car dealers and sociologists. The task force should carefully study all the pros and cons of women driving in the Kingdom. The task force will highlight the positive aspects and find solutions to the negative ones. It will come up with practical solutions for the problems that may arise in the future.
Awareness campaigns should be launched and the appropriate laws and regulations should be drafted. The basic infrastructure needed for women driving should be created, especially since our society has always been keen to preserve the status of women. Cars that are women friendly should also be introduced. A Japanese engineer from Suzuki told me that his company is ready to produce a cheap car for Saudi women equipped with special features that would make it ideal for them, such as tinted windows and special tires which when punctured will not deflate immediately but will allow the driver to continue for about 80 kilometers.
After the five-year period, the government should allow women to drive as promised. Driving should first be allowed in certain cities as a trial before being introduced in other towns and villages. The introduction of women driving should be done in phases. Only then will we have complete safety on our roads.
http://www.saudigazette.com.sa/index.cfm?method=home.regcon&contentid=20141227228653
-----------
Saudi Lawyer Zahran Named World's Most Influential Woman
Dec 28, 2014
A website has named Saudi lawyer Bayan Mahmoud Zahran as the world's most influential woman for 2014.
Buzzfeed cited Zahran's successful venture in opening the Kingdom's first female law firm for assigning her the top position among the world's 15 most influential women in 2014.
The law firm was opened in January this year and was lauded as a brave attempt at breaching the social barrier.
Her efforts in demanding legal rights for her and her colleagues to work in the law field made her an international figure and earned her the title of most influential woman in 2014. Zahran made it her mission to defend the rights of underrepresented women in Saudi courts. Determined to make a difference, she sought to have local and international participation in resolving significant women's issues which were often complicated.
In a statement to Sabq website, Zahran said she would not have been able to be on that list if it weren't for the support and leadership of Custodian of the Two Holy Mosques King Abdullah. "He has shown great keenness, support and follow-up on women's issues and in the interests of all citizens," she said.
She added that her work in the legal field is her way of showing gratitude to her homeland and trying to pay society back by giving women social support and legal services they need.
Zahran pointed out that some of the challenges she faces in her work are related to the stereotypical mindset of the workers in the field. "The courts and government departments have been dominated by men for such a long time that they have begun to believe that they are better at the job," she explained. She added that this has made women take a backseat and become lax in demanding their right to work in this field.
"The Kingdom's constitution which is based on the Islamic Shariah states that all citizens are equal regardless of gender, color and religion," Zahran pointed out, saying that the current development in the judiciary is due to the King Abdullah project to develop the judicial system and the faithful employees who are working on implementing the project.
"More than the title, I'm happy to see my country developing and living in peace and harmony," Zahran concluded.
http://www.arabnews.com/saudi-arabia/news/680436
-----------
Nigeria: Christmas Without Their Daughters
Dec 28, 2014
Maiduguri — Unlike in some communities across Nigeria where last minute preparations are being made for Christmas and New Year celebrations, the countenance of parents in Chibok, the famous town in southern Borno State where 276 were abducted by the Boko Haram on April 14 is that of dejection.
Painfully but steady, both parents and children in Chibok are only counting the days they have been without their daughters and sisters. Saturday is precisely 249 days since the girls were taken, and their parents have not given up hope of seeing them again.
They are also remembering them with uneasy calm whenever there is celebration, such as wedding, naming ceremonies and big ones like Eid-el Fitr and Christmas. In the last few weeks, many of such parents are recounting with nostalgia the noble role which the abducted girls played during the Christmas celebrations of 2013.
However, indications are glaring that those girls may not likely play that role this year, or even in the foreseeable future.
Chibok, a farming community drew global attention after the infamous April abductions at Government Girls Secondary School in the town.
Perhaps, since then, life has never been the same in Chibok, the school, surrounding villages and in most parts of Borno State where Boko Haram insurgents attacked, killed and destroyed many communities.
At present, over 15 of the 27 local government areas in the state are under siege, prompting several thousands of people to take refuge in Maiduguri, the state capital. But despite their trauma and occasional attacks by the Boko Haram assailants, most of the residents of Chibok have defied the odds and are still living in their town.
Before it came to limelight, Chibok was undoubtedly one of the communities in Borno State with a large concentration of Christian faithful who live in peace with their Muslim counterparts.
In fact, the Christians, both men and women bear Muslim or rather Kanuri names. It is equally very common to see adherents of both religions dressing in the same pattern and celebrating together.
In Chibok, names such as Modu (Mohammed), Bana, Aji, Abana, Yusuf, Yaga, Usman, Ciroma, Shettima, Bello, Kassim, Maina, Aminu, Abba, Hauwa, Hannatu, Fanna, Kyallu, Fanta, Kaltume amongst others are used by both Muslims and Christians.
Even the district head of Chibok is being appointed by the Shehu of Borno and people of the town pay allegiance to the Borno Emirate.
Chibok, situated 125 kilometres south of Maiduguri, is now a lonely place as both local and international journalists who thronged the town between April and July have shifted their attention to other events.
"We are on our own now," says James Yama, one of the parents in Chibok. "We no longer see the white men who came and wrote countless stories. We no longer see government officials who visited this place severally on fact finding and this is unfortunate."
Asked how he feels about the forthcoming Christmas, Yama says. "It is a period of merriment but we are a sad people... . We love Christmas but how do you expect someone like me to celebrate. I love my daughter Grace so much, she was my pride."
"Grace prepared the meal for the family during the last Christmas, she cleaned my room and even reminded me that I would be late for Church," he recalls. "I pray the Almighty will bring her back safely."
Dauda Yusuf, an uncle to one of the abducted Chibok girls says it is painful to miss someone you love. "We pray all our daughters are alive and would come back soon," he says. "As for celebrating Christmas, honestly it is going to be low keyed because we don't have the energy to do elaborate events."
A mother, Hannatu Musa, says she will go to Church and pray for the return of their daughters. "Of course we would celebrate the birth of Jesus and we would use the opportunity and pray. My daughter, whom I fondly call Nana will remain in my memory till the day I die. She was everything to me, she was the one who always cook for the family even during festivities unless if she was in school but, sadly, I am the one who is shouldering that responsibility now," she says.
One of the rescued Chibok girls also berated the powers that be "for not doing enough" to rescue her friends. "I don't want you to mention my name but I am angry with our leaders. I don't think if any of our leaders will be sleeping if any of his daughters is missing. It is sad that they have forgotten about us and are only talking of 2015 elections. I would not give up in my prayers. The Almighty is with my friends and I see them coming back. I am sad the Christmas is coming to us this way, I am sad," she laments.
Emmanuel Haruna, a vigilante in Chibok, frowned at the slow pace of rescue operations to free the Chibok girls. "It is a great shame for both the Nigerian government and the so-called western powers that they could not make any in-road into the Sambisa Forest. I am sure our sisters are held there and the truth is that the commitment to rescue them is lacking," he says.
Weekly Trust reports that while the Chibok people have prepared their minds to mark the Christmas without their daughters, their neighbours, the people of Gumsuri, swallowed the bitter pill last Sunday when 185 of their people were abducted by the same Boko Haram militants.
Most of those abducted are women, young boys and children who pundits believe would be indoctrinated by the group. About 38 people, including the chief imam of Gumsuri, the leader of the vigilantes in the village and civilian JTF were killed by the assailants.
Gumsuri is just 7km away from Damboa and about 40km to Chibok.
Though both the military and the police are yet to comment on the incident in Gumsuri, spokesman of the Federal Information Centre, Mike Omeri, in a statement on Thursday condemned the abduction, describing it as a "deplorable act" by the terrorists. "It is impossible to verify the number of those missing (in Gumsuri) at this early stage because it is presumed that many civilians fled during the attack," he said.
"We want the Chief of Defence of Staff, Air marshal Alex Badeh to exhibit the commitment he showed in rescuing Mubi (his home town) in Adamawa State in rescuing our daughters and towns," Ismail Habibu, an activist says.
Our correspondent reports that it was the same doubts that trailed the abductions of the Chibok girls in Apri. But people in Maiduguri are calling for concerted efforts to bring back all the people abducted, not only in Chibok and Gumbsuri, but from hundreds of communities in the state and beyond.
Back in Chibok, a mother whose daughter is among the kidnapped, tells Weekly Trust over the phone that she never knew a Christmas would come as bleak as 2014's. In between sobs, she says joy has left the community. "Chibok is the saddest place on earth," she sobs.
http://allafrica.com/stories/201412270057.html
-----------
Bristol Steps Up Effort To End Female Genital Mutilation
Dec 28, 2014
PROJECT WORKERS in Bristol presented a testimony to the Communities Minister Stephen Williams about the vital work that a government-funded organisation in Bristol is doing to end the practice of female genital mutilation (FGM.
Female genital mutilation involves the partial or total removal of the external female genitalia or any other injury to the female genital organs for non-medical reasons.
In the UK, it is unequivocally a criminal offence and child abuse and the government is "clear that political or cultural sensitivities must not get in the way of uncovering and stopping female genital mutilation."
125 million women worldwide are estimated to be living with the consequences of female genital mutilation and 30 million girls are at risk in Africa alone over the next decade.
The vast majority of practising communities are in 29 African countries, with 74 per cent of women aged 15 to 49 in Ethiopia having been cut, 88 per cent in Sierra Leone, and 98 per cent in Somalia.
Amongst members of migrant communities in the UK it is estimated that over 20,000 girls under the age of 15 in the UK are at risk of FGM each year.
To help end the practice of FGM and so called 'honour' based violence in the UK, earlier this month the minister announced £270,000 in funding to 17 frontline community projects.
One such project is Integrate Bristol, who were awarded £19,807 to take their work forward.
The funding will enable Integrate Bristol projects to train 10 young people from FGM affected communities who will travel to schools and colleges across the country delivering quality education about the practice.
The project aims to deliver 60 sessions and reach more than 1,200 students across Britain.
Integrate Bristol will also use the award to put on a national conference about FGM and violence against women and girls which will train 250 to 300 students and teachers on how to protect girls at risk and to consider how they can play a part in ending FGM as well as other forms of gender based violence.
Following his meeting with Integrate Bristol's frontline staff and some of the over 100 young people who are campaigning to end the practice, Minister for Communities Stephen Williams said: "Female genital mutilation has no place in British life. We will not tolerate a practice that can lead to extreme and lifelong physical and emotional suffering to women and girls."
He added: "Earlier this year this government promised it would do its best to end this horrific practice and I'm pleased to say we've acted.
"Sadly the practice is deeply embedded in some cultures but we need to challenge and change those behaviours and protect all British women and girls, - which is why we're investing in innovative projects like those run by Integrate Bristol to specifically target those communities most at risk."
http://www.voice-online.co.uk/article/bristol-steps-effort-end-female-genital-mutilation
-----------
Women Rise Up Empowers Lumley Taskforce
Dec 28, 2014
The 'Women Rise Up Against Ebola' has provided medical equipment for members of the Lumley Community Taskforce for effective Ebola sensitization campaigns in their community.
The chairperson for the movement, Madam Elisabeth Mans, said it seems the fight against Ebola in the country lacks urgency amongst the grassroots and therefore has been the main problem affecting the containment and eradication of the virus.
"We believe that women should contribute to the fight and that is why we have come together to push forward these activities through community mobilization and sensitization," she said, adding that they will continue to contribute whatever they can to ensure the fight against the virus is addressed.
She furthered said that Ebola has hindered the business sector in the country, especially petty trading, which she noted, comprises mostly of women.
She said their main motive is to see how they can help the community taskforce bolster their movement in the community.
The organization also donated 40 bags of rice to the community, six thermometers, six megaphones, 4
0 veronica buckets and six mobile phones.
http://africayoungvoices.com/2014/12/women-rise-up-empowers-lumley-taskforce/
-----------
India: Kerala Emerging as Emulative Model for Muslim Women's Education: IUML MP
Dec 28, 2014
Kozhikode: Kerala has emerged as an emulative model in terms of the Muslim women's education, IUML MP E Ahmed has said. Most of the educational institutions in the state have good number of women students with some of them leading with 75 per cent women representation, he added.
Ahmed was inaugurating the 23rd AFMI 'International Convention, educational conference and Gala Award Ceremony' at Tagore Centenary Hall on Saturday. The function was jointly organised by the American Federation of Muslims of Indian Origin (AFMI) and Muslim Educational Society (MES).
"The Muslim community has attained cent per cent literacy in the state while the other states depict the pathetic condition of Muslims, who are lagging far behind in various fields including education," E Ahmed pointed out.
Stating that the Malabar region is witnessing an educational explosion E Ahmed said that the region is now leading with five universities and more than 400 colleges after it was once left with only one university and a few of colleges.
Recalling the contributions of the political leaders to the development of the region in the educational sector, E Ahmed said that Malabar, for such achievements, owes its gratitude to IUML leaders like C H Mohammed Koya, K M Seethi Sahib and Syed Mohammedali Shihab Thangal.
AFMI founder trustee, Dr A Rahman S Nakadar presented the award for the best educational and social activist to MES state president Dr Fasal Gafoor at the function. Medals and awards were distributed to the selected students from across the country for scoring highest marks in 10th and 12th board examinations.
An educational seminar was also held. Ayyub Khan, Thajudheen Ahmed, Dr. Suhaib Siddiq, Dr. Sakaria and Dr. Ali Quraishi attended the seminar.
FMI functionaries Dr Sayed Azeemuddin, Dr Hussain F Nagamia and Dr Fakhrudhin and organising convener P H Mohammed were also present.
An exhibition on Islamic medicine was also held in MES Women's College at Nadakkavu in connection with the two day conference.
Minister for Social Welfare M K Muneer will inaugurate the programmes on the second day.
http://twocircles.net/2014dec28/1419754852.html#.VKC1PsBxo
-----------
Gynos to Erdoğan: 'If you don't want abortions, you need birth control'
Dec 28, 2014
President Recep Tayyip Erdoğan has expressed his opposition both to birth control, which he declared last week as "treason," and abortions, an act that he has famously branded a "massacre," in a similar vein to the killings of 34 villagers in Roboski three years ago.
But a group of gynecologists said in an open letter that Erdoğan would rather have to think twice, stressing that birth control was fundamental to prevent unwanted pregnancies, hence coping with abortions.
"Mr. President, who has described abortion as murder, should guess that birth control methods have to be used to prevent abortions. For this reason, it is impossible to understand why he perceives birth control as a form of betrayal," read the letter published by Cansun Demir, a practician head of the Turkish Association of Gynecologists and Obstetricians.
"We believe that in a free and democratic country, it is up to the individuals and not politicians to decide their birth control methods. Therefore, we refuse the word treason," the letter said.
Erdoğan, who sought to instill the population with the mission of having more than three offspring per family, had decided to tackle the contraception issue during a wedding of the son of a businessman last week.
He advised the newlyweds that using contraceptive methods was a betrayal to Turkey's ambition to make itself a nation with a blossoming demography and an attempt to "dry up the next generations."
The gynecologists also stressed in the letter that studies on reproductive health date back to ancient times – and it is likely to have sources written even in Ottoman.
"People should do what they know best. As specialists of women diseases and birth, we are practicing medicine," the letter said.
http://www.hurriyetdailynews.com/gynos-to-erdogan-if-you-dont-want-abortions-you-need-birth-control-.aspx?pageID=238&nID=76153&NewsCatID=338
-----------
In South Africa, HIV-Positive Mothers Help Others Fight AIDS
Dec 28, 2014
Mitchell Besser founded a lifesaving program to support pregnant women and new mothers infected with the virus.
Mitchell Besser, a Harvard-educated obstetrician and gynecologist with decades of experience, learned an uncomfortable truth about the limits of medicine 15 years ago when he began working with expectant mothers in South Africa: In a country where nearly a third of women of childbearing age are HIV-positive, being a doctor wasn't always enough to make a lasting difference in his patients' lives. "I didn't have anything other than the white coat to give instructions," he says. "The white coat is not powerful to change people's behavior."
All too often, women arrived for prenatal visits, learned they were HIV-positive and, fearing stigma, never returned for follow-up care, jeopardizing their own lives and those of their newborns. Pediatric AIDS is largely preventable via antiretroviral drugs, but mother-to-child HIV transmission rates remain high in sub-Saharan Africa. Dr. Besser, 60, saw that HIV-positive women who got treated could help fill a dangerous gap. "The mothers who had been in my care knew everything they needed to know and could provide support to mothers just like them," he says. "They were able to translate their personal experiences to other mothers."
That insight became the foundation of mothers2mothers, a peer-to-peer, community-based organization that Dr. Besser started in Cape Town in 2001. Funded by government, corporate, foundation and private sources, the program trains and employs HIV-positive mothers to serve alongside doctors and nurses, advising and supporting pregnant women and new mothers infected with the virus. Now, nearly 1,100 "Mentor Mothers" are employed in six sub-Saharan African countries; they have reached more than 1.2 million HIV-positive women since 2001. "We take people out of the victim role, and they come back with strength," Dr. Besser says.
In all six countries where the organization operates, mothers2mothers' rate of antiretroviral treatment for pregnant women is higher than overall national rates, and lifesaving prophylaxis for infants occurs more often, the group says. The program model has been so successful that Kenya made it a formal part of its national health system in 2012. Dr. Besser has also adapted the model for a new program in which seniors check on other seniors in their communities.
Dr. Besser, a Philadelphia native, first visited South Africa as a high school exchange student and returned in college to volunteer in a mission hospital. His work there has changed others' lives—and his own. In 2009, he met singer Annie Lennox in Cape Town when she visited mothers2mothers as part of her own charitable work. Three years later, she became his second wife.
http://www.wsj.com/articles/in-south-africa-hiv-positive-mothers-help-others-fight-aids-1419624933
-----------
URL: https://newageislam.com/islam-women-feminism/jihad-bride-spouts-hate-social/d/100726