New Age Islam News Bureau
6 May 2013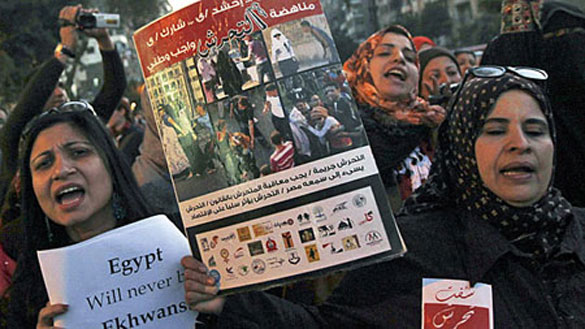 Egyptian women shout slogans against President Mohammed Morsi and the Muslim Brotherhood during a march protesting against sexual harassment and violence against women in Cairo in February 2013. (Amr Dalsh / Reuters)
----------
• Jewish Dead in Their Cemeteries 'Troubled by Women's Prayer Area'
• Kashmir Valley Sees Birth of Its First Muslim Woman IAS Officer
• Swat: 2 Held In Child Marriage Case
• Tunisian Islamists Attack Females at Dance Performance
• Pak Women Face Battle for the Right to Vote
• Women Fear to Leave Their Homes in Bangladesh
• For Mideast Women, Achieving Equality Won't Be Easy
• Two Women in Police Custody for Stabbing a Man in Sharjah
• Last Hope in Ruins: Bangladesh's Race to Save Shaheena
• Nahlah Ayed: The renewed fight for women's rights in Egypt
Compiled by New Age Islam News Bureau
URL: https://newageislam.com/islam-women-feminism/jewish-dead-their-cemeteries-'troubled/d/11441
------------
Jewish Dead in Their Cemeteries 'Troubled By Women's Prayer Area'
By Nasouh Nazzal
May 5, 2013
Ramallah: Residents of occupied East Jerusalem have urged the Jordanian government to intervene in the issue of demolishing the women's prayer area of Ras Al Amoud Mosque in Silwan neighbourhood of the occupied East Jerusalem as Israeli colonists have secured a court order to raze the facility under the pretext that Muslim prayers annoy the Jewish dead in their nearby cemeteries.
Shaikh Sabri Abu Diab, the mosque's Imam, said that the Silwan area has been in urgent need of a women's prayer area in the mosque. "The 70 square metre women's prayer area we erected was not built with real construction materials, but we used steel beams and a brick vaulted ceiling only to protect women from sun and rain," he told Gulf News.
Israeli colonists have appealed to the municipal court that the entire mosque, and especially the women's prayer area, disturbed Jewish dead in the nearby cemeteries.
The Israeli municipal court ordered the demolition of the women's prayer area claiming that the facility was constructed without a proper building licence.
http://gulfnews.com/news/region/palestinian-territories/jewish-dead-troubled-by-women-s-prayer-area-1.1179650
------------
Kashmir Valley Sees Birth of Its First Muslim Woman IAS Officer
Ishfaq-ul-Hassan
May 6, 2013
The strife-torn Kashmir Valley has produced a record performance in the civil services this year, with eight of its candidates cracking the top exam. To top it, 27-year-old Ruveda Salam has become the first Muslim woman from the Valley to clear the exam.
In all, 11 candidates from the state have cracked the exam this year out of which three are women.
Ruveda Salam from Kashmir region, Sehrish Asgar and Anchita Pandoh both from Jammu region.
Dr Ruveda, who hails from far flung Farkin village in the border district of Kupwara, had cleared the Kashmir Administrative Service in 2009, but wanted to do better. After a year of hard work, she emerged successful without joining any coaching centre.
"I focused on Facebook to gain more knowledge. I did not use the social networking site for chatting or other irrelevant things. There are certain pages on Facebook that are knowledge banks and they helped me a lot," Ruveda told dna.
Daughter of a former deputy director general of Doordarshan, Ruveda wants Kashmiri girls to seize the moment and join the civil services to make their parents and the Valley proud. "Turmoil in Kashmir has a depressing effect but you have to rise above all these. Grab the opportunity and give civil service a try," she said.
Twenty six-year-old Sehrish Asgar had cracked the civil services last year but she was allotted IPS. This time she has secured the 23rd rank. A medico by profession, she had topped the KAS in 2010.
Another IAS aspirant from the Valley who has emerged successful this year is Showkat Ahmad
Parray. The 28-year-old veterinarian from Wuzar village cracked the civil services for the second time. He was not satisfied with the service allotment last time. This year, he has secured the 41st in the all India merit list.
Experts say more and more youngsters are taking the civil services route after Shah Faesal of Kashmir created history by topping the All India merit list in 2010. Besides, the initiative taken by serving bureaucrats and police officers to coach local youth has made the civil services become the new craze in Kashmir.
http://www.dnaindia.com/india/1831075/report-valley-sees-birth-of-its-first-muslim-woman-ias-officer
------------
Swat: 2 Held In Child Marriage Case
May 06, 2013
SWAT - Our staff reporter -
Maidan police on Sunday arrested a person for allegedly engaging his 10-year-old girl with a 49-year-old man apparently in order to get his loan written off.
A person named Bajaoray of Thaan , tehsil Madyan of Swat district some time back had borrowed Rs 20,000 from one Shamdar of the same area. Later, Shamdar repeatedly demanded for the repayment of his money, however, Bajaoray who could not pay it due to his weak financial position. Shamdar took worst benefit of this situation and offered to marry with his 10-year-old daughter Ramin bibi, which he accepted. However, when his daughter Ramin knew about her engagement with the 49-year-old man she approached the local police for rescue.
The police filed a case against the culprits.
"The father of Ramin, Shamdar and Bajaoray have been arrested and interrogation is in process," said DSP Madyan Police Naveed Khan while talking to this scribe.
http://www.nation.com.pk/pakistan-news-newspaper-daily-english-online/national/06-May-2013/2-held-in-child-marriage-case
------------
Tunisian Islamists Attack Females at Dance Performance
May 5, 2013
Hardline Islamists threw stones and bottles at young women in a student hostel in Tunis to stop them staging a performance of dance and music, witnesses said on Thursday, in another blow to secular freedoms in the country that spawned the Arab Spring.
Since secular dictator Zine al-Abidine Ben Ali fell two years ago in the first of multiple revolts across the Arab world, moderate Islamists have won election and radical Muslims have targeted symbols of a hitherto mainly secular society.
Female university students housed at the Bardo district hostel in the capital were just starting a weekly show of dance and music on Wednesday evening when dozens of hardline Salafists broke into the premises after scaling its walls, witnesses said.
"They smashed windows on our building and threw stones and bottles at the students, stopping the performance," said Rim Nsairi, one of the students, who are aged 19 to 24.
The disturbance lasted almost an hour before the assailants fled. There were no serious injuries and no arrests.
Read the rest: Tunisian Muslims Riot to Stop Dancing .
This "disturbance" was due to the actual practice of Islam by the Salafis, based on this
Full report at:
http://bulletinoftheoppressionofwomen.com/2013/05/05/tunisian-islamists-attack-females-at-dance-performance/
------------
Pak Women Face Battle for the Right to Vote
MAY 06, 2013
Saba Ismail
Fears over the safety of women voting in next week's elections in Pakistan are rising after letters have been circulated in regions of the country warning men not to allow their wives, sisters and daughters out to the polling stations.
In an increasingly fraught and violent run-up to the 11 May vote, leaflets are appearing stating that it is "un-Islamic" for women to participate in democracy.
Now a group of young female activists are planning to challenge what they call the government's inability to protect women's right to vote by organising their own protection teams at individual polling stations in tense and volatile Khyber Pakhtunkhwa, one of the four provinces of Pakistan, formerly known as the North West Frontier Province.
Saba Ismail, 23-year-old founder and director of Aware Girls, a peace group for and led by young women to train girls in leadership skills, said they already planned to monitor 30 polling stations with volunteers who would support women who came out to vote and hoped to reach many more.
Malala Yousafzai, the 15-year-old activist for girl's educational rights who became an international figure after being shot and badly injured in a Taliban assassination attempt last October, was one of those trained by Ismail's group.
"For the 2008 elections, many polling stations were torched and women were told it was vulgar for them to cast a vote. This time we want Pakistan to have a free and fair election and for women to be able to vote in secret, not be told who to vote for by her family.
"Recently on Pakistan TV we had three female politicians in the studio for a debate. They were asked questions like 'Should women really be allowed to work because they take more time to come to the office because they put make-up on?'"
Full report at:
http://www.thedailystar.net/beta2/news/pak-women-face-battle-for-the-right-to-vote/
------------
Women Fear to Leave Their Homes in Bangladesh
6 May 2013
Udisa Islam
Maliha was on the way to her office in Baridhara on her scooter yesterday, as on any other day. In front of the IDB Bhaban in Agargaon, a rally of about 30 Hefazat-e-Islam supporters waylaid her, and asked her why she was riding a scooter, Maliha told the Dhaka Tribune.
"Women should not do what Islam does not allow," they said, before attacking her and her vehicle. Some local youths came to her rescue, but the Hefazat men damaged her scooter.
At noon yesterday, scores of Hefazat-e-Islam supporters, shouting slogans in support of their 13-point demand, were seen going to Motijheel to attend the rally. At the same time, three college girls were on their way to a coaching centre. But when they saw the Islamists, they got scared and hid themselves in an underpass near Monipur.
During Hefazat's Dhaka-siege programme yesterday, many women chose to stay at home out of fear, while those who had to go out for work faced harassment, witnesses said.
At a previous rally on April 6, Hefazat supporters not only prevented women from entering the meeting area, they also assaulted several women journalists who went to cover the event.
Women's rights groups, meanwhile, have called for a grand rally on Thursday to protest against Hefazat-e-Islam's position on women. Hefazat's demands include prohibiting the free mixing of men and women in society.
Some senior women activists told the Dhaka Tribune that Hefazat-e-Islamintends to push women back to the Middle Ages.
"Women always work hard and they have made equal efforts to move Bangladesh forward. What Hefazat-e-Islam does is offensive and unacceptable. We are in the field. If they think we are afraid of their threat, they are wrong," Ayesha Khanom, president of Bangladesh Mohila Porishad said.
Activist Shipra Bosh did not believe that women were scared at all.
Full report at:
http://dhakatribune.com/law-amp-rights/2013/may/06/women-fear-leave-their-homes
------------
For Mideast Women, Achieving Equality Won't Be Easy
05.05.13
BY FRIDA GHITIS
The road ahead for women in the Middle East is not just long and winding. It is breathtakingly steep.
A new poll by the Pew Research Centre brings dispiriting news for women and all those fighting for equality in Muslim countries, particularly in the Arab world. Activists may sometimes ease their worries by interacting most frequently with other people who share their views. But the news from the Pew survey shows a region suffused with a deeply held view that women should be relegated to a role of subservience to men.
Among the many truly shocking finding of the poll was the answer to the question, "Must a wife always obey her husband?"
In Egypt, one of the epicenters of the fight for equality, 85 percent of respondents said Yes, a wife must always obey.
In Tunisia, frequently named as the most progressive of Arab countries, a stunning 93 percent said they believe a woman must always follow her husband's wishes. In the Palestinian Territories, 87 percent said Yes. Even in Turkey, the NATO member that says it wants to join the European Union, two-thirds believe a woman must always obey.
The view was not unique to the Middle East or to Arabs. In 20 out of 23 countries a majority viewed the woman as obligated to submit to her husband's wishes, a stark violation of the most fundamental equality. The only places where a majority disagreed were the European nations of Kosovo, Albania and Bosnia-Herzegovina. Enormous majorities of Muslims in Asia and Africa concurred with their inequality-minded fellow Muslims in the Middle East.
The question, along with other revealing inquiries, was made by interviewers speaking directly with Muslims in 39 countries and territories in the Middle East, Africa, Asia and Europe. A total of 38,000 interviews were conducted in more than 80 languages as part of the ambitious survey.
On the issue of whether men and women should have equal rights of inheritance, beliefs showed somewhat less favor for inequality. The question is of practical significance, because beliefs in this area go a long way in perpetuating economic disadvantages. European and Asian Muslims, with some notable exceptions, said they preferred equal inheritance treatment. But, once again, the results in the Middle East skewed sharply against women. In Egypt, just 26 percent believe in equal inheritance rules for sons and daughters. In Tunisia, the number is even lower; only one in eight supports equality. The numbers were similarly dismal in Iraq, Morocco, Jordan and Lebanon.
Progress in inheritance would boost women's ability to become self-sufficient, which could help them survive outside of marriage. But for women living in abusive marriages, the Pew poll had more disappointing results.
Interviewers asked if women should have the right to divorce their husbands. The right of men to divorce their wives has never been in doubt.
Full report at:
Read more here: http://www.miamiherald.com/2013/05/05/3381854/for-mideast-women-achieving-equality.html#storylink=cpy
http://www.miamiherald.com/2013/05/05/3381854/for-mideast-women-achieving-equality.html
------------
Two Women in Police Custody for Stabbing a Man in Sharjah
By Aghaddir Ali,
May 6, 2013
Sharjah: Two women have been arrested following the stabbing of a 46-year-old Nigerian man.
The incident happened in the early hours of Sunday at a house in Sharjah.
According to police, the victim, identified as E.O.L.T., had three deep stabs wounds, one to his head and two to his neck, and was taken to hospital by ambulance at 3:50am.
Full report at:
http://gulfnews.com/news/gulf/uae/crime/two-women-in-police-custody-for-stabbing-a-man-in-sharjah-1.1179552
------------
Last Hope in Ruins: Bangladesh's Race to Save Shaheena
By JIM YARDLEY
May 5, 2013
SAVAR, Bangladesh — The rescuers discovered her by a faint, distant sound. They had spent four days crawling through the wreckage of Rana Plaza, tons of concrete and steel pressing down, saving hundreds of people. Now only the dead remained. Except for a lone woman, a garment worker.
She was trapped behind a fallen pillar, in a suffocating crevice maybe two feet high. First, the rescuers could see only her fingertips pressing through a tiny opening. After hours spent chipping a small hole, they could see her face. Her name was Shaheena. She was 32. She begged to see her young son.
The story of Shaheena, involving a heroic if ultimately doomed rescue operation, offered the last bit of hope of finding anyone alive in what is now considered the deadliest accident in the history of the garment industry. For hours on April 28, as television reporters broadcast updates, rescuing Shaheena became a national priority. She would be trapped for more than 100 hours.
Her plight attracted so much attention because of the horror of the building collapse, with a death toll that by Sunday had exceeded 600; the drama of the long rescue effort; and the human desire to find a sliver of redemption in the tragedy. But the attention was also an anomaly: there are easily more than 2.5 million women working in the garment industry in Bangladesh whose lives usually attract scant notice, even though they are the workhorses of the national economy.
For women like Shaheena, the garment industry has been a source of empowerment as well as exploitation. Before, few rural women worked outside the fields in Bangladesh, a predominantly Muslim nation. Many, like Shaheena, are still not given a surname at birth. Now the industry has given many women a first step out of rural distress, with some becoming outspoken labour leaders or managers in their factories.
But more often, a factory job has meant a daily struggle to subsist on low wages consumed by rising rents and living expenses. The day before Rana Plaza collapsed on April 24, the five factories inside the building were temporarily closed when cracks were discovered in the structure. But relatives say Shaheena insisted on returning to work at her factory, Phantom Tec, even as her brother-in-law warned that the building might be unsafe.
"If I don't go to work tomorrow, I'll be absent, and I will not get paid for the day," Shaheena said that afternoon, according to her sister, Jesmine Akhtar. "They may delay my month's wages. I need to pay the rent. I need to buy milk for my son."
Her immediate concern was $25. She and her son had lived with her sister's family in an area called Mojidpur. They were seven people sharing two small rooms with a monthly rent of $56. Even that was too much, so the families found a place for $38 a month. Everyone had moved except Shaheena; she still needed to find $25 for her share of the advance.
Her family said that her job had given Shaheena a sense of independence. She gave herself a surname, the same as her sister's. She left her husband when she was three months pregnant with her son, Robin, because, her family said, he mistreated her. Yet that meant that she was now the only breadwinner, despite earning barely $100 a month after a decade working in factories.
"There were so many nights she worked even until midnight," her sister recalled. "She needed money."
The morning shift had barely started inside Rana Plaza on April 24 when the building buckled. A day earlier, an engineer had examined the cracks and warned that the building should stay closed, but the building's owner, Sohel Rana, and the factory bosses opened that morning, anyway. Then entire factory floors collapsed, raining down concrete beams. Some people died instantly. Others would lose hands or legs to amputation during their rescue or afterward. And hundreds of others were trapped alive, desperate for water in choking, triple-digit temperatures, and desperate to be saved.
Khandoker A. Jalil, a senior station officer with the Bangladesh Fire Service, led one rescue team. To reach survivors, rescue crews cut holes in the fallen rooftop and began climbing down into the wreckage, establishing tunnels and slithering through tiny crawl spaces created by huge rolls of fabric that had blocked the collapsing beams.
Late on April 26, the third day of searching, Officer Jalil's team discovered 13 survivors, as well as some haunting sounds. "We heard some people from the other side," he recalled.
For more than a day, they would search for those voices, sliding through narrow passages, cutting holes to lower floors. Finally, they reached a crawl space barely 18 inches high, and the sound of the voices was sharper.
Full report at:
http://www.nytimes.com/2013/05/06/world/asia/struggle-in-bangladesh-to-save-collapse-survivor.html?pagewanted=all&gwh=8F26696A5CF82A4919373828841F6008
------------
Nahlah Ayed: The renewed fight for women's rights in Egypt
May 6, 2013
Nahlah Ayed
For many years, a young ambitious Marwa Esameldin wanted nothing more than to become an airplane pilot.
Her second choice was journalism, and it was ultimately as a writer that she found herself standing in Tahrir Square during Egypt's 2011 revolution.
As she describes those explosive days it is clear they were transformative. Yet one of her most memorable assignments remains a story she once wrote about a personal hero, Lotfia El Nadi, who had attained Esameldin's unrealized dream.
El Nadi was the first Egyptian woman — and at 26 the youngest in the world at the time — to become a licensed pilot, exactly 80 years ago.
"She was ahead of her time," Esameldin says. "She had the courage and the enthusiasm to decide on an idea and execute it. I am impressed by characters that are able to leave their fingerprints on life's domains."
Egypt's history is replete with many examples of such characters: strong, defiant women who made names for themselves by advancing women's rights in a traditional society.
Many of them remain resilient role models, their names resurrected for inspiration today as Egyptian women are struggling to find their place under a conservative post-revolution regime.
Among these role models, El Nadi stands out. Perhaps it is the romanticism often associated with the act of flying, especially in those pioneering years in the 1930s.
Maybe it's because of how she did it: According to friends and family, she quietly took flying lessons in an otherwise all-male class, while working as a switchboard operator at the airline to cover her fees.
Taking off
"Flying was always more representing freedom, so it wasn't just a career, it was more like a statement," says London-based Mo Elnadi (likely a distant relative, he says, despite the slight difference in name spelling), who meticulously researched her life.
"Try to imagine how women lived in the '20s and '30s of the last century.… I know for a fact, for example, that her father was very strict."
Lotfia El Nadi's achievement ultimately made headlines in Egypt and beyond. She was said to be a friend Amelia Earhart, the famous U.S. flying pioneer, with whom she exchanged letters.
Early on, El Nadi would occasionally hide in a plane destined for a test flight and pop up mid-air to learn whatever she could for free.
"It was my revolt, I had to do it," she once said, many years later in a 1996 film made about her, called Take Off From the Sand.
Susan El Nadi, Lotfia's great niece, says that this kind of personal revolt helped give Egyptian women their voice.
"She was the start of modern women thinking," she said in an interview from Sydney, Australia. "She opened women's minds to say 'Hey, it's not a male-dominated world, we can do things too.'"
Gains eroded
Eighty years later, however, Egypt's women are at a crossroads.
They have made many strides over the years, especially given the societal constraints, and have entered just about every field, from medicine to the military.
Nahlah Ayed: Rethinking Egypt's revolution
They were also at the front lines of the recent revolution, which they felt would only further advance their cause.
The battle for equality here in Egypt was far from over when the revolution came. One measure: of the 1,500 pilots working for Egypt Air today only eight are women.
And there is a great fear now among many women that, with Islamists at the forefront of the post-revolution political realm, whatever gains Egyptian women have made in the past will be eroded.
One example here: A minimum quota for female representation in the new parliament was completely ignored in the first post-revolution election, notes the National Council for Women.
Worse, over many objections, Islamist President Mohammed Morsi forced a constitution through last year that barely mentions women.
Political Islam
"With the rise of the political Islam … we have seen a constant elimination of women from any political activities," Mervat el Tellawi, head of the NCW, said in an interview.
"They are vehemently after women. So this is my fear, that after the new parliament is elected, and with the constitution, they can change most of the social laws in the country: Marriage, divorce, child custody, [female] circumcision — all of what we have done through years can be [revoked.]"
For its part, the ruling Muslim Brotherhood and its Freedom and Justice Party say they are being unfairly judged in this regard — that detractors from the old regime are spreading falsehoods on the Brotherhood's views about women.
"It's a battle," says Dr. Omayma Kamel, a physician and one of the very few women serving in Egypt's upper house for the FJP. "A battle between the group that wants to make Egypt forward, and others which want to take Egypt backwards."
She was one of the few women involved in the drafting of the controversial constitution, and she argues that there is no need to mention women explicitly in the document.
"Women are 'citizens' and they have all the rights of citizens," she said in an interview. "We can understand or can realize that women's rights are totally protected like men."
Kamel points to a recent initiative, launched by Morsi, to look into women's issues as proof that it is a priority for the government.
Full report at:
Indeed, many Egyptian women today say they, too, will rebel, as El Nadi did. If pushed to the limit, they insist, Egypt's next revolution will be led by them.
http://www.cbc.ca/news/world/story/2013/05/03/f-vp-ayed-cairo-womens-rights.html
------------
URL: https://newageislam.com/islam-women-feminism/jewish-dead-their-cemeteries-'troubled/d/11441