New Age Islam News Bureau
22 March 2017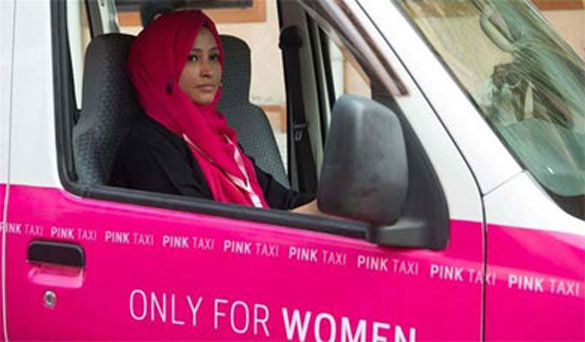 • Jewish and Muslim Women MPs 'Face Most Abuse'
• Muslim Woman Begs Forgiveness for Sunderland Man Who Ripped Off Her Niqab In The Bridges
• Pakistan: Women-Only 'Pink Taxis' Set To Hit Streets
• Protesters Warn ECJ Ruling To Further Alienate Muslim Women
• Yogi Adityanath's Father Has an Advice for Him: Muslim Women Voted For You, Respect All Religions
• The Launch of Nike's Pro Hijab Was Designed to Encourage More Muslim Women to Play
Sports
Compiled by New Age Islam News Bureau
URL: https://www.newageislam.com/islam,-women-and-feminism/new-age-islam-news-bureau/jewish-and-muslim-women-mps--face-most-abuse-/d/110490
----
Jewish and Muslim Women Mps 'Face Most Abuse'
March 21, 2017
MPs are facing an increase in threats and abuse on social media, with Jewish and Muslim women the top target, the deputy Commons Speaker has said.
Lindsay Hoyle said it was damaging democracy and could deter women from certain backgrounds from becoming MPs.
He called on social media companies to take swifter action to remove offensive posts or face legislation.
And he said Parliament had set up a team to monitor online abuse and support those being targeted.
He was giving evidence to the Home Affairs Committee, which is investigating hate crime in the wake of the murder of Labour MP Jo Cox by a constituent in June last year.
Mr Hoyle said more MPs were reporting threats of physical violence against them and their staff in their constituencies – and he would shortly be publishing the results of a survey investigating the problem.
Eric Hepburn, Parliament's director of security, said MPs had been given Home Office advice on how to protect themselves – but Conservative committee member Nusrat Ghani told him it did not reflect the work of a constituency MP.
On social media abuse, Mr Hepburn said: "We certainly work very closely with the social media companies, and we have flagged up to them, and we have advised members as well to flag up to them, content which they consider to be unacceptable and which should be taken down."
Asked by Ms Ghani if social media companies' failure to remove posts quickly enough was undermining the safety of parliamentarians, Mr Hepburn replied: "I think that's a conclusion that I could probably draw, yes."
Mr Hoyle, who chairs Parliament's consultative panel on security, said the situation "undermines democracy" because politicians had to be available to the public and did not want to become "virtual" MPs.
He said that when MPs spoke in emotive debates in the Commons, such as on badger culls or abortion, it often sparked death threats and other threats of violence.
And research suggested women MPs – especially Jewish and Muslim ones – received more threats than men and were particular targets of abuse from both the "far right" and the "extreme left".
Mr Hoyle said Parliament was working with them to help them deal with threats and get them removed.
Parliament also had members of staff dedicated to monitoring the response to controversial and emotionally charged debates on social media.
"General banter is fine. But it's about the level. Robust debate is good, but when that says, 'I'm going to come round and kill you,' that is more serious," said the deputy Speaker.
He said he would like to see an industry-wide code of conduct to prevent abuse, which "ideally" would prevent serious threats being published in the first place.
But at the very least, he added, he wanted social media companies to take down posts more quickly, warning them that they could face legislation if they did not take the problem more seriously.
http://worldnewsempire.com/politics/jewish-and-muslim-women-mps-face-most-abuse/
------
Muslim Woman Begs Forgiveness for Sunderland Man Who Ripped Off Her Niqab In The Bridges
KEVIN DONALD
Wednesday 22 March 2017
A Muslim mum who had her Niqab veil ripped off in a hate-filled race attack is pleading for the thug responsible not to go to prison. In a remarkable show of forgiveness towards Peter Scotter, 55, the mother of four said she wants him to go free after hearing he was suffering from a cancerous tumour in his mouth. The 39-year-old said she did not want him to suffer and to be free to lead a more peaceful and better life. She also pleaded with post-Brexit Britain to "stop the hatred and chill," becoming a beacon of tolerance to the rest of the world. Peter Scotter She spoke movingly about her fear of going out into the street in her veil because of the hostility she receives, but vowed not to allow the "anger and ignorance" to prevent her following her beliefs. The mum was speaking ahead of a sentencing hearing for Scotter, which could have seen him sent to prison, however the case was adjourned at Newcastle Crown Court until the beginning of May due to his ill health. The mum, who came to Sunderland from Bangladesh 30 years ago, said: "I did not realise that the man had cancer, I don't want him to go to prison and I would like the judge to bear that in mind when he does sentence him. "He did a bad thing in anger, I don't know why he chose to do what he did to me, it hurt and frightened me but I don't seek any kind of revenge for that. "I don't want him to suffer, I would like him to be free to live the rest of his life in peace and tolerance, not in anger and bitterness. "Perhaps that is something everyone who shows anger and resentment towards muslim people in Britain could learn to do, maybe everyone could stop the hatred and chill. "Allah says that we are all human, we should show support and love and respect no matter what our race or colour or religion is." Scotter attacked her in July last year, 10 days after the Brexit vote. She was waiting with her nine-year-old son for her husband outside a store in Sunderland's Bridges shopping centre when he "purposefully" walked towards her and grabbed her Niqab. The force he used almost threw her to the ground, and the niqab came away from her face, exposing her and causing her pain to the neck. A witness heard Scotter shout: "Here, take that ****** off, you are in our country now, you stupid ******* Muslim." Scotter was also heard to say: "Our Britain, you live by our ******* rules" before coming out with more racist abuse. He has admitted racially aggravated assault and has 66 previous convictions for 157 offences, including actual bodily harm, breaching a Football Banning Order and racially aggravated criminal damage. The mum said: "It happened soon after the vote to leave the EU. I couldn't say whether that had any effect on his behaviour, I don't know what made him say those things except his own anger. "But I don't feel safe any more when I go out. Sometimes I ask my husband to walk ahead of me because I'm so worried that it will happen again and I feel I need him to protect me. "I don't go into town as often as I did but I have been racially abused since the incident, more than once. Once was by a woman in a shop who swore at me and another time from an older man. "I find that it tends to be the older generation who say things, the younger ones are perhaps more accepting. It would be nice to see the older generation setting an example of how to behave towards others. "I was brought up to believe that Britain is a country open to everybody, a place that believes in freedom. "It's a place where we should all feel secure and safe and welcome. When you look at some of the things happening in America now, this is a great time for Britain to lead the way and show that we can bond and be friends whatever our cultural background. "My life is right here in Sunderland, it's where I live and where I will probably die, I don't want people to think badly of my town and I don't like that these things have happened here." She began wearing her Niqab shortly before the attack, feeling that's where her beliefs had led her. She said: "It is my own choice, it is not something that was thrust onto me and it is not something I will push onto my daughters. "It is a person choice, Islam teaches us not to reveal ourselves to men and that is something I felt I wanted to practice, but it was my choice. "I felt happy and secure in it at first but after that incident it made me feel less so in public, which is sad. I accept other people's choices and I hoped others would accept mine. "People need to look at themselves and think 'I want to show love and not be hateful, I want to be the kind of person who makes a positive difference in this world.'"
http://www.sunderlandecho.com/news/crime/muslim-woman-begs-forgiveness-for-sunderland-man-who-ripped-off-her-niqab-in-the-bridges-1-8451716
------
Pakistan: Women-Only 'Pink Taxis' Set To Hit Streets
March 22, 2017
The majority of women in conservative Pakistan do not participate in the workforce.
Women in Pakistan's commercial hub Karachi are set to ride taxis driven by women in an initiative to protect female customers from the sexual harassment they commonly face when travelling around the teeming city. From Thursday, women will be able to call the cab service — called Pink Taxi — by phone, a mobile app, SMS or simply by hailing one on the street, said Ambreen Sheikh, who is launching the service with her husband Zahid Sheikh. "Our pilots (drivers) wear a pink scarf and black coat as their uniform. They include housewives, young women and students," Sheikh told the Thomson Reuters Foundation by phone after the soft launch of the service.
Commuting in the sweltering city of 20 million is often an ordeal for women. A report by Karachi's Urban Resource Center found most female commuters experience some form of sexual harassment while using public transport. Noor Jehan, a newly recruited Pink Taxi driver, first worked as a maid and then as a driver for her female employer. She said there was a need for such a service as most women "think thrice" before getting in a vehicle driven by a man.
The majority of women in conservative Pakistan do not participate in the workforce, with a lack of safe transportation one of the main obstacles, according to a study by the International Labour Organisation. Syed Nasir Hussain Shah, minister for transport in Sindh province where Karachi is located, acknowledged that women faced hostility and harassment when using public transport. "Having a mode of public transport catering to them alone can solve many of their transport issues," he said on Pakistani television.
But Zebunnisa Burki, a Karachi-based journalist, said many women in the city cannot afford to take taxis. "Women-focused transport initiatives are important in that they serve a growing demographic of mobile women," she said by email. "I do feel, though, that such ventures will still not cater to a large number of working women who go out to work daily … since such women will not be able to afford relatively pricey fares in these private cabs."
Sheikh said the Pink Taxi service would be extended to the cities of Lahore and Islamabad in the next three to four months, followed by other parts of the country. That would be welcomed by Kainat Chaudhry, a content writer with an IT firm in Lahore who uses auto rickshaws or taxis to get to work. "A woman cannot sit in a taxi driven by a male driver and start a casual conversation without the fear of it being mistaken for some sort of inclination towards him," she said. "The taxi driver reserves the right to set the rear-view mirror to scan whatever you are wearing – the stress makes one cringe and hide in the corners of the taxis away from his gaze."
http://indianexpress.com/article/world/pakistan-women-only-pink-taxis-set-to-hit-pakistani-streets-4579908/
------
Protesters Warn ECJ Ruling To Further Alienate Muslim Women
The European Court of Justice's (ECJ) ruling which allows companies to ban staff from wearing Islamic headscarves is at risk of further alienating Muslim women from European society, a group representing Irish Muslim women has warned.
Nearly 100 Muslim women gathered outside the Dublin office of the European Commission on Tuesday to protest the ruling by the EU's highest court which means employees could be banned from wearing religious symbols.
Cries of "look at my CV, not at me" and "my Hijab, my choice" could be heard along Mount street as women of all ages marched up and down the pavement outside Europe House carrying an array of colourful placards and banners.
Fatima Chaudhry, a member of the Muslim Sisters of Eire group which organised the protest, warned that Muslim women already feel "marginalised and picked on by society".
"The Hijab for us is part of our identity; it's very dear to us. You should hire someone based on their skills, their ability, their qualifications, not based on what they're wearing.
"The Hijab is just a simple piece of cloth, it doesn't interfere with how we work. It's time to end this debate about what women should and should not wear. Women should be free to wear whatever we want."
A statement from the Muslim Sisters of Eire said the ruling had "been designed to drive Muslim women out of the workplace" and was "a direct attack on people of all faiths".
'My choice'
Fardus Sultan said people still misunderstand the culture around the Islamic headscarf and the belief that men impose the Hijab on women.
"I'm not saying that in certain parts of the world things are not abused, they are, we accept that. But you can't stereotype, you can't assume. This is my choice, this is how I express myself. I want to be valued for who I am."
UCD student Amina Khalid said she has never experienced racism in Ireland and that her friends at college are very interested in her headscarves. Ms Khalid, who carried a sign that said, "Hijab covers my hair, not my brain", agreed that women should have the right to wear whatever they want.
"I've studied my religion a lot and the deeper you look into it, the more you realise this is part of my identity."
Estelle Menton and Hilary Abrahamson, members of the Dublin Jewish community and the capital's interfaith forum, said they joined the protest to "give support and a morale booster to our friends".
"We've become a multi-diverse nation of late and we have to get along with each other," said Ms Menton. "We're all human beings; we're all God's people. Treat others as you'd like to be treated."
http://www.irishtimes.com/news/social-affairs/protesters-warn-ecj-ruling-to-further-alienate-muslim-women-1.3019176
------
Yogi Adityanath's Father Has An Advice For Him: Muslim Women Voted For You, Respect All Religions
March 22, 2017
Uttar Pradesh Chief Minister Yogi Adityanath may be busy in deciding portfolios for his ministers in hectic consultations with the Bhartiya Janata Party (BJP) leadership in New Delhi but his 84-year-old father has an important advice for him.
"He will need to take everyone along. Women in Burqa have also voted for him. He needs to respect all religions, win their hearts," The Times of India quoted Anand Singh Bisht, as saying.
Bisht, a former forest ranger, asserted that his chief minister son now has a huge responsibility on his shoulders and that it was important for him to take people of every section of the society along for overall growth of his state.
He pointed out that Muslim women voted in favour of the BJP in support of party's stand on the issue of triple Talaq. "People from all faiths believe BJP and Adityanath can take them on the path of progress. That has to be kept in mind," Bisht said.
MY GOVT WILL WORK FOR ALL: YOGI ADITYANATH
Speaking in Lok Sabha on Tuesday, the Uttar Pradesh chief minister vowed to work for development of all sections by creating a "new structure" of progress.
"In Uttar Pradesh, the new model of development will be based on 'Sabka Saath, Sabka Vikas'," emphasised Adityanath, who is known for his firebrand Hindutva image.
"My government will be for everyone, not specifically for any caste or community ... We will work for development of all sections and castes and create a new structure of progress," said the chief minister of the country's largest state.
He said his government in the state will create a "new model" of development under the guidance of Prime Minister Narendra Modi.
Adityanath, the head of Gorakhpur math who was a surprise pick for the post of UP chief minister, said his government will try to create a situation where no riots take place.
The five-time MP asserted this while citing the example of his constituency Gorakhpur."Of the 304 riots that took place in Uttar Pradesh, not a single riot took place in Gorakhpur," he said.
http://indiatoday.intoday.in/story/yogi-adityanath-father-advice-muslim-women/1/909861.html
------
The Launch Of Nike's Pro Hijab Was Designed To Encourage More Muslim Women To Play Sports
March 20, 2017
With Nike's launch of its branded Hijab, there have been some heated reactions. There are a number of people who are cheering the move, and of course, the expected amount of outcry and backlash on social media. But before we get to that, let's take a look at the campaign itself.
Along with the black head-covering adorned with a simple signature Nike swoosh, a video promo was released embodying the spirit of the message the popular sports apparel brand was trying to send. 'What Will They Say About You?' was specifically geared toward female athletes in the Arab world, encouraging them to continue playing sports and participating.
With the media focus on certain female Muslim athletes at the 2016 Rio Olympics, many of whom adorned the Hijab as well as full body covering while competing, it has opened up new conversations about how women across the Arab world are playing sport and utilizing athletic endeavours as a way to push gender restrictive-boundaries that exist in a number of conservative Muslim countries.
We've shared a number of articles about women who are doing this, as sport is typically seen as a male endeavour, not something girls are encouraged to aspire to. And yes, of course there is a massive consumerist aspect to Nike's campaign, there is no denying that. It should also be noted they are not the first clothing apparel company to cater to female Muslim athletes.
But where Nike is able to take the conversation and representation further is with their global reach and iconic popularity. In the video we see a number of prominent Muslim athletes featured, such as Zahra Lari, an Emirati figure skater, and runner Manal Rostom. One of the athletes who was pivotal in the creation and launch of the pro Hijab was United Arab Emirates weightlifter Amna Al Haddad. She worked closely with Nike to develop material and give them insider knowledge on some of the problems with other material.
Amna also spoke about how enthusiastic she is to see more attention being paid to female Muslim athletes and how brands are starting to recognize their value in the marketplace.
"From my perspective as a former athlete who competed in hijab, in the past, the big brands didn't see the need or market for it as it was not 'popular' and it was unheard of to see women train, exercise and compete in hijab. It is a recent phenomenon where more women have expressed a need for it and more professional athletes have fought for rights to compete with a headscarf, and have an equal playing field. We made it big in the news, we couldn't be ignored," she wrote in a Facebook post addressing the Nike hijab.
She also spoke to the negativity the campaign has been receiving.
"As an innovative company, they will create products and they will meet market needs – whatever they may be. It is not dismissing any other hard work done in the past to develop sports hijabs, it's just there is more competition in the market for modest clothing now. I support Muslim women with or without hijab, and how they dress is their choice. And with the Nike Sports Hijab, it surely will encourage a new generation of athletes to pursue sports professionally, and without us athletes who fought for this right and made it happen, Nike wouldn't 'just do it'," she said.
Teen Vogue shared some of the posts on social media from users declaring they plan to boycott the brand, for example, and how they refuse to support the oppression of women with the Hijab. Our take on some of the negativity expressed, especially by American people, is that it is not exactly consistent with their supposed stance on the empowerment of all women.
We certainly hope these people openly sharing their disdain for the Nike Hijab are as vocal about a woman's right to choose her own healthcare options, equal pay, paid family leave, affordable childcare options, and rape and sexual assault. But we digress…
The Nike campaign goes beyond just its own branded product, and contributes to a growing discussion of the representation of Muslim women in a greater aspect. We are seeing a number of fashion brands, such as H&M and Covergirl, finally waking up to the fact that Muslim women also love fashion and are including them in various campaign imagery and videos. In an effort to transform the stereotypical and often negative ways Muslim women are portrayed in the media, Getty Images recently teamed up with MuslimGirl.com, the largest Muslim women's online platform in the United States, on the launch of a new photo collection which "authentically represents Muslim women in a fresh and contemporary light." It aims to tackle misrepresentation of Muslim women in the media and advertising.
None of these campaigns, initiatives or brands are denying any sort of oppression that exists for women in certain parts of the world and in certain cultures, they are simply bringing nuance and greater depth to what society's idea of a Muslim woman is. She is not a monolith, she is complex, unique and individual like everyone else, and it is about time we started seeing some disruption in the mainstream when it comes to how they are portrayed.
Photo by Jenna Masoud for MuslimGirl.com | Muslim Girl / Getty Images
Nike's question of "what will they say about you?" specifically addresses the type of narrative often thrust upon women in the Arab world, but can also be seen as a way to challenge our own perceptions of what WE as a society say, and think, about Muslim women.Recognizing the knock-on effect of allowing women in the Arab world to physically see Muslim women participating in sports is allowing them to be the kind of role models many of these athletes never had themselves.
"There are a lot of…women and girls who are breaking barriers. For me growing up, though, I never had these women to look up to. I had to break these barriers for myself," runner Manal Rostom told Vogue.
"This phrase, it's every little girl's nightmare growing up. We hear this every time we do something that might be met with criticism. There's a fear to stand out and do something that's not part of the norm," said Emirati parkour trainer Amal Murad who is featured in the video. Also seen in the video are Jordanian boxer Arifa Bseiso, Emirati pop singer Balquees Fathi, and Tunisian fencer Ines Boubakri.
If we are going to be champions for the liberation of all women, we need to be able to understand nuance, give room for women to express themselves without us policing their choices, and hold companies and brands accountable for their initiatives which seek to capitalize on the female empowerment movement.
http://girltalkhq.com/launch-nikes-pro-hijab-designed-encourage-muslim-women-play-sports/
------
URL: https://www.newageislam.com/islam,-women-and-feminism/new-age-islam-news-bureau/jewish-and-muslim-women-mps--face-most-abuse-/d/110490
New Age Islam, Islam Online, Islamic Website, African Muslim News, Arab World News, South Asia News, Indian Muslim News, World Muslim News, Women in Islam, Islamic Feminism, Arab Women, Women In Arab, Islamophobia in America, Muslim Women in West, Islam Women and Feminism