New Age Islam News Bureau
31 May 2013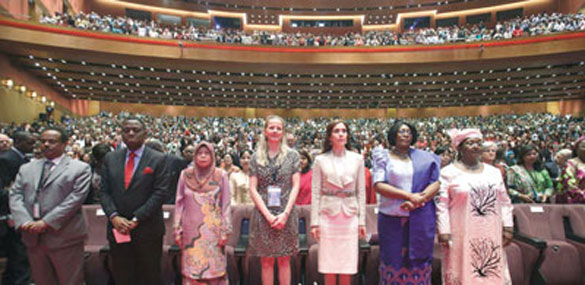 Photo: Princess Mabel (fourth left) of the Netherlands and Denmark's Crown Princess Mary (third right) attend the Women Deliver 2013 conference in Kuala Lumpur yesterday
--------
• Syrian Women Rebels' Fight Goes Beyond Front Line
• Assam UPSC Topper Fardina Adil: Religion Is Used to Obstruct Women's Advancement
• Women Activists at Kuala Lumpur Conference Call for End To Child Brides
• Femen member Amina Tyler on trial in Tunisia
• Physical education encourages healthy lifestyle among women
• 37 Saudi women complete arbitration course
• Women Deliver 2013 Concludes With a United Call to Invest in Girls and Women
• Only 10 Percent of Nigerian Girls Advance Into Post-Primary Schools
• C M Mamata Banerjee in 'Girl-Next-Door' Image at Howrah
• U.N.: Bangladesh Must Improve Protection for Women from Violence
• Nigeria to Head African Women Network
• Michigan Woman, 33, Killed In Syria Fight, Confirms FBI
• Blasts in Bannu damage girls school, house of local leader
• Premlata, the first Indian woman to conquer seven Summits of the world
Compiled by New Age Islam News Bureau
URL: https://newageislam.com/islam,-women-and-feminism/new-age-islam-news-bureau/jeddah-women-call-for-smooth-inheritance-distribution/d/11830
-------------
Jeddah Women Call For Smooth Inheritance Distribution
Fatima Muhammad
May 31, 2013
JEDDAH — Women in Jeddah on Thursday called for the creation of a department at courts that deal only with distributing inheritance. They also called for issuing penalties if a family representative does not disburse any inheritance within a specific period of time.
"Many families sometimes have to wait 10 years or more for their inheritance to be distributed, which can result in a variety of issues," said Aisha Al-Manie, a Saudi businesswoman and member of the organizing team for the one-day symposium on women and commercial inheritance and family law.
The event was organized by the Businesswomen's Forum of the Eastern Province (BWF-EP) in cooperation with the law office of Sheikh Abdulaziz Al-Qassim.
Al-Manie said that they are seeking to increase awareness among women by holding such events.
She told Saudi Gazette that the group has called for a maximum age of 18 for women to have a male guardian. After this age a woman should be responsible for herself except in marriage contracts.
According to her, 75 percent of all cases in courts are related to women and therefore holding seminars that address women issues are crucial. "We are not here to complain and listen to complaints," said Samira Islam, who has waited 33 years for a case to be resolved.
She called for setting a number of recommendations that should be given to Custodian of the Two Holy Mosques King Abdullah and the Ministry of Justice directly without the need to go through the Shoura Council.
The most challenging issue that women face in Waqf (endowment) is when the father dies and only his male children can benefit from the Waqf.
This inequality, said Ahlam Al-Awad, author of a book on waqf, is happening only due to cultural factors and not because of Shariah laws.
Even terminologies that have been invented in this regard do not have any reference in Qur'an or Prophetic teachings, she said.
This culture that prevents women from benefiting from Waqf is because their children do not carry the family name of their mothers.
Ahlam said that she has sent her recommendations to the higher authorities and the file has been transferred to the Ministry of Justice, which has not gotten back to her.
Other factors that prevent women from benefiting from waqf include the father discriminating against his daughters when specifying who should benefit from the waqf.
A woman's brothers could also tamper with the Waqf document so that only men in the family benefit, the symposium was told.
Ahlam called for referring back to Shariah teachings in order to stop any discrimination between men and women in Waqf distribution.
The current practices, she said, will always make men rich while women remain poor.
Dalal Al-Zaid, a Bahrain Shoura Council member and legal consultant, said women should benefit from the decision-makers who are now pro-women and should also air their issues in the media.
She suggested that women should be trained to run their own businesses to prevent them from facing any future issues.
Participants gave a rapturous reception to a woman who said that she has just received her Khula (divorce upon request) document after struggling for the past 10 years.
After getting her divorce contract and taking care of her children on her own for the past 10 years, the woman is now hoping to get financial aid for all the years that her ex-husband did not help.
Al-Zaid advised the woman to contact her ex-husband's banks to find out his financial status and collect details that could help her claim her children's financial rights.
http://www.saudigazette.com.sa/index.cfm?method=home.regcon&contentid=20130531168000
-------------
Syrian Women Rebels' Fight Goes Beyond Front Line
Tracey Shelton, GlobalPost.com
May 30, 2013
ALEPPO, Syria — In a beauty salon-turned-rebel base, Kurdish female commander Angizek, wearing army fatigues and a long, uncovered ponytail, chastises two male members of an Islamist opposition group to Syria's President Bashar al-Assad.
"Headscarves encroach on a woman's freedom," Angizek, who is now in charge of the Aleppo branch of the powerful Syrian Kurdish militia, YPG, tells the bearded and otherwise intimidating men. "I refuse to discuss this matter with extremists."
Across a tiny stream in the neighboring district of Masakan Hanano — which is under the control of the Free Syrian Army — are 15 female fighters from an Islamic fundamentalist battalion called Ghorabaa al Sham.
"We are all mujahedeen. Our job is to fight jihad, that's all," said one 24-year-old Islamic fighter in the battalion.
"We fight only for God," she said. "We don't want anything for this life, just the afterlife."
There are roughly 5,000 Syrian women involved in either fighting or military logistics for the rebels, according to the Syrian Observatory for Human Rights, a Britain-based monitoring group aligned with the opposition.
Most women, particularly among Syria's Sunni Arab communities, stay at home and away from the increasingly deadly battles. Some play a more supportive role, cooking and cleaning for the male fighters.
But in the case of Angizek and her extremist counterparts in Ghorabaa al Sham, even their shared hatred for the Assad regime may not be enough to overcome their opposite visions of both a woman's role in society and of post-war Syria.
Angizek's YPG follow the teachings of Abdullah Ocalan, the founder of the Kurdish Workers Party (PKK), a Kurdish opposition group founded in Turkey which fought a 30-year guerilla war against the Turkish state. He wrote extensively about empowering women in society, military institutions, and as political leaders.
While the Assad regime repressed the Kurdish population — which make up roughly 11 percent of the population — the secular nature of the Assad government in some ways appeals to the YPG over the Islamist ambitions of the opposition.
These fundamental differences have put YPG, whose leaders say some 40 percent of their fighters are women, at odds with large swathes of the Syrian opposition like Ghorabaa al Sham that want to see an Islamic state.
The Sunni fundamentalists who now make up the rebel commander ranks were themselves imprisoned under Assad. Particularly in the rural areas where religion plays a key role in all aspects of life, many Sunnis viewed the secular government as encroaching on their rights as Muslims.
"She is one of the many women who was raped by Assad's dogs," 43-year-old Eklas — a mother of 10 and commander of the women's unit inside Ghorabaa al Sham — said of one of her female fighters, a former university student turned Islamist rebel. "That's why she insists on being a sniper."
For Eklas, the front line is a family affair: her husband, brothers and five of her sons are fighters in the same battalion.
"I am so proud of my children," she said as she prepared an M16 machine gun for a front-line mission with two of her sons, 13 and 17. "I encourage them, but they encourage me so much more."
Eklas still works under the command of the battalion's men, but is in direct control of the 15 women fighting with the group.
The female fighters occasionally join the men on the front line. But mostly they work at rebel checkpoints to search women or assist men in searching the homes of suspects where women might be present.
Because men cannot search women or enter a home when women are present, this supportive role honors the laws of Islam, Eklas says.
Angizek scoffs at the opposition's tendency to keep women in secondary roles.
Angizek's troops have themselves clashed with both Ghorabaa al Sham, including some women, and Jabhat al Nusra, the most prominent fundamentalist group that claims links to Al Qaeda. They were battling for the Ras al Ain border crossing in northeast Syria, eventually ending the fighting with a joint agreement.
"They don't trust the women to put them on the front line. They use them only for show," Angizek said of the Arab female battalions. "If there wasn't a man next to them they couldn't move freely."
Nojan is a 26-year-old Kurdish front-line commander in Aleppo.
"There is no chance for women to do anything in this society," she said as she checked her sniper lines, walking through a chain of empty apartment blocks where her snipers were positioned in dark rooms. From there, they watch the enemy through fist-sized holes in the walls.
Women are "not allowed to learn, to think to be free. So she became like a slave in society," she said.
For Eklas and her colleagues, the fight is about religion rather than feminist ideals. But Angizek, like Nojan, has a broader view.
"We are not only fighting a regime, we are fighting culture," Angizek told GlobalPost as the bearded men she was scolding left the Kurdish base. "If women are not free, then society is enslaved."
http://www.alaskadispatch.com/article/20130530/syria-women-rebels-fight-goes-beyond-front-line
-------------
Assam UPSC Topper Fardina Adil: Religion Is Used to Obstruct Women's Advancement
31 May 2013
By Abdul Gani
Guwahati: Umme Fardina Adil achieved what others could not do in 66 years after the independence by becoming the first Muslim lady from India's north eastern region to clear the Union Public Service Commission (UPSC) with flying colours.
Fardina was born and brought up in Guwahati and she did her schooling from Disney Land High School, Khanapara. Then, she joined Cotton College for class 11 and 12. After clearing engineering entrance exam, she did her engineering from Mody Institute of Technology and Science, Rajasthan in Computer Science. After that she joined Accenture Services Pvt. Ltd. Currently associated with Accenture Services Pvt. Ltd. as a senior programmer Fardina is also working on a project 'Low Cost Sanitation Technologies'.
In an exclusive interview with Abdul Gani of TwoCircles.net, the Guwahati girl shares her thoughts on Assam and its women besides several others.
Excerpts:
TCN: What was your reaction at the outcome of the UPSC?
Fardina: I was obviously very glad to clear the civil services exam at the very first attempt itself. It means a lot to me as it was my childhood dream.
TCN: How difficult or easy it was for you?
Fardina: The exam, no doubt, was tough but with determination and hard work, I think it became a bit easier.
TCN: Is this what you wanted to do or there is something else to be done?
Fardina: I wanted to be an Indian Administrative Officer. Since my ranking is 319 this time, I will not get IAS but will definitely try for this in future.
TCN: How has been the journey so far? Tell us a little bit of your childhood and college.
Fardina: I can say my journey so far was good. But there are times when I felt like losing my heart but I insisted on not to give up trying.
Since my very childhood days, I love to read and to write as well. Starting form religious to academic books or even others which are worth reading, I used to read. But that does not mean I did not take part in extracurricular activities. I have been part of many theatres and street plays during my school and college days.
TCN: What is the role of your parents or others who have influenced greatly in shaping up your career?
Fardina: Allah's blessings and my parents' prayers are the main force that helped to get my goal. My parents have been very kind to me and never let me face any problem and encouraged me throughout to be here at this position. Also there are great contributions of my friends during my preparation.
TCN: What is your view on the scenario of women in Assam and especially Muslim women?
Fardina: I feel women in Assam are in a much better position compared to those in northern part of our country, both socially and economically. But it is also a fact that participation of Muslim women in public services is very low, even lower than SC/ ST. It took 66 years of independence to produce a Muslim woman civil servant from Assam which is a very unfortunate scenario. I do not think it is due of lack of facilities, but due to lack of awareness that have resulted into this.
I would like to urge upon every Muslim woman to believe strongly in their abilities and capabilities and to come forward to participate in every field to chase their dream. And if they do so, I'm sure the entire scene will change.
TCN: How it can be improved? Do you think sometimes religion is misused in the path of advancement for women?
Fardina: It can be improved if every woman is given equal opportunity from her very childhood like any other man. There is no difference between a man and woman in their mental ability. Along with fulfilling duties as a daughter, sister, wife and mother, a woman should also think about herself as an individual.
She has the complete right to take her decision independently like the son of the house. Parents should convey that they believe in her ability and will support her always.
I think, sometimes religion is misused in the path of advancement for women as we get to hear news about female infanticide, child marriage etc. But no such discrimination is entertained any religion. So we should follow the true teachings of our religion and allow our children to go ahead in life, without discriminating their gender.
TCN: Do you think that merely strict laws can minimize the rate of crimes against women?
Fardina: No, only strict laws cannot minimize the rate of crimes against women. Proper implementation of these laws is more important. Also there needs to be a change in the societal attitude towards women so that they are more respected in our society. I think this aspect is crucial.
TCN: Any piece of advice for the aspirants?
Fardina: Strong determination, right motive and hard work are the mantra to be successful in this exam or in any other test.
TCN: Do you have any dream goal to be achieved?
Fardina: I already mentioned that I want to be an IAS so that I can work for the society with efficient utilization of the resources of the Government. Moreover, I have a dream to see India free of open defecation. For this, I have already started my work by doing research in "Low Cost Sanitation Technologies".
http://twocircles.net/2013may31/assam_upsc_topper_fardina_adil_says_religion_often_misused_obstruct_women%E2%80%99s_advancement.ht
-------------
Women Activists at Kuala Lumpur Conference Call for End To Child Brides
May 31, 2013
Activists called for action yesterday against the practice of child marriage that remains a widespread practice throughout the world.
Lakshmi Sundaram, global coordinator of the advocacy group Girls Not Brides, said the practice was harmful to the development and health of girls and women.
She said complications in pregnancy and childbirth are the leading cause of death for girls aged 15-19 in the developing world.
"There is a perception that somehow marriage protects girls," she told the third Global Women Deliver conference in the Malaysian capital of Kuala Lumpur.
"But that is not the case; it simply means that child brides fall off our radar and that the sexual, emotional and physical burdens they face are ignored," Sundaram said.
The UN Entity for Gender Equality and the Empowerment of Women estimated that 39,000 girls younger than 18 years old are married each day throughout the world. It said more than 140mn girls will become child brides during this decade if current trends continue.
The International Centre for Research on Women said among the child marriage hotspots are India, Bangladesh, Niger, Chad, Guinea, Central African Republic, Mali, Mozambique, Madagascar and Burkina Faso.
"We have seen a palpable increase in international attention on the issue," Sundaram said. "There's a lot more interest both in the governments of countries where the issue is prevalent and also in donor countries.
"If we actually put our heads together we can actually put an end to it," she said.
"If a woman was married when she was a woman and not a girl, it's very unlikely that her daughter will be married as a girl."
More than 4,000 people are participating in the three-day event to discuss wide-ranging issues facing women around the world.
Among the guests were Norway's Crown Princess Mette-Marit, Denmark's Crown Princess Mary and Netherlands Princess Mabel of Orange Nassau.
http://www.gulf-times.com/asean-philippines/188/details/354340/women-activists-call-for-end-to-child-brides
-------------
Femen member Amina Tyler on trial in Tunisia
31 May 2013
A prominent member of the feminist group, Femen, in Tunisia has gone on trial in the city of Kairouan.
Amina Tyler is charged with carrying an "incendiary object". She appeared in court smiling, dressed in a white robe.
Conservative groups accuse her of insulting the city of Kairouan, a religious centre.
Ms Tyler scandalised some in her home country in March by posting photos of herself topless, with the slogan "my body is my own" written on her torso.
Femen, a Ukrainian group, is famous for its topless protests.
On Thursday, some 200 protesters, many religious conservatives, protested outside the court, chanting slogans against Ms Tyler, accusing her of attacking the city and insulting Islam.
Ms Tyler emerged from hiding earlier this month in Kairouan, where she wrote "Femen" on a wall near the city's main mosque.
Full report at:
http://www.bbc.co.uk/news/world-africa-22714130
----------
Physical education encourages healthy lifestyle among women
31 May 2013
Saudi Arabia has recently allowed girls' physical education and sports activities in private schools as part of an effort to reform its view on women and sports.
In addition, stadiums now have separate sections for women interested in attending football matches in the country. These steps have been taken to encourage a healthy lifestyle among women in the Kingdom.
According to public health experts, Saudi Arabia has one of the highest rates of inactivity in the world, contributing to rising rates of chronic diseases such as heart disease and diabetes.
Dr. Raaniah Badwi, a medical registrar at King Saud Medical City, said, "This is a good move from the Ministry of Education to facilitate physical activity in schools. I think it will help improve the overall health and lifestyle of the female community."
Full report at:
http://www.arabnews.com/news/453492
----------
37 Saudi women complete arbitration course
31 May 2013
In a first for the country, four Saudi women here have graduated from an arbitration course run jointly by the Jeddah Chamber of Commerce and Industry (JCCI) and the Gulf Cooperation Council Commercial Arbitration Center (GCCAC).
Umnia Zahri, Shahad Abdul Jawad, Ameera Abdullah and Tamara Ali were awarded their certificates and membership of the arbitrator's panel at a ceremony held at the JCCI headquarters on Tuesday.
A total of 37 students graduated from the seven-month course.
A number of officials attended including Abdul Latif Al-Harithy, undersecretary of the Ministry of Justice; Mazen Batterjee, vice president of the JCCI; Yaseen Khalid Khayyat, president of the GCCAC and president of the Jeddah Lawyers Association; and Ahmed Najam Abdullah Najam, general secretary of the GCCAC and spokesman for the center. There were also judges, lawyers and businessmen present.
Full report at:
http://www.arabnews.com/news/453495
----------
Women Deliver 2013 Concludes With a United Call to Invest in Girls and Women
30 MAY 2013
PRESS RELEASE
Kuala Lumpur, Malaysia, 30 May 2013 — Women Deliver 2013 concluded today with a call for continued investments in girls and women. The conference was the largest of the decade focused on girls' and women's health and rights, bringing together more than 4,500 leaders and advocates representing over 2,200 organizations and 149 countries.
The final day of Women Deliver 2013 focused on the critical need to prioritize girls and women in the lead-up to the 2015 Millennium Development Goal (MDG) deadline and beyond. The morning plenary speakers--including United Nations Development Program (UNDP) Administrator Helen Clark, Former President of Finland Tarja Halonen, African Women's Development Fund CEO Theo Sowa and Her Royal Highness Crown Princess Mary of Denmark--addressed the importance of placing girls and women at the center of the next development agenda, and discussed advocacy strategies to keep girls' and women's needs in focus.
Full report at:
http://allafrica.com/stories/201305301457.html
-------------
Only 10 Percent of Nigerian Girls Advance Into Post-Primary Schools
BY CHINEME OKAFOR, 30 MAY 2013
The Emoeferotu Foundation, a non-governmental organisation dedicated to fostering the well-being of children across Nigeria's rural communities, has disclosed that around 10 per cent of young Nigerian girls that are enrolled into primary one classes eventually transit to secondary schools.
The organisation also explained that poverty, inherent cultures of early marriage, economic limitations and parental apathy have mostly contributed in sustaining the development, which it described as a societal anomaly.
President of the foundation, Pam Esiri, disclosed recently in Abuja at its sixth anniversary and logo launch that the situation is equally not different for boy's enrolment into secondary schools, adding that the quality of education and depth of knowledge offered to the average Nigerian child has continued to diminish.
Full report at:
http://allafrica.com/stories/201305300895.html
-------------
C M Mamata Banerjee in 'Girl-Next-Door' Image at Howrah
TNN | May 31, 2013
KOLKATA: People of central Howrah carved a reassuring picture as chief minister Mamata Banerjee walked in a roadshow from Pilkhana to Dumurjala on Thursday. Hundreds including women braved the erratic drizzle to catch a glimpse of the CM trying to rework on her 'girl next door image'.
"The Opposition is trying to create a rift between the Bengalis and the non-Bengalis. The people of Howrah will never allow this. This is not the culture of Howrah- this is not the culture of Bengal," said the CM who was seen waving at the crowd, cajoling children on their mothers' laps and touching the feet of the seniors.
Full report at:
http://timesofindia.indiatimes.com/city/kolkata/Mamata-Banerjee-in-girl-next-door-image-at-Howrah/articleshow/20357924.cms
-------------
U.N.: Bangladesh must improve protection for women from violence
By United Press International
DHAKA, Bangladesh, May 30 (UPI) -- A U.N. independent expert called on Bangladesh Thursday to address the lack of protection for women from violence.
"The absence of effective implementation of existing laws, the lack of responsive justice systems, and impunity for acts of violence, was the rule rather than the exception in cases of violence against women," Rashida Manjoo, the special rapporteur on violence against women, said in a release.
Full report at:
http://www.upiasia.com/Top-News/2013/05/30/UN-Bangladesh-must-improve-protection-for-women-from-violence/UPI-51611369942936/
-------------
Nigeria to Head African Women Network
BY ROMOKE W. AHMAD, 31 MAY 2013
Nigeria will host the second Global Power Women Network Africa high level meeting in collaboration with the African Union to be supported by UNAIDS in June when Nigeria's Minister of State 1 for Foreign Affairs Prof. Viola Onwuliri will assume presidency of the network.
Briefing African ambassadors at the Ministry in Abuja yesterday, Prof. Viola Onwuliri said the meeting would focus on acceleration of implementation of the global and regional commitments for women and girls, gender quality equality and HIV/AIDS as well as the post 2015 priorities.
Full report at:
http://allafrica.com/stories/201305310679.html
-------------
Michigan Woman, 33, Killed In Syria Fight, Confirms FBI
May 31, 2013
FLINT, Mich. — The family of a 33-year-old Michigan woman says the FBI confirmed Thursday that she was killed in fighting in Syria.
She was identified as Nicole Lynn Mansfield of Flint.
Her cousin, David Speelman of Flint, told The Associated Press that FBI agents visited family members Thursday and informed them of Mansfield's death.
FBI Detroit spokesman Simon Shaykhet told the AP he can't comment on the matter.
A pro-Syrian government news agency said that Mansfield and two others were fighters for a group opposed to Syria's government and were killed in a confrontation in Idlib. The report on the circumstances of the deaths could not immediately be confirmed.
Full report at:
http://www.washingtonpost.com/national/michigan-family-says-fbi-confirms-flint-woman-33-was-killed-in-fighting-in-syrias-civil-war/2013/05/30/84bd7f68-c996-11e2-9cd9-3b9a22a4000a_story.html
-------------
Blasts in Bannu damage girls school, house of local leader
May 31, 2013
BANNU: Multiple blasts were reported in Bannu in the early hours of Friday, attacking a girls primary school and house of a local leader, Express News reported.
Miscreants attacked the school late last night and left the building badly damaged.
The house of a local leader in the area was also targeted with two bombs.
The explosion damaged the gate and walls of the building.
A car parked nearby was also damaged in the attack. No casualties were reported in the blasts.
http://tribune.com.pk/story/556978/blasts-in-bannu-damage-girls-school-house-of-local-leader/
------------
Premlata, the first Indian woman to conquer seven Summits of the world
May 31, 2013
Ace woman mountaineer Premlata Agrawal has become the first Indian woman mountaineer to scale the seven continental peaks after climbing Alaska's McKinley Peak.
With this, she became the first Indian woman mountaineer to step on the highest peak of North America. She was felicitated for this momentous achievement on her return to India, in New Delhi on Friday.
On each of the seven continents, there is one peak that stands above the rest.
The Seven Summits present different challenges that have to be overcome with extreme and testing fortitude. Summiting all of them is regarded as one of the world's biggest mountaineering challenge.
Full report at:
http://www.thehindu.com/sport/other-sports/premlata-the-first-indian-woman-to-conquer-seven-summits-of-the-world/article4769137.ece?homepage=true
-------------
URL: https://newageislam.com/islam,-women-and-feminism/new-age-islam-news-bureau/jeddah-women-call-for-smooth-inheritance-distribution/d/11830