New Age Islam News Bureau
28 November 2020
• Rihanna-Bella Hadid-Gigi Hadid Support Hijab-Wearing American Supermodel, Halima Aden
• Vandana Jain Wins Emirates Women Awards
• Dubai Women's Triathlon Sees Good Turnout At Jumeirah
• Sudan Says It Will Stamp Out Child Marriage And Enforce Ban On FGM
• Saudi Arabia: Court's Appointment Of Female Citizen As Arbitrator Is First Of Its Kind In Kingdom
• Database Under Works To Empower Women Entrepreneurs
• Empowering Women To Make Pakistan A True Welfare State
Compiled by New Age Islam News Bureau
URL: https://newageislam.com/islam-women-feminism/jana-amin,-17-year-old/d/123601
----
Jana Amin, A 17-Year Old Egyptian-American Activist, Is A Force To Be Reckoned With
Mirna Abdulaal
November 27, 2020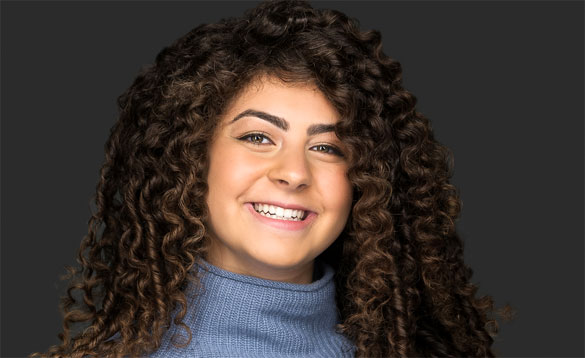 Jana Amin, 17-year old Egyptian-American activist. Courtesy of Jana Amin
-----
You are never too young to change the world for good.
Jana Amin, a 17-year old Egyptian-American activist, is a force to be reckoned with. She is an example of the fearless, dedicated, and fierce young individuals who are passionately working to build a fairer world.
"I truly believe that there is no age that's too young to get involved," she says, "we have this misconception in Egypt that people should first graduate and then they can think of doing something for good, but that's not true at all. I think the more we get young people to be involved and care about the future of Egypt, the more progress we will see."
Since her early years in high school, the one thing Amin continues to do with ferocious intensity is to lift and empower communities – whether it's her own community at school or other communities in Egypt. "Your success depends on the people and the community around you, and so for me it has always been about how we can always lift the communities that we are part of," she says.
At 17, she has worked closely with several NGOs to support women and girls' education, curated an exhibit, launched a platform for Muslim women, became a member of the Youth Activism Project, founded the UnTextbooked podcast, spoke at the United Nation's General Assembly, and recently hosted a virtual event '#17for17: Advocating for Girls' Education' that brought together 17 international and local women from various backgrounds to raise awareness on the importance of girls' education.
The more you speak to Amin, the more it becomes clear that she is expected to achieve even more extraordinary things in the future. So, where does her relentless drive come from?
FROM EGYPT TO THE REST OF THE WORLD
From her childhood in Egypt, she says. Armed with powerful and strong women inside her home, Amin grew up seeing the important role women in her family play and how much they have helped build the strong and ambitious person she is today. "If you're going to be scared from anyone, it's going to be teta (grandmother)," she says, "my mother was also huge about lifelong learning, so even if we are in the car and stuck in traffic, our conversations would center on important and purposeful topics."
One transformative moment for her was also the 2011 revolution. "I remember watching the TV and seeing, not just protestors, but also a lot of Egyptian women in the streets, and for me just watching them on TV made me almost hopeful for the future and what's coming ahead," Amin notes.
From Egypt, her journey of activism spread to the rest of the world. It started with her own experience in high school in the United States, where she realized that there was an unfair and stereotyped portrayal of Muslim women in the media.
"A lot of my friends were surprised that a Muslim girl could be in the same class as them or even drive a car, and so it began as a reckoning on a personal level to share my own story and empower other Muslim women to do the same," she says.
She began her initiative 'Bantota' on Instagram – a space where young Muslim women to come together and share their stories, as well as show a spectrum of Muslim women that exist. She also gave a TED talk on changing the narrative of women in the Middle East and how they can take control of their own narratives.
"It's so hard to create change when you're not centering the voices of the people that are disproportionately affected by these issues," she says, "when we are talking about child marriage, or racism, or equality, using the example of one case really helps makes your case strong and allow people to empathize with the issue."
'I WANT US TO IMAGINE IF EVERY GIRL IN EGYPT WAS EDUCATED'
Her purpose is to uncover girls' real power and turn the world's eyes on the importance of education to advance women's empowerment. "Education gives you power and a voice, and when you have confidence to speak up about your own needs, and the means to articulate what is it you need, this is when change happens," Amin states.
Championing girls' education, she worked with local NGO Heya Masr to run empowerment programs for young women and fund girls' education. From there, she encountered Amany, whose older sister was married off at the age of 15 and then had five kids by the time she was 21. After attending the Heya Masr program, Amany shared with Amin on how much education has helped change her life. "For her, having a taste of education and learning helped her decide her own life goals and ambitions, and now she is a human rights lawyer empowering other girls in her community."
"I want us to imagine if every single girl in Egypt was educated – the opportunities would be endless," Amin adds.
The importance of girls' education was brought to the fore this year due to the COVID-19 pandemic. UNESCO estimates that over 11 million girls may not return to school after the COVID-19 crisis, and even before the pandemic, 132 million girls around the world are out of school and are disproportionately affected by conflict, violence, and poverty.
On her 17th birthday this year, Amin decided that her gift would be to help other girls in the world. She joined forces with inspiring women through a virtual event '17for17' to speak out for girls' education and ensure that learning never stops for any girl.
With over 70,000 people tuning in, it featured 17 speakers on girls' education from 17 countries around the world, including Suzanne Ehlers CEO of Malala Fund, Egypt's Minister of International Cooperation H.E Dr. Rania Al-Mashat, Dr. Rana el Kaliouby Co-founder and CEO of Affectiva, Nora Fyles, Head of the Secretariat at the UN Girls' Education Initiative (hosted by UNICEF), Wadi Ben-Hirki, Founder of Ben-Hirki Foundation, Nibras Khudaida, refugee and human rights activist, and many more.
Recently, she also spoke on a panel at the 75th UN General Assembly's SDG Media Action Zone, where she advocated for real and tangible policies for youth, women and girls. "We need more youth at the decision-making table, and really informing decisions on governmental, business and even individual level. It's time to actively listen to youth's voices," she says on the panel.
AN ACTIVIST OF OUR TIME
Amin is not just an inspiring women's rights activist of our time, but also a young woman of action whose life is centered on learning, commitment and determination, and passionately works to ensure that visions, policies and even academia are turned into real tangible solutions.
Currently, she works as a research intern at the Middle East Initiative at the Harvard Kennedy School, where she explores conspiracy belief, and has previously carried out other important research works on the media representation of Muslim women, where she curated an exhibit at the American University in Cairo titled "Princess Fawzia and the Duality of Egyptian Women."
"I really believe that young women in the Middle East will help break generational cycles of inequality. We have to find more ways to also include them in peacemaking processes and amplify their voice, because once you have young women in the decision-making process, collectively, our society becomes better and stronger," she says, "I am working to turn this into real action."
https://egyptianstreets.com/2020/11/27/i-want-us-to-imagine-if-every-girl-in-egypt-was-educated-meet-activist-jana-amin-advocating-for-women-and-girls/
--------
Rihanna-Bella Hadid-Gigi Hadid Support Hijab-Wearing American Supermodel, Halima Aden
Nov 27, 2020
Zarafshan Shiraz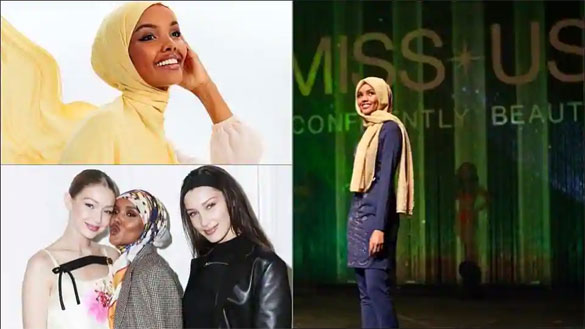 Halima Aden quits fashion industry, Rihanna-Bella Hadid-Gigi Hadid support(Instagram/halima)
------
In a series of historic Instagram confessions, Somali American supermodel Halima Aden opened up about her hijab journey and quit "bowed out gracefully" from runaway modeling because it forced her to compromise her religious beliefs as a Muslim woman. The 23-year-old made headlines as a successful Black Muslim woman who had turned cover girl for British Vogue and Vogue Arabia and even appeared on runways at New York Fashion Week.
Using the Covid-19 quarantine time to reflect on her values and make new moves, the glamour girl who wore was one of the first models to wear a hijab at mega fashion shows, said, "I can only blame myself for caring more about opportunity than what was actually at stake." She received online support from Rihanna and model sisters Bella Hadid and Gigi Hadid.
Halima's journey has been a landmark in itself from being born in a Kenyan refugee camp and moving with her Somali parents to America at the age of six to appearing as a sem-finalist wearing a headscarf for representation in the Miss Minnesota USA pageant in 2016, at the age of 18. From there, Halima rose to star in Rihanna's Fenty Beauty campaigns and Kanye West's Yeezy brand and even featured in Sports Illustrated's annual swimsuit issue last year, wearing wear a hijab and full-body burkini.
Halima stated at the onset of her confession that Rihanna had let her wear the hijab that the former had brought to the set. Sharing a picture of that shoot, Halima wrote, "This is the girl I'm returning to. The real HALIMA (sic)" and punctuated it with a red heart.
The singer shared the post on her own social media handle with the supporting words, "Love you so much Queen @halima (sic)" which turned the model emotional as she replied, "my whole heart (sic)."
Asserting that her journey had been "with lots of highs and lows", Halima revealed that she had suffered bullying at the hands of white kids due to her head covering which made her go home and cry. The same happened in fashion industry when after a shoot, she went back to her hotel room and cried because she was made to take off her hijab but was "too scared to speak up".
Speaking highly of her mother, Rukia Ahmed Aden, for advising "Deen Over Dunya" always, Halima shared that she had asked her to quit modeling a long time ago but she was defensive. Yet, her faith was the strongest around her family and her "hijab was on point when I was surrounded by my Somali culture", which was the last time she was genuinely happy.
Realising that she had gotten carried away, Halima shared pictures of denim hijab and of covering her head with a jeans or layers that were not headscarf. "As if we needed these brands to represent Hijabis. THEY need US. Never the other way around (sic)," Halima wrote while adding that this desperateness for representation back then and her naïve and rebellious self had made her lose touch with who she were.
Halima has deleted certain Instagram posts and the makeover of her social media handle now features a monochromic hijab silhouette as the display picture. Admitting that she was uncomfortable with a lot of shoots, heels and wearing substitutes for hijab, Halima decided it was time to "correct" her "mistake" publicly and her ever since been feeling "more free and relieved."
"I'm not rushing back to FASHION" she wrote as she made note to never skip praying on Islamic time. "Fashion can wait. My DEEN can not," she wrote. "Cancel me? Who gone cancel me? I'm bowing out gracefully (sic)" Halima added in another Instagram story.
Hijab is a lightweight head covering worn in public by some Muslim women. Hijab usually covers the head and chest and is worn by Muslim women as a part of their religion, in the presence of any male outside of their immediate family .
https://www.hindustantimes.com/fashion-and-trends/halima-aden-quits-fashion-industry-rihanna-bella-hadid-gigi-hadid-support-hijab-wearing-american-supermodel/story-r3nms1d4z9Wxwqx5GocGhI.html
--------
Vandana Jain Wins Emirates Women Awards
November 28, 2020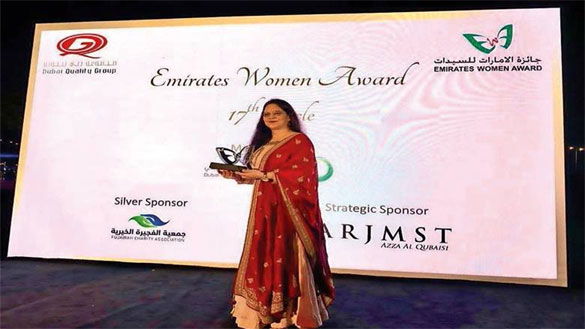 Vandana Jain
-----
Dubai — Vandana Jain, a culinary connoisseur and award-winning author of Best Indian Cuisine Cookbook of the World, was presented with the prestigious Emirates Women Awards 2020, by Dubai Quality Group under the patronage of Sheikh Ahmed bin Saeed Al Maktoum, President of the Dubai Civil Aviation Authority, Chairman of Emirates airline and Chief Executive of the Emirates Group.
Upon receiving the award, Jain expressed her gratitude for the distinguished recognition. She shared that it took years of hard work to create thousands of innovative international recipes (vegetarian), popularising Indian cuisine and uplifting the levels of culinary industry across the globe. According to her most important thing is getting selected amongst hundreds of renowned women is itself an accomplishment to behold.
https://www.khaleejtimes.com/kt-network/vandana-jain-wins-emirates-women-awards
--------
Dubai Women's Triathlon sees good turnout at Jumeirah
November 27, 2020
Dubai: Lottie Lucas of United Kingdom finished on top of the fourth edition of Dubai Women's Triathlon, which brought the streets of Jumeirah to life early on Friday morning before coming to a close at Dubai Ladies Club.
In the Open category, Lucas clocked 2:07:20 to win gold, followed by Triinu Jogeda (Estonia) at 2:22:25. Tanita Okennedy of South Africa finished third with 2:30:19.
Mona Al Marri, Chairperson of the Board of Directors and Managing Director of Dubai Women's Establishment (DWE), awarded the winners. Held under the patronage of Sheikh Mansoor Bin Mohammed bin Rashid Al Maktoum, Chairman of Dubai Sports Council, the Dubai Women's Triathlon is the first event of its kind in the Middle East held exclusively for ladies, organised by the Women's Sports Committee of Dubai Sports Council in collaboration with Dubai Ladies Club.
Saeed Hareb, Secretary General of Dubai Sports Council, attended the event along with Nasser Aman Al Rahma, Assistant Secretary General; Rawda Al Mahrezi, Chairperson of the Women's Sports Committee; Al Maha Al Bastaki, Acting Director of Dubai Ladies Club; Fawzia Faridoon, Head of the Women's Sports Committee as well as the event Director; Maitha Shuaib, Director of Corporate Communication at DWE and Member of the Women's Sports Committee; and Saleha Al Basti, member of the Women's Sports Committee along with several other representatives from each entity.
Mona Al Marri said that the race was held in strict adherence to official COVID-19 preventive and precautionary measures in order to maintain public health and safety. She also praised the long standing partnership between Dubai Sports Council and Dubai Ladies Club which works towards empowering women in sport and thanked all the government entities and departments that contribute to ensuring the Triathlon is a safe and secure event, chief among whom are Dubai Police, General Directorate of Civil Defense in Dubai, Dubai Corporation for Ambulance Services, Dubai's Roads and Transport Authority, and Emirates Hospital in Jumeirah.
The triathlon began early Friday morning, with the swimming competition taking place along the Jumeriah coastline behind Dubai Ladies Club within a private and secure environment. The contestants then got cycled along a route starting from the club's main gates, taking them from the intersection of Al Urouba Road to the intersection of Umm Al Sheif Road, before beginning the running segment of the race on designated tracks along Jumeirah Road until the finish line at Dubai Ladies Club.
https://gulfnews.com/sport/uae-sport/dubai-womens-triathlon-sees-good-turnout-at-jumeirah-1.75533384
--------
Sudan Says It Will Stamp Out Child Marriage And Enforce Ban On FGM
Emmanuel Akinwotu West Africa correspondent
Fri 27 Nov 2020
Sudanese authorities have announced they will end child marriage and enforce the country's ban on female genital mutilation (FGM), in a major step forward for the rights of women and girls.
Police officers were told on Wednesday they must inform local communities that FGM is illegal following new laws passed in July that make it punishable by up to three years in jail.
"Police officers will have a major responsibility to intervene and curb this crime against humanity," said the director general of police, Ezzeldin El Sheikh, adding that religious leaders in the largely Muslim country would play a key role in ending the practice.
The move should go some way to allay concerns the practice was so deeply entrenched in society the law could not be enforced.
According to the UN, 87% of Sudanese women have undergone FGM, which involves the partial or total removal of the female external genitalia for non-medical reasons. Girls are typically cut between the ages of just five and 14.
The council of ministers also announced this week it is to end child marriage and adopt all articles of the African charter on the rights and welfare of the child, which came into force in 1999.
Previously Sudan had resisted moves to ban marriage before the age of 18, despite supporting UN human rights council resolutions to end child marriage.
About a third of girls in Sudan are married before they turn 18.
Niki Kandirikirira, Equality Now's director of programmes, said: "The work [to end child marriage] now awaits the government to implement the law through programmes addressing social norms and through making it clearly punitive to breach the law."
She added: "We welcome comments by police chief Lt Gen Ezzeldin El Sheikh in highlighting that FGM is now forbidden by law in Sudan and those involved can face arrest, and we hope that his words will translate into action by the police force."
Following the ousting of Omar al-Bashir last year, Sudan's civilian-led transition government has set about reforming the country, departing from almost four decades of hardline Islamist policies.
As well as FGM and child marriage, the government has ended prohibitions against religious conversion from Islam, permitted non-Muslims to drink alcohol and stipulated that women will no longer need permission from a male member of their family to travel with their children.
World leaders have pledged to eliminate FGM and end child marriage by 2030.
https://www.theguardian.com/global-development/2020/nov/27/sudan-says-it-will-stamp-out-child-marriage-and-enforce-ban-on-fgm
--------
Saudi Arabia: Court's Appointment Of Female Citizen As Arbitrator Is First Of Its Kind In Kingdom
November 28, 2020
Ramadan Al Sherbini
Cairo: A commercial court in Saudi Arabia has ordered the appointment of a female citizen to arbiter two cases for the first time, the latest sign of boosting women's empowerment in the kingdom, a local newspaper has report.
The decision was made by the commercial appeals circuit at the Commercial Court in the Saudi port city of Jeddah as part of efforts to empower Saudi women in the area of trade arbitration, the news portal Sabq said. Neither the woman's name or age was given.
The appointment is the first of its kind in the history of Saudi commercial courts and reflects interest in the justice system to enhance women's empowerment, it added.
Empowering women
The Saudi Justice Ministry has recently accorded more attention to employing and serving women in its departments and law courts.
In recent years, Saudi Arabia has taken steps to empower women in different domains as part of dramatic socio-economic reforms in the country.
In 2018, the kingdom allowed women to drive for the first time in its history, ending a decades-old ban on female driving. Saudi authorities have also allowed women to travel without a male guard's approval and to apply for a passport, easing long-time controls on them.
https://gulfnews.com/world/gulf/saudi/saudi-arabia-courts-appointment-of-female-citizen-as-arbitrator-is-first-of-its-kind-in-kingdom-1.75547210
--------
Database under works to empower women entrepreneurs
28 Nov 2020
ISLAMABAD: The Ministry of Commerce on Friday said that it will help facilitate creation of a national database of women entrepreneurs in an effort towards increasing their participation in trade of goods and services.
The suggestion came from Commerce Secretary Muhammad Sualeh Ahmad Faruqui, while chairing the second meeting of consultative committee of the Women Economic Empowerment (WEE). The committee will work under specific sub groups to come up with recommendations according to their areas of expertise to be submitted to Ministry of Commerce for further action within a week.
An official announcement issued by commerce ministry said during the meeting, most of which was held virtually, Mr Faruqui emphasised the importance of gender mainstreaming and economic empowerment of women through greater participation in trade of goods and services.
He highlighted the importance of dedicated work on policy issues to ensure effective engagement with women entrepreneurs as key stakeholders. He proposed drafting an action matrix on the basis of stakeholders' input mentioning timelines for different kinds of actions based on their nature in sequential and parallel manner.
"This will cover creation of a national database of women entrepreneurs, business facilitation, ease of doing business, training and access to finance", he said while adding that he took special interest in categorising the sectors and maintaining the momentum of work on policy issues.
The meeting was attended via zoom by a great number of participants including leading fashion designers, Facebook, i2i, P@SHA, e-Commerce market places, women chambers, the Federation of Pakistan Chambers of Commerce and Industry representatives and women chambers.
In addition, representatives from the Pakistan-Regional Economic Integration Activity, USAID and the Asian Development Bank also attended the moot and briefed the house about international best practices on women small and medium enterprises definition and e-commerce portal, respectively.
Meanwhile, from the public sector representatives of the State Bank of Pakistan, Trade Development Authority of Pakistan (Islamabad) and Small and Medium Enterprises Development Authority also participated in the meeting.
The e-commerce implementation strategy provides specific targets towards establishment of a portal for one-window facilitation of related matters and to promote public awareness for all relevant stakeholders.
The functions of the portal would be to provide simplified, translated information about regulations and enhance knowledge and understanding about e-commerce, aware the public about consumer protection and facilitate implementation of nine pillars of e-commerce policy. It will mainstream women in the economic activities.
The establishment of WEE Committee by Ministry of Commerce and National E commerce Council is a step towards removing barriers and increase women's participation in trade activities and commerce policy, giving it a gender lens and reducing gender disparity across trade and commerce.
The WEE also aims to project and promote women-led businesses on international forums through government and private platforms.
https://www.dawn.com/news/1592842/database-under-works-to-empower-women-entrepreneurs
--------
Empowering Women To Make Pakistan A True Welfare State
Economic productivity of a country could be enhanced manifold by empowering the penniless women folk and Pakistan Bait-ul-Mal (PBM) was doing exactly the same to help becoming resource less women self sustaining as promised in the manifesto of Pakistan Tehreek-e-Insaf (PTI). According to the World Bank's 2012 World Development Report: Gender Equality and Development, closing these gender gaps matters for development and policy making. PBM was running 156 Women Empowerment Centres (WECs) to impart vocational training among deserving women. PBM has spent Rs 638 million on imparting technical training among 30,000 women in 2019-20. The women trainees were being paid Rs 30 daily allowance on attendance basis. The trainees having workable business plan of Rs 25,000 to Rs 100,000 would be provided personal loans in collaboration with Pakistan Poverty Alleviation Fund. The loan will be returnable in the time span of 18 months first six months as grace period. As many as 13,322 trainees are currently getting training from these schools whereas some 135,220 trainees have been passed out. WECs plans to impart technical training among 62400 deserving women in the next four years. Currently, the WECs are imparting 16 different trades including drafting, cutting, sewing, designing, interior decoration, beautician, cooking, tie and dye, glass painting, computer and current Microsoft office applications to deserving women. A total of 33 senior citizens were residing in Great Home for Senior Citizens in Lahore. PBM has established Child Support Program (CSP) in five districts. A total of 28,462 children were benefitting from the CSP program. The objectives of establishing these schools was to wean away children from the hazardous child labour environment, impart primary education and bring poor children into mainstream of social milieu. The enrolled children were being provided Rs 10 as daily stipend while parents receive Rs 300 per month as subsistence allowance. It is PBM initiative to pull out the children from bonded labor and imparting them education, in line with the UN & other International Organizations conventions. 159 SRCL,s are functional all over the country. The children involved in child labor are enrolled in these schools are imparted free education upto primary level. They are provided free books, stationery, uniform / shoes and Rs.10/- daily stipend / parents subsistence allowance of Rs.300/- per month and Rs.4100/ year as passed out incentive. Out of 159 SRCL, 46 are in Punjab, 20 are in South Punjab, 37 are in Sindh, 24 are in KPK, 14 are in Baluchistan, 13 are in ICT/AJK and 5 are in G.B. 18519 children were enrolled in these schools in F.Y.19-20. Till now 38059 students have been passed out. 712 millions were utilized during F.Y.19-20. A total of 5,683 scholarships and 18,519 education stipends had been given to deserving students during financial year 2019-20. Some 21,618 deserving persons had been provided medical assistance in last fiscal year. Pakistan Bait-ul-Mal is offering scholarships to deserving students admitted in any Government College or University. PBM has planned to establish Great Homes for senior citizens in many cities. Great Homes will provide basic necessities of life in a dignified manner and in a family like environment including boarding, lodging, food, clothing, medical case and recreation. PBM also providing grant in aid to registered non government organisation (NGOs). PBM has established Facilitation Centres at Pakistan Institute of Medical Sciences (PIMS) and Nuclear Medicine, Oncology and Radiotherapy Institute (NORI) to promptly complete medical assistance case of the deserving. Some other Facilitation Centres would soon be established at provincial headquarters and at divisional levels to facilitate the beneficiaries.In the third phase, the facilitation centres will be established at district level. The Facilitation Centres have already been working at PBM head office and it regional offices to provide speedy, hassle free medical services to the beneficiaries visiting the office and stream lining the process of providing medical assistance. PBM was contributing in poverty reduction through various Individual Financial Assistance (IFA) programmes including general financial assistance, education stipend, individual rehabilitation programmes, etc. Likewise, PBM is planning to establish 15 more Women Empowerment Centres (WECs) by June 2021.
https://www.pakistantoday.com.pk/2020/11/28/empowering-women-to-make-pakistan-a-true-welfare-state/
--------
URL: https://newageislam.com/islam-women-feminism/jana-amin,-17-year-old/d/123601
New Age Islam, Islam Online, Islamic Website, African Muslim News, Arab World News, South Asia News, Indian Muslim News, World Muslim News, Women in Islam, Islamic Feminism, Arab Women, Women In Arab, Islamophobia in America, Muslim Women in West, Islam Women and Feminism