New Age Islam News Bureau
11 May 2014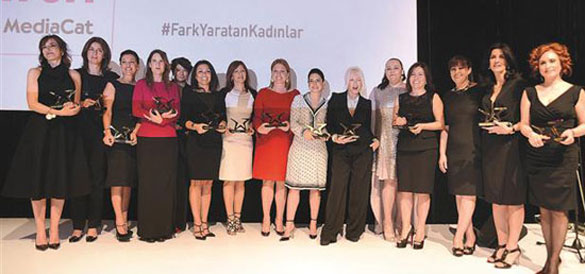 Photo: Turkey's Hürriyet Chairwoman Crowned as Social Responsibility Leader
-----------
• Abducted Nigerian Girl Scared To Go Back To School
• Tel Aviv woman caught trying to smuggle Palestinian Men into Israel
• Birth Defects Reported After Chemical Attacks In Syria
• Women Addicted To Drugs in Iran Begin Seeking Treatment Despite Taboo
• Sole All-Women Varsity in Pakistan Twin Cities 'Missing the Bus'
• Turkey's Hürriyet Chairwoman Crowned as Social Responsibility Leader
• Nigerian Insurgents Blow up Second Bridge, Abduct Woman and Her Two Children
• Afulans Rally for Tighter Security in Wake of Girl's Murder by Alleged Terrorist
Compiled by New Age Islam News Bureau
URL: https://newageislam.com/islam-women-feminism/jamiat-ulema-e-islam-f/d/76965
--------------
Jamiat Ulema-e-Islam-F Leader Calls Banning Marriage of Girls under 18 Un-Islamic
11 May 2014
The resolution passed by the Sindh Assembly to restrict the marriage of girls who are younger than 18 years is criticized by Secretary General Jamiat Ulema-e-Islam (JUI-F) and ex-Senator Dr Khalid Mahmood Soomro this Thursday May 8, 2014. He called the act as illegal and un-Islamic.
While addressing Dastaar-e-Fazeelat Conference in Sukkur said that JUI-F rejects the resolution. He said that his party will oppose it.
Dr Soomro further said that Sindh had its recognition as Bab-ul-Islam and this country came into being in the name of Islam.
He said love for Islam is the basis of the society in the country, but the rulers, by pursuing the policies of the anti-Islam forces, were imposing illegal and un-Islamic rules.
The Senator stressed upon the Sindh government to withdraw the marriage bill as the people of Sindh dislike it. Otherwise, he warned, the JUI-F and the people of Sindh would come on the streets to get it withdrawn.
Dr. Soomoro, however, did not elaborate that how banning marriage of girls who have not turned 18 yet is "illegal" and "un-Islamic".
http://www.newspakistan.pk/2014/05/09/jui-f-leader-calls-banning-marriage-girls-18-un-islamic/#sthash.DUID4g1H.dpuf
-----------
Abducted Nigerian Girl Scared To Go Back To School
11 May 2014
One of the teenagers who escaped from Islamic extremists who abducted more than 300 schoolgirls said Sunday the kidnapping was "too terrifying for words," and she is scared to go back to school.
Science student Sarah Lawan, 19, told The Associated Press that more of the girls could have escaped but that they were frightened by their captors' threats to shoot them.
Lawan spoke in the Hausa language in a phone interview from Chibok, her home and the site of the mass abduction in northeast Nigeria. The failure to rescue 276 of the students who remain captive four weeks later has attracted mounting national and international outrage.
"I am pained that my other colleagues could not summon the courage to run away with me," she said. "Now I cry each time I came across their parents and see how they weep when they see me."
Police say 53 students had escaped and captors are threatening to sell the students still held into slavery.
Lawan spoke as more experts are expected in Nigeria to help in the search, including U.S. hostage negotiators. Nigeria's government belatedly accepted offers of help last week from the United States, Britain, France, China and Spain.
Also Sunday, a leading Nigerian rights group demanded the U.N. Security Council impose sanctions on the Boko Haram terrorist network who abducted the girls, saying expressions of concern and condemnation are not enough.
"The future of these missing schoolgirls hangs in a balance. The council should not leave them to fend for themselves," executive director Adetokunbo Mumuni of the Socio-Economic Rights and Accountability Project said in a statement. "But it is not enough for the Council to express concern."
He said targeted sanctions would send a strong message.
The United States already has designated Boko Haram a foreign terrorist organization, as has the European Union, making it illegal to contribute to the group. And Washington last year put a $7 million ransom on the head of Boko Haram leader Abubakar Shekau, who said in a video last week that he will sell the girls into slavery.
There also have been reports that some of the girls have been forced into marriage with their abductors, who paid a nominal bride price of $12, and that some have been carried across borders into Cameroon and Chad.
Lawan, the escape, said other girls who escaped later have told her that the abductors spoke of their plans to marry them.
She said the thought of going back to school terrifies her - either the burned out ruins of Chibok Government Girls Secondary School or any other school.
"I am really scared to go back there; but I have no option if I am asked to go because I need to finish my final year exams which were stopped half way through."
http://news.yahoo.com/abducted-nigerian-girl-scared-back-school-113319829.html
--------------
Tel Aviv woman caught trying to smuggle Palestinian Men into Israel
11 May 2014
A Tel Aviv resident was arrested attempting to illegally smuggle two Palestinians in the trunk of her car into Israel from the West Bank at the Hotze Shomron crossing early Sunday morning.
The woman, whose three daughters were also in the vehicle, is believed to have been attempting to smuggle the men into Israel in exchange for money.
Security personnel at the crossing noticed that the car's back half was suspiciously weighed down and ordered the driver to stop the vehicle. She failed to heed the order, continuing to drive past the crossing.
The officers succeeded in stopping the vehicle, discovering that the woman had her three children in the car - a 23-year-old, a seven-year-old and a one-year-old baby.
When the officers opened the trunk they discovered the two Palestinian men attempting to enter Israel without documentation laying side-by-side.
According to the Defense Ministry, the woman admitted to smuggling the men in exchange for money. She was transferred to Ariel Police, along with her three daughters.
The two Palestinian men were also detained.
http://www.jpost.com/Defense/Tel-Aviv-woman-caught-trying-to-smuggle-Palestinians-into-Israel-in-trunk-351880
------------
Birth defects reported after chemical attacks in Syria
11 May 2014
Allegations are mounting that chemical weapons attacks in Syria last year have caused newborns to suffer from birth defects.
Syrian doctors and activists have circulated a picture of a severely deformed baby girl, reportedly named Fatima Abdulghafar, who was recently born in Damascus, but soon died.
Nidhal Shikhani, an activist, said medical staff in Damascus had said that the reason for the baby's deformities was due to chemical attacks that struck the eastern suburb of Ghouta in August last year, killing hundreds of people.
After the attack and a U.N. investigation, a Security Council resolution demanded that Syria dismantle its chemical arsenal.
The doctors also showed a picture of another four-month-old baby named Joud, who was born with no left foot and a missing fingertip and toe.
Joud's mother - pregnant with her at the time - inhaled poisonous gas after Homs was struck with chemical weapons in July last year.
A Syria-based NGO, the Violations Documentation Center in Syria, told Al Arabiya News that it is currently probing the cases.
"We are still gathering information to identify the cause of these deformities and whether it is caused by chemical weapons or not," a statement said.
Rose Gottemoeller, U.S. Undersecretary of State for arms control and international security, said on Friday that Syria has moved about 92 percent of its chemical weapons stocks to port for shipment out of the country.
Gottemoeller added that the rest are at a single site near Damascus.
http://english.alarabiya.net/en/News/2014/05/11/Deformed-newborns-reported-in-Syria-after-chemical-attacks.html
--------------
Women addicted to drugs in Iran begin seeking treatment despite taboo
11 May 2014
TEHRAN — On the western outskirts of this city, in an industrial neighborhood of factories and dusty half-constructed lots, a metal-walled building houses women with a secret.
They are female drug addicts, a growing class of people with a habit so taboo in this traditional Islamic society that some Iranians believe they deserve death. But the modest facility here, a substance-abuse rehabilitation center for women, is one sign that attitudes are slowly changing as Iran begins to confront an uncomfortable problem that long went ignored.
The bulk of Afghan opium passes through Iran before it hits the global market, and that access has long contributed to addiction rates that are among the highest in the world. Now they are dramatically rising, particularly among women. Government agencies and international bodies provide conflicting statistics, but Iran's Drug Control Headquarters estimates that 3 million of Iran's 76 million citizens are addicts, more than 700,000 of them women — double the number two years ago.
"There is starting to be some recognition that addiction is a disease, not a crime," said Massoumeh, the director of the small center, which is run by women. "But changing minds takes time."
That is in large part because of the stigma attached to female substance abuse, as well as a heavy dose of denial about the roots and scope of the problem. At a conference on drugs in the city of Urmia this month, one government official blamed foreign meddling.
The addiction of women to drugs is a trick by our enemies to attack Islamic values of Iranian families," Razieh Khodadoust, the director general of the State Welfare Organization of Iran in the West Azerbaijan province, said at the conference. "The enemies of the Islamic republic are planning extensively to spread drugs among Iranian women and they are investing heavily in this project."
HIDDEN ADDICTION
Finding drugs here is easy, and the vast majority of addicts use locally produced crystal methamphetamines or heroin and other opium derivatives. Even so, until recently, the mere thought of women with substance abuse problems seemed unfathomable. Shame was incentive enough for most to hide their habit, making the problem even harder to address.
You can find drugs anywhere, anytime in Iran's cities. Whatever you're looking for you can get within a few minutes," said Nahid, 27, who is seeking treatment at the rehabilitation center for her addiction to heroin and crystal meth.
Due to the restrictive nature of Iranian society, women often seek out female-only spaces to get high, adding to the difficulty of tracking use. One surprising venue, according to crystal meth addicts interviewed at the rehabilitation center, are female-only beauty salons, usually operated in private homes. Many women say they were first introduced to meth by other salon customers who raved about its effectiveness in causing rapid weight loss.
"Our biggest challenge is that addiction among women is hidden," Abolreza Rahmani Fazli, Iran's Minister of Interior and head of the country's Drug Control Headquarters, said in his annual report earlier this year.
Although the bulk of state efforts to combat Iran's drug problem target traffickers, the government also sponsors strong anti-drug public awareness campaigns. But Rahmani and other officials are calling on nongovernmental organizations to help fight addiction, a battle that Iran's religiously conservative authorities are ill-equipped to tackle.
PROVIDING HELP
That call is part of an increasingly open national debate about how to confront the growing problem, with education and treatment efforts being led by other women who have battled addiction and gotten sober.
At the rehab center outside Tehran, Massoumeh and a small band of women are quietly trying to help female drug addicts start new lives. Operating for two years, the entire facility is little more than a collection of several large rooms surrounding a concrete and gravel courtyard. But it represents a huge improvement over previous versions of women's rehab centers in Iran, the staff says.
When Massoumeh began working in the field 13 years ago, it was much riskier. A group of volunteers would set up tents in forested areas outside of Tehran to treat women, with no protection from law enforcement.
"I have no partners, no sponsors, but I'm known in the field of addiction, so people find us," said Massoumeh, who asked that the facility's name and her surname not be published because of the sensitivity of the clinic's activities. "What we do here is based on word of mouth. You can't advertise this."
In addition to helping addicts get clean, using techniques that mirror international Narcotics Anonymous programs, the clinic works to prepare patients for what is often a bigger, riskier challenge — reintegrating into regular society and returning to the neighborhoods where they previously used drugs.
Many female addicts use drugs with a partner, often a spouse or a boyfriend. That was the case for Nahid, who said she started shortly after getting married at age 19 and has been sober for just over three months.
She said she plans on getting a divorce as soon as possible, because her husband wants to keep using drugs.
"I definitely don't need another man. My biggest dream is to get healthy, put all of this behind me and build a good life for myself," said Nahid, who, like other patients interviewed, asked to be identified only by her first name.
Sepideh, a 33-year-old who started using drugs when she was 20, checked into the clinic in mid-April, after her employer discovered her substance-abuse problem and fired her.
She said that she had just passed the most difficult phase of withdrawal from crystal meth, which involved vivid hallucinations. After several unsuccessful attempts to get sober, she said, she hopes this time will be different.
"I want my parents to be proud of me again. They've abandoned me," Sepideh said.
That sort of intolerance among family and friends is common, caregivers say, and one of many reasons why the women at the center may ultimately relapse.
"Without societal and community support," Massoumeh said, "we can't expect the problem to go away."
http://www.washingtonpost.com/world/middle_east/women-addicted-to-drugs-in-iran-begin-seeking-treatment-despite-taboo/2014/05/11/b11b0c59-cbb4-4f94-a028-00b56f2f4734_story.html
--------------
Sole All-Women Varsity in Pakistan Twin Cities 'Missing the Bus'
11 May 2014
ISLAMABAD: A worried Naima Hasan peers anxiously at oncoming traffic from her spot at the Karachi Company bus stop. She lives in G-9, but commutes to Rawalpindi every morning to get to her university, the only all-women varsity in the twin cities.
"I have to sit for my MA English exam in an hour, but the private van that I've engaged to get to my university never showed up because of a death in the driver's family," she says.
Across town, Saba Mubarak of Sadiqabad in Rawalpindi complains that her van driver tries to cram far too many passengers into his already diminutive vehicle.
"On CNG holidays, they usually don't show up at all. On other days, they try to make as much money as possible by stuffing their vans past their capacity. It gets really claustrophobic," she says.
Gender studies major Rafia Malik is originally from Jhelum, but lives in a hostel on the Sixth Road in Rawalpindi.
"The van driver charges us more and more every month and I can't afford to keep paying him, what with my hostel rent and university fees to manage," she complains.
What all three women have in common is their alma mater: the Fatima Jinnah Women University (FJWU), Rawalpindi.
Located in the heart of the garrison city, anyone coming from Islamabad must currently brave a maze of dust, muddy trenches, blocked roads and massive piles of iron rods in order to get to the campus. For others too, it's no cake walk, as the construction of the metro bus has made getting anywhere in Rawalpindi an arduous task.
But spare a thought for those women who must commute through that mess at least twice every day.
Despite being the only all-women's university in the Rawalpindi-Islamabad area, FJWU has no indigenously-run bus service for its students – a facility available at nearly all other major public sector universities.
Institutions such as the Quaid-i-Azam University, International Islamic University Islamabad, National University of Science and Technology, National University of Modern Languages and the Arid Agriculture University all have buses running on major routes of the city to pick and drop students.
But the only all-women's institution seems to also be the only one denying its students this facility. Students say this service has never been offered by the institution ever since it was established in 1998.
Anam Zulfiqar recently completed an MA in English Literature from FJWU and wants to enroll in the MPhil programme.
But living in Sector I-10, her path to higher learning is literally strewn with obstacles big and small. "I wish the university had its own transport facility for students. It would be so much easier for me to go to university and come back," she says.
Outside the FJWU campus on any given afternoon, irate parents can be seen grumbling about the lack of transport.
Fifty-five-year-old Sadaqat Ali, whose daughter is enrolled at the communication sciences department, says, "It is very difficult for me to come pick her up at this time (2pm) because I have to take a break from work every day".
Sadaqat revealed that private van owners would charge upwards of Rs4,500 per month for each student, which is no small investment for cash-strapped households.
Transporters, though, have their own woes. Malik Arshad, who owns a fleet of six vans, says they are forced to take as many passengers on a route as possible otherwise it isn't feasible for them to keep their vehicles running.
"We can't compromise on our monthly dues. None of it stays in our pocket, nearly everything goes into fuel and maintenance costs," he complains.
The recent uncertainty around the availability of CNG also makes things harder for them, he says. "Depending on the route, we charge anywhere from Rs4,500 to Rs7,500 per month."
University spokesperson Dr Shamim Mahmood Zaidi seems cognisant of the problem, but admits the university doesn't have the funds to introduce its own transport service.
"The university management has repeatedly asked the provincial government as well as the Higher Education Commission (HEC) to allocate funds for this purpose, but to no avail. We are in touch with 'Tabeer', a women-only transportation service, to try and address our students' problems," she says.
But a Tabeer spokesperson, Dawn spoke to, said the service was short of vehicles and would consider FJWU's request when it had overcome that shortage.
HEC Spokesperson Ayesha Ikram told Dawn that while it is the responsibility of the HEC to provide development funds to public sector universities, FJWU would be allocated money to arrange transport once its new Chakri campus is operational.
"The university or the provincial government is responsible for funding buses for its already-established campus," she says.
Despite their rhetoric, the matter does not seem a top priority for government officials in charge of education.
Punjab Minister for Higher Education Rana Mashhood Ahmad Khan told Dawn the Punjab government was focusing particularly on health and education.
He vowed to raise the issue in the provincial cabinet meeting and secure funds for the university as soon as possible.
Punjab Minister for Labour and Human Resources Raja Ashfaq Sarwar, who is also a member of the provincial assembly from Rawalpindi, says that he will take an update from the university management and ask the chief minister for funds to make sure students aren't further inconvenienced.
http://www.dawn.com/news/1105570/sole-all-women-varsity-in-twin-cities-missing-the-bus
--------------
Turkey's Hürriyet Chairwoman Crowned as Social Responsibility Leader
11 May 2014
Turkey's pacemaker women have been honoured for their pioneering success in their fields during the "Women to Watch" ceremony, where Hürriyet newspaper chairwoman Vuslat Doğan Sabancı was given the "Social Responsibility Leader" award.
The "Women to Watch" ceremony, which was held by Advertising Age and hosted by MediaCat for the second year in Turkey, brought together the top women in the branding, advertising, marketing, media, culture and arts industries to the Swissotel in Istanbul, on the night of May 8.
Doğan Sabancı, who couldn't attend the ceremony due to work related matters, was named during the ceremony as the "Social Responsibility Leader." Hürriyet's marketing director and executive board member Birim Gönülşen received the award in place of Doğan Sabancı.
Meanwhile, Turkish writer Elif Şafak was crowned the "Culture and Arts Leader" and superstar singer Ajda Pekkan was awarded with a "Lifetime Achievement" prize.
Marketing and communication directors of some of most prominent Turkish and global companies were awarded at the ceremony for their achievements.
The female communication and marketing directors of McDonald's, Vodafone Turkey, Coca-Cola, Turkcell, Koç Holding, and Eczacıbaşı were among those honored.
http://www.hurriyetdailynews.com/hurriyet-chairwoman-crowned-as-social-responsibility-leader.aspx?pageID=238&nID=66265&NewsCatID=341
--------------
Nigerian Insurgents Blow up Second Bridge, Abduct Woman and Her Two Children
11 May 2014
YOLA, Nigeria — Islamic extremists blew up a bridge, killed an unknown number of people and abducted the wife and two children of a retired police officer in north-eastern Nigeria, residents said Saturday, as an international effort got underway to rescue 276 schoolgirls kidnapped by the militants.
News of the Friday night attack came amid growing condemnation by Muslims in Nigeria and abroad, and by some Islamic militants online, against Nigeria's home-grown Boko Haram terrorist network and its actions.
A team of French experts arrived in Nigeria on Saturday to help look for the girls, according to an official in President François Hollande's office in Paris. British security experts arrived Friday to join Nigerian and U.S. personnel, and Britain said its aim is not only to help in the crisis over the girls but to defeat Boko Haram.
International anger at the prolonged failure of Nigeria's military to rescue the girls was joined Saturday by first lady Michelle Obama. In a radio address on the eve of the Sunday honoring mothers in the United States, she said she and President Obama are "outraged and heartbroken" over the April 15 mass abduction.
"In these girls, Barack and I see our own daughters," the first lady said, referring to Malia, 15, and Sasha, 12. "We see their hopes, their dreams, and we can only imagine the anguish their parents are feeling right now."
One parent, the Rev. Enoch Mark, described his despair and anger at the military for not yet finding his two abducted daughters. "For a good 11 days, our daughters were sitting in one place," he told the Associated Press. "They camped them near Chibok [the town from which they were abducted], not more than 30 kilometers, and no help in hand. For a good 11 days."
In the north-eastern war zone, local government chairman Abawu James Watharda said no one could count the dead from Friday night's attack on the town of Liman Kara because the 3,000 survivors had fled.
Fleeing residents say the insurgents blew up the bridge that links the states of Adamawa and Borno, which are under a military state of emergency to halt the Islamic uprising. On Monday, militants destroyed a bridge linking Nigeria to neighbouring Chad, where Boko Haram has hideouts in mountain caves.
In an interview Saturday with the BBC Hausa Service, former Nigerian military ruler Gen. Ibrahim Babangida urged Nigeria's Muslims to rise up against extremists sullying the name of Islam.
"Islam enjoins you to live peacefully with fellow human beings," he said. "Therefore, anybody who will come and smear our name, all Muslims should kick against that."
From Doha, Qatar, the International Union for Muslim Scholars condemned "the terrible crimes offensive to Islam" and said the actions of Boko Haram "are very far from Islamic teachings."
http://www.washingtonpost.com/world/africa/nigerian-insurgents-blow-up-second-bridge-abduct-woman-and-her-two-children/2014/05/10/fc396622-d879-11e3-aae8-c2d44bd79778_story.html?tid=hpModule_04941f10-8a79-11e2-98d9-3012c1cd8d1e
--------------
Afulans rally for tighter security in wake of girl's murder by alleged terrorist
11 May 2014
Sheli Dadon, 19, was found stabbed to death in Migdal Em'ek in a crime that police suspect was motivated by nationalism.
Thousands of friends, relatives and supporters rallied in Afula on Saturday night in memory of Sheli Dadon, a 19-year-old local woman found stabbed to death in Migdal Ha'emek on May 1 in a suspected terrorist attack.
The rally began at around 8 p.m. at the Jezreel Valley town's Yad L'Banim branch, from where it made its way to Independence Square.
Ahead of the rally, Assaf Sarid, a cousin of the victim, said the protest was not political, instead being meant to convey the message that Israel must toughen the penalties for murders and stop releasing convicted killers for political reasons. The protesters were not calling for the death penalty, he added, although another demand was an improved sense of personal security for Israelis.
"It's unacceptable that people in Afula are afraid to go out and don't feel safe here," Sarid said Protest organizer Or Daniel also mentioned the killing last November of Eden Atias, an 18-year-old soldier stabbed to death in his sleep while on a bus parked at the Afula central station. In addition, Daniel said he believed the death of Dadon received less coverage than the recent spate of "price tag" attacks, where unknown vandals have been damaging property and leaving hostile graffiti in Arab towns and neighborhoods.
On Monday, Public Security Minister Yitzhak Aharonovitch said there had been a "dramatic break" in the Dadon case and that he expected those responsible to be arrested in the coming days. He gave no further details because of a gag order.
Police said last week that they continued to believe that the motive for the killing was "nationalistic," meaning a terrorist attack.
When asked how the Dadon family was coping, Sarid said: "I don't think they'll recover for years. Sheli was the joy of the family, always making sure that everyone was happy. I don't know how they'll come back from this."
http://www.jpost.com/National-News/Afulans-to-rally-for-tighter-security-in-wake-of-girls-murder-by-alleged-terrorist-351836
--------------
URL: https://newageislam.com/islam-women-feminism/jamiat-ulema-e-islam-f/d/76965