New Age Islam News Bureau
14 March 2021
• Jacinda Ardern Marks Anniversary Of Christchurch Mosque Terror Attacks
• Fury As Charlie Hebdo Cartoon Depicts Britain's Queen Kneeling On Meghan's Neck
• 'No Stopping Us': The Black Women Fighting For Breonna Taylor
• In Kuwait, Women Denounce Harassment As Instagram Page Sparks Country's #Metoo Movement
• What International Women's Day Looked Like Around The World In 2021
• How Women In East Asia Became Freer Than Their Sisters In South Asia
• NCW Condemns the Murder of an Egyptian Woman by Her Landlord over Male Visitor
Compiled By New Age Islam News Bureau
URL: https://www.newageislam.com/islam-women-feminism/jacinda-ardern-marks-anniversary-christchurch/d/124537
-------
Jacinda Ardern Marks Anniversary Of Christchurch Mosque Terror Attacks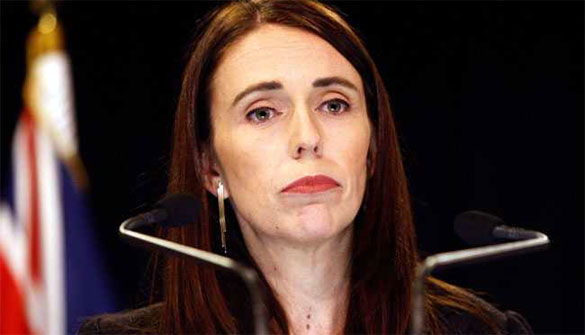 Jacidna Ardern was widely praised for the compassion shown to survivors. (File)
-----
By : Niamh Shackleton
13 MAR 2021
On March 15, 2019, 51 people praying inside a Mosque were killed by a white supremacist gunman.
The massacre was described as one of the country's most traumatic days in history.
To mark its two year anniversary, Ardern addressed hundreds of people today, March 13, where she said that the 2019 events have left an 'unquestionable legacy' and that nothing she could say could change what happened that day.
She said, as per the Independent, during the service held at the Christchurch arena, 'While words cannot perform miracles, they do have the power to heal.'
'There will be an unquestionable legacy from March 15, much of it will be heartbreaking. But it is never too early or too late for the legacy to be a more inclusive nation.'
Kiran Munir, whose husband Haroon Mahmood was killed in the attacks, also spoke at the service, and said that the day had 'broke [her] heart into a thousand pieces'.
Little did I know that the next time I would see him the body and soul would not be together. Little did I know that the darkest day in New Zealand's history had dawned. That day my heart broke into a thousand pieces, just like the hearts of the 50 other families.
Temel Atacocugu, who survived being shot nine times during the attack, spoke at today's service as well. He said, as per Gulf News, 'They were attacks on all of humanity. However, the future is in our hands. We will go on and we will be positive together.'
https://www.unilad.co.uk/news/jacinda-ardern-marks-anniversary-of-christchurch-mosque-terror-attacks/
------
Fury As Charlie Hebdo Cartoon Depicts Britain's Queen Kneeling On Meghan's Neck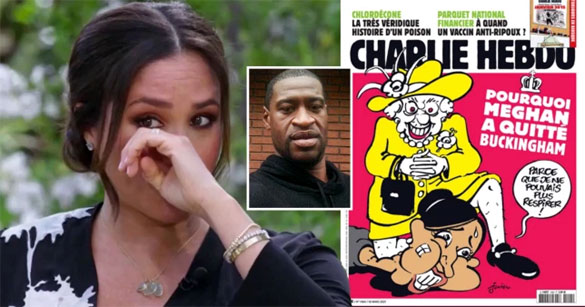 The Charlie Hebdo front cover, criticised for mocking Meghan Markle and George Floyd's death, has sparked fury
-----
14-03-2021
TRT WORLD
Controversial French magazine Charlie Hebdo has published a cartoon on its front page depicting Britain's Queen Elizabeth II kneeling on Meghan Markle's neck, sparking harsh criticism on social media where users slammed it for being racist and mocking George Floyd's death.
The notorious magazine captioned its Saturday's cover, "Why Meghan left Buckingham", to which Markle, the Duchess of Sussex and wife of Prince Harry, who was lying on the ground replying, "Because I couldn't breathe anymore."
"#CharlieHebdo, this is wrong on every level. The Queen as #GeorgeFloyd's murderer crushing Meghan's neck? #Meghan saying she's unable to breathe?" Halime Begum, CEO of Runnymede Trust, a UK-based racial equality think tank, posted on Twitter.
"Charlie Hebdo was extremely rude about the Prophet Mohammed and many on the right in the UK applauded. Now, Charlie Hebdo is extremely rude about the Queen. What will the same people on the right in the UK say now, I wonder?" wrote one user.
In a historic all-tell interview Markle, who has a Black mother and a white father, had said last week the British press drove her to the point where life no longer seemed worth living.
"I knew that if I didn't say it, that I would do it. And I... just didn't want to be alive anymore. And that was a very clear and real and frightening constant thought," she told Oprah Winfrey.
Floyd, who was Black, died on May 25 after a police officer, who is white, pressed his knee on Floyd's neck while he was handcuffed and pleading that he couldn't breathe.
The Black and Asian Lawyers For Justice said that the cover was "outrageous, disgusting, fascistic racism," and accused the magazine of using Floyd's trauma for profit.
"Words cannot describe just how disgusting I found that Charlie Hebdo cover," another user said. "Punching down and constantly drawing racist caricatures it's not satire."
"If you have to continually explain that your "satire" isn't racist & isn't punching down, then it isn't very good satire," another user said.
Charlie Hebdo has been criticised in the past for publishing caricatures insulting Islam's Prophet Muhammad, sparking large protests in Muslim-majority countries and calls for boycott of French goods.
The Daily Express shared the story with readers: "Disgust as Charlie Hebdo depicts Queen kneeling on Meghan Markle's neck like George Floyd."
"Charlie Hebdo: Fury at cover of Queen knelt on Meghan's neck in George Floyd 'parody'," was the title from The Mirror.
https://www.trtworld.com/europe/fury-as-charlie-hebdo-depicts-britain-s-queen-kneeling-on-meghan-s-neck-44990
-------
'No Stopping Us': The Black Women Fighting For Breonna Taylor
By Chris Kenning
13 Mar 2021
Louisville, Kentucky – Dozens of cars blared their horns as they rolled up on the north side of Kentucky's state Capitol last week, one woman waving a Black Lives Matter flag from a truck bed.
It has been nearly a year since Breonna Taylor was killed by Louisville Metro Police in the early hours of March 13, 2020, in a botched raid.
After the police killing of George Floyd in May, Taylor's name became a rallying cry during worldwide marches against systemic racism and police brutality throughout the summer and fall.
In Louisville, protesters took to the streets for more than 180 consecutive days, pressuring the city to pay $12m to Taylor's family and agree to wide-ranging police reforms. But Palmer was pushing the state's General Assembly to pass "Breonna's Law", a proposed statewide ban on no-knock warrants.
Calls for policy reforms such as a ban on "no-knock" police warrants are just one way Louisville's Black community is pushing for change since Taylor's death.
In neighbourhoods and halls of power, a cadre of Black women in Louisville is honouring Taylor's legacy by giving back to their communities, just as Taylor, a hospital technician, did when she was alive.
They are running nonprofits that feed Black communities. They are seeding new businesses to rebuild Black wealth. They are pushing back on evictions and a cash bail system that disproportionately strands people of colour behind bars. They are leading the effort for legislative reforms. They are running for office. And the Breonna Taylor Foundation is developing education, youth and other initiatives.
The community efforts spearheaded by Black women is fitting given Taylor's job. Prior to her death, Taylor's mother worried her daughter would contract COVID-19 due to her work as an emergency room technician in two local area hospitals.
But the 26-year-old, who dreamed of being a nurse, brushed off the concerns, telling her family at the time, "I've got to do what I've got to do to help, and do my part."
One year after her death, Al Jazeera spoke to five Black women in Louisville honouring Taylor by making a change in her hometown, with or without the establishment's help.
Breonna's Law, modelled off a Louisville ordinance under the same name, would ban all no-knock warrants, like the one used by police to raid Taylor's home, and would require officers to wear activated body cameras before and after serving a warrant and submit to drug and alcohol testing if involved in a deadly incident. The piece of legislation is also the first bill to be named for a Black woman in Kentucky's history, Scott said.
After learning that no officers would be directly charged for Taylor's death, many protesters shifted their focus to advocating for Breonna's Law. The bill was discussed by the state's House Judiciary Committee this week, but it does not have enough time to make it through the legislative process before lawmakers adjourn at the end of this month.
Instead, leaders in the Republican-controlled statehouse are rallying around a different bill centred on no-knock warrants. That bill passed Kentucky's Senate last month, and for Scott and protesters, it's a first step, but it simply falls short. The Senate bill, not named for Taylor, would only limit the use of no-knock warrants. It was filed by Senate President Robert Stivers, who is white.
To have the president of the Senate when he presented the bill refuse to even say Breonna Taylor's name ... it was such a removal of her from even what got us here today.
"It wasn't benevolence from a white saviour elected official, it was because Breonna Taylor was murdered," she added. "People rose up and demanded justice, and you cannot continue to erase our work as Black women and think that we are going to be silent about that pain."
It is that pain that, in part, continues to motivate Scott in her work. Last week, when Tamika Palmer briefly spoke to protesters who caravanned to the state capital for Breonna's Law, Scott's eyes met Palmer's and she saw "the pain and hope" Taylor's mother carries with her every day.
"All of the people who have shown up for racial justice, all of the 700 plus people who've been arrested, including myself and daughter who was a teenager at the time, all of the people who have taken on actual policy," Scott added, "they have left me with this reminder that our protest includes policy and it includes politics."
Scott says she is especially inspired by those involved in the movement for Black Lives who told her they plan to run for office in 2022. "That is what a movement is about. That is what building collective power is about," she said. "And that is how we will get justice for Breonna Taylor."
The 44-year-old was in Atlanta, Georgia, last January with Attica Scott and their daughters door-knocking for Democratic candidates when she found out Louisville had picked its next police chief. The city was bringing in Erika Shields, who resigned as Atlanta's top law enforcement officer last year following a police shooting of a Black man.
Parrish-Wright could not understand why Louisville would look to the outside when what the police department needed, she said, was someone who knew the city well and could identify with the people on the ground.
"That's when I decided it's going to take us to change things," Parrish-Wright told Al Jazeera, just months after she announced her plans to run for Louisville mayor in 2022. "We have to have people who are willing to be elected and to bring the people's agenda because [officials are] not listening to us."
"I'm always deciding, putting out fires, answering questions, seeing who should get what, when, where and how, making sure that I delegate and bring people to the table," she said.
The co-chair of the Kentucky Alliance Against Racist and Political Repression and the operations manager for The Bail Project, Parrish-Wright has been at the forefront of the protests in Louisville, and the effort to get those arrested the legal help they need.
On a blazing day last September, Parrish-Wright, her eyes heavy from a night of no sleep, patiently talked to a slew of reporters under the beating sun. In between conversations, she inquired about a young protester, who had been arrested the night before. As her interviews wrapped up, Parrish-Wright urgently walked towards the Louisville Metro Department of Corrections to check on the protester who remained behind bars.
Just hours before, she herself had been released from jail after being arrested on charges that were later dropped. It is moments like these that young protesters have repeatedly told Al Jazeera make Parrish-Wright not only a protest leader, but mentor to so many.
For Parrish-Wright, it is the young people who have motivated her to continue the fight for justice for Breonna Taylor and Louisville's Black community.
"Before they said activist revolutionaries don't make good politicians. We're turning that [notion] on its head," she added. "Now, we get to diversify our leadership in a real way … And that's because our young people are not accepting anything less. They want your words to match your actions and that inspires me."
She was marching as Louisville was exploding with night-time street protests, overcome with tears and grief over the police killing of a Black woman who was the same age as Croney, 26.
"This was the time that everything had to change. It was now or never. It was a time in history we'd never seen," she said. But after a couple of days of emotional marches that were often met with police tear gas, she decided, "I can't do this. The front lines aren't for me. But I can fight in other ways."
Nearly a year later, Croney has put a social work career on hold to become the full-time deputy director of Change Today, Change Tomorrow, a nonprofit started by young Black women that serves the Black community's food justice, education and public health needs.
The grassroots organisation has blossomed with an influx of donations and volunteers to employ eight staffers. In the last six months of 2020, the group served 65,000 people in Louisville's predominantly Black West End.
Among their programmes is an initiative that gives underpaid educators school supplies. Another provides toiletries to the homeless and holiday gifts for children.
They also opened Pocket Change, a retail space to help Black-owned businesses sell goods and attend business workshops near one of Louisville's top dining-and-shopping strips. An education centre offers mentoring, tutoring and space for preteens.
Croney said many Black women felt similarly compelled after protests seemed to mark a sea change both inside and outside her community amid an unprecedented wave of "so much passion, fight and urge for change."
Change Today, Change Tomorrow has drawn money from some establishment funders, such as the Community Foundation of Louisville, who "are opening up dollars for racial justice, for organisations doing this necessary work", she said.
But other foundations have been slow or reticent, which she attributes in part to a distrust of Black-led, Black-serving organisations, she said. "There's still a lot of barriers into the nonprofit ecosystem for money."
Croney is originally from Hopkinsville, on Kentucky's western edge, where her mother and grandmother were known for community service. In Louisville, where she attended college, the needs rooted in past racist policies have long plagued the community.
The Taylor case brought a renewed spotlight on deeper issues such as racial disparities in generational wealth, which require a far longer game than do police procedural reforms.
"We've only begun to scratch the surface of what needs to happen," she said. "When America gets the flu, Black America gets pneumonia. Everything that's happened from the pandemic to the racial injustice and protests has further proved and intensified the needs."
On a recent Saturday, she spent the afternoon handing out fresh eggs and bags of fresh produce for 100 people in the area, all bought from Black-owned farms.
The next night, she was in evening wear at her organisation's event called Black Recharge, a celebration at a hip brewery that included a fashion show and pop-up vendors. She sipped water and said the last year had created a new momentum for the Black community.
"Breonna Taylor's legacy and life has impacted this city in ways I've never seen," she said. "As painful as her death was, it has been so powerful. It has caused such an awakening in Black people to know, this is the time. Let's do this."
"A lot of our elders who were taking the city bus showed up [to get groceries]," she told Al Jazeera, noting that it was "blazing hot" outside. With no other large grocery stores within a reasonable distance and Kroger telling residents the store would be closed "indefinitely", Martin feared many would have to go without groceries for days, if not longer.
With the help of friends, Martin immediately jumped into action, creating Google Forms so people could request grocery deliveries or sign up to volunteer and donate. By the time she woke up the next morning, she had hundreds of responses. "I thought I had been hacked," she said. At that moment, #FeedTheWest was born.
Louisville's West End, home to some of the state's poorest areas, is a food desert, where residents find it especially hard to buy affordable, healthy food. These are the same areas that have a lower life expectancy and higher rates of diabetes, heart disease and other health conditions.
Martin is hoping to change that, however, through her work and the power of local residents. Since its launch, the #FeedTheWest programme, sponsored by Change Today, Change Tomorrow and Black Lives Matter – Louisville, has fed thousands of families and provided supplies like diapers, toilet paper and feminine hygiene products.
In January, Martin opened the first Black-owned grocery store in the city's West End, the Black Market. While the Black Market is still building out its storefront, residents can order online for delivery or pickup or buy products at the store's counter. The Black Market carries some of the typical products one would see at a health food store, but it also has shelves of inventory from Black-owned businesses, like teas, sauces and eggs. Its produce is sourced mostly from Black farmers in Kentucky.
As Martin reflects on the last year, she points to the need for lasting reform, like Breonna's Law, but she is also focused on building sustainable ways for her community to live safer, healthier lives.
Last week, volunteers packed dozens of bags full of pears, oranges, potatoes and other fruits and vegetables to give away for free.
According to Martin, #FeedTheWest has handed out more than 100 bags and boxes of groceries every day in March to honour Taylor.
https://www.aljazeera.com/features/2021/3/13/no-stopping-us-the-black-women-fighting-for-breonna-taylor
-------
In Kuwait, women denounce harassment as Instagram page sparks country's #MeToo movement
The Associated Press
March 14, 2021
Dubai: Abrar Zenkawi was cruising toward the beach in Kuwait City when she saw a man waving and smiling in her rearview mirror.
Elsewhere, this may have been a benign highway flirtation. But in Kuwait, it's a haunting routine that often turns dangerous. The man pulled up beside her, inched closer and finally drove into her. Zenkawi's car, carrying her toddler nieces, sister and friend, flipped six times.
"It's considered normal here. Men always drive way too close to scare girls, chase them to their homes, follow them to work, just for fun," said Zenkawi, 34, who spent months in the hospital with a shattered spine. "They don't think about the consequences."
But that may be changing as women are increasingly challenging Kuwait's deeply patriarchal society. In recent weeks, a growing number of women have broken taboos to speak out about the scourge of harassment and violence that plagues the Gulf nation's streets, highways and malls, in an echo of the global #MeToo movement.
An Instagram page has led to an outpouring of testimony from women fed up with being intimidated or attacked in a country where the criminal code doesn't define sexual harassment and lays out few repercussions for men who kill female relatives for actions they consider immoral. A wide variety of news and talk shows have taken up the subject of harassment for the first time. And one journalist used a hidden camera to document how women are treated in the streets.
The spark may have come from fashion blogger Ascia al-Faraj, who vented in January on Snapchat to her millions of followers after being hounded by a man in a speeding car. In such episodes, men often try to "bump" a woman's car, but many serious accidents result, as in Zenkawi's case.
"It's terrifying, all the time you're feeling so unsafe in your own skin," al-Faraj told The Associated Press. "The responsibility is always on us. … We must have had our music too loud or our windows down."
Shayma Shamo, a 27-year-old doctor, sought to seize the momentum of al-Faraj's viral video, creating an Instagram page called Lan Asket, Arabic for "I will not be silent."
Shamo's rage had been building for weeks. In December, a female employee of Kuwait's Parliament was stabbed to death by her 17-year-old brother, reportedly because he didn't want her working as a security guard. It was the third such case — described as "honour killings" — to make headlines in as many months. The National Assembly, all-male despite a record number of female candidates in the recent election, offered none of the customary condolences.
Kuwait, unlike other oil-rich Persian Gulf sheikhdoms, has a legislature with genuine power and some tolerance for political dissent. But restrictions to slow the the spread of the coronavirus prevented Shamo from staging a protest and forced her to take her grievances online, as women in the region's more repressive countries have done recently.
From there, the conversation moved to traditional media. A well-known female journalist at state-linked al-Qabas newspaper went out at night with a hidden camera and captured motorbike riders recklessly trying to catch her attention, men yelling sexual slurs on the street and strangers pulling the hair of female passersby — offering proof to millions in Kuwait of the harassment women were describing.
"It seems rudimentary, but we've never had these discussions before," said Najeeba Hayat, who helped organise the Lan Asket campaign, which is also training bus drivers to report harassment, organising an ad campaign to raise awareness and creating an app that allows women to anonymously report abuse to police. "Every single girl has kept this in her chest for so long."
As the movement gained steam, lawmakers scrambled to respond. Seven politicians, from conservative Islamists to stalwart liberals, submitted amendments to the penal code last month that would define and punish sexual harassment, including one that called for a $10,000 fine and one-year prison sentence.
"The Kuwaiti penal code doesn't cover harassment, there are just some laws that cover immorality that are so vague that women can't go and report to the local police," said Abdulaziz al-Saqabi, a conservative who was among those who drafted amendments.
But women's rights activists, whose input the lawmakers did not solicit, are skeptical that the proposals will result in significant change, especially with the nation in the midst of a financial crisis and with Parliament now suspended because of a political standoff.
The frustration is familiar for activist Nour al-Mukhled. For years, she and other women have struggled to abolish a law that classifies the killing of adulterous women by their fathers, brothers or husbands as a misdemeanor and sets the maximum penalty at three years in prison. Such leniency remains common across the Gulf, although the United Arab Emirates criminalised "honour killings" last fall.
Kuwait also has statues that let kidnappers evade punishment by marrying their victims and empower men to "discipline" their female relatives with assault.
"In Kuwait, there can be no legal change without cultural change, and this is still culturally acceptable," al-Mukhled said. Only in August did Parliament pass a law that opened shelters for victims of domestic abuse.
But progress is happening outside of official circles, activists say. In recent weeks, a growing number of female collectives have sprung up, in homes and on Zoom — a mirror to the custom of the "diwanyia," gentlemen's clubs that often vault men to top jobs. Women also have turned to Clubhouse, the buzzy app that lets people gather in audio chat rooms, to hold discussions of sexual assault and harassment.
"Right now, attempted murder is considered 'flirting,'" said Hayat, one of the organisers of the Lan Asket campaign. "We just want to be treated like human beings, not as aliens and not as prey."
https://www.firstpost.com/world/in-kuwait-women-denounce-harassment-as-instagram-page-sparks-countrys-metoo-movement-9416021.html
-------
What International Women's Day looked like around the world in 2021
13.03.2021
Global Voices Online
International Women's Day celebrated on March 8 has become a day of marches for women's rights and equality throughout the world. Although COVID-19 dampened participation in many countries, women still raised their voices on the streets on different continents, especially as the pandemic has worsened inequalities faced by women in terms of labor, household chores, and gender violence. In 2021, women and LGBTQ+ people marched against political and gender violence and for reproductive and sexual health. Here is a wrap-up from Latin America, the Middle East, Asia, and Europe on March 8, 2021, based on tweets and contributors' photos.
In Trinidad and Tobago, 15 local civil society groups, which included feminist, human rights, LGBTQ+, and social justice organizations, conducted a "Walk-Out for Women" on March 8. Protestors demanded immediate actions against gender-based violence and commemorated recent femicide victims.
In Buenos Aires, as well as other cities in Argentina, women and trans people gathered to protest against gender violence and the state's failure to prevent femicides, despite reports previously made by the victims.
Left: 'I, too, like women, but I don't harass them.' Right: 'Being alive should not be an accomplishment.' Photo by co-author Romina Navarro.
In El Salvador, women marched on March 7 for women's rights and abortion rights. They performed the song and dance of the Chilean feminist song "The Rapist is You."
Nor how I was In Ecuador, Blanca Chancosa, a leader of the indigenous movement of Ecuador, performed an ancestral ceremony before the National Electoral Council of Ecuador in Quito. Amazonian women issued a collective statement and various communities and organizations marched in several cities of the country.
In Mexico, women turned the fences around the National Palace, placed days before International Women's Day, into a monument to the victims of femicide throughout the country.
Young feminists, unable to take to the streets on International Women's Day, protested and staged a sit-in at the Central American University (UCA) in Nicaragua. They protested against gender violence and for the liberation of political prisoners.
In Venezuela, women's rights are deemed to have been left behind in the Bolivarian revolution, so several feminist groups on either side of the current authoritarian rule of Chavismo, have come together to demand action. Femicides and impunity around them have increased in the past year, along with poverty.
In Palestine, expressions of support, appreciation, and solidarity with women's fight for liberation and their rights flooded social media platforms. Meanwhile, Israeli occupation forces raided an event organized by Palestinian women to celebrate identity and heritage on March 8, arresting two participants.
In North and East Syria, precisely in the Hassakah province, Syrian Kurdish female fighters from the Women's Protection Units (YPG) celebrated March 8 with song, traditional attire, and displays of physical strength and military training.
In Algeria, a rally of women protested the country's Family Code, which is seen to treat women as second-class citizens, took place in Algiers to mark International Women's Day.
In Pakistan, the Aurat March (Women's March) took place in various cities of the country as the third wave of COVID-19 hit the country. The tweet below was filmed in Lahore, and the shirts depict the ages of rape victims as well as the relationship they had with their abuser. The Aurat March also presented a feminist health manifesto this year to raise awareness about women's health.
In Kabul, Afghanistan, Rada Akbar, an Afghan artist and activist, began her 2021 "Abarzanan" exhibition to celebrate the achievements of Afghan women by giving a tribute to those lost to violence in Afghanistan. Also, Afghans gathered for a street art exhibition at Rebel Art Cafe on March 8.
As Myanmar goes through a military coup, women used variations of the hashtag #htamineResistance (SarongResistance), alluding to the fact that the civil disobedience movement protestors hang women's sarongs to block the military, as it is believed that men would lose their spirituality if they touch the sarong. Women have also been on the frontlines of the protests.
In Jakarta, Indonesia, women and non-binary people gathered under the rain to head towards the Presidential Palace. Yet, they could not reach their destination as the police blocked the main road and people got arrested.
In Istanbul, Turkey, thousands of women came together for the traditional March 8 Feminist Night Walk. They chanted, "We are not silent, we are not afraid, we do not obey," and demanded the implementation of the Istanbul Convention. The next day, 18 women were taken from their homes at night by the police and detained for participating in the march along with anti-presidential slogans; they have later been released on bail.
In Italy, feminists and transfeminists organized strikes in the main cities' squares. They organized pickets, read poems, sang songs, danced flash mobs, and put up banners.
In Zaragoza, Spain, the demonstration was made under strict social distancing rules. In 2020, March 8 demonstrations were severely criticized for transmitting COVID-19, and demonstrations were banned in Madrid in 2021.
https://www.pressenza.com/2021/03/what-international-womens-day-looked-like-around-the-world-in-2021/
------
How women in East Asia became freer than their sisters in South Asia
March 14th, 2021
Alice Evans
Around 1900, women in East Asia and South Asia were equally oppressed and unfree. But over the course of the 20th century, gender equality in East Asia advanced far ahead of South Asia. What accounts for this divergence?
The first-order difference between East and South Asia is economic development. East Asian women left the country-side in droves to meet the huge demand for labour in the cities and escaped the patriarchal constraints of the village. They earned their own money, supported their parents, and gained independence. By contrast, the slower pace of structural transformation has kept South Asia a more agrarian and less urban society, with fewer opportunities for women to liberate themselves.
But growth is not the whole story. Cultural and religious norms have persisted in spite of growth. Even though women in South Asia are having fewer children and are better educated than ever before, they seldom work outside the family or collectively challenge their subordination. By global standards, gender equality indicators in South Asia remain low relative to regions at similar levels of development or even compared with many poorer countries.
Patrilineal societies exhibit a powerful son preference. Families invest in boys as much as possible, since they are future providers, scions of the family line and performers of funeral rites. But daughters were perceived as less valuable because they would soon marry into another family. This difference in treatment is reflected in sex ratios, mortality, education, and stunting.
When Chinese families were plagued by cholera or famine, they drowned girls at birth or sold them as slaves. Elite boys were educated in the Chinese classics, but girls (however wealthy) were kept ignorant.
Chinese men were over four times as likely to be literate in the 1880s. In India before 1901 female literacy was almost zero. "Bringing up a daughter is like watering a plant in another's courtyard" -- they said in Telegu. Girls grew up learning they were less valued and more constrained.
Patrilocality meant that a bride relocated to live with her husband's family. Men lived on family land, supported by their family and village. Women did gain status once they had produced sons for the lineage, but a young bride was an outsider with no claim to resources. Moreover, she was closely policed by her husband's kin, so had little autonomy.
The restriction of women's freedom in traditional patrilineal societies emerged from a coordination failure which I call the "patrilineal trap."
In patrilineal societies, the function of women is to produce sons who would perpetuate their husbands' lineage. This generates profound anxiety about women's sexuality. Since the paternity of sons must never be in doubt, the slightest hint of sexual activity by a woman outside the confines of marriage constituted a threat to the social order.
The entire sense of honour and shame in a patrilineal society is bound up in the sexual propriety of women. Therefore, the whole society is organized around removing any and all doubt about the virginity of unmarried women and the fidelity of wives.
Despite the grinding poverty of village life, women earning wages away from home was rare. Few families wanted to stick their neck out and be the first to send their daughter away, because she might be perceived by the village as promiscuous.
In abstraction, we might theorize that each peasant family faced a tradeoff between honour and income. They might be tempted to supplement their meagre earnings by putting their daughter to work outside the village, maybe in the city. But this incentive had to be weighed against the potential loss of honour and the severity of social sanctions. The social ideal was to keep the women at home. But the more women were secluded, the less their labour power could be harnessed for the benefit of the household.
So generally the poorest families were the most likely to send their daughters and wives away to work. Yet once family circumstances improved, the women would be brought back home to regain social respectability.
Meanwhile, the wealthiest families displayed their affluence by keeping women in seclusion and foregoing the financial benefits of female work. Upwardly mobile families sought status by following suit.
There are analogues in the history of North America and Western Europe. Before the mid-20th century, women tended to work less outside the home when their husbands' incomes were rising. The "negative income effect" (household income and women's employment were inversely related) testified to the ideal that men work outside and women at home.
East Asian families were slightly less obsessed with policing women's movements than South Asian families, but this small difference could make a big difference when economic conditions changed.
In northern and southwestern China, rural girls had their feet bound by their families undertaking textile handwork in order to keep them working intensely at the spinning wheel. There was no compunction about treating them like mules or chattel slaves. But when railways brought cheaper industrial goods, families ceased to bind their daughters' feet, so they could move into new productive activities. Even before Maoism (which increased female labour force participation), women's economic contributions were similar to men's in the highly commercialized Lower Yangzi region.
Women in East Asia were not treated better than in South Asia, but they were seen slightly more as an economic resource. And this meant that female employment was more responsive to economic conditions in East Asia.
South Asia has seen quite a different pattern. For example, even as commerce flourished in the early 1900s, many castes in Uttar Pradesh restricted female mobility because they prioritized honour over earnings. Ahir men prevented women from selling milk. Urban Dalits put their wives in seclusion. When mills opened in Calcutta, Bengali women worked from home at a third of the factory wage.
The age of marriage was always much earlier in South Asia than East Asia. In 1931, Indian girls' mean age of marriage was just 13 years. Chinese girls were marrying at 18 years and Japanese girls even later.
Pre-pubescent marriages indicate a strong preference to control female sexuality. Daughters were married off before they were physically able to reproduce for the "wrong" lineage. Thereafter she would be guarded by his kin.
East Asia shares many characteristics with South Asia: Powerful, patrilineal, patrilocal clans policed female reproduction. But the age of marriage was always higher and there was much more inter-ethnic marriage.
South Asians guarded female reproduction more zealously. This was manifest in child marriage, purdah, and strict surveillance. All of these were less responsive to economic conditions. When the industry moved from home-production to factories, women stayed at home. Female workers in industry fell from 17% to 11% between 1901 and 1921, then remained low. Families forfeited earnings to maintain respect.
East Asia overcame the patrilineal trap because it industrialized rapidly, and families were willing to exploit female labour in response to new economic opportunities. In the long run, East Asian women gained autonomy and status by moving to cities and working in factories, freeing themselves from the control of their families, earning their own money and building social support networks. Industrialization was necessary but not sufficient: Female emancipation required the prior willingness of families to treat women as an economic resource.
East Asia witnessed the classic case of balanced growth: Rapid productivity growth in agriculture, which released labour into other sectors; combined with rapid growth in manufacturing and services, which absorbed the rural labour.
Thanks to the late age of marriage for girls, there was an abundant supply of young, unmarried, educated women who could be hired by the thousands simultaneously.
And the demand for labour was so strong that the opportunity cost of keeping your daughter at home increased for entire villages. This synchronized effect helped overcome the coordination problem of individual families being unwilling to stick their neck out by putting their girls to work in the factories. When all families wanted to do it, there could be no social condemnation.
East Asian states realized that women were cheap but efficient workers. Thus the Meiji Government called on girls to "reel for the nation." Emulating the Japanese experience, factory managers in South Korea, Taiwan, and China sought to capitalize on low-cost, educated, disposable labour -- in food-processing, textiles, electronics, and subsequently services.
Norms about women's work shifted. With the economic rewards high, and the fear of social condemnation removed, factory work soon became a normal, predictable, and pervasive stage in the life cycle of East Asian woman.
There has been much less industrialization than in East Asia. Since India, Pakistan, and Bangladesh still remain 63%-65% rural, traditional agrarian institutions are more persistent in South Asia. Villagers continue to rely on kinship and caste networks for survival, and women remain subject to patriarchal constraints.
Female seclusion remains the social ideal, reducing the supply of female labour. Women in South Asia have been less responsive to labour demand despite falling fertility and rising female education. Elsewhere in the world, these changes are normally associated with female labour force participation.
At the same time, industrialization in South Asia has been less labour-intensive (ie the industry has absorbed less labour) than in East Asia. The labour shortages which caused employers in the "Asian tiger" countries to resort to hiring women have never materialized in South Asia. Men are first in line for jobs, and employers need not hire women.
Today in South Asia, female seclusion continues to be idealized. This is because South Asians continue to be embedded in caste and kin networks, which are kept alive by the slow pace and unique nature of economic development in South Asia.
Caste and kin networks are crucial for everything from jobs to loans to mutual insurance where jobs are scarce, retail banking is underdeveloped, and there is little welfare provision by the state. Yet membership in those networks requires social respectability, primarily about women's honour. Therefore, caste panchayats strictly enforce the surveillance of women and within-caste marriages.
Therefore, in rural Bangladesh, Pakistan, and North India, female employment responds weakly to urban demand for labour. Women stay close to their homes, only interacting with kin, and often withdraw from the labour market altogether.
Men go out into the world, while women are closely guarded. Surveillance is so strong in rural Bihar that young women relish open defecation as their only opportunity to get some fresh air, escape in-laws, and speak to their friends in privacy. In rural Odisha and Uttar Pradesh, women (and especially wealthy women) have very few friends. This limits their opportunities to share ideas, critique unfairness, and build alliances outside the family.
The poorest, lower-caste families have little to lose and regularly sacrifice social respect for the sake of barebones survival. In rural Uttar Pradesh, women only turn to waged work under the most desperate conditions. Yet once family finances improve, women withdraw from the workforce and "buy" some respectability again. Prosperity actually seems to reinforce the patrilineal trap in the villages.
Women's reluctance to enter the labour market is enforced by a male backlash. In North (but not South) India, women with outside earnings are more likely to experience domestic violence. Likewise, Bangladeshi women who join savings groups or work in garment factories are at heightened risk of domestic violence. To preserve their dominance, Bangladeshi men usually try to control women's earnings.
Many women are incentivized to stay home when the modest earnings from outside work may be seized by men and instigate intimate partner violence.
India's industrial sector has always been smaller in the aggregate and less labour-intensive than East Asia's. This has suppressed demand for low-skilled labour, with numerous consequences for female employment amongst the poor.
Dalit women have had fewer opportunities to escape the oppression of the villages and find work in the city. Gender wage gaps are the largest among the lower castes. The poorest, least educated women have been the major victims of falling female employment.
Even more important than the size of the industry is the unique pattern of South Asia's industrial transformation -- the great majority of jobs are in the informal sector, with adverse consequences for women.
Most non-agricultural workers do not have stable, salaried employment. Instead, they are employed in micro-enterprises, ranging from one-man entrepreneurial operations to petty family firms with a handful of workers. Such work is precarious.
The precarity of informal employment creates powerful incentives for city-dwellers to rely heavily on their caste-networks and live close to their kin. India's cities (especially the smaller ones) are thus rife with caste-based residential segregation. Segregation by caste is actually more widespread than segregation by socio-economic status.
Ambedkar famously decried the village as "a sink of localism, a den of ignorance, narrow-mindedness, and communalism." Yet, thanks to South Asia's pattern of economic development, those same institutions have been transported to the cities.
Protective labour legislation may partly explain why Indian enterprises remain small and most jobs are still informal. If firms do not employ more than 10 workers, they can circumvent labour laws.
They need not offer paid leave, pensions, or health insurance. They can terminate workers with no notice or severance pay. If firms employ less than seven workers they can also escape India's Trade Union Act (1926) and workers cannot form a union.
Traditional rural patriarchy in South Asia, instead of being undermined as happened in East Asia, has actually been reinforced by economic development. Thus men go out into the world, run family businesses, migrate to new economic opportunities, inherit assets, resolve community problems, mobilize political networks, and make the laws of the land.
Elsewhere in the world, female politicians inspire other women to become politically active and stand for public office. By seeing women demonstrating their equal competence in socially valued domains, societies become more supportive of gender equality.
But in India, a woman's electoral victory has no demonstration effect. Other parties are no more likely to field women candidates and women in nearby constituencies are no more likely to stand for office.
Despite the persistence of cultural traditions in South Asia, the patrilineal trap is not insurmountable. The diversity of historical experience within South Asia suggests there are many ways to tip the income-honour tradeoff in positive directions.
When factories opened up in Bangladesh, families increasingly invested in their daughters' education, delayed marriage, and supported their employment. Female employment continues to rise in Bangladesh, especially among graduates. Through formal employment, women accrue self-esteem and social respect. Bangladeshi women's relatively strong response to economic opportunities may stem from lower levels of endogamy and thus slightly weaker policing (compared to Bihar and West Bengal).
Indian women seize economic opportunities when they feel safe. If a woman can work for a female-owned enterprise, she will readily accept a lower wage. Free from lecherous outsiders, her family no longer need to worry about a loss of honour. For similar reasons, women are much more likely to work in neighbourhoods where they do not fear rape.
Female graduates are pursuing careers in IT, engineering, telecoms, finance, and hospitality. Emboldened by peers, they are capitalizing on the rising demand for skilled labour in Chennai, Bengaluru, and Hyderabad. Many female graduates want to work.
Traditional institutions are clearly not insurmountable, and they are likely to weaken with structural transformation. In large, thriving, southern cities there is less untouchability, more social mobility, and declining caste segregation. This bodes well for gender equality.
In 1900, East and South Asian women were under the control of patrilineal, patrilocal clans. Each family restricted female mobility, as they did not want their daughters to be seen as disreputable.
East Asia overcame the patrilineal trap because it industrialized rapidly and families were willing to exploit female labour in response to new economic opportunities. By migrating to cities and working outside the family, women accrued "face," freedom, and friendships.
South Asia's slower and weaker structural transformation has not changed the income-honour tradeoff as much. The economic returns to female employment remain low, while the costs to honour are high. Given the dearth of good jobs, people remain economically dependent on kin.
This perpetuates caste-endogamy, social surveillance, and purdah. Hence female employment only weakly responds to economic growth. Women remain secluded and separated, seldom challenging their patriarchal providers.
Many young, educated, urban, and especially South Indian women want to break out of the patrilineal trap. Safety and structural transformation would help them realize their ambitions.
https://www.dhakatribune.com/opinion/op-ed/2021/03/14/op-ed-how-women-in-east-asia-became-freer-than-their-sisters-in-south-asia
------
NCW Condemns the Murder of an Egyptian Woman by Her Landlord over Male Visitor
EGYPTIAN STREETS
MARCH 13, 2021
Egypt's National Council for Women (NCW) issued a statement earlier today condemning the murder of a woman at the hands of her landlord and two other suspects. According to local media reports, the tenant, who plummeted to her death from her 6th floor apartment is believed to have been pushed or thrown off by her landlord, neighbor and the doorman in her building.
The woman, a 34-year-old doctor, was a resident of the Al Sallam district in Cairo. According to local media reports, her body was found at the foot of one of the neighborhood's residential buildings.
A police investigation has uncovered that the building's doorman and another resident, as well as the victim's landlord were involved in the tenant's death. Local media reports that the confrontation ensued after the doorman told the landlord that the victim was receiving a male visitor, at which point the landlord and a resident of the building proceeded to break into the woman's apartment and physically assault her and ultimately killed her.
Prosecutors have ordered the arrest of the three men pending investigation into the murder, accusing the suspects of breaking into the victim's apartment, beating her, which authorities believe led to her fall from the building.
The investigation has also implicated the landlord's wife, according to Al Masry Al Youm, which also reports that the landlord has denied the charges against him and has alleged that the tenant committed suicide as a result of 'psychological crisis.'
News of the alleged crime has sparked outrage, with women's rights activists decrying gender-based violence and honor killings, calling on authorities to prosecute the suspects to the fullest extent of the law.
In the NCW's statement, released on Facebook, the agency's president Maya Morsy decried the act and expressed her condolences to and solidarity with the victim's family, saying the council was ready to provide them with the necessary legal counsel and support in order to ensure justice for their slain daughter.
https://egyptianstreets.com/2021/03/13/ncw-condemns-the-murder-of-an-egyptian-woman-at-the-hands-of-her-landlord-over-male-visitor/
--------
URL: https://www.newageislam.com/islam-women-feminism/jacinda-ardern-marks-anniversary-christchurch/d/124537
New Age Islam, Islam Online, Islamic Website, African Muslim News, Arab World News, South Asia News, Indian Muslim News, World Muslim News, Women in Islam, Islamic Feminism, Arab Women, Women In Arab, Islamophobia in America, Muslim Women in West, Islam Women and Feminism