New Age Islam News Bureau
29 Apr 2019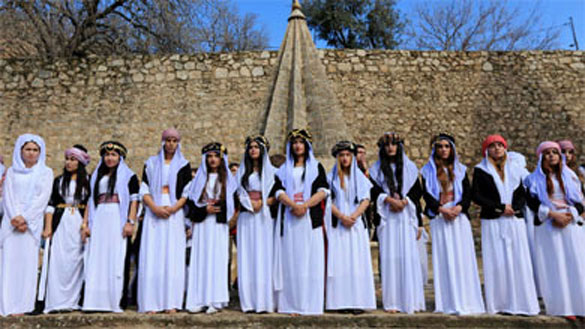 On International Women's Day, Yazidi women attend a ceremony at Lilash Temple, commemorating women who were killed by Islamic State militants, Shikhan, northern Iraq, March 8, 2019.
------
• Moral Security Police Sends Text Messages To Warn Against Mal-Veiling
• Iraqi Bill on Yazidi Female Survivors Stirs Controversy
• Trans Women March for Their Rights in Conservative Indonesia
• Are Girls In Madrasas Of Bangladesh Safe? Experts Want Strict Monitoring
• Sheikh Hasina: Don't Deprive Women of Their Property Rights
• Girls in Bangladesh Learn To Talk Their Way Out Of Forced Marriage
• Workshop Launched to Boost Saudi Women's Role in Arts, Crafts
• Woman Minister Removed From Gilgit-Baltistan Cabinet
• Early Marriage Leads to Domestic Violence: Survey by Punjab Commission on Status of Women
Compiled by New Age Islam News Bureau
URL: https://www.newageislam.com/islam-women-feminism/it-time-nurture-first-generation/d/118456
--------
It Is Time to Nurture the First Generation Of Saudi Female Sports Stars
DR. RAZAN BAKER
April 28, 2019
A few days ago I was surprised to receive a message from a friend asking whether any of the soccer clubs in the country would be interested in sponsoring her friend, a Saudi woman who is currently training abroad.
Her dream is to play for an established club in her home country. She grew up hearing about boys being discovered while playing soccer in schools or at tournaments and offered sponsorship, and now that is what she dreams of for her own future.
Could Saudi sports clubs make her dream, and the dreams of other women, come true? Now that such clubs now have female board members and financial supporters, is it time for women to start supporting new female talent? Could it be time, too, for businesses to offer sponsorship and help raise awareness about women's health and sports? Would female spectators not love to see their peers giving their best and becoming role models for their gender?
This a growing sector around the world. According to a recent article published by Forbes, research by sports marketing agency Two Circles found that attendances at women's sports in the UK have grown by 38 percent year-on-year since 2013. The number of fans attending elite women's sporting events in the UK is set to hit 682,000, a 49 percent increase compared with 2017.
In 2014, the number of amateur and professional sports clubs for men in the Kingdom was 155, spread across 13 provinces. They covered a variety of sports including soccer, basketball, weightlifting and martial arts. For women, it was a very different story. Their only sporting options were to join a private fitness center or gym, an informal club created by a group of friends, or to represent a school or university team. Now, thanks to increasing government support, Saudi women can get professional training and support from their sports federation.
In addition, an official decree in 2018 allowing the inclusion of women in sports opened the door for the establishment of governmental sports clubs to nurture talent. Such clubs now offer women similar opportunities to those available as men, and allow them to represent their clubs in local and international tournaments.
Al-Ittihad club in Jeddah, for example, has signed a five-year contract with 13-year-old Yara Al-Hagbani, along with her brothers Ammar, 21, and Saud, 16, all of whom play tennis. The siblings previously played in the US and have won many medals, but now they can represent a Saudi club that has taken responsibility for their training and participation in international competitions. Their agreement with Yara is thought to be the first of its kind by a Saudi sports club.
It is important to note that the rules and regulations of the General Sports Authority (GSA) have never prevented clubs from signing contracts with female athletes. It is up to each club to decide to whom sponsorship is offered.
The GSA is working on new regulations to allow females to register with local clubs.
I believe Al-Ittihad's initiative will serve as an example to many other sports clubs, encouraging them to open up great new opportunities for women to represent their club and country, and gain the support, supervision and professional training they need.
In addition, there are many sports, such as bowling, billiards and equestrian events, that are not adequately supported by Saudi clubs and now is the time to put that right. I remember a mother once told me about her experience when she took her daughter to a commercial gym that claimed to offer basic gymnastics training.
"There were no levels, progress or professional supervision," she said. "I had no way of knowing whether my daughter was doing well or not. I would definitely prefer to enroll her at a professional sports institute rather than these commercial venues."
This is why the role of sports clubs is crucial, now more than ever.
Al-Ittihad took a courageous step forward; hopefully, other clubs interested in nurturing talent and delivering medals will do the same. This requires a long-term investment in our nation's youth — but they deserve it. It is the first step in creating pioneering sporting role models who will attract the next generation of Saudi sportsmen and sportswomen.
• Dr. Razan Baker is a member of the board of directors at the Saudi Bowling Federation, a specialist in corporate social responsibility in sports, and a sports columnist/journalist.
http://www.arabnews.com/node/1489231
--------
Moral Security Police Sends Text Messages To Warn Against Mal-Veiling
Apr 28, 2019
The Moral Security Police of Tehran sent thousands of text messages to warn commuters against flouting the compulsory veil behind the wheels. This comes at a time when people all around Iran are still struggling after devastation caused by the flood disaster.
In an interview with the state-run IRNA news agency, Hossein Rahimi, the commander of Tehran's police, stressed that the police are obliged by the law to deal with any illegal action. He added, "The police will identify and deal with vehicles whose passengers remove their veils." (The state-run IRNA news agency – April 25, 2019)
Regarding the text messages, he added, "Regardless of who takes off the veil in a car, the texts are sent to the car owners and the Moral Security Police holds the owner accountable."
As for the recipients of the text messages, he noted, "Those who are summoned will be released after committing themselves in writing that they will not repeat the offense. Should the offense be repeated, the accused will be charged and referred to a court of law."
He reiterated, "The measure by the police is legal and they do not have any qualms about continuing to enforce it."
The text messaging by the Moral Security Police to summon citizens to the notorious police station on Tehran's Vozara Avenue for not observing the compulsory veil inside their cars, caused a traffic jam in the area, something that Hossein Rahimi said had been perfectly managed!
One day after the text messaging, Hossein Ashtari, Commander of the State Security Force (SSF), declared, "We will step up our moral security plans and enforce them as strongly as in previous years."
He claimed, "The plans are stepped up at the behest of the public and to promote calm and security." (The state-run Fars news agency – April 26, 2019)
https://women.ncr-iran.org/2019/04/28/moral-security-police-sends-text-messages-to-warn-against-mal-veiling/
--------
Iraqi Bill on Yazidi Female Survivors Stirs Controversy
Saad Salloum
April 25, 2019
The Iraqi president's office announced April 7 that it has sent a draft law on compensating Yazidi women to the Iraqi parliament. The presidential press office said the bill aims to financially compensate the female survivors of kidnappings by the Islamic State (IS), offer them rehabilitation and care, and provide other means of subsistence.
Sagvan Murad Jindy, the Yazidi community's representative at the president's office, said, "It was clear that a draft law was needed to address the psychological and physical suffering of Yazidi women at the hands of IS gangs. Most Yazidis are displaced in the camps in Kurdistan and live under extremely difficult conditions. When these female survivors return, they will probably find that the rest of their family are missing or have left the country to reach safe havens."
Parliament and the president's office are coordinating to turn the bill into law as soon as possible. Parliamentary speaker Mohammed al-Halbusi said he hopes to pass the law to combat the adverse effects of kidnapping operations.
Saeb Khodr, a Yazidi representative in parliament and head of the Parliament Legal Committee, expressed his full support for the draft law. He said the draft has been received by the committee for review. "I am optimistic about the approval of the law as soon as possible," he said. "Guaranteeing the rights of survivors and victims of IS, whether Yazidis or from among the other Iraqi components, is something that cannot be taken lightly."
The draft law stipulates the rights of Yazidi female survivors, including the establishment of a General Directorate for Survivors' Affairs based in Ninevah governorate. A Yazidi civil servant will be appointed by the Council of Ministers to head the survivors' directorate. The law also grants female survivors a monthly stipend; residential land or a housing unit, free of charge; and the right to an education, subject to age-related conditions. Female survivors will also be prioritized when it comes to appointments to public posts.
Notably, the draft law deems the crimes against the Yazidis as genocide, and recommends that the cases be brought to the attention of international bodies to initiate criminal proceedings against the perpetrators of the crimes. The draft marks June 3 as a national day to commemorate the crimes against the Yazidis, with the Ministry of Culture and the Municipality of Baghdad in charge of taking the necessary measures to honor the memory of Yazidi victims, whether through the construction of a monument or the organization of an exhibition.
Despite the draft's positive aspects, some Yazidi activists have criticized the draft. Saman Daoud, editor of Ezidi 24 website, said, "The draft provides rights to female survivors only. It ought to include the rest of the victims, as there are male and children survivors who are living under very precarious conditions. Especially in the case of the children, who lost all family members and became orphans with no breadwinner."
He added, "Some women died in captivity or after being freed from IS because of complications ensuing from the atrocities and horrors they faced." Daoud believes the draft law needs to compensate all victims, not to mention the men who were killed and buried in mass graves, and the children who were forced to become fighters.
Mirza Dinnayi, a Yazidi activist, described the draft law in its current version as excellent, even if it does not attend to other aspects of the Yazidi tragedy. "This is only the first legal step — it should not be the last one," he told Al-Monitor. "Transitional justice, accountability of criminals, compensation of Yazidis and the achievement of genuine reconciliation in the framework of granting Yazidis their full rights constitute only a part of a long-term project that the Iraqi authorities should execute."
The most controversial aspect of the draft law regards the fate of the children who were born from the rape of Yazidi women by IS fighters. The draft notes that those children's status should be regulated in accordance with the law. "Children of a female Yazidi survivor shall be subject to applicable laws," the draft law states.
Under Iraqi law, a child born to a Muslim father, or even to an unknown father, is Muslim, regardless of the mother's religion. This means that the Yazidi children will be registered as Muslims, even though they were born to Yazidi women. Iraqi law does not allow the registration of children according to the mother's religion.
The Yazidi community will face a slew of complicated issues over the issue of children fathered by IS fathers. As it is, the community finds it difficult to accept these children. The draft law has only made the children's acceptance more difficult, as the Yazidi community embraces a religion that emphasizes religious and ethnic purity.
Nevertheless, the draft law is likely to pass parliament with ease. Putting into place some exceptions to the law that would allow the children's religious conversion could appease fears and ensure justice for the victims.
https://www.al-monitor.com/pulse/originals/2019/04/iraq-yazidi-isis-minorities.html
--------
Trans Women March for Their Rights in Conservative Indonesia
Amanda Siddharta
April 28, 2019
JAKARTA, INDONESIA —
Adhe Jengker marched among 4,000 others at the Women's March in Jakarta Saturday. A tall trans woman in her late 20s, Jengker carried a poster that said "The Future is Non-Binary." She came with five other women from the trans community, hoping to raise more awareness about trans women in an increasingly conservative Indonesia.
"I went down to the street and participate in Women's March because I realize, as a transgender, our rights have not yet been fulfilled by the government. Our space is becoming more limited," she told VOA. Jengker, a professional makeup artist, is also concerned because trans women often face discrimination and persecution, especially those who are sex workers.
Like Jengker, Vanessa Chaniago is worried. She sees increasing incidents of violence against the trans community, especially during this political year. Indonesia has just concluded its presidential and legislative elections.
"I'm here for other trans women who are discriminated against. I want that violence against us will eventually decrease, and I hope there will be justice for the women in trans community and my friends in the LGBTIQ community," Chaniago said.
Dena Rachman, a former child artist and renowned trans activist, participated so that trans women can have more visibility in the public space. She said that they have very limited space to be able to express themselves as a human being.
She also lamented the fact that so many people in the trans community are denied access to their basic rights of education and health care.
"What we experience as transgender here is a systematic discrimination. Because of the system we are excluded from the society, that's our main concern," she said.
Violence against the trans community
Khanza Vina, an activist from Young Trans Women Studio (SWARA), an NGO that focuses on empowering trans women, said there are more than 700 recorded cases of violence against people in the LGBTIQ community since 2016.
"These cases including discrimination, violence, eviction from their own homes," she told VOA.
In one case involving trans women last year, 12 who worked at different hair salons in Aceh, Indonesia's most conservative province, were arrested by the police. Their heads were shaved and they were beaten and paraded around the neighborhood and forced to denounce their female identity.
In May last year, four trans women in Cianjur, West Java, were detained by people from a hardline Islamic organization, they were interrogated and forced to take off their clothes. The video later became viral on social media. Meanwhile in Bekasi, West Java, last November, two trans women were beaten and harassed.
Politicization of the LGBTIQ community
Vina believes one of the reasons trans women and people from the LGBTIQ community are increasingly persecuted is because of the identity politics used by politicians to win the hearts of conservative voters.
"This identity politics ends up covering up or justifying cases of violence against trans women. None of the two presidential candidates dared to say stop discriminating against minority groups," she said adding that minority groups are becoming less and less visible.
During the Indonesian presidential election, supporters of opposition candidate Prabowo Subianto spread a rumor that incumbent President Joko "Jokowi" Widodo would legalize gay marriage if re-elected.
Before that, the speaker of People's Consultative Assembly, Zulkifly Hasan, openly stated that he is against the LGBTIQ community.
"I'm not against the people but the behavior of LGBT. It's a depraved activity and will negatively impact the society," he said in January.
According to Julia Suryakusuma, an author and feminist activist, since the beginning of 2016, there has been a moral panic directed at the LGBT community in Indonesia.
"This moral panic is not dissipating and it is clearly connected with the rise of conservative Islam in the Indonesian political arena," she wrote.
Attempts at criminalization
Last year, some factions in the Indonesian House of Representatives (DPR), who were trying to gain conservative votes ahead of the Indonesian election, proposed to impose restrictions on same-sex relationships and consensual premarital sex in the revision of the Criminal Code.
In 2017, the Family Love Alliance (AILA), a conservative group, filed a petition to the Constitutional Court to criminalize the LGBT community in the Indonesian law. The petition was rejected with a dissenting opinion, 5 out of 9 judges ruled against the petition.
With the attempts to criminalize people based on their sexual preference or gender identity, Vina mentioned a growing reluctance to use the term of LGBTIQ even within the civil society's movements.
"People are afraid to use the terminology of LGBTIQ, for example in an event because they don't want the conservative groups to disband the event," she said.
"But I don't want fear to divide us. And I hope people will stop using our identity as political commodity. Look at what hatred can do to the people in the trans community, we're also human beings," Vina added.
https://www.voanews.com/a/trans-women-march-for-their-rights-in-conservative-indonesia/4894550.html
--------
Are Girls In Madrasas Of Bangladesh Safe? Experts Want Strict Monitoring
APRIL 23, 2019
Dhaka, Apr 23 (UNB) - Amid the involvement of teachers in a series of rapes and killings of madrasa students, experts have called for strict monitoring by the government and overhauling the education system.
They told UNB that the recent incidents are a wakeup call for the government which needs to act fast to address the issue.
Three madrasa students were killed and at least seven others, mainly children, were raped by their teachers since April 1, media reports show. Fourteen madrasa teachers were arrested for their suspected involvement in the incidents.
The murder of Nusrat Jahan Rafi in Feni has drawn the attention of all as she was set on fire on April 6 at her madrasa for reportedly refusing to withdraw a sexual harassment case filed against her principal.
Dhaka University's Professor Emeritus Serajul Islam Choudhury, Prof Abul Barakat, Prof Mohammad Shafiqur Rahman and Associate Professor Dr Mohammad Shahidul Islam blamed a culture of impunity, moral degradation, madrasa teachers' connection with influential people and lack of accountability and monitoring by the governing body for the rapes and killings.
Chairman of Bangladesh Madrasa Education Board (BMED) Prof AKM Saif Ullah said the incidents are tarnishing the image of madrasas. BMED has issued a set of guidelines to protect female students and prevent sexual harassment.
Male teachers will not be allowed to call a female student alone to their rooms. "If they do, then other teachers, including female ones, must be present there," he said.
Madrasa authorities must also arrange a monthly meeting with students to allow the latter talk about their problems. The institutions will have to communicate sexual harassment complaints to the Madrasa Board immediately.
"If this instruction is not followed, then necessary action will be taken to cancel the institution's MPO," Saif warned, adding that the guidelines will be sent to all the institutions under the board shortly.
Saif noted that many madrasas are not following the Education Ministry's instruction to have at least 30 percent female teachers. "We'll give [the madrasas] a warning and take effective steps to implement the instruction as soon as possible," he said.
There are two types of madrasa education system in Bangladesh -- Alia and Qawmi. While the first is regulated by the government, the latter is financed by donors and run independently.
BMED says there are 9,258 madrasas under it with around seven million students. Sixty percent of them are female. A research by Prof Barakat found that Qawmi madrasas have over seven million students.
Prof Serajul Islam said incidents are taking place regularly at madrasas, but many are not disclosing them fearing social stigma.
He said the government must properly enforce law and ensure exemplary punishment of offenders, apart from reforming madrasa education. The government also needs to ensure a strong monitoring of the educational institutions.
Prof Choudhury said guardians should make their children aware of sexual harassment and encourage them not to hide such incidents.
Prof Barakat, who conducted a research on madrasa education, said the incidents of sexual harassment and molestation of students by teachers is a very old problem.
He said madrasa teachers take advantage of their position and indulge in sexual harassment. The degradation of social values, social inequality, social injustice and teachers' connection with influential people are the other reasons behind the rise in sexual harassment, he said.
"The government should deal with the issue with an iron hand," he said, adding that a social movement is also necessary to prevent sexual harassment.
Prof Barakat also suggested the government to be careful about picking managing committee members of madrasa and educational institutions. "Reform in madrasa education, especially the Qawmi one, is also necessary," he noted.
Dr Shafiqur, chairman of Dhaka University's Islamic studies department, said it is embarrassing that teachers having vast Islamic knowledge are involved in anti-Islamic activities.
"They've lost their morality and deviated from the teaching of the Quran and hadith. They should be given exemplary punishment as a warning to others," he said.
He said madrasa management committees should monitor the teachers and interact with students and encourage them to lodge complaints. "Madrasa teachers should also remain careful about their colleagues."
Dr Mohammad Shahidul Islam, an associate professor of Dhaka University Arabic department, said he was shocked after hearing about the incidents of sexual harassment involving teachers.
"Teaching is a noble profession, but teachers are now deviating from their ethics and ideal," he said. "They should be given proper training and kept under watch by a governing body."
Education Minister Dr Dipu Moni said the government will strictly deal with sexual harassment issue.
"We've already sent cautionary messages to all educational institutions. We'll take stern action if any sexual harassment allegation is raised against any madrasa teacher," she said.
The minister said a social awareness campaign is also necessary to make female students aware of their rights and the legal means they can resort to in case of any harassment. "We must enforce the law strictly to get rid of the problem," she noted.
Dr Dipu said research should be conducted to find out the reason behind the growing incidents of sexual harassment and address the issue.
http://unb.com.bd/category/Special/are-girls-in-madrasas-safe-experts-want-strict-monitoring/16975
--------
Sheikh Hasina: Don't Deprive Women of Their Property Rights
April 29th, 2019
The prime minister suggested replacing the words 'son' and 'daughter' in the laws with the word 'child,' so that no matter what the gender of the child is, they can get a fair share of their parents' property
On Sunday, Prime Minister Sheikh Hasina called for the protection of women's property rights and preventing the misuse of Sharia law to deprive them of their fair share of wealth.
She asked concerned authorities to look into the matter, while addressing a program marking National Legal Aid Services Day 2019 at a hotel in Dhaka, reports BSS.
Addressing the judges present at the event, she said: "Yes, we should adhere to Sharia law. However, you should look into how to prevent women from being deprived of their husbands' and fathers' property in the guise of Islamic law."
The prime minister further said this was causing a lot of social injustice. "We say only two children are enough, but what will happen to them if both are daughters?"
She questioned how wealth would then be distributed when a husband or father dies.
"I am not asking anyone to reform Sharia law. However, property laws should address this issue too," she suggested.
The prime minister suggested replacing the words "son" and "daughter" in the laws with the word "child," so that no matter what the gender of the child is, they can get a fair share of their parents' property.
"An initiative should be taken to address this," she urged.
Anticipating criticism on this matter from Islamic thinkers, Hasina added that she had already spoken to many religious leaders regarding the matter,most of whom agreed with her proposition.
"Although Islam ensures the protection of women's property rights, brothers sometimes do not want to give their sisters what they are owed," she said, adding that this sort of social injustice has to be stopped.
https://www.dhakatribune.com/bangladesh/law-rights/2019/04/29/pm-don-t-deprive-women-of-their-property-rights
--------
Girls in Bangladesh Learn To Talk Their Way Out Of Forced Marriage
29 Apr 2019
When Modina Begum heard that a 13-year-old girl in her village in central Bangladesh was about to be married off, she went straight to the girl's parents and persuaded them to cancel the wedding, rescuing the teenager from a fate Begum herself had escaped.
"I convinced my parents to call off my own marriage, let me finish my studies and become self-reliant before getting married," says Begum, now 19, as she leads a group of girls in English and digital skills at the Edge club in Narsingdi district, 50 kilometres north-east of the capital, Dhaka. "Now my parents have faith in me and I have the confidence to speak out for others."
The Edge club initiative, run by the British Council and social development organisation Brac, is helping to equip girls with skills and teach them about their rights. The project is making breakthroughs on gender equality despite a climate of increasing conservatism and – some say – "Islamisation" in the Muslim-majority country.
Two years after the government of Sheikh Hasina introduced a law allowing girls under 18 to marry, with parental and judicial consent, in "special cases" such as early pregnancy, or where marriage would protect the "family's honour", rights campaigners remain divided on the extent to which the legal loophole has led to a rise in early marriage. But Bangladesh has the world's fourth highest rate of child marriage, and they are determined to keep opposing it.
Shireen Huq, founder of women's rights organisation Naripokkho, says: "Some people who defend the government's action say: 'It's not such a bad thing, why are you so upset about it?' They say that, in any case, the parents of the young girl must seek permission from the court, so there are built-in checks and balances.
"But we have had newspaper reports of local administrative officers rushing to the site of a marriage ceremony. As soon as they know an underage girl or boy is being married, they have the power to intervene to stop it. But now they think: 'Yes, maybe they have permission from the court.' Once the marriage is solemnised, it's too late."
Huq was speaking at the Women of the World festival in Dhaka, where deep disparities between women's lives in urban and rural areas, and in the public and private realms, were the subject of discussions, pop-up performances and workshops.
While this month's festival marks the first time Dhaka has hosted the international event celebrating women's potential and confronting gender inequality, it emerged that, in a small town south-east of Dhaka, a 19-year-old woman who reported that her headteacher had sexually harassed her was doused in kerosene and set alight. She died 10 days later. The incident underlined the social issues facing women who report sexual harassment.
"There have been a lot of positive changes [for women], especially over the past decade," says the education minister, Dipu Moni. "We have had a strong focus on girls and getting more into Stem education, as well as increasing enrolment in technical and vocational education. In some areas, such as medicine, girls are now outperforming boys and winning all the prizes. But we still have a long way to go."
Moni is one of 14 female ministers in the government of a country where women have long dominated leadership positions: today, the prime minister, leader of the main opposition partyand parliamentary speaker are all women.
"It's great to have so many women in powerful positions. It has symbolic importance and influences the aspirations of young girls. But it is by no means enough; it is not substantive change," says Huq, who says the ruling Awami League's alliance with organisations like the Islamist pressure group Hefazat-e-Islam might endanger past gains.
Rising conservatism is manifesting in "insidious ways, including the increasing assertion of Islamic identity", warns Huq, citing changes to school textbooks, such as the removal of Hindu stories and substitution of orna – denoting a shawl worn by Muslim girls and women – to teach the letter "o". "It's creeping in. A four-year-old is now reading O for orna, which is the desire for modesty."
"Today, Bangladeshis are more open, but this openness about feminism is very town-based," says Muktasree Chakma, whose Sparc organisation works for the rights of indigenous women. "If you go to rural areas, they don't like the word 'feminist' and no one can say it or they face a backlash. I am from Chittagong Hill Tracts, where there was armed conflict for 20 years. In conflict areas, women are always collateral damage – rape, gang rape, domestic violence, kidnap – these are the main issues for us.
"I have faced death threats, rape threats … especially in cases where they try to sell an indigenous girl. There is a practice where if the girl is not seen as a 'good indigenous girl' she will be sold. Usually the man who pays the most is physically disabled or very old, or already has wives. Now indigenous youth are also raising their voices against these practices. It's not like Dhaka, but it's getting better," Chakma says.
The importance of equipping women, through education and micro-financing, to create livelihoods in rural areas to prevent mass migration to work in Dhaka's garment factories, where many toil in exploitative conditions, was another theme at the festival, which was founded in 2010 by Jude Kelly, former artistic director of London's Southbank Centre, and now takes place in 17 cities worldwide.
But Tasaffy Hossain – whose organisation Bonhishikha (Unlearn gender) brought its production based on the Vagina Monologues to Dhaka in 2015, and now stages shows based on women and men's stories of inequality and abuse in Dhaka – warned against presuming that urban women were not affected by violence or discrimination.
"People kept asking us: 'Why are you doing the Vagina Monologues with urban women? They're educated and have all the information they need.' But it's not true," she says. "We've had messages from [urban] women saying: 'I am facing something at home with my husband or in-laws.' Sometimes the response is: 'You're educated, how can you be facing this?' And of course, not all urban women are the same."
Elita Karim, a journalist and singer who recently released a music video encouraging the under-19 women's football team and all girls to play sport, says the media reinforces taboos about women staying out in the evening to attend a rehearsal or study. "The MeToo movement was not as big here as it was in India … many offices and workplaces in Dhaka do not have a sexual harassment policy, so progress is slow."
For Huq, whose organisation also campaigns for the separation of church and state, the practice of women inheriting half as much as their brothers "is going to be the last bastion [of gender inequality in Bangladesh]. Because it is considered a Koranic given, it is divine and cannot be interfered with… There is no excuse for not raising these issues, other than most of the lawmakers don't want to change it. They don't want to share property with their sisters."
Nevertheless, she is optimistic. "The government is very attached to its image as being for female empowerment, so there is space for us to push," she says. "But there is a lot of work to be done in terms of mobilising women."
https://www.theguardian.com/global-development/2019/apr/29/girls-in-bangladesh-learn-to-talk-their-way-out-of-forced-marriage
--------
Workshop Launched to Boost Saudi Women's Role in Arts, Crafts
April 28, 2019
RIYADH: A training workshop to help craftswomen and female designers is underway, the Saudi Press Agency reported.
Hirfa, a women's cooperative society in Qassim, is collaborating with Italian haute couture designer Maurizio Galante to train women in different crafts and skills including knitting and engraving.
The 10-day workshop, which started last Thursday, has been organized by the Kingdom's Ministry of Culture.
Galante will be working with Hirfa for three years, giving four workshops a year to develop the arts in Saudi Arabia and boost women's role in the field.
The workshops are part of an educational project from the ministry, in cooperation with international designers, to boost women designers' role in the Kingdom.
Galante has won prestigious awards and is an official member of the Chambre Syndicale de Haute Couture, a committee that includes top fashion houses and sets standards for haute couture.
http://www.arabnews.com/node/1489451/saudi-arabia
--------
Woman Minister Removed From Gilgit-Baltistan Cabinet
April 29, 2019
GILGIT: Gilgit-Baltistan Chief Minister Hafeezur Rehman has removed the only female member of his cabinet, Sobia Muqaddam, for her continued absence from official meetings, travelling abroad without permission and lack of interest in government affairs.
According to a press release issued by the Chief Minister House on Sunday, Mr Rehman said minister for youth affairs and women development Sobia Muqaddam was not serious in fulfilling her duties and remained absent from cabinet meetings and her ministry's affairs for last six months.
The release said the chief minister also sought explanation from the woman minister many times for her non-serious attitude but she didn't respond and refused to meet the chief minister. It said the vacant ministry would be given to an 'active' member of GB Assembly to ensure that the affairs of the ministry did not suffer.
Meanwhile, sources said the decision to remove Sobia Muqaddam had been made after increasing rift within the ruling PML-N.
Ms Muqaddam, along with two other ministers from Diamer, had criticised the chief minister recently.
The disgruntled PML-N ministers are also accused of conspiring to bring no confidence motion in the assembly against the chief minister.
The notification about removal of Ms Muqaddam from cabinet couldn't be issued on Sunday.
https://www.dawn.com/news/1479142/woman-minister-removed-from-gb-cabinet
--------
Early Marriage Leads to Domestic Violence: Survey by Punjab Commission on Status of Women
April 29, 2019
ISLAMABAD: A survey conducted by Punjab Commission on Status of Women here Monday revealed that early marriage deprives girls of education opportunities and predisposes them to teen childbearing as well as domestic and spousal violence.
According to details 50 per cent of women in the age group20-24 years were married, of these 4 per cent were married before age 15 and 15 per cent before age 18.
Among the women who experienced physical and sexual abuse in the 20-24 age group, almost 24 per cent of women were married before age of 18 and 8 per cent were married before age 15, it said.
Survey says that child marriage leads to early childbearing resulting in higher number of childbirths per woman and increases the risk of mortality and morbidity for both infants and mothers.
In Punjab nearly 14 per cent of ever-married women in the 20-24 years age group have given birth to a child before age of 18.
Rural areas are observed to have higher rates of early childbearing, women belonging to the poorest households are more likely to have a child before 18 years compared to those in the upper quintiles, it added.
Survey also observed that the age of marriage in country has been rising steadily with more women getting married in their early twenties.
Survey stressed that empower girls with information, skills and support networks, provide economic support and incentives to girls and their families.
Enhance girls' access to a high-quality education and encourage supportive laws and policies, it said.
https://www.pakistantoday.com.pk/2019/04/28/early-marriage-leads-to-domestic-violence-survey/
--------
URL: https://www.newageislam.com/islam-women-feminism/it-time-nurture-first-generation/d/118456
New Age Islam, Islam Online, Islamic Website, African Muslim News, Arab World News, South Asia News, Indian Muslim News, World Muslim News, Women in Islam, Islamic Feminism, Arab Women, Women In Arab, Islamophobia in America, Muslim Women in West, Islam Women and Feminism