Age Islam News Bureau
4 Dec 2012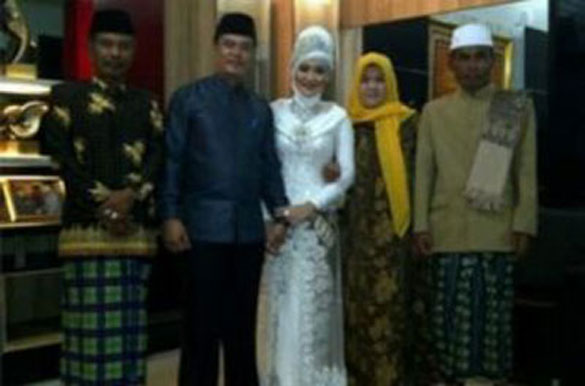 • Public Rallies over Crude Divorce of Teenage Wife, On Doubt of Virginity
• Pakistani Hacks Daughter to Death For The Sake Of Honour
• Woman Manager on Trial 'For Prostituting' Compatriot
• Indonesian Women Carry Drugs for Men They Love
• Reports of Violence against Women Continue In Afghanistan
• Mother to Face Trial for Sending Son Named 'Jihad' To School with 'I Am A Bomb' Jumper
• Wal-Mart Employee Fired After Calling Her Co-Worker Anti-Muslim Name
• More Jails to Have Female Non-Smoking Sections In Jeddah
• Blast near Kainat's Home Kills 1, Injures 6 in Swat
• Nigerian Fashion In London: Has Its Time Come?
• Jakarta Hosts Conference on Women, Calls To Protect Palestinian Women
• New Documentary Shows Islamic Path to Women's Empowerment
• If We Betray Afghan Women, The Taliban Win
• Un-Squashable: Trading Volleys with Pakistan's Female Squash Champion
Compiled by New Age Islam News Bureau
Photo: This grainy photo reportedly taken at the wedding of Garut District Chief Aceng Fikri, 40
URL: https://www.newageislam.com/islam,-women-and-feminism/new-age-islam-news-bureau/it-is-not-kabul-but-a-woman-battered-to-death-in-taliban-style-execution-in-bihar,-india/d/9528
-----------
It Is Not Kabul but a Woman Battered To Death in Taliban-Style Execution in Bihar, India
Aditya Nath Jha, Hindustan Times
December 03, 2012
A village in Bihar's Purnia district is not the Ghazi stadium of Kabul. Still, last week, the locals there witnessed a Taliban-style execution - a woman being beaten to death for alleged adultery.
Bibi Shehzadi, 32, a Muslim housewife of Asiyani village who had been hailed for starting a self-help group for impoverished women, was allegedly given a "death sentence" by the local panchayat on Thursday. Investigation in the case is on, but no one had been arrested till the filing of this report.
A mother of three, Shehzadi had been accused of having an illicit relationship with a relative, Md Salim. Her husband Md Munna works in Ludhiana.
The Tiyarpara panchayat, headed by sarpanch Zaki Ahmad, "tried" Shehzadi and pronounced her "guilty". "She was executed in public, but no one dared to protest," said an eyewitness on condition of anonymity.
Some locals, however, alleged that Shehzadi was killed because her husband, Md Munna, had launched a campaign against the sarpanch during the last panchayat poll. But the supporters of Zaki Ahmad claimed Shehzadi had died after 'consuming poison'.
"ASP Deepak Barnwal had been asked to ascertain the exact cause of the woman's death," said Amit Lodha, superintendent of police, Purnia.
Barnwal, who visited the village on Sunday, said there were signs of injury on the body, but a conclusion can be reached only after a postmortem report.
Four years ago, Shahzadi had formed a self help group called Suhana and was popular among the village women.
http://www.hindustantimes.com/India-news/Bihar/Bihar-woman-battered-to-death-on-panchayat-order/Article1-967953.aspx
----------
Public Rallies over Crude Divorce of Teenage Wife, On Doubt of Virginity
December 03, 2012
Protestors rallied against Garut's embattled district chief on Monday in a demonstration that united Islamic students, university groups and women's rights activists in anger against a man who divorced his teenage bride after four days because he doubted her virginity.
The protestors gathered outside the Garut Legislative Council (DPRD) office and unfurled a banner demanding that 40-year-old Aceng Fikri step down from his post. The district chief inspired a wave of public outcry after he divorced 17-year-old Fani Oktora four days after their July wedding via text message.
When a reporter from Detik.com ask Aceng why he divorced his teenage bride, the district chief explained that she didn't bleed after they consummated their marriage.
"On the first night, I felt that she was not virgin because no blood came out," he said. "I wanted to marry a woman who beautiful on the outside and the inside."
Aceng then lamented to a reporter from MajalahDetik.com that he only slept with Fani once after spending Rp 250 million ($26,000) on their wedding.
"Even sleeping with an artist doesn't cost that much," he complained. "After I bought her, I found out that she was 'not as advertised,' so I returned her."
Fani said she agreed to become Aceng's second wife after he promised to pay for her to go to college and take her on an umroh (minor Islamic pilgrimage) to Mecca.
She has now filed a complaint with the National Police accusing Aceng of psychological abuse, according to Tempo.co. Aceng reportedly sent Fani threatening text messages after their divorce, the girl's lawyer Nur Setia Alam said.
"We will report him for psychologically abusing Fani," Setia said.
Home Affairs Minister Gamawan Fauzi told West Java Governor Ahmad Heryawan to summon Aceng for failing to set a good example for the people.
Ahmad said he would summon the district chief this week.
"The district chief is in a public position," Ahmad said. "He should watch his behavior."
Aceng told reporters that he didn't understand what the fuss was about. The wedding grabbed the public's attention after the couple's wedding photos were posted online.
"I consider this a family matter," he told Detik.com, adding that he had given Fani some money after their divorce.
The Golkar Party, who nominated Aceng, declined to take any action.
"That's a personal matter," Tantowi Yahya, a senior member of the party told Detik.com. "The party has no regulations on it."
http://www.thejakartaglobe.com/politics/public-rallies-against-garut-district-head-over-crude-divorce-of-teenage-wife/559541
-----------
Pakistani Hacks Daughter to Death For The Sake Of Honour
4 December 2012
CHAKWAL, Dec 3: A father axed his daughter to death, for the sake of honour and so far has not been arrested.
According to sources, Karima Bibi, 23, a resident of Ghugh village, Chakwal, married a close relative, a couple of years ago.
However, she got involved with another man, residing in the same village. On Sunday night, she went out of her house to meet her paramour, leaving her husband asleep.
When the husband woke up, during the night, and noticed that his wife was missing, he woke his father and other family members.
The family members informed the girl's father, Mohammad Akbar, about the matter. After being informed, the father rushed to the house of his daughter's in-laws.
The family members also went to the paramour's house but could not find him.
Later, they were found and produced in front of the entire family. The girl's father was asked to take the daughter, as the in-laws could no longer keep her in their house.
The father dragged the daughter to the house, where he locked her in a room. Early in the morning, the father appeared with an axe and hacked his daughter to death.
The police registered a murder case against the daughter. "As it happens in the cases of honour killings, the complainant would soon withdraw the case and the accused would not have to face any legal action", a police source informed.
So far, no arrest has been made and the police claim's that they are pursuing the case. — Nabeel Anwar Dhakku
Names of the accused and the victim have been changed.
http://dawn.com/2012/12/04/father-hacks-daughter-to-death-4/
-----------
Woman Manager on Trial 'For Prostituting' Compatriot
Marie Nammour / 4 December 2012
A 23-year-old woman, who allegedly prostituted a compatriot woman to a tourist for Dh2,000, has been charged by the Court of First Instance with sexual exploitation of others.
It was reported that the Moroccan reception manager, S.B., collected money from a Kuwaiti tourist in exchange for sex with a second woman, N.J., also Moroccan. N.J. denied the allegations of prostitution. The tourist, B.A., has been charged with having illicit sex with N.J., as well as assaulting her.
All three are accused of using alcohol. On the night of the incident in May, a policeman was on patrol when he received a call about a ruckus in a hotel in Muraqqabat. Upon arrival, he found N.J. in an ambulance outside the building.
When checking the hotel's CCTV footage, N.J. was seen running out of B.A's room in a state of rage and on leaving; she tried to set off the fire alarm. She also began kicking the door of the room and it was evident from the footage that she had injury marks on her hand.
The hotel security guard knocked on B.A.'s room several times, but to no avail. He then opened the door using a master key and sent a friend of B.A's in to get him to come out and talk.
B.A. told the policeman that he had agreed to have sex with N.J. for money but they later fought as she asked for more cash. The policeman held B.A. at reception while he questioned N.J. She informed the officer that her friend told her about a party in B.A.'s room that night, but while in the apartment, B.A. attacked her and forced her out.
Shortly after the incident, S.B. allegedly tried to convince N.J. to drop the charges against B.A., saying she would take care of all compensation. B.A.'s friend told the policeman that S.B. collected Dh2, 000 from B.A. in exchange for sex with N.J.
The Criminal Lab report of the Criminal Evidence Department confirmed that the two had sex on the night in question and the bruises on N.J's body could have been from the result of an assault.
mary@khaleejtimes.com
http://www.khaleejtimes.com/nation/inside.asp?xfile=/data/courtroundup/2012/December/courtroundup_December4.xml&section=courtroundup
-----------
Indonesian Women Carry Drugs for Men They Love
Ronna Nirmala | December 03, 2012
Increasing numbers of women have been lured into becoming drug mules by the men they dated and loved, officials and activists said on the weekend.
The observations came after the National Police detectives unit arrested two widows, Frida Rizqy, 20, and Nurul Padilah, 38, for trying to smuggle 1.7 kilograms of heroin into the country on Nov. 23.
The pair was arrested at a rented house in Kemayoran, Central Jakarta. The drugs, police said, were handed to Frida by another Indonesian woman named Santi and two Nigerian men named John and Patrick in Kuala Lumpur, Malaysia, hours earlier.
Full report at:
http://www.thejakartaglobe.com/lawandorder/indonesian-women-carry-drugs-for-men-they-love/559488
-----------
Reports of violence against women continue in Afghanistan
By Abdul Haleem, Hamnawa
04/12/2012, Souce:Xinhua
KABUL, Dec. 4 — The blood-soaked body of 18-year-old Nasrin was surrounded by her mother and about a dozen of her relatives and neighbors in their house in Kunduz, some 250 kilometers north of Kabul.
All they could do was cry because they could not expect justice from the violent death of the young woman.
Nasrin had been engaged to a man some nine months ago and her death last Sunday was unexpected and shocking.
Full report at:
http://www.nzweek.com/world/reports-of-violence-against-women-continue-in-afghanistan-32247/
-----------
Mother to Face Trial for Sending Son Named 'Jihad' To School with 'I Am A Bomb' Jumper
02 Dec 2012
London, Dec. 2 (ANI): The mother of a three-year-old son, who named him "Jihad" and sent him to nursery school wearing a jumper bearing the words "I am a bomb", will face trial in France.
Beneath the boy's name on the back of the jumper were the words "Born on the 11 September" - the date of the 9/11 terror attacks on New York's twin towers, The Sun reports.
The divorced woman, who is a Muslim by faith, was reported to police by the boy's outraged teacher and has now been charged with supporting a terrorist act.
Full report at:
http://www.newstrackindia.com/newsdetails/2012/12/02/155-Mother-to-face-trial-for-sending-son-named-Jihad-to-school-with-I-am-a-bomb-jumper.html
-----------
Wal-Mart Employee Fired After Calling Her Co-Worker Anti-Muslim Name
December 3, 2012
By Jonathan McFadden — jmcfadden@heraldonline.com
ROCK HILL —Wal-Mart employee was fired Saturday after police say she grabbed a co-worker's arm, threatened to cut her throat and called her an anti-Muslim, derogatory name, according to a police report.
Police spoke with the victim, 23, who said she was on her break at the Wal-Mart on Old York Road and tried to buy some items, according to a Rock Hill police report. While in the checkout line, a co-worker stepped behind her but tried to check out first by skipping in front of the woman and moving her items.
Full report at:
http://www.heraldonline.com/2012/12/03/4456868/report-rock-hill-walmart-employee.html
-----------
More Jails To Have Female Non-Smoking Sections In Jeddah
4 December 2012
A study to build more sections for non-smoking women in prisons is under way. Jeddah would get priority, as its number of women prisoners is the highest, said assistant media spokesman of the Directorate General of Prisons, Capt. Abdullah Al-Harbi.
He said that the directorate separates inmates according to their charges. There are 23 sections and 77 rooms, with 3,425 inmates occupying these throughout the Kingdom.
Full report at:
http://www.arabnews.com/more-jails-have-female-nonsmoking-sections
-----------
Blast near Kainat's Home Kills 1, Injures 6 in Swat
December 4, 2012
SWAT: One woman was killed and six others, including children, were injured in a bomb blast near the house of Kainat Riaz – one of the girls who was accompanying Malala when she was attacked by the Taliban, Express News reported on Tuesday.
The explosives were planted near Kainat's house in the Makan Bagh area of Swat. Those injured in the blast were shifted to a local hospital.
Full report at:
http://tribune.com.pk/story/475012/malala-attack-blast-near-kainats-home-kills-1-injures-6-in-swat/
-----------
Nigerian fashion in London: has its time come?
3 December 2012
Selfridges' new collection of West African-influenced fashion shows that UK shoppers – and the international fashion industry – are broadening their style horizons
"Milan, London, New York, Paris. Why not Lagos?" asks Penny McDonald, organiser of the Arise showcase for up-and-coming African designers. Nigerian fashion labels move one step closer to that ambition this week with the launch of Ndani (AKA the Nigerian Fashion Project) at Selfridges in London. The pop-up boutique will offer a one-stop shop for burgeoning designers from the continent, and signifies a marked change in attitudes towards African fashion.
Full report at:
http://www.guardian.co.uk/fashion/fashion-blog/2012/dec/03/nigerian-fashion-london
-----------
Jakarta Hosts Conference on Women, Calls to Protect Palestinian Women
December 4, 2012
The Ministerial Conference on Women's Role in the Development of the Organization of Islamic Cooperation, (OIC) Member States held its 4th session in Jakarta, the capital of Indonesia 4 December 2012. The Conference is significant because it comes after three conferences where important documents such as "OIC Plan of Action for the Advancement of Women, (OPAAW)" and "OPAAW Implementation Mechanism" were adopted. Therefore the 4th session will exclusively dwell upon the implementation of these documents and practical steps to be taken.
Full report at:
http://english.pnn.ps/index.php/culture/3280-jakarta-hosts-the-4th-ministerial-conference-
--------
New documentary shows Islamic path to Women's empowerment
Carolyn Weaver
December 4, 2012
NEW YORK — A growing number of women in Islamic countries have turned in recent years to serious study of their religion: memorizing the Quran, learning to recite it properly, and studying hadith and other aspects of Islam. An American-made documentary, The Light in Her Eyes, shows how this religious movement can also foster greater freedom for women in traditional societies.
Full report at:
http://muslimvillage.com/2012/12/04/32604/new-documentary-shows-islamic-path-to-womens-empowerment/
--------------
If We Betray Afghan Women, The Taliban Win
By Daisy Khan, Special to CNN
December 3, 2012 -- Updated 2314 GMT (0714 HKT)
(CNN) -- Three prominent Afghan women will make it clear to a crowd of legislators on Capitol Hill Tuesday that a crucial measure of success in Afghanistan will be what women and girls can accomplish after U.S. troops leave.
If a woman is free to vote and determine her own future and a girl is free to get an education, then more than 12 years of American engagement have not been in vain.
A strong Afghan woman is a defeat for the Taliban. A determined Afghan woman who can vote will wrestle the country away from tribalism and promote democracy. An assertive Afghan woman will bring back the Afghanistan that once preached moderation and tolerance of all religions, a country where women were on par with men assisting in resolving political and ethical conflicts.
Full report at:
http://edition.cnn.com/2012/12/03/opinion/khan-afghan-women/
-----------
Un-Squashable: Trading Volleys with Pakistan's Female Squash Champion
By Taneeya Hasan
December 4, 2012
Pakistan's female squash champion does not come from the squash courts of Karachi, nor did she grow up in the lanes of Lahore. Maria Toor Pakay, Pakistan's number one female squash player, hails from the strife torn region of South Waziristan.
In 2007, when she was just 16, Pakay was honoured with the President's Salaam Pakistan Award.
In May 2012, the 21-year-old left-hander became the first Pakistan-born woman to reach a British Open main draw after defeating Emily Whitlock in the qualifying competition and upsetting the seedings.
Full report at:
http://tribune.com.pk/story/472755/unsquashable-trading-volleys-with-maria-toor-pakay/
-----------
URL: https://www.newageislam.com/islam,-women-and-feminism/new-age-islam-news-bureau/it-is-not-kabul-but-a-woman-battered-to-death-in-taliban-style-execution-in-bihar,-india/d/9528