New Age Islam News Bureau
22 Aug 2013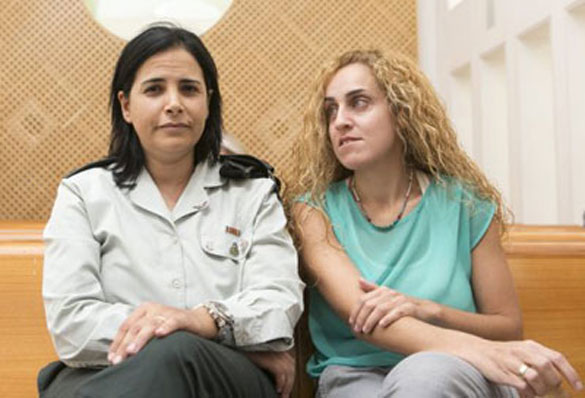 Liat Moshe, left, and Dana Glisko in court, Jerusalem, August 20, 2013. Photo by Michal Fattal
-----------
• Maldives Court Quashes Flogging of Teenage Rape Victim
• Bomb in breast implants: Suspicious flyers to go through pat-down checks
• By-polls in Pakistan conclude; women barred from voting in some areas
• Age of Child Prostitutes in Israel Dropping, Report Finds
• Indonesian Govt under Fire over Virginity Tests on School Girls Plan
• Malawi Fundraising Prayer Day for Girls' Education
• Modesty Police Now Targeting Women Wearing 'Slutty Religious-Style' Clothing
• Tanzania: Women Demand Gender Specification in Katiba
• Women Taking Lead Roles in Re-Constructing Somalia
• Plea to Exempt Shops near Harmain From Hiring Women
• Women Own 2pc of Agricultural Land in Bangladesh: Economist
• Nigeria Partners Senegal to Train Women on Democratic Leadership
• Mat-Making Changes Format of Women's Life in Bangladesh
• Mother Chops off Newborn Daughter's Hand 'to Save Village' in Sumatra, Indonesia
• Saudi Families Find Most Maids Unskilled
• Bahrain Denies Granting Citizenship to Lebanese Singer
• Ada Jafri: The First Lady of Urdu Poetry
Compiled by New Age Islam News Bureau
URL: https://newageislam.com/islam-women-feminism/israeli-court-urges-lesbian-couple/d/13152
-----------
Israeli court urges lesbian couple to go abroad for birth by surrogacy
22 August 2013
Some justices urged the women to agree to a last-minute Health Ministry compromise, but the couple rejected the move, arguing that the law is discriminatory against homosexuals.
An expanded seven-justice panel of the High Court of Justice heard the case Tuesday of a lesbian couple seeking to have a child by surrogacy in Israel instead of needing to get the procedure done overseas. Members of the panel urged them to accept a Health Ministry offer to have part of the procedure performed in Israel, but the couple rejected the overture and are now awaiting the final court decision, which will be issued at a later date.
Liat Moshe and Dana Glisko have been in a relationship for 10 years. Since Moshe hasn't succeeded in getting pregnant, she wants to extract an egg from her body and implant it in Glisko's womb. But current law allows only heterosexual couples to carry out surrogacy procedures in Israel; homosexual couples have to go overseas to do so. Moshe and Glisko petitioned the court, arguing that the law is discriminatory.
Shortly before Tuesday's hearing, the Health Ministry agreed to let Moshe have the egg extracted in Israel, but said the implantation would still have to be done overseas. Several justices urged the women to accept this compromise.
"Everyone understands that the Health Ministry has taken a very significant step considering the law's provisions," said Supreme Court President Asher Grunis. "Therefore, it's worth seriously considering the proposal."
"Why not take advantage of this goodwill and the step that has been taken?" added Justice Edna Arbel. And Justice Hanan Melcer warned that by rejecting this offer, the couple will "endanger what the Health Ministry has been willing to do."
Nevertheless, the women refused. Their attorney, Yehuda Ressler, argued that the law discriminates for no good reason, and this is unacceptable.
Moshe, a career officer in the Israel Defense Forces, added an emotional plea.
"For a whole year now it's been hard for me to come and wear a uniform and represent the state, because I'm fighting the state today," she said. "Aside from all the treatments I'm undergoing, which are hard to bear, I'm here because I feel I'm being discriminated against. I didn't expect to be told 'You're an IDF officer, take off your uniform, get yourself out of the country – which I've served for 23 years – and then return."
Moshe also claimed that IDF officers are forbidden to have surgery abroad, and that doing so would significantly decrease the couple's chances of a successful pregnancy. "Taking a frozen embryo abroad isn't the same as implanting it here while it's fresh," she argued.
Finally, she noted the expense, saying the IDF wouldn't pay for the procedure abroad, and she would also have to take vacation time.
State attorney Dana Briskman acknowledged that having the procedure done overseas would cost some $3,000, including the cost of the trip, but said that given the current law, there was no other choice.
In May 2012, a public committee headed by Prof. Shlomo Mor-Yosef recommended liberalizing the law to allow single people and homosexual couples to also have surrogacies performed in Israel. The Health Ministry then appointed its own panel to review the recommendations.
This panel recently submitted its own conclusions, and the state promised the court yesterday that legislation would be submitted within a few months. But it's not clear what changes will ultimately be proposed and whether they would cover Moshe and Glisko's case.
http://www.haaretz.com/news/national/.premium-1.542648
-----------
Maldives Court Quashes Flogging of Teenage Rape Victim
22 August 2013
Male. A Maldivian court has overturned a public flogging sentence for a 15-year-old rape victim whose conviction sparked international outrage and focused attention on the holiday isle's treatment of women.
The High Court issued a statement on Wednesday saying the girl, whose step-father is on trial for raping her, had been wrongly convicted by a juvenile court of having pre-marital sex with another man.
The court said the sentence was handed down based on a confession that the child made while she was suffering from post-traumatic stress disorder, adding she had been "unfit for trial".
The Maldivian government appealed on behalf of the teenager following an international outcry over the February sentence to punish her with 100 lashes when she reached the age of 18.
The girl, who cannot be named for legal reasons, was charged after police investigating a complaint that she was raped by her step-father found that she had also been having consensual sex with another man.
Premarital sex is illegal in the Maldives, a popular honeymoon destination in the Indian Ocean, which observes elements of Islamic Sharia law as well as English common law.
Maldivian President Mohamed Waheed was "overjoyed" with the High Court decision, his spokesman told AFP on Thursday.
"It is the government's policy to protect victims, but we had to do it within the framework of the law," spokesman Masood Imad said.
Imad said the girl would remain in state care, adding that government authorities had done everything they could to ensure she received proper care and protection.
He also lashed out at the international outcry over the case, saying the government had been unfairly targeted.
"Since the new government came to power (in February 2012), not a single flogging has been carried out in this country," Imad said.
"We have been unfairly treated over this issue. Some have called for a boycott of the Maldives. There are so many horrible rapes in India, but they don't say boycott the Indian economy. We are doing everything within the law to ensure that women and children are protected."
The London-based rights group Amnesty International, which campaigned to spare the victim, said she should never have been put on trial in the first place.
"Annulling this sentence was of course the right thing to do," Polly Truscott, Amnesty International's Deputy Asia-Pacific Director, said in a statement.
"We are relieved that the girl will be spared this inhumane 'punishment' based on an outrageous conviction," she said.
In March, the New York-based campaign group avaaz.org collected over two million signatures for a petition calling on Waheed to intervene and appeal against the conviction.
The child's step-father faces up to 25 years in prison if convicted of rape and a separate charge of murder, after he allegedly killed a baby which resulted from his alleged rape of his step-daughter.
The UN as well as international rights groups have repeatedly asked the Maldives to end the "barbaric practice" of flogging women.
Tourists and locals are usually kept apart in the Maldives, with the expensive holiday resorts favoured by the rich and famous subject to different rules to the rest of the country.
In September a court in the Maldives ordered the public flogging of a 16-year-old who confessed to premarital sex. Her lover was jailed for 10 years.
http://www.thejakartaglobe.com/international/maldives-court-quashes-flogging-of-teenage-rape-victim/
-----------
Bomb in breast implants: Suspicious flyers to go through pat-down checks
Faizan Haidar
August 22, 2013
The Central Industrial Security Force (CISF) have been issued a directive to profile suspicious women flyers and subject them to remove their shirts for a pat-down check to see whether they are hiding explosives in their breast implants.
The latest directive comes after London's Heathrow Airport was put on terror alert amid fears that women fidayeen may enter with explosives hidden in breast implants.
Women guards in the frisking staff of the CISF will be carrying out these checks in an enclosure which the airport operator has been requested to provide.
"We are aware of the serious threat and this is a precautionary measure. Whenever a new threat comes to light, we circulate the information among the staff, asking them to be extra cautious. There is a possibility that women fidayeen may enter the airport carrying explosives in breast implants. That's why we have asked women guards to check women passengers thoroughly, especially the upper part of their body," said a senior CISF official.
"The first round of checks will be through hand-held metal detectors. If there is a beep on our machines, the passenger will be asked to remove her clothes. We are training our staff to be extra-sensitive as we understand that many women will feel angry by these checks," the officer added.
The CISF is seeking expert suggestions on how to identify passengers for random frisking.
"We have been told that the fidayeen can plant bombs surgically through breast implants. To detonate these bombs, one just needs to inject some kind of liquid in the implant. And such bombs are good enough to blow up a plane," said an official.
http://www.hindustantimes.com/India-news/newdelhi/Bomb-in-breast-implants-Suspicious-flyers-to-go-through-pat-down-checks/Article1-1111104.aspx
--------
By-polls in Pakistan conclude; women barred from voting in some areas
August 22, 2013
ISLAMABAD: By-polling in 41 national and provincial assembly constituencies concluded as per schedule on Thursday, DawnNews reported.
The polling began at 8 pm and concluded on 5 pm as per schedule.
According to the Election Commission of Pakistan (ECP), 519 candidates are contesting for 41 seats — 15 of National Assembly and 26 of provincial assemblies.
16:15— None of the 456 registered women voters casted their ballots during the by-polls held in polling station No 95 in Khyber Pakhtunkhwa's Swabi area.
16:00— Women were reportedly stopped from ballotting their votes during by-polls in Mandi Bahauddin's PP-188 constituency in Punjab.
14:30— Polling was suspended in Shikarpur's PS-12 constituency after the recovery of a bag full of votes. One suspect was also taken into custody with this regards.
14:15— Acting chief election commissioner Justice Tassaduq Jilani visited various polling stations in Karachi during which he said that action would be taken if any information regarding rigging was received. He added that the use of mobile phones was banned to ensure transparency of polls and that it was difficult to pre-maturely comment on the turnout.
13:45— A clash between two rival groups in Sangarh's NA-235 claimed the life of at least one person and injured five others.
12:40 — A clash took place between two political parties in Punjab Assembly's PP-193 (Okara) constituency, following which one person was arrested. Panic spread amongst people after the clash due to which polling has been temporarily suspended in the area.
**12:35 **— Women were prevented from casting their votes in several polling stations on Mianwali's NA-71 constituency in Punjab.
12:24 — Women have been 'barred' from voting in several polling stations of Lakki Marwat's NA-27 constituency.
**12:06 **— The ECP has decided to monitor vote-casting by women. It has moreover directed presiding officers to separate female voter results from their male counterparts.
11:40 — Women have been barred from voting in Nowshera's NA-5 constituency.
11:28 — A low voter turnout was reported from most parts of the country. According to media reports, few people turned up for voting due to a general lack of interest in the by-election.
11:12 — A clash took place between supporters of Malik Noor Rabbani and Jamshed Dasti in Muzaffargarh's NA-177 constituency. Later, army personnel intervened to resolve the matter.
10:55 — During by-polling in Karachi's NA-254 constituency, Pakistani army personnel prevented duplicate identity card holders from voting. The army personnel said that as per the orders of the ECP, only those with a real identity card could cast their vote. However, individuals with duplicate identity cards demanded that they should be allowed to vote.
10:32 — Acting CEC Justice Tassaduq Jilani visited various polling stations in Lahore and expressed satisfaction on the way polling was being conducted. He said out of the 41 polling stations, not even one had complained of poll rigging.
NA SEATS: The National Assembly constituencies where by-elections are being held include NA-1 (Peshawar), NA-5 (Nowshera), NA-13 (Swabi), NA-25 (D.I. Khan-cum-Tank), NA-27 (Lakki Marwat), NA-48 (Islamabad), NA-68 (Sargodha), NA-71 (Mianwali), NA-83 (Faisalabad), NA-129 (Lahore), NA-177 (Muzaffargarh), NA-235 (Sanghar), NA-254 (Karachi) and NA-262 (Killa Abdullah).
Earlier, NA-1 and NA-71 seats had been vacated by PTI chief Imran Khan who chose to retain NA-56 (Rawalpindi). Mr Khan had contested for four NA seats and lost only one in Lahore to incumbent National Assembly Speaker Sardar Ayaz Sadiq.
The NA-68 seat had been vacated by Prime Minister Nawaz Sharif who retained his home constituency (NA-120 Lahore).
NA-129 had been left by Shahbaz Sharif who retained his Punjab Assembly seat to become chief minister.
NA-5 and NA-13 seats had been vacated by Pervez Khatak and Asad Qaisar of the PTI who retained their provincial assembly seats and were made chief minister and speaker of the KP Assembly, respectively.
JUI-F chief Maulana Fazlur Rehman had decided to quit NA-27 and retain NA-24. The Maulana had also won the NA-25 (D.I. Khan) seat where by-election has been postponed for a few weeks because of threat of terrorist attacks.
NA-177 had been vacated by Jamshed Ahmad Dasti, NA-235 by Pir Sadruddin Shah Rashdi of the PML-F and NA-216 by Pakhtunkhwa Milli Awami Party chief Mehmood Khan Achakzai. They had won more than one seat.
NA-83 and NA-254 seats fell vacant after the death of contesting candidates.
By-elections will also be held for 15 seats of the Punjab Assembly, four of the Sindh Assembly, three of the Balochistan Assembly and four of the KP Assembly.
PUNJAB ASSEMBLY: Interior Minister Chaudhry Nisar Ali Khan had vacated his provincial assembly seat (PP-6) and chose to retain his National Assembly seat.
The election in PP-51 could not be held due to death of Mohammad Amjad Rafique. Monis Elahi of the PML-Q gave up his PP-118 seat.
Khawaja Mohammad Asif of the PML-N had decided to quit PP-123 and retain NA seat to become Minister for Water and Power.
PP-161 and PP-247 had been vacated by Shahbaz Sharif and PP-243 by Zulfiqar Ali Khosa.
BALOCHISTAN ASSEMBLY: By-elections will be held in three constituencies — PB-29, PB-32 and PB-44.
KP ASSEMBLY: By-elections will be held in four constituencies -— KP-23 vacated by former chief minister Amir Haider Khan Hoti, KP-27 by PTI chief Imran Khan, KP-42 by Fareed Khan and KP-70 by another former chief minister Akram Khan Durrani.
SINDH ASSEMBLY: By-elections will be held in PS-12, PS-95, PS-103 and PS-64.
http://dawn.com/news/1037543/by-polls-underway-women-barred-from-voting-in-some-areas
--------
Age of Child Prostitutes in Israel Dropping, Report Finds
22 August 2013
Knesset study cites cases of 11-year-olds used for commercial sex that are among the several thousands of teenagers involved in prostitution.
Neither government agencies nor welfare organizations have accurate information regarding the scope of youth prostitution in Israel according to a report on prostitution involving minors, submitted recently to the Knesset.
The Elem association for youth in distress believes that there are thousands of teenagers involved in prostitution here, yet from 2008 until July 2013, only 29 police files were opened against the clients of these young prostitutes, 12 of them during the first half of this year. Of the 12 cases opened this year, 10 have been transferred to the prosecution and two are still being investigated. Of the other 17 files, 12 were transferred to the prosecution; of those, one case from 2009 was prosecuted and four other investigations were closed, three for lack of evidence.
The report, written by the Knesset Research and Information Center and submitted to the Knesset subcommittee on the fight against trafficking in women and prostitution, states that child prostitutes come from all sectors of society – there are Jews and Arabs, religious and secular, new immigrants and minors who have no legal status in Israel, such as Palestinians and migrants. The report also supports the general assumption that the age at which children start working as prostitutes is dropping; research here and abroad shows that the average age is 13-14, though there have been cases of children as young as 11 being used for commercial sex.
Professionals generally agree that youth prostitution is closely linked to sexual abuse at home, parental neglect, problems in school, low socioeconomic status, gang membership and living in the streets with no safe shelter. However, the report's authors also say that a new pattern of occasional prostitution is emerging among young people from normative families who have not dropped out of school. These youngsters are lured into sexual exploitation because they want money for brand-name clothes and other consumer products, or to improve their social status.
The report stresses that the Internet has become one of the primary arenas for commercial sexual exploitation of minors.
http://www.haaretz.com/news/national/.premium-1.542420
-----------
Indonesian Govt under fire over virginity tests on school girls plan
22 August 2013
London: Indonesia's Education Minister's new draft plan to make virginity tests mandatory for female high school students has sparked off an outrage over alleged discrimination against women as well as a charge that this is a clear violation of human rights.
Activists have accused Muhammad Rasyid of promoting sexual violence against women after he suggested the plan, following the arrest of six high-school students for alleged prostitution, The Guardian reports.
The test would affect students seeking to enter senior high school as it would require students aged between 16 and 19 to have their hymen examined every year until graduation, the report added.
According to the report, Rasyid had described the plan as an accurate way to protect children from prostitution and free sex.
Meanwhile, his proposal has triggered anger among the local and national MPs, activists, rights groups and even the local Islamic advisory council.
They all have denounced Rasyid's plan as denying the universal right to education of the female students.
The National Commission for Child Protection has also criticized the plan as extreme in an attempt to achieve popularity among religious conservatives.
The move comes in a bid to balance the country's rapid modernisation with traditional, mainly Muslim, values.
http://zeenews.india.com/news/world/indonesian-govt-under-fire-over-virginity-tests-on-school-girls-plan_870861.html
-----------
Malawi Fundraising Prayer Day for Girls' Education
BY BELLAH ZULU, 21 AUGUST 2013
An Anglican diocese in Malawi is holding a fundraising prayer day this weekend to help improve girls' education in the country.
Malawi's president Dr Joyce Banda is expected to attend the event, as are other high-level officials both from government and civil society.
The Anglican Diocese of Lake Malawi - one of the oldest dioceses in the country - considers primary education a top priority, as can be seen from the one hundred primary schools and four secondary schools it runs.
"We have two community secondary schools in Lilongwe and Nkhotakota and a number of health facilities including hospitals and health centres," said diocesan secretary the Revd Canon Lt Col Meka Banda. "To develop the livelihood of women, we also run several projects meant to uplift the living standards of women in various communities."
He explained that the diocese's fundraising committee has this year chosen to focus mainly on the enhancement of girls' educational standards in the area. "We are constructing a girls' hostel at Mthunthama Anglican Community Secondary School."
He said that the school was chosen as it has one of the highest girl child enrolment despite the long distances that most of the girls have to cover to get to school.
According to Canon Banda, a recent survey revealed that the girl's daily travel to school was risky as they could easily be attacked on the way. "As a church, we realise that we need to complement the government's effort in the provision of quality education for the girl child," said Canon Banda. "We consider ourselves a major partner in boosting the development of this nation."
The World Bank reports that only 27% of Malawi's girls enroll in secondary school and of these just 13% will attend. The situation is said to be worse in rural areas where the number of girls who enroll are greatly outnumbered by their male counterparts.
http://allafrica.com/stories/201308220363.html
-----------
Modesty Police Now Targeting Women Wearing 'Slutty Religious-Style' Clothing
22 August 2013
Warning signs have been posted on the building of two major health clinics in an ultra-Orthodox Beit Shemesh neighborhood, telling women who are dressed immodestly to stay away.
The signs, plastered outside on the clinic buildings of government-funded health maintenance organizations Meuhedet and Leumit, read: "Dire Warning: It is forbidden to walk on our streets in immodest dress, including slutty clothing worn in a religious style." It is signed "residents of the neighborhood."
The wording of the signs reflect an escalation in the ongoing "modesty wars" in the city of Beit Shemesh. While modesty signs are not uncommon in Beit Shemesh, they generally make the "request" to dress appropriately, rarely the "warning." In addition, this sign's reference to indecent or provocative dress that conform to Orthodox Jewish guidelines is also highly unusual. It evokes the tension not only between the extreme Haredi elements in the city and the secular population, but also between the extremist Haredis and the modern Orthodox/religious Zionist population. That conflict came to a head and became a national issue in late 2011 when young religious Zionist girls were harassed at the Orot Banot school.
Dr. Eve Finkelstein, who works at another Beit Shemesh branch of the Meuhedet clinic, learned of the signs from a frightened patient. When she read the signs, she found them "aggressive" and "shocking."
The clinics in the Heftzibah neighborhood targeted in this latest spurt of modesty policing serve patients seeking specialist treatment from around the area - they do not only serve the local Haredi population.
"My patient was referred to a doctor there, and when she saw the signs, she was too scared to get out of the car," Finkelstein said. She then complained to the clinic. "I told them that think it's disgraceful and I think they have the responsibility to be available to anyone of any sex, race, or religion, and patients shouldn't feel threatened when walking into the doctor's office."
Finkelstein is a plaintiff in a lawsuit filed by a group of Beit Shemesh women against municipality seeking damages after they reportedly experienced threats and violence from modesty-policing Haredi elements. They are suing on the grounds that the municipality's refusal to remove modesty signs in the city has bred an atmosphere that threatens women. The two sides are currently in mediation proceedings, which they are forbidden to discuss publicly.
After Finkelstein learned of the signs, a fellow plaintiff, Nili Phillip, contacted Meuhedet through the wall on their Facebook page, asking for an immediate removal of the signs. The answer she received: "It is important for us to emphasize that there is no connection between the Meuhedet health maintenance organization and the signs you refer to. We are talking about a private initiative by citizens who posted the signs on the clinic walls."
Phillip replied back: "I understand what you are saying - please remove the signs as quickly as possible and clarify who hung the signs and report them to the police, as this act represents sexual harassment of your patients."
Finkelstein, who has worked for a variety of health organizations in Beit Shemesh says that these signs have been up for more than a week, and that clinics hesitate to take down such signs, "because they are scared. Behind these signs is not only the threat of violence but a threat that if they are taken down, they will lose their patients."
Phillip said that she had heard from her contacts within the Haredi community that there could be a backlash against their lawsuit. She might expect signs plastered in their neighborhoods in an "all-out war, with a sign on every balcony" and with messages relating to the legal dispute.
While she said it was difficult to target individuals who might choose to hang signs off their private property, the case of the clinics is different. "It's one thing to have these signs on a private balcony, another on a public health clinic," Phillip said.
http://www.haaretz.com/blogs/routine-emergencies/.premium-1.542807
-----------
Tanzania: Women Demand Gender Specification in Katiba
BY JANETH MTUI, 22 AUGUST 2013
IN a bid to promote gender equality, women groups have demanded that gender specification appear in areas written 'people' in the draft constitution.
Debating the draft constitution during a meeting organized by the Tanzania Women Cross Party Platform (TWCPP), several speakers said the draft constitution was gender blind as it talked about people instead of men and women.
The Chairperson of TWCPP, Ms Anna Abdallah, said that the constitution should consider women's issues through clear language that specifies the word 'person' because other communities believe that a person is a man and not a woman so more elaboration is needed to avoid ambiguity.
She added that article 46 of the draft explains rights for women but is not enough because gender equality is a cross cutting issue. "We do not want only one article explaining the issue of gender because this is not enough and if it is accepted to be one of the values of the nation in the coming constitution then various institutions will observe gender equality," she said.
The TWCPP Coordinator, Ms Ave Maria Semakafu, said that Tanzania is among democratic societies and should consider gender equality in leadership positions such as chairpersons and secretaries because most of them are dominated by men.
Ms Semakafu added that the constitution is the supreme law so it should include 51 per cent of women and 49 per cent of men in politics and not for political parties to consider women as mere voters without giving them leadership positions.
"Women are making these parties survive for longer periods because we cast votes but on issues of leadership positions within political parties we are left in the cold so the constitution alone can bring gender equality within political parties," she said.
http://allafrica.com/stories/201308220118.html
-----------
Women Taking Lead Roles in Re-Constructing Somalia
22 August 2013
Mogadishu — While al-Shabaab loses ground and progress and development spread throughout Somalia, women are seeking a larger role in re-constructing the country.
They are helping rebuild Somalia in many fields, such as education, health, politics and even security. Out of the many Somali women leaders across the country, Sabahi profiled three women -- Asli Ismail Duale, Sadiya Abdisamad Abdullahi and Dunia Mohamed Ali -- who are using their knowledge to educate and heal the public, and promote gender equality.
Asli Ismail Duale
Duale, 54, founded Women's Education and Voicing Entrepreneurship (WEAVE) and has worked as a volunteer helping the Somali public for 10 years.
A former American embassy worker, she fled Somalia when its central government collapsed in 1991.While living in Nairobi in 1996, she persuaded officials at a German medical organisation specialising in eye diseases to start a cataract surgery clinic at Beledweyne General Hospital in Mogadishu in collaboration with Kenya's Kikuyu Hospital.
Patients from across the country and Ethiopia were treated at the eye clinic, which was moved to Mogadishu's Arafat Hospital in 2003. Duale served as a volunteer co-ordinator for the project until 2006.
In the following years she changed her career focus to empowering Somali women, and founded WEAVE in 2008. WEAVE regularly participates in societal development conferences and presents the problems facing women, while advocating for their rights to participate in politics.
"I felt that Somali women needed special support to bolster their achievements and encourage their education," she told Sabahi. "I decided to form the organisation after 10 women who were working to clean up their country [as street sanitation workers] were targeted in an explosion on August 3, 2008. Since then, I have been working on educating and empowering women to work just like men did."
"There are major obstacles to women's progress [in Somalia], such as men's attitude in not seeing women as active members [of society] who can undertake important tasks, as well as inadequate access to education and financial resources," Duale said. "However, my goal is to erase those obstacles and ensure that men and women have equal rights and responsibilities."
Sadiya Abdisamad Abdullahi
Abdullahi is a 32-year-old doctor at Benadir Hospital who also teaches at Benadir University in Mogadishu.
"I want to take part in producing doctors who become part of the solution to the medical problems facing the nation," she told Sabahi.
She was educated in the Somali capital during the civil war and graduated from high school in 2003 when the city was still divided among warlords.
Abdullahi and her family decided that she should pursue higher education despite the country's troubles. So she enrolled at Benadir University's Faculty of Medicine -- the first medical school established in Somalia since 1991 -- and graduated in 2009.
But her graduation celebration turned into terror.
Abdullahi was at the Shamo Hotel in Mogadishu on December 3, 2009 when an al-Shabaab suicide bombing killed at least 19 people and injured many others. The victims were mostly students and university staffers, and included four ministers in the Transitional Federal Government who were killed. However, Abdullahi was not hurt in the attack.
"I had been very happy [earlier] that day but once again had to face misery when the explosion took place at my graduation party. It was very sad because I lost many beloved friends there," she said. "I still have nightmares."
She soon immersed herself in the medical profession, landing a job at Benadir Hospital's paediatric unit.
"There was a major problem there because the hospital's medical equipment was inadequate for the number of children and the diseases. Nonetheless, my team and I always tried to save the weakest children," she said.
Abdullahi now heads the hospital's HIV/AIDS unit, trying to help people with her knowledge. Compared to the rest of Africa, Somalia's HIV infection rate is very low. In 2011, the HIV prevalence rate among adults in Somalia was under 1%, according to the United Nations Children's Fund (UNICEF).
"Most Somali people believe HIV is connected to illicit sex so it is difficult for them to accept it when they are diagnosed with HIV. However, we offer them voluntary counselling and testing here," she said.
The HIV unit has registered 199 patients since June 2011, out of which 30 succumbed to AIDS while the rest have been provided with medication, Abdullahi said.
"We tell them that they can live with HIV and bring them speakers who have experience with living with a HIV-positive status," she said.
Dunia Mohamed Ali
Ali, 55, works to promote gender equality by ensuring that more qualified women go into Somali politics.
Ali was born in Baidoa and worked as a middle school administrator there before studying politics at college in Mogadishu.
"After I graduated, the [Mohamed Siad Barre] government saw me as a dissident, so I quit politics and went back to management. I became an accountant at a World Bank-funded project called the Agriculture Expansion Project," she said.
In 2002, during the civil war, she decided to do her part to help develop Somali society, quitting her job in the private sector to work for the United Nations Children's Fund (UNICEF).
"I chose UNICEF because of the opportunity to train Somali intellectuals," she said, adding that she worked on the programme "Training of Trainers on Gender-Based Violence", which focused on sexual abuse and exploitation.
While with UNICEF, Ali met women who worked for the Women's Development Organisation (IIDA). "Since I was looking for a way to empower women, I began working with IIDA because their work model and my ideas were compatible," she said.
Ali was put in charge of an office that helped internally displaced persons. "While I was at the office, I was educating them to raise their knowledge base," she said.
Now, Ali is pressing to increase the political participation of women.
"Among our successes is improving female participation in politics. There were only seven women in the previous parliament [formed in 2004], while this one has 14, so we have increased the participation of women by 100%. That is progress, but we have not achieved our goal of getting 50% of the seats filled with qualified women," she said.
"Our pressure has made it possible to raise the profile of women's role in the society, but we are still facing the obstacle of tribalism, which does not give women a chance," Ali said.
http://allafrica.com/stories/201308200341.html?viewall=1
-----------
Plea to exempt shops near Harmain from hiring women
22 August 2013
JEDDAH – The Ministry of Labor has rejected the plea of a number of businessmen who sought exemption from hiring saleswomen for women accessories shops in central areas around the Grand Mosque in Makkah and the Prophet's Mosque in Madinah.
"No exceptions!" said Fahad Al-Tikaifi, the ministry's assistant undersecretary for development.
"Women products are to be sold only by women even in shops in central areas (at the holy sites). We will start closing down the violating shops in the coming few days," he asserted. Al-Tikaifi said that they had issued warnings to shop owners in Ramadan.
Businessmen claim that the shops in the vicinity of the Two Holy Mosques require sales people who can work long hours, are experienced enough to deal with various nationalities, and can manage to tackle huge rush on the streets while commuting from home to the shop.
"We find it difficult to reach our shops because of the huge crowd in the central area around the Grand Mosque, especially during Haj and peak Umrah seasons. How can these women manage the swarm of people everyday?," asked Abdul Rahmad Kamal, a shop owner in Makkah.
Kamal said that he employed women in his shops in Jeddah, Taif and Makkah, but suffered a 60 percent loss in business, because the saleswomen lacked experience.
The Ministry of Labor did not give us enough time to let these women be trained by experienced salesmen, he claimed. Kamal said that the high rents in central areas around the Two Holy Mosques in Makkah and Madinah as well as odd shopping timing force them to keep their shops open around the clock.
"I reach my shop right after the Fajr (dawn) prayer. How can I find a saleswoman who is ready to be in the shop at that time?" he said.
Kamal said that he used to employ salesmen for SR3,000 a month who were willing to work around the clock during peak times. This, he said, is not the case with women, who want less working hours but more benefits.
"Here in the central area each minute counts. We want the Ministry of Labor to implement its regulations, but we do not want to lose either," he added.
The case in Madinah is the same.
According to Abdu Bakar, a salesman, it is impossible to find an experienced saleswoman who is willing to work long hours.
"Many men working here in the central area have inherited the art of selling for pilgrims from their ancestors. Many of them speak different languages. It will take years for women to match our experience and reach the level of professionalism which we have," he said.
The ministry's deadline for women accessories shops to hire Saudi women ended on July 7. It is complementary to the first stage of feminizing lingerie shops, and its implementation is compulsory as it is considered to be a national program aimed at employing as many Saudi women as possible.
http://www.saudigazette.com.sa/index.cfm?method=home.regcon&contentid=20130822177732
-----------
Women Own 2pc of Agricultural Land in Bangladesh: Economist
22 August 2013
Women who contribute to earn billions of dollars in garments exports, take micro-financing to the zenith of success and alternated the office of the prime minister since 1991, own as little as 2.0 per cent of the agricultural land of the country, according to British weekly The Economist.
"In 1993, the UN's Food and Agriculture Organisation (FAO) estimated that women in Bangladesh owned just 3.5 per cent of the country's agricultural land. Now 20 years after this share of women on land has almost certainly shrunk further, to perhaps as little as 2.0 per cent," said the weekly in its Banyan Asia segment published on Tuesday.
The weekly however commended the country for its investment, in health and education, especially for women, which has been an important reason for the remarkable progress of Bangladesh in recent years beating India in maternal health, female literacy and life expectancy, said The Economist.
Women are behind garment exports worth $20 billion, success for the Nobel-winning micro-lender Grameen Bank and they have ruled the country as prime ministers since 1991, longer than men in its 42 years of thriving as an independent country since December 1971.
"(The alternate rule of women for 22 years) might make Bangladesh unique in the history of world's republics," said the prestigious British weekly.
However women in Bangladesh greatly lack ownership of land in the South Asian moderate Muslim country which in fact is virtually owned by men.
"(Yet) look at distribution of land by gender and you might be surprised. There is a very short answer to the question "Who owns Bangladesh?" Men do," said The Economist.
As there is no data available that show ownership of land properties by gender, no one can say exactly how much land is owned by women. But there is a general agreement that the share held by women is absolutely tiny.
However the weekly wrote Muslim women are allowed to buy or be gifted property or access to government khas land, but the main route through which they acquire is inheritance (made obligatory by the religion).
On the other hand Hindu and Buddhist women inherit nothing, it said.
"The Islamic laws of inheritance are based on the school of sharia, wherein a daughter is bequeathed only half what her brother inherits.
"A widow receives one-eighth of her husband's property if they have children and one-fourth if they do not."
The weekly says often women do not claim any of their inheritance, leaving it in their brothers' possession. Activists seeking equal inheritance for women in Bangladesh call it the "good-sister syndrome. But in most cases brothers embezzle whole of the share of sisters.
In a study titled "Women, land and power in Bangladesh" Jenneke Arens, a Dutch researcher, finds that sons and husbands are often at fault, cited The Economist.
Various plans to change the inheritance laws (to give women equal share) have been met with violent protest by the Islamist groups as the change amends Islamic law of inheritance.
These plans to amend the Islamic inheritance law( to ensure that all descendents inherit equal portions of an estate) warranted formation of a fundamentalist group called Hefazat-e-Islam ("Protectors of Islam") in 2011, said the weekly.
However the progressive policies in Bangladesh including some that favour augmenting women's access to public land, as well as a judiciary have made them to believe that they are in better situation in the country than their counterparts in Pakistan
"With the exception of inheritance laws, we are much better off than Pakistan," the weekly quoted Khushi Kabir of Nijera Kori, a non-governmental organisation saying in Dhaka.
She points to some of Bangladesh's relatively progressive policies, including some that favour augmenting women's access to public land, as well as a judiciary that is much more sympathetic to women's rights than that of Pakistan.
The government has also set in motion a US$13.3 million European Commission-funded project to digitise all of Bangladesh's land records. This will be very good, Ms Kabir thinks, because making the public records transparent would make women's claim official.
A small step towards making those greedy brothers behave better, but perhaps an important one, she told The Economist.
http://www.thefinancialexpress-bd.com/index.php?ref=MjBfMDhfMjJfMTNfMV8zXzE4MDY3Mg==
-----------
Nigeria Partners Senegal to Train Women On Democratic Leadership
22 August 2013
Arrangements have been concluded between Nigeria and Senegal to provide women at the local government and grass root levels with leadership and advocacy skills that would enable them further contribute meaningfully in the democratic space.
To this end, a three-day capacity building workshop has been scheduled for November this year in Dakar, the Senegalese capital, to train women on strategies that would re-position them as leaders, while participating effectively in the political and socio-economic development of their communities and the nation.
Coordinators of the program, Princess Hetty Akaakar and Astrid Ruiz Thierry said that the theme of the 2013 workshop which is "women's leadership in democracy: engendering nation building at the grass root level" will bring together all female legislators at the state level, all female political appointees at the state level, elected/appointed local government council chairpersons and their deputies, female councillors, wives of local government chairmen, heads of women development units in states and local councils as well as women heads of Non-Governmental Organizations and NGOs in both countries.
http://allafrica.com/stories/201308191590.html
-----------
Mat-Making Changes Format of Women's Life in Bangladesh
22 August 2013
Ajiron shows the way to other poor, helpless women in Gaibandha
Ten poor families at Char Deluabari along the Jamuna basin in Phulchhari upazila under the district have achieved self-reliance through producing mats.
Local woman Ajiron Beowa showed the way while timely help of NGO SKS Foundation helped the poor women, mostly divorced and widows, to change their life.
Married off at the age of 14, Ajiron became mother of two children within two years.
After eight years of marriage, her ailing farm labourer husband died without treatment and she started working as a domestic help.
Unhappy with the scanty pay and ill-treatment from employers, she gave up the work and started making mats and nakshi kantha (embroidered quilt).
In 2010, local NGO SKS Foundation arranged training on mat producing to a group of ten ultra poor widows and divorced women, said Osman Ghani, project manager of SKS Foundation.
"Donor agency Oxfam-GB allocated grant of Tk 18 thousand for each of the trained women to start producing different qualities of mats. Within a year they have changed their life through the cottage industry," said Lasen Ahmed Liton, chief executive, SKS Foundation.
"We collect dried stalk of a kind of grass used in weaving mats from Raninagar in Natore district. By selling the mats, one earns Tk 150 to 175 daily, excluding the production cost," Ajiron said.
Thanking SKS for their help, she said, "Now we are living well. My two children are attending school too."
"My husband and other family members help me in weaving mat in their leisure time," said Asma Begum, another mat weaver in the area.
Mats are being sold at local markets of Fulchhari and Saghata upazilas in Gaibandha district and Gutail market of Dewanganj in Jamalpur district.
The prices of small, medium and large sized mats are Tk 30, Tk 60 and Tk 120 per piece. Besides, they produce special embroidered mats that sell for Tk 500 each.
http://www.thedailystar.net/beta2/news/mat-making-changes-format-of-their-life/
-----------
Mother Chops off Newborn Daughter's Hand 'to Save Village' in Sumatra, Indonesia
22 August 2013
A South Sumatra woman allegedly attempted to kill her 45-day-old daughter by chopping her hand off with a machete at the behest of a "mystical whisper," police said on Wednesday.
The woman, identified as Megawati, became emotional after an argument with her husband, police said. She was breastfeeding her newborn baby Davina at her home in Harapan Makmur Satuan Pemukiman Village, in Musi Rawas, when she reportedly heard a voice urging her to hack her child's hand off.
"I heard a mystical whisper from someone [telling me] to cut off my baby's hand to save our village," Megawati, 27, recalled, according to reports in the Indonesian news portal Kompas.com.
Megawati was allegedly about to cut Davina's throat when her godmother Maemunah, 45, stepped out of the bathroom and saw blood gushing from the child's arm. Megawati was reportedly standing near the baby with a machete in her hand.
Maemunah stepped in and saved the child.
Davina was admitted to intensive care at Dr. Sobirin Musi Rawas Hospital. The girl survived but lost her hand.
Police believe Megawati became distraught after an argument with her husband. She then took her frustration out on her newborn daughter, Mursi Rawas Police spokesman Adj. Sr. Comr. Chaidiri told Kompas.com.
"We have arrested the suspect, the temporary motive is that she had an argument with her husband and lost herself and then she chopped off her baby's hand with a machete," he said.
Megawati was ordered to undergo a psychological evaluation.
"She first told police that she made a mistake when she chopped off her daughter's hand," Chaidiri told the Indonesian newspaper Tribun News. "The next morning she said she heard a 'mystical whisper.' Because of the suspect's inconsistent explanation, we will perform a psychological test on her."
She was charged with seriously injuring a child under the 2002 Child Protection Law and faces a maximum of five years in prison if convicted.
Megawati reportedly has three other children.
http://www.thejakartaglobe.com/news/mother-chops-off-newborn-daughters-hand-to-save-village-in-sumatra/
-----------
Saudi families find most maids unskilled
22 August 2013
A study conducted by the King Abdul Aziz Center for National Dialogue has revealed that 70 percent of those surveyed in the domestic workers sector lack suitable labor recruitment fees. The findings come at a time when the Ministry of Labor is looking at reducing prices for hiring domestic workers from abroad.
According to a statement by the Ministry of Labor Wednesday, agreements entered into between the ministry and a few countries mandated that they send domestic workers with required skills. Additionally, these workers should have no criminal record in their home country, should be well trained and well-informed about Saudi regulations. The ministry is working to expedite the arrival of these domestic workers to the Kingdom.
The survey also revealed that 69 percent of people feel that domestic workers in Saudi Arabia do not possess training to be able to work in Saudi homes. A survey on domestic workers in Saudi homes showed that Saudi households prefer workers from Indonesia, with 27.5 percent of respondents seeing Indonesians as ideal domestic workers and another 17.3 percent viewing Filipinos as best suited to work in Saudi society.
"Indonesian maids usually speak Arabic, which makes it easier to communicate and teach them," according to Bayan Rashid, a stay-at-home mother. "Indonesian maids are Muslim, so we share the same traditions and beliefs. This makes it particularly easy for us to trust them with our children and our homes because they are raised to be respectful and loyal to other Muslims."
The study also revealed a lack of trust among community members toward the level of training provided to domestic workers prior to their arrival at the Kingdom, with 69 percent stating they were dissatisfied by the training provided to workers, while only 18 percent of people believe that domestic workers are trained well enough to efficiently carry out duties.
"They are clueless; they don't know basic cleaning methods," said Lamya Hammad, a stay-at-home-mother.
"As soon as we receive a new maid, I know I will have to spend at least three months teaching her how to clean and cook. I sometimes wonder how she's even called a maid when she doesn't know how to be one," she added.
The study ensured covering a diverse array of respondents in terms of region, gender, education level, age, and number of family members.
In all, 1,000 people were surveyed as representatives of the majority of society. Participants stressed the impact of domestic workers on the education of children in the family, indicating the dangerous impact of youth employment and the impact of such employment on the habits and behavior of the community in future.
Seventy-six percent of respondents agreed that domestic workers had a huge impact on raising children and 70 percent of participants expressed that the majority of Saudi families have become too reliant on household workers, while 46 percent attributed this increased use of household labor to increase in the number of housewives going to work. About 23 percent of participants felt the large size of Saudi families was also one of the reasons for hiring house-help.
"Many Saudi families trust their maids and nannies with their children and leave them alone for hours. Little do they know that those maids are capable of teaching the children bad habits and words that is not acceptable in our religion and our society," said psychologist Huda Hussien.
"Parents should know better than leave their children with strangers, because maids are supposed to help the mother and not be the mother," she added.
Around 42 percent of respondents were neutral in their views about the improvement of recruitment companies, as they felt they did not have enough information to agree or disagree, while 20 percent saw that recruitment fees are somewhat acceptable and 57 percent responded that salaries of domestic workers were given on time and without delay.
Thirty-one percent of respondents felt housemaids were deprived of their one-day weekly off.
Ethiopian maids are the least favored among Saudis after the series of incidents reported in local media, according to Abu Omar, a manager at a recruitment office in Jeddah.
"Saudis have stopped requesting maids from Ethiopia in the last three months after hearing about the disturbing incidents that have been filling the newspapers," he said.
"We also have people returning their maids to the office asking us to take them back in exchange for maids from other countries," he added.
The King Abdul Aziz Center for National Dialogue has allocated an exclusive unit to conduct such surveys at the headquarters of the center. The center frequently launches and conducts such polls, seeing that they are crucial in measuring public opinion and views about issues that affect society and that are of interest to community members.
http://www.arabnews.com/news/462081
-----------
Bahrain denies granting citizenship to Lebanese singer
22 August 2013
Bahrain has denied news reports that it has granted citizenship to Lebanese singer Majida Al Roumi following her performance this week as part of the Bahrain Summer Festival.
Some newspapers attributed such reports to a government official .
The office of the Kingdom of Bahrain's official spokesperson refuted the reports and said that it had got nothing to do with the government's official spokesperson.
All mass media are hereby requested to rectify the story and to comply with accuracy before publishing any news or statement and to obtain the precise information from the relevant original sources according to the ABC's and professional ethics of journalism, it added.
The news reports were published after Roumi made statement praising Bahrain's government efforts in tackling the menace of terrorism at her concert that was held on Sunday.
shamada@khaleejtimes.com
http://www.khaleejtimes.com/kt-article-display-1.asp?xfile=data/middleeast/2013/August/middleeast_August235.xml&section=middleeast
-----------
Ada Jafri: The First Lady of Urdu Poetry
Rohail A. Khan
22 August 2013
JEDDAH — Ada Jafri is without a doubt the first lady poet from the subcontinent who became internationally famous in the male-dominated world of Urdu poetry and literature.
Her poetic journey, which spans over 80 years, started when she wrote her first verse in 1936 at the age of 10 years.
The multi-dimensional value of her poetry, along with her intellectual and charismatic personality, makes her a prominent figure in contemporary Urdu literature from first World War to date.
She was born on August 22, 1926, in Badayun, British India, into a scholarly family. Her illustrious parents named her Azeez Jehan.
God-gifted in various faculties, she entered in the poetic circles as Ada Badayuni , equipped with vast study and knowledge of Urdu, Arabic, and Persian literature.
After her marriage and migration to Karachi, Pakistan, in December 1947, she permanently adopted "Ada Jafri" as her pen name.
Ada (meaning: style) was part of a traditionally conservative society where women were not allowed to think and express independently.
However, she turned out to be bold and tactful enough to express herself without inhibitions or barriers.
Encouragement in her early youth from her parents and later from her scholarly husband Nurul Hasan Jafri kept her literary spark going.
In addition to being the modern-age "First Lady of Urdu Poetry," Ada has equally been a successful house wife, mother, and grandmother.
She married Nurul Hasan Jafri on January 29, 1947 in Lucknow, British India.
Nurul Hasan Jafri, a civil servant, rose to the highest ranks in the Government of Pakistan and was a notable literary figure.
For many years, he served as the president of "Anjuman e Taraqqi e Urdu" and carried forward the legacies of Baba e Urdu Moulvi Abdul Haq.
Nurul Hasan, a major inspiration to Ada's writing, passed away in December, 1995, two years short of their Golden Jubilee wedding anniversary.
Ada published her first collection of poems "Main Saaz Dhoondti Rahee" in 1950. She has published five collections of Urdu Poetry, in addition to an autobiography, short essay, and forty research papers.
In depth study of Ada's poetry proves her grasp over both traditional and modern sensibilities. Both literary trends can be seen inter-woven in her poems.
Na ghubar mein na gulab mein mujhe dekhna
Meray dard kee aab-o-taab mein mujhe dekhna
Kisi dhun mein tum bhee jo bastiyon ko tyag dou
Isee rah-e-khana-e-kharaab mein mujhe dekhna,
Eastern traditions and cultural values are naturally inbuilt in her personality, but her extraordinary talent and intellect could not surrender itself completely and Ada started taking keen interest in the world of modern Urdu literature.
Kehtay hain kay humse khataa kaar bohat hain,
Ik rasm e wafa thee so wafa daar bohat hain,
Raahoun main koi aabla paa ab nahee milta,
Rastay main magar qafla e salaar bohat hain,
Ik khawab ka ehsaan bhee uthaye nahi uthta,
Kya kahiyey kay asooda e azaar bohat hain,
Her jazba e bay daad kay ehkaam hazaroun,
Her lamha bay khwab kay asraar bohat hain,
Palko talak aa pohnche na honto kee tamazat
Ab tak tau ada ayena berdaar bohat hain,
Her emotional depth and social consciousness finds expression in her poetry. This unification of modern and traditional sensibility makes her significantly "larger than life" for both schools of thoughts.
Her Ghazals have been rendered in various Ragas by reputed classical music maestros. Her Ghazal below became famous when rendered by (late) Ustad Amanat Ali Khan in 1970:
Honto pe kabhi unkay mera naam hee aaye,
Aaye tau sahee ber-ser-e-ilzaam hee aaye,
Heraan hain lab-basta hain, dilgir hain gunche,
Khushboo kee zubani tera paigham hee aaye,
Kya raah badalne ka gila hum safaroun say,
Jis rah say chalay teray der-o-baam hee aaye,
Baqi na rahay saakh "ada" dasht-e-junoon kee,
Dil main agar andesha-e-anjaam hee aaye,
As early as 1950, the legendary Ada was recognized as the "First Lady of Urdu Poetry" for her rich contributions.
In 1955, Hamdard Foundation, New Dehli, recognized her as the "Outstanding Female Poet of the Century."
She was awarded the coveted Adamjee Award in 1967 for her second poetic collection "Shehr e Dard."
In recognition of her esoteric works, the Government of Pakistan awarded her "Tamgha e Imtiaz" in 1981.
She received the Baba e Urdu Award from the Pakistan Academy of Letters in 1994, and the Quaid e Azam Literary Award in 1997. She is the recipient of various international awards from literary societies in North America and Europe.
To appreciate her lifetime achievements, the Government of Pakistan conferred upon her the "Pride of Performance Award" in 2002.
Ada is the first woman recipient of the Kamal e Funn Award for life time achievement by the Pakistan Academy of Letters in 2003.
Famous Urdu Poet and Critic, Jazib Qureshi, said:" Ada Jafri is the first and only lady poet who carries in her poetry the eternal colors of Ghalib, Iqbal, and Jigar."
Ada, who travels to and fro Karachi and Toronto, still continues to play a proactive role to promote Urdu across the world.
Let us pay tribute to this "First Lady of Urdu Poetry" on her 87th birthday.
Ada Jafri's Poetry Collection: "Main Saaz Dhoondti Rahee" can be reviewed at http://www.mediafire.com/download/jlg2id4aj65l5fv
http://www.saudigazette.com.sa/index.cfm?method=home.regcon&contentid=20130822177704
-----------
URL: https://newageislam.com/islam-women-feminism/israeli-court-urges-lesbian-couple/d/13152