New Age Islam News Bureau
17 Jul 2017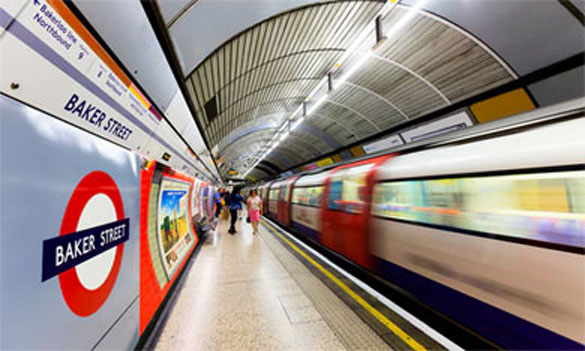 Baker Street station, where the woman said the attack happened. Photograph: Kimberley Coole/Getty Images/Lonely Planet Images
----
• Man Reportedly Tries To Pull Off Woman's Hijab in UK Subway
• Female Suicide Bomber Kills 10 in Maiduguri Mosque
• US-Syrian Woman Sets Up Model School in Al-Qaida-Run Region
• 64% of Foreign Women Married To Saudis Are Asian: Awasir
• 9 Inmates Arrested After Riot at Makkah Girls' Protection Home
• Free Self-Defence Class in Iowa City Is Geared For Muslim Women
• Muslim Women Wearing Hijabs Arrive At Sydney Swimming Pool for the First Day of Its Women-Only Classes Where Men Are Banned
• UAQ Cops Save Around 70 Women From The Clutches Of Cyber-Extortionists
Compiled by New Age Islam News Bureau
URL: https://www.newageislam.com/islam-women-feminism/israeli-christian-man-allegedly-killed/d/111856
--------
Israeli Christian Man Allegedly Killed Daughter over Muslim Boyfriend
BYELIYAHU KAMISHER
JULY 16, 2017
Central District state prosecutors filed an indictment on Sunday against Sami Kara, 58, for allegedly killing his teenage daughter Henriette Kara because she was in a relationship with a Muslim man.
In June, Henriette, 17, was found stabbed to death in her family's home in the central town of Ramle a day after she graduated from high school.
The killing sparked a wave of outrage from Israeli-Arab MKs and community leaders accusing the police of failing to properly protect the teenager after she had previously complained of being attacked by her father.
According to the indictment, Henriette, an Israeli- Arab Christian, was in a relationship with a Muslim man for over a year, arousing "vehement opposition" from her parents, which was expressed in violence against her and threats forcing her to flee her home in May.
In one incident in early June, Kara, allegedly beat Henriette and threatened her, stating, "I would spend my whole life in jail. I don't care."
Then on June 12, Henriette called a family member and told that person she had deposited money in a prison canteen for her boyfriend – who was jailed at the time on charges unrelated to the indictment – and said that after her boyfriend leaves prison she would convert to Islam. The relative then told the defendant of Henriette's actions and a short time later he allegedly committed the murder.
According to the indictment, Henriette's actions in the defendant's view "damaged the honor of the family and made [Sami Kara] feel ashamed."
"The defendant decided to cause the death of the deceased and in order to realize his goal he was equipped with a knife. The defendant stabbed the deceased three times, causing her death on the spot," the indictment said.
The prosecution cites circumstantial evidence in the indictment including testimony of a social worker who spoke with Henriette and text messages she sent a friend.
"You won't believe what they did to me... They are sending people to kill me," one message read.
"They are searching for me in every possible place," another message said, "You don't understand what fear this is. I don't believe I have the strength to stand on my feet and run away."
The prosecution also said that defendant was the only one with the deceased at the time and place of her murder.
Henriette's mother, who spoke with her daughter over the phone shortly before she was killed, said she heard a knock on the door and a male voice during their conversation.
Henriette said she approached the door and then told her mother she would finish the conversation later.
Attorneys Shukri Abu Tabik and Giora Zilberstein who represent the defendant said that their client is not guilty and criticized the prosecution's evidence. "It's no secret that the family had a bad relationship, so to speak, between the deceased and her family in light of the criticism her family had of her behavior. In my opinion, this did not lead to murder and could not lead to murder. The complaints against [Henriette] were only to reunite the family," the lawyers told Ynet.
"The police arrested three members of her family: Sami, her uncle, and brother, held them for a long time in detention, and the fact that the police today could not bring charges against others shows that they are trying to patch together an indictment against Sami. There is no direct evidence that he participated in the murder and no forensic evidence. His shirt was sent to the forensic unit to search for blood remains, and the answer is unequivocal: The murder weapon was not caught, the police are trying very artificially to indict him, and I am sure that he will eventually be acquitted."
The murder of the Christian girl sent shock waves through Ramle, with Kara's classmates convinced she was killed by her father for being romantically involved with the young Muslim man.
Mixing between Christian and Muslims in Ramle and Lod is not uncommon, however, such relationships leading to murder are not common, residents said.
At the Naamat High School in Lod where Henriette studied, a Jewish classmate who spoke to The Jerusalem Post in June and asked not to be identified, said that "Christians, Jews and Muslims are all in shock. She was someone who loved life. She had a good character and a lot of friends. She wanted to do a lot of things. She had a graduation party and was murdered the next day."
http://www.jpost.com/Israel-News/Israeli-Christian-father-allegedly-killed-daughter-over-Muslim-boyfriend-499853
--------
Man reportedly tries to pull off woman's hijab in UK subway
Jul 16, 2017
A man tried to pull off a Muslim woman's hijab as she was waiting for the train and spat at her friend's face at the subway in the British capital London, says the victim.
Aniso Abdulkadir reported the suspected hate crime on Twitter on Sunday, triggering an investigation into the matter.
She posted a picture of the alleged attacker, writing, "This man at Baker Street station forcefully attempted to pull my hijab off and when I instinctively grabbed ahold of my scarf he hit me."
She added that, "He proceeded to verbally abuse my friends and I, pinning one of them against the wall and spitting in her face."
A woman accompanying the attacker was also threatening and verbally abusive.
Abdulkadir's effort to identify the attacker was welcome on Twitter with more than 24,000 retweets by Sunday afternoon.
"Behaviour like this is totally unacceptable and will not be tolerated," said a British Transport Police spokesman, according to The Guardian. "This incident has been reported to us and we're investigating."
The alleged attacker surfaced on Twitter later, claiming that he was defending his partner from some "racist attack," rejecting Abdulkadir's allegations as "completely false."
"I would like to confirm I never hit or attacked anyone I simply defused the situation by separating them," said Pawel Uczciwek. "The police is fully cooperating with me and will be able to obtain CCTV footage showing the three women attempting to attack my partner because we are in an interracial relationship."
The allegations were made as the UK was facing a surge in hate crimes in the wake of some terrorist attacks.
http://www.presstv.ir/Detail/2017/07/16/528702/Man-tries-to-pull-off-womans-hijab-in-UK
--------
Female suicide bomber kills 10 in Maiduguri mosque
By Wale Odunsi
July 17, 2017
A female suicide bomber struck early Monday morning, killing 10 worshippers who came for prayers at a mosque in Maiduguri, Borno State.
The incident came on day after Borno State Police command said two boys, aged 8 and 10, came in contact with Boko Haram terrorists who strapped one of them with IED.
The bomb later exploded killing Gambo Bukar, while his friend, Umar Bukar sustained injuries and was hospitalized.
http://dailypost.ng/2017/07/17/breaking-female-suicide-bomber-kills-10-maiduguri-mosque/
--------
US-Syrian woman sets up model school in al-Qaida-run region
17 July 2017
ISTANBUL: Running a school in the enclave controlled by Syria's al-Qaida affiliate, Syrian-American Rania Kisar has become skilled in getting her way, either by negotiating with the militants or by pushing back against them.
When she was preparing for the students' graduation, the militant group sent an inspector who told her not to play music at the ceremony. She argued back. Then on graduation day, she invited the group.
The ceremony started with a nod to tradition with a Quranic recital in line with the inspector's wishes. But then as the students filed out in front of an audience of relatives and local officials, as well as representatives from the militant group, Kisar played "Pomp and Circumstance" — the anthem used at American graduations.
It was a calculated gamble: she was betting the militants would not make a scene.
"It was matter-of-fact. They did nothing," she said. But she knew why they had intervened in the first place. "If they don't interfere, they won't be considered powerful," she said.
Idlib province in northwestern Syria is the last major stronghold of the rebellion that erupted in 2011 against President Bashar Assad. Al-Qaida's branch is the strongest force in the territory: it leads an alliance of factions known as Hayat Fatah al-Sham and dominates the administration set up by the opposition to run the province.
But the group has to tread carefully, balancing between its aim to control and its wariness of triggering a backlash from residents and other factions. So far, it has stayed relatively pragmatic: it takes every opportunity to show it is in charge but has shown no interest in a wide-scale imposition of an extremist vision of Islamic law.
They halted public killings of criminals; there are no religious police patrolling streets, arresting or beating people — and they haven't forced women to wear the niqab face veil.
That is a sharp contrast to the Daesh group in the stretches of Syria and Iraq where the rival militant group has ruled the past three years.
Instead, al-Qaida administrators and fighters try to enforce some rules on a smaller scale while avoiding heavy-handed confrontation and presenting themselves as the champions of Syria's "revolution" against Assad.
Idlib now stands in a tenuous position among the international and regional powers that are effectively carving up Syria.
Assad's military had threatened an offensive on Idlib but is now focused elsewhere, against Daesh militants to the east. Turkish troops and their Syrian allies who control parts of neighboring Aleppo province were reportedly mobilizing to move into Idlib — prompting sharp warnings from Hayat Fatah al-Sham against any attempt to do so. The United States is also focused on its own campaign against Daesh with the assault on Raqqa, and it is unclear how it and Assad's ally Russia want to deal with Idlib in the future.
In the meantime, Idlib, swelling with more than 900,000 Syrians displaced from other parts of the country, is the refuge of an opposition movement that hoped to create a new Syria and only a few years earlier appeared to have the momentum in the conflict. Now Kisar and others like her are trying to keep al-Qaida's influence at bay.
"Everyone sold us out," she said in a recent interview in her office in Istanbul, where she regularly travels.
Kisar said the international community's fear of radical Islamists taking over Syria is exaggerated and reflects a lack of understanding of the Syrian opposition. She and others argue that the militants are needed, they provide services and infrastructure as well as skilled fighters for now, but will not have support later.
From the start, Kisar has been a true believer in the uprising. After the revolt began in 2011, she left her administrative job at a Dallas university and joined the opposition.
She traveled with fighters on the front lines, helping displaced people. She organized services in opposition territories. Along the way, she survived an airstrike and lost a colleague who was kidnapped by Daesh group militants and was later believed killed.
Finally, she settled in Maaret al-Numan, Idlib's second largest city. It was one of the few strongholds of the moderate Free Syrian Army, the umbrella group for the internationally-backed opposition factions. In recent years, radical factions like al-Qaida have grown in influence and gained a foothold. But Maaret's residents largely continued to support the FSA. They held repeated protests whenever al-Qaida fighters went too far, arresting journalists or cracking down on opponents.
In 2015, Kisar launched her foundation — SHINE, or the Syrian Humanitarian Institute for National Empowerment.
It provides classes for adults in computers, programming and web design. Registered in Dallas and funded by donations from Turkey and private citizens in America and elsewhere, the foundation has so far graduated 237 students.
Kisar takes great pride in the result: a "geek squad" of tech-savvy men and women who can fix smart phones and computers. That is vital in opposition-held areas, where there are no telephone lines and the population relies on satellite internet for communication.
"There are no private institutes, no universities, there are no hospitals," she said. "It is us, a bunch of locals, volunteers, stepping forward and saying, OK, I am going to clean the street, I am going to go volunteer in a hospital and I am going to build a school. ... This is my part. This is my honor."
Her first brush with the militants came when she had to explain her work to gain accreditation from the bureaucracy they control.
She bickered with one official, arguing that armed groups should not control civilian affairs. He wouldn't look her in the eye since she's a woman. But "when he heard I am from America, he said: 'We have every honor that an American Muslim is here and wants to be here'," she recalled.
Even in heated debates with the militants, she said, she has always kept a respectful tone, something that has helped keep her operating.
It also helps that she is a woman. "I can get away with a lot of things," she said with her characteristic giggle. "There is a lot more leniency toward me because I am a woman."
The ultraconservative militants were concerned that SHINE provides classes for men and women. So she negotiated to keep it going by segregating the space — men on the bottom floor, women on the top. When airstrikes hit the top floor, she set up separate areas on the ground floor.
The militants sent inspectors to ensure classes observed their interpretation of Islamic laws. The strictly computer-focused program had nothing that would offend them, she said. "They want to interfere in everything," she added.
Hayat Fatah al-Sham is increasingly intervening in day-to-day affairs in Idlib and in civil society groups, confiscating goods and taking control of exchange bureaus, said Sam Heller, a Syria fellow at the Century Foundation. Its attempts to seize a role in provision of relief aid have alarmed the aid community, he said.
At the same time, it is struggling between its identity as a hard-line jihadi movement and its ambition to lead the rebellion with its variety of factions, wrote another Syria watcher, Mona Alalami in a recent Atlantic Council article.
When that balancing act breaks down, violence can explode.
In June, Maaret al-Numan was shaken when pitched street battles erupted between al-Qaida militants and the FSA, bringing gruesome revenge killings and leaving at least six civilians dead. HTS fighters opened fire on residents protesting against their presence in the streets.
For a moment, the chaos seemed to shatter Kisar's spirit. "It is going to break loose," she said over the phone at the time. "Everybody is fighting everybody."
She left town for several days to "breathe."
Eventually, calm was restored with a shaky reconciliation, though one that increased the militants' influence: the FSA faction running the town had to leave their offices, replaced by an agency linked to al-Qaida.
Kisar resumed her work — and her own balancing act. This time, she was preparing festivities for local children to celebrate a major Muslim holiday.
"You must check out the videos," she said, giggling. "It is like Disneyland. It is SHINEland. It is majestic."
http://www.arabnews.com/node/1130766/middle-east
--------
64% of foreign women married to Saudis are Asian: Awasir
July 17, 2017
JEDDAH — Awasir, the Saudi Charitable Society for the Welfare of Saudi Families Abroad, has reported that 64 percent of foreign wives of Saudis are from Asian countries, Al-Watan newspaper reported on Sunday.
The charity said 19 percent of foreign wives of Saudis are African, 4.3 percent are from the Arabian Gulf countries and 4 percent are from Western countries.
Awasir Chairman Tawfiq Al-Swaylem said the charity cares for Saudi families abroad.
"Marriage with non-Saudi women has become a common phenomenon in the past 20 years. We are interested in studying the phenomenon to understand why it has become so popular among Saudis. Nowadays, a lot of cultural and social exchanges take place at the local, national and international levels. Moreover, the media is influencing people and individuals have access to social media, making it easy to connect with people from across the world," said Al-Swaylem.
He also said new forms of marriage contracts have appeared such as civil marriage, misyar marriage, misyaf marriage, custom marriage, tourism marriage, summer marriage and other marriages with the intention of divorce after a certain period of time.
"One of the reasons for such marriages is the high rate of dowry and the huge expenses of life in the Kingdom. There are also many opinions on what constitutes a marriage. The young Saudis no longer prioritize the responsibility of family and are not ready to make sacrifices to ensure a stable family life. They do not anticipate the severe consequences of broken families and the differences in customs and values," said Al-Swaylem.
He also said elderly men are the ones who opt to marry foreign women the most.
"The other category of men marrying foreign women are men with limited income sources, which oblige them to marry foreign women because the expenses of marriage and the upkeep of foreign wives are comparatively cheap. There are also the polygamous men who opt to marry foreign women as second, third or fourth wives," said Al-Swaylem.
He added some Saudi men marry foreign women after they travel abroad for tourism or study.
"The last category are men who marry temporarily with the intention of divorce," he said.
Al-Swaylem has said one reason for many Saudi men getting married abroad is a culture of spinsterhood has spread in Saudi society with the number of women of do not wish to get married rising for various reasons.
"There are more than 1.5 million spinsters in the Kingdom currently and the number is rising," said Al-Swaylem.
He added the causes of the spread of the spinsterhood are poverty, unemployment, strict and complicated tribal and social traditions, high living expenses, rejection of polygamous marriages and women prioritizing work and education over marriage.
http://saudigazette.com.sa/article/513013/SAUDI-ARABIA/Marriage
--------
9 inmates arrested after riot at Makkah girls' protection home
17 July 2017
JEDDAH: Makkah police on Friday intervened to end an inmate riot that started as a protest against the management of a girls' protection home in Makkah; nine girls were arrested, according to Arabic daily Okaz.
Under-aged girls being investigated for crimes, and females who are under 30 years of age and ordered to be imprisoned by a judge, are held at the facility.
The arrests were made after the doors and glass of the home's management office were broken in protest at the alleged poor treatment the inmates receive from the facility's staff.
The newspaper reported that inmates who were interrogated in the home demanded that the manager and some of her staff be removed because of their "bad treatment" of the residents.
The National Society for Human Rights (NSHR) said the girls were subject to violations, as the NSHR had previously called for certain reforms at the facility but no improvements were seen.
"A team previously visited the home and filed recommendations and reports calling for reforming the home's educational and administrational conditions to take into consideration the girls' need for guidance and their psychological conditions at the same time; unfortunately, our reform recommendations were not implemented," the chairman of the NSHR in Makkah, Sulaiman Al-Zaydi, was quoted by the newspaper as saying.
"This shows the home's (management) inability to comprehend the girls' social conditions and circumstances that led them to the home (in the first place)," he added.
Spokesman for the Ministry of Labor and Social Development Khaled Aba Al-Khail said the inmates violated regulations and directives, and were dealt with according to the law.
http://www.arabnews.com/node/1130656/saudi-arabia
--------
Free Self-Defence Class in Iowa City Is Geared For Muslim Women
July 17, 2017
IOWA CITY, Iowa (KCRG TV9)-- A free self-defense in Iowa City teaches women how to protect themselves from verbal and physical attacks. It's especially geared towards Muslim women.
Tuesday was 10-year-old Haya Saeed's first time at a self defense class. Her partner, 14-year-old Nadeem Mohammed can't say the same. She's been in Taekwondo classes for about three years, after her dad recommended she try it.
"He told me try it and if I liked it I would go," Mohoammed said.
Nadeem helps coach Haya on some of the moves. While these girls bust a sweat they're having fun. And even more important, they're learning valuable skills.
Skills these women hopefully will never have to use. Even still, Master Hamza Omar says everyone needs to be prepared.
Omar works for the Iowa City School District and juvenile court system, and says he sees the need for for women to learn how to defend themselves.
"I think everybody wants to feel safe, and given the environment we're in post election," Omar said.
He says it's simple techniques that can give women an edge if they were to come in contact with an attacker.
"Small joint manipulation. That's how you get away from someone pulling your hair, or your hijab. It's that simple," Omar said.
Lessons that don't incite fear but empower women of all ages and backgrounds.
"Because if you got it anything like that you would know how to take care of yourself," Saeed said.
Classes are at Strike Martial Arts in Iowa City. Master Omar hopes to offer free classes to women once or twice a month.
http://www.kcrg.com/content/news/Free-self-defense-class-in-Iowa-City-is-geared-for-Muslim-women--434848583.html
--------
Muslim women wearing hijabs arrive at Sydney swimming pool for the first day of its women-only classes where men are banned
17 July 2017
Muslim women wearing hijabs cheerfully arrived at a swimming pool in Sydney's west on Monday afternoon for the launch of the facility's women-only classes.
The Blue Water Swim School at Condell Park will close their pool to men for an hour at a time on Monday, Wednesday and Saturday afternoons and Tuesday night.
This is also an aqua therapy group, Aquatic Flex, can run women's only lessons. One woman was pictured carrying foam noodles through the pool entrance on Monday.
Fatme Taha, director of Aquatic Flex and head swimming instructor, said her clients were a diverse group of 'young girls, mums, single mums and even grandmothers.'
'They include women who are Muslim, Christian, Hindu, Jewish and women of no faith. All are welcome,' she said in a statement published online.
'We do cater for women only and I do not and will not apologise for this,' Ms Taha added.
'I encourage all my clients to take their approach to physical activity seriously and provide a setting that will help achieve this.
Aquatic Flex said the swimming groups were 'diverse and inclusive of women from all socio-economic, cultural and religious backgrounds.'
Blue Water Swim School owner Simon Rodwell said Aquatic Flex had hired his pool to hold classes for women in the area with a high Muslim population.
'It's for women who want to be without any men there and, okay, a high proportion of them could be Muslim,' he told Daily Mail Australia on Friday.
'In western Sydney, there are a lot of Muslims here in this area, for sure.'
Instructor Fatme Taha said most of her clients were Muslim women who preferred to be segregated from men.
'For our community, for sure, yes, they don't like to get mixed with men,' she told Daily Mail Australia.
'Segregated, yes, especially in the water because coming out of the water the lady feels revealed and the clothes gets tight on her and she feels uncomfortable so they prefer not to have men watching what they do.'
Images of women in hijab swimming costumes have been posted on Facebook to promote the classes.
They show the women in black holding foam pool noodles as part of an aqua therapy session to help deal with back pain, which is running for the next 10 weeks.
In May, the council-run Auburn Ruth Everuss Aquatic Centre installed a retractable curtain around one of its three pools so women could swim privately during two set time slots on Wednesdays, infuriating many western Sydney residents who said it was like 'segregation'.
However Simon Rodwell, who runs his privately-operated pool in an industrial area of Condell Park with his wife Narelle, said there wasn't a backlash about the early afternoon women's-only sessions resuming next week.
'This is a private operation here. They're using it at times when we wouldn't be using it anyway,' he said.
http://www.dailymail.co.uk/news/article-4702748/Muslim-women-arrive-pool-Sydney-s-west-lesson.html
--------
UAQ cops save around 70 women from the clutches of cyber-extortionists
July 16, 2017
Umm Al Quwain:
The Umm Al Quwain police have saved around 70 women from the clutches of cyber-extortionists in the last eight months with the help of a new service called "Etmaen" which in English means "Reassure". Most of the women were Emiratis, followed by Arabs and were in the age group of 20-25.
Umm Al Quwian Police have warned citizens and residents against disclosing any personal information and bank account details to anyone online, or through misleading online advertisements.
With the launch of the confidential service Etmaen — hotline number 0569990855 — Umm Al Quwain Police were able to curb the menance of cybercrime to a large extent. Victims can call the service anonymously round-the-clock. The service is available in Arabic and English to protect the society from organised crimes,blackmailing and extortion. The service has handled 103 complaints from 70 women and 32 men, aged between 20 and 25, police said
"This service and the awareness campaigns organised by police in schools, colleges and universities have played a great role in the decreasing the number of cybercrimes during the last period
According to police investigations, cyber-blackmailers use various methods to get personal information and data from the victims. These methods include communication through social media and extracting information from mobile phone shops (who have sent in their devices for repair).
The types of extortion include financial, sexual and emotional, police added. Most of the blackmailers are men and they are outside the country.
One of the victims was a person holding Ph.D degree who videotaped himself in the nude and posted his indecent video to his young 'woman friend' who turned out to be a man, who then started blackmailing him.
Extortion cases
Umm Al Quwian Police hotline Etmaen 0569990855 received 103 complaints in eight months
70 women falling prey to cyber blackmail and they were saved by UAQ Police
Victims aged between 20-25
http://gulfnews.com/news/uae/crime/uaq-cops-save-around-70-women-from-the-clutches-of-cyber-extortionists-1.2059947
--------
URL: https://www.newageislam.com/islam-women-feminism/israeli-christian-man-allegedly-killed/d/111856
New Age Islam, Islam Online, Islamic Website, African Muslim News, Arab World News, South Asia News, Indian Muslim News, World Muslim News, Women in Islam, Islamic Feminism, Arab Women, Women In Arab, Islamophobia in America, Muslim Women in West, Islam Women and Feminism