New Age Islam News Bureau
7 Feb 2020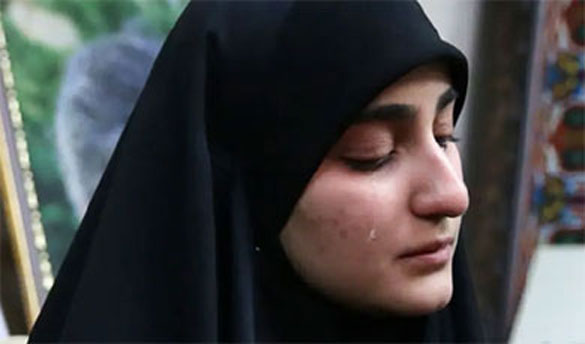 Zeinab Soleimani (photo credit: KHAMENEI.IR)
------
• Women's Rights Group Eliminates FGM in Kurdistan's Garmiyan Region
• Muslim Women Come Up With 'Mumbai Bagh' In Solidarity with Delhi's Shaheen Bagh
• Don't Want To Convert, Will Stay with Parents: Minor Pakistan Hindu Girl Retracted Her Earlier Statement
• Yemenite Leader: Houthis' Recruitment of Women Is A Ticking Time Bomb
• UAE Shooters Claim Two Silver Medals at Arab Women Sports Tournament
• Is The Law Banning 'Triple Talaq' A Move In The Right Direction?
• Muslim Women Condemn US Deal on Palestine
• On International Day Against FGM, Women's Organizations Condemn Practice In Egypt
• In A Threadbare Idlib Displacement Camp, Women's Dreams Shattered
Compiled By New Age Islam News Bureau
URL: https://www.newageislam.com/islam-women-feminism/islams-female-avenger-zeinab-soleimani/d/121005
--------
Zeinab Soleimani, Daughter Of Qasem Soleimani: Islam's Female Avenger is Now Rallying The Terrorists To Avenge Her Father's Death
February 6, 2020
Meet Zeinab Soleimani, daughter of Qasem Soleimani, commander of the Iranian Al-Quds Forces killed about a month ago by the Americans. His death sent shockwaves through Iran's leadership and proxies in the region, especially in Iraq and Lebanon. His daughter Zeinab is now rallying the terrorists to avenge her father's death.
Immediately after the assassination, Lebanon-based Hezbollah commander Hassan Nasrallah instructed his minions to murder any American officer or soldier to expedite the departure of US forces from the region in retaliation for the killing of Soleimani. For more on this see Kill Every American Soldier.
Despite their public outrage and attempts to kill Americans, Soleimani's avengers have accomplished nothing. We all saw how Iran's Supreme Leader Ali Khamenei wept when he learned that Soleimani was dead, saying that he was like a son to him. There is no doubt that the Iranian regime will seek to avenge the death of Soleimani, though they certainly do not want to be dragged into an all-out war.
Meet the daughter avenger
Zeinab Soleimani was named after the daughter of the first Shi'ite imam Ali and his wife Fatma (626-681 AD). Being the only granddaughter of the Prophet Mohammed, Ali's daughter Zeinab is regarded with great respect until this day by both Sunni and Shia Muslims. She is also known for her steadfast stance against oppression and injustice, and her courageous actions in battle, including protecting her nephew, the Imam Ali Ben Hussein, with her own body.
There is evidence that she even held lessons for women to study the Koran, still a radical concept in Islam. In Damascus and Cairo, mosques have been erected in Zeinab's name, and her burial site in Damascus is visited by Muslims from around the world.
The Iranian regime is now using Soleimani's daughter Zeinab to persuade terrorist organizations, both Sunni and Shi'ite, to carry out attacks against the United States. Their method is to play on the emotions of terrorist leaders because of her namesake Zeinab. The Iranians are making propaganda videos with Soleimani's daughter to stir terrorist groups in the region to take action against the US and Israel.
In a one-minute video clip, Zeinab Soleimani stands dressed in black with a weapon at her side declaring in a combative speech in fluent Arabic (not her mother tongue of Persian) for the entire Arab world:
"In the name of Almighty Allah, I address you my father's faithful not only in Iran, but in the Islamic world. I confess in my name and my family to all those on the frontlines of the resistance that will not be silent until the death of my father is avenged. My father who defended you, and all those who have been wronged, with his own blood."
She then turns to the United States and Israel and says:
"As for the Great Satan of the United States and Israel, you will know that my father left behind a thousand Qasem Soleimanis because you have made him victorious and his blood will lead us to the road to pray in Jerusalem."
Zainab finishes her speech with three words: "Time will tell."
No rest for the wicked
Zeinab is not resting for a moment in calling for revenge for her father's death. She visited Akram Al-Kaabi, leader of the Al-Najaba militia to take her father's revenge to Iraq. Al-Najaba is an Iraqi Shi'ite terrorist organization funded by Iran and carrying the banner of Iranian ideology. In the video, Zeinab is seen crying and calling for revenge for her father. With tears in her eyes she says, "I am waiting for the response of Iraq." Al-Kaabi in response says to Allah, "You will soon hear about our revenge."
محمد مجيد الأحوازي
✔
@MohamadAhwaze
زينب سليماني تتوسل بأكرم الكعبي زعيم مليشيا النجباء بأخذ ثار ابوها بالعراق وأكرم الكعبي يرد ، تم .. سننفذ طلبك.!
Embedded video
1,423
7:05 AM - Jan 31, 2020
Twitter Ads info and privacy
958 people are talking about this
Zainab has already been sent to Lebanon, where she met Hezbollah leader Nasrallah and asked him, because of his long-time friendship with her father, to avenge Soleimani's death. In a short video chronicling this meeting, it was only possible to hear a few words from Nasrallah: "Allah will arise, and the Almighty will give the jihad (holy war) and shahid (martyrdom), which is the most beautiful thing."
Islam must have revenge
Blood vengeance is a fierce and popular necessity in Islam, and there are those who believe that the soul of the murdered man does not find rest until the family has avenged his blood. Zeinab Soleimani is now leading this cause and being funded and used by the Iranian regime to promote her father's bloody agenda.
The Iranians would like to hurt the United States without getting into a direct confrontation, and for this they have trained and armed their militias in Syria, Lebanon and Iraq. It's still not clear when they will strike and who will be hurt, including Israel. It is likely, however, to be the Americans at a US Embassy or an American personality either in Lebanon or Europe or North America. Israel and the threat of IDF retaliation may be too close to home for the Iranians to risk attacking.
https://www.israeltoday.co.il/read/zeinab-soleimani-islams-female-avenger/
--------
Women's Rights Group Eliminates FGM in Kurdistan's Garmiyan Region
February 7, 2020
ERBIL (Kurdistan 24) – On Thursday, the International Day of Zero Tolerance for Female Genital Mutilation (FGM), a women's rights group active in the Kurdistan Region has announced that FGM has been eliminated in the Garmiyan Administration.
Garmiyan is an unofficial province in the Kurdistan Region that includes the three districts of Kalar, Kifri, and Chamchamal. FGM, however, still remains a serious problem throughout most of the Kurdistan Region and other parts of Iraq.
WADI, the organization campaigning against the practice, announced that after a 15-year campaign, no new cases of FGM were recorded in Garmiyan in the past year.
"This historic moment will be celebrated on February 6, the world-wide day against FGM, in the capital of Garmiyan," WADI said in a press statement.
"The whole campaign started in 2004 in Garmiyan and mainly because of hard work and awareness-raising, attitudes there changed," WADI official Thomas von der Osten-Sacken told Kurdistan 24.
However, he added that in some regions near Erbil and Rania there are still FGM cases being recorded. "Although it is declining everywhere, luckily. Including in Halabja. But this relates [the decline] a lot what is done against it."
From its offices in Sulaimani, workers from WADI have tirelessly worked with residents, authorities, and religious leaders that have been willing to speak to them. They have also made hundreds of trips to rural areas where FGM is most common to speak to villagers and give classes and presentations to educate women and local officials on the grave emotional trauma and serious health risks it poses.
Over time, this multi-pronged attack has proved to be a strategy that has worked. Aside from the local effects of their constant advocacy, the group's efforts have also brought much greater international attention to FGM occurring outside of Africa and were crucial to the process that led to the Kurdistan Regional Government (KRG) passing a law in 2012 that banned it.
"So in other regions, it still exists. Much more has to be done, and if work stops in Garmiyan, it could start there again. In Kirkuk and the rest of Iraq it is also a huge problem," said von der Osten-Sacken.
"There has not been a single day during the last 15 years, when our teams did not visit a village in Garmiyan," Shokh Mohammed, a team organizer in WADI's main office in Sulaimani, was quoted as saying in the press statement.
She continued, "Effects of any campaign will only show in the next generation. If you educate women today they may be shocked of what they did to their daughters, but they will have forgotten when their daughters have children."
According to the United Nations Population Fund (UNFPA), about 10 percent of girls aged under 14 were likely "cut" in 2018, the average age of cutting being five years old.
Some Islamic clerics supported the WADI campaign. "But in fact, I would say 75 percent of them are not happy with it and the government claims it could do a lot, but in fact could do a lot more," WADI director Thomas von der Osten-Sacken told Kurdistan 24.
But he added that "Kurdistan could be an example for the whole region how to combat this if this task would really be taken seriously by everyone."
On the International Day of Zero Tolerance for FGM, the UNFPA and UN Women called in a press release on the relevant authorities in Iraq, especially the Kurdistan Region of Iraq, "to work together to end FGM through the implementation of the Female Genital Mutilation (FGM) Communication for Behavioural Impact (COMBI) plan."
The Family Violence Law, referred to sometimes as "Law Number 8," went into effect in August 2011 and included several provisions aimed at eradicating FGM, as well as addressing other issues such as domestic violence. Humans rights organizations universally hailed the law's passage, but have since often complained that the KRG has not adequately enforced it.
As Human Rights Watch found in field research conducted a year after the Family Violence Law was passed, an unfortunate side-effect of criminalizing FGM is that it has caused families and those continuing to practice it, often midwives, to hide it more than they had before. This has made it more difficult to collect reliable data on how pervasive it still really is.
https://www.kurdistan24.net/en/news/71cd1185-e64e-47ee-8c3c-48db9dd126a3
--------
Muslim Women Come Up With 'Mumbai Bagh' In Solidarity with Delhi's Shaheen Bagh
HAIMA DESHPANDE
7 February, 2020
Mumbai: The sea of women in black cannot be missed. Seated on a half-a-kilometre stretch of Morland Road in Nagpada are hundreds of burqa-clad Muslim women protesting against the Citizenship Amendment Act (CAA) and the National Register of Citizens (NRC). This bustling part of the metropolis located in central Mumbai is home to a Muslim majority, whose women are sitting in protest on an under-construction road. The protesters have given the area a new name — Mumbai Bagh — in solidarity with the women protesting against CAA-NRC in Delhi's Shaheen Bagh.
The atmosphere is jovial. The sense of camaraderie is overwhelming. These women have been protesting for the last 11 days and seem to be in no mood to relent anytime soon. The spark lit by 15 women who stretched out a bedsheet on Morland Road at 10 pm on 26 January and sat on it, signalling the beginning of the protest, has now turned into a fire. It is focussed on pressurising the Narendra Modi-led central government to withdraw the CAA and stop implementation of the NRC.
The 2,000-odd women who protest at the site in shifts devised according to the needs of their families are from Nagpada, Agripada, Madanpura and other places close by. Lending support to the protest are other women from all walks of life and cutting across the religious divide.
'Want Ambedkar's law back'
Eighty-year-old Kulsum has been a regular at the protest site for the beginning. After finishing her household chores, she reaches the site at noon and sits with the women until 10 pm. She goes back home and is back the next day. Standing 5 feet tall, Kulsum's feet, unused to the stress of long-distance walking and sitting for extended periods — are swollen. But she hasn't given up. "I want Ambedkar's law back, not this new law. I fear for the future generations of my family," said Kulsum.
Some distance away, sit Khairunissa (70) and Kamrunissa (85) wearing white caps with anti-CAA-NRC slogans holding on to the Tricolour. They too have been sitting in protest since 26 January. Previously unknown to each other, they struck up a friendship on the protest mat. "I have lived my life in India. I am here for my children. They should not be thrown out of their own country," said Kamrunissa.
The protesting women have among themselves planned their vigil timetable ensuring that the site always has at least 400-500 women at any given time. The schedule has been worked around the water supply schedule in the area, children's school hours, cooking and household responsibilities. A majority of them cook only once a day so they can reach the protest site well in time to relieve those who need to go home. They confess the support their families gives them the strength to carry on.
Both sides of Morland Road are lined with shops selling a variety of wares. The shopkeepers ensure the women are safe and protected, though their presence on the road is an inconvenience to business. The hotels abounding Nagpada and its surrounding areas provide a continuous flow of packed food and drinking water to the women as a voluntary service.
The police posse in the area keeps a strict vigil on those entering the venue. They have barricaded the venue and collected the name and contact details of everyone including those who live in the apartment blocks on Morland Road. A policeman in plainclothes also shoots video of the whole proceedings.
When this reporter visited the area, policewomen posted at the barricaded entrance of Morland Road could be seen refusing to let women residents living on both sides of the road enter their apartment blocks. Though several women pleaded to be allowed to go to their houses, the policewomen continued to act tough, followed by frayed tempers and arguments. "The police are trying to anger the residents of the area by not allowing them into their houses. This way the residents will get angry at the protesters and demand that they move out," said a shopowner.
'Pressure from local leaders' to stop helping protesters
According to one of the shopkeepers, local leaders belonging to various political parties are pressurising them to stop helping the protesters. "They are threatening to make the police file cases against us. Our sisters are protesting for us. Their success is our success," said the shopkeeper, who did not wish to be named.
Mehr Ansari (33), a fashion designer and beautician, is a volunteer at the site. "We will not vacate this site until the Maharashtra government does not pass a resolution that CAA and NRC will not be implemented in Maharashtra. We want legislative assurances not mere words," she said.
"Our sisters at Shaheen Bagh give us strength. They have been fired at but they have not moved. We will be here until the Shaheen Bagh sisters do not call off their protest," said Mehr.
A team of women volunteers are present round the clock and keep a lookout for medical emergencies.
"This protest has helped the Muslim community come together among themselves and with the non-Muslims," said Juveriya Khan (20), a medical student from Badlupura in Nagpada.
She goes home for an hour every day to freshen up and even sleeps at the site with the night protesters. "I started researching the speeches of the Home Minister and Modiji after the Shaheen Bagh protest started. Why is Modiji not revealing the truth? We are also a part of this country. So, why is Modiji not worried about our community?" Juveriya asked.
She said her support to the protest is for the implementation of "that Article in the Constitution which grants us all equality". It is also an inner anger that is fuelling the fire of the protesters.
According to social activist Feroze Mithiborwala, a Mumbai Bagh Committee comprising some local politicians and Muslim maulvis has been set up by those who planned this women's protest. "There are no women in this committee. The women are not consulted but only told what to do," said Mithiborwala.
"Anger is building up against the committee as the women do not want these leaders to compromise their protest," said Mithiborwala.
The entire area is dotted with the national flag of India. Photographs of Ambedkar, Chhatrapati Shivaji, Mahatma Gandhi and Savitribai Phule are also prominently displayed at strategic points.
According to the volunteers, over three-fourths of the protesting women are educated who speak English. They belong to well-to-do families or are working professionals. The melange consists of homemakers, management graduates, software professionals, self-employed professionals, financial consultants, marketing executives etc., all trying to make the protest a success.
The protesters are clued in to the latest happenings across the country pertaining to anti-CAA and anti-NRC protests. Most of them have started reading the political pages in newspapers, something they had not done before. "We had left politics to the men in the family, thinking it will not affect us. Today, the fear of being thrown out of my own country because I am a Muslim has made me read and understand the politics printed in the newspapers," said Nazia (35), a financial consultant with a multi-national company.
Like her, there are many who have fine-tuned their understanding of not just politics but also their own status as Muslims. "Woh todenge, hum jodenge (they will break, we will unite)" is the slogan that rents the air. At a far corner, a non-Muslim girl is teaching guided meditation to a group of protesters to help them get over stress.
Anger against local politicians
Mithiborwala and his team of volunteers from the areas surrounding Nagpada keep the women "protected" from the political manoeuvres of the local politicians. These politicians have tried to manipulate the protesters through intimidation. "They tell the women that the police will file cases against them if they do not call off the protest. For many of them, the longest distance they have travelled is to the local market from their homes," said Mithiborwala. "They are very strong and are rooted to the spot. They make sure that the numbers here are always large so that the police cannot manhandle them or move them out."
The male volunteers at Mumbai Bagh call themselves "malis" or "baghbans".
The police have denied permission to put up a large tent in the area or use megaphones. When it gets too hot under the sun, the women move into shady areas but do not leave the venue.
https://theprint.in/india/muslim-women-come-up-with-mumbai-bagh-in-solidarity-with-delhis-shaheen-bagh/361278/
--------
Don't Want To Convert, Will Stay with Parents: Minor Pakistan Hindu Girl Retracted Her Earlier Statement
Feb 7, 2020
AMRITSAR: Pakistan's 15-year-old Hindu girl Mehak on Thursday retracted her earlier statement and told a local court that she neither wanted to live with the Muslim man Ali Raza Machi, whom she had married, nor she wanted to embrace Islam. She pleaded to be sent back to her parents' house and be allowed to practise Hinduism.
Mehak's counsel Rajesh Naraindas Kapoor told TOI over phone from Pakistan that Jacobabad's second additional judge Gulam Ali Kansaro recorded her statement in his chamber "since a large number of maulvis were present inside and outside the court".
After appearing in the court on Thursday, he said Mehak told the court that it was by mistake that she had recorded her earlier statement in the court on January 21, wherein she had stated that she had embraced the Islam and married Ali Raza out of her own will.
"Mehak told the court she didn't embrace Islam and she didn't want to live with Raza. She said she wanted to go to her parents' house and practice their religion," said Kapoor. The lawyer claimed she and her family were facing threats when she had recorded her statement on January 21.
Daughter of one Vijay Kumar, who lives and runs a medical store in Jacobabad town in Sindh province of Pakistan, the girl was reportedly abducted on January 15.
She was allegedly forcibly married to Raza, which sparked outrage among the Hindu community. Various liberal Muslim groups too had joined the minority community in taking out a protest march demanding restoration of the girl to her parents.
On the court's order, Mehak's ossification test was carried out, which determined her age to be only 15 years and eight months. Kapoor said she was was sent back to Dar-ul-Aman in Larkana and the court would give its verdict in the matter on Friday.
He said the court had also video recorded the girl's statement to avoid any confusion in future.
https://timesofindia.indiatimes.com/city/amritsar/dont-want-to-convert-will-stay-with-parents-minor-pakistan-hindu-girl/articleshow/73996972.cms
--------
Yemenite Leader: Houthis' Recruitment of Women Is A Ticking Time Bomb
FEBRUARY 7, 2020
In past decades, Yemeni women were treated with honor and respect by society, which gave them a special status and criminalized all forms of aggression against them. This made their use in acts of violence, including wars and political conflicts, a mark of shame under Yemen's norms.
This was the case until the coup by the Iranian-backed Houthis in 2014. At that point, all Yemeni values, customs, norms and traditions were disregarded, causing the displacement of more than 2 million women and resulting in all forms of crimes and violations against women in areas controlled by Houthis.
A number of human rights organizations have documented these crimes. The most significant is the report of the Yemeni Organization to Combat Human Trafficking, which revealed that Houthis had turned villas and houses in the capital Sanaa into brutal prisons for Yemeni women.
The number of women abducted and forcibly disappeared has reached more than 160. These women have been subjected to brutal torture and tragic conditions as a result of physical and sexual assaults. Many have suffered injuries and physical disabilities. Some have suffered psychologically and have attempted suicide.
In addition, the Yemeni Coalition to Monitor Human Rights Violations (Rasd Coalition) said in its recent report that it documented 455 cases of torture committed by the Houthi militia against Yemeni women from September 2014 to December 2018, adding that 170 females died from this torture, including nine children and six elderly people.
The Netherlands-based Human Rights Radar announced in a recent report that it had monitored the abduction of more than 35 girls and female students from the streets of Sanaa. In some cases, it accused militia leaders of involving narcotics in the abductions order to pressure the victims' families. Sources talk about dozens of abductions that parents did not report out of fear of stigma and scandal.
The crimes perpetrated by armed Houthis against Yemeni women have been limitless. The Iranian-backed militia recently carried out a systematic campaign of using schools to attract and recruit girls, with the aim of enrolling them in armed formations ("Zinabiyat") and using them in hostilities.
The Houthis have used their Zinabiyat elements – terrorist formations designated for the oppression of women – in cooperation with a number of principals and deputy principals. They ordered the educators to carry out field tours aimed at attracting girls by exploiting the poverty of their families amid promises of cash payments and food aid. The girls were taken to special centers for what are called "cultural courses," where they were exposed to brainwashing, and then taken for military training in the use of light and medium weapons.
This serious step is part of the Houthis' endeavors to use women in terrorist operations and espionage missions at women's gatherings, and to suppress protests.
The program is now aimed at schoolgirls, consequently targeting future generations that will surely fall victim to this extremist, terrorist ideology, a culture of hatred toward the "other" that uses catchy slogans such as "Death to America" and is imported from Iran and ingrained into the minds of tomorrow's mothers.
Let's not forget that the region and the world are still paying the bill for the extremist ideology of the Khomeini revolution of 1979.
In the face of these terrorist practices, the world community, the United Nations and international organizations concerned about women's rights and combating violence against women, as well as all human rights activists and free people everywhere, have a historical and moral responsibility to condemn these criminal practices in areas controlled by the Houthis.
There should be an investigation of private and informal detention facilities, with the immediate release of all female detainees. The perpetrators among the Houthi leaders should be brought to the International Criminal Court as war criminals and perpetrators of crimes against humanity.
There should be safe channels, such as hotlines, to report abductions. The fate of the abductees should be followed up. Victims should be provided with protection, psychological support and rehabilitation programs, and the militia should be pressed to refrain from using women in hostilities and combat.
The continued silence of the international community regarding terrorist practices such as killings, bombings and sniping; efforts aimed at demoralizing the population; house raids, repression and abuse; abductions, detention and forced disappearances; psychological and physical torture; harassment, violence and the sexual exploitation of female detainees; the shaving of female travelers at checkpoints; and the bullying and brainwashing of children, youths and women in Houthi-controlled areas cannot be justified.
The effect of these practices will not stop at the borders of Yemen. It is a time bomb, and everyone will pay a heavy price if it is not addressed. This is what happened with the other terrorist organizations such as al-Qaida and Islamic State, as well as Lebanon's Hizbullah and the Popular Mobilization Forces in Iraq.
The recruiting of girls and women by the Houthi militia is a most serious practice. These are sisters, wives and mothers. The effects will not be limited to them, but will extend to the rest of the family and to future generations as well.
https://www.jpost.com/Middle-East/Houthis-recruitment-of-women-is-a-ticking-time-bomb-616815
--------
UAE shooters claim two silver medals at Arab Women Sports Tournament
February 06, 2020
Sharjah: UAE shooters bagged two silver medals on Wednesday at the fifth edition of the Arab Women Sports Tournament (AWST) securing the second position in both 10m air pistol team and individual competitions.
Organised by Sharjah Women's Sports (SWS), the fourth day of the tournament witnessed intense competitions in shooting, volleyball and basketball.
Omani shooters - Wadha Al Balushia, Suhair Al Jahmania, and Houryea Al Yahyaiah – scored an impressive 1,651 points to clinch the gold medal in the 10m air pistol team competition.
The UAE shooting team consisting of Wafa Al Ali, Salwa Al Dhari, and Safa Al Hashimi, came in the second place with 1,622 points, earning them the silver medal. Bahrain claimed the bronze with 1,621 points.
In the 10m air pistol individual competitions, Bahraini shooter Moza Ali bagged the gold with her impressive 235.2 points. The silver medal went to UAE's Wafa Al Ali who accumulated 229.2 points, while Omani Wadha Al Balushia bagged the bronze with 208.9 points at the end of the competition.
In the basketball competition, Jordan's Fuheis Youth Club lost to Sporting of Egypt 69-56. Alergia's Le Groupement Sportif des Petroliers overcame Saudi Arabia's Elite Athletes Club 78-54.
Le Groupement Sportif des Petroliers Club also win on the volleyball court, defeating the UAE's Al Wasl 25-12, 25-16, 25-9.
https://gulfnews.com/sport/uae-sport/uae-shooters-claim-two-silver-medals-at-arab-women-sports-tournament-1.1580996623199
--------
Is the law banning 'Triple Talaq' a move in the right direction?
February 6, 2020
Shikha Purohit
Last year, the Indian Parliament enacted a law banning instant Triple Talaq which was termed as historic by the government. It was celebrated as a giant move towards equality for Muslim women claiming that it ended inequality and indignity perpetrated against them by male authoritarianism. But does the law actually serve the purpose it was enacted for?
The answer is an emphatic 'No'. In the journey towards ensuring equal rights for women, this law is a move in the wrong direction. It is an archaic law which focuses primarily on protecting marriage for protecting the rights of women. Whereas the truth is that several times, and in cases involving instant Triple Talaq most of the times, marriage works as an instrumentality for inflicting discrimination against women. The law is based solely on the notion that women's rights can be ensured only by preserving the wedlock she is tied in, however detrimental it may be to her life and personality.
Continuance of a marital relationship devoid of affection and mutual respect harms a woman many times more than its unusual disruption. A man who arbitrarily and unilaterally breaks a marriage simply by pronouncing three words of Talaq for reasons ranging from some ridiculous ones like not cooking proper food to some despicable ones like giving birth to a girl child, clearly has no respect for his wife and to force her to remain in a wedlock with him in violation of her dignity. But still, women are reluctant to move out of such disgraceful relationship as they fear the financial insecurity and lack of societal support which usually flow from it. While men easily come out of a relation without any stigma attached to them, on the other hand, women have to undergo a hefty emotional and psychological trauma.
Only a law addressing the underlying factors forcing women to continue in such marriages can suffice the purpose of achieving equality for Muslim women. Unfortunately, the present law fails on this count. Equality cannot be attained merely by prohibiting Talaq-e-Biddat. To get it we need a law which provides for equal rights of divorce to Muslim women. Instead of criminalizing triple talaq the government should have amended the Muslim Women Divorce Act, 1939 and provided that pronouncement of Talaq in one breath without following the Quranic procedure of reconciliation would amount to cruelty and the wife would have the right to seek divorce on this ground. Such provision would have laid the choice in wife's hand either to condone her husband's act or to take judicial recourse to get rid of him.
https://timesofindia.indiatimes.com/blogs/igniting-flame-of-truth/is-the-law-banning-triple-talaq-a-move-in-the-right-direction/
--------
Muslim Women Condemn US Deal on Palestine
FEBRUARY 7, 2020
The International Muslim Women Union, IMWU has condemned the deal that seeks to eliminate the part of State of Palestine and abort the right of ownership to the Palestinians, describing the deal as a blatant and malicious conspiracy. The group also called on all Palestinian parties, the international community, the Arab and Muslim states, to take a unified and courageous stand and to exert maximum pressure to ensure the plot never sees the light of the day.
In a statement signed by Hajia Sherifah Yusuf-Ajibade, a Trustee of the union said, "With greater intransigence and arrogance, the attacks on the State of Palestine, its land, its people and its holy places, continues before the eyes of the world rulers, people, international organizations, human rights and civil society. "What was yesterday an idea, became today an ominous plan, a deal of shame, arranged between an occupying party and an authoritarian state that imposes its hegemony on the world and the people, flouting all international norms and conventions and overcoming the first rights of peoples, namely, the right to self-determination.
"Hence, in the face of Trump's provocation, his disregard of the usurped rights of the Palestinian people, and in the face of this shameful silence or the timid voices of some Arab and Islamic organizations towards the issue of the century, the cause of the Arab and Muslim nation, the International Muslim Women Union, with all its branches and regional offices, raises its voice against this blatant conspiracy that seeks to completely eliminate the rest of the State of Palestine through its fragmentation, the confiscation of the rights of its people, their lands and their capital, and the denial of the right of the Palestinian diaspora to return to their homeland, and to finally abort the entire Palestinian cause. "We, therefore, call first on all Palestinian parties to be unified in the face of this malicious conspiracy, and we call on the international community, the Arab and Muslim states, to take a unified and courageous stand and to exert maximum pressure so that this plot never sees the light. "The International Muslim Women Union warns against the repercussions of the deal on the fate of the Palestinian people and on the future of the Arab and Muslim World. Ceding legitimate rights would generate more compromises, more cynicism and arrogance. "It is a shame for every Arab and Muslim country to go through this deal of shame. It is a shame for all those who let go of the first Qiblah, the land of Israa' and maaraj, and the land of prophets and blessings. "Palestine is crying out to you today and the history is recording. Say no to Trump's ill-fated plan. Say no to the deal of shame. Palestine is not for sale, Palestine is Arab and it will remain Arab with Jerusalem as its capital God, we've spoken up. God, be our witness," the group said.
https://www.vanguardngr.com/2020/02/muslim-women-condemn-us-deal-on-palestine/
--------
On International Day Against FGM, Women's Organizations Condemn Practice In Egypt
February 7, 2020
Under the slogan "Circumcision is a burial ground," a number of women's and human rights organizations have launched campaigns against female circumcision in Egypt on the International Day of Zero Tolerance for Female Genital Mutilation, which falls on February 6 of each year, amid international outcry over the death of a 12-year-old girl who underwent the procedure last week in Assiut.
Plan International Egypt strongly condemned the practice of female circumcision, said Mudassir Siddiqui, director of Plan International Egypt for children's rights, who stressed that FGM is a "harmful" and "violent" practice against girls that must be eliminated.
Female genital mutilation, sometimes referred to as female circumcision, is a painful procedure that usually involves removing the clitoris and sometimes includes removing other external female genital organs as well. The practice causes permanent injuries and bleeding, infection, and even death, Siddiqui added.
Egypt has one of the highest rates of female genital mutilation in the world, according to a statement from Tadwein Gender Research and Training Center.
On Thursday, The Women's Center for Guidance and Legal Awareness organized a workshop aimed at raising awareness about the dangers of FGM. Twenty-five activists from different governorates across Egypt took part in the event, which covered the medical, social and psychological harm brought on by female circumcision.
The National Council for Women also organized a panel discussion on circumcision aimed at educating women in the Asmarat neighborhood and other working-class areas, including Al Marg and Kilo 4.5, about the dangers of the practice, which is common in other countries in Africa.
The National Committee of the Eradication of FGM confirmed its complete rejection of the practice as well, adding in a statement it would continue fighting it.
"Cooperation between all members of the National Committee resulted in the organization of more than 700 events, which succeeded in reaching nearly 20 million women, girls, men and children in villages…in the governorates over a period of nine months," the statement read.
A children's helpline for reporting FGM received 1,589 consultations, complaints and reports on female circumcision over the nine-month period, the National Committee's statement added.
For its part, The Center for Egyptian Women Legal Assistance called for expanding the scope of legal responsibility to include hospitals and medical facilities where female genital mutilation is performed, as well as expanding the powers of medical unions to revoke licenses of doctors and medical staff who perform female circumcision.
Earlier this week, the President of Egypt's National Council for Women (NCW), Maya Morsi, called on Egypt's Endowments Ministry to unify Friday sermons at mosques across the country to raise awareness about female genital mutilation and ensure the public understands that it is not an Islamic practice, in response to the death of the 12-year-old girl in a clinic in Assiut Governorate.
The girl bled to death after her parents, aunt, and uncle took her in for the procedure, reported the The Guardian, and a forensic investigation also revealed that the procedure was done without anesthesia, according to Egyptian newspaper Youm7.
The United Nations in Egypt condemned the incident in a statement last Friday: "We are outraged that such senseless deaths still occur in 2020, despite progress made to eradicate this violent practice in terms of law reform, awareness raising, as well as direct engagement with local communities and religious leaders."
The doctor who performed the operation and the girl's father were arrested, and the clinic was placed under security watch. However, the victim's parents and her aunt were released on Saturday.
In 2008, Egypt's Parliament approved a law banning FGM, a practice widespread in Egypt and other parts of Africa and believed by many to be a way to control female sexuality. The move was opposed by conservative voices at the time.
A 2015 government survey found that 87% percent of all Egyptian women between 15 and 49 years of age have been subjected to genital cutting despite efforts by the Egyptian government to curb the practice, which some believe is necessary for girls to demonstrate their sexual purity, according to a report from The Associated Press.
In December 2016, an Egyptian criminal court sentenced two doctors and the mother of a 17-year-old girl who died after undergoing FGM to one year suspended sentence each, with the verdict drawing a wave of criticism from women's rights activists, according to the same report.
That same year, Parliament adopted amendments to the anti-FGM law, redefining FGM from a misdemeanor to a felony, but some activists say the law contains loopholes that allow the cutting of female genital organs in cases where there are so-called "medical" justifications for the operation, which has helped the practice to continue.
https://egyptindependent.com/on-international-day-against-fgm-womens-organizations-condemn-practice-in-egypt/
--------
In A Threadbare Idlib Displacement Camp, Women's Dreams Shattered
6 February 2020
Nadia's daily existence is one hemmed in by the confines of a makeshift tent she shares with seven other family members.
She, her husband, their children, her sister and four nieces and nephews fled their hometown of Saraqeb in southern Idlib province one month ago to seek safety from increased Syrian and Russian bombardment.
The family ended up in Sarmada, a town in northern Idlib just a short drive from the Turkish border, and home to informal displacement camps.
Without money to pay rent for a house, they ended up in one of the nearby camps. Nadia's husband soon left for Turkey in search of work, leaving his wife and sister-in-law to care for the six young children. With no income of her own, 25-year-old Nadia feels trapped.
On one bitter day in late January, the family members huddled inside their tent, which sits in an already crowded camp.
There is little for them in Sarmada.
"It's impossible to feel comfortable here," Nadia told MEE, sheltering from the cold. Her children shouted over her as she spoke.
"It is very loud here, and there aren't any bathrooms or other facilities."
Nadia and her sister, Khadija, whose husband was killed in a bombing in December, said they dream of living in a real house again.
Nadia only lived that dream for a month before she was forced to flee north - the house that she and her husband had spent years saving to build was finally completed late last year.
They were displaced just one month later.
"This tent is now my entire existence," Nadia said.
Nowhere else to go
Idlib is in the midst of its most devastating displacement crisis yet. A ramped-up offensive by pro-government forces is sending remaining residents fleeing their homes by the hundreds of thousands, and leaving behind ghost towns decimated by bombs.
Those now eking out a life in the towns and underserved makeshift camps along Syria's northwestern border with Turkey are overwhelmingly women and children, according to the United Nations and local camp administrators.
In a press briefing on Monday, Stephane Dujarric, spokesman for the UN secretary-general, said women and children make up about 80 percent of those displaced since the most recent bout of bombardment started in December.
Some 37,000 of those who fled in January are children, according to UK-based charity Save the Children.
In Sarmada, where Nadia and her family are surviving in their makeshift tent, local displacement camp administrator Mohammed al-Sheikh told MEE that of the 170 families living there, 40 are headed by widows or single mothers. Nearly half of them arrived at the informal camp since the beginning of February.
They are among the more than half a million people to flee their homes in the past two months, seeking safety from the assault, according to the latest UN count.
That number is likely to rise as pro-government forces continue to advance on Idlib's southern countryside, pummelling its towns and villages with air strikes and artillery fire. Nearly 200 people were killed in January, according to local media group Macro Media Center.
Syria's northwestern Idlib province, as well as rural parts of neighbouring Latakia and Aleppo, makes up the last major enclave of rebel-held territory in the country following years of military victories by forces loyal to Damascus. The area is largely controlled by hardline Islamist group Hay'at Tahrir al-Sham.
For years, Idlib has been the final endpoint for hundreds of thousands of Syrians coercively displaced from Aleppo, rural Damascus and elsewhere, as government forces, backed by Russia, seize pocket after pocket of rebel control in deadly succession.
The pattern: siege, bombardment, then convoys of buses dispatched to send remaining civilians and fighters to the country's rebel-held northwest.
But with only Idlib remaining, there is nowhere else to go. Some three million people are now living in the area, roughly half of them displaced from elsewhere in Syria, with hundreds of thousands of them huddled along the province's border with Turkey, seeking shelter in rented homes and informal encampments.
The bombardment has only intensified in recent weeks, as pro-government forces, backed by Russian airpower, vie to seize towns along a pair of strategic highways that cross Idlib.
Last week, government forces retook Maaret al-Numan, a strategic town, also cutting parts of the M5 highway that connect Aleppo to Damascus.
The result has been devastating for residents living along the frontlines. Lines of cars, trucks and farm tractors piled high with any personal belongings that can fit have trailed out of southern Idlib province for weeks amid the escalation, as remaining residents flee.
In one video posted to Twitter on Tuesday night, a street in Idlib province appeared clogged to near standstill with traffic as vehicles streamed out.
Matriarchs
Among those who have recently fled are women who have left their homes on their own and are now fending for themselves along the Turkish border.
Any work opportunities for them are scarce, with one woman telling MEE she simply sells dried herbs for money.
Umm Fouad is doing what she can to raise her 13-year-old daughter and 10-year-old son in the makeshift camp outside Sarmada, near Nadia's tent.
On one January day, she sat and chatted with other women as they gathered plastic chairs on the dirt floor.
A pile of fleece blankets sat bunched in the corner; there was no heater. She has been on her own, she said, since her husband left her to marry another woman. A year later, an air strike on her hometown of Khan Sheikhoun tore off her leg.
After a neighbour helped transport her and her children north, she now lives in Sarmada, with a prosthetic leg provided to her for free by a nurse.
Umm Fouad cannot easily walk, and has yet to find a source of income. She relies on donations to feed herself and her children in the camp.
Her dream, she said, is simply to return to Khan Sheikhoun, "where all my memories are".
Return, however, is an unlikely prospect for now - the city has been under government control since its recapture by Assad's forces last summer. It was left a ghost town, with many of its buildings flattened.
Near Umm Fouad's tent in Sarmada, 43-year-old Sanaa also dreams of going home. Her house sits in Hass, a town in rural southern Idlib province that has been the target of heavy bombing.
One recent bombing killed her youngest daughter, and critically wounded her husband, who now uses a wheelchair due to his shrapnel wounds.
With few options for work other than manual labour, Sanaa and her husband send their 15-year-old son to work in a car repair shop, where he earns $1 per day.
"Displacement is hard on anyone," Sanaa told MEE in her tent inside the camp. "But for women, when she's running things along without a husband, it's an extra burden - a social burden, and a responsibility to care for the children all alone.
"I just want to go back home, and watch my children play in the garden like they used to."
https://www.middleeasteye.net/news/threadbare-idlib-displacement-camp-womens-dreams-shattered
--------
URL: https://www.newageislam.com/islam-women-feminism/islams-female-avenger-zeinab-soleimani/d/121005
New Age Islam, Islam Online, Islamic Website, African Muslim News, Arab World News, South Asia News, Indian Muslim News, World Muslim News, Women in Islam, Islamic Feminism, Arab Women, Women In Arab, Islamophobia in America, Muslim Women in West, Islam Women and Feminism