New Age Islam News Bureau
14 Sept 2018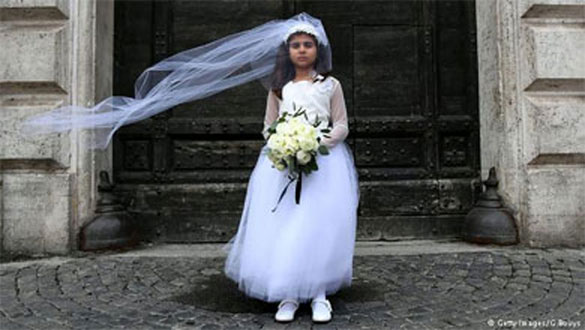 Girls in rural Iran are often forced into marriage at a young age. Protected under Iranian law, the practice is leading to broken families and a generation of children lacking prospects or perspective.
------
• Underage Marriages of 2,250 Girl Children Just In Khuzestan Province of Iran
• Saudi Women Passport Officers: We Have a Sense of Great Responsibility
• PAS VP Says Risky For Women to Share Loos with Transgenders
• '98 Per Cent Pakistani Women Unaware of Using Emergency Help-lines'
• Empowering Women to Empower a 'New' Pakistan
• Bahrain Making Big Strides in Women's Empowerment
• Morocco Introduces Law to Combat Violence against Women
Compiled by New Age Islam News Bureau
URL: https://www.newageislam.com/islam-women-feminism/islamist-opposition-partys-womens-wing/d/116377
--------
Islamist Opposition Party's Women's Wing Warns Pakatan Supporters Not to Question Islam
14 September 2018
KUALA LUMPUR, Sept 14 — Muslims have become increasingly anxious as people started openly questioning Islam, the royalty, Bumiputera privileges, and the national language after Pakatan Harapan (PH) formed government, PAS Muslimat chief Nuridah Mohd Salleh claimed today.
The head of the Islamist Opposition party's women's wing reminded all Malaysians, especially PH supporters, that harmony in diversity must be carefully protected, especially by not casting aside constitutional protections on the position of Islam.
"Don't try to challenge the tolerance of Malay-Muslims that has lasted all this while," Nuridah said in a speech at PAS Muslimat's 58th muktamar in Kuala Terengganu that was broadcast live on Facebook.
"This unique tolerance to share power with other ethnic groups harmoniously is not found in other countries in the world."
The Federal Constitution states that Islam is the religion of the federation.
Nuridah, who failed to win the Sungai Buloh federal seat in the 2018 general election, said after PH took power, "Malaysia Baharu" saw issues like underage marriage, feminism and lesbian, gay, bisexual, transgender and queer (LGBTQ), and the right of Muslim women to cover their "Aurat".
"The issues of underage marriage, abuse of children at child care centres, demands by feminism and LGBT, and the right of Muslim women to cover their Aurat have been bandied about in the mainstream media, electronic media and social media," she said.
A recent case of a 41-year-old Kelantanese man taking an 11-year-old Thai girl as his third wife had dominated the news cycle for weeks. The removal of portraits of LGBTQ activists from a public photography exhibition in Penang and the assault of a trans woman in Negri Sembilan had also sparked public uproar.
Nuridah complained today that the PH government frequently cast blame on PAS or the previous Barisan Nasional (BN) administration.
"We want to advise the PH government ― stop blaming other parties. The rakyat wants them to focus on improving lives and protecting the people's welfare, especially the disenfranchised," she said.
She pointed out that the cost of living has not gone down after the unpopular Goods and Services Tax (GST) was replaced with the Sales and Services Tax (SST).
"In fact, the prices of some goods and services have risen."
The PAS Muslimat chief questioned the government's decision to possibly return the Formula 1 (F1) race to Malaysia, while planning to eventually discontinue the BR1M cash aid.
"'Rakyat marhaen', the B40, who are badly affected by the cost of living are sick of the PH government's excuses."
https://www.malaymail.com/s/1672495/pas-womens-chief-warns-pakatan-supporters-not-to-question-islam
--------
Underage Marriages of 2,250 Girl Children Just In Khuzestan Province of Iran
14 September 2018
More than 2,000 underage marriages under 14 have been reported in Khuzestan Province, south-western Iran, from March 2017 to March 2018. General Director of Khuzestan's Provincial Registry announced that 23 underage marriages in the age group of 11 year olds, 105 marriages in the age group of 12 year olds, 749 marriages in the age group of 13 year olds, and 1,373 marriages in the age group of 14 year olds had been recorded in the Persian year 1396 (March 2017-March 2018).
Behnam Moridi, General Director of Khuzestan's Provincial Registry, said, "Last year, two underage marriages under 10 years of age were registered in the cities of Shadegan and Khorramshahr."
According to published statistics, over 95,000 divorces among women under the age of 19 were recorded between 2011 and 2015, of which about 5,760 were related to underage marriages of teenagers less than 15 years old. (The state-run ILNA news agency – September 11, 2018)
Earlier, an expert on family affairs had revealed that underage marriages of 344 girl children under 14 and four under 10 had been registered in the Persian year 1396, in Alborz Province. In 1395, the number of U14 girl children given into underage marriages were registered as 453. According to this expert, this figure is alarming when compared to the total population in Alborz Province and the number of marriages that are registered every year. (The state-run ISNA news agency – September 8, 2018)
According to another report, the Razavi Khorasan Province with 6,000 underage marriages in the Persian year 1395 (March 2016-March 2017) ranks first in the country. East Azerbaijan province with more than 4,000 underage marriages and Sistan and Baluchestan Province with some 2,500 underage marriages rank second and third for marriages of girls between 10 and 14 years of age. (The state-run Salamatnews.com, September 13, 2018)
Some experts say, 180,000 marriages under 18 years of age occur annually in Iran, accounting for 24 percent of all marriages.
A social expert revealed that 41,000 early marriages under the age of 15 take place in Iran every year.
https://women.ncr-iran.org/iran-women-news/5470-underage-marriages-of-2-250-girl-children-just-in-khuzestan-province
--------
Saudi Women Passport Officers: We Have a Sense of Great Responsibility
13 September 2018
Over 229 Saudi women have joined the kingdom's General Directorate of Passports' first round of training for newly recruited women in the governmental field.
A number of those women told Al Arabiya English that their work in the field has resulted in feelings of responsibility and appreciation towards workers in the sector.
Trainee Saja al-Qahtani said that she chose this line of work because she wanted a secure job, which any employee aims to have, in addition to her desire to serve the community, adding that she learnt a lot from the training program.
"The trainee must have the mannerisms to know how to deal with the public, including patience, honesty, ethics of dialogue, communication and listening, and understanding the idea and service of the public," Qahtani said.
Sharing Saja's goals, Wadha, who is in the training program as well, said: "I was hesitant about getting into this field of work, but with the training and understanding the relevant information, my hesitation turned into feelings of responsibility."
Another trainee also said she learned a lotm including "checking passports and other documents, unveiling any fraud, and the basics of dealing with people on a professional level, which develops with time and experience."
The trainees' supervisor, Rasha al-Faryan, confirmed the positive feedback from the trainees, adding that there were no cases of withdrawal from the program.
Faryan said that the trainees will be hired once they complete the program, if they all meet the job requirements and excel in the training.
The program took place in nine regions in Saudi Arabia, including Mecca and Riyadh, with the round lasting two weeks.
This comes in light of Prince Mohamed bin Salman's Vision 2030, which aims to enhance women's roles in society.
https://english.alarabiya.net/en/features/2018/09/13/Saudi-passport-police-women-our-work-gave-us-responsibilities-and-excitement.html
--------
PAS VP Says Risky For Women to Share Loos with Transgenders
14 September 2018
KUALA LUMPUR, Sept 14 — Male-to-female transgenders still possess masculine strengths that made it dangerous for women to share the same toilets with the former, said PAS vice-president Idris Ahmad.
"He (the trans woman) is a man, with a strength of a man. (If) you allow him to use female toilet, it's dangerous.
"His limbs are not made of plastic, he is a man," he said in his opening speech at PAS Muslimat's 58th muktamar in Kuala Terengganu that was broadcast live on Facebook.
He said a minister's previous suggestion for the two groups to share public toilets for women was untenable.
Idris then repeated his allegations of hypocrisy against those who criticised the Terengganu Syariah Court for caning two alleged lesbians but did not speak out against the corporal punishment when meted out by the civil courts.
https://www.malaymail.com/s/1672546/pas-vp-says-risky-for-women-to-share-loos-with-transgenders
--------
'98 Per Cent Pakistani Women Unaware of Using Emergency Help-lines'
September 14, 2018
Islamabad: Around 98 per cent women are unaware of existing supportive emergency help-lines or mobile phone apps to report in case of happening of any harassment with them in public transport, a report on Thursday said.
This was revealed by a report on Women safety in Public Transport, conducted by Aurat Foundation, Women Development Department and UN Women to highlight the safety concerns of women and girls using public transport.
The report said an alarming situation regarding the safety of women on public transport that most of the women face different type of harassment at bus stops but does not report. According to the report harassment include comments, staring, whistling and stalking.
Report said that Some of women also report being harassed by passersby. But both women and girls take limited action when they are harassed on public transport and 98 percent of respondents are unaware of existing emergency helplines or mobile phone app to report.
An official of Aurat Foundation said that according to the women commuters the police do not play significant role in addressing the women issues on public transport. All bus stops fail to make provisions for women commuters with special needs, he added.
He said that It is very alarming that the entire transport system neither addresses nor response to the special needs of women with disabilities. Most of the bus stops are badly maintained , over head shades with inadequate lightning and missing benches , she told.
https://www.thenews.com.pk/print/368179-98-per-cent-women-unaware-of-using-emergency-helplines
--------
Empowering Women to Empower a 'New' Pakistan
Frank F Islam
SEPTEMBER 14, 2018
The Pakistan Tehreek-e-Insaf (PTI) government has come to promising to focus on the country's human resources to develop a 'new' Pakistan. Because women constitute almost half of the Pakistani population, their development is pivotal to Pakistan being able to achieve its true potential as a nation-state. The importance of this empowerment is demonstrated by the fact that a 2016 International Monetary Fund paper estimates that closing the gender gapin economic participation could boost GDP in Pakistan by up to 30 percent.
No country in the world has achieved significant growth and prosperity without empowering and engaging its women. Pakistan is light years away from making this happen.
According to the World Bank, Pakistan, is currently using only 22 percent of its female workforce. The country is ranked 143 in the gender equality index of the World Economic Forum. It is ranked the lowest in the South Asian region in the Global Gender Gap Index 2017, with neighbouring Bangladesh ranking at an impressive 47 and India at 108.
There are many reasons for Pakistan's dismal showing in terms of gender equality.
The lack of education, however, is the number one culprit.
The latest Economic Survey Report from the Pakistani government reports that only 48 out of 100 Pakistani women can read and write. Some experts dispute that number, asserting that the actual female literacy rate is lower than 30 percent.
Whatever the actual figures may be, Pakistan's female literacy rate is far too low. This is because educating girls and women is a leveraged investment. It benefits the individual in many ways — including boosting confidence, improving decision-making ability, and enhancing critical thinking skills. It also has a large ripple effect by improving the health status of children in families and the economic development of communities.
The lack of education, unfortunately, is not the only problem in terms of the empowerment or advancement of women in Pakistan. In certain instances, women who do get a higher education are not allowed to work by their families. And, even those with professional degrees in fields such as medicine and engineering sometimes end up as housewives, not entering the workforce because their male partner will not allow them to work for "cultural reasons". The good news is that Pakistan has made some progress in recent years in addressing these challenges and others related to women's education and empowerment.
The government, with the help of UN bodies and the US government, has funded projects aimed at improving the literacy of girls in far flung areas in Northern Pakistan — including the former Federally Administered Tribal Areas. The Malala Fund (named after Malala Yousafzai, the young girl who fought for girl's education, suffered a Taliban attack, and went on to receive the Nobel Peace Prize) has been established to help boost female literacy.
The government has encouraged women to enter the public sector and an increasing number of women are now joining Pakistan's civil and military institutions. Women are also being encouraged to participate in political activity through a special quota in parliament. The Election Commission of Pakistan has enacted rules to ensure women are permitted to vote in rural and culturally backward areas of the country.
National and provincial assemblies have passed legislation to protect and empower women. And, over the past few years, an increasing number of women have joined the print and electronic media resulting in enhanced coverage of and awareness of women's rights in Pakistani society.
This is a start. But, there is still a substantial amount of work that needs to be done for Pakistan to realise the full potential of its female population.
There are two actions that must be central to accomplishing this mission: Firstly, investing in the education of girls and women from early childhood education through higher education and professional development. Secondly, encouraging and facilitating female entrepreneurship. The first action is self-explanatory. The second action demands some elaboration.
Apart from regular academic education, women also need to be taught the hands on skills needed to run businesses. The education should be directed toward preparing women to enter all fields but it should place a special emphasis on areas in which there are too few female business owners, such as information technology, manufacturing, and engineering.
Numerous studies have found that women in emerging markets have much more difficulty in securing loans than men, and therefore must provide their own financing. That is why the World Bank launched a Women Entrepreneurs Finance Initiative (We-Fi) this year to provide venture capital support to help women start and grow businesses.
Unless they come from a family that has a business or have worked in a business, women entrepreneurs have seen no role models and have had no coaching on how to start, run and build a business. A mentoring program can fill that gap.
Given the foregoing, it would make sense for the public and private sectors in Pakistan to collaborate to develop a comprehensive and integrated three-pronged approach to harness the potential of its women entrepreneurs. The prongs for that collaboration should be: Educating and empowering women to become entrepreneurs, ensuring they have adequate financial resources to support their entrepreneurial ventures. This could be done through a micro financing initiative and connecting to or replicating We-Fi. The third is providing mentoring to promote success in their entrepreneurial endeavours.
At the fourth United Nations World Conference on Women, it was rightly stated: "Empowerment of women and gender equality are prerequisites for achieving political, social, economic, cultural, and environmental security among all peoples."
By recognising this and embracing a women's empowerment agenda, the PTI will empower the nation of Pakistan and transform the dream of a "new" Pakistan into a reality.
Frank F. Islam is an Entrepreneur, Civic Leader, and Thought Leader based in Washington DC. The views expressed here are personal
https://dailytimes.com.pk/297581/empowering-women-to-empower-a-new-pakistan/
--------
Bahrain Making Big Strides in Women's Empowerment
SEPTEMBER 14, 2018
Manama : A comparison of the human rights and women's empowerment in Bahrain, Egypt and Qatar reveals that Bahrain and Egypt are at the front-line of women's empowerment while Qatar lags behind, according to top human rights experts in the region. A seminar on the sidelines of the 39th Session of the International Council for Human Rights in Geneva, which compared human rights in Bahrain, Egypt and Qatar, revealed that the former two countries fared well while the latter failed in women empowerment.
Qatar, on the other hand, failed to make progress in women's empowerment and continues to discriminate against women, the seminar chaired by Maya Morsi, a prominent Arab activist for female empowerment, said. According to experts, women in Qatar remains under-represented while Egypt and Bahrain have made positive strides in ensuring participation of women in various areas including governmental and non-governmental sectors.
One of the panel members at the session, Rabha Fathy, Chairperson of the Association of the Egyptian Female Lawyers (AEFL), said: "The Kingdom of Bahrain has participated in conventions that ensure women's rights since the 1990s. The nation's leadership has undertaken various initiatives and programmes to encourage the participation of women. This has helped women in Bahrain to be represented at all levels."
Maya Morsi added that Egypt has also taken many measures to ensure women's protection and empowerment. Morsi said that in 2017, the 2030 Women's Development Strategy was implemented after 100 civil society organizations participated in its development.
64pc graduates women
Official statistics of Bahrain obtained by Tribune reveals that Bahrain's efforts to empower women have borne fruit. Impressively, 64 per cent of tertiary level graduates are women. Statistics also revealed that 53 per cent of the government employees are women. The average life expectancy of women in the Kingdom is now at 77 years. Apart from free primary health care, Bahraini women enjoy free access to free and mandatory primary and secondary education.
National efforts to empower woman and girls in Bahrain included monitoring mechanisms, national gender balance reports, national gender balance indicators observatory, national audit court and equal opportunities committee. The Supreme Council for Women recently gave a presentation in Belgium, highlighting Bahraini women's achievements and the council's and the nation's efforts in empowering them. The presentation compared Bahrain's progress in woman empowerment when compared to Belgium.
According to the presentation, Bahrain has a higher percentage of lawyers, doctors and board of directors when compared to Belgium while Belgium has more academics and judges. Bahrain has more government employees who are female as 53pc are female; it is a similar trend in Belgium with 52pc women in the government sector. Forty per cent of the female government employees in Bahrain are holding senior executive positions, while it is 43pc in Belgium.
http://www.newsofbahrain.com/bahrain/46998.html
--------
Morocco Introduces Law to Combat Violence against Women
September 13, 2018
Rabat - A law to combat violence against women in Morocco entered into force Wednesday, following years of heated debate and after thousands called for action in a recent gang-rape case.
For the first time women in Morocco have legal protection from "acts considered forms of harassment, aggression, sexual exploitation or ill treatment".
The new law also paves the way for victims of violence to be offered support.
Families minister Bassima Hakkaoui hailed the legislation as "one of the most important texts strengthening the national legal arsenal in the area of equality of the sexes," in an interview with the official MAP agency.
The law drafted five years ago, was adopted by parliament this February, following lengthy debate.
But the law has been deemed inadequate by some, with the former women's minister Nouzha Skalli arguing it fails to take into account "international definitions" of violence against women.
She has highlighted the example of marital rape, which is not criminalized under the new legislation.
While activists criticized the new law as it fails to protect women from forced marriages, according to the advocacy group Girls Not Brides, 16 percent of girls are married before the age of 18 in Morocco, where they are allowed to wed with judicial consent.
While Morocco only overhauled a law that let rapists escape punishment if they married their victims in 2017. The change followed the suicide of a 16-year-old girl who was forced to marry her rapist.
In Morocco, media and rights groups regularly raise the alarm about endemic violence against women.
More than 40 percent of women said they had been "victims of an act of violence at least once", abuse came in form of physical, psychological, sexual or economic, in a survey carried out by Morocco's High Commission for Planning which surveyed those living in towns and aged between 18 and 64.
The first woman to benefit from the legal change could be a 24-year-old who on Tuesday filed a complaint against three men for harassment, according to Moroccan media.
As authorities begin enforcing the law, a dozen suspects are being held over the alleged gang-rape of a teenage girl.
In a video posted online last month, 17-year-old Khadija Okkarou said she had been kidnapped, raped and tortured by a gang over a period of two months.
Okkarou's testimony triggered a petition signed by thousands of people urging King Mohammed VI to provide her with medical and psychological care.
The next hearing in the case is set for October 10.
https://gulfnews.com/news/mena/morocco/morocco-introduces-law-to-combat-violence-against-women-1.2277964
--------
URL: https://www.newageislam.com/islam-women-feminism/islamist-opposition-partys-womens-wing/d/116377
New Age Islam, Islam Online, Islamic Website, African Muslim News, Arab World News, South Asia News, Indian Muslim News, World Muslim News, Women in Islam, Islamic Feminism, Arab Women, Women In Arab, Islamophobia in America, Muslim Women in West, Islam Women and Feminism