New Age Islam News Bureau
16 May 2019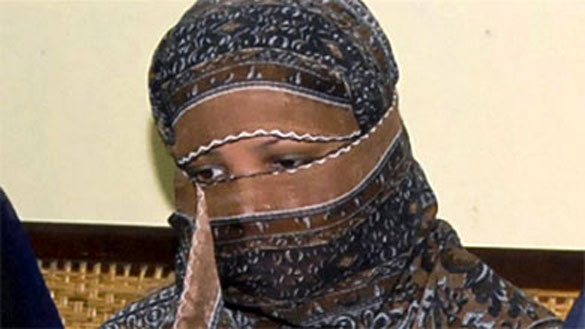 Asia Bibi was finally acquitted and released to the great displeasure of many in a conservative region of the Islamic country.
-----
• 54 Women and Children Rescued From Boko Haram, Nigerian Military Says
• NGOs: Malaysia Must Not Regress On Female Genital Mutilation After US Setback
• Rashida Tlaib Becomes First Muslim Woman To Preside Over House Floor
• Austria Bans Headscarf for Muslim Women
• Patriarchy Is The Common Enemy Of Secular And Islamic Feminism
• Sharjah Women Triumph At Ramadan Women's Sports Tournament
• Emirati Al Messabi's Vision To Become Female Olympic Fencing Referee
Compiled by New Age Islam News Bureau
URL: https://www.newageislam.com/islam-women-feminism/islamist-arrives-canada-kill-blasphemer/d/118616
-----
Islamist Arrives in Canada to KILL 'Blasphemer' Bibi Who Fled Pakistan – Report
15.05.2019
Asia Bibi spent nine years on death row in a Pakistani prison after being falsely accused of blasphemy – a grave crime in the South Asian country. In 2018, she was finally acquitted and released to the great displeasure of many in a conservative region of the Islamic country.
An unidentified Islamist has published a video in which he claims to have followed Asia Bibi, a Christian who barely escaped hanging in her homeland of Pakistan over blasphemy accusations, to Canada with the intent to murder her. The anonymous individual insists in the video that "blasphemer" Asia Bibi would receive an award in Canada and would repeat her sacrilegious statements on Islam.
The man didn't show his face in the video and didn't specify whether he was acting on behalf of a particular group. Canadian authorities haven't commented on the threats against Asia Bibi, who lives at an undisclosed location since leaving Pakistan for fear of her life.
Asia Bibi, a Christian, was arrested in her homeland after a row with a colleague in 2009, which resulted in the latter accusing her of blasphemy against the Prophet Muhammad. The argument began after Bibi drank from a well that was supposed to be for Muslims only.
In 2010, a court sentenced Asia Bibi to death over blasphemy accusations — a grave crime in Pakistan. The girl denied being guilty and struggled to appeal the decision. Eight years later, the court ruled that there was not enough evidence to prove her guilt and released her from prison.
The decision, however, was not well received by local Islamists, clergy, and conservative Pakistanis, who called for her execution. Muslim cleric Maulana Yousaf Qureshie even set up a bounty on Asia Bibi, promising to pay 500,000 Pakistani rupees ($3,500) to anyone who kills her.
The news of an Islamist possibly following Bibi to Canada appeared over a year after Canadian Prime Minister Justin Trudeau announced an open door policy on immigration, welcoming everyone who was forced out of their homelands for various reasons into the country. The decision spurred security concerns in the North American nation.
https://sputniknews.com/us/201905151075033457-islamist-kill-asia-bibi-canada/
--------
54 women and children rescued from Boko Haram, Nigerian military says
May 16, 2019
The Nigerian army has rescued 54 Nigerian civilians – 29 women and 25 children – from the clutches of the terrorist group, Boko Haram, the African country's military announced Monday.
According to military spokesperson Sagir Musa, troops retrieved the captives during a clearance operation over the weekend in Borno State. The fighters are believed to have fled in the area ahead of troops' arrival.
Boko Haram insurgents for years have waged war across swaths of northern Nigeria, carrying out bombings of markets and large-scale assassinations, with mass kidnappings also a hallmark of its bloody revolt.
Five years ago, the world's eyes watched aghast after the group kidnapped almost 300 schoolgirls from Chibok in Borno State, Nigeria. Last February, a further 100 schoolgirls were seized after Boko Haram attacked a village in the northeastern state of Yobe.
The protracted violence has prompted some 90,000 Nigerians to flee to villages in Cameroon, which is struggling with its own internal conflict.
Officials, including leadership from the UN's Refugee Agency UNHCR, this week were in discussions to develop a "safe" repatriation process.
Over the past decade, Boko Haram is estimated to have killed more than 100,000 people, but in the past three years, the group has suffered blows to its survival, with state forces stepping up its decimation of the ISIS-affiliated outfit.
https://www.foxnews.com/world/women-children-boko-haram-rescue
--------
NGOs: Malaysia Must Not Regress On Female Genital Mutilation After US Setback
16 May 2019
PETALING JAYA: The US government's reluctance to defend the ban on female genital mutilation (FGM) is a "slippery slope" that Malaysia should avoid, say two women non-governmental organisations (NGOs).
Recently, US media reported that the Trump administration had decided not to defend a ban on FGM that was passed more than 20 years ago.
Business Insider said the ongoing case against doctor Jumana Nagarwala who allegedly cut the clitoral hoods of two seven-year-old-girls at the request of their mothers was the first test of the US law that bans FGM for non-medical reasons.
However, Michigan federal Judge Bernard Friedman ruled the anti-FGM law unconstitutional in November 2018 and dismissed the charges against Nagarwala.
The Justice Department had an opportunity to appeal the court decision, but Business Insider said they may not pursue it.
According to the Trump administration, there aren't adequate grounds to defend the law.
"The US' reluctance to have a strong stance against FGM demonstrates an irresponsible lack of political will where sexual and reproductive health rights are concerned," Sisters In Islam communications manager Majidah Hashim said.
"This disappointing move, coupled with the fact that the US still has not ratified the Convention on the Elimination of all Forms of Discrimination Against Women (Cedaw) and Convention on the Rights of the Child (CRC), reflects a misogynistic disregard for the well-being of girls and women under the Trump administration," she added.
Majidah said minorities are the most vulnerable to FGM in the United States, as it is most common among its diverse immigrant communities.
"Malaysia needs to learn from the slippery slope that the United States has cornered itself into where the health and well-being of its citizens are concerned," she said.
"Many Muslim-majority countries have completely banned all forms of the practice, and we encourage Malaysia to urgently follow suit," Majidah said, adding that FGM is a harmful practice with no Islamic basis or any medical benefits.
Asian-Pacific Resource and Research Centre for Women (Arrow) said it was unfortunate that even the legal framework of developed countries such as the United States were inadequate in affirming and protecting basic sexual and reproductive rights of women and girls.
"It is regrettable that the US government does not have a comprehensive framework for gender equality in place in order to ensure progress towards recognising women's equal rights in society, which includes their sexual and reproductive rights," its executive director Sivananthi Thanenthiran said.
In Malaysia, the government had previously reaffirmed its stand that female circumcision was part of Malaysian culture.
Deputy Prime Minister Datuk Seri Dr Wan Azizah Wan Ismail reportedly said that female circumcision in Malaysia was unlike the extreme FGM practised in some African countries, but would look into the issue.
https://www.thestar.com.my/news/nation/2019/05/16/ngos-msia-must-not-regress-on-female-genital-mutilation-after-us-setback/
--------
Rashida Tlaib becomes first Muslim woman to preside over House floor
May 15, 2019
Washington (CNN)Michigan Democratic Rep. Rashida Tlaib notched another historic first on Wednesday afternoon, becoming the first Muslim woman to preside over the House floor.
Her turn on Wednesday leading the proceedings of the House of Representatives came months after she, along with Minnesota Democratic Rep. Ilhan Omar, became the first Muslim women to join the US Congress.
Tlaib told CNN ahead of the moment that her family would be tuning into C-SPAN to watch from home.
"I'm excited, my family's excited," Tlaib said.
Proceedings on the House floor are led by the speaker of the House or people presiding in her sted from the speaker's party. House freshmen, like Tlaib, have been worked slowly into the rotation recently of learning how to preside over the floor.
Tlaib tweeted about the experience following presiding over the floor, writing, "Not bad for a girl from Detroit that didn't speak English when I started school & first in my family to graduate high school & college."
She continued, "This was a proud moment & it sank in just a little more that I am serving in Congress."
Last Friday, Tlaib's fellow freshman Democrat, Rep. Alexandria Ocasio-Cortez of New York, presided for the first time, becoming the youngest woman ever to do so.
"Today I presided over the House floor for the first time. Every day here is a sacred privilege + responsibility entrusted to me by my community. I never forget that, and moments like these drive it home. Thank you to the people of NY14 + beyond. This House belongs to all of us," Ocasio-Cortez tweeted after she was through.
Iowa Democratic Rep. Abby Finkenauer also presided over the House for her first time last week, and afterward, she tweeted that when she texted her parents about watching, she found out they record C-SPAN "all day, every single day we are in session."
"Today, I learned that my parents record CSPAN, all day, every single day we are in session. So, that's adorable," Finkenauer tweeted.
Tlaib has made waves since joining Congress, attracting attention for her efforts to impeach President Donald Trump and recently finding herself under fire from top Republicans and Israel's ambassador to the United Nations for comments about Israel and the Holocaust that she and top Democrats said were misconstrued for political ends.
"Policing my words, twisting & turning them to ignite vile attacks on me will not work. All of you who are trying to silence me will fail miserably. I will never allow you to take my words out of context to push your racist and hateful agenda. The truth will always win," Tlaib said in response to the backlash.
Louisiana Rep. Steve Scalise and Wyoming Rep. Liz Cheney, the second and third-highest ranking House Republicans, each falsely accused Tlaib of saying the Holocaust gave her a "calming feeling," although in fact, she referred to it as a tragedy.
In her comments, however, Tlaib did appear to make ahistorical claims about Palestinians providing a "safe haven" for Jews fleeing Europe ahead of the establishment of the modern state of Israel, despite deep-seated opposition at the time to Jewish settlement there and the ongoing conflict between Israel and the Palestinians.
https://edition.cnn.com/2019/05/15/politics/first-muslim-woman-preside-house-floor/index.html
--------
Austria Bans Headscarf for Muslim Women
May 16, 2019
The Austrian MPs just passed a law which prohibits Muslim women from wearing headscarves in primary schools. This decision will not affect the Sikhs and the Kippas.
The move was proposed by the ruling government. This was done supposedly in order to prevent accusations of discrimination against Muslims.
Rudolf Schneider, an MP stated that this was a step taken in order to free girls from hardship. FPOE Education Spokesman Vendillin Moeller said that the law was enacted in order to combat political Islam.
Around two years back, Austria had placed a ban on burqas. The public is still divided on this matter for so long. Many still believe that wearing a veil means the person has "something to hide". There have been numerous conflicts between Muslim women and the police after the law was passed. Let's watch out for the response this one begets.
https://ourbitcoinnews.com/austria-bans-headscarf-for-muslim-women/
--------
Sharjah Women Triumph At Ramadan Women's Sports Tournament
May 15, 2019
Sharjah: Hosts Sharjah Women's Sports Club were crowned basketball champions at the 11th Ramadan Women's Sports Tournament (RWST) following a lopsided 66-25 win over Brunei Airlines here on Tuesday. The Sharjah Police team secured the bronze with a 35-19 win over the Tasamuh team.
Shaikh Saqr Bin Mohammad Al Qasimi, chairman of the Sharjah Sports Council, was joined by Nada Askar Al Naqbi, Director General of SWS, Khalid Eisa Al Midfa, Assistant Secretary General of the General Authority for Youth and Sports Welfare, Salim Rashid Al Mutawa, General Secretary of UAE Basketball Association, and Saeed Al Ka'abi, Director of Sharjah Education Zone, at the presentation of awards and trophies at the end.
The Elite Volleyball Academy had won the gold in volleyball leaving the Italian team Espera Moonves for the silver and hosts Sharjah Women's Sports Club with the bronze.
Organised by Sharjah Women's Sports (SWS) under the patronage of Shaikha Jawaher Bint Mohammad Al Qasimi, Wife of His Highness Dr Shaikh Sultan Bin Mohammad Al Qasimi, Member of the Supreme Council and Ruler of Sharjah, and Chairperson of Sharjah Women's Sport (SWS), the annual tournament witnessed competitions for women in basketball, volleyball, shooting and archery. Held from May 8-14, the four disciplines saw the participation of 340 players from 25 teams from across the UAE.
https://gulfnews.com/sport/uae-sport/sharjah-women-triumph-at-ramadan-womens-sports-tournament-1.63959962
--------
Emirati Al Messabi's Vision To Become Female Olympic Fencing Referee
May 15, 2019
Dubai: Ashwaq Al Messabi is businesslike in her approach as the youngest, and also the only international woman foil referee in the entire Gulf region.
As an emirati fencer with the Bani Yas Club's Fencing team, Al Messabi has the aura of having achieved something way beyond her years. Though her first love is the competitive part, the 21-year-old final semester student from Zayed University decided to take up the officiating side of fencing to meet her own needs.
Not too comfortable with male referees officiating ever since she started participating some seven years back, Al Messabi teamed up with fellow fencers at Bani Yas Club Alanoud Al Sa'adi and Mariam Salah to take the national-level test for referees in 2017. A year later, all three girls opted for an international licence in refereeing putting themselves among the rarer commodities of sports officials in the region.
"I don't have anything against having a male referee, but we felt it's much better to have a woman officiate at matches involving women," Al Messabi told Gulf News on the sidelines of the fencing competition of the Nad Al Sheba (NAS) Ramadan Sports Tournament.
"Today, all three of us are in demand at every fencing competition taking place in the Gulf region. There is a lot of fencing in Saudi Arabia and we need to travel there quite frequently," she added.
Her frequent travels, coupled with her varied experiences while on tour, have given the young emirati fencer a deeper knowledge of her sport. "There is so much to be done for fencing, especially among the women competitors," she remarked.
"My aim is two-fold. I am in a very strategic position at the moment. I am an athlete and I am an official, and both allow me to see the UAE flag flying everywhere I go. I have my ambitions as a fencer, but I think my future lies as an official perhaps one day making it to the Olympic Games," she smiled.
https://gulfnews.com/sport/uae-sport/emirati-al-messabis-vision-to-become-female-olympic-fencing-referee-1.63932890
--------
Patriarchy Is The Common Enemy Of Secular And Islamic Feminism
May 16 2019
Muslim Tunisian feminist and academic Kaouthar Darmoni remembers her fondest childhood memories as when women gathered together, away from the male gaze, and danced.
"They would be practising the oldest feminine ritual in the world - stepping back to Mesopotamia 4000 years ago when the society was matriarchal and women were ruling."
She watched the women as a little girl and wished she could be just like them. "They looked so wild, and so sensual, and so beautiful and so alive," Darmoni recalls.
But as soon as the same "glorious goddesses" stepped into the public space, they would "literally and symbolically cover their femininity with a veil" because they were seen as "a threat and disturbance".
The well-known feminist scholar, and one of the early pioneers of Islamic feminism, Fatema Mernissi, challenged the assumption that the condition of Arab Muslim women was evidence of their subordination and weakness.
In her popular book Beyond the Veil, she wrote: "The whole system is based on the assumption that the woman is a powerful and dangerous being. All sexual institutions (polygamy, repudiation, sexual segregation, etc.) can be perceived as a strategy for containing her power…"
Mernissi, who grew up in a harem in Morocco, wrote mainly to defend women's rights in the East but did not exempt the West from criticism. She argued that the supposedly free West had harems of its own.
The domestic harem of the East, Mernissi explained, were not how the West popularised them in their films and literature. They were not places where nubile women fought over each other to offer their male master sex on demand. That was just Western men's wishful thinking.
Mernissi's parents were in a monogamous marriage and the harem she was brought up in was simply a set of secluded living quarters in the family's expansive home. The female members of the family were not allowed to venture outside unless veiled and escorted by a male relative.
In her book Scheherazade Goes West: Different Cultures, Different Harems, Mernissi posited that harems were a way of controlling women - and where the East discriminated against women by controlling 'space' - the West discriminated against them by controlling 'time'.
"The Western man declares that in order to be beautiful, a woman must look 14 years old. If she dares to look 50, or worse, 60, she is beyond the pale. By putting the spotlight on the female child and framing her as the ideal of beauty, he condemns the mature woman to invisibility."
Mernissi, who died of cancer in 2015, is considered "the pride of Islamic feminism in modern times".
She undertook a deep and systematic study of the Quran and the Hadith (records of traditions and sayings of prophet Muhammad) and concluded there was no scriptural basis for the subordination of women. It was Mernissi's view that Muslim women were discriminated against largely due to the centuries-long patriarchal interpretation of religious text by male leaders.
This is not new, of course. We know feminist interpretations always matter.
Here in New Zealand, a new book co-edited by two University of Canterbury academics showed in almost all areas of law, from criminal to environmental law, feminist and mana wahine perspectives can influence the reasoning and therefore the final decision on a given case.
Mernissi gave her feminist interpretation of the Quran in her book The Veil and the Male Elite: A Feminist Interpretation of Women's Rights in Islam:
"We Muslim women can walk into the modern world with pride, knowing that the quest for dignity, democracy, and human rights, for full participation in the political and social affairs of our country, stems from no imported Western values, but is a true part of the Muslim tradition. Of this I am certain."
Mernissi's Islamic feminism has given many Muslim feminists in North Africa and South Asia the strength to fight for their rights within an Islamic framework but Islamic feminism is not without its perils.
As a secular Muslim, my concern is that the continual foregrounding of Islamic influence in Muslim majority countries overlooks the importance of the social, economic and political complexities that affect women's rights.
I agree with prominent Iranian lawyer and Noble Peace Prize winner Shirin Ebadi's view that Muslim women can be feminists and there is no incompatibility between Islam and feminism, but this is not the same as saying that feminism has to be Islamic.
I believe, while dialogue and continual debate should be encouraged, setting secular and Islamic feminism in bitter conflict with each other only benefits the patriarchal forces that seek to subjugate women.
The fact is that equating faith and religion with anti-feminism is just as misinformed as equating secular and modern with feminism.
Patriarchy is a universal force and if we are to make this world a better place for everyone to live in, we need inclusiveness, coalition-building, pluralism and diversity. He waka eke noa.
https://www.stuff.co.nz/the-press/opinion/112734893/patriarchy-is-the-common-enemy-of-secular-and-islamic-feminism
-------
URL: https://www.newageislam.com/islam-women-feminism/islamist-arrives-canada-kill-blasphemer/d/118616
New Age Islam, Islam Online, Islamic Website, African Muslim News, Arab World News, South Asia News, Indian Muslim News, World Muslim News, Women in Islam, Islamic Feminism, Arab Women, Women In Arab, Islamophobia in America, Muslim Women in West, Islam Women and Feminism