New Age Islam News Bureau
30 Apr 2016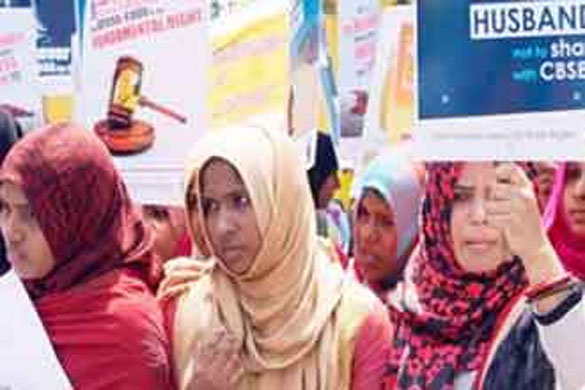 Photo: Photographs of women in hijab campaigning for Welfare Party of India (WPI) in Kerala's Ponnani has triggered a social media debate over the freedom of women in Islam.
-------
• India: Kerala Row over Women Campaigners in Hijab
• Stunning Images of a Bulgarian Muslim Bride Reviving Old Traditions
• Muslim Youth to Discuss Women in Islam
• Fashion's Marketing To Muslim Women Draws Ire in France
• Prison Guards Told Muslim Woman to Remove Headscarf As She Visited Lag
Compiled by New Age Islam News Bureau
URL: https://newageislam.com/islam,-women-and-feminism/new-age-islam-news-bureau/islamic-state-offers-marriage-counselling-for-disgruntled-wives/d/107158
---------
Islamic State Offers Marriage Counselling for Disgruntled Wives
Thu, April 28, 2016
The Islamic State is now offering marriage counseling to its jihadi brides, disgruntled over the lack of creature comforts in Raqqa, Syria, the capital of the terror group's self-declared caliphate.
The wives have threatened to flee.
Coalition airstrikes have taken their toll on Raqqa, creating food, water and power shortages.
"At least before, we had electricity, we could bake and cook. Our basic needs were met. Now we are back to ancient times," said one burqa-clad wife who agreed to be filmed in secret by the dissident site Open Your Eyes.
Another wife added, ""There's no electricity, no drinking water. There are no services."
A third concurred: "Even the drinking water is contaminated. It smells bad."
For foreign wives, especially ones from Western countries, the conditions are proving to be too much. Food must often be cooked on a wood-burning or charcoal stove. Residents report the water is so contaminated, it is causing diarrhea and stomach cramps in children.
In an attempt to prevent jihadi wives from fleeing, the Islamic State opened a marriage-guidance center in Raqqa. Pictures released from the terror organization show a jihadi bride coming in for counselling. Next to her sits a box of tissues, ostensibly to wipe her tears.
clarionproject.org/news/islamic-state-offers-marriage-counselling-disgruntled-wives
--
India: Kerala Row over Women Campaigners in Hijab
April 30, 2016
MALAPPURAM: Photographs of women in Hijab campaigning for Welfare Party of India (WPI) in Kerala's Ponnani has triggered a social media debate over the freedom of women in Islam. The pictures showing the women shouting slogans and carrying banners in support of WPI candidate M M Shakkir sparked a controversy after some Muslim groups came called the act of the women anti-Islam.
Soon an abusive campaign against the girls began online. Progressive Muslim groups, though, threw their weight behind the girls. Shakkir said the girls had faced a lot of fl ak and had been advised to stay away from campaigning.
State women's commission member Noorbina Rasheed said her organization didn't agree with the move to curtail political freedom of women. "Their participation in a rally shows they are politically aware. Society should accept them instead of abusing them," Rasheed, general secretary of Women's League, women's wing of the Indian Union Muslim League, said.
In a Facebook post, social activist V P Rajeena said it was unfortunate that various Muslim organisations were advising women to stay within four walls. "The verbal attacks on the women who participated in the election rally are symptoms of an anti-women community. We have many organisations for the welfare of Muslims. But they can't take a strong stand," she said.
V P Suhara, president of Nisa, a progressive women's forum said not a single mainstream Muslim party is sincere about the uplift of women.
"Some use women in election rallies only as exhibits. Though there are many able leaders in Muslim League, the party isn't even ready to fi eld a single woman candidate in the state. Things are changing even in Islamic countries. But here parties and religious leaders are still not ready to change," she said.
economictimes.indiatimes.com/news/politics-and-nation/kerala-row-over-women-campaigners-in-Hijab/articleshow/52049700.cms
--
Stunning Images Of A Bulgarian Muslim Bride Reviving Old Traditions
04/29/2016
Emilia Pechinkova, a 24-year-old Bulgarian Pomak bride poses for a photograph following a face painting ceremony in the village of Draginovo, southeast of the capital Sofia on April 22, 2016.
Love is one of the most common human emotions. But it's celebrated in extraordinarily different ways around the world.
In the remote village of Draginovo, Bulgaria, Muslim brides are returning to the old tradition of gelina, or face painting, to mark their transition into married life.
Emilia Pechinkova is one of those young Muslim brides. The 24-year-old is a Slavic Muslim, part of a group often referred to as Pomaks. The elaborate wedding rituals of the Pomaks were suppressed while the country was under communist rule.
In an effort to recapture their forefathers' customs, Pechinkova and her fiance Tsanko Perchinkov celebrated their love during a traditional three-day wedding ceremony, according to Getty. The festivities were captured by photographer Nikolay Doychinov on April 22 and 23.
During the gelina, Pomak brides are painted over with a thick cosmetic creme mask called belilo. An expert make-up artist spends up to two hours applying the mask and embellishing it with sequins arranged in floral patterns. Then, the artist applies lipstick and darkens the bride's eyebrows. According to CNN, the face painting process is a symbol of the bride's purity.
NIKOLAY DOYCHINOV via Getty Images
The gelina face painting ritual can take up to two hours.
In order to keep the mask intact for the next several hours, the bride usually keeps her face very still. After an imam says a blessing, she is escorted by her family members out of her childhood home and to her groom's house, where her husband will take off her makeup.
Although these rituals have been part of Pomak culture for years, they were suppressed during the time that Bulgaria was a satellite state of the Soviet Union. According to Reuters, the regime at that time tried to force Muslims to adapt the traditions of the country's majority Christian Orthodox population. The traditional Pomak wedding ceremony was reportedly banned and was only resumed after the end of the communist era.
Today, Muslims are the largest minority religion in Bulgaria, making up about 8 percent of the population.
huffingtonpost.com/entry/bulgarian-muslim-wedding_us_57224df8e4b0f309baf02190?section=india
-------
Muslim youth to discuss women in Islam
Friday, April 29, 2016
What's the best way to clear up any fear or misunderstanding?
Fear can drive communities apart, but hopefully talking about it will help.
Imam Ghalib Baten and his group from the Ahmadiyya Muslim Youth Association have travelled the province in the past year to try and quell fears and misunderstandings that can spread between generations.
Last fall, members of the Toronto-area association group came to Collingwood and talked about Islam to an appreciative group.
They are coming back Saturday to the Collingwood Public Library to do the same, but this time they want to talk about equality and the position of women in the Islamic faith.
Worried by a few attacks on women wearing head scarves in Toronto, they are talking about how they know women are an integral an equal part of society.
"We believe that it is necessary that people understand that Muslims are a loving and caring people, you can't be a Muslim unless you understand that helping others, respecting all faiths is integral," said Baten.
The group will be discussing Mother Mary, a prominent figure in both Islam and Christianity.
"We are mentioning Mother Mary because, I believe that it was an Italian legislator who said "how can we condemn Muslim women for wearing head scarves, when our own Mother Mary is never depicted without one," said Baten.
Mary has been depicted in the Quran as an example of the great status of women, he continued. She has been mentioned as a prime role model for all Muslim men and women. Her purity and piousness has been preserved in both religions.
Women are an integral and equal part of our society, he says, and their right to choose their religion and religious attire comes under the rights and equality owed to women. Dictating on attire not only raises the questions of oppressing women, but is a sign of creating imbalance in the status of women.
"We came up to Collingwood in the fall, but it is not the case that we can just visit once and think that there won't be any misunderstanding, it's important we keep talking." said Baten.
The open house on Mother Mary in Islam is at the Collingwood Public Library on Ste. Marie St. from noon until 4 p.m. on April 30, and all are welcome.
theenterprisebulletin.com/2016/04/29/muslim-youth-to-discuss-women-in-islam
-------
Fashion's marketing to Muslim women draws ire in France
29 Apr 2016
The years-old debate about designing fashion for Muslim women who follow strict dress codes has reignited in France, raising the question of just what role, if any, European design houses have in a political debate.
Italian designers Dolce & Gabbana are no strangers to controversy: Nearly every collection they showcase on the runways of Milan leaves tongues wagging. Last year, the talk was about the runway presentation, as models in various states of dishevelment carried children with them on the catwalk. In years past, the gossip centered around the hyper-sexualization of models dressed in their barely-there garments.
A new collection released in January 2016 via Style.com in Arabia, however, has sparked a raging debate in France that hasn't yet abated. The controversy centers around their first-ever collection of Hijabs and abayas - the head scarf and free-flowing ankle-reaching garments worn by more conservative Muslim women.
Her comments on fashion for Muslims sparked controversy: French minister for women's rights, Laurence Rossignol
Along with Dolce & Gabbana, a growing number of Western brands, such as H&M and Uniqlo, are creating and marketing collections for Muslim women, especially those living in the Middle East.
Commenting on this profitable market, the French minister for women's rights Laurence Rossignol denounced it as "irresponsible" in a recent interview. Now the whole country is debating the role fashion plays in shaping opinion.
As the "New York Times'" fashion critic Vanessa Friedman wrote, the discussion centers on the question: "Is it fashion's responsibility to ease acceptance of different identities; to foster tolerance and understanding - or to promote a specific aesthetic expression of liberty?"
Fashion for Muslim women: Creative empowerment or promotion of the body's enslavement?
The enslavement of women or a golden market opportunity?
The minister for women's rights declared in the interview on BFMTV, the most popular news network in France, that "social control over women's bodies" was at stake: "When brands invest in this Islamic garment market, they are shirking their responsibilities and are promoting women's bodies being locked up," she said.
Following Rossignol's remarks, philosopher Elisabeth Badinter, one of France's most prominent feminist voices, even called for a boycott of these brands.
The comments come on the back of a number of controversial laws that have been passed in France restricting the apparel worn in public by conservative Muslim women.
In 2011, a law prohibiting face-coverings came into effect, essentially limiting the use of the niqab and burqa, two garments worn by some Muslim women that almost completely cover their face.
In 2014, a decade-old law prohibiting the wearing in public schools of "conspicuous religious symbols," including the Hijab, the head scarf worn by some Muslim women, was upheld by the European Court of Human Rights.
At the same time these laws were being put into place, big name fashion brands from Europe and North America began offering garments specifically marketed to appeal to the more traditional Muslim women who follow stricter dress codes. DKNY, Tommy Hilfiger and Oscar de la Renta have released special Ramadan collections to markets in the Middle East. Others have created more modest versions of their standard wares, with lower hemlines and longer sleeves.
It's no secret in the fashion industry that the Middle East holds huge capital potential. Wealthy members of Arabian high society have often been sighted on shopping sprees in London, Paris and Milan, picking up exclusive goods.
Vivienne Westwood, known for her boundary-pushing punk aesthetic, has a number of customers in the Arab world - which suggests that it's not only traditional clothing these Muslim women are after when they're shopping, but also the designer names to wear, perhaps beneath the loose-fitting abaya. But with a market that is expected to double by 2019, to nearly 443 billion euros (over $500 billion), designers need to seek out new ways to remain relevant in order to take in a share of those profits.
Whether that share should come by offering Hijabs and abayas is at the heart of the debate. The UK chain Marks & Spencer was the focus of complaints early this year after a burkini they'd had on offer in the Middle East was also made available online for shoppers worldwide. High street fast fashion retailer H&M was tossed into the debate after an advertisement included a model wearing a Hijab.
dw.com/en/fashions-marketing-to-muslim-women-draws-ire-in-france/a-19222823
-------
Prison guards told Muslim woman to remove headscarf as she visited lag
29 Apr 2016
Staff at HMP Leeds told the woman to remove her headscarf so they could search her for contraband
The woman was told to remove her veil when she visited HMP Leeds
Prison guards have been rapped for ordering a Muslim visitor to remove her headscarf so they could search for contraband.
A report by HM Chief Inspector of Prisons into HMP Leeds this week said Muslim women should not be made to remove their headscarves in public.
It also said that unless guards at the category B prison had "specific intelligence", toddlers and babies should not be searched.
The report states that guards routinely conducted "rubdown' searches of babies and toddlers in front of their guardians - normally their mothers - before they were allowed into the visiting room to see a prisoner.
The searches include checking shoes and clothing, and being given a "rubdown search" as guards search for contraband, including drugs, SIM cards and mobile phones.
Staff at HMP Leeds have been told then should also not search babies and toddlers unless they have "specific intelligence"
The report states: "Visitors were searched thoroughly and generally respectfully, but a Muslim woman was asked to remove her headscarf in public and toddlers were still routinely receiving a rubdown search."
Its recommends that the prison should not ask Muslim women to remove their headscarves - and that toddlers only be searched if there is 'specific intelligence' that they had contraband hidden on them.
The report states: "Searching arrangements should be respectful and proportionate.
"Muslim women should not be asked to remove headscarves in public and babies and toddlers should only be searched when there is specific intelligence to indicate a risk."
The report also revealed how legal highs had become a 'major factor' in the rise of violence at the prison.
Inspectors reported violence at Armley was now double that of similar prisons.
There was an average of 32 assaults on prisoners and staff at HMP Leeds every month, watchdogs revealed, with around one in ten resulting in serious injury.
HM Inspectorate of Prisons also told how inmates spent 17 hours in their cells but suggested that was not unusual.
And they said inmates complained they did not have enough bedding, clothes and cleaning materials.
Talking about the increased use of legal highs, the report said: "Despite some robust action being taken to address the challenges this presented, it was having a pervasive and destabilising effect across the prison".
Inspectors also found that levels of crowding were "very high" and the majority of cells were "poorly equipped".
There were around 300 cases of visitors being arrested on suspicion of taking drugs into prisons in England in 2013/14, according to Centre for Social Justice.
DAILY RECORD A prisoner reads a book in his cell
Inmates in the prison spend 17 hours a day in their cells
Michael Spurr, Chief Executive of the National Offender Management Service, said the governor and his team were 'providing good leadership', adding: "They will receive the support they need to make the improvements required."
HMP Leeds is a large Victorian inner-city prison serving courts in Yorkshire.
At the time of the inspection at the end of last year it held 1,149 adult male prisoners.
Frances Crook, Chief Executive of the Howard League for Penal Reform, said:"This grim report is a snapshot of a troubled prison system.
"Like many other jails across England and Wales, Leeds is overcrowded, under-resourced, and failing to keep prisoners, staff and the public safe.
"We cannot go on cramming more and more people into overcrowded jails without any thought for the consequences."
Commenting on the inspection report Juliet Lyon, director of the Prison Reform Trust, said: "Worryingly this report also shows that we are starting to accept the unacceptable.
"17 hours a day locked behind a cell door is a chronic waste of time, opportunity and taxpayers' money.
"Michael Gove, the prison service and the inspectorate must all set their sights higher."
mirror.co.uk/news/uk-news/prison-guards-told-muslim-woman-7861149
URL: https://newageislam.com/islam,-women-and-feminism/new-age-islam-news-bureau/islamic-state-offers-marriage-counselling-for-disgruntled-wives/d/107158
New Age Islam, Islam Online, Islamic Website, African Muslim News, Arab World News, South Asia News, Indian Muslim News, World Muslim News, Womens in Islam, Islamic Feminism, Arab Women, Womens In Arab, Islamphobia in America, Muslim Women in West, Islam Women and Feminism