New Age Islam News Bureau
2 Oct 2014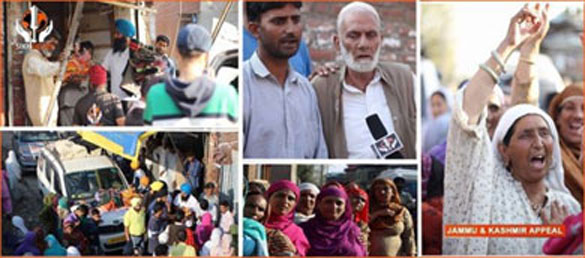 Photo: Salesgirls Sell Cattle for Eid Al Adha in Malaysia
---------
• Hijab Debate Returns To France After Student Asked To Remove Her 'Thing'
• Contrary to Popular Belief, Islam Demands Respect for Women
• Salesgirls Sell Cattle for Eid Al Adha in Malaysia
• Female Imams, a Chinese Innovation
• Parents of Suspected British ISIS Recruit, Yusra Hussein, Plead For Her Return
• Uganda: Pregnant Student Cries Foul Over Suspension
• Modern Slavery Rises In UK Led By Sex, Labour Trafficking: Study
• Alleged Woman Attacked on Train Raises Questions of Anti-Muslim Views in Australia
• UK Must Channel Aid to Fight FGM in Sierra Leone - Lawmakers
• Australian PM Not In Favour Of "Burqa" In Parliament
'• South Asian and Muslim Women Should Complain More about NHS Service'
• 700 Pakhtun female vaccinators to help make polio drive a 'success' in city
Compiled by New Age Islam News Bureau
URL: https://www.newageislam.com/islam,-women-and-feminism/new-age-islam-news-bureau/isis-beheads-women-in-northern-syria/d/99353
----------
ISIS Beheads Women in Northern Syria
2 October 2014
Militants from the Islamic State of Iraq and Syria beheaded three women near the Kurdish town of Kobani in northern Syria, the Daily Mail reported on Wednesday, citing the Syrian Observatory for Human Rights.
The London-based SOHR said ISIS beheaded the three women, who were fighting alongside Kurdish forces, along with five of their fellow male fighters, a Kurdish male civilian and four Syrian Arabs.
The observatory told Reuters that the aim of the beheadings was "to scare people."
The Daily Mail reported that the Kurdish fighters were captured by ISIS during a battle near Kobani, also known as Ain al-Arab.
Dozens of ISIS militants and Kurdish fighters were killed during the battle, the SOHR said.
Images showing the women's heads circulated on social media.
"There are real fears that the ISIS may be able to advance into the town of Kobane itself very soon," SOHR director Rami Abdel Rahman told Agence France Presse.
Kurdish leaders have appealed to the U.S.-led coalition battling ISIS to provide air support to the town's defenders.
http://english.alarabiya.net/en/News/2014/10/02/ISIS-militants-behead-three-women-near-Syria-s-Kobani.html
-----------
700 Pakhtun Female Vaccinators To Help Make Polio Drive A 'Success' In City
2 October 2014
KARACHI: The Sindh health department has identified 41 high-risk areas in the city — all predominantly Pakhthun localities — for which the World Health Organisation (WHO) has agreed to provide 700 female vaccinators belonging to the same community, officials said on Wednesday.
They said out of 41 high-risk union councils, eight were 'super high-risk' UCs — three of which were in Gadap Town, where eight out of 16 polio cases of Karachi had been confirmed.
"The WHO has agreed to provide 700 local Pakhtun women volunteers on a permanent basis to help us reach the virtually inaccessible predominantly Pakhtun neighbourhoods and get the children who had missed out in campaigns inoculated," said Khalid Shaikh, special secretary in the provincial health department.
The officials said the WHO would bear all the expenses of the female Pakhtun volunteers and they would be at the disposal of the expanded programme on immunisation (EPI) of Sindh permanently.
"Security for immunisation campaigns is a big issue and it gets bigger in the neighbourhoods where Pakhtuns are in majority," said Mr Shaikh.
Officials said it would be much easier for Pashto speakers to blend in the Pakhtun population because of same culture and language and that could come in handy while convincing the community to get their children vaccinated against polio because a large number of them had normally refused vaccination.
They said the number of refusals during anti-polio campaigns had been on the rise in Pakhtun localities, a matter of concern for the government, which had been promising throughout the year that the crippling disease would be eradicated from Sindh by 2015.
"Though it is highly difficult to root out polio in a year, at least we are doing our best to get it as minimised and restricted as possible," said a senior official in the health department.
Apart from introducing Pakhtun volunteers, the government is working on several other projects to reach out to maximum number of people during its future campaigns and misgivings about polio campaigns that grew a great deal after a the CIA-sponsored fake polio campaign in 2011 that was designed to hunt down Osama bin Laden.
One such measure is the formation of a provincial scholars' task force — a scheme to be assisted by religious scholars to convince the people, who refused polio teams to inoculate their children, to change their views.
Polio campaign
A three-day national immunisation days (NIDs) campaign came to an end in Karachi's west, central and south districts on Wednesday.
The officials termed the campaign a 'success' and said a similar three-day campaign would begin in the city's remaining districts of Malir, Korangi and east after Eid.
A special two-day campaign will be launched on Thursday in 14 high-risk union councils of the city.
According to deputy commissioner of central Dr Syed Saifur Rehman, about 350,000 children under five years of age were administered polio drops during the three days.
He said the campaign remained 'a success' across the 42 union councils of the district in which 1,158 polio teams took part.
http://www.dawn.com/news/1135599/700-pakhtun-female-vaccinators-to-help-make-polio-drive-a-success-in-city
------------
Contrary to Popular Belief, Islam Demands Respect for Women
2 October 2014
NFL players such as Ray Rice and others have infamously made national headlines for alleged abuse. Unfortunately, some of our very own Longhorns are facing the same charges. Martez Walker, of the Longhorn basketball team, has been suspended indefinitely after being charged for assaulting a woman, and both Kendall Sanders and Montrel Meander, of the Longhorn football team, were suspended indefinitely after being arrested and charged with sexual assault, a second-degree felony. This streak of violent acts making the headlines exposes a longstanding reality of sexual violence, causing alarm to many communities. Actress Emma Watson recently gave a speech at the U.N that highlighted the HeForShe campaign, "a solidarity movement for gender equality that brings together one half of humanity in support of the other of humanity, for the entirety of humanity." On this same note of solidarity for justice, the Texas Muslim Council, a representative body of all the Muslim organizations at the University of Texas at Austin, released a statement on Tuesday spurning such acts and calling for community wide solidarity against this "stain on humanity."
Eight Muslim organizations make up the Texas Muslim Council, representing a diverse Muslim demographic. Their public statement came out of an obligation to speak up against what they see as an "injustice that threatens justice everywhere." They argue that remaining silent makes one complicit in any form of oppression. This is also an opportunity to make clear that while the Muslim world does experience gross violations of women's rights, Islam is very clear on protecting women's rights. The unfortunate reality of women's rights in the Muslim world is the result of culture corrupting religion and ignorance betraying the legal sources, like the Quran.
Islamic law is derived from three sources, the Quran, the sayings of the Prophet Muhammad (pbuh), and the traditions or actions of the Prophet Muhammad (pbuh). From each of these sources, the message of love, affection and mercy are consistently made clear. Of the many instances, the Prophet Muhammad (pbuh) is said to have consoled his wife, lain in her lap and assisted in housework. Such narrations and traditions exemplify what the Quran preaches.
"And of His signs is that He created for you from yourselves mates that you may find tranquillity in them; and He placed between you affection and mercy. Indeed in that are signs for a people who give thought."
In addition to speaking out against these violations, the Muslim community is taking an active role in providing relief and combating the problem. For example, on Oct. 9, the UT Muslim Students Association will be holding its first-ever fundraising dinner concerning domestic abuse. The charity dinner will be co-hosted with UT Voices against Violence, a program under the Counselling and Mental Health Centre that addresses issues such as relationship violence, sexual violence and stalking, and the Texas Muslim Women's Foundation, an organization that seeks to empower, promote and support all women and their families. The fundraiser will be the first of the "Be an Anchor" initiative through VAV. The proceeds raised will support VAV Survivor's Emergency Fund, which provides aid to victims of domestic and sexual violence in the UT Community, and will go toward making UT MSA the first "anchor," or sponsor, for VAV.
It is regrettable that it takes the suspensions of football players and the like to have this conversation, but nonetheless, we are presented with an opportunity to make it extremely clear that violence against women will not be tolerated and will not represent the UT community or humanity. The march in solidarity for women's justice is a long one, but the right one. It will not be easy, but we have a diverse group of allies. Islam is not a religion that condones abuse against women, and its followers are allies. Let's end abuse together.
http://www.dailytexanonline.com/2014/10/01/contrary-to-popular-belief-islam-demands-respect-for-women
----------
Salesgirls Sell Cattle for Eid Al Adha in Malaysia
2 October 2014
A salesgirl waits for customers as she sells cows for the upcoming Eid al-Adha festival at a cow showroom in Depok, outskirt of Jakarta Tuesday. The cow showroom has adopted a unique way of selling cattle for Eid al-Adha by employing salesgirls to attract customers. According to the owners of the showroom, this has led to an increase in sales since they started employing salesgirls three years ago, having sold around 400 cattle in 2012, 440 in 2013 and 510 this year.
http://www.saudigazette.com.sa/index.cfm?method=home.regcon&contentid=20141001219856
-----------
Female Imams, a Chinese Innovation
October 02, 2014
At the Yinta Mosque in China's Muslim heartland, Tian Xinghong teaches other Muslim women scriptures from the Qur'an every morning from 6:30 to 9:30 a.m.
The 28-year-old, donning a black robe and pink scarf, has 60 students at the mosque in Wuzhong City in northwest China's Ningxia Hui Autonomous Region, where many of the country's Muslim Hui ethnic minority live.
Although Muslim women pray at home, Tian also leads them in prayer and chanting on special occasions such as festivals, either at a women's mosque or another mosque's restricted areas for women.
She is a female imam, or "ahong," pronounced "ah-hung," from the Persian word "akhund" for "the learned." In China, female imams, rare in Arab countries, are an innovation.
Tian was born into a religious family. Her grandmother was one of the first female imams in Ningxia.
She was sent to a local mosque at the age of 12 to study Islamic scripture and further her studies at a Chinese-Arabic school for girls in neighbouring Gansu Province in 2001, where she studied Islam and Arabic.
In 2003, Tian passed a qualification test to become an ahong organized by the regional Islamic association. More than 300 Muslims applied for the test, and of the five female applicants, Tian was the only one to pass.
"Many female Muslims did not have much formal education, especially the elderly. Although they are Muslim, they know nothing about the Qur'an. I want to teach them the Holy Scriptures and hope they can be inspired, think independently and have their own careers," she said.
Tian's husband is an imam at the Wunan Mosque, the biggest mosque in the city. In addition to her religious duties, Tian takes care of their two children.
As early as the late Ming dynasty (around the 17th century), followers of the faith set up schools for Muslim women and girls around the country. These later became mosques for women operated by female imams in the late Qing dynasty (around the 19th century).
Female imams then spread throughout Chinese Muslim societies, said Shui Jingjun, a Henan Provincial Academy of Social Sciences researcher.
During the Cultural Revolution (1966-1976), religion was banned. It was revived in the 1980s, leading to growing numbers of Buddhists, Taoists, Muslims and Christians, among other faiths. The government's push for gender equality helped broaden Muslim women's roles.
However, China's female imams do not have equal status to male prayer leaders. They do not lead Salaat, the five daily prayers considered among the most important Muslim obligations. The prayers are instead piped via loudspeakers into women's mosques from the nearby mosques for men.
Still, the female imams guide others in worship and are the primary spiritual leaders for the women in their communities. In the women's mosque, women can study the Qur'an and Islamic doctrine, as well as the Arabic language.
In the Litong District of Wuzhong City, where Tian lives, there were 12 female ahongs out of 600 registered ahongs as of the end of 2013, said Tian Xuewu, an official with the district religious affairs administration.
"Whether male or female, whoever can teach us the Islamic scriptures and religious knowledge is our respected ahong," said Du Shaocheng, who prays at the Yinta mosque.
http://english.peopledaily.com.cn/n/2014/1002/c90782-8790612.html
-----------
Parents of Suspected British ISIS Recruit, Yusra Hussein, Plead For Her Return
2 October 2014
The Somali-born British parents of a 15-year-old suspected of travelling to join the Islamic State in Iraq and Syria appealed on Tuesday for her return home.
"Please come back, we just want you to be safe," said the parents of Yusra Hussein, the Daily Telegraph reported.
Hussein had been reported missing after she was last seen going to school last Wednesday.
She never arrived at her school, and a police investigation found that she took a bus to Heathrow airport, where she boarded a plane to Istanbul.
Police and her parents say they fear that she flew to Turkey to cross into Syria to join ISIS.
Louisa Rolfe, assistant chief constable of Avon and Somerset police, said of Hussein: "There are indications she may have been radicalized, but at the moment our priority is to find her before she crosses the border to Syria and make sure she is safe."
People who know Hussein have described her as a bright, articulate girl who wanted to become a dentist.
Her school friends described her as "very religious" and "very intelligent," adding that no-one had noticed any signs of her becoming radicalized.
The Bristol Post reported a 15-year-old girl who met Hussein at a local mosque as saying: "She is a very nice girl. She worked very hard and wanted to do well in school."
Local councillor Hibaq Jama said Bristol's Somali community was concerned that other children might be tempted to follow suit.
A spokesperson for Scotland Yard police confirmed that a 17-year-old from Lambeth, south London, had been missing from her home since last Wednesday, and that she was believed to have flown to Istanbul with Hussein.
Academics at King's College London estimate that some 50 British females - mainly aged between 16 and 24 - have joined ISIS, many travelling to its de facto capital in Raqqa, Syria.
http://english.alarabiya.net/en/perspective/features/2014/10/01/Parents-of-suspected-British-ISIS-recruit-plead-for-her-return.html
-----------
Uganda: Pregnant Student Cries Foul Over Suspension
2 October 2014
Several female students from a university in Uganda are crying foul after they were suspended for conceiving from Uganda Christian University (UCU) in the city of Mukono earlier this year. Sylvia Arinaitwe (21), one of 27 students who have been recently suspended, says her dreams have been shattered.
Not married
"It was on the third of April this year, when I was found to be pregnant by the university administration. At that time, I was sitting for my final third year exams in Public Administration. I had done the first paper and when I reported the next day for another, I was blocked on grounds that I was pregnant yet not married."
The university then gave her a letter reading: "Dear Sylvia Arinaitwe, the disciplinary committee of the college that sat on the fourteenth did establish that you were found pregnant while at campus, yet you are not married. The administration therefore upholds the decision to suspend you for one year and this takes immediate effect."
Uganda Christian University, the second biggest university in the country, was founded by Church of Uganda.
Unfair treatment
"I felt this was too unfair, because it was my final year at university and I had already sat for one paper by the time when they stopped me. They should have allowed me to complete my exams even if I was pregnant. This has affected me a lot and I don't know if I will ever recover from it, because my parents had paid tuition for me to complete my education."
"As we speak now, I don't know whether I will be able to resume school again, because my parents are saying that they already paid my tuition. Will the university allow me to resume school using the previous money? If they refuse then that's the end of my dream."
Sylvia is among the many students who are suspended from Uganda Christian University every year for conceiving while at campus. On the fateful day, she was suspended together with two other classmates.
University response
"Every student who is admitted at Uganda Christian University knows that there's a policy barring them from getting pregnant unless someone is married," explains Joseph Basoga, the Uganda Christian University public relations officer.
Basoga says the students who were suspended shall only be allowed back to the university after serving their one-year suspension. Suspended students have little recourse since their student leaders tend to side with the administration.
Waiting
Blessed Murungi, the Uganda Christian University Guild president, says the victims are to blame for their fate. She explains that Uganda Christian University does not condone immoral acts like fornication. Each student who joins the university is given a book containing the code of conduct that they are expected to follow and that those who break it are to blame, according to Murungi.
Meanwhile, Sylvia remains in limbo.
"I'm so devastated by the decision that the university took. And worst of all: I produced and the baby passed away shortly after. I'm now just seated at home waiting to see if I will be allowed to resume school in January 2015 as they indicated in their suspension letter."
http://allafrica.com/stories/201410010513.html
-----------
Modern Slavery Rises In UK Led By Sex, Labour Trafficking: Study
October 02, 2014
(Thomson Reuters Foundation) - The number of people locked in slavery in Britain rose by 22 percent last year, with online dating, social media sites and Internet job advertisements used increasingly to recruit victims, a new report showed on Tuesday.
Britain's National Crime Agency (NCA) identified 2,744 people, including 602 children, as potential victims of human trafficking in 2013 with more than 40 percent ending up in the sex trade and almost 30 percent forced into manual labour.
The third annual human trafficking report listed Romania as the most prevalent country of origin for victims for the third consecutive year, with more than half exploited for sex, and Poland as the most common country for labour trafficking.
Although the number of victims of slavery in Britain is hard to pin down, studies have shown there has been an increase in human trafficking in recent years, prompting the government to prepare a bill to more effectively tackle slavery offences.
Karen Bradley, who was appointed modern slavery and organised crime minister earlier this year, described modern slavery as an appalling crime that has "no place in today's society".
"Yet these figures show it is taking place here - often out of sight - in shops, fields, building sites and behind the curtains of ordinary streets," Bradley said in a statement as the NCA report was released.
Almost 30 million people are enslaved worldwide, trafficked into brothels, forced into manual labour, victims of debt bondage or born into servitude, according to rights group Walk Free Foundation that produces the Global Slavery Index.
It estimated that between 4,200 and 4,600 are enslaved in the United Kingdom.
The NCA report found 41 percent of victims identified in Britain last year were trafficked for sexual exploitation, up from 35 percent a year earlier, while the number of those forced into manual labour rose to 27 percent from 22 percent in 2012.
The number of victims from Albania, Slovakia and Lithuania increased significantly last year, the NCA said, while the number trafficked from Vietnam and Hungary also rose slightly.
Another shift was also the number of victims from Thailand which jumped to 89 from nine a year earlier, making it one of the 10 countries with the largest numbers trafficked to Britain.
Liam Vernon, head of the United Kingdom Human Trafficking Centre, said the NCA was working closely with a range of partners to tackle "this disturbing crime".
"The National Crime Agency is committed to continually disrupting what is a vicious and criminal trade in human misery, which exploits the most vulnerable people, both here and abroad, for financial gain," Vernon said in a statement.
The NCA, Britain's equivalent of the U.S. Federal Bureau of Investigation, came into operation last October with the aim of better coordinating police action on issues such as child sex abuse and organised crime.
http://www.trust.org/item/20140929230055-vfel0/?source=dpMostPopular
-----------
Alleged Woman Attacked on Train Raises Questions of Anti-Muslim Views in Australia
2 October 2014
A woman believed to be a Muslim was left shaken and traumatised after she was thrown out of a train the northern part of Melbourne in a racist attack. Reports said the 26-year-old woman was on a train on the Upfield line when another woman approached her and began verbally abusing her with racist remarks.
The woman's abuser grabbed her by the hair and neck as her head was bashed several times on the wall of the train's carriage. The Muslim woman was then pushed off the train when it arrived in Batman Station in Coburg North. According to Senior Constable Michael Potter, the racist attack had happened as the train approached the station on the night of Sept. 25.
Potter declined to confirm the race of victim. Victorian Chief Commissioner Ken Lay had earlier urged the Muslim community to report any incident of racial abuse amid heightened terror alerts and escalated tension in Australia following counter-terrorism raids. Potter refused to release more details about the victim since this would only reveal her identity and lead to possible future attacks.
Police said two men who witnessed the attack had offered to help the woman. The other woman who abused her was described as having a solid build with short brown hair, light eyebrows and an estimated height of 177 centimetres, reports said.
Lay had claimed the police had no information to confirm the rise of "prejudice-related crime" but he was aware of a number of issues in the community that have not been reported to the authorities, The Age reports.
The commissioner acknowledged that Muslim women are "insulted about their garb" while on the street. He said the police are looking into CCTV footage related to the attack on the woman on the train.
According to the results of the latest Mapping Social Cohesion survey, racism in Australia is on the rise. The survey in 2013, conducted by the Scanlon Foundation, found that 19 percent of Australians struggle with some form of racial or religious discrimination. The current figures reveal that racism is at its highest level since Scanlon Foundation began the survey in 2007
In 2011, another survey conducted by a group of Australian universities found that half of the population in Australia have anti-Muslim views. Since the national terror threat level was raised in Australia, the Grand Mufti has called on the Muslim-Australian community to be calm and exercise restraint since the Islamic State of Iraq and Syria issued threats against Australians through social media. Incidents of Australians hurling offensive and racist remarks on Muslims were reported to the police.
http://au.ibtimes.com/articles/568423/20141002/australia-racism-melbourne-muslim.htm#.VC1HZWddU4U
----------
UK must channel aid to fight FGM in Sierra Leone - lawmakers
October 02, 2014
LONDON, Oct 2 (Thomson Reuters Foundation) - Britain must set up a programme to tackle female genital mutilation in Sierra Leone, where the practice is seen as a prerequisite for marriage and even used as a political tool, a parliamentary committee said.
The International Development Committee said on Thursday it was astounded that Britain - which has put itself centre stage in global efforts to eradicate FGM - had left Sierra Leone out of its £35 million programme to help end FGM in Africa.
"It concerns us greatly that Sierra Leone - the UK's largest per capita bilateral recipient of aid - does not currently have a single UK-funded programme to curb female genital mutilation when this country has one of the highest prevalence in the world of this barbaric practice," committee chairman Sir Malcolm Bruce said.
He called on Britain's Department for International Development (DFID) to act immediately.
Nearly 90 percent of women in Sierra Leone have undergone FGM, a ritual involving the partial or total removal of the genitalia. The vaginal opening is sometimes also sewn up.
An estimated 140 million girls and women worldwide are affected by FGM, most of them in Africa. Many countries are now trying to stop the practice which can cause serious physical and psychological problems.
However, experts say it is particularly difficult to tackle FGM in Sierra Leone because it is performed by secret women's societies that wield enormous clout.
In the report, one children's charity described some girls running away from home and living on the streets to avoid being mutilated.
"FINGER-WAGGING BRITS"
British FGM campaigner Alimatu Dimonekene, who grew up in Sierra Leone, said politicians were complicit in the practice.
"It is a well-known fact that some politicians sponsor state cutting of girls as a form of gaining the trust of a community and in turn votes during election campaigns," the report quoted her as saying.
"Any politician who criticises the practice is unlikely to win the election."
One Sierra Leonean woman told the committee during its visit to the west African country that a government minister had threatened her after she spoke out about FGM.
International aid agency GOAL urged Britain to use its position as the largest donor in Sierra Leone to lobby for action at the highest government levels.
According to DFID, Sierra Leone was not included in the £35 million programme partly because of its low political commitment.
International Development Minister Lynne Featherstone told the inquiry the FGM initiative should be led by African countries, adding, "we cannot turn into imperialist finger-wagging Brits".
One FGM survivor quoted in the report suggested including FGM in the school curriculum to empower girls to say no and help dispel myths such as the belief that having sex with an uncut woman leads to impotence.
http://www.trust.org/item/20141002091447-3uxln/?source=leadCarousel
-----------
Australian PM not in favor of "burqa" in parliament
2 October 2014
Sydney- Australian Prime Minister Tony Abbott today said that he wished the burqa "was not worn" in the country while indicating his view on backing a call for a ban on the Muslim veil for women inside parliament.
Abbott said Parliament House had to be treated as a secure building. "It is perfectly appropriate that in certain circumstances people be required to show their face. There can't be one rule for one form of attire and a different rule for another form of attire," he said. "It has to be the same rules for everyone and if the rules require you to show your face, well you show your face," he said adding, "This is a secure building and it is important that people be able to be identified, it is important that people be able to be recognized as the people for whom a pass has been issued".
However, Abbott stated that there was no record of the "burqa" ever being worn into the building. "Has anyone ever sought entry to this building so attired? As far as I am aware, no," he said. "And making a big song and dance about a hypothetical situation I am not sure is particularly helpful. But I just want to stress that this is a secure building and it should be governed by the rules that are appropriate for a secure building and obviously people need to be identifiable in a secure building such as this," he said.
"I have said before that I find it a fairly confronting form of attire," he said. "Frankly, I wish it was not worn. But we are a free country, we are a free society and it is not the business of the government to tell people what they should and shouldn't wear," he said.
The "burqa" debate was pushed by a politician Jacqui Lambie, who had called for a widespread ban even in public places. The call was backed by coalition backbenchers Cory Bernardi and George Christensen.
Opposition leader Bill Shorten, who does not support a "burqa" ban in Parliament House, called on Abbott today to silence the voices within his party "out there pushing socially divisive arguments".
http://nation.com.pk/international/01-Oct-2014/australian-pm-not-in-favor-of-burqa-in-parliament
-----------
'South Asian and Muslim Women Should Complain More about NHS Service'
2 October 2014
Health Ombudsman says South Asian and Muslim women should complain more about NHS service The Parliamentary and Health Service Ombudsman has launched an outreach campaign to get more South Asian and Muslim women to complain when they receive a poor service from the NHS.
The Ombudsman which is the last port of call for complaints found that women from these groups where far less likely to air any grievances compared to their white counterparts.
Research carried out alongside the Muslim Women's Network UK through focus groups in major English cities including Manchester, discovered that only 5.7% of NHS related complaints to the Parliamentary and Health Service Ombudsman came from people of Asian heritage.
This is despite the fact that 7% of England's population is classified as Asian.
In contrast 88% of complaints came from those described as White British with the English population of the same category totalling 80%.
The main reasons behind the reluctance to complain are said to be a fear of repercussions with some women saying they were made to feel 'inferior' and that they 'were in the wrong for complaining', according to case summaries gathered.
The Health Service Commissioner for England, Dame Julie Mellor emphasised the point about disparities between different ethnicities saying: "'We are worried that South Asian and Muslim women's voices are going unheard because they are less likely to complain about their NHS treatment than white British women."
Britain's health tsar highlighted how four out of every ten people who were unhappy with a public service they had received failed to complain because they felt it will not make a difference. "We want South Asian and Muslim women to feel confident in making a complaint about their NHS treatment and to know that complaining can make a difference," she added.
As part of an outreach campaign launched today, the ombudsman service is sending out 25,000 leaflets in five different south Asian languages – Hindi, Bengali, Gujarati, Punjabi and Urdu – explaining how to complain about the NHS treatment.
More than 5,000 posters in six different languages are being sent to advocacy groups in the five cities including Bradford and Manchester which have a high proportion of residents from South Asian and Muslim backgrounds.
An animated advert in Hindi for Asian TV channel Star Plus which has approximately 1.3 million viewers will air for two months to further promote the campaign.
http://www.asianimage.co.uk/news/11509793._South_Asian_and_Muslim_women_should_complain_more_about_NHS_service_/
-------------
Hijab debate returns to France after student asked to remove her 'thing'
2 October 2014
Controversy surrounding the Muslim female headscarf in France has returned after a student was ordered to remove it during a class at the prestigious La Sorbonne university.
"Are you planning on keeping your thing on throughout all my classes?" the geography lecturer asked the student, French daily Le Monde reported. The names of the lecturer and the student were not made public.
"I'm here to help you integrate into professional life, and that [headscarf] is going to cause you problems," the lecturer added.
When the student refused to remove it, the lecturer reportedly asked her to "go to another class."
A 2004 law prohibits the wearing or open display of religious symbols in all French schools, but it does not apply to universities.
In 2010, a law banned the wearing in public places of the full Muslim face veil, known as the niqab or burqa. However, it did not include the headscarf.
France argues that the ban, which was approved by the Constitutional Council, is necessary to protect the country's secular culture and the strict division between religion and state.
Recently, a French government agency responsible for maintaining the country's secular values recommended a ban on Muslim headscarves in universities to limit tensions.
Rare incident
Jean-Marie Salamito, professor of the history of ancient Christianity at Université Paris-Sorbonne 1, told Al Arabiya News that this latest incident was "very rare."
He added: "French university professors are generally very open-minded and tolerant, and France is the country of freedoms. Calling the Islamic headscarf a thing can be considered a sign of disrespect to the student and to Islam."
However, "the attitude and comments of one professor doesn't reflect how French professors treat veiled students," and it does not indicate a rise in Islamophobia in France's education system, Salamito said.
Apology
Seeking to contain the growing indignation over the incident at La Sorbonne, the president of the university, Philippe Boutry, apologized to the student this week, Le Monde reported.
In his apology letter, Boutry said the incident was due to the lecturer's misunderstanding of the 2004 law.
However, the student said the lecturer was aware of the law. She is demanding that the latter be punished to avoid similar incidents in the future.
The incident, which is not the first of its kind in France, has led professors to discuss the role of Muslim dress in the integration of individuals in French society.
Headdress should not be a measure of integration, but burqas may be problematic, said Salamito, because "a professor isn't able to see the face of the person they're talking to. It's a matter of normal communication."
Leila al-Hakim, a Muslim student at La Sorbonne, told Al Arabiya News that she was shocked by the incident, and that university personnel must respect students "no matter their origin or religion."
Hakim said even though she had never faced discrimination from professors, the incident reflected persistent inequalities between Muslim and other students at the university.
The Egyptian-born student added that the number of students displaying religious symbols on campus is limited.
France has one of the largest Muslim populations in Western Europe. Of the country's estimated 5 million Muslims, between 400 and 2,000 women wear face veils.
http://english.alarabiya.net/en/perspective/features/2014/10/01/Hijab-controversy-returns-in-France-after-student-asked-to-remove-her-thing-.html
----------
URL: https://www.newageislam.com/islam,-women-and-feminism/new-age-islam-news-bureau/islamic-state-beheads-women-in-northern-syria/d/99353