New Age Islam News Bureau
30 January 2021
• New Zealand Police Includes Hijab in Uniform, Developed By Police And Design Experts from Massey University
• Chess Playing Gets Popularity Among Women During COVID-19 In Afghanistan
• Saudi Arabia's Princess Reema On Why Gender Equality Must Be A Global Priority
• Amnesty Slams Houthi Ban On Yemeni Women
Compiled by New Age Islam News Bureau
URL: https://www.newageislam.com/islam-women-feminism/islamic-state-beheads-two-female/d/124187
--------
Islamic State Beheads Two Female Kurdish Politicians For Teaching 'Arab Women Have Equal Rights As Arab Men'
By Johnlee Varghese
January 30, 2021
The Islamic State (ISIS) militants allegedly have beheaded two female politicians, who were kidnapped from the Kurdish region of Syria earlier last week, local news sources have reported.
This is said to be the first time that ISIS also known as Daesh has beheaded women. The assassination came to light after their bodies were discovered in the northeastern Hasakah province on January 23.
According to local sources, the Islamic State militants, who have taken responsibility for the kidnapping and murder of the two politicians. The group allegedly was miffed that the two women were part of an institution that was promoting equal rights for Arab women in the region.
The Daesh terrorists reportedly dressed up as the Kurdish Syrian Democratic Forces (SDF) - an alliance of Kurdish and Arab militia, who have played a key role in assisting US forces in thwarting the Salafist forces in Syria.
According to the Syria-based Rojava Information Centre (RIC), the two slain female politicians have been identified as Hind Latif Al Khadir, who was head of the economy committee of the town of Til Shayir, and Sa'da Faysal Al Hermas was co-president of the town's people's council.
Both the women were allegedly targeted for their work with the Autonomous Administration of North and East Syria (AANES). In December, ISIS has similarly beheaded two official male officials working with AANES and left a warning that anyone working for the institution will meet a similar fate.
The RIC sources revealed that since June has increased its attacks against AANES officials in the region to destabilize "NE Syria."
Janet Grabowski, a Human Rights Activist supporting the cause of a free in a tweet indicated that the ANNES officials were being targeted as "Arab women" were being taught that they had same rights as Arab men. Some didn't like that of course."
The ISIS militants, who follow an extreme form of Salafist ideology, is opposed to any form of progress or rights being accorded to women. During its peak, the ISIS that controlled swathes of land in Syria and Iraq introduced archaic punishments such as stoning to death, beheading and even had sex slave markets where it used to sell kidnapped women.
https://www.ibtimes.sg/isis-beheads-two-female-kurdish-politicians-teaching-arab-women-have-equal-rights-arab-men-55246
--------
New Zealand Police Includes Hijab in Uniform, Developed By Police And Design Experts from Massey University
29 January 2021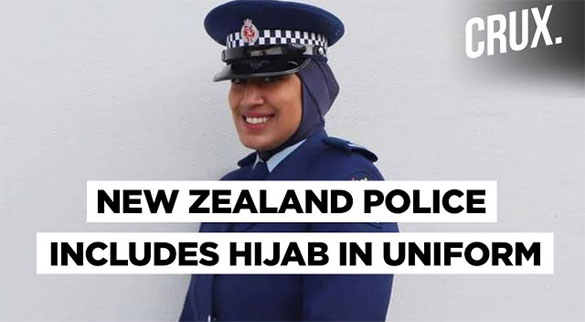 , and it has attracted international attention with a UK police district trialling the new hijab.
Inspector Braydon Lenihan told Checkpoint the idea got momentum from staff at a careers day in 2018.
"They were getting questions from young Muslim women as to why there was no hijab as part of the uniform, and that they would that they'd be considering a career in the police but that was something that was holding them back.
"So clearly having heard that we started to look around. We looked internationally as to what was available for other police departments, and found that actually there was nothing.
"Women of Muslim faith were having to actually provide their own. We thought this was a bit of a gap and a bit of an area where we could probably be leaders in this space."
Massey University's School of Design played a key part in developing the hijab, he said.
"We developed other parts of uniform for the New Zealand police and having that experience we knew we had to have something that was comfortable, had good fit and functionality… but also that somebody could wear that was comfortable for them for a long duration of time… maybe even a 12 hour shift.
"What came out of that was the material we settled on - a quite a light sports-type material that's moisture wicking, cutting edge in terms of its design and how form-fitting it is for the person, and also some safety features in there to look after our people.
"If an officer is involved in an altercation that involves the hijab being pulled from their heads, if that fastening is too secure, it might not give, and unfortunately that becomes either a choking or dragging risk for our officers.
"So in terms of the clasping mechanism and the release mechanism for that, that was quite key for us in terms of our officers' safety."
The hijab was trialled by several female officers at police national headquarters, to test for fitness and functionality. They were not Muslim women, but were able to give feedback on how well prototypes fitted, Lenihan said.
"Following that we sent it out to the Royal NZ Police College. Some female defensive tactics trainers actually wore it while they were training… and really putting it through its paces."
The hijab is now an official part of the NZ Police uniform, he said.
"Females of the Muslim faith, if they choose to wear the hijab, it is available for them. It is an approved official piece of New Zealand police uniform."
After putting out a press release showing the new item of police uniform, the United Kingdom's Leicestershire Muslim Police Association got in touch saying they were keen to try the hijab there.
"We've been in conversations with them to see how we can provide for their needs and put them in touch both with my team and also the team at the Massey School of Design around the requirements.
"This afternoon we sent across… another three hijabs in the Leicestershire black, which is the colour of their uniform. There's already one hijab over there being worn by a trainee constable.
"I think whenever you can provide something that enables a section of the community that has previously felt like they couldn't be part of the New Zealand Police, or be part of their community, I think to be able to do that is pretty special."
https://www.rnz.co.nz/national/programmes/checkpoint/audio/2018781544/tailor-made-hijab-now-part-of-nz-police-uniform-for-muslim-female-officers
--------
Chess playing gets popularity among women during COVID-19 in Afghanistan
2021-01-29
by Abdul Haleem
MAZAR-E-SHARIF, Afghanistan, Jan. 29 (Xinhua) -- The COVID-19 related quarantines have not restricted the life of Zahra Ebrahimi in Afghanistan's northern Mazar-e-Sharif city, as she beat her isolated quarantine life and encouraged girls to learn chess in the relatively peaceful city in Afghanistan.
"Living in isolation during quarantine to protect myself from COVID-19 virtually was boring and even caused psychological problems for me and others," 24-year-old Ebrahimi said.
"To get rid of isolation and to overcome the challenge, I have decided to practice chess playing and also encourage the women and girls to learn on how to play the game," she said.
The Chess Federation in Mazar-e-Sharif city, capital of the northern Balkh province, has welcomed Ebrahimi's initiative and supported anyone who is interested to learn the game.
Describing chess games as a "mental exercise" that strengthens one's intellectual ability, the chess coach Ebrahimi maintained that she wanted to train more and more female chess players.
"Learning chess and playing the game from one hand strengthens your mental ability and from the other, excites your feeling," said a girl named Arzo Amin.
Ebrahimi, engaging in cultural activities after graduating from college, said Afghan women are more talented than they appear and if provided the chance they could earn honor for their country.
"In the beginning, few girls dared to attend the chess class because of cultural barriers but the number of trainees has gradually increased and currently scores of girls attended the class to learn and even some attended the local tournament to display their abilities," said the lady with pride.
Playing chess in Afghanistan has been regarded as a mental sport for men. "I am determined to promote the culture of chess playing among women and encourage them to attend the local tournaments," Ebrahimi said.
To protect its citizens from the coronavirus, the government of Afghanistan imposed restrictions in March last year and also shut down the door of schools for months to help the citizens stay safe and the measures are still partially intact.
Staying at home for months to escape COVID-19, according to Ebrahimi, has proved boring for many women as some have faced domestic violence and psychological problems. She opened the door for women and girls to attend the training class and kill time amid the pandemic.
"To beat the isolation and to pass time during COVID-19 quarantine, in my opinion, playing chess could help you forget all the mental pains," said Ebrahim.
Ebrahim told Xinhua that she had organized a two-day chess tournament with the participation of 24 girls and women from Balkh and the neighboring Jawzan provinces. Enditem
http://www.xinhuanet.com/english/2021-01/29/c_139707434.htm
--------
Saudi Arabia's Princess Reema On Why Gender Equality Must Be A Global Priority
JAN 28 2021
Women around the world are making impressive strides; they've led the fight against Covid-19, are increasingly taking on senior policy positions and running corporate board rooms, as part of an increasing number of thought leaders who are making a difference that will inspire generations to come.
To support this momentum we urge leaders, policy makers and tech pioneers to engage more of their efforts into rectifying long-standing gender inequalities. 2021 is the year for fresh thinking, the time to embrace re-invention, as we collectively push for greater equity for women and girls.
We've seen great progress. Every region in the world has made gains in ensuring the legal treatment of women. More women and girls have access to education and healthcare than they ever did in the past. Technology is also being harnessed to reduce gender barriers. Start-ups and tech companies are deploying job-hiring software platforms that use Artificial Intelligence to weed out bias and human resource analytic tools that allow deeper participation from all staff, regardless of seniority or gender.
Women are making significant advances. American voters elected Kamala Harris as the first female vice president in U.S. history – a milestone. Christine Lagarde was the first woman to head the European Central Bank and Nicke Widyawati runs Pertamina, Indonesia's state-owned largest oil and gas company. There are dozens of the others in leadership roles that are making a difference in their countries.
But progress shouldn't be measured by just the number of women in leadership positions alone or by symbolic breakthroughs; it should be defined by equal access to professional opportunities and education, greater access to finance and healthcare, and more female voices in the community.
Covid-19 hasn't helped; in fact, it has highlighted how quickly things can change. Some predictions suggest the gains seen over the last 25 years with women in the workplace could be wiped out in a year. When compared to men, four times as many women dropped out of the U.S. labour force in September (roughly 865,000 women, compared to 216,000 men), according to a report by the Century Foundation and Center for American Progress.
We believe there are a number of solutions that could help us focus policies. Expanding internet access into homes and rural communities is crucial, and governments should make this an infrastructure priority to increase remote work opportunities and FII-virtual career training. The International Telecommunication Union put the proportion of women using the Internet globally at 48 per cent, compared to 58 per cent of men in 2019.
Access to financial literacy should be expanded. How to manage savings, banking and investment accounts for women is important since women live longer yet have weaker earning power. Without financial literacy, women can struggle to lift themselves out of poverty and make decisions independently for themselves and their families.
The roughly 252 million female entrepreneurs around the world should also be supported. Although the number of female entrepreneurs has increased about 114 per cent in the last two decades, according to data from the Legal Job Site, it's still falling behind their male counterparts. To change this dedicated credit lines, availability of infrastructure for their businesses and government-led programs should be strengthened to promote the entrepreneurial ecosystem for women, particularly in developing countries where many can struggle to find work.
When self-isolation and lockdowns were implemented to slow the spread of Covid-19, we had the good fortunate of working from home. We logged into our laptops, used our phones and held virtual conference calls. We were fortunate, but others weren't. Those working as frontline medical staff, in the fast-food industry and other service sectors had to manage an unprecedented change in their lives. Many suffered as they had to quit their jobs to home school their children.
While there have been significant gains for women, we believe that more needs to be done. There is no better time to advance women's roles in society than now -- there needs to be a Neo-Renaissance, a rethinking. Since we can't go back to the way things were, let's be more inclusive going forward.
https://www.harpersbazaararabia.com/featured-news/gender-equality-global-priority
--------
Amnesty slams Houthi ban on Yemeni women
30.01.2021
SANAA
Amnesty International has condemned a Houthi decision banning Yemeni women from working in restaurants, calling it "shameful and discriminatory".
In a thread on its Twitter account, the human rights organization said it stands with all Yemeni women "in their fight for their rights".
"Institutionalizing discrimination increases oppression on women and impedes the foundation for sustainable and gender-equitable recovery and reconstruction in Yemen," it said.
Amnesty stressed that UN efforts to achieve a "peaceful reconciliation" in Yemen are impossible "without safeguarding and protecting women's rights".
There was no immediate comment from the Houthi movement on the matter.
Local media outlets have reported that Houthis have launched a campaign in the capital Sanaa prohibiting women from working in restaurants on grounds that it contradicts "the conservative Yemeni identity".
Yemen has been wracked by violence and instability since 2014, when Houthi rebels captured much of the country, including Sanaa.
A Saudi-led coalition aimed at reinstating the Yemeni government has worsened the situation, causing one of the world's worst man-made humanitarian crisis with nearly 80% or more than 24 million of its people needing humanitarian assistance and protection and more than 13 million in danger of starving to death, according to UN estimates.
https://www.aa.com.tr/en/middle-east/amnesty-slams-houthi-ban-on-yemeni-women/2128179
--------
URL: https://www.newageislam.com/islam-women-feminism/islamic-state-beheads-two-female/d/124187
New Age Islam, Islam Online, Islamic Website, African Muslim News, Arab World News, South Asia News, Indian Muslim News, World Muslim News, Women in Islam, Islamic Feminism, Arab Women, Women In Arab, Islamophobia in America, Muslim Women in West, Islam Women and Feminism