New Age Islam News Bureau
8 Jun 2015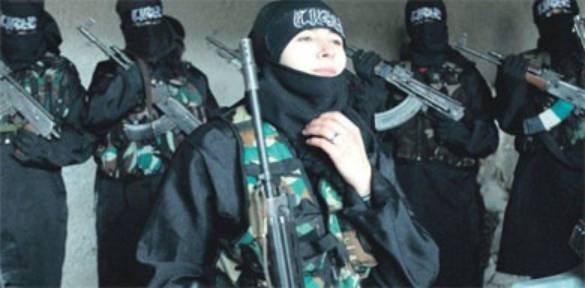 Female Islamic State militants
---------
• An American Muslim Lawyer Refuses to Choose Between a Career and a Head Scarf
• Women Invited To Have Their Say on Plans for Female Mosque in Bradford
• Girls Moved From Suspected 'Haunted' School in Saudi
• Muslim mother in UK attacked for wearing head scarf
• Women Held By Boko Haram in Sambisa Forest Describe Abuse, Crippling Fear
• Few Answer Call for Tunisian Women to Wear Miniskirts to Protest Repression of Muslim Women
• The Brutal Silencing of a Woman at the Forefront of Libya's Rebellion
• Expat Husbands and Children of Saudi Women to Get More Benefits
Compiled by New Age Islam News Bureau
URL: https://www.newageislam.com/islam,-women-and-feminism/new-age-islam-news-bureau/islamic-state-arrests-over-90-women-in-mosul/d/103393
----------
Islamic State Arrests Over 90 Women in Mosul
08 June, 2015
MOSUL – The Islamic State (IS) militants arrested over 90 women Mosul, forcing them to submit to temporary marriage with jihadist fighters.
A Kurdistan Democratic Party (KDP) official from Mosul, Saed Mamuzini, told BasNews that the IS women's brigade al-Khansa made more than 90 arrests in neighbourhoods across Mosul, the IS stronghold in northern Iraq.
Mamuzini said: "The arrested women are mostly young single girls who have previously been chosen by the insurgents because of their age and beauty."
Since taking control of large swathes of Syria and Iraq last summer, the jihadists have kidnapped thousands of young girls and women, forcing them into temporary marriage.
In April al-Khansa kidnapped more than 30 women from Mosul after they refused to marry insurgents.
IS militants use their women's brigade, al-Khansa, to investigate, arrest and kidnap women in areas under their control.
http://www.basnews.com/en/news/2015/06/07/islamic-state-arrests-over-90-women-in-mosul/
---------
An American Muslim Lawyer Refuses to Choose Between a Career and a Head Scarf
08 June, 2015
GARDEN CITY: The apprehension usually hits the night before a job interview or a big court case, as Zahra Cheema, a young lawyer, looks at the colourful head scarves and flowing Abayas in her closet and silently wonders: "Should I try to make myself look less Muslim?"
"That's when I'm feeling the pressure," said Cheema, who wears the Hijab, a traditional scarf that covers her hair and neck, whenever she leaves home.
She ponders: Should she wear a long, American-style skirt or the more conservative, full-length Abaya that she prefers? There are no easy answers for an observant Muslim woman navigating the workplace.
"Every time I walk into the room, the first thought is, 'There's a Muslim,'" said Cheema, 25, the U.S.-born daughter of Pakistani immigrants, describing that moment when she meets with a potential employer or argues a case in court. "I worry that essentially the Hijab will override all my other merits."
We were talking last week, just two days after the Supreme Court ruled that Abercrombie & Fitch had violated a federal ban on religious discrimination when it refused to hire a Muslim woman because she wore the Hijab.
Cheema was elated, at the decision itself and at how it elevated the profile of Muslim women and the challenges some face when they choose to cover their heads as a sign of piety.
It can be "very lonely," said Cheema, describing her journey from law school to a law firm here. She grew up in a predominantly white town on Long Island, and her secular family initially frowned on her decision to wear the Hijab, a step she took when she was a freshman in college.
"They were like, 'Who's going to hire you?'" she said, recalling her parents' concerns and her determination to prove them wrong.
At the City University of New York School of Law, she said, she was one of only a handful of women who wore the Hijab. And as she started searching for work, she discovered that even the most ordinary steps in the process had unexpected wrinkles.
Consider the common anxiety that surrounds the crafting of the perfect resume;. Cheema had to ask herself: Should she include her membership in the Muslim Law Students Association? (Maybe then, employers won't be so surprised when they see me, she reasoned. Then again, she worried, maybe they won't call me at all.)
And what about social media? Would law firms ask her in for interviews if hiring managers saw pictures of her wearing a head scarf on Facebook and LinkedIn? After experimenting a bit, she said, the answer was clear: The photographs had to go.
"I get callbacks" when the LinkedIn profile and her Facebook page appear without photos, Cheema said ruefully. "The other way, I don't."
Marianna DeCrescenzo, a good friend who has known Cheema since high school, said Cheema never complained about such experiences.
Even when Cheema had a part-time job at a local library and was relegated to the stacks and repeatedly passed over for higher-paying positions at the front desk, she kept quiet, DeCrescenzo said.
Cheema said that the job taught her a painful lesson: Some bosses prefer not to place a woman with a head scarf in the public eye. So for a time, when she was an undergraduate, she avoided applying for part-time work that required dealing with the public.
"No secretary jobs," said Cheema, ticking off the non-options. "No receptionist jobs."
She even considered giving up her dream of becoming a lawyer. But she said she found comfort and courage in her faith. By the time law school graduation rolled around last year, she was sending out resumes and praying for the best.
One law firm manager asked flat out whether she was Muslim or not. "Yes, I am," Cheema recalled telling her.
Another manager gestured at her clothing and asked, "How does that affect things?"
"It hasn't up to now," she said.
In August, Ashish Kapoor, who runs his own law firm here, hired Cheema.
"She does stand out a little," said Kapoor, who is not Muslim and who has fielded questions about Cheema from some curious members of his staff.
He wasn't bothered by her head scarf but wondered whether she would feel comfortable working with clients and appearing in court. She quickly proved herself, he said. "She's very ambitious."
This month, Cheema started her own firm specializing in immigration and family law, with support from her parents and from Kapoor, who is providing office space and referrals. (One of her favorite books, Sheryl Sandberg's "Lean In," also provided inspiration.)
Cheema knows it won't be easy. But what is?
"It might be uncomfortable sometimes," she said, "but I'm going to take that risk."
© 2015, The New York Times News Service
http://www.ndtv.com/world-news/a-muslim-lawyer-refuses-to-choose-between-a-career-and-a-head-scarf-769613
---------
Women invited to have their say on plans for female mosque in Bradford
08 June, 2015
THE Muslim Women's Council is inviting women in the Bradford district to have their says on plans for a female-led mosque.
The group hopes to set up the country's first mosque for women, led by women, to address inequalities it says initial research has highlighted.
The facility, in Bradford, would also provide a space for learning and social interaction as well as worship.
The organisation hopes to create a place where women can feel comfortable discussing issues that affect them and their families in daily life, such as divorce, bereavement, parenting and legal advice services. The space would be open to all women, regardless of faith.
On Sunday, June 14, the group is hosting a consultation session on the plans and Ramadan seminar, from 3.30pm until 7pm, at the Carlisle Business Centre, in Carlisle Road, Mannigham.
Both sessions are for women only and will be led by Dr Shuruq Naguib, a lecturer in Islamic Studies at Lancaster University, and co-chair of the British Association of Islamic Studies.
People are encouraged to register for a place at the free event, which includes refreshments and is followed by dinner, as places are limited.
http://www.thetelegraphandargus.co.uk/news/13317605.Women_invited_to_have_their_say_on_plans_for_female_mosque_in_Bradford/
---------
Girls moved from suspected 'haunted' school in Saudi
08 June, 2015
Saudi education authorities bowed to public pressure and moved girls from a local school to another building, following reports that it was haunted.
A committee formed by the education department in the Western town of Medinah decided to move the school girls after examining the building and some students who have been taken to hospital with fits of fear and convulsions.
"We have decided to move the girls to another school, taking into consideration the circumstances at the old school and after listening to statements by the teachers and families," 'Ajel' daily said, quoting education department director Naser Abdul Karim.
In a report last month, the Arabic language daily 'Al Watan' quoted students' parents as saying they believe the school was haunted by jinn (spirits) after their daughters suffered from fits of fears and convulsions.
The families also called on education authorities to send Islamic scholars to the school in Shalayel village near Medinah to reassure its students and work for "exorcising jinn and ghosts haunting the building".
Ajel quoted a school girl as saying she saw an old man sitting alone in a corner outside the school building and vanished just as she walked towards him.
"The school watchman also said he went into one class to clean it in the evening when he saw children playing football. When he came near them, they just disappeared."
http://www.emirates247.com/news/region/girls-moved-from-suspected-haunted-school-in-saudi-2015-06-08-1.593044
---------
Muslim mother in UK attacked for wearing head scarf
PTI | Jun 8, 2015
LONDON: In a "racist" attack, a group of women in London allegedly abused, punched and kicked a Muslim woman for wearing a head scarf.
Police are investigating the incident in which a group of women allegedly ripped off the Muslim mother's 'hijab' (head scarf) when she went to collect her children from Al-Khair school in south London.
The young mother was set upon by three women "for wearing a head scarf" as she walked towards the private Islamic primary school, the Evening Standard reported.
She was going to collect her two young children on Thursday when a number of women started "shouting and hurling abuse".
They allegedly asked if she was hot in the head scarf - before ripping it off and punching her.
The mother, who wished to remain anonymous, told the daily, "They pulled my head scarf off and started punching and kicking me.
"One was dragging my head down while the others were hitting me. They were being so racist and using derogatory terms," She said.
The woman said she was left with whiplash and chunks of hair missing but suffered no significant physical harm and the London Ambulance Service was not called.
The alleged attack in Derby Road, Croydon, close to the school, only stopped when another parent jumped in, according to police.
Officers were called to the scene and two women, aged 18 and 35, were arrested on suspicion of assault and a racially aggravated public order offence.
They were taken to a police station before being bailed to return at a later date. Officers are investigating the incident, Scotland Yard said.
A Metropolitan Police spokesman said, "We take any offence seriously. We have made two arrests in connection with our ongoing investigation."
http://timesofindia.indiatimes.com/world/uk/Muslim-mother-in-UK-attacked-for-wearing-head-scarf/articleshow/47583605.cms
--------
Women held by Boko Haram in Sambisa Forest describe abuse, crippling fear
08 June, 2015
YOLA, Nigeria – Life in Sambisa Forest, where Boko Haram members held her hostage, was five months of crippling anxiety for Umi.
The 10-year-old's slender arms are covered in insect bite marks. The blood-sucking bugs kept her awake at night, as did the sound of nocturnal animals walking and flying through the forests, an expanse of low-lying bushes and coarse-trunked trees stretching for nearly 40,000 square miles in the Sahel region of northeastern Nigeria.
It was here that elephants from Central Africa roamed, along with other beasts. Colonialists designated the area as a wildlife reserve, which it still technically is, although it has been long neglected.
The people living near Sambisa have long nurtured a deep respect for this forest, and only the most experienced hunters ventured there. Some tell tales of huge lions living in the grasslands.
But that reverence has morphed into fear ever since Boko Haram turned the forest into a safe haven years ago, setting up numerous camps among the thorns and poisonous bushes.
The fighters return to these forests after indiscriminate and brutal attacks on nearby towns, bringing back hundreds of female hostages. Boko Haram has abducted more than 2,000 women and girls, according to an April 2015 report by Amnesty International.
There were dozens of women and girls in the camp where Umi was held. She said many of them stayed awake with her, night after night, listening to the shrill cries of birds and the steps of four-legged creatures. Boko Haram members often played loud music at night, dancing, drinking and preaching until they fell asleep.
The nights were dangerous. You never knew if one of the fighters would sexually assault you, said Hasiya Dashiru, 45. She said after their attacks, the members came back to the camp at night with young men — conscripts.
Dashiru said she usually forced herself to sleep. For 11 months, she prayed that someone would rescue her and her four sons and two daughters, who had been kidnapped and were held captive with her.
She didn't know that, for a long time, Nigerian military officials were hesitant about forging into the forest, saying they did not want to put the lives of hostages like her in danger — that the fighters might kill them in response.
Each morning, day after day, the search for food and water began.
Sometimes the Boko Haram members permitted the hostages to look for water. Other times they were told to stay put and shut up.
As Dashiru said, "If we get water fine. If not, fine. We just stayed like that. They stopped us from getting water. Even when we told them it is for our children."
Dashiru doesn't know where her husband is. He ran away from her village, Dille, last year just before Boko Haram attacked. She sits on cement outside of the classrooms that have been converted to bedrooms at Malkohi camp in northeastern Nigeria, where 275 women and children were brought by Nigerian soldiers after being rescued from Sambisa in early May. After 11 months of living in the forest, Dashiru was finally freed on April 28. The day Nigerian troops ventured deep into the part of the forest where she was, she heard loud blasts in the air. There was confusion. Boko Haram fighters thrust some of the captives forward to act as human shields. Dashiru hid behind a tree. She said some people, including captives, were killed in the exchange of fire between Boko Haram and troops, but she didn't know how many. In the end, the troops took over.
And finally, Dashiru left Sambisa forest, riding in the bed of a truck escorted by Nigerian troops.
She arrived at Malkohi camp on a Saturday night, May 2, and was given tea and slices of bread.
She can now move freely, and has access to health care and food.
Dashiru said her children appear healthier — but some children at Malkohi were still visibly struggling. One boy slept naked, his collarbones protruding sharply, loose skin hanging around his shoulders.
Another boy sat alone on the ground. His stomach bulged, a sign of severe malnutrition, and he coughed and wheezed incessantly.
Dashiru is trying to move on and forget about what happened to her and her family in Sambisa, but the memories are rooted deep in her mind.
She thinks often of the wet and swampy earth, and the bright blue sky she watched in the hope she would see an aircraft that could rescue her.
It is still hard for her to speak about the nights she spent in Sambisa.
For Dashiru, the verbal abuse was particularly damaging. When she was allowed to, she would walk to the well to get water. At the well, she said she sometimes met the wives of Boko Haram members.
"They would insult us," Dashiru said. "And they call us their slaves because they said we were infidels, not Muslims."
Children like Umi and Maryam, who does not know how old she is but appears to be about five, were often abused by the fighters because they did not have family to protect them. Their last names were not published to protect their privacy. Many children have been orphaned during Boko Haram's six-year insurgency, which rights groups estimate has claimed the lives of more than 12,000 and forced more than a million people to flee their homes.
Forced to renounce Christianity and convert to Islam, the women and girls were beaten for not performing the daily Islamic prayers. When they were not praying, being beaten, or foraging for food, they sat on the ground, growing thinner and sicker.
"Every day we witnessed the death of one of us and waited for our turn," 24-year-old Asabe Umaru told Reuters.
"They didn't allow us to move an inch. If you needed the toilet, they followed you. We were kept in one place. We were under bondage."
Landmines strewn across the forest floor also kept the women and children from fleeing. Dashiru learned how to avoid them, memorizing a safe path between baobab trees, known as the "tree of life."
She and other women plucked the kuka leaves from this tree to make a soup.
She believes it was God and the soup cooked with leaves from the tree of life that kept her and her six children alive in Sambisa forest.
http://america.aljazeera.com/articles/2015/6/8/rescued-women-describe-boko-haram-captivity.html
---------
Few answer call for Tunisian women to wear miniskirts to protest repression of Muslim women
Associated Press
08 June, 2015
TUNIS, Tunisia — Only a handful of women have answered a call by a Tunisian rights' group to protest the repression of women in the Muslim world by demonstrating in miniskirts.
About a dozen mini-skirted women took part Saturday afternoon in the protest organized by Tunisia's League for the Defense of Secularism and Freedom.
Lilia Kammoun, a teacher at the protest, said Tunisia is regressing. She said "it's sad that we're moving backward. My mother used to wear a miniskirt. I used to wear a miniskirt. And today, my daughter is hesitating to wear one. That's unfortunate."
Counter-demonstrators waved signs with slogans like "This is shameful, you're thinking with your sexual organs."
Protest organizers blamed the low turnout on women's fears of their families and of Islamic extremists.
http://www.startribune.com/women-s-rights-miniskirt-protest-fizzles-in-tunisia/306406001/
---------
The Brutal Silencing of a Woman at the Forefront of Libya's Rebellion
08 June, 2015
Scores or perhaps hundreds of killings remain unsolved in Benghazi, Libya, since the ouster of Col. Muammar el-Qaddafi nearly four years ago. But no victim has symbolized the crushed hopes of the Libyan uprising more than Salwa Bugaighis.
Ms. Bugaighis, an outspoken human rights lawyer, was among the revolt's first and most important leaders, and she was also the most prominent woman in the rebels' early provisional government.
Colonel Qaddafi, in his bizarre style, had opened opportunities for women in ways that few other Arab strongmen ever did. "It is an undisputed fact that both man and woman are human beings," Colonel Qaddafi wrote in the Green Book, his magnum opus of philosophical musings. He expanded women's education, sharply reduced illiteracy among women, enabled women to enter new professions, and conspicuously included uniformed women in both the army and the police.
But Libyan culture remained deeply conservative, especially in the towns and villages, where women and men rarely mix outside their families. Nearly every Libyan woman wears some sort of Islamic head covering.
Ms. Bugaighis was one of the few who did not. Raised in Britain as the daughter of a dissident in exile, she believed the uprising of 2011 could usher in not only a new democracy but also expanded individual freedoms, including for women.
Instead, Libya began breaking down almost immediately into a patchwork of city-states dominated by various regional, ideological or criminal armed groups, spreading violence and lawlessness around the country.
Ms. Bugaighis opposed the militias who aligned with political Islam, and also the ambitious general who declared a coup and went to war against them. By the spring of 2014, she and her family had left Benghazi after an assassination attempt nearly killed her son. But she risked returning home to cast her ballot in elections held that June and urged others to do the same.
"My people, I beg of you, there are only three hours left," she wrote on Facebook at about 5:45 p.m. on Election Day, warning Libyans that the polls would soon close.
She was killed in her home — stabbed and shot — later that night, and her death marked a turning point from bad to worse for Libya.
The Parliament chosen in that election was irreconcilably divided and the political process in Libya broke down completely. Militias have organized against one another in a civil conflict that for the last nine months has crippled the country and killed thousands. The murder of Ms. Bugaighis remains unsolved; her husband also disappeared the night she was killed, and his whereabouts is unknown.
http://www.nytimes.com/2015/06/08/world/middleeast/libya-trials-of-spring.html?_r=0
---------
Expat husbands and children of Saudi women to get more benefits
08 June, 2015
Foreign husbands of Saudi women and their children who come to the Kingdom for hajj, Umrah or visit are entitled to regular residence permits (iqamas), Makkah daily reported quoting informed sources.
A royal decree issued about two years and eight months ago gave the children of expatriate fathers and Saudi mothers the same rights as citizens in education, medical treatment and work.
The sources pointed out that the decree, however, did not exempt the husbands from deportation after the expiry of their hajj, Umrah or visit visa.
Under the new decision, foreign husbands of Saudi women can transfer their iqamas to their wives' names if they are residing in the Kingdom and can be sponsored by them to enter the country if they are staying abroad.
The husbands are allowed to work for the private sector if they are holding valid passports, their marriages are formally approved by the concerned Saudi authorities and the marriage contracts officially documented.
They said the husbands of Saudi women and their children were required to leave the country like all other expatriates when their hajj, Umrah or visit visa expires.
The sources said the new decision has saved the husbands and their children from immediate deportation. They said under the new regulations, the husbands and their children would be considered full-fledged Saudi citizens in terms of Saudization quotas if they are employed by private companies and establishments.
They said the government has directed the concerned authorities to apply the same rule to expatriate husbands married to Saudi mothers and their children who are already residing in the Kingdom.
http://english.alarabiya.net/en/perspective/features/2015/06/07/More-benefits-for-expat-husbands-and-children-of-Saudi-women.html
---------
URL: https://www.newageislam.com/islam,-women-and-feminism/new-age-islam-news-bureau/islamic-state-arrests-over-90-women-in-mosul/d/103393