New Age Islam News Bureau
3 Jan 2018
• Girls Beaten For Meeting Muslim Friends In India
• Malala Tops List of Wikipedia's Of Most Searched Pakistanis
• Iranian Woman Rallies against 'Generation That Brought Down the Shah'
• Mufti's Wife to Become Russia's First Female Muslim Presidential Candidate
• Women's March Draws Fire for Silence on Iran Protests
• Iran: Protesting Women Confront Security Forces
• French Woman Accused of Recruiting For Isis 'Captured By Kurdish Forces'
• Female-Only University Starts Hiring Driving Instructors in Riyadh
• Female Bicycle Responder Service Launched In Dubai
• Three Pakistan Women Arrested For Threatening Messages To Bomb FIA Building
• Pakistan's Girl Cadets Dream of Taking Charge
Compiled by New Age Islam News Bureau
URL: https://www.newageislam.com/islam-women-feminism/islamic-seminary-condemns-muslim-girt/d/113802
--------
Islamic Seminary Condemns Muslim Girt Dressed Up As Lord Krishna
03 January 2018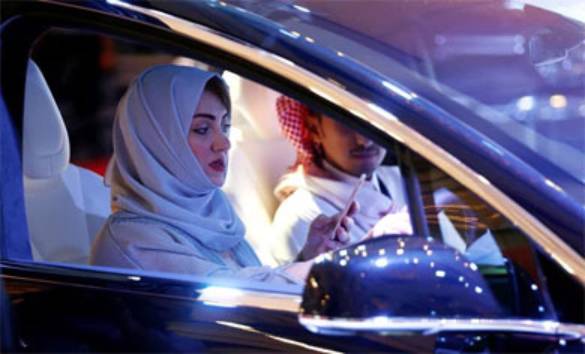 A Saudi Woman Uses her Smartphone as she checks a car at a showroom in Riyadh
------
Islamic seminary of Darul Uloom Deoband has condemned termed Muslim girl Aliya Khan `unislamic' for dressing up as Lord Krishna and reciting Gita. Aliya of Meerut recently stood second in a competition for recitation of Bhagwad Gita.
``Her act is shirk (opposed to monotheism) and Islam strictly prohibits such acts. Donning the dress of Lord Krishna is also strictly prohibited in Islam as this is transvestite where a women cannot take on the dress of a male and vice versa,'' said Chairman of Online Fatwa department of Darul Uloom Deoband Mufti Arshad Farooqui.
On December 30, Chief Minister Yogi Adityanath had felicitated Aliya Khan and given her a prize of Rs 25,000 during a convention in honour of Bal Ganghadahar Tilak in Lucknow. Aliya had received the prize from the Chief Minister dressed as Lord Krishna.
Responding to Darul Uloom's criticism, Aliya said, "I am an Indian first. I have not shunned Islam by reciting shlokas from Bhagwad Gita and donning the attire of Lord Krishna does not affect religious belief and identity of any person.''
"I read Gita for knowledge and this can be obtained from scriptures of any religion. The scriptures tell us about humanity and human values. I have done that by reading and reciting from Bhagwad Gita. Its is not a religious book, it teaches you about the philosophy of life and Karma."
Rejecting Darul Uloom's objections, she said, "Please do not drag me into politics. I am a student, allow me to pursue my studies. All those who want to politicise this issue should first express their opinion about Salman Khan, Shahrukh Khan and others.''
Alia had beaten thousands of children across the state to win the second prize for Gita recitation competition organised by the state.
Alia asserted that no one discouraged her from learning the scriptures of a different religion. "Even if someone says anything, I have a straight-forward answer. I do not read Gita for religion. I read Gita for knowledge and we can access knowledge from anywhere," she said.
And she is not an isolated case. Few days back, Afreen Rauf (16) from a municipal school in Lucknow secured first place in Lucknow division. A labourer's daughter, Afreen, who wears a hijab, said that the most important lesson that she learnt from Gita was to do good deeds, be honest every time and not wish bad for anyone. Afreen had described Prime Minister Narendra Modi and Yogi Adityanath as her inspiration to learn the Gita.
Bhagwad Gita which is part of the Hindu epic Mahabharata, is highly cited and considered a valuable guide for spiritual seekers.
http://www.dailypioneer.com/state-editions/lucknow/islamic-seminary-condemns-muslim-girt-dressed-up-as-lord-krishna.html
--------
Girls beaten for meeting Muslim friends in India
January 3, 2018
A video showing four men, with one of them assaulting the students, was shared on social media on Tuesday.
Two activists of a right wing Hindu outfit were arrested for assaulting two teenage girls for allegedly interacting with Muslim youths in Mangaluru on Tuesday, police said.
"We have arrested two men who were assaulting two young students at Pilikula (northeastern part of Mangaluru). The men claim to be members of Hindu organisation Bajrang Dal," Mangaluru Police Commissioner T.R. Suresh told IANS.
The police have registered a First Information Report under sections 506 (punishment for criminal intimidation), 342 (punishment for wrongful confinement) and 355 (assault or criminal force with intent to dishonour a person).
"The youngsters studying at a Pre-University (PU) college in Talipady (about 23km south of Mangaluru) are said to have been attacked for meeting their male friends, who are Muslims. We are carrying out an inquiry into the incident," Suresh added
A video showing four men, with one of them assaulting the students, was shared on social media on Tuesday. The video also shows a policeman trying to stop the men. -
https://www.khaleejtimes.com/international/india/girls-beaten-for-meeting-muslim-friends-in-india
--------
Malala tops list of Wikipedia's of most searched Pakistanis
January 02 2018
Malala Yousafzai, the activist for girls' education and the youngest Nobel Prize laureate from Pakistan, has topped the list of most searched Pakistanis on Wikipedia during 2017 – for the second year in a row.
According to a report by the Pakistan affiliate of The Wikimedia Foundation, Yousufzai's Wikipedia page had over 2.5mn views the previous year.
The list, which tabulates Wikipedia searches of Pakistani personalities, is based on searches carried out from January 1 to December 20, 2017.
Other personalities who were among 25 most-searched Pakistanis on Wikipedia in 2017 included politicians, social workers, and people from the entertainment industry.
Among the most searched are also those who are no more in this world.
Mahira Khan, the actress who has been adding one accolade after the other to her name over the past few years, was the second most-searched Pakistani on Wikipedia with over 2mn views.
The page of the father of the nation, Quaid-i-Azam Mohammad Ali Jinnah, came on third position with over 1.3mn views.
On fourth position came the page of Saba Qamar, an actress, with 910,102 views.
Pakistan Tehreek-e-Insaf (PTI) chairman Imran Khan's page is on fifth position, attracting 884,206 views, with former prime minister and Pakistan Muslim League – Nawaz (PML-N) president Nawaz Sharif on sixth position with 867,548 views.
Actor Fawad Khan came on seventh with 860,213 page views.
On eighth position, the page of late legendary Pakistani musician and singer Nusrat Fateh Ali Khan attracted 838,527 views.
Former prime minister and assassinated Pakistan Peoples Party chairperson Benazir Bhutto's page was viewed by 794,442 times.
The page of iconic social worker, late Abdul Sattar Edhi, had 664,107 views.
http://www.gulf-times.com/story/576832/Malala-tops-list-of-Wikipedia-s-of-most-searched-P
--------
Iranian woman rallies against 'generation that brought down the Shah'
2 January 2018
A video of a woman chanting slogans against the generation that overthrew the shah's regime in the 1979 Iranian revolution has been widely shared on social networks by Iranian activists.
She was also appealing to young people to continue their uprising to overthrow the Mullah's regime. "I am a woman but I will stand in the frontlines with you young ones, because you represent the Iranian revolution," she said to a crowd of demonstrators.
The video shows crowds of young people supporting her chants and calls for the continuation of the uprising until the government steps down.
Tuesday marks the sixth day of protests and marches in the Iran uprising. Reports indicate demonstrators taking over small cities like Izeh, north of Ahwaz.
According to Iranian news agencies, the death toll keeps rising, while several protesters have been injured and arrested.
https://english.alarabiya.net/en/features/2018/01/02/WATCH-Iranian-woman-chants-against-generation-that-brought-down-the-Shah-.html
--------
Mufti's wife to become Russia's first female Muslim presidential candidate
January 2, 2018
Among a growing number of female candidates, a prominent female Muslim recently joined the list of candidates for the 2018 Russian Presidential elections, reports RT.
A wife and adviser of a Russian mufti, Aina Gamzatova is a successful journalist and the head of Russia's largest Muslim media holding.
She submitted her registration papers to the Central Elections Committee on Monday.
She was nominated for the position by a local initiative group in the Russian Republic of Dagestan in late December and is running as an independent candidate.
Russia election date set for March 18
Gamzatova is the wife of the chief mufti of Dagestan, and serves as his public relations and government adviser. The 46-year-old also runs several charity organisations.
Running as an independent contender without the backing of a party means that Gamzatova has to submit as many as 300,000 signatures from supporters from all over Russia to qualify.
She is Russia's first female Muslim presidential candidate. She is still to unveil a detailed election program.
The international media, including Al Jazeera, as well as German, Iranian, Indonesian, and Bosnian outlets have already started taking notice of her. Many Russian Muslims already support her.
The list of female candidates for this year's Russian election is quite diverse. Earlier, Russian socialite Ksenia Sobchak, head of the Russian edition of the international fashion magazine L'Officiel joined the list. A crane operator Natalya Lisitsina, who represents leftist movement the All-Russian United Labor Front is also in the list, among other political figures.
Russian involvement in US elections
The Russian presidential election is scheduled for March 18. Until now, Vladimir Zhirinovsky, the veteran leader of the Liberal Democratic Party of Russia (LDPR), is the only dominant rival candidate.
According to Ella Pamfilova, the head of the Central Elections Commission, 21 Russian political parties and 30 independent politicians and activists have declared their intention to run in the 2018 election.
https://tribune.com.pk/story/1598742/3-russian-muftis-wife-become-russias-first-female-muslim-presidential-candidate/
--------
Women's March draws fire for silence on Iran protests
January 2, 2018
The Women's March is facing intense pressure to come out in support of Iranian women protesting the fundamentalist Islamic regime.
Women have become symbolic leaders of the protests, which are entering their sixth day, by removing their hijab in defiance of laws mandating they cover their faces and hair. One image that has gone viral shows a young woman standing above a crowd, waving her jettisoned white hijab like a flag.
The death toll from the anti-government protests rose to 21 overnight, and at least 450 people have been arrested.
The Women's March is busy rolling out its anniversary protest against the Trump administration and has yet to weigh in on the plight of Iranian women. This year's flagship march will be held in Las Vegas on Jan. 21. The theme is "Power to the Polls."
Hundreds of thousands of women marched in Washington, D.C., last year on the day after President Trump's inauguration.
Users on social media wondered why the feminist movement has not thrown its support behind the protesters in Iran. A spokesperson for the Women's March did not immediately respond to a request for comment.
https://www.washingtontimes.com/news/2018/jan/2/womens-march-draws-fire-silence-iran-protests/
--------
Iran: Protesting women confront security forces
31 December 2017
Women continue to have an active presence on the fourth day of the nationwide uprisings in Iran on Sunday, December 31, 2017. They brazenly stood up to the security forces and confronted them.
In the protest gathering in Rasht, northern Iran, women had a remarkable presence.
In the clips received from Isfahan and Shahreza (central Iran) and Kermanshah (western Iran), women are clearly heard chanting loudly against the regime. In some scenes, they led the protesters and directed the chants.
A young woman in Tehran confronted the paramilitary Bassij and the crowd eventually drove him out of the scene by their chants of "death to the dictator."
At Tehran's Enghelab Square, a woman was getting arrested, but the crowd of protesters prevented security forces from taking her away.
In Zanjan (northwest of Tehran), and Orumiyeh, capital of West Azerbaijan Province, in northwestern Iran, women daringly defied and stood up to security agents.
The uprisings and protests have spread to more than 40 cities across Iran in a matter of four days.
In addition to the nationwide protests which were sparked by protests against high prices, people plundered by Caspian Credit Institute in Alvand, staged a protest in front of this branch on Sunday, December 31, 2017, demanding reimbursement of their deposits.
http://women.ncr-iran.org/iran-women-news/4632-iran-protesting-women-confront-security-forces
--------
French woman accused of recruiting for Isis 'captured by Kurdish forces'
2 Jan '18
Emilie König, a Frenchwoman suspected of recruiting fighters for Islamic State who appeared on US and UN blacklists, has been arrested by Kurdish forces in Syria, her mother said on Tuesday.
The 33-year-old daughter of a gendarme is "being held in a Kurdish camp and has been interrogated and tortured," her mother told Ouest-France newspaper.
König went to Syria in 2014 and three of her children were born there.
She converted to Islam after marrying her first husband, an Algerian man, who was arrested for drug trafficking.
König learned Arabic, changed her name to Samra and started wearing a veil. She left for Syria to join her new partner, who was later killed. She appeared in several propaganda videos in which she appealed for jihad "as long as the enemy is around".
Her mother said she wanted to return to France and to seek "forgiveness of her family, her friends and her country".
https://www.theguardian.com/world/2018/jan/02/french-woman-accused-of-recruiting-for-isis-captured-by-kurdish-forces
--------
Female-only university starts hiring driving instructors in Riyadh
3 January 2018
JEDDAH: Princess Nourah bint Abdulrahman University (PNU) in Riyadh on Monday started accepting driving instructor applications.
Females from all over the Kingdom come to the PNU, the largest university for women in the world, to pursue their studies.
As such, it has established a driving academy on its campus that will provide theoretical education and practical training.
"We've just begun to accept instructors' registrations through our website," the general supervisor for media management at the PNU, Amani Al-Hammad, told Arab News.
Applicants must have a valid driver's license and certified trainer's permit, and be either Saudi or a resident living in the Kingdom, she said.
Applicants are required to submit a copy of their national ID or valid residency card; a copy of a valid driver's license; a copy of a recent medical examination; an attached CV as well as proof of educational qualifications; a certified trainer's permit; and a second language certificate. Candidates must then pass an interview.
Women in Riyadh who have a valid driver's license acquired from other countries can now apply for the job through the link: https://app.pnu.edu.sa/Drivers/driver/Registration.aspx
http://www.arabnews.com/node/1218166/saudi-arabia
--------
Female bicycle responder service launched in Dubai
January 2, 2018
Dubai: Female cycle responders will now be deployed to cater to emergency cases involving women and children in Dubai's busiest areas, the Dubai Corporation for Ambulance Services (DCAS) announced.
The emergency bicycles, which will cover crowded areas, such as shopping malls and commercial places, is part of a new specialised service launched by DCAS to ensure fast and effective medical assistance to female patients.
Khalifa Bin Drai, DCAS's executive director, said the deployment of female cycle responders is an addition to the female responder service offered by DCAS, which was launched to give emergency treatment to ladies, pregnant women and injured children up to the age of 11.
"Following the success of the female responder service, and after receiving requests to expand our high-quality service, we have launched the female cycle responder, which will continue to ensure the privacy of women and preserve our Islamic customs and traditions," he said.
He added that the initiative comes within the framework of strengthening the functions of DCAS and activating its role in addressing the needs of the community, noting that DCAS always monitors the needs of the people through observations made by paramedics and other emergency personnel.
http://gulfnews.com/news/uae/society/female-bicycle-responder-service-launched-in-dubai-1.2150699
--------
Three Pakistan women arrested for threatening messages to bomb FIA building
January 3, 2018
A woman and her two daughters have been arrested in Pakistan under terrorism and other charges for allegedly threatening to bomb the country's security and investigative agency's Lahore office. The Federal Investigation Agency (FIA) authorities were receiving messages from a Facebook profile threatening to blow up its Lahore premises through bomb blast.
"We arrested yesterday three women – Fidous Rehana and her two daughters Ayesha and Sundas, residents of Sotar Mandi near Lahore Cantonment – for uploading threats and objectionable material on a Facebook account against the FIA Lahore and its officers," FIA Lahore Cyber Crime Wing head Shahid Hassan told PTI.
The FIA officer further said the women committed the crime to implicate a man (Mian Ali) by making his fake Facebook ID. "The women claimed that Mian Ali was blackmailing them therefore they had decided to get him arrested by the FIA. They also got the help of their accomplice Usman to create the fake ID and hurling serious threats to the FIA officers and bomb its (FIA) Lahore building," Shahid said.
The FIA building in Lahore had been bombed in 2008 in which 26 people, including officers, were killed. Banned Tahreek-iTaliban Pakistan was reported to have been involved in the blast. According to the FIR, the Facebook account in the name of Mian was created on November 18, 2017.
"It first started harassing the FIA authorities and later threatened to blow up its building through bomb blast. The investigation team had traced the IP address used to access the said profile and found that it was used by two mobile numbers which were registered in the name of Firdous Rehana," the FIR says.
The FIA official said the women were presented before the judicial magistrate who sent them to jail on judicial remand, allowing the agency to interrogate them in jail. The FIA has also taken the women's accomplice Usman into custody and got his physical remand from a judicial magistrate.
http://indianexpress.com/article/pakistan/three-pakistan-women-arrested-for-threatening-messages-to-bomb-fia-building-5009881/
--------
Pakistan's girl cadets dream of taking charge
JANUARY 01, 2018
A school in Khyber Pakhtunkhwa aims to help them realise their aspirations
At a school in Pakistan, Durkhanay Banuri, 13, dreams of becoming military chief, once a mission impossible for girls in a patriarchal country where the powerful Army has a severe problem with gender equity.
Ms. Durkhanay studies, along with her 70 classmates, at the country's first-ever Girls' Cadet College, established earlier this year in Mardan, Khyber Pakhtunkhwa.
According to a 2016 government study, a staggering 24 million Pakistani children are out of school, with a larger share of girls staying home than boys — 12.8 million compared to 11.2 million. Hundreds of boys study at the cadet colleges across the country. But girls are still not allowed in these elite schools, with the special college at Mardan the one exception.
"Such colleges can help girls qualify to be part of the armed forces, foreign service, civil services or become engineers and doctors," said retired Brigadier Naureen Satti, underscoring their importance in the long fight for equality by Pakistan's women. In starched khaki uniforms and red berets, Ms. Durkhanay and her classmates march the parade ground, stepping to the beat of a barking drill instructor, before racing to change into physical training and martial arts kits.
Women have largely been shut out of the country's powerful military. Previously they were only allowed to serve in administrative posts. But Gen. Pervez Musharraf opened up the combat branches to women beginning in 2003.
The Girls' Cadet College principal, retired brigadier Javid Sarwar, vowed his students would be prepared for whatever they wanted to do, "including the armed forces".
Affifa Alam, who wants to follow the path taken by Ayesha Farooq — who became the country's first ever woman fighter pilot in 2013 — said the college represents a "big change". "This will help us (in) realising the dream of women's empowerment," she said. http://www.thehindu.com/todays-paper/tp-international/pakistans-girl-cadets-dream-of-taking-charge/article22340407.ece
--------
URL: https://www.newageislam.com/islam-women-feminism/islamic-seminary-condemns-muslim-girt/d/113802
New Age Islam, Islam Online, Islamic Website, African Muslim News, Arab World News, South Asia News, Indian Muslim News, World Muslim News, Women in Islam, Islamic Feminism, Arab Women, Women In Arab, Islamophobia in America, Muslim Women in West, Islam Women and Feminism