New Age Islam News Bureau
18 Sept 2013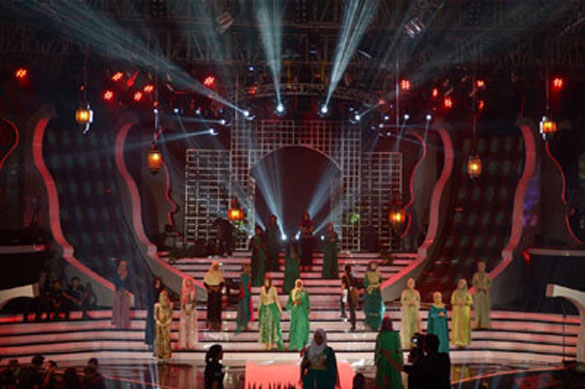 Contestants of the Muslimah World pageant take part in a rehearsal for the grand final of the contest in Jakarta on Sept. 18, 2013. (AFP Photo/Adek Berry)
-----------
• Muslim Beauty Pageant in Jakarta Challenges Miss World
• Sudan: Woman Risks Flogging for Refusing to Pull Up Headscarf
• Abusleem Martyrs' Brigade Tells University to Segregate Sexes
• Experts Alarmed At High Rate of Addiction among Saudi Women
• Banned Malaysian Beauty Contestants Apologize For Insulting Islam
• Andhra Pradesh: It's Only Arabic College for Girls, Says Promoter
• Indonesian Women Weightlifters Out to Prove Their Worth
• 'Sports Diplomacy' Gives Girls a Chance in Pakistan
• Damning figures in HRCP report on violence against women
• Terror Link to Acid Attack on British Girls, Zanzibar Police Arrest Al Shabaab Militants
Compiled by New Age Islam News Bureau
URL: https://newageislam.com/islam-women-feminism/islamic-schools-britain-forcing-girls/d/13558
------------
Islamic Schools in Britain Forcing Girls as Young as 11 to Wear Full-Face Veils
By MARTIN ROBINSON
18 September 2013
Muslim schools all over Britain are forcing female pupils as young as 11 to wear Burqas, it emerged today.
Institutions say that they are 'strict' on uniforms for their children because full-face veils are the 'desired dress code of a Muslim female'.
But campaigners believe it is 'wrong' for any child to cover their face and the Home Secretary Theresa May says that all women should be able to 'make a choice' about what they wear.
It came as a judge ruled this week that a Muslim will be allowed to stand trial with her face covered as long as it is removed while giving evidence.
The case has prompted some MPs to call for full-face veils to be banned but many Islamic schools, which have control over uniform policy, insist their pupils wear Burqas.
The Madani Girls School in Tower Hamlets, East London, requires all its pupils wear a black Burqa and a long black coat outside.
On its website, its describes its uniform policy as 'strict' and as supporting the 'desired dress code of a Muslim female'.
It continues: 'The present uniform conforms to the Islamic Code of dressing and must be adhered to at all times both within the school and dismissal at the end of the day.'
The school does not allow any of its 300 pupils to wear any form of makeup or jewellery.
The Ayesha Siddiqa Girls School in South Hall, West London, also insists pupils wear a navy blue Burqa or a Jilbab, which does not cover the face.
On its website, the school says it is 'not willing to compromise on any issues regarding uniform'.
Many other Muslim schools - including around a dozen state-funded schools - require female pupils to cover their hair.
It comes after Judge Peter Murphy, sitting at London's Blackfriars Crown Court, ruled it was 'crucial' for jurors to be able to see a defendant's face when giving evidence.
The 22-year-old in question, who cannot be named for legal reasons, said it is against her religious beliefs to show her face in public.
Referred to in court as 'D', she entered a not guilty plea to a charge of intimidation last week while wearing a Niqab after the judge backed down from a previous decision that she would have to show her face to be properly identified.
Meanwhile the topic of wearing veils in school has dominated headlines in recent weeks after Birmingham Metropolitan College was made to retract a policy which forced pupils to remove veils while on the premises so they can be identified.
Home Office Minister Jeremy Browne has called for a national debate on whether the state should step in to prevent young women having the veil imposed upon them.
But Home Secretary Theresa May has said it is for women to 'make a choice' about what clothes they wear, including veils, although there will be some circumstances when it will be necessary to ask for them to be removed.
'I start from the position that I don't think Government should tell people, I don't think the Government should tell women, what they should be wearing,' Mrs May said.
'I think it's for women to make a choice about what clothes they wish to wear, if they wish to wear a veil that is for a woman to make a choice.
'There will be some circumstances in which it's right for public bodies, for example at the border, at airport security, to say there is a practical necessity for asking somebody to remove a veil.
'I think it's for public bodies like the Border Force officials, it's for schools and colleges, and others like the judiciary, as we've recently seen, to make a judgment in relation to those cases as to whether it's necessary to ask somebody to remove the veil'.
http://www.dailymail.co.uk/news/article-2424241/Islamic-schools-Britain-forcing-girls-young-11-wear-face-veils.html#ixzz2fEuHZieU
------------
Muslim Beauty Pageant in Jakarta Challenges Miss World
September 18, 2013
The finale of a beauty pageant exclusively for Muslim women will take place in the Indonesian capital on Wednesday, in a riposte to the Miss World contest in Bali that has drawn fierce opposition from Islamic radicals.
Twenty contestants will show off the latest Islamic fashion trends in the Muslimah World pageant and will also take part in other activities, such as reciting the Koran, aimed at demonstrating their piety.
"We're just trying to show the world that Islam is beautiful," said Obabiyi Aishah Ajibola, a 21-year-old contestant from Nigeria, one of six countries represented at the pageant.
"We are free and the hijab [Muslim headscarf] is our pride."
The contestants – who can only enter the competition if they wear a headscarf – have undergone three days of "spiritual training" in the run-up to the final in Jakarta, waking up before dawn to pray together and sharpen their Koranic reading skills.
Organizers say they want to show Muslim women there is an alternative to the idea of beauty put forward by the British-run Miss World pageant, and also want to show that opposition to the pageant can be expressed non-violently.
Organizer Eka Shanti, who founded the pageant three years ago after losing her job as TV news anchor for refusing to remove her headscarf, bills the contest as "Islam's answer to Miss World".
"This year we deliberately held our event just before the Miss World final to show that there are alternative role models for Muslim women," she told AFP.
It is a starkly different approach to the groups of Islamic radicals who have taken to the streets in recent weeks to protest Miss World, denouncing the contest as "pornography" and burning effigies of the organizers.
Despite a pledge by organizers to drop the famous bikini round for the pageant in the world's most populous Muslim-majority country, radical anger was not appeased and the protest movement snowballed.
The government finally bowed to the mounting pressure and ordered the whole three-week pageant be moved to Hindu-majority Bali, where it opened on Sept. 8.
Later rounds and the final, on Sept. 28, had originally been scheduled to be held in and around Jakarta, where there is considerable hardline influence.
While beauty is very much at the heart of Muslimah World – contestants' height and weight is shown on the pageant's website and it is sponsored by a halal make-up brand – the contestants' piety is also a big factor.
More than 500 contestants competed in online rounds to get to the final in Indonesia, one of which involved the contenders comparing stories of how they came to wear the headscarf.
On Wednesday night, contestants will retell these stories and answer questions from judges at the final in a Jakarta shopping mall, and the 20 finalists will be whittled down to four before a winner is crowned.
"What I will be looking for is strength of personality – someone with a vision for the future, who gives back to their community and shows that beauty is not just about bodies," said Jameyah Sheriff, an education expert from Malaysia who is on the judging panel.
Shanti said the contest was first held in 2011 and was then only open to Indonesians but it proved so popular that it was opened up to international entrants.
http://www.thejakartaglobe.com/news/muslim-beauty-pageant-in-jakarta-challenges-miss-world/
----------
Sudan: Woman Risks Flogging for Refusing to Pull Up Headscarf
BY DALIA HAJ-OMAR
September 18, 2013
Sudan's Public Order Law (POL) is making headlines after female activist and engineer Amira Osman was arrested on August 27 in Jebel Awliya, a suburb of Khartoum, for refusing to pull up her headscarf.
Amira is now facing trial for "indecent conduct" under Article 152 of the Sudanese penal code, and risks being punished with flogging and/or bail. Her next trial is scheduled for September 19.
In a calculated act of defiance against one of Africa's most oppressive regimes, Ms. Osman recorded a video where she described the demeaning manner in which she was treated by Public Order Police (POP) and invited Sudanese citizens (men and women) to attend her trial, saying: "if you think that the Public Order Law is against you, come to Jabel Awliya's Court ... and let's put the Public Order Law on trial".
The first session of her trial was on September 1. It was attended by almost 100 regular citizens, civil society members and women's rights activists. The trial was postponed when the judge did not show up due to sickness.
Osman's trial is reminiscent of the POL case of Sudanese journalist Lubna Hussien, who captivated national and international attention in July 2009 when she and 12 other women were arrested in a restaurant in Khartoum for wearing trousers.
Public order laws or social control laws?
Sudan's POLs date back to 1983. They were referred to back then as the September Laws, imposed by the authoritarian regime of President Jafaar Numeiri.
He introduced Sharia corporal punishments (hudood) for acts such as consuming alcohol, stealing, gambling or mixing between the sexes. These laws fueled the national discontent that led to the uprising that toppled Numeiri in April 1985.
When the current regime took power in 1989 following a military coup, it introduced an extensive array of Public Order Laws.
With the intention of creating an Islamic State, the National Islamic Front (as it was called back then) initiated a detailed "Civilization Project" that reached into every aspect of Sudanese social life, and placed restrictions on long entrenched traditional norms such as private parties with music, mixing between the sexes and the making and consumption of alcohol.
However, no other aspect of the Public Order Regime has altered the daily lives of Sudanese women like Article 152 of the Criminal Act of 1991 that says: "(1) Whoever commits, in a public place, an act, or conducts himself in an indecent manner, or a manner contrary to public morality, or wears an indecent, or immoral dress, which causes annoyance to public feelings, shall be punished, with whipping, not exceeding forty lashes, or with fine, or with both; (2) The act shall be deemed contrary to public morality, if it is so considered in the religion of the doer, or the custom of the country where the act occurs."
Human rights lawyers have consistently pointed out that Article 152 is vague and does not define what is meant precisely by indecent clothing or indecent behaviour. It thus leaves a lot to be interpreted by POP and the judges in the Public Order Courts.
Prominent human rights lawyer Nabeel Adeeb recently commented in an op-ed that,"what is seen by me as indecent attire may be seen by someone else as decent".
He adds that from a religious perspective it's hard to impose one uniform on women because it depends on their personal understanding of their faith. "Judges should not be god's representatives on earth." he says.
Society's understanding of "decent" attire is a constantly shifting concept, and Sudan's diversity makes this even more complex and a matter that should not be decided in the courts. "It is an issue left to families and religious leaders, because it is linked to education and upbringing and not the law," he concludes.
Poor and fleeing women targeted
No national statistics are available to shed light on how many women or men around Sudan are impacted by the Public Order Regime, however in 2008 the head of the Public Order Police in Khartoum said that in that year 41,000 persons were stopped under Article 152 and signed promissory documents "not to wear indecent clothing".
Most POL cases are processed quickly in Public Order Courts without the presence of lawyers, with no due process and with judges who lack proper legal training.
Women's rights activists who have been fighting this law for years point out that the stigma associated with being arrested by POP drive many women, who are less knowledgeable about their rights and more concerned about their reputation, into accepting summary trials in Public Order Courts where they are often flogged and/or have to pay a bail .
The women most impacted by the POL are not the urban educated women like Amira and Lubna, but rather the thousands of women fleeing conflicts and hard conditions in other regions such as the Nuba Mountains and Darfur, and who have to support their families by working in Khartoum's informal sector selling tea, food or making a local millet-based beer called marisa.
Monim Adam, a human rights lawyer, says: "in most cases these women cannot afford the bail that can go up to $200, and they end up serving prison terms of up to one month. Many of them also endure sexual harassment that goes as far as rape, from the Public Order Police officers who have limited oversight".
A prominent case that's also running in the courts right now is that of Nuba Mountains woman Awadiya Ajabna. She was shot dead in March 2012 when she interfered as the POP were harassing her brother outside their family home, accusing him of being drunk. Ajabna died hours after POP fired shots that also injured her mother and sister.
This is not the first documented case of death at the hands of POP, as in 2010 a tea lady, Nadia Saboon was fleeing what is referred to as a Kashaa (a raid or sweep) by the POP.
Saboon fell on a piece of metal and died due to the injury sustained. Raids and confiscations of the equipment of tea ladies by POP are a common practice in Khartoum, and it is done under the premise of "preserving the appearance of the public domain".
Sudan has undergone severe limitations on fundamental rights after the separation of South Sudan in July 2011.
In the last two years the Islamist regime of Omer Al Bashir has clamped down on freedom of the press, freedom of association and assembly, by closing newspapers and pro-democracy civil society organizations, and violently clamping down on peaceful protest.
http://allafrica.com/stories/201309170963.html?viewall=1
------------
Abusleem Martyrs' Brigade Tells University to Segregate Sexes
Derna University told to segregate sexes
By Ahmed Elumami.
September 18, 2013
Derna University has been told by members of the local Abusleem Martyrs' Brigade that it must separate male and female students if they are to provide security at the campus.
They have been asked to provide protection after the university was attacked by a gang.
As a very minimum, members of the brigade have said that males and females in open areas must be kept apart.
It had been reported on Facebook say that "a group of extremists stormed the University of Derna and destroyed and burnt the classrooms in protest at the mixing between girls and boys".
This has been partially denied by the deputy leader of Derna Local Council, Omar Abu Khatwa. "What has been said on Facebook was totally incorrect because the university was stormed by criminals who had vandalised the classrooms", he told the Libya Herald. They were not "extremists" and they had not demanded segregation.
It was true, he said, that the Abusleem Brigade members had demanded segregation but he praised them, saying that it was part of Islamic law.
He added that the university had started discussing how to implement the demand.
http://www.libyaherald.com/2013/09/17/derna-university-told-to-segregate-sexes/#ixzz2fExP0GJ9
------------
Experts Alarmed At High Rate of Addiction among Saudi Women
JEDDAH: KHADIJA HABIB
18 September 2013
Mona Sawwaf, a UN international expert on addiction, has said that 90 percent of people who have experimented with drugs and alcohol fall in the 12-20 age bracket.
In a telephone interview with Arab News, Sawwaf said that international agencies have warned the public of the alarmingly high rate of addiction among women, besides children now trying drugs.
She believes that the high rate of addiction among women is due to the fact that they are targeted by drug dealers and human trafficking gangs. "In addition, women are increasingly exposed to social turmoil, so for many women, these are real challenges," she said.
She said children mature much faster than most parents realize thanks to exposure to the media. "Educational and awareness programs simply do not fit the bill and therefore do not achieve their intended objectives," she said.
Abd Ar Razzaq Al-Hamad, a professor of psychiatry at the King Saud University medical school in Riyadh, conducted a study entitled "How to minimize demand on drugs within GCC countries." The sample survey for the study comprised people admitted to health institutions for the treatment of addiction.
The study found that 10 percent began taking drugs as early as primary school and that 24 percent of those who took to drugs in GCC countries began experimenting when they were in junior high and 36.6 percent began taking drugs during the last two years at high school. The study also found that 5.8 percent began taking drugs when they were in college.
Abd Al Ilah Ash Sahreef, assistant director-general of drug control and preventive affairs, who is also a UN international expert and chairman of addictive cases in Saudi Arabia, said the directorate general of drug control had come up with many initiatives and plans this year to educate the public about the health and social hazards of addiction. "Around 60 percent of these projects have been completed so far," he said.
"What is striking is that many youngsters took to drugs between the ages of 12 and 20 years of age. I therefore urge Saudi families to closely monitor their kids so that they do not fall prey to drug dealers and trafficking gangs. The country is a clear target," he said. "They use intricate and convoluted methods to bring drugs into the country.
They sometimes place drugs in container cans of foodstuff or within wooden boards and marble.
They sometimes even place them in boxes of honey. There have also been occasions when drugs have been detected in the fruit pulp and vegetable produce," he said.
http://www.arabnews.com/news/465034
------------
Banned Malaysian beauty contestants apologize for insulting Islam
By Jessica Chasmar
September 18, 2013
Three beauty queens who were forced to drop out of the Miss Malaysia World pageant because of a fatwa have issued an apology, saying they did not intend to insult Islam.
Three of the four dropped contestants — Wafa Johanna De Korte, Sara Amelia Bernard, Miera Sheikh and Kathrina Binti Ridzuan — issued their formal apology to the Federal Territory Islamic Affairs Department after the National Fatwa Council issued an edict against them, The Times of India reported.
The decision came by way of Federal Territories mufti Datuk Wan Zahidi Wan Teh, who said beauty pageants were declared haram, or sinful, under the Administration of Islamic Laws Act in February 1996. The contestants were told that if they competed in the event, they could face a fine or jail time.
The organizer of this year's Miss Malaysia World contest, Datuk Anna Lim, was disappointed that the country could not be represented by Malays, Fox News reported.
http://www.washingtontimes.com/news/2013/sep/17/banned-malaysian-beauty-contestants-apologize-insu/
------------
Andhra Pradesh: It's Only Arabic College for Girls, Says Promoter
18th September 2013
Refuting allegations of some parties and organisations regarding setting up of an 'Islamic University' at Tondavada village, near Tirupati, Heera group of companies managing director Shaik Nowhera clarified that they are only setting up an Urdu and Arabic college for women.
"We will teach them the Qur'an as its reading is a must for getting married;'' she said and added that women from other communities also could join the institute.
http://newindianexpress.com/states/andhra_pradesh/Its-only-Arabic-college-for-girls-says-promoter/2013/09/18/article1789838.ece
---------
Indonesian Women Weightlifters Out To Prove Their Worth
September 18, 2013
KUALA LUMPUR: Palembang, Indonesia, has been a happy hunting ground for weightlifter Azizah Fadzil.
At the 2011 SEA Games, Azizah set a national record in the 53kg category with a lift of 97kg in the clean and jerk and equalled Raihan Yusof's lift of the 79kg in the snatch event for a a total of 176.
And now, the Penangite is making a return to Palembang with the Malaysian weightlifting team to take part in the third edition of the Islamic Solidarity Games from Sept 2-Oct 1.
As it is the first time Malaysia are sending a women's team to the Games, the weightlifters are determined not to come home empty-handed.
"Malaysia have never sent a women's team before. So, the onus is on us to go out there and prove ourselves," said Azizah.
"We're still in the dark over who's competing but there is no doubt that Turkey and Indonesia are the strong bets. I'm hoping we'll be able to win a medal. It all boils down to how we perform come competition day ... anything can happen. Most importantly, I'd like to break the national record," added the 22-year-old.
"Palembang has been quite special for me. I set the national record during the SEA Games there two years ago and if I can do it again this time ... that would be even sweeter."
Besides Azizah, the other weightlifters participating in the Games are Siti Zaleha Yusof (48kg), Freancay Titus (58kg), Elonye Matin (63kg), Nor Khasida Abd Halim (69kg), Siti Aishah Mohd Rosli (75kg), and Nur Jannah Batrisyah Abdullah (above 75kg).
http://www.thestar.com.my/Sport/Other-Sport/2013/09/17/Women-weightlifters-out-to-prove-their-worth.aspx
------------
'Sports Diplomacy' Gives Girls a Chance in Pakistan
September 18, 2013
KARACHI: School-going girls got a rare chance to enjoy their favourite sport in a football clinic yesterday at the Pakistan Sports Board Coaching Centre in Karachi.
The event, organised by the US Consulate in collaboration with the Sindh Women Football Committee (SWFC) and the Karachi City Sports Association (KCSA), was attended by 60 girls from remote areas like Lyari, Korangi, Kharadar, Landhi and Malir.
It was the second of a three-part 'sports diplomacy' programme being hosted for the underprivileged children of Karachi. The first event was a cricket match between boys and girls held during Ramazan at the Beach Luxury Hotel.
"We believe that sport is a wholesome activity that benefits both boys and girls equally," Assistant Cultural Affairs Officer Phillip Assis told The Express Tribune. "Events like these help bring both countries together on a neutral platform.
"We're grateful to the KCSA and the SWFC for assisting us in contacting the relevant schools and for arranging to bring the girls here. Now we plan to organise a similar event for boys in November."
The event started with a warm-up session in which the participants were divided into several teams where they were taught new strategies and techniques. Former footballers Sadia Sheikh and Siddique Sheikh presided over the practice while women's national football team vice-captain Hajra Khan coached the girls.
"Girls here find it difficult to follow their passion for football due to security issues and lack of resources," said Hajra. "This clinic is a blessing for them as it is a safe place. These girls are quite good; if they work hard and consistently, at least 10 of them can make it to the national team."
There was a friendly match after the warm-up which was played between Team Red and Team Blue. Team Red won the match 1-0.
"I'm thankful to the consulate for giving us this opportunity," said one of the participants, Sobia Mehfooz. "We spent a quality afternoon enjoying what we like best."
US Consul General Michael Dodman, the chief guest, oversaw the prize-distribution ceremony where Kiran Yousuf of Team Red was adjudged the best player. "We are delighted to be here to introduce this group of enthusiastic young girls to football," said Dodman.
http://tribune.com.pk/story/605523/sports-diplomacy-gives-girls-a-chance/
------------
Damning figures in HRCP report on violence against women
2013-09-18
LAHORE: Alarming figures of increasing cases of violence against women were presented in a Human Rights Commission of Pakistan (HRCP) report issued recently.
Violation against women is widespread in Pakistan and exists in various forms be it domestic violence and abuse, sexual abuse and harassment, acid attacks, honour killings, restricted freedom of movement to downright barring of women from casting their votes in the elections.
The Commission in its statement said: "HRCP has watched with grave concern the rising incidence of violence against women in Pakistan in recent days. Unfortunately, such incidents have always been commonplace in the country but now such reports are coming not from far-off places but from the main cities."
Several cases of rape have been reported from Punjab in the past few days, including that of a five-year old child.
To give an idea of the scale of the problem, in the city of Lahore alone, police have registered 113 cases of rape from January 1 to August 31 this year.
In the same period, police in the provincial capital of Punjab registered 32 gang-rape cases.
Most of the victims were teenage girls.
The problem in hardly confined to Punjab.
The plight of Kainat Soomro, a young rape victim in Sindh, and the excesses she has had to endure in her efforts to bring her tormentors to justice are there for all to see.
Her ordeal represents how rape victims who have the courage to pursue their rapists are left to fend for themselves.
Moreover, according to media monitoring by HRCP, until the end of July this year, at least 44 women became targets of acid attacks in the country, seven of whom had died due to their injuries.
As many as 44 women had been set on fire; 11 had died in such attacks.
Furthermore, as many as 451 women had been killed in Pakistan in the name of honour in 2013 by the end of July, compared to 918 killed in 2012.
Earlier this week, three women were shot dead by family members in the name of 'honour' in Khyber Pakhtunkhwa province.
Furthermore, HRCP is acutely concerned that risks have grown for all those who try and help the victims is any manner or try to expose the excesses.
Human rights defenders who try to highlight excesses against women have become particularly vulnerable, the statement issued by the HRCP said.
In fact, an HRCP staff member had to be relocated just a fortnight earlier because his reporting of a woman's beating by her relatives upset the family to the extent that they threatened to kill him and started following him.
Such targeting of a section of population solely on account of gender is utterly unacceptable and it is a matter of shame that the society at large has not felt compelled to raise a strong enough voice to putting an end to this travesty, the commission said.
HRCP has called upon the state authorities to include ending violence against women and impunity for the violators to its list of priorities in order to dispense justice to half the population of the country.
The commission's statement said it hoped that these steps would include awareness campaigns and would not merely be confined to making changes in laws that then remain unenforced.
http://www.dawn.com/news/1043752/damning-figures-in-hrcp-report-on-violence-against-women
----------
Terror Link to Acid Attack on British Girls, Zanzibar Police Arrest Al Shabaab Militants
18 September 2013
Terror group Al Shabaab has been linked to the acid attack on British teenagers Katie Gee and Kirstie Trup.
Police in Zanzibar said suspected members of the Al Qaeda-inspired group were among 15 people arrested, with others said to be behind an acid attack on a Roman Catholic priest on Friday.
An official also said prosecutors were close to charging two other men suspected of the attack on the 18-year-old Londoners.
British teenagers Kirstie Trup and Katie Gee were left badly injured after two men on a moped threw acid at them while they walked to dinner on the Indian Ocean island.
The arrests come after elderly clergyman Amselmo Mwangamba was the victim of an identical assault on Friday that left him with burns on his face, chest and arms.
Zanzibar's police commissioner, Mussa Ali Mussa, said: 'Fifteen people have been arrested in police raids on criminal networks.
'Among them are suspected members of al Shabaab, suspects behind the recent acid attack on a Roman Catholic priest and unlicensed acid distributors.'
Mussa did not say what the suspected militants were doing on the archipelago, though he said they were not linked to the acid attacks.
Al Shabaab is an al Qaeda-allied group that has been fighting the Western-backed government in Somalia, around 500 km (310 miles) north along Africa's coast from Zanzibar.
As in neighbouring Kenya, many Muslims living along Tanzania's coast feel marginalised by the secular government and both countries have been fertile recruitment grounds for the Islamist groups.
Mussa said prosecutors were close to laying charges against two other men detained in connection with the attack on Britons Katie Gee and Kirstie Trup.
The two teenagers were walking to a restaurant in Stone Town when a two men on a moped rode up to them and the passenger hurled a jerry can full of battery acid at them.
The young women suffered facial, chest and back injuries.
Tanzanian President Jakaya Kikwete has warned that religious tensions threaten peace in the nation of 45 million people.
Two Christian leaders were killed in Zanzibar earlier this year in separate attacks and there have been arson attacks on churches.
A separatist group in Zanzibar, Uamsho (Awakening), has been blamed by some but authorities have not linked the group to the violence.
Uamsho wants the archipelago to end its 1964 union with mainland Tanzania, which is ruled as a secular state, and wants to introduce Islamic Sharia law in Zanzibar.
http://www.dailymail.co.uk/news/article-2423413/Terror-link-acid-attack-British-girls--Zanzibar-police-arrest-Al-Shabaab-militants-following-identical-assault-Catholic-priest.html#ixzz2fEwwF1u9
------------
URL: https://newageislam.com/islam-women-feminism/islamic-schools-britain-forcing-girls/d/13558