New Age Islam News Bureau
15 Jun 2012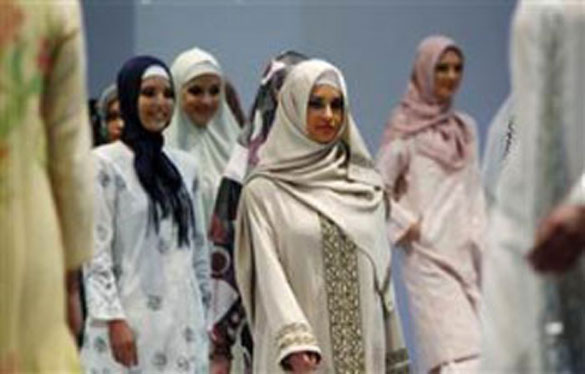 • US Army orders 'hot pink' burqas for Afghanistan
• 600 Saudi Arabian Women Petition King for Right to Drive
• Female genital mutilation: a brutal violation of rights, must be eradicated
• 10 schools ready to welcome woman strollers in Rawalpindi
• Iranian Women Studies Foundation Names University of Virginia professor 'Woman of the Year'
Complied by New Age Islam News Bureau
Photo: Islamic fashion in Moscow
URL: https://www.newageislam.com/islam,-women-and-feminism/new-age-islam-news-bureau/islamic-fashion-organized-by-muftis-of-russia-demonstrates-muslim-women-updated/d/7627
----------
Islamic Fashion Organized By Muftis of Russia Demonstrates Muslim Women Updated
June 15, 2012
Moscow welcomed the first international festival Islamic Style. At this podium you could see craftworks that reflect the perspective and individual style of each designer of our festival. This festival has been organized by the Council of Muftis of Russia and international producing company Next Art. Festivals of this type are organized in order to attract attention of the fashion world and public to the works of designers who create a special style of Islamic clothes in the modern world following the norms of the Islamic religion. Recently, more and more new names and brands appear in the Islamic style of the international fashion industry. The main task of the organizers of the festival "Islamic world" is to give each designer an opportunity to demonstrate his collections at high level.
Rushan-hazrat Abbyasov, deputy chairman of the Council of Muftis of Russia, chairman of the organizing committee of the exhibition, believes that today Muslim women's fashion is a very hot theme. "Because in our Russian society and if we look in general at the international society, often the role and position of women in Islam is shown incorrectly. I believe that such festivals demonstrate that a Muslim woman is updated, she can wear beautiful clothes, and she is well educated. At the same time, first of all, hijab, beautiful clothes that cover the head and body of a Muslim woman, demonstrates her femininity and good temper. Thus, such festivals give opportunity to see the modernity of a Muslim woman, to see that she is not some outcast in a closed society. On the opposite, she is open; she is undoubtedly an active woman in all the spheres and problems. I believe that this festival will continue and it will be very successful."
Collections of various designers were presented at the runway. Radmila Dashurova presented a stunning collection "Dreams of a Tsarina". Designers Indira Tupilagova and Liana Haysumova presented two collections – Dress Code and Venice of Deli. The refinement of Europe, the exquisiteness of Asia and the pure distinguished spirit of the East The winner of the Kazan contest of designers of Muslim fashion, Rezeda Suleymanova, with her distinguished designer's touch has managed to enrich her models with Muslim themes in the collection Provence.
Yahayeva Zarima, designer of the Fashion House Firdaws, shared her bright impressions: "We are thrilled and I think that visitors of our fashion show are also thrilled."
http://vestnikkavkaza.net/articles/society/27822.html
----------
US Army orders 'hot pink' burqas for Afghanistan
By Al Kamen
06/14/2012
U.S. forces in Afghanistan are working hard to train the country's national police force and other folks as part of the administration's plan to withdraw combat forces by the end of 2014.
There's obviously a concern that not enough security folks will be adequately trained by the time U.S. and allied forces withdraw. But maybe they'll at least look snappy.
Our colleague Walter Pincus spotted an Army solicitation posted June 1 for some Afghan police and army uniforms and women's clothing in a variety of sizes and colours — including 100 women's burqas that "cover all, including the eyes" in a number of colours, including "hot pink," purple and gold as well as 100 head scarves.
The clothing, to be delivered to Fort Drum, N.Y., by June 20, lists 200 "Afghan National Police Uniforms" including jackets, trousers and hats, with appropriate hat insignias and jacket insignias that have the Afghan flag on the right sleeve and the police emblem on the left.
The solicitation includes 200 "New Afghanistan National Army" uniforms with appropriate insignias and 300 turbans in assorted colours: green, grey, white, black, tan and brown.
And there are also 250 "Afghan Style Payraan Tumbaan," or shirts and slacks, with cloth belts "that will adjust the pants to the desired waist size,' along with 250 maroon berets.
Hot pink burqas? To drive the Taliban wild?
http://www.washingtonpost.com/blogs/in-the-loop/post/army-orders-hot-pink-burqas-for-afghanistan/2012/06/13/gJQATtWfaV_blog.html
----------
600 Saudi Arabian Women Petition King for Right to Drive
Jun 15, 2012
RIYADH: Six hundred women in Saudi Arabia have signed a petition asking the king to grant women the right to drive. Saudi Arabia is the only country in the world that prohibits women from getting behind the wheel of a car.
The petition will be presented to King Abdullah Bin Abdul Aziz Sunday, the first anniversary of the launching of the Women2Drive campaign.
The petition asks for "the possibility for women to get a driving license in nearby countries and allowing them to start driving".
"Our initiative is not aimed at violating laws. We only want to enjoy the right to drive like all women over the world," says the petition signed by Manal al-Sherif, who in 2011 launched an internet campaign encouraging Saudi women to challenge the driving ban.
The petition also asks the monarch to open driving schools in Saudi Arabia that can in future issue licenses to women. It thanked Aziz for giving women the right to vote in municipal elections starting in 2015.
http://timesofindia.indiatimes.com/world/middle-east/Saudi-Arabia-women-petition-king-for-right-to-drive/articleshow/14144207.cms
----------
Female genital mutilation: a brutal violation of rights, must be eradicated
By Asma Malik
June 15, 2012
Practice, which is an extreme form of discrimination, has nothing to do with religion and must be eradicated
While Egyptians and the rest of the world anxiously wait to know who would become Egypt's first democratically elected president, women rights issues are taking a back seat.
A few months ago, a Salafist MP and a member of the second largest party in the new elected parliament, called for the renewal of female circumcision, claiming that prominent Egyptian scholars have declared the practice as part of "Sunna", the practice of Prophet Muhammad (PBUH).
The debate gained more heat earlier in May when the Muslim Brotherhood's Freedom and Justice Party, the largest party in Parliament, was criticised for launching a charity medical campaign for the circumcision of girls in the governorate of Minya, southern Egypt. Egyptian activists along with doctors condemned the campaign and reached out to the National Council of Women calling for their activities to be stopped.
Female circumcision, or what is globally known as Female Genital Mutilation (FGM), involves partial or total removal of the external female genitalia for non-medical reasons. FGM is internationally recognized as a violation of women and girls rights.
http://gulfnews.com/opinions/columnists/female-genital-mutilation-a-brutal-violation-of-rights-1.1036052
----------
10 schools ready to welcome woman strollers in Rawalpindi
June 15, 2012
Womenfolk now have a proper place to go in the evening as school grounds have been converted into parks
RAWALPINDI: The district government on Thursday converted 10 government school grounds into evening parks for ladies and children, as there was no such facility in the city. Senator Najma Hameed, Assistant Commissioner Quratul Ain Fatima and DMO Saima Yunus jointly inaugurated the first such park in Dhoke Kashmirian Government Comprehensive Girls Higher Secondary School.
The nine other schools, selected to become ladies parks, which now automatically stand opened after school hours, include the Dhoke Hassu Government Girls Higher Secondary School, Murree Road Government Higher Secondary School, Rawalpindi Government Modern Girls High School, Satellite Town B Block Government Shimla Girls High School, Khyban-e-Sir Syed Government Girls High School, Bagh Sardaran Government Girls Higher Secondary School, Rata Amral Government Girls High School and Government Kohinoor Girls High School.
These parks will provide an opportunity of healthy activities for women. Women have appreciated the step taken for their wellbeing by the district government. They were of the view that exclusive ladies parks would encourage the ladies who are shy to visit public parks. Former Rawal Town council member Shahida Shabbir Mir welcomed the district government's decision, adding that there was no proper place for women to go for a walk and now they would have a place to stroll.
Another lady, Saima, a housewife, resident of Bagh Sardaran, said that there was no park in her locality and now the government school ground has been declared as ladies park, which is adjacent to our locality so that a large number of population would facilitate from it.
Meanwhile, a three-day Summer Fiesta 2012 is being organised at Lake View Park by Wonder World in collaboration with Capital Development Authority (CDA) as part of Margalla Festival from June 15 to 17. The event will be an entertainment activity for families. It is designed and planned to provide outdoor entertainments to kids and families including shopping stalls, kids entertainment and food stalls, said an official of "Wonder World Theatre" while talking to APP on Thursday.
It will also be a great opportunity for the companies and organisations to introduce their products and services, the official said. "Wonder World" is an art company, which addresses the physical, emotional and spiritual needs of children, youth and families through the creation and performance of contemporary dramatic works.
http://www.dailytimes.com.pk/default.asp?page=2012\06\15\story_15-6-2012_pg11_1
----------
Iranian Women Studies Foundation Names University of Virginia professor 'Woman of the Year'
June 15, 2012
University of Virginia professor Farzaneh Milani, who chairs the Department Middle of Eastern and South Asian Languages and Cultures in the College of Arts & Sciences, will be named "Woman of the Year" by the Iranian Women Studies Foundation today at the group's annual conference in Cambridge, Mass.
The three-day conference will feature a ceremony honoring Milani, who will be introduced by her daughter, Farnaz Milani Gazoni, according to the conference schedule.
Last year, Milani authored "Words Not Swords: Iranian Women Writers and the Freedom of Movement." The book challenges what she sees as the narrow Western stereotype of the shrouded, oppressed Muslim woman, who is a captive of her faith and her veil.
Milani – born and raised in Teheran and educated in French and American schools – used the lens of poetry, literature and film to argue in the book that Iranian women's true struggle is not against the veil, but for freedom of movement – the ability to choose where to go.
Her 1992 book, "Veils and Words: The Emerging Voices of Iranian Women Writers," is also widely acclaimed and now in its 16th printing.
http://www.virginia.edu/uvatoday/newsRelease.php?id=18837
----------
URL: https://www.newageislam.com/islam,-women-and-feminism/new-age-islam-news-bureau/islamic-fashion-organized-by-muftis-of-russia-demonstrates-muslim-women-updated/d/7627