New Age Islam News Bureau
6 Sept 2018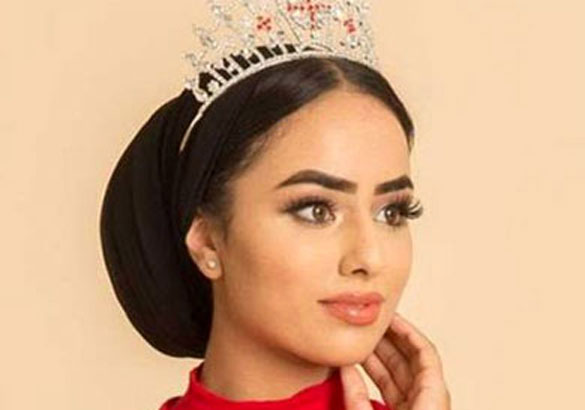 British-Pakistani becomes first hijab wearing model to enter Miss England finals | GulfNews.com
------
• Muslim Girls in Selangor Can Only Wed Once They Turn 18
• British-Pakistani Becomes First Hijab Wearing Model to Enter Miss England Finals
• Indonesian District Bans Men and Women from Dining Together
• Danish Police Fine Turkish Tourist for Wearing Face Veil
• Black Days Ahead For Bangla Expatriates In Abaya Shops
• Report: 41 Women Killed In Domestic Violence In Turkey In August
Compiled by New Age Islam News Bureau
URL: https://www.newageislam.com/islam-women-feminism/islam-shows-its-female-face/d/116302
--------
Islam Shows Its Female Face with Rise of Women Mosques
SEPTEMBER 5, 2018
COPENHAGEN (Thomson Reuters Foundation) - Relegated to the basement, silenced by the imam and barred from the front door, some Muslim women have had enough of male domination at the mosque and are setting up their own.
From Copenhagen to Los Angeles, a handful of female mosques now cater to Muslim women who want their own place of worship, just as men have had through the ages.
"It is possible to change a narrative that has been patriarchal for centuries," Sherin Khankan, founder of Europe's first women's mosque, told the Thomson Reuters Foundation.
Her first-floor mosque - adjacent to a clothes shop - is invisible from the busy Danish shopping street below. But behind its anonymous, gray door, a quiet revolution is brewing.
For the past two years, women have been leading prayers, delivering sermons and running Copenhagen's Mariam Mosque - though Khankan says she is not challenging the Koran, just rewriting a male-dominated way of worship.
"We can do that by promoting and disseminating new narratives, with a focus on gender equality. It's not a reform. We're going back to the essence of Islam," she said, draping a red floral shawl across her shoulder.
Although men and women are allowed to meet and pray during the week at Mariam Mosque, the mosque's monthly, collective Friday prayers are for women only, said 43-year-old Khankan.
With a tiny prayer room and simple decor of candles, cushions and rugs, the mosque has about 150 worshippers. It was set up by Khankan with the support of Femimam, a group of female Muslim spiritual leaders in Denmark.
OVERLOOKED
Muslim women's groups and researchers say there is a lack of female Islamic leaders and dearth of worship spaces for women, since most mosques are gender-segregated and men dominate the main prayer rooms.
So, after 15 years in the making, Mariam Mosque joined a handful of female-friendly mosques, including two in Los Angeles, another in the German city of Berlin - which welcomes men and women to Friday prayers - and a new build slated for the northern English city of Bradford, where there are plans to build Britain's first women-led mosque by 2020.
Women-only mosques have existed for hundreds of years in China, where women have had a long tradition of leading prayers.
Director of Britain's Muslim Women's Council Bana Gora, who is spearheading the Bradford project, said mosques had overlooked women and girls for years.
She said some women have had to pray in basements of mosques, or use back entrances where there are safety concerns such as a lack of lighting or security.
"Where do women congregate to talk about issues in society? You need a dedicated space where women can convene and talk to people who can help them, and we simply do not have those spaces anywhere," she said in a telephone interview.
"It's about women claiming their space in a mosque - there's nothing wrong with that. I can see this catapulting across different faiths as well over time," said Gora.
ISOLATED
Khankan said the presence of fellow women in a mosque, as well as access to female spiritual leaders, meant women might feel comfortable seeking help for sensitive issues like inter-faith marriage or domestic violence.
And for the 200 or so women in Denmark who wear a face veil, their world has grown smaller after a ban on niqab veils and body-length burqas in public spaces, said Khankan.
Denmark's parliament enacted the ban in May, joining France and some other European Union countries to uphold what some politicians say are secular and democratic values.
The justice ministry said the ban would focus on women forced by their families to wear veils.
"If a woman is isolated and forced to wear a burqa or the niqab, by criminalizing it, you will isolate her even more, because she might not be able to go out," said Khankan, who also runs a domestic violence support group, Exit Circle.
"It's important to fight for any women's right to wear the hijab or not, to wear the niqab or not - if it's her own choice and her own free will," she said.
THE FUTURE
Khankan said she hopes to see a new generation of female Islamic scholars and worship leaders, or 'imam' - a title normally given to men, which Khankan has proudly claimed.
"We are faced with patriarchal structures which we have normalized for decades. As long as they are alive and they are not challenged, we have a problem," said Khankan.
"We have to state that women are the future of Islam. We have to make it possible for women to have the same possibilities as men," she added.
The Koran does not directly address whether women can lead congregational prayer, according to many traditional Islamic scholars.
Some argue the Prophet Mohammad gave permission to women to lead any kind of prayer, while others say that he meant to restrict women to leading prayer at home.
Still, many traditionalists do not believe a man should hear a woman's voice in prayer.
But Giulia Liberatore, who is researching female Islamic scholars at the University of Edinburgh, said seeing women reach positions of power in Islam will have positive effects.
"If women see other women striving for the highest form of scholarship, they will start seeing themselves as someone who can do that as well," she said.
https://www.reuters.com/article/us-denmark-women-mosque/islam-shows-its-female-face-with-rise-of-women-mosques-idUSKCN1LL1FK
--------
Muslim Girls in Selangor Can Only Wed Once They Turn 18
6 Sep 2018
SHAH ALAM: Selangor created history yesterday by increasing the permissible age for Muslim girls to marry from 16 to 18.
But there is no blanket ban and girls aged above 16 and below 18 who want to marry have to apply to the Syariah Courts and go through stringent requirements before receiving the green light to tie the knot.
The change was made by way of amendments to the Islamic Family Law (State of Selangor) Enactment 2003 and the Syariah Court Civil Procedure (State of Selangor) Enactment 2003.
The amendments were tabled, debated and passed at the Selangor legislative assembly yesterday.
The agencies were the Selangor Syariah Judiciary Department, Selangor Islamic Religious Council, Selangor Islamic Religious Depart­ment, Attorney General's Chambers, police, state Health and Education Departments, Selangor Syariah Prosecution Department and the Selangor Mufti's Office.
Others present at the meetings were academics and representatives of non-governmental organisations.
"The discussions were aimed at acquiring in-depth information about underage marriage, as well as finding ways to counter the problems that manifested (due to such marriages)," said Amirudin when tabling the amendments.
He said that from the discussions, it was derived that underage marriage was necessitated under Syarak Laws and the move to ban underage marriages were not in line with these laws.
"But it was also found that there was indeed a need to amend the minimum age limit for females from 16 to 18, to be in tandem with the Child Act 2001.
"The amendments were made to protect the welfare of girls below the age of 18.
"So now if a Muslim girl wants to marry before she is 16, she has to go through various procedures to obtain consent," Amirudin pointed out.
The amended provisions require a parent or guardian to file an application to obtain permission for the marriage, he said.
"The notice of application at the Syariah Court must be accompanied by a supporting affidavit by the mother, father or guardian of the boy or girl under the age of 18," said Amirudin.
In addition to this, he said, a supporting affidavit from the bride to the groom or the groom to the bride should also be attached to the application, which must be sent to the Syariah Court.
It must outline the reasons for the marriage, the health condition of the couple, the ability to provide maintenance, as well as clarification on whether they had ever been detained for involvement in any criminal activity.
Once the Syariah Court has received the application to marry, the court has to issue an order to obtain relevant reports such as health reports, socio-economic reports and criminal records.
"In order to maintain the transparency of the application, the court must carry out an investigation by summoning everyone involved, such as parents and guardians, as well as the future bride and groom," said Amirudin.
The proposed amendments were unanimously agreed upon by the state's elected representatives and passed.
The amendments were tabled and passed after Selangor Ruler Sultan Sharafuddin Idris Shah ordered that the age of marriage for Muslims in the state be raised to 18.
Sultan Sharafuddin had said that he took a serious view on cases such as the recent marriage of a young Muslim girl due to the negative impact on the couple's future, as well as its implication on the society.
The Ruler was referring to a 41-year-old Kelantanese man who married an 11-year-old girl recently.
https://www.thestar.com.my/news/nation/2018/09/06/passed-muslim-girls-in-sgor-can-only-wed-once-they-turn-18/
--------
British-Pakistani Becomes First Hijab Wearing Model to Enter Miss England Finals
September 5, 2018
Islamabad: A British-Pakistani law student had become the first hijab-wearing model to enter Miss England finals.
Sara Ifthikar, who is currently studying law at Huddersfield, qualified for the Miss England competition after being named Miss Huddersfield 2018 and Miss Yorkshire Popularity 2018, private news channel reported.
While other Muslim competitors have chosen to wear headscarves in the past, Iftikhar will be the first finalist to do so.
The 20-year-old model is also very active with social work and has launched a fundraiser titled 'Beauty with a Purpose" aimed at supporting underprivileged children around the world.
"I participated in Miss 2018 to show that beauty doesn't have a definition," the model said.
She added, everyone is beautiful in their own ways, regardless of their weight, race, colour or shape.
If Ifthikar wins the Miss England competition, she will become the first Hijab wearing Muslim model to represent England at the Miss World competition.
This year's Miss World competition will be held in Sanya, a city on China's Hainan Island in December.
https://gulfnews.com/news/asia/pakistan/british-pakistani-becomes-first-hijab-wearing-model-to-enter-miss-england-finals-1.2275031
--------
Indonesian District Bans Men and Women from Dining Together
September 5, 2018
BANDA ACEH: A district in Indonesia's deeply Islamic Aceh province has banned men and women from dining together unless they are married or related, an official said Wednesday, saying it would help women be "more well behaved".
Aceh – the only region in the world's most populous Muslim majority country that imposes Islamic law – has drawn fire in the past for putting moral restrictions on women.
It also attracted global condemnation for publicly whipping people found guilty of a range of offences including homosexuality, gambling and drinking alcohol.
Under the latest Islamic regulation, women in Bireuen district on Sumatra island will not be able to share a table with men at restaurants and coffee shops unless they are accompanied by their husband or a close male relative.
Co-workers on their lunch break would also be forbidden from sharing a meal.
"The objective is to protect women's dignity so they will feel more comfortable, more at ease, more well behaved and will not do anything that violates shariah (Islamic law)," local head of the local sharia agency Jufliwan, who like many Indonesians has only one name, told AFP on Wednesday.
Another part of the directive – signed by the district head on August 5 – said women who were alone or not with family should not be served at restaurants and cafés after 9.00pm.
Authorities say it will be up to restaurateurs to enforce the regulation, although offenders will not be punished.
Three years ago provincial capital Banda Aceh banned unaccompanied women from entertainment venues like cafes and sports halls after 11.00pm.
In 2013, Lhokseumawe city in Sumatra's north ordered women to sit "side-saddle" on motorbikes with their legs dangling off to one side.
The mayor at the time said straddling male drivers on motorbikes was "improper".
https://www.freemalaysiatoday.com/category/world/2018/09/05/indonesian-district-bans-men-and-women-from-dining-together/
--------
Danish Police Fine Turkish Tourist for Wearing Face Veil
September 05, 2018
COPENHAGEN, Denmark: Police in Denmark say they fined a Turkish tourist 1,000 kroner ($155) after she entered a police station to renew her visa wearing a full-face covering.
Police in Aarhus, western Denmark, say the 48-year-old woman wasn't aware of Denmark's recent law that makes it unlawful to wear such garments in public. The much-debated "burqa ban" prohibits garments covering the face, including burqas and niqabs. Both are rarely seen in Denmark.
Police said Tuesday that the woman paid the fine, removed her full-face cover and walked away. No other details were available.
http://www.arabnews.com/node/1367126/world
--------
Black Days Ahead For Bangla Expatriates In Abaya Shops
September 06, 2018
JEDDAH — A pall of gloom has descended on the downtown of Balad in Jeddah which houses most of the garment shops that include children and women wear as deadline for Saudization of these shops nears.
A majority of these shops are being run by Bangladesh expatriates.
Although the shops and kiosks are located on narrow lanes, they are frequented by customers — residents and pilgrims — to buy a variety of children garments and a wide range of abayas.
The post-Haj season sale is a prime time for the traders as pilgrims visit Balad for shopping where women prefer to purchase newly-designed abayas and children garments as gifts for their near and dear ones back home.
Several shops have slashed the prices of abayas and other garments as they seek to clear their inventories.
The Ministry of Labor and Social Development has given flexibility of having 70 percentage of Saudization in this sector. However, most of the businesses have failed to meet the criteria as the shops are operated by expatriater under Tasattur module.
Officially the deadline is Sept. 11, but frequent inspections as part of routine process were being conducted around the year and many of these shop owners were abruptly shutting down their business to avoid being penalized.
Most of these shop operators are close knit groups hailing from Chittagong area of Bangladesh, which is known for entrepreneur nature at home and also abroad. There are a few from India and Yemen also but their number is much low.
They spontaneously share information about any inspection tour.
However, anticipating the vigorous inspection with zero tolerance from the new Hijri (corresponding to Sept. 11), some of the shop owners declined to renew their rent agreements and few of them have left home permanently. Others are bracing to leave.
"We want to abide by Saudi law and respect it. Therefore we are voluntarily exiting the shops", said a young Bangladeshi who is in abaya business for over a decade.
His brother has returned to the country and he is also planning to do so in next few months.
It's not only the Balad, but Bawadi and Jamia are other popular markets where expatriates dominate the sector. Stories in these areas is no different.
Market sources said Riyadh, Dammam and other parts of the Kingdom too are facing the same situation.
http://saudigazette.com.sa/article/542782/SAUDI-ARABIA/Black-days-ahead-for-Bangla-expatriates-in-abaya-shops
--------
Report: 41 Women Killed In Domestic Violence In Turkey In August
September 6, 2018
A report released by the Stop the Murder of Women Platform shows that 41 women in Turkey were victims of fatal domestic violence in August.
According to the report, the perpetrators of the murder of 17 out of the 41 women are unknown.
The report said an economic crisis Turkey has recently been experiencing is shown as an excuse for the increasing violence against women.
In the same period, the report said 37 children became victims of sexual abuse based on reports that appeared in the Turkish media, although the actual figure is thought to be much higher.
The platform also said asking for reinstatement of the death penalty, which was abolished in 2004, for the perpetrators of murders of women only serve to cover up the real problems that need to be addressed.
Women's rights organizations have for years been trying to raise awareness about the increase in violence against women that has taken place in the last decade.
https://independent.ng/report-41-women-killed-in-domestic-violence-in-turkey-in-august/
--------
URL: https://www.newageislam.com/islam-women-feminism/islam-shows-its-female-face/d/116302
New Age Islam, Islam Online, Islamic Website, African Muslim News, Arab World News, South Asia News, Indian Muslim News, World Muslim News, Women in Islam, Islamic Feminism, Arab Women, Women In Arab, Islamophobia in America, Muslim Women in West, Islam Women and Feminism