New Age Islam News Bureau
2 Apr 2015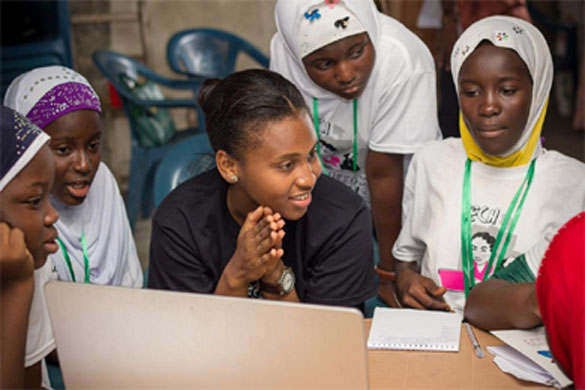 Photo: In a Room above a Mosque in Ghana, Teen Girls Code Their Way to a Brighter Future
--------------
• Delhi HC Helps Muslim Woman Live With Hindu Husband
• Anti-Child Marriage Act Prevails Over Muslim Personal Law: Madras HC
• From Brides to Battlefield, Women Taking Up New Roles with ISIS
• Islamic Extremists Killing Captive Women in Nigeria
• In A Room above a Mosque in Ghana, Teen Girls Code Their Way to a Brighter Future
• 'Honour Crimes', the Saddest Way to Dishonour a Family
• Saudi Sisters Launch Middle East's First Cat Café
• This High School Senior Wants to Become NYC's First Female Muslim Firefighter
• At Christian Fashion Week, Modesty Is One Policy
Compiled by New Age Islam News Bureau
URL: https://newageislam.com/islam,-women-and-feminism/new-age-islam-news-bureau/islam-fearing-tajikistan-says-hijab-is-for-prostitutes/d/102244
--------
Islam-Fearing Tajikistan Says Hijab Is for Prostitutes
2 April 2015
In his Mother's Day speech last month, Tajikistan's President Emomali Rahmon criticized women who wear "foreign" clothing, especially the black veils associated with conservative Islam. Within days, officials began threatening shopkeepers who sell Hijab, the Islamic head covering for women; a few days later state television reported that sex workers are using Hijab to drive up their prices.
"Since ancient times our people have had beautiful women's dresses, our girls have never worn black clothes. Traditionally, black clothes are not welcome," Rahmon told mothers ahead of Mother's Day, which has replaced International Women's Day in Tajikistan and is marked on March 8. The president never specifically named Islamic Hijab, but his target was clear: "Strangers" are using these clothes in their drive "to promote obtrusive ideas and want to create another new extremist trend in our country."
Strongman Rahmon's secular government has fought surging religious observance in the largely Muslim country since shortly after independence from the atheist Soviet Union in 1991. Authorities have harassed men with beards, closed independent mosques, and drafted imams to use their sermons to praise the president. Human rights groups say Muslims are regularly arrested on trumped-up charges that conflate faith with terrorism.
Three days after the president's speech, state television aired a report claiming to tell the stories of sex workers who hide beneath the Hijab. Women in the video – whose faces were covered by their veils – said they earned more money by wearing Hijab, that the veil made them more attractive to potential clients. In case anyone missed the point, a voiceover explained that the women wear Hijab because they are greedy.
A few days later, tax inspectors, police, and spooks from the GKNB (State Committee for National Security) appeared at Dushanbe's Sadbarg market and told shopkeepers selling Islamic clothing to stop.
"Look at this dress, what kind of threat can it be?" one merchant told EurasiaNet.org, pointing to a black dress decorated with ornaments and stones. "You can wear it at a party or special event, but they [the authorities] have banned this dress."
He removed from his showcase all clothing that could be interpreted as Islamic. Nevertheless, the taxmen fined him 10,000 somoni (about $1750), he says. "I won't pay this fine. There is not even an official explanation for which sins I should pay," he said, insisting all his documents were in order.
Nasiba Kholmurodova, who sells Hijabs at Dushanbe's Saodat market, says she sells what customers demand. "When I sell something, I don't know what a woman will do with it. I don't tell her to buy a hijab and become a prostitute," Kholmurodova told EurasiaNet.org.
The anti-hijab campaign appears to be causing anger. Hijab is common in Tajikistan and some are tired of the government's ceaseless offensive against Islam.
Muso Akobirov, 45, a migrant worker who travels to Russia for seasonal work, wants his wife and daughters to wear hijab. But he complains that he and other Muslims lack a voice in Rahmon's authoritarian system.
"This is God's will. We cannot and have no right to refuse it. What makes it offensive is the fact that we cannot argue," Akobirov told EurasiaNet.org. He said that if he or his friends debate the authorities, "we will be imprisoned and declared terrorists."
Human rights lawyer Faiziniso Vokhidova says the government's anti-hijab campaign insults "millions" of Tajiks. "We have a democratic country and everyone has the freedom to wear what they choose," Vokhidova told EurasiaNet.org.
The first attempts to ban Hijab date back to 2007, when the Education Ministry forbid women from wearing the veil to school.
The new push fits into a wider attack on Islam recently. During the parliamentary election campaign this winter, officials repeatedly compared the moderate Islamic Renaissance Party, Tajikistan's largest opposition movement, with radicals. The party was shut out of parliament on March 1 in deeply flawed elections that featured ballot stuffing and intimidation. Now state-controlled imams are calling for the party to be banned.
Zainab Nabieva, 24, a student in Dushanbe, says she does not wear hijab, but supports others' right to do so.
"Since our childhood we've been told that Tajikistan is a democratic and sovereign country. So why then tell us how to dress? This question has to be solved within the family, not instructed from high above," Nabieva told EurasiaNet.org. "What shame to show women [involved in prostitution] on television. Are there no prostitutes among women wearing European clothes?"
http://www.eurasianet.org/node/72816
---------
Delhi HC Helps Muslim Woman Live With Hindu Husband
2 April 2015
NEW DELHI: Coming to the aid of a young Muslim woman who alleged threats from her family after she married a Hindu, the Delhi high court has allowed them to live together.
Justice Sanjeev Khanna and Justice Ashutosh Kumar told the woman's parents not to interfere in her personal life, saying she was over 18-years old and wanted to live with her husband.
The March 24 order came on a habeas corpus plea of the husband Akash, 21, who alleged that his wife's parents were against their marriage and feared they might get her married to someone else.
"We have spoken to the girl and she has stated that she would like to go and live with Akash who is her husband," the bench said.
When the case came up for hearing in December 2014, the woman told the court that she had gone willingly with Akash from Delhi to Noida and then returned home of her own will.
Admitting she was married to Akash, she said she was never detained by Akash against her wishes.
She also stated that she wished to reside with her parents and expressed a desire not to lead a married life for the next three years.
The bench then ruled that she could remain with her parents and stay with them in Delhi. The parents were told not to get her married and the police were directed to ensure compliance.
But in January, Akash filed an application before the bench saying his wife had told him on phone that she was taken to Meerut in Uttar Pradesh and he apprehended that she was being married to another person.
The court then asked police to ascertain her whereabouts. After the police failed to locate her, the bench summoned the woman and her father.
The woman told the court that she was beaten by her family members who wanted her to marry another person. She expressed a desire to live with her husband.
http://timesofindia.indiatimes.com/city/delhi/Delhi-HC-helps-Muslim-woman-live-with-Hindu-husband/articleshow/46772070.cms
---------
Anti-child marriage act prevails over Muslim Personal Law: Madras HC
2 April 2015
Madurai: The Madras High Court has held that the act prohibiting child marriages was not against the Muslim Personal Law and would prevail over the latter as it had been enacted for the welfare of girl children. The court was dismissing a public interest litigation which sought a direction to government officials not to interfere with marriages solemnised as per the Muslim Personal Law by invoking provisions of Prohibition of Child Marriages Act (POCMA) of 2006, which bars marriage of girls below 18 years. According to the petitioner, the personal law allows marriage of Muslim girls between the age of 15 and 18.
"The Prohibition of Child Marriages Act is not against the Muslim Personal Law. The Act enacted for the welfare of the girl children prevails over the personal law. The former helps the girls to get education, empowerment etc.," a division bench here comprising justices S Tamilvanan and V S Ravi said in their order yesterday.
The PIL filed by Social Democratic Party of India functionary Mohammed Abbas challenged the action of District Social Welfare Officer, who had stopped the proposed marriage of a 16-year old girl, daughter of one Syed Abuthakir of Maharajapuram village in Virudhunagar, and handing her over to the custody of Child Welfare Committee. This is the second time that the high court has delivered a similar order on the issue of marriage of minor Muslim girls.
On March 5, Justice C T Selvam, dimissing an appeal against a lower court order, had ruled POCMA was secular in nature and Muslims could not rely on their personal law to claim the right to give minor girls in marriage even at the age of 15 presuming that the girl had attained puberty.
He had further said such a right would run counter to the POCMA aimed at preventing the "evil practice" of child marriage besides safeguarding the health of girl children and elevating the status of women. The PIL was filed against the Social Welfare officer's action contending that the officials were in no way competent to prohibit Muslim marriages under POCMA.
The petitioner submitted the Muslim Personal Law allows the marriage of girls aged between 15 and 18 and hence, the PIL "is filed for the overall welfare of the Islam community."
He also sought the court's direction to the government to pay Rs.10 lakh compensation to the family. Earlier, the court had directed to produce the girl before it and later handed her over to her parents after obtaining an undertaking that the girl shall not be given in marriage till the judgement was given.
http://www.deccanchronicle.com/150401/nation-current-affairs/article/anti-child-marriage-act-prevails-over-muslim-personal-law
---------
From brides to battlefield, women taking up new roles with ISIS
2 April 2015
Women travelling to join ISIS militants are no longer just seeking to become "jihadi brides" but are taking on new roles, on the frontline in logistics and intelligence and as medics, according to military and expert sources.
Female presence in ISIS's battles to establish a medieval-style caliphate across the Middle East has been unusual with the radical Sunni Islamists imposing strict restrictions on women's dress and behavior and deeming their role as domestic.
But as more foreigners, both male and female, go to join or fight ISIS, the traditional role of women is being challenged, with reports of women working at hospitals controlled by ISIS and aiding in logistics.
Colonel Rafat Salim Raykoni, head of a military intelligence unit in the Iraqi Kurdish peshmerga forces battling ISIS militants, said women fighters had emerged around the town of Sinjar, a frontline in the fight in northern Iraq.
"They are not many but they are starting to arrive on the frontline. Here in Sinjar they are very active," he told the Thomson Reuters Foundation in the peshmerga headquarters in the outskirts of Sinjar city.
Raykoni is not the only one to have spotted the trend with high ranking commanders in different areas of Iraq and Syria reporting ISIS women around the battlefield although so far no female militants have been reported killed.
Pareen Sevgeen, the commander of a Kurdish women militia in Iraq, YJA Star, who is also known by her nom de guerre Beritan, was fighting north of Sinjar earlier this year when her brigade intercepted communications of the jihadis.
"We heard a woman giving order to men. She was saying move there or here, go left or right. She was obviously a commander," said Beritan while sitting in her compound outside Sinjar dressed in a dark green military uniform.
Women in a new role
YJA Star, which also campaigns for gender equality in the region, was able to re-take the area within hours and they never heard from the woman again despite making inquiries.
"We looked for her because we wanted to know more. We know she is a foreigner by the way she was talking on the radio. Arabic is not her first language. Our sources on the other side told us she is from India."
The Canadian counterterror research group iBRABO, late last year said they had identified one woman who travelled from Canada to ISIS frontlines, giving away her locations on Twitter as she visited besieged cities in Syria and Iraq.
Tracking her mobile phone's geo-tagging function on Twitter, the group concluded her movement "reflects a broader trend of women becoming more active in supporting male jihadists, such as intelligence collection, implementation and adherence to Sharia Law, and even reported execution of punishments to women judged to be in transgression of Sharia Law."
Jayne Huckerby, director of the International Human Rights Clinic at Duke University's School of Law, North Carolina, was not surprised about women appearing on the frontline as thousands of foreign recruits join the fight.
The London-based International Centre for the Study of Radicalization and Political Violence (ICSR) estimates at least 20,000 foreigners have joined the Syria/Iraq conflict of which about 4,000 are Western citizens. The Institute for Strategic Dialogue estimates about 550 of these are women.
ICSR director Peter Neumann has said about 80 percent of foreign fighters from Western nations are joining ISIS in Syria and Iraq, drawn by its ideological appeal and savvy outreach in foreign languages and over the Internet.
ISIS seized large sections of north and west Iraq and much of eastern Syria last year and the Iraqi government, with its Western and Iranian allies, is now trying to recapture the nearly one-third of Iraq under the jihadists' control.
Brides and battles
So far most attention about the role of women in the conflict has focused on those joining as "jihadi brides."
In one of the most high-profile recent cases, three British schoolgirls are thought to have travelled through Turkey to Syria in February to join the militant group. Their families and British authorities have made repeated appeals for them to return home.
But four of nine British medical students who were believed to have crossed into Islamic State-held areas this month were also reported to be female with their parents are trying to convince them to come home.
"We are providing consular assistance to families of British nationals who are believed to be missing after travelling to Turkey," a Foreign Office spokesman said without giving any further details of the students who were studying in Sudan.
The Home Office has said the medics would not automatically face prosecution under anti-terror laws if they returned to Britain as long as they could prove they had not been fighting for ISIS.
Huckerby said the evidence challenged the Western stereotype of women just wanting to be "jihadi brides" and was an important evolution in the group's view on the women in the caliphate.
"A number of Western women who travelled to (ISIS) have expressed their willingness to fight and to be in combat. They want to become Jihad Jane types," said Huckerby.
She said this shift was flagged in a recent manifesto by ISIS's all-female Al-Khansaa Brigade whose mission is to pursue and arrest women who break the group's strict rules on Islamist morality.
This manifesto, translated by the London-based think-tank the Quilliam Foundation, maintained that women are permitted to abandon their domestic roles for jihad "if the enemy is attacking her country and the men are not enough to protect it and the imams give a fatwa for it."
There are precedents of women fighting in the Islamic world, said David Romano, a political science professor at Missouri University and expert on women fighters.
He pointed to the Moscow theatre hostage crisis of October 2002 when at least 170 people were killed including 40 male and female attackers claiming allegiance to an Islamist militant separatist movement in Chechnya.
About 140 kms (87 miles) northeast of Sinjar, on the battlefield around Teleskuf, peshmerga general Wahid Koveli, head of a Special Forces First Division, has also heard ISIS female fighters on the radio at least twice.
"Female fighters have started to arrive on the frontline. It might means that (ISIS) are in difficulties and they are starting to use everybody to help them fight," he said.
http://english.alarabiya.net/en/perspective/2015/04/02/From-brides-to-battlefield-women-taking-up-new-roles-with-ISIS-.html
---------
Islamic extremists killing captive women in Nigeria
2 April 2015
BERLIN -- The U.N.'s human rights chief said Wednesday his office has received reports that Boko Haram fighters retreating from advancing military forces in Nigeria murdered women and girls they had taken as "wives," along with other captives.
The recapture of parts of northeastern Nigeria in recent weeks "has brought to light gruesome scenes of mass graves and further evident signs of slaughter by Boko Haram," Zeid Raad al-Hussein told a special session of the U.N. Human Rights Council in Geneva.
Zeid gave no further details of what he said were multiple reports of fighters killing "their so-called 'wives' - in fact, women and girls held in slavery - and other captives." Boko Haram's reported use of children as "expendable cannon fodder" and human bombs would, if confirmed, constitute war crimes and crimes against humanity, he said.
Zeid said there also are "persistent and credible reports" of serious rights violations by Nigerian and other security forces responding to Boko Haram. He called for "thorough and fully transparent investigations" by authorities.
The Islamic extremist militants have terrorized northern Nigeria and also attacked towns in neighboring countries, prompting nations in the region including Chad and Niger to put together a force to combat them.
Zeid said he is "profoundly concerned about the growing ethnic and sectarian dimensions of the conflict."
Boko Haram's original leader was from the Kanuri ethnic group, and the U.N. human rights office has received reports "indicating that Kanuris are now considered suspect by some military personnel," resulting in arbitrary arrests and abuse, Zeid said.
Boko Haram, meanwhile, has begun targeting Nigerians of Shuwa Arab origin "apparently in retaliation for their perceived support to the Nigerian armed forces," he said.
"There is thus a high risk of escalating ethnic and religious violence," Zeid said. "This can only be halted by principled leadership and clear instructions to military personnel, with appropriate accountability."
http://www.cbsnews.com/news/boko-haram-nigeria-killed-captive-women-un-human-rights-chief/
---------
In A Room Above A Mosque in Ghana, Teen Girls Code Their Way To A Brighter Future
2 April 2015
(CNN)Every week in the heart of Nima, a slum in the Ghanaian capital of Accra, families congregate at a local mosque. When the time comes, young girls say goodbye to their loved ones and part ways, filing up concrete steps leading up to the floor above.
There, inside a large room dotted with brown tables, rows of flashing computer screens await for them.
"When the parents are praying [downstairs], we are teaching the girls upstairs," explains tech entrepreneur Regina Agyare, who comes here every week to teach local teens how to code.
Agyare's first visit to see the girls -- students at education project Achievers Ghana -- was in January 2014. This was supposed to be a one-off seminar as part of her mentorship initiative "Tech Needs Girls" -- however, the students proved quite a draw.
"I fell in love with them, so I decided to set up a coding club and started having regular sessions," says Agyare, founder of software development company Soronko Solutions.
More importantly, continues Agyare, it offered the opportunity to show "the community the value of educating girls."
Breaking down social barriers
A predominantly Muslim area in a largely Christian nation, Nima has one of the densest populations in Accra. Agyare says life is often challenging for many local girls, with some growing up without ever leaving the community.
"Girls were being forced to marry early; [denied] their right to go to school. Most of their dreams and aspirations were limited to just what was around them.
"I was shocked... I thought we had progressed as a nation. I thought we had gone past that."
This, in part, was why Agyare lent her support to Achievers Ghana.
Set up by local Amadu Mohammad, the non-profit organization supports 250 girls between the age of six and 18, priming them for formal education through extracurricular classes in reading, math, poetry and information technology. Its goal is to break through social barriers and provide Nima with a generation of female role models, and so the group provides school funding to help the girls shape their own future.
The project was bequeathed its classroom above the mosque it shares a building with, and Agyare says the two work closely together. Achievers Ghana met initial resistance from local conservatives, but when the mosque's chief imam Sheik Hussein Abdul Rahman championed Mohammad's vision, few maintained their reservations.
Now, with parents paying a nominal fee towards the running of the organization, it is in everyone's interest that the girls succeed.
Nurturing the voice of the next generation
Fourteen months after her first visit, Agyare's coding class is well established. She has set up a mentor scheme as part of "Tech Needs Girls," recruiting and training women at university to act as role models for her younger students in Nima.
In each class, around 50 girls are taught HTML and run a blog called "Slum Voices".
"I definitely feel [technology] has given them more of a voice," Agyare says. "I feel like it's allowed them to express themselves and interact with others... for them, it's important to be heard."
Some girls had never used a computer before the classes began, but Agyare's even-handed approach has brought all her students up to the same standard. Agyare insists that "we don't leave anyone behind."
To that end, a few young male faces have found their way into her classroom.
This was an accidental revelation, according to Agyare. She details the story of one affronted boy.
"He wrote that he didn't like it when he saw girls learning about computers... it was difficult [for him] to see girls being empowered; he wasn't used to that."
Agyare realized that by integrating genders in her classroom she could begin to confront gender expectations.
For many boys the role of a girl is "to be their wife," Agyare explains, "and she needs to be taken care of." However, by running mixed classes boys from an early age "can learn to see a woman as a contributing person [within society]."
Long term goals
Now the hope is that many of the young students will be able to go to university -- and Achievers Ghana is working on a scholarship program to make the prospect attainable.
Agyare says the goal is not to turn every girl into software developers but to enable them to "use technology in whatever field they find themselves."
She adds: "It would be great if we had some girls that decided to go on and study computer science, but really it's about helping them reach their full potential ... and bring change to the community."
http://edition.cnn.com/2015/04/02/africa/regina-agyare-girls-coding-nima-accra/
---------
'Honour crimes', the saddest way to dishonour a family
2 April 2015
Thousands of women are slaughtered or maimed each year in the name of family honour. How can this be stopped?
Of all the killing that takes place in the world today one of the saddest is the deliberate slaying of a daughter by her own father. Equally sad would be the murder of a son, although that is much rarer than female filicide. Indeed, sons are far more likely to be perpetrators than victims in the family revenge tragedies known as "honour killings".
Wives and mothers are also among the victims of this retribution for moral crimes -- as defined by the tribal codes of some Middle Eastern and South Asian countries – the details of which can be extremely shocking.
Halima, an Afghan woman aged between 18 and 20, the mother of two children, was shot dead by her father in front of a mob of hundreds. She had run away with a cousin while her husband was in Iran. The same cousin then sent her back to her village where religious leaders issued a fatwa against her, sealing her fate.
In Pakistan, pregnant, 25-year-old Farzana Parveen was bludgeoned to death with bricks by a mob which included her father and brother, because of a dispute over bride price. This happened in broad daylight outside the High Court in Lahore in May last year. Her husband, it transpired, had killed his first wife so he could marry Farzana.
Such killings are not confined to Muslim countries, since immigrants in the West sometimes fall back on this outrageous custom.
In one of a dozen cases to pass through Canada's criminal courts in the past ten years, the father and brother of Aqsa Parvez were convicted of murder after she was found strangled at her home. Friends said 16-year-old Aqsa, of Pakistani descent, was in conflict with her family over her desire to wear Western clothes and get a part-time job like her Canadian peers.
Survivors bear the marks of unbelievable brutality. In Afghanistan, Gul Meena's brother struck her with an axe 15 times slashing her head and face so deeply that it exposed her brain. He tried to kill his 16-year-old sister for running away with another man from her abusive 65-year-old husband. The man died from his wounds, but she survived and received help from a women's shelter.
The reason for such appalling savagery seems to be that the shame brought on the family or clan by a woman's rebellion against her role in the system can only be atoned for by the shedding of blood. Unfortunately the religious background of these communities excludes the belief that one Man has already died for the sins of all the people.
Sheltering the women
Since these crimes started appearing in the West among some immigrant communities – though rarely, it has to be said – the media have also highlighted dramatic instances in the countries of origin. But these are just the tip of the iceberg of honour crimes and violence against women, according to human rights groups and the UN.
In 2000 the UN estimated that 5000 women globally were victims of honour killings each year. More recently the Afghan women's Network said 150 cases of honour killings occur annually in that country, though fewer than half of them are formally reported. Over 4,000 cases of violence against women and girls were reported to the Afghan Ministry of Women Affairs from 33 provinces of the country in 2010-2012.
However, pressure from the UN and grass roots activism might be encouraging more women to resist family pressure, defy threats and report violence used against them. In Afghanistan they are being encouraged in this by emergency shelters, including a network established by Women for Afghan Women, which describes itself as a grassroots organization whose mission is to secure and protect the rights of disenfranchised Afghan women and girls in Afghanistan and New York.
The NGO's work was the subject of a recent New York Times article which featured the stories of women who have found refuge in a shelter in Kabul at different times.
One of them, Faheema, 21, arrived there after running away from her home in eastern Afghanistan with the man she loved and had married, leaving behind her large family and the man that her family had promised her to, her uncle's son. We meet her at the point where she has agreed to attempt reconciliation with her family, who want to persuade her to come home.
After three mediated sessions with various members of the extended family, including the spurned suitor and his father -- the third session marked by tears and screaming and bordering on physical violence as her mother tries to drag her away -- Faheema believes that she cannot trust them, refuses to leave the shelter, and flees in great distress to a secure room. She is all too aware of the fate of another young woman who did trust her family's assurances.
Amina, 18, ran away from her family when they told her she would be marrying an older man. From rural Baghlan Province, she was picked up by the authorities in the provincial capital and handed over to the Women's Ministry Office, which in turn sent her to the only women's shelter in the province. She was persuaded by her family to return home with them, but on the way nine men held up the taxi, pulled the girl out and shot her. No-one else in the car was harmed. The police believe her brother was involved.
A number of Faheema's companions in the Kabul shelter have scars and disabilities reminding the others how ruthless one's own family can be: Gul Meena, the young woman whose brother tried to kill her with an axe, lives there.
Long-term solutions: cultural change
The question is, can she live safely anywhere else? There are 26 women in the long-term shelter in Kabul and Manizha Naderi, who runs the WAW network, estimates that 15 percent of the women in her shelters will never be able to leave. The organisation tries to find substitute families and husbands for them, but it is difficult.
Faheema was able to leave after a court recognised her marriage and ordered her to live with her husband in Kabul. However, the couple are poor, isolated and insecure, and she believes their only hope of a quiet life is to leave Afghanistan.
Furthermore, there is no guarantee that the shelters will survive. They have been set up during the period of Western presence in the country, which is ending, but they are opposed by high ranking clerics and not positively supported by the Afghan government or the public. The shelters rely almost entirely on Western donors – 90 percent of Ms Naderi's budget comes from the US government – and "donor fatigue" affects not only the private sector but extends to governments.
Clearly, younger Afghan women, like those in Pakistan and elsewhere, have begun a cultural change with far-reaching consequences for the whole nation. It has to end with recognition of the equal dignity and human rights of all women, rights which begin with life itself and include the freedom to marry on the basis of mutual agreement.
How long that process will take is anybody's guess but there are a few obvious steps that can give it impetus.
First, the government must enforce laws against extra-judicial killing. Killing a daughter or sister for any reason is murder. It contravenes the natural law enshrined in the Decalogue and the Universal Declaration of Human Rights. Countries which tolerate tribal customs to the contrary should be specifically called to account by the UN and named and shamed until they seriously address "honour crimes".
Second, Islamic authorities must vigorously teach the populations that adhere to this custom the grave sinfulness of these crimes. We read that "there is nothing in the Qur'an that justifies honour killings" but the fact remains that they occur predominantly in regions where the Islamic faith prevails. The imams must teach that for a father to kill his child is not only a crime but a dishonour to him and his whole family.
Third, there is a need for the family to understand itself primarily as a community of love, not a legal or tribal entity. As long as the men of the family define their role as one of authority rather than service, the good of individual members is going to come second to considerations of status and power.
It would be encouraging to think that, as well as providing shelters for abused women, the West could provide a shining example to other cultures of respect for life, for women, and of loving fatherhood. Unfortunately our family culture, blighted by abortion, unsupported mothers, absent fathers and, yes, violence, has fatal weaknesses in all of those areas – another dishonourable story crying out for remedies.
http://www.mercatornet.com/articles/view/honour-crimes-the-saddest-way-to-dishonour-a-family/15916
---------
Saudi Sisters Launch Middle East's First Cat Café
2 April 2015
The concept debuted in Asia, with the very first "cat café" opening in Taiwan back in 1998. This was followed by similar outlets in countries, including Japan – which saw the launch of a staggering 79 coffee shops between 2005 and 2010 – as well as South Korea.
Fast forward 17 years later, and the kitty coffee shop phenomenon – where customers book a table to have coffee and snacks - while enjoying the company of cats – is showing no signs of slowing down. Venues are popping up all across the world – from Europe to North America – and now, the United Arab Emirates can lay claim to the Middle East's first cat café thanks to two entrepreneurs.
The brainchild of Jeddah-born, Dubai-based Iman and Allaa Ahmed Bin Farid al-Aulaqi, Ailuromania Café opened on Thursday. This marks the first business venture for the animal loving duo, who both recently graduated from university (Iman is 23 and studied finance, while Allaa is a year older and studied marketing). The word "ailuromania" is defined as "an intense enthusiasm for having many cats around" and following just over a year of planning, the Saudi sisters tell us that they couldn't have asked for a better project. Al Arabiya News chatted to Iman to find out more.
First of all, what made you decide on a cat café?
Generally, we have been obsessed with cats since we were very young. And basically, we were graduating from college and looking for a business idea. We wanted to do something, but we were not quite sure what the idea was or what we wanted to do. Shortly after my friend sent me an image of a cat café in South Korea, and she said: "Why not consider this? It'd be fun!" I realized that it combined work with my passion for cats, so it just clicked.
Did you experience any challenges setting up the business?
It was very difficult, especially finding the right location, because we wanted something that's cozy as it's a home for the cats. It took me six months to find this [Jumeirah Beach Road] location, but after that the approvals were pretty quick, and we moved forward pretty quickly. The construction, however, took forever. I was expecting it to take two months, but it ended up taking eight. It's also extra hard when you are a woman, because the construction workers talk to you as if you are an alien. It wasn't a very pleasant experience.
What was the kind of feedback that you got from the authorities? I'm sure you witnessed a few raised eyebrows…
(Laughs) They were surprised. At the beginning, they had to do special rules for me, so that took a bit of time, but that's normal because it is a new idea. I remember the first time I went to speak with the health director, he was a little puzzled with the concept of cats and coffee, and so I explained it to him. So I showed him how it existed all over the world, and when I told him about the concept, he was very excited about it. It was a little weird and everyone was laughing, but they got it.
Full report at:
http://english.alarabiya.net/en/life-style/art-and-culture/2015/04/02/Saudi-sisters-launch-Middle-East-s-first-cat-caf-.html
---------
This High School Senior Wants To Become NYC's First Female Muslim Firefighter
2 April 2015
Ahlam Ahmed — five feet tall, 105 pounds, wearing a Hijab – probably doesn't resemble your mental image for the word "firefighter." But the 18-year-old Queens high school student isn't about to let that stop her.
Ahmed was among the dozens of aspiring first responders who attended the inaugural FDNY Women's History Month Female Outreach Event, held on Randalls Island last Saturday. Women of a wide variety of ages and backgrounds tried their hand at training drills (including dousing a burning car with a hose, which — as seen in the photo above — looks like a hell of a lot of fun) and met with female firefighters.
All but 44 of FDNY's 10,000 firefighters are men, and of that small group, none are observant Muslims. It remains to be seen whether Ahmed's head scarf would pose a problem for her service. FDNY's Elisheva Zakheim told The Village Voice that, while the department "respects all religious practices," safety comes first — a firefighter must be able to wear his or her equipment. Situations like Ahmed's are typically tackled "on a case-by-case basis."
Ahmed, who graduates high school in June, is undeterred by the physical challenges of the job.
"Yeah, I still want to be a firefighter," she told the Voice. "It's an exciting job and I have an interest in saving people's lives."
http://fusion.net/story/113137/this-high-school-senior-wants-to-become-nycs-first-female-muslim-firefighter/
---------
At Christian Fashion Week, Modesty Is One Policy
2 April 2015
TAMPA, Fla. — As Tom Ford presented his fall 2015 collection in the modern Sodom of Los Angeles, and Marc Jacobs tended his "garden in hell" in Gotham-Gomorrah, around 300 Christians were gathering here for a fashion extravaganza of their own.
There were no buyers from Bergdorf Goodman, or celebrities moving in slow security phalanxes. But Jayson and Silva Emerian, a Presbyterian couple from Fresno, Calif., were among the spectators Feb. 20 at the Vault, a bank turned party space downtown. "I'm just here to support my wife," said Mr. Emerian, a general contractor.
Mrs. Emerian was gathering material for her blog, On My Shoebox.
"She's big on shoes," Mr. Emerian explained.
"Who isn't?" said Mrs. Emerian, nudging him playfully before turning serious. "I think fashion is so important because it really represents yourself — how you see yourself, how you want others to see you. I want to show the young girls in our church that you can be stylish and still have a strong faith."
Or, as Mr. Emerian said, "You don't have to look like a slut."
The models who would come down the runway shortly thereafter, however, were hardly dressed like nuns. Though none of the 11 designers scheduled for the hourlong presentation showed anything as outré as the utterly transparent dress Mr. Jacobs had offered, or Mr. Ford's top cut to the solar plexus, there were plenty of skintight leggings, thigh-grazing miniskirts and clingy T-shirts among the women, even as many of the men donned monastic hoods.
Ah, well, as the old throw pillow goes, "The higher the heel, the closer to heaven."
The issue of feminine modesty has bedeviled Christian Fashion Week, as it is known, though this year the runway show was confined to one evening. The rest is a series of parties, panels and prayer circles, founded three years ago by two other married couples: Jose Gomez, an entrepreneur who, among many other projects, helps churches amp up their Web presence; Mayra Gomez, a former model who once appeared on Janice Dickinson's reality show and now runs TruModel, a mentoring program for young women; Tamy Lugo, a stylist; and Wil Lugo, a graphic designer.
In their objective to remake the cold and cruel fashion world with love, sweet love, they summon to mind the Paul Mazursky movie "Bob & Carol & Ted & Alice," minus the infidelity and wife-swapping.
Mr. Gomez, who has a goatee and kindly manner, and is also an ordained minister, is the obvious leader of the group. The night before the fashion show, he huddled on a stiff modernist couch in the lobby of the Aloft hotel at a "V.I.P. Rendezvous" attended by models, stylists and audience members paying up to $50 for admission, and explained how his creation has evolved from a simple showcase for designers who happened to be Christian.
Continue reading the main story
"Really quickly we found out how hard that was," he said. "The designers that wear Christianity on their sleeve are not that good, and the ones that are really good don't wear it on their sleeves." (Indeed, only one of this year's designers, Jean Huni of London, had an overt religious reference in her brand, Messiah Couture, which offered gowns to rival Badgley Mischka's. Another, Constance Franklin, with a trousseau-inspired collection that included high-waist red pants and a big white hat, said she had been inspired by the futuristic, geometric buildings she saw on trips to Abu Dhabi and Dubai.)
Full Report:
http://www.nytimes.com/2015/04/02/style/at-christian-fashion-week-modesty-is-their-policy.html?_r=0
---------
URL: https://newageislam.com/islam,-women-and-feminism/new-age-islam-news-bureau/islam-fearing-tajikistan-says-hijab-is-for-prostitutes/d/102244