New Age Islam News Bureau
9 Sept 2015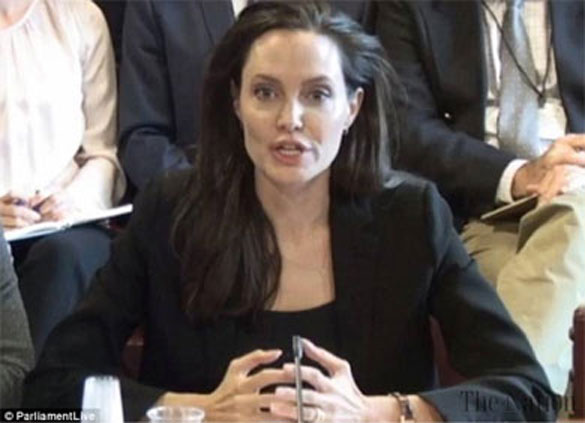 Angelina Jolie
-----------
• Pakistan at TIFF This Year: Sharmeen Obaid-Chinoy To Showcase 'Peacekeepers'
• Women Make Rare Appearance at Palestine Funeral
• Focus on Saudi Diplomat in India After Women Allege Gang-Rape, Torture
• Arab Women's Sports Tournament - Sharjah 2016 accepting applications
• Man Puts Four Children 'On Sale' To Pay Off Fine Slapped By Pakistan Jirga
• Women Leaders Demand Arrest Of 'Kenyan Doctor' In Rape Video
Compiled by New Age Islam News Bureau
URL: https://www.newageislam.com/islam,-women-and-feminism/new-age-islam-news-bureau/isis-uses-rape-as-main--effective-weapon---angelina-jolie/d/104531
---------
ISIS uses rape as main 'effective weapon': Angelina Jolie
September 08, 2015
Hollywood star Angelina Jolie today told the Houses of Parliament that ISIS is using rape as the 'centrepoint of their terror' as she warned of the destruction caused by sexual violence in conflict zones.
The actress and human rights activist spoke of the harrowing moment she met girls as young as seven who had been brutally raped in war zones.
Jolie, who is giving evidence to a Lords committee, said jihadist fanatics in the 'most aggressive terrorist group in the world' were using sex attacks as a 'very effective weapon'.
She said the use of rape by ISIS as a 'policy' was a new horror that the world had not seen before and urged a 'very, very strong response' to the terror group in Iraq and Syria.
As the extraordinary hearing got underway, it emerged that Jolie had given members of the committee copies of her film 'In the Land of Blood and Honey'.
Jolie, who is a long-standing campaigner on the issue, is appearing alongside former Foreign Secretary William Hague.
The pair hosted an 'End Sexual Violence in Conflict' summit in London in June last year which brought together diplomats, officials and non-profit representatives from more than 100 countries to press for the rights of victims of sexual violence — women, men and children alike.
The most aggressive terrorist group in the world today knows what we know, knows that it is a very effective weapon
Angelina Jolie
Speaking today, Jolie said she wanted to express her gratitude to the UK for its leadership on the issue.
And she said there was not a country in the world where the use of rape and sexual violence was a major issue.
The global star, who is married to actor Brad Pitt, told peers: 'I think the most important thing to understand is what it's not. It's not sexual, it is a violent brutal terrorising weapon.
'And unfortunately it is everywhere, in and out of conflict in every country basically. I can't think of one where there is not this issue.
'The most aggressive terrorist group in the world today knows what we know, knows that it is a very effective weapon and they are using it as a centrepoint of their terror and their way of destroying communities and families, and attacking and dehumanising.'
She said ISIS in Iraq and Syria dictates the use of rape as 'policy', adding: 'This is what is beyond something we have seen before. This is actually put into their policy.
'They are saying "we should do this, this is the right way to build a society, so we tell you to rape".'
'We really have to have a very, very strong response at this time to this particular group on this issue.'
http://nation.com.pk/international/08-Sep-2015/isis-uses-rape-as-main-effective-weapon-angelina-jolie
---------
Pakistan at TIFF this year: Sharmeen Obaid-Chinoy to showcase 'Peacekeepers'
September 9, 2015
Pakistan is a regular presence at many of the major stops of the global film festival circuit, and this year's Toronto International Film Festival (TIFF) will see Sharmeen Obaid-Chinoy present her documentary, A Journey of a Thousand Miles: Peacekeepers.
Peacekeepers follows the personal stories of five Bangladeshi policewomen who are deployed to the earthquake-stricken Haiti in 2010 as members of the UN peacekeeping mission.
Sharmeen shares directorial credits with Indian filmmaker Geeta Gandbhir in this documentary, which not only details their gruelling journey throughout the mission where they are considered with mistrust, but also their return home, where they face challenges of a different kind: familial disapproval of leaving home for work.
"The role of United Nations peacekeepers is a true 'mission impossible,' dropping soldiers who literally don't speak each other's languages into foreign countries rife with chaos and violence. Anything that goes wrong can become an international incident. Good luck," reads the description about the documentary on the TIFF website.
Pakistan also makes its mark in the form of the premiere of popular actor Ali Kazmi's Hollywood debut film, Beeba Boys.
Directed by Deepa Mehta, the film sees him as a trigger-happy member of a super-slick Indo-Canadian gang. Having acted in several American TV shows and video games, Kazmi finally gets to prove his acting mettle on the Hollywood big screen.
Also read: Ali Kazmi only gets meaner in Deepa Mehta's Beeba Boys
He Named Me Malala, the much-awaited documentary on Malala's family life in central England, also finally hits the screens at TIFF.
http://www.dawn.com/news/1205890/pakistan-at-tiff-this-year-sharmeen-obaid-chinoy-to-showcase-peacekeepers
---------
Women make rare appearance at Palestine funeral
September 9, 2015
Douma: Palestinians in Douma held their third funeral in six weeks, as they buried victims of an arson attack in which Jewish extremists have been accused. First, they buried a toddler, Ali Dawabsheh, then his father, and on Monday, they buried his mother, Riham Dawabsheh, each dying of injuries suffered in the fire on July 31.
The funeral for Riham Dawabsheh, 27, a high school teacher, was markedly different because women participated. For many, it was their first experience of a funeral for a female victim of political violence. The unusual sight underscored the rarity of such deaths in the West Bank, where young men are typically the victims of violence.
Hundreds of Dawabsheh's colleagues, students and extended family poured into a roomy house and courtyard reserved for women in the hillside West Bank village. But instead of staying there, as Palestinian women typically do at funerals, they viewed the body and marched to the cemetery, forcing male officials to hastily organise space for them, then held a protest march.
"This is the first funeral I see like this," sobbed Hamda, 30, a distant relative. "We used to hear about death before, on the television, of the martyrs, but this is somebody we know."
"Praise God, she's like a bride. All of Palestine has come to say goodbye," Hamda said, as she tearfully looked around the crowd of women.
Inside the house where the women had gathered, a female preacher, Umm Musab, addressed the crowd. "Those who submit to the fate that God has given them will enter heaven 500 years earlier than everybody else," she said.
"By God, I submit," Dawabsheh's elderly mother-in-law whispered. "Amen, Lord, Amen," she said. But then she burst into tears, counting the mounting losses of her family. Her 18-month-old grandson, Ali, was burned to death the night of the fire. Her son, Saad, 32, died of his injures August 9, and now her daughter-in-law.
Her other grandson, Ahmad, 4, is still in serious condition, with burns covering much of his body.
Israel arrested a number of Jewish extremists suspected of belonging to a network that had encouraged acts of arson. But the government has imposed a news blackout on the investigation into the Douma attack, so it remains unclear if any of those in detention are suspected of any connection with it.
On Monday, Prime Minister Benjamin Netanyahu of Israel expressed his condolences to the Dawabsheh family in a statement from his office. He said security services were doing their utmost to arrest the attackers.
For Palestinians, it mattered little. "We all live in terror," Hamda, the distant relative, said as women around her nodded.
"There's nobody to protect us," she said. "My girl sleeps next to me and says, 'Mama, if we die, can we die together?'"
As women kept pouring in to the mourning house, it appeared that they had negotiated with male officials to view Dawabsheh's body. But it touched off chaos: As men carried Dawabsheh's flag-wrapped body into the courtyard, women crowded and jostled to have a look. Dawabsheh's sisters-in-law wept in a corner, saying they weren't able to see her.
Her former students, still in their striped school uniforms, burst into gulping sobs. "It was scary to see my teacher like that," cried Amal, 17, hugging a friend. "I saw her face," she gulped. "Her face used to be clear, now it's yellow."
The women then poured out of the house, following the men carrying Dawabsheh's body to the cemetery. Some carried flags of the militant Islamic group Hamas, others posters of Dawabsheh. After the burial, a smaller crowd of younger women marched down Douma's tiny streets, chanting and vowing revenge.
They grinned and clutched each other's hands, suggesting this was an unusual excursion. One marcher, her face covered in a black veil, further suggested the rarity of such an event, as she called out chants that women repeated after her: She was reading off a piece of notepaper.
— New York Times News Service
http://gulfnews.com/news/mena/palestine/women-make-rare-appearance-at-palestine-funeral-1.1580464
---------
Focus on Saudi Diplomat in India After Women Allege Gang-Rape, Torture
September 09, 2015
GURGAON: They escaped the April earthquake in their country Nepal but found hell in the sprawling home of a Saudi Arabian diplomat in Gurgaon near Delhi.
Two women rescued on Monday from the diplomat's fifth floor apartment in a high-rise have given the police a disturbing account of gang-rape, torture and slavery.
None has been named in the First Information Report (FIR), but sources say the diplomat is in focus because of the women's statement, and the police are waiting for a signal from the foreign ministry before taking the next step. The women are being flown back to Nepal after their statement before a magistrate.
"We have asked the police for a detailed report... The Saudi Embassy is in touch with us," Foreign Ministry officials told NDTV.
The two women had been working with the family as helps for four months. The torture allegedly began in Jeddah and continued in Gurgaon. The women were allegedly raped and tortured by different men who visited the house.
"They raped us, kept us locked up, did not give us anything to eat," one of the women told NDTV.
One of them, a 50-year-old from Morang in Nepal, had divorced recently. The other woman, 20, has two little children in Nepal's Baglung, and a husband who has cancer.
They both took the job in desperation but were never paid.
They said they were afraid to tell anyone because they were beaten and threatened, sometimes with a knife.
The horror in that household was exposed when a newly hired help ran away after seeing the wretched condition of the women. She contacted a non-profit - Meitei India - which went to the police.
Some 40 policemen arrived at the apartment on Monday and saw two Saudi women beating up the Nepalese women. On seeing the police team, the Saudi women lunged at them and allegedly spat on them.
Diplomatic immunity may complicate investigations into the case, say sources.
http://www.ndtv.com/india-news/2-women-allegedly-raped-rescued-from-saudi-diplomats-gurgaon-home-1215651
---------
Arab Women's Sports Tournament - Sharjah 2016 accepting applications
September 7, 2015
The website provides an index of games including basketball, volleyball, table tennis, fencing, archery, shooting, athletics and show jumping.
AdTech Ad
The Arab Women's Sports Tournament has officially launched its new website, dedicated to the upcoming tournament's 3rd round, to be held in Sharjah in February next year, under the slogan, "Your World, Your Court, Together Victorious".
The Women's Sports Department is actively preparing for the tournament, organised under the auspices of Shaikha Jawaher bint Mohammed Al Qasimi, Chairperson of the Sharjah Ladies Club, and the wife of His Highness Dr Shaikh Sultan bin Mohammed Al Qasimi, Member of the Supreme Council and Ruler of Sharjah, in cooperation with the General Authority for Youth Welfare and Sports, the National Olympic Committee, and the Government of Sharjah. It is sponsored by the Arab League and the Council of Arab Ministers for Youth and Sports.
The follow-up committee of the 3rd Arab Women's Sports Tournament - Sharjah 2016 announced that they are now accepting participation requests on the website dedicated for the tournament.
Nada Askar Al Naqbi, Head of the Executive Committee and Manager of the tournament, said: "The website of the 3rd Arab Women's Sports Tournament - Sharjah 2016 covers the needs of players, the media and the public, and provides detailed information and news about the tournament."
Al Naqbi added, "Through the 2016 tournament slogan, we aim to instil freedom, confidence and enthusiasm in the hearts of all the girls and ladies, by encouraging them to perform all kinds of sports and by granting them opportunities to travel and meet athletes from across the Arab world."
The website provides a list of the games of Arab women clubs and a general lineup for the 2016 Tournament, along with an index of the technical teams responsible for organising all competitions and games included in the tournament, including basketball, volleyball, table tennis, fencing, archery, shooting, athletics and show jumping.
The tournament was initially launched after the Sharjah Ladies Club, which operates under the Supreme Council of Family Affairs, organised a series of successful sports events under the title, "Gulf States Competitions", in which all the Gulf Cooperation Council, states took part. Also, Shaikha Jawaher made a decision in 2008 to establish a new department under the name, Women's Sports Department.
http://www.khaleejtimes.com/sport/local/arab-womens-sports-tournament---sharjah-2016-accepting-applications
---------
Man Puts Four Children 'On Sale' To Pay Off Fine Slapped By Pakistan Jirga
September 9, 2015
SUKKUR: A man, Ghulam Rasool Katohar, along with four children aged between three and eight years appeared in front of the Jacobabad press club on Tuesday to offer all of them against Rs1.6 million, claiming that he was under immense pressure from his rivals to pay the amount as fine imposed by a Jirga (tribal court) held on Sunday.
Mr Katohar told the media that a family belonging to the Khoso tribe of Jacobabad had accused his son, Ghulam Shabbir Katohar, of having an extramarital affair with a woman belonging to that tribe about two years ago.
He said the aggrieved family eventually took the matter to the Jirga on Sunday which held its proceedings in Liaquatabad village. It was chaired by the Khoso chieftain in Jacobabad Mohabbat Khoso, he said.
Mr Katohar, a resident of Abdul Karim Katohar village located near Jacobabad, said that the Jirga found his son guilty and imposed a fine of Rs1.6 million to be paid to the rival side to settle the dispute.
He said although the fine money was supposed to be paid by his Katohar tribe collectively, the amount was usually paid in three instalments by the family of the guilty. He said he was not in a position to afford the burden and had to sell out his two daughters, Fauzia, 8, and Shahida 6, and two granddaughters, Rabia, 4, and Zahida, 3, to raise the fine amount and save his family from violent vengeance probably murder of his son by the rival side permissible under the tribal norms.
Senior officials in the district police, when contacted for their comment, said that they were aware of the Jirga ruling and Mr Katohar's woes but it was necessary to investigate the matter before taking action against all those responsible for issuing such non-judicial rulings and threatening the life and property of citizens.
Published in Dawn, September 9th, 2015
http://www.dawn.com/news/1205720/man-puts-four-children-on-sale-to-pay-off-fine-slapped-by-jirga
---------
Women Leaders Demand Arrest Of 'Kenyan Doctor' In Rape Video
By CAROLINE WAFULA
SEPTEMBER 9, 2015
Women leaders are demanding the immediate arrest of the owner of a clinic linked to a video showing a man raping an unconscious patient.
The women have threatened to organise demonstrations if police do not arrest the man, identified as Mugo wa Wairimu, within 48 hours.
The founder of Okoa Dada Kenya, Ms Diana Okello, said her group was not satisfied with the way the police are handling the matter.
"This is a case of abuse, a case of violence against women," she said.
Addressing journalists in Nairobi on Wednesday, Ms Okello accused the police of laxity and said the government should improve health facilities.
She said women seek treatment in private hospitals because of the poor state of government health facilities.
She also urged the Kenya Medical Practitioners and Dentists Board to publish a list of all qualified doctors and medical practitioners.
NO ARREST
"This will assist the public (in seeking) medical help from qualified doctors," she said.
Mr Wairimu has not been arrested since a video showing a man raping an unconscious woman was broadcast on Citizen TV during prime time news on Sunday night.
The video showed a woman on a doctor's examination table and a man undressing before climbing onto the table and engaging in sex with the sedated woman.
Mr Wairimu took to Facebook to dare the police to arrest him and asked the public not to believe what he called "choreographed pornography".
He had been sharing his phone numbers on his Facebook wall before he deleted his page later yesterday afternoon.
Kasarani OCPD Robinson Mboloi said the suspect had not been arrested and that he had gone into hiding.
Sources at the Directorate of Criminal Investigations said police suspect Mr Mugo was hiding at an MP's house.
http://www.nation.co.ke/news/Women-leaders-demand-arrest-mugo-wairimu/-/1056/2863822/-/48h13oz/-/index.html
------
URL: https://www.newageislam.com/islam,-women-and-feminism/new-age-islam-news-bureau/isis-uses-rape-as-main--effective-weapon---angelina-jolie/d/104531