New Age Islam News Bureau
26 Sept 2014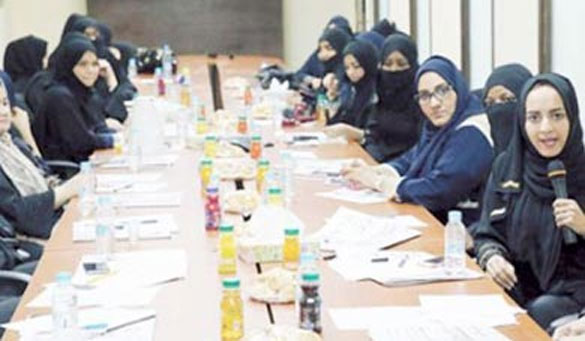 Photo: Saudi Women Find Success in Makkah's Hotel Industry
---------
• Yazidis Plea for West to Help More Than 1,000 Kidnapped Women Forced Into 'Sex Trade'
• Muslim Teen Barred From Top London School for Wearing Veil Quits
• Call for an End to Violence against Women
• Wife of Isis Hostage Receives Life Plea
• Bangladesh Commonwealth for Uplifting Female Education
• Women's Rights: From Education to Driving in Saudi Society
• Saudi Women Find Success in Makkah's Hotel Industry
• Africa: Star-Studded Event Kicks Off UN Women Global Gender Solidarity Campaign
• Commitments For Women Take Centre Stage At 69th U.N. G. A
• Clinton Announces Global Initiative to Educate Girls
• Top Cop Is Flying Off To Kenya to Help Women with Charity Work for Vision Africa
Compiled by New Age Islam News Bureau
URL: https://www.newageislam.com/islam,-women-and-feminism/new-age-islam-news-bureau/isis-publicly-executed-women-s-right-activist-for--apostasy-/d/99279
----------
ISIS Publicly Executed Women's Right Activist for 'Apostasy'
26 Sep, 2014
ISIS terrorists have publicly executed a human rights lawyer in the Iraqi city of Mosul after she criticised the group on Facebook for destroying religious monuments.
Samira Salih al-Nuaimi was seized from her home on September 17 shortly after she allegedly posted messages on Facebook that were critical of the militants' destruction of religious sites in the city.
According to the United Nations Assistance Mission in Iraq, al-Nuaimi was tried in a Sharia law court for apostasy, before being tortured for five days and eventually being sentenced to public execution.
News of al-Nuaimi's shocking death emerged after a coalition of American and Arab forces carried out a third night of deadly airstrikes against ISIS targets which have already killed scores of militants.
Al-Nuaimi was killed on Monday, according to a statement released by the UN mission today. Her Facebook page appears to have been deleted since her death.
'By torturing and executing a female human rights' lawyer and activist, defending in particular the civil and human rights of her fellow citizens in Mosul, ISIL continues to attest to its infamous nature, combining hatred, nihilism and savagery, as well as its total disregard of human decency,' Nickolay Mladenov, the UN envoy to Iraq, said in a statement, referring to the group by an alternative name.
The militant group captured Iraq's second largest city Mosul during its rapid advance across the country's north and west in June, as Iraqi security forces melted away.
The extremists now rule a vast, self-declared caliphate straddling the Syria-Iraq border in which they have imposed a strict interpretation of Sharia law which they claim justifies massacring opponents.
In the once-diverse city of Mosul, the group has forced non-Muslims to convert to Islam, pay special religious taxes or face execution - a policy that has caused tens of thousands to flee.
The militants have also enforced a strict dress code on women, going so far as to veil the faces of female mannequins in store fronts.
In August, the group destroyed a number of historic landmarks in the town, including several lavish mosques and shrines, claiming the locations promoted idolatry - the practice of worshiping objects or icons instead of God.
It appears to have been this campaign of destruction that led al-Nuaimi to post the critical Facebook messages that ultimately resulted in her death.
The Gulf Centre for Human Rights yesterday said that al-Nuaimi had worked on issues relating to poverty and the rights of detainees while living and working in Mosul.
The Bahrain-based rights group said her death 'is solely motivated by her peaceful and legitimate human rights work, in particular defending the civil and human rights of her fellow citizens in Mosul.'
Extreme violence against women who do not conform to the group's primitive ideals is a hallmark of ISIS' approach to governance.
In the nearby town of Sderat, militants broke into the house of a female candidate in the last provincial council elections, killed her and abducted her husband, according to the UN. On the same day, another female politician was abducted from her home in eastern Mosul and remains missing.
ISIS' brutally oppressive treatment of its four million citizens, as well as the sickening filmed murders of two American journalists and a British aid worker, eventually prompted the US to launch airstrikes against the group in western Iraq last month, and in its Syrian stronghold earlier this week.
The U.S. Air Force has worked alongside a coalition of five Arab nations - Saudi Arabia, the UAE, Bahrain, Qatar and Jordan - in an effort to degrade and eventually destroy the Islamist terror group.
Desperate militants are believed to have freed 150 prisoners in the group's de facto capital Raqqa overnight, in the hope it will convince America and its Arab allies to end the airstrikes.
The militant stronghold is widely thought to be a base for the group's senior figures - including leader Abu Bakr al-Baghdadi - and where British hostages Alan Henning and John Cantlie are being held.
The news came as a fresh wave of airstrikes from the United States and its Arab allies hit ISIS oil refineries overnight, killing at least 14 militants and striking at the heart of the terror group's funding.
ISIS generates up to $2million a day from the sale of oil, employing highly trained engineers to extract thousands of barrels a day from the vast swaths of Syria and Iraq under the terror group's control.
Nearly a dozen countries have also provided weapons and training to Kurdish peshmerga fighters, who were strained after months of battling the jihadi group.
In other developments Thursday, German Defense Minister Ursula von der Leyen visited northern Iraq for talks with Kurdish leaders about the fight against Islamic State extremists and Berlin's efforts to help with arms deliveries.
Thursday also marked the start of German arms deliveries to the semi-autonomous Kurdish region, with the ultimate goal of supplying 10,000 Kurdish fighters with some 70 million euros ($90 million) worth of equipment.
http://www.dailymail.co.uk/news/article-2769196/Iraqi-woman-activist-killed-Islamic-State.html#ixzz3ERbhCWNq
-----------
Yazidis Plea for West to Help More Than 1,000 Kidnapped Women Forced Into 'Sex Trade'
26 Sep, 2014
Yazidis in Iraq have made an emotional plea for the international community to help find more than 1,000 women and children kidnapped by Isis.
Those willing to convert to Islam are married off to militants but those maintaining their faith are trafficked as sex slaves, abused and imprisoned.
Thousands of people from the religious minority, who are considered heretics by the Sunni extremist group, were driven from their homes by the Isis advance in August.
The US started its intervention in the Iraq conflict as part of a humanitarian mission to rescue the families trapped without food and water on Mount Sinjar but not all were saved.
More than 1,000 Yazidi women had already been captured by Isis as Kurdish soldiers advanced on Mosul and hundreds more are believed to have been abducted as part of the group's mission to eradicate other religions in its Sunni-dominated Islamic "caliphate".
Vian Dakheel, Iraq's only Yazidi parliamentarian, is sheltering more than 30 displaced relatives at her home in Irbil.
She told the BBC she believes Western military intervention on the ground could help free the prisoners.
"Publicity would also help just like when Mrs Obama got involved in trying to rescue the schoolgirls captured by Boko Haram in Nigeria," she added.
"We're a minority here and there's no strong lobby to support us. We ask for support from those governments that care about human rights and humanity."
Witnesses said the abducted women were separated from their male relatives, who were often then murdered, divided into groups by age and sent away to Isis strongholds.
A 14-year-old Yazidi girl, known as Narin, told journalist Mahammed A Salih her 19-year-old brother was shot with other young men as she and other girls and women were taken to an empty school in Baaj, near the Syrian border.
An Isis fighter entered the room and recited the shahada for the women to repeat, saying it would convert them to Islam but they refused.
"They were furious," she said. "They told us we were pagans and confined us for 20 days inside the building, where we slept on the floor and ate only once per day.
"Every now and then, an Islamic State man would come in and tell us to convert, but each time we refused.
"As faithful Yazidis, we would not abandon our religion."
After weeks of imprisonment, Narin and a childhood friend were given as "gifts" to senior Isis militants living in Fallujah and she was beaten and starved by her new captor known as Abu Ahmed – around 40 years her senior.
After more than a week with the men, the two girls managed to contact a friend in the city, who picked them up and helped them travel to safety with fake IDs.
They have since been reunited with their families but others have not been able to escape.
Another Yazidi girl, 17-year-old Mayat (not her real name) spoke to Italian paper La Repubblica from captivity earlier this month – Isis allowed the interview so her parents would know "in detail" what they were doing.
She had been kidnapped on 3 August during the Isis offensive on Sinjar and was being kept in an unknown city with around 40 women and girls aged from 12 to 30, she said.
Mayat described three "rooms of horror" where the women were raped, often by different men throughout the day and said many of her fellow prisoners had tried to kill themselves.
"They treat us like slaves. We are always 'given' to different men. Some arrive straight from Syria," she said.
"Even if I survive, I don't think I'll be able to remove this horror from my mind."
http://www.independent.co.uk/news/world/middle-east/islamic-state-plea-for-west-to-help-more-than-1000-kidnapped-yazidi-women-in-isis-sex-trade-9752220.html
-----------
Muslim teen barred from top London school for wearing veil quits
26 Sep, 2014
A Muslim teenager who had been banned from school for wearing an Islamic face veil said that she was too 'upset, hurt and angry' to go back, despite the support of cover a thousand of her fellow students.
The 16 year old, who was due to start her A level exams this year, was told by the prestigious Camden School for Girls that her decision to wear the Islamic veil went against the schools' dress code, and that staff would not be allowed to teach her unless she removed it.
Speaking to the London Evening Standard, the girl said that the face veil should not be seen as "un-British".
"I was born in Britain. I know perfect English, I enjoy doing the normal, typical things like drinking tea and eating biscuits. Britain claims to be multicultural, meaning they accept different kinds of people."
"To be honest a lot of people at the school wear inappropriate clothing — inappropriate as in very provocative and revealing clothing like extremely short shorts — so it didn't make sense that they were refusing me to wear the niqab" she said.
The girl will continue her studies at a different sixth form college, which is located further away from her home.
"I've been going to Camden for five years yet they were so dismissive but a school that I'd never even heard of were so ready to welcome me. There are even other students who wear the niqab" she said.
Camden School for Girls was named as one of the top 100 in the country by schools minister David Laws last year, and has a number of prominent alumni.
The schools' decision sparked an online petition entitled "Camden School for Girls: Stop the Islamophobia".
http://rt.com/uk/190664-muslim-student-banned-upset/
-----------
Call for an End to Violence against Women
26 Sep, 2014
Lawmakers from Asia-Pacific countries at the inaugural ceremony of a three-day seminar called for an end to violence against women, saying that social, religious and cultural norms could not get priority over health and security issues of women.
Birth registration could play an effective role in preventing child marriage in the region, they said at the seminar titled "Ending the Cycle of Violence against Girls in the Asia-Pacific" that began at Sonargaon Hotel on Tuesday.
"Childhood abuse and gender inequality are the main risk factors in violence against women and girls," said Dr Venkatraman Chandra-Mouli, adolescent sexual and reproductive health expert at World Health Organisation (WHO).
"One in every two women in the world are victims of violence and only 10-30% of them seek institutional help," the expert said.
Birgitte Filion, programme officer of Programme for Partnership between Men and Women, Inter-Parliamentary Union, emphasised on capacity building, peer-to-peer engagement, mentorship and solidarity to counter gender inequality. "One cannot prevent violence against women without addressing gender inequality."
Elisa Scolaro, technical officer at Department of Reproductive Health and Research, WHO, presented strategies to prevent child marriage, including mobilising girls, boys, parents and leaders to change practices that discriminate against girls and create social, economic, and civic opportunities for girls and young women, providing girls who are already married with options for schooling, employment and livelihood skills and offering recourse from violence at home.
She also stressed on addressing the root causes of child marriage, including poverty, gender inequality and discrimination, the low value placed on girls and violence against them.
While discussing domestic violence, experts said 70% of children aged between 2 and 14 were subjected to violence in some forms of discipline in the Asia-Pacific region.
Participants from India shared their strategies that helped protect female children and their rights while the delegates from Bangladesh said birth registration in the country increased from 9.8% in 2006 to 53.6% in 2009.
The participants also discussed the importance of birth registration, gender inequality, social, cultural and religious norms, illiteracy, poverty, health education and many other factors to prevent violence against women and girls.
One of the panellists Kiran Bhatia said, "Data on sexual violence are actually the tip of the iceberg; the real number is much more tragic."
In the sixth session, strategies taken up by different parliaments were discussed. This discussion brought forward previous examples of good practice of parliamentary strategies for legislating and preparing the public to accept laws to prevent violence against girls.
Parliaments of the Asia-Pacific countries would review, reform and formulate laws, if necessary, to prevent violence against girls, said MPs from different Asia-Pacific countries on the second day of the seminar.
http://www.dhakatribune.com/law-rights/2014/sep/25/call-end-violence-against-women#sthash.Uam0eABw.dpuf
-----------
Wife of Isis Hostage Receives Life Plea
26 Sep, 2014
LONDON: The wife of British aid worker Alan Henning, held hostage by the Islamic State group, said she had received an audio message from him pleading for his life.
Henning, a 47-year-old Manchester taxi driver, was kidnapped last December while in Syria. He first appeared at the end of an ISIS video that showed the beheading of a fellow British captive, David Haines.
"An audio file of Alan pleading for his life has just been received by me," Barbara Henning said in a statement released via Britain's foreign office. She once again sent out a plea to Henning's captors to release him.
"I and people representing me continue to reach out to those holding Alan," she said. "Islamic State continues to ignore our pleas to open dialogue. I have seen Muslims across the globe question Islamic State over Alan's fate. The voices of the people have spoken out loud and clear. He was working with Muslims to help the most vulnerable within Syria. Nothing has changed. He went to Syria to help his Muslim friends deliver much needed aid."
Barbara said she was at a loss to understand why those leading Islamic State continued to threaten her husband's life. "I have been told that he has been to a sharia court and found innocent of being a spy and declared to be no threat," she said. "I implore Islamic State to abide by the decisions of their own justice system. Please release Alan."
Earlier in the day, Henning's brother-in-law said he feared the recent US-led air strikes against Isis could make it harder to find and rescue the hostage. "It does scare me," Colin Livesey said. "Because if they're going to do air strikes on them, they'll just run away. They'll take him with them and no one will know where he is again. Time will tell if it's worked. I don't want to lose the faith in knowing he's coming home".
http://timesofindia.indiatimes.com/world/uk/Wife-of-Isis-hostage-receives-life-plea/articleshow/43378127.cms
-----------
Bangladesh Commonwealth for uplifting female education
26 Sep, 2014
The Commonwealth is going to undertake a new agenda for developing the education for female child and woman.
Commonwealth Secretary General Kamalesh Sharma made the statement while paying a courtesy call on Prime Minister Sheikh Hasina at her hotel suite in New York on Wednesday afternoon.
Prime Minister's Press Secretary AKM Shamim Chowdhury briefed reporters after the meeting, reports BSS.
He said Kamalesh Sharma apprised the Prime Minister of the policy and programmes of the Commonwelath.
The Commonwealth secretary general also informed Sheikh Hasina about tomorrow's CHOGM meeting at the UN headquarters.
Highlighting government's steps for the development of education, the Prime Minister said Father of the Nation Bangabandhu Sheikh Mujibur Rahman nationalized country's primary education and the services of the teachers soon after the independence. She said the government has made girl's education free up to higher secondary level.
It may be mentioned that the Commonwealth Secretary General will visit Bangladesh in December next.
Foreign Minister A H Mahmood Ali, PM's Principal Secretary Abdus Sobhan Sikdar and PMO Secretary Abul Kalam Azad were present.
http://www.dhakatribune.com/bangladesh/2014/sep/25/commonwealth-take-new-agenda-uplifting-female-education#sthash.YwWT8qFO.dpuf
-----------
Women's Rights: From Education to Driving in Saudi Society
26 Sep, 2014
ANY issue regarding women is bound to cause an uproar in Saudi society, especially among men. Society seems to be divided both intellectually and religiously when it comes to women's issues such as working, driving or appearing on TV. However, in the midst of all the controversy such issues cause, the most important voice and opinion — that of women — is seldom heard. Al-Madina daily investigates whether women are silently waiting for an opportunity to voice their concerns or if they are silently moving forward.
Abdulmohsen Hilal, Saudi scholar and author, said Saudi society is not used to hearing women's voices and opinions, which is why men tend to treat women's issues very sensitively and may even consider them to be taboo.
"Such an outlook has nothing to do with Islam and everything to do with tradition and culture. That is why Saudis, as a society, will forever face any rising issue with intellectual controversy that is reflected in our discourse, news and social norms from both educated intellectual scholars and uneducated individuals," he said.
"Religiously speaking, Islam is the one religion which has put men and women on equal footing. The question is: Why don't we let women deal with their own affairs? Why don't we hear what they have to say? Things were different in past Islamic civilizations, but today, we let tradition override religion. An example of this is the fact that we have limited women to certain occupations such as education and healthcare when in fact there should be no differentiation between men and women in this matter as long as women are covered and dressed modestly," he added.
Journalist Ali Al-Rubaie said the issue must be viewed from a historical context as some scholars interpreted certain religious texts in a degrading way to women and there are two main opinions regarding the matter. Some view that these interpretations were a result of social traditions and culture, i.e., the marginalization and trivialization of women and their issues is highly influenced by Saudi culture.
"Others hold the view that religion must be followed as clearly as it is laid out by the scripture. The problem here is that the microphone and pen is only given to one sex and not both. We must revise our interpretations of the religious scriptures and apply them to our modern age and time with an unbiased and non-sexist perspective," said Al-Rubaie.
"Moreover, men seem to be too nosy regarding women's matters. Leave it to the women to discuss and deal with their own issues and concerns. This hollow commotion is an indicator that society does not occupy itself with important and urgent issues. Instead, it finds room for debate in trivial matters. In reality, women could care less about all the opinions and criticisms about their right to work and drive. They are progressing in life with their education and careers," he added.
Women's role in the workforce is taking precedence on the national level. Al-Rubaie believes Saudi society should pay more attention to Islam's spiritual and humanitarian side, which he believes supports and empowers women.
"We are no longer standing in front of what is Halal and what is Haram in terms of women and what they should do. In fact, if we were to bring religion into things we ought to consider the spiritual and humanitarian side to Islam that is very supportive and empowering to women. Prophet Muhammad, peace be upon him, had personally bestowed upon women their importance but as an Arab society, we have held on to our view of women as the weaker sex," he concluded.
http://www.saudigazette.com.sa/index.cfm?method=home.regcon&contentid=20140926219438
-----------
Saudi women find success in Makkah's hotel industry
26 Sep, 2014
THERE are large numbers of Saudi young women working in the hospitality sector in Makkah. Many of these women hold key positions in the holy city's five star hotels and shoulder big responsibilities and meet career challenges successfully, according to a report in Makkah daily.
The outstanding performance of these women has been instrumental in removing the skepticism of a large number of people in Saudi society on whether women can succeed in the hospitality sector. Several women who spoke to Makkah daily said they managed to consolidate their positions in the hospitality sector after challenging the notion that women belong indoors and can only receive guests at their homes.
Nihad Yamani, supervisor at Makkah Hilton, is one of the pioneering Saudi women who specialized in human resources (HR) at star hotels in the Kingdom. She said that women can do wonders in the hospitality sector and cited her own example to prove that Saudi women can scale heights of career performance in the hospitality sector. "I started my career as a customer service employee and then was promoted to section supervisor. With hard work and untiring efforts, I soon became a specialist in HR at the hotel."
Referring to the secret of success in her career, Yamani said that she is keen on minute details of hospitality while serving guests. "This is part of the nature of a woman. They have the potential and intrinsic qualities to outshine men in the hospitality sector," she said while underlining the need for creating more opportunities for women in this vital sector.
"Society should also look at us with a positive outlook," she added. Iman Bushnaq, an employment specialist at Swissôtel Makkah, said young Saudi women are finding success in numerous positions in the hotel industry. "There are several women who work as HR officials, reservation staff and specialists. These positions are no longer the monopoly of Saudi men, and there have been tremendous changes in favor of women."
Al-Jawhara Munawar works as an officer in charge of e-business, designing of ads and managing social networking sites at another star hotel in Makkah. Munawar is among a handful of Saudi women who took charge of such a mission at hotels in Makkah for the first time. "I enjoy doing all these jobs, in addition to taking photographs for events and running promotional ads for the hotel," she said. Munawar joined the hotel as a staff at the reservation counter.
Afnan Muadan, customer service employee at Swissôtel, said she and her colleagues faced some difficulties due to the reluctance of certain members of Saudi society to accept the reality of women working at hotels. "Even some Saudi officials maintained reservations in interacting with women staffers. On some occasions, customers who called the hotel would hang up the phone when they heard a female voice," she said.
Discussing some of the obstacles women face at the workplace, Naeema Ibrahim said transportation between home and her workplace was one of the biggest problems facing working women. "The ongoing massive construction works and heavy traffic during the Haj and Umrah seasons in the holy city make it very difficult to reach work and return home," she said. Noura Jafri, who is working as an official in charge of employment at Fairmont Makkah Hotel, sees the arrogance on the part of some young Saudi male staffers to obey their women superiors as the major hurdle faced by her and her colleagues.
Rihab Hathout, an official at the reservation counter of another star hotel, said the most pressing problem faced by Saudi women staffers pertains to their lack of proficiency in English. "The majority of our colleagues as well as customers are foreigners and the only way to communicate with them is through English."
Echoing the same view, Abeer Fakeerah, assistant director for employees' affairs at Makkah Hilton, said hotel management recently started conducting English language proficiency courses for its staffers in an attempt to improve their communication skills.
http://www.saudigazette.com.sa/index.cfm?method=home.regcon&contentid=20140926219396
-----------
Africa: Star-Studded Event Kicks Off UN Women Global Gender Solidarity Campaign
26 Sep, 2014
Launching one of the largest solidarity movements of the 21st century, Secretary-General Ban Ki-moon and UN Women Global Goodwill Ambassador Emma Watson, opened a star-studded event in New York this evening with strong calls on men and boys worldwide to raise their voiced for gender equality today and women's empowerment.
"Over the years, men have supported the women's movement. But for the most part, it was just that: a women's movement - when in fact gender equality is the responsibility of all people," the Secretary-General said in opening remarks at the launch of the UN Women HeForShe campaign.
Moderated by renowned CNN Anchor Wolf Blitzer, the HeForShe event aimed to put men at the center of activism and dialogue to end persistent inequalities faced by women and girls around the world. Over the next 12 months, the campaign intends to mobilize one billion men and boys as advocates and agents of change for gender equality.
"States have an obligation to address violence against women. But we also need to change attitudes," said Mr. Ban, noting that one in three women is a victim of violence - but this is a men's issue.
"Men are responsible for most of the threats and violence against women. Often, these men are close to the victims - fathers, husbands, boyfriends or supervisors, said the UN chief, declaring: "We need to say to men and boys: Do not raise your hands in violence - raise your voices to stop it - and to support human rights for all."
In a highlight of the event, the Secretary-General capped his remarks by activating the HeForShe map - a real-time map with a geo locator to capture men's engagement with the initiative worldwide over the next 12 months and keep a tally towards the campaign's one billion target. The top UN official, through his map activation, was counted as the "number one man". Mr. Blitzer became "number two", by activating the map next.
In her remarks, UN Women Executive Director Phumzile Mlambo-Ngcuka said HeForShe is for every man, every boy, every individual, wherever they are. Despite the dire and very real statistics about the ongoing scourges of violence against women and gender inequality, "men and boys can change the course of history," she said.
Urging male politicians, artists, actors and sportsmen to "stand up" so that through them, young men and boys could see role models willing to help change society's failures, she said people from all walks of life were invited to work towards creating a world of equal justice and equal opportunity, without discrimination.
"I am reaching out to you because we need your help. We want to end gender inequality and to that we need everyone involved," said Ms. Watson in her remarks, stressing the HeForShe campaign was more than talk; it was about achieving tangible results.
Referring to her most iconic film role as Hermione in the "Harry Potter" film series, Ms. Watson said many in the audience might ask: "Who is this 'Harry Potter' girl and what is she doing speaking at the UN?"
While admitting that she had asked herself the same question since being named UN Women Goodwill Ambassador, she said, "all I know is that I care about this problem and want to make it better. I feel it is my responsibility to say and do something."
To those present who might have similar doubts, she highlighted some start facts about the price of inaction. "The reality is, that if we do nothing, it will take 75 years before women can expect to be paid the same as men for the same work... and at the current rate, it will 2086 before all rural African girls can have a secondary education."
"I want men to take up this mantle. So their daughters, sisters and mothers can be free from prejudice, but also so that their sons have permission to be vulnerable and human too - reclaim those parts of themselves they abandoned and in doing so be a more true and complete version of themselves," Ms. Watson said.
Along with Sam Kutesa, President of the UN General Assembly, the brought together renowned personalities, including senior UN officials such as UN Population Fund (UNFPA) Executive Director Dr. Babatunde Osotimehin, and UN Educational, Scientif and Cultural Organization (UNESCO) Director-General, Irina Bokova, along with actor Kiefer Sutherland and civil society representatives to discuss the central role men and boys can play in the achievement of gender equality.
http://allafrica.com/stories/201409221701.html
-----------
Commitments For Women Take Center Stage At 69th U.N. General Assembly
26 Sep, 2014
As the 69th session of the United Nations General Assembly comes to a close, numerous commitments and actions have been made for the wellbeing of women across the world. From private sector to bilateral partners, leadership has united to promote gender equality, safe motherhood and investments in women.
On September 20, actress and newly-minted U.N. Women Goodwill Ambassador Emma Watson delivered an impassioned address to announce a new campaign -- HeForShe -- that aims to mobilize one billion men and boys as advocates for gender equality. United Nations Secretary-General Ban Ki-Moon was the first to ink his name in support of #HeForShe and, as Watson's words have echoed around the Internet, more than 125,000 men have committed themselves to the cause.
Other leaders, including Joy Phumaphi of the Africa Leaders Malaria Alliance, Rajiv Shah of USAID, Katja Iversen of Women Deliver and Priya Agarwal of Merck for Mothers joined the conversation to discuss ongoing work around Every Woman Every Child and the #Commit2Deliver campaign.
And, on September 23, at the Clinton Global Initiative's 10th Annual Meeting, the Calvert Foundation's Women Investing in Women Initiative announced $20 million in impact investing dollars to promote women's health and economic issues in Africa, particularly around clean cooking technologies.
The One Mama at a Time campaign, announced this week by Kangu.org, is targeted at the intersection of these important issues by expanding crowdfunding for maternal and newborn health. Nearly 90 percent of maternal deaths are preventable with access to appropriate care, all of which can be provided for as little as $250 per woman. By mobilizing new resources from untapped individual donors, the Kangu website helps ensure safe birth one mama at a time. As the first platform dedicated solely to raising funds to provide a full continuum of care for expectant mamas and their newborns, Kangu promotes equality by providing services specifically to vulnerable populations, facilitates safe motherhood by breaking down social and financial barriers to quality care and increases investments in women by connecting everyday donors directly to mamas in need.
By addressing the trifecta of equality, health and sustainable investments, Kangu seeks to create a world where all mothers have access to affordable, high quality health care and no woman needlessly loses her life while giving birth.
Building on Kangu's successful programs in Nepal and Uganda, the Reproductive Health Supplies Coalition (RHSC) and Financing for Development (F4D) announced a major expansion, which will bring the Kangu platform into Latin America and the Caribbean. Together, these organizations aim to amplify crowdfunding for safe birth to ensure that sustainable progress toward #MDG456 is achieved and that every expectant mother has access to the services she and her baby need.
Additional commitments from individuals, companies and governments are anticipated and, during this critical period in the run-up to the end of the Millennium Development Goals, they have never been more important. We must continue to drive toward a better world for women and mothers and ensure that a strong message is carried forward into the next chapter of global health and development.
http://www.huffingtonpost.com/casey-santiago/commitments-for-women-tak_b_5884308.html
-----------
Clinton Announces Global Initiative to Educate Girls
26 Sep, 2014
Former U.S. secretary of state Hillary Clinton has announced a $600 million effort to help girls around the world enroll in secondary schools.
She unveiled the plan Wednesday at the Clinton Global Initiative's annual meeting in New York. She said that when girls have equal access to quality education in primary and secondary schools, they help break the cycle of poverty and spur economic growth.
The global initiative has 30 partners and will be led by former Australian Prime Minister Julia Gillard, who originated the idea. The U.S., British and Nepalese governments will work with private sector organizations to reach 14 million disadvantaged girls, ages 11 to 16, over the next five years. Most of them are in sub-Saharan Africa and southwestern Asia.
The foundation, created by former president Bill Clinton, notes that in sub-Saharan Africa, 1.5 million fewer girls than boys attend secondary schools.
The program aims to improve the quality, safety and security for girls at schools worldwide.
Philanthropists and NGOs have focused their attention on girls' education, especially after the 2012 attack on Pakistani teenager Malala Yousafzai, who was shot in the head by the Taliban for advocating education for women. The kidnapping of more than 200 young girls from a school in Nigeria by the terrorist group Boko Haram raised concerns about girls' safety at schools.
http://www.voanews.com/content/clinton-announces-global-initiative-to-educate-girls/2461395.html
-----------
Top Cop Is Flying Off To Kenya to Help Women With Charity Work For Vision Africa
26 Sep, 2014
After 34 years with the police force, Ellie is moving to Kenya to carry out charity work helping young women have a positive future, and the unusual move will see her work in impoverished townships, bringing hope and opportunities to girls.
She said: "For many years throughout my police career I have played a key role in improving the representation of women in policing, much of which has been achieved through coaching, mentoring and a focus on leadership roles.
"Operationally I have dealt with crimes of physical, sexual and emotional abuse against children and young women, as well as developing campaigns and initiatives to tackle domestic violence
"I believe that women have the right in defining their own future and that of their families and communities.
"In Kenya that is critical given the number of girls who are married at such a young age and are expected to fulfil so many cultural expectations.
"I have met so many young girls who are determined to complete their education, aspiring to be doctors, engineers and lawyers.They face the challenge of being told by their own teachers that these are not roles that women should perform and those who are first born are expected to provide for their siblings and to fund their education."
Ellie, Area Commander for Scotland for British Transport Police (BTP), became involved with charity Vision Africa through friends, and made her first trip to Kenya in October last year.
On Saturday she goes to Kenya for her fifth trip to the country with the children's organisation.
Then, in October, she moves there indefinitely to develop an arm of the charity working to change the fortunes of young girls.
In between these visits she will also travel to Pakistan, where she has been asked by the Ministry of the Interior to advise on ways of expanding the role of the police.
She added: "Each time I visited Kenya I realised just how much we take for granted. Hundreds of young girls cannot access suitable sanitary wear and with no washing facilities at school they simply have no choice; their education is disrupted.
"Some of the men, in gangs within townships, have realised the value of a sanitary towel as a commodity and many girls are subject to rape or forced to commit crime in exchange.
"After sharing this with friends and colleagues I have been able to secure some funding and we have established Girls Empowered; a group of more than 250 girls in Kibera who meet weekly."
Young women who attend Girls Empowered are given access to health education and support through peer mentoring.
Ellie also works with St Andrew's Baby Care Unit, which looks after babies who have been orphaned or abandoned.
She said that in one month the unit took in three baby girls, one of whom was rescued from a river where she had been left by her mother.
Vision Africa also runs Seed of Hope, which provides vocational training for young people from disadvantaged families.
Ellie, who finances all of her travel by herself, says it is vital to show teenagers and children support that they can pursue their dreams.
Although she is excited about the opportunity to work in Kenya, Ellie said she will miss Glasgow, particularly having just been part of the policing team for the Commonwealth Games.
In an incredibly varied career, she said key points included responding to terrorist incidents, a train derailment and tackling sectarianism on the rail network as well as being part of a team of detectives that secured a life sentence for a serial rapist.
But, having celebrated the milestone with friends and colleagues, she is looking forward to a challenging retirement.
Ellie added: "I have been involved in numerous initiatives over the years to tackle crime and to try and solve problems, but never would I have considered the provision of sanitary towels and underwear as a means to tackle sexual abuse. I am excited about working in an environment where I am challenged and the solution is different.
"I really believe that there is so much more to be done and so much more that we can achieve.
"Their welcome has been overwhelming and already Kenya feels like home and indeed it will be in October.
"During my last visit, one of the students said to me: 'Before I came to Seed of Hope I was just a girl. Now I have learnt something and I am proud, I am happy and I know I can do something good'."
http://www.eveningtimes.co.uk/news/top-cop-ellie-bird-is-flying-off-to-kenya-to-help-young-women-with-182040n.25413536
-----------
URL: https://www.newageislam.com/islam,-women-and-feminism/new-age-islam-news-bureau/isis-publicly-executed-women-s-right-activist-for--apostasy-/d/99279