New Age Islam News Bureau
5 Sept 2017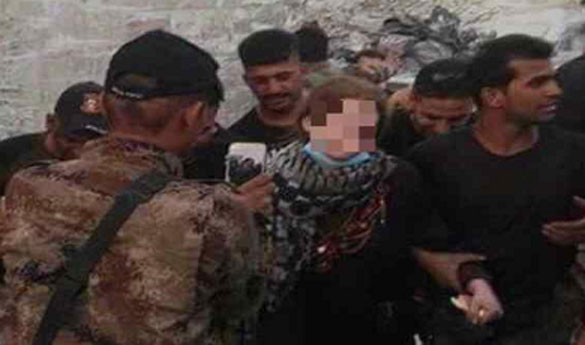 Photo: Images surfaced of the German 16-year-old in Mosul's Old City after she was captured by Iraqi security forces. She left home to join ISIS last year.
------
• Malaysian women most successful in the world, Najib says
• Professor's anti-Muslim comments 'dangerous' - Islamic Women's Council
• Saudi women volunteers provide medical services to pilgrims
• How a Muslim woman from Malaysia became the Mother Teresa of Montreal
• Give us two-thirds majority to pass unilateral child conversion ban, Najib tells women
• West 'trying to disempower Muslim women'
• Women among 32 perish in different incidents on Eid
• 106-year-old Afghan woman faces deportation from Sweden
• Hijab-wearing American Muslim editor slams Australia for treating domestic violence deaths as a 'social issue' but condemning them as 'honour killings' in Islamic countries
• South Africa: Opposing Views of Muslim Marriage Clash in Court
• 'We are an example to the Arab world': Tunisia's radical marriage proposals
• Pak girl killed in border fire
• Sabah faces threat of militant women, kids from Philippines
Compiled by New Age Islam News Bureau
URL: https://www.newageislam.com/islam-women-feminism/isis-increasingly-trying-attract-women/d/112439
------------
Isis Is Increasingly Trying To Attract Women Fighters In Iraq And Syria
BY JACK MOORE
9/4/17
The Islamic State militant group (ISIS) is shifting its narrative to focus on boosting its ranks with women, calling upon them to take up arms in its propaganda output, according to new analysis.
The group has traditionally railed against women taking up arms on the same level as men, despite women taking a leading role in the suicide operations of many other insurgent groups. But, on the backfoot in Iraq and Syria, the organization is changing tack and exploiting other options, London-based defense consultancy IHS Markit said in a new release.
In issue 11 of ISIS's online magazine Rumiyah, released on July 13, the group included an article entitled 'Our Journey to Allah' that stresses the importance of women's roles in upcoming "times of intense trials and extreme hardships, and times of severe battles."
Keep Up With This Story And More By Subscribing Now
ISIS has traditionally not welcomed the active combat role of women, referring to them only as "supporters" in its claims of responsibility, despite them committing attacks for the group's cause. It does not recognize women as an equal participant in battle. Tashfeen Malik, who led the San Bernardino shooting attack in December 2015, remains the only woman named as one of the group's "soldiers."
The earlier incarnation of ISIS, the Islamic State of Iraq, said in 2008 that women should only commit attacks "in circumstances where men cannot." The western media has often painted female jihadis as primarily acting as wives and mothers.
But, in Europe, women have become increasingly involved in plots inspired or directed by the group. In Paris, police arrested three women in September 2016 over a plot that saw gas canisters left in an abandoned car near the famous Notre-Dame cathedral. In London, police have arrested several women in the past year for alleged extremist offenses. Authorities have started to take notice of the increasing willingness of women to take part in operations, with the Paris prosecutor Francois Molins saying in September 2016 that security services would increasingly monitor women returning from Iraq and Syria.
The new recruitment drive for ISIS in Iraq and Syria is a result of losses on the battlefield in the two countries, and the death of thousands of its militants at the hands of ground forces allied to the U.S.-led coalition and strikes conducted by the coalition, IHS says.
"Despite Islamic State's claims to the contrary, urging women to seek an active role in combat is most likely an attempt to reduce the impact of severe manpower shortages caused by the decimation of male fighters, and a recruitment crisis," said Ludovico Carlino, senior analyst, Middle East and North Africa at IHS Conflict Monitor.
"This rhetoric marks a stark contrast to previous propaganda that had highlighted women's primary function as wives and mothers of mujahidin," Carlino said. "Historically, women have been absent from Caliphate institutions, with the single exception of an all-female brigade responsible for policing women in Raqqa."
In one case, a teenage German girl travelled to join the group and, in July, Iraqi forces captured her alongside other female fighters in Mosul's Old City. She remains in custody in Baghdad, and is suspected of acting as a sniper for the radical Islamist group as it battled to hold on to the northern Iraqi city.
Other militant groups have sought to take on the same strategy as ISIS in looking to add more women to its ranks. Last month, the Pakistani Taliban, the most dangerous militant group in the country, launched a new magazine aimed at attracting potential female recruits.
The magazine, named Sunnat-e-Khaula, or the Way of Khaula, is named after a female Muslim fighter from the 7th century. It calls on "women of Islam" to "come forward and join the ranks of mujahideen," or holy warriors. It also includes an interview with the wife of the group's leader, Fazlullah Khorasani.
The call may be working. In the southern Philippine city of Marawi, ISIS-linked militants have been battling the Philippine military for more than three months. The military said on Monday that because of the mostly male fighters' dwindling numbers, they have noticed an increase in women taking up arms in gun battles raging amid the urban sprawl of mosques and damaged buildings, some connected by tunnels.
newsweek.com/isis-increasingly-trying-attract-women-fighters-iraq-and-syria-659181
--------
Malaysian women most successful in the world, Najib says
September 4, 2017
KUALA LUMPUR, Sep 4 — Women in this country are more successful in various fields than elsewhere in the world, said Prime Minister Datuk Seri Najib Razak.
He said the yardstick for successful women in the country could be seen through their involvement and contribution to the economic sector.
He said about 700,000 Malaysian women are in the workforce which had a 0.3 per cent impact on the Gross Domestic Product.
"In the education sector, the enrollment into public tertiary institutions increased from 62.5 per cent in 2011 to 64 per cent in 2015 while at the doctorate level, it was 43.1 per cent in 2011 and 44.8 per cent in 2013.
"This clearly shows the position of women in education is very stable and strong that the question arising now is what has happened to men?" he said in a National Transformation 2050 (TN50) and the 2017 National Women's Day Celebration dialogue session here today.
Najib said in the public sector, women filled 35 per cent of top management posts.
He stressed that the success of women in this country was based on merit and not on sympathy from the government.
In the corporate sector, the Prime Minister said 16.8 per cent women were in management levels in public listed companies (PLC).
"But we want to achieve the target of 30 per cent. I have warned that next year we will publish (the names) of companies which do not have women as board members. They may not be given government contracts," he said.
During the dialogue which was moderated by Minister of Women, Family and Community Development Datuk Seri Rohani Abdul Karim, Najib also listened to the aspirations of 18 women from various backgrounds.
These included wanting the government to consider more women to become ministers and deputy ministers, and building an iconic building designed by women architects and built by women engineers.
At the same time, they said the handicapped also needed infrastructure which was friendly to them, while there should be an education system for special needs students, aid for single mothers to settle debts created by their former husbands, and to send qualified women to take courses at the Harvard Business School so that they could lead government-linked companies (GLC).
During the winding-up session, the Prime Minister said he would take note of all the views forwarded in the dialogue.
"We will consider (the views) but I want the participants of the TN50 dialogue to be more focused on policy matters to determine the country's direction.
"We are heading towards 30 years from now to become the top 20 nations in the world," he said.
However, Najib said, the government was committed to working to increase women's participation including to ensure equal opportunities in various fields, between women and men. — Bernama
themalaymailonline.com/malaysia/article/malaysian-women-most-successful-in-the-world-najib-says#dEgoIiboO8MsBooG.97
--------
Professor's anti-Muslim comments 'dangerous' - Islamic Women's Council
Sep 5, 2017
The Islamic Women's Council says remarks from a Waikato University professor discouraging employers from hiring Muslims are both "disappointing" and "dangerous".
Dr Raymond Richards, an American history and religion professor, came under fire after making a comment on Facebook suggesting hiring of Muslims was a poor move because of their prayer schedule.
Anjum Rahman, spokeswoman for the council, told The AM Show that assertion is totally wrong.
"We're living in a world where it's hard for Muslim women to get employment - we know they face high levels of discrimination," she said on Tuesday.
"It's putting out misleading information; they're not stopping five times a day at work to pray. It's unlikely that they'll be stopping more than two times."
The defence of Muslim prayer in the workplace comes after Dr Richards was spotted taking aim at it on social media last week.
"Who needs employees if they stop work five times per day to talk to an imaginary being?" he wrote, alongside a picture of a man wearing a Sikh turban.
Ms Rahman says while Dr Richards is "free to say what he likes", she again reiterated that while Muslims do pray five times a day, only two of them are likely to fall within a standard eight-hour shift.
She added that many Muslims would only spend about 10 minutes praying in each session, which she says can quite effortlessly be incorporated into a lunch or afternoon tea break.
"It really isn't a barrier, and shouldn't be seen as or presented as a barrier to the workplace," Ms Rahman said.
"I think that's what's dangerous about these kinds of comments: it gives other people who aren't aware the notion that by employing a Muslim person you're going to have make some sort of significant accommodation [and] it's going to take a lot of time.
"You find that [Muslims] are actually more productive, because by making these small accommodations, you get a much higher sense of loyalty, a much higher sense of commitment."
Ms Rahman defended Dr Richards' right to free speech, but said his comments were "unacceptable and have negative impacts".
newshub.co.nz/home/new-zealand/2017/09/professor-s-anti-muslim-comments-dangerous-islamic-women-s-council.html
--------
Saudi women volunteers provide medical services to pilgrims
Sep 5, 2017
MINA — Some 150 Saudi women volunteers, who are medicine and nursing students, are providing medical services to the pilgrims in the holy sites along with 350 of their male colleagues.
More than 2,000 Saudi men and women medical students have applied to the Ministry of Health to work as volunteers during the Haj but only 500 of them were accepted.
According to Al-Hayat newspaper on Monday, the female volunteers have worked in Mina, Arafat and Muzdalifah following the Guests of God in the three holy sites.
The women volunteers stayed for three days in the Jamarat area and moved at the end of the third Tashriq day to Makkah to be with the pilgrims until they left for their respective homes or to Madinah where they would also be with them there.
The women volunteers, who were stationed at the Jamarat area, expressed happiness and pride to serve the pilgrims providing them with medical, ambulance and humanitarian services.
"We are field cadets who have dedicated ourselves to the services of the Guests of God," said Ruwainah Aziz Al-Rahman, who is a student of general medicine and surgery at the Umm Al-Qura University in Makkah.
She said this was her third year as a volunteer during Haj and has witnessed a steady development in the domain of volunteering.
Ruwainah said they received rigorous training at King Abdullah Medical City by the bodies involved in the program — who are the Health Ministry, the Civil Defense, Ministry of Education, the World Assembly of Muslim Youth (WAMY) and other charitable organizations.
Ruwainah said the women volunteers have come from 14 regions in the Kingdom and the most cases they had treated were heat exhaustion, sunstroke, diabetes and others.
She said the program started about 11 years ago with 20 women but the number of the women volunteers has increased over the years to reach 150.
"We work free of charge for the love of our country and are ready to continue this noble work during the coming years," she added.
Duaa Sabri, a nursing student, recalled that during the Eid Day, when the pilgrims pebbled the Jamarat Al-Aqaba and began slaughtering their sacrificial animals, they treated more than 300 pilgrims from heat exhaustion, diabetes and fatigue.
She said they would treat the sick pilgrims right at the site without the need to transfer them to hospitals or medical centers.
She said the volunteering women were divided into three groups of 50, each working in shifts of eight hours a day.
Duaa said a Kuwaiti pilgrim, whom she treated, could not believe that the Saudi women were capable of doing such onerous work.
"I am proud of you. I had no idea that the Saudi women would be allowed to do volunteering work," she quoted him as saying.
saudigazette.com.sa/article/516572/SAUDI-ARABIA/Pilgrims
--------
How a Muslim woman from Malaysia became the Mother Teresa of Montreal
BY YISWAREE PALANSAMY
September 4, 2017
KUALA LUMPUR, Sept 4 — When the video of a tudung-clad woman feeding the homeless in Montreal was shared all over social media recently, people wondered how the cheerful 70-year-old woman who is Malaysia-born ended up in Canada.
It turns out Sabariah Hussein moved there some 30 years ago to work as a special education teacher and became a permanent resident after her marriage to Michel Paul Alain who is also known by his Muslim name, Mohamad Ali Abdullah.
Her selfless work feeding and caring for the homeless has gained her quite a reputation in Montreal, with many people dubbing her the Muslim Mother Teresa.
(This is in reference to Mother Teresa, an Albanian Catholic nun, famous for her charitable work in Calcutta, India.)
However, that sense of charity in Sabariah began long before she went to Canada. As one of six children in her family, she saw charity being practised every day by her parents.
Her father, a teacher, and mother, a homemaker, would even help sponsor kenduris for poor Muslims unable to afford a decent thanksgiving or wedding meal.
"I used to follow my mother around and help her chop vegetables, meat and all," Sabariah told Malay Mail Online in a Skype interview from her home in Montreal.
Born in Johor, Sabariah's family lived in Singapore for many years after her father got a job as a teacher in the island republic in the 1950s. They returned to Johor after his retirement.
"Even in Singapore, we were still helping the needy regularly. It's in the genes. Cannot be helped. After all, that is what Islam teaches us," she said.
After the death of her parents and a short stint working in Saudi Arabia, she got a job working as a special education teacher in Canada in 1985.
"Since I have been here, I have been helping people. It all started 18 years ago. I used to see the homeless around town and I would give them sandwiches I made at home.
"I also saw some Muslim sisters begging so I invited them to my house for a meal. Staying on the streets is really terrifying, as they are exposed to so many bad things," Sabariah said.
Troubled by what she saw and desperate to help the women get off the streets, Sabariah opened up her own home to them for one to two months, to shelter them from the cold.
"Then I had an idea. If had some money, I could then get them an apartment. At that time, I was close to the Muslim students association of the University of Concordia.
"I approached them and said look, I think I have an idea as to how we can solve the problem of the sisters on the streets and those who are troubled.
"I asked them what they thought about me selling some food items within the university premises to raise money for the apartment. The students agreed and sought permission from their university.
"Alhamdullilah it was successful and I started selling chicken biryani and salad. It was only five dollars for one plate and I was also allowed to use the university's kitchen.
"I managed to make 200 to 300 dollars a day and when more people knew about my cause, they gave me more money for the apartment. I also received tithe funds," Sabariah said.
That was how her women's shelter in Côte-des-Neiges–Notre-Dame-de-Grâce which is open to non-Muslims as well came about.
Today she runs a stall at a local mosque together with her team of volunteers, all in the continuous bid to make money to help the marginalised population in the city.
Sabariah partners with two churches, a food bank and an NGO to provide food for the poor and the homeless.
"About 10 years ago, I joined a food bank to help those who are troubled. I used to cook lunch for people who came to get lunch at the food bank. Then I asked myself if I could do more because here we only cater to about 50 to 60 people.
"So I approached the church to help with their programme. Twice a week the church will feed the needy so I approached the co-ordinator and asked if I could chip in some food to help the destitute and the needy. They were elated and it's been 10 years now I'm working with this church.
"There's also an Anglican church I got involved with this year. We deal with the homeless there together with an NGO that call themselves Peace Initiative," Sabariah said.
What is amazing is Sabariah does not get any aid from the Canadian government and runs her own show with donations and money she earns from selling her food.
"We don't ask money from the government. Too many questions and red tape. So from my Friday sales, the tithe and donations mostly from the Muslims here, I run the show.
"The Anglican Church and the Peace Initiative also help provide supplies like vegetables. Sometimes when I need certain provisions, the Anglican Church gives me. The Rivers Edge Community Church in Notre-Dame-de-Grâce also supplies necessities when asked. "I'm doing this full time for the people. God is great. He gives me rezeki all the time. He gives me enough to run the place and with the media attention now, I have my hands full," she added.
Although she has had two strokes, Sabariah is not planning on hanging up her apron anytime soon and has instead adopted a semi-vegetarian diet in a bid to be healthier.
"You need to help as many people as you can. You have the ability, you go out there and do it. Help to serve the homeless and the defenceless. I have served Muslims in church, and they come because they know I'm serving food there. The more you mix with people, the more you understand and love each other better. Show love, show passion. We are compassionate people."
Now, she has turned her attention to the country of her birth.
"I'm coming to Malaysia with two projects. In Johor, I have a cousin who is an imam there. We are trying to secure a piece of land, it's wakaf land, so I need to go see that. With the money I have received here, we are planning to build a two-storey orphanage for Rohingya girls and if we have more money, we can combine and make an orphanage for Malaysian children too," she added.
"The orphanage in Klang is there already. It's a Rohingya school and dormitory. I went in January. It was pathetic and run down, but we are still in contact with principal of the school and we are trying to see if we can help them.
"We are trying to segregate the girls from the boys and take better care of them, because the school is so small, so congested," Sabariah added.
Does she have a message for those back in Malaysia?
"Love each other. We are under one banner and only God can judge us. Don't be judgmental to others. Allah is the one who is going to judge us.
"As for religious intolerance, it is everywhere in today's world. There are good, devoted, dedicated people everywhere. Then there are some sick people out there too who are always trying to provoke and create tension and chaos among the religious groups. "So my advice is to ignore and shun them. Love and respect one another. United we stand and defeat this sick people's mentality and ideology," she added.
themalaymailonline.com/malaysia/article/how-a-muslim-woman-from-malaysia-became-the-mother-teresa-of-montreal#LLQ8Aud9D7SjcaIb.97
--------
Give us two-thirds majority to pass unilateral child conversion ban, Najib tells women
BY RAM ANAND
September 4, 2017
KUALA LUMPUR, Sep 4 — Putrajaya needs to amend the Federal Constitution to push for a ban on unilateral child conversion but would need a two-thirds majority vote in the Dewan Rakyat to do so, Prime Minister Datuk Seri Najib Razak said today.
Speaking at a Transformasi Nasional 2050 (TN50) dialogue session with women here, Najib said his administration is bound by the Constitution despite calls for the ban, that was dropped from the Law Reform (Marriage and Divorce) (Amendment) Bill passed recently.
"We need maturity to amend the Constitution and a two-thirds majority. I don't have a two-thirds majority," Najib said.
The chairman of the ruling coalition Barisan Nasional said Putrajaya's failure to push for the amendment is not for a "lack of trying".
The Federal Constitution states that a child can be converted with the consent of a "parent", which is then mentioned as "father or mother" in the Bahasa Malaysia version.
However, the semantics of the constitution's spirit has been subject to debate, with some arguing that the word parent refers to both parents and not just one.
The then Malaysian Bar president Christopher Leong had on June 18, 2013 noted that the government-printed Federal Constitution's Bahasa Malaysia version had always translated "parent" to the plural form of "ibu bapa" (father and mother), but had in the 2002 edition translated it to read "ibu atau bapa" (father or mother).
"If the women give us a two-thirds majority, we can [amend the constitution]," he said.
Najib was responding to a member of the audience who urged Putrajaya to re-introduce clause 88A that was part of the original amendment bill.
The clause was removed following months of pressure of Islamic groups, though Putrajaya claimed that the removal was due to past court rulings that ruled that the provision in the constitution means a single parent's consent is enough to convert the religion of children.
themalaymailonline.com/malaysia/article/pm-says-needs-two-thirds-majority-to-pass-unilateral-child-conversion-ban#emySEqM5Wc8MUHTt.97
--------
West 'trying to disempower Muslim women'
September 4, 2017
The American founder of the world's most popular online magazine for Muslim women says Pauline Hanson's recent burka "stunt" is symptomatic of Western democracies trying to disempower Muslim women and "look at them in an inferior lens".
A panel of global thinkers and writers gathered for last night's Melbourne Writers Festival edition of Q&A, where a young high school student asked: "In some Islamic nations, women are often deprived of basic human rights such as driving a car, voting or even punished for exposing an ankle.
"In a world where women are often the guilty party to the crime of rape and must endure severe punishment, aren't freedom and religion mutually exclusive?"
Amani Al-Khatahtbeh, who founded the popular blog Muslim Girl aged 17, said the oppression of women in Islamic countries was often misrepresented by Western countries to "absolve ourselves of our own issues".
"One of the biggest things that is always cited is honour killings. You would assume that this is just a problem pervading the entire, the entire region. But then when you look at countries like Australia and the US, the top killer of women is domestic violence. But we choose to refer to it as domestic violence like it's a social issue and often really disregard it."
The American writer said targeted judgment of Muslim women combined with a lack of cultural understanding was contributing to disempowerment around the world.
"We speak about (Muslim women) like we know what's best for them. We just had Pauline in the parliament wearing a burqa and really hijacking an entire conversation about what that means," she said.
The One Nation leader's decision to wear a burka into the Senate earlier this month unleashed a stinging rebuke by Attorney-General George Brandis, who warned against the dangers of marginalising and humiliating the Muslim community in Australia.
British writer and journalist Laurie Penny agreed with Ms Al-Khatahtbeh, saying the debate over whether the burka should be banned often failed to take into account that women have agency.
"My experience as a feminist who is white is often told the other side of this story, when I try to make an argument about domestic violence and an argument about the fact one in five women in their lifetimes will be raped, I'm immediately told mostly by men why are you talking about this nonsense, and you should be talking about Muslim women far away," she said.
"We can only talk about sexism and misogyny and violence when it's being done in other countries far away."
However Michael Fullilove, the executive director of the Lowy Institute for International Policy, rejected the argument that Western countries can't also critique the culture of others.
"There's one other missing word I think and that's universal. And I think human rights are universal. And I don't disagree with what a lot of the panellists have said today but I do disagree with one point and that is because we have frailties as a society, therefore we shouldn't be calling out human rights abroad. Because there's domestic violence in Australia, we shouldn't be calling out honour killings abroad. The idea that our society is so hopeless and frail that therefore it's cultural to tell people how to live their lives — I don't believe in that."
But Ms Al-Khatahtbeh maintained it was her personal choice to wear the burka and it shouldn't be viewed as a sign of oppression.
"It is pretty convenient we want to believe Muslim women are being forced to dress a certain way because people don't want to believe we want to assert our own values and do something that defies what the West wants of us," she said.
"If we want to talk about imposition and being forced to do something, what does that mean when all of society's pressure and questions that I receive about why I'm wearing a headscarf that are kind of pushing me towards the fringes of you should remove that scarf. That's the way you show that."
theaustralian.com.au/business/media/west-trying-to-disempower-muslim-women/news-story/df89b6383516e9102ae1d53b6f8d70b4
--------
Women among 32 perish in different incidents on Eid
September 05, 2017
SHEIKHUPURA/JHANG/ ATTOCK/UCH SHARIF-As many as 32 persons including eight women and a minor girl died and dozen others got injuries in different incidents occurred separately in different areas during Eid days.
According to police and rescue officials, four women and driver of two buses died and seven other persons sustained injuries and burns after both the buses collided near Pul Hafizaan on Monday. Rescuers informed that a passenger bus, on the way to Rajanpur from Alipur, Muzaffargarh, collided with another bus due to speeding in Uch Sharif.
Resultantly, four women and driver of both the buses died on the spot while four minors and two persons were shifted to THQ hospital.
Reportedly, the highway was closed following gas leakage from a gas tanker overturned in the area. Fire broke out in the vehicles soon after the collision while passengers jumped of the buses to save their lives after breaking windowpanes of the buses.
In two friends drowned in Upper Chenab Canal while three others were rescued locals here the other day. The police informed that five friends, resident of the city's Sultanpura locality, were going for a picnic in a car. Suddenly, driver of the vehicle lost control of the steering and as a result, it plunged in to the canal. Locals immediately rushed to the scene after the accident and managed to rescue three persons indentified as Abdullah, 20 Usama 18 and Nouman while 18-year-old Hamza and 16-year-old Shahzad drowned in the canal. The body of Hamza was recovered while search for the body of the other was continued till filing of this report. The Factory Area Police have started investigation. In Jhang, three siblings - two brothers and a sister - drowned in River Chenab here the other night.
According to rescue sources, three member of a family, who came for a picnic were taking bath in River Chenab. As taking bath, they were swept away by gushing water.
They were identified as Dr Ali Naqi, 27, Muhammad Taqi, 25, and their 18-year-old sister. Dr Ali Naqi was working in DHQ hospital Jhang and the family hailed from Ahmedpur Siyal. The rescue team recovered the dead bodies and transferred to hospital for further legal formalities.
In Attock, five persons died in different areas of the district during two days of Eidul Azha. According to rescue sources, Imran Latif and Ghulam Hussain, resident of Kot Chhaji succumbed to their injuries when their motorbike collided with a hiace van near Jaffar village on Fateh Jang-Jand Road.
In another incident, one Tariq, resident of Kohat died while Saif Iqbal and Mujahid received multiple injuries because of landslide near village Nara. Yet in another incident, Jamshed Iqbal, resident of Pindigheb drowned in a village pond while four-year-old girl died when hit by two speeding motorcycles in village Malowali.
In Toba Tek Singh, six persons including two women and a child were crushed to death by a speeding bus at Adda Krian on Gojra-Painsara Road here the other night. The tyre of a Gojra-bound bus from Faisalabad burst and resultantly, the vehicle went out of the driver's control. It crushed two motorcycles and a man standing on roadside bus-stop. The bike riders were identified as Abid Hussain, his wife Nazia Bibi and his minor son Abuzer. They belonged to Faisalabad. Two others on another motorcycle were Zeeshan Ahmed and his aunt Zahida Perveen of Chak 27/JB. The man awaiting bus on the bus stop was identified as Qasim Ali of Chak 97/JB. People of the area protested against the incident.
In Okara, five persons including a woman died in different incidents. A youth died in collision between two motorcycles. Kashif of Chak Bawa was on the way on a motorcycle. The bike was hit by another motorcycle coming from the opposite direction on Pipli Pahar Road. Resultantly, Kashif was injured critically died on the spot. Dipalpur police are investigating. In village 38/D Dipalpur, a 12-year-old boy, Waqas, was electrocuted. In Ghaziabad Colony, Sharafat Ali was carrying an iron rod which accidentally touched an overhead live electricity wire. He received severe electrical shocks. The family comprising seven members rushed for his rescue. As soon as they touched him, they all got entangled with running current and sustained burns. Sparks also emerged and some things at home caught fire. Sharafat Ali fell dead while the others fell injured on the ground. The fire was overcome by locals and they also shifted the injured to hospital.
In village 26/2R, a woman was electrocuted. She was identified as Willaitan Bibi was rushed to hospital but could not survive. Villagers staged a protest in front of Okara DHQ Hospital against the doctors and paramedical staff for not attending her which, they alleged, caused her death.
In another incident, a man was killed while his woman was injured after the bike they were travelling on was hit by a tractor-trolley on Okara-Faisalabad Highway. The deceased was identified as Nazar Muhammad. He was on the way to along with his wife on a motorcycle when the accident occurred. His wife was rushed to hospital. Police are investigating.
In Kasur, five persons were killed in different incidents. A motorcyclist, Abdul Jabbar, was killed after being hit by a motorcycle coming from the opposite direction in Kanganpur. Younus, Ghaffar and Waqar were injured in the accident and were shifted to hospital. In Phoolnagar, a motorcyclist identified as Sohail was crushed to death by a truck. In Mandi Usmanwala, Azeem was killed after the tractor he was driving in fields overturned.
On the other hand, the dead body of a 12-year-old boy carrying torture marks was found in Rao Khanewala, Raja Jang. Allah Ditta Ansari told the Raja Jang Police that his son Rehman Ali went out of house and did not return. He could not be found despite hectic search. His dead body was found near graveyard in Rao Khanewala. Allah Ditta said that his son was strangled by some unidentified suspects. Police registered a case launched investigation. In another incident, an unidentified man, 36, was found dead near Govt Girls High School Phoolnagar. Police shifted him for autopsy.
nation.com.pk/national/05-Sep-2017/women-among-32-perish-in-different-incidents-on-eid
--------
106-year-old Afghan woman faces deportation from Sweden
Sep 5, 2017
HOVA, Sweden (AP) — A 106-year-old Afghan woman who made a perilous journey to Europe, carried by her son and grandson through mountains, deserts and forests, is facing deportation from Sweden after her asylum application was rejected.
Bibihal Uzbeki is severely disabled and can barely speak. Her family has appealed the rejection.
Their journey made headlines in 2015, when they were part of a huge influx of people who came to Europe from Syria, Afghanistan, Iraq and other countries. They traveled by foot and on trains through the Balkans before finally reaching Sweden.
Two years later, she and her 11 family members are living in the small village of Hova, in central Sweden.
Her rejection letter came during Ramadan. While the family avoided telling her, the constant grief from her granddaughters made her suspicious.
"My sisters were crying," explained 22-year-old Mohammed Uzbeki. "My grandmother asked, 'Why are you crying?'" The family says that soon after she understood her request was denied, her health started deteriorating and she suffered a debilitating stroke.
The Swedish Migration Agency confirmed in a statement to the AP they had "taken a decision regarding an expulsion in the case," adding "generally speaking, high age does not in itself provide grounds for asylum."
People whose applications are rejected are allowed up to three appeals, a process that can take a long time. The applications of other family members are in various stages of appeal.
The family feels the plight of Afghans is being ignored by Swedish authorities. Many countries in Europe deny asylum to Afghans from parts of the country considered safe.
"The reasoning from the migration agency is that it's not unsafe enough in Afghanistan," said Sanna Vestin, the head of the Swedish Network of Refugee Support Groups. But she said many of the big cities cited as safe are not at the moment.
Before their journey to Sweden, the family had been living illegally in Iran for eight years. They left Afghanistan because of an ongoing war and insecurity, but Mohammed Uzbeki said it's difficult to prove that the family faces a specific enemy if they return.
"If I knew who was the enemy, I would have just avoided them," he said, citing the Islamic State group, the Taliban and suicide bombers as possible dangers.
In the Uzbeki home, Bibihal's daughter-in-law gently readjusts the elderly woman's veil as Mohammed Uzbeki watches over her.
"She still cannot speak properly, she has hallucinations," he laments. "She says they are coming to kill us, we should run away."
nation.com.pk/international/05-Sep-2017/106-year-old-afghan-woman-faces-deportation-from-sweden
--------
Hijab-wearing American Muslim editor slams Australia for treating domestic violence deaths as a 'social issue' but condemning them as 'honour killings' in Islamic countries
4 September 2017
A hijab-wearing editor of a Muslim website has controversially compared honour killings in Islamic countries with domestic violence in Australia.
Amani Al-Khatahtbeh, the American editor-in-chief of Muslim Girl, told the ABC's Q&A program people in Western nations often downplayed domestic violence only to criticise the treatment of women in Muslim countries.
'When you look at countries like Australia and like the United States, the top killer of women is domestic violence but we choose to speak about it like it's a social issue and of course, often really disregard it,' she said.
'But then when it happens in other countries, it's an honour killing: it's disgusting, it's backward, it's inhumane.'
Responding to a question from a young woman, Emer Sparkes, about the poor treatment of women in Muslim countries, Ms Al-Khatahtbeh said people in the West often looked at them through an 'inferior lens'.
'We speak about them like we know what's best for them,' she said.
'That's how we, in our countries, disempower Muslim women around the world even further.'
Dr Michael Fullilove, the executive director of the Lowy Institute foreign policy think tank, evoked an eye roll from Ms Al-Khatahtbeh when he argued human rights are universal.
'I do disagree with one point and that is because we have frailties as a society, therefore we shouldn't be calling out human rights abuses abroad,' he said.
'The idea that because there's domestic violence in Australia, we shouldn't be calling out honour killings abroad.
'The idea that our society is so hopeless and frail that therefore it's cultural imperialism to tell other people how to live their lives.'
In Muslim nations, like Pakistan, women are killed by their parents or their brothers for dating a man her family disapproves of.
Muslim migrants have been convicted of this heinous crime in Canada.
In 2012, Afghan migrants to Canada Mohammad Shafia, his wife Tooba and their son Hamed were convicted of murdering three sisters and a woman in 2009.
The murdered teenagers Zainab, 19, Sahar, 17, Geeti, 13, were Shafia's daughters from his second marriage while the murdered woman Rona Amir, 52, was his first wife in a polygamous relationship.
A trial found Shafia disapproved of his daughters having boyfriends and failing to dress modestly, with Rona blamed for leading them astray.
The Nissan Sentra they were travelling in had been run off the road into a canal in eastern Ontario.
dailymail.co.uk/news/article-4851182/Muslim-editor-likens-honour-killings-domestic-violence.html
--------
South Africa: Opposing Views of Muslim Marriage Clash in Court
4 SEPTEMBER 2017
By Mary-Anne Gontsana
Judge will have to decide on legal protections for women married according to Islamic tradition
The Women's Legal Centre is asking the Western Cape High Court for married Muslim women and their children to be provided with legal protection. This is especially for divorce or when the husband dies.
"The matter is very important to the women that the Women's Legal Centre (WLC) serves, and should we not be successful, we will assess our options and decide whether the case should be taken to a higher court," said Seehaam Samaai, director of the WLC.
Samaai said: "Religious marriages, such as Muslim marriages, have no legislative protections for persons married according to religious rites. This means that upon the dissolution of such marriages, predominantly women are left without legal protection when it comes to issues such as divorce, maintenance, intestate succession and so on." She said that although the courts have addressed some of the unconstitutional consequences flowing from this non-recognition, "the relief has been piecemeal and limited."
She said the application launched by the WLC seeks relief that will provide women in Muslim marriages and the children born of such marriages with the same legal protections as people who enter into civil marriages, customary marriages, or civil unions.
According to Samaai, the WLC continues to receive women seeking help with the "unregulated consequences" of their religious marriage.
But Muhammed Vawda, secretary of the Society for the Protection of our Constitution, disagrees. He said, "Our courts, including the Constitutional Court, has used domestic law remedies to solve the problems that women have, including married and unmarried women. There is nothing raised by the legal centre which cannot be resolved within the current legal framework in South Africa with competent lawyers."
He said Muslims were divided. For some, the problem is that the Quran is revelation and it cannot be changed, but going to court will make it subservient to the Western values of the Constitution. "The moment you throw your religion into law, it will destroy it because of constitutional supremacy. So this is why we are saying, keep the law and religion away from each other. Those who want to register their marriages are free to do so; nothing stops you. Every challenge that they say Muslim women experience, any other woman in any culture or religion can experience. But the lawyer must be able to use the law to protect their client."
Those opposing the WLC application include: the President of South Africa, Department of Home Affairs, Lajnatun Nisaa-Il Muslimaat (Association of Muslim Women of SA), and the United Ulama Council of SA.
However, Samaai said, the centre wanted "an outcome which results in the recognition of Muslim marriages as valid marriages, and will result in the regulation of the consequences of such marriage. We want an outcome that upholds Muslim women's constitutional rights to equality, dignity, the right to freedom and security, and to protection against arbitrary deprivation of property."
allafrica.com/stories/201709040722.html
--------
'We are an example to the Arab world': Tunisia's radical marriage proposals
4 September 2017
Tunisia is pressing ahead with ambitious proposals to reform the country's laws on marriage and inheritance, despite widespread resistance from inside and outside the predominately Muslim country.
Last month, president Beji Caid Essebsi announced his intention to allow women to marry outside the Islamic faith, and to give them equal rights under the country's inheritance laws.
Currently, a Muslim woman is not allowed to marry a non-Muslim. Men are allowed to marry women of any faith who don't have to convert. Under Islamic law, men typically receive double the inheritance of any woman.
Citing the country's 2014 constitution, considered one of the most progressive in the region, the president said: "The state is obliged to achieve full equality between women and men and to ensure equal opportunities for all responsibilities."
The move will further cement Tunisia's position at the forefront of the debate on women's rights among Islamic countries. It has already passed a law ending violence against women, which included the removal of a loophole in the penal code that allowed rapists to escape punishment if they married their victims.
Speaking on local radio shortly after the announcement, Rym Mahjoub, an MP with the liberal Afek Tounes party, said the move was "progressive and revolutionary".
She added: "As a woman I'm proud that this issue will be discussed now... it does not mean that we do not have other social and economic problems or cancel the discussion of other important issues...[but] we can see that some women are deprived of her right in inheritance as it is stipulated in religious text."
Amna Guellali, senior researcher for Tunisia and Algeria for Human Rights Watch, said the announcement marked "the beginning of a healthy debate of seeing how we can take these ancient Koranic laws and shape them so they reflect new societies".
"This isn't just a debate that's taking place in Tunisia, it's happening all over the region," she said, adding: "Whether this leads to any real change remains to be seen."
Academic and feminist Dalenda Larguèche, from Manouba University in Tunis, said the presidential initiative was central to the kind of state she hoped Tunisia would become.
"We are applying the fundamental principles of the constitution," she said.
"Why can a [Tunisian] man marry a non-Muslim female, but this is not the case for a Tunisian woman? As for the matter of inheritance, I am personally delighted that the president made the decision of pushing forward with all measures towards advancing equality.
"There are no taboos nowadays. With this new Tunisia, we are an example to the Arab world and an example for other women and Muslim countries. If we were able to create a progressive constitution, it was thanks to Tunisian women."
However, the move has met with strong resistance from the president'sopponents and from some international religious bodies.
Jamila Ksiksi, from the opposition Ennahda party, said the president should be focusing on other problems, such as high unemployment and rising costs of living. "I think there are other issues that are much more important than this [equality], issues that need more energy, effort and time, and that need to be addressed immediately."
The former minister of public health, Abdellatif Mekki and the party's former minister of religious affairs, Noureddine Khademi, along with a number of Imams and religious scholars from the country's Zitouna University, have been vocal in their denunciation of the reforms.
Khademi said Tunisians were "in shock" since the president's speech. "I say to the president I hope that you would reconsider this initiative."
Mekki said laws around inheritance were already "a perfect system". He posted on his Facebook page: "...Provoking the issue of inheritance does not have any relation with the perspective of equality, which I'm one of its supporters, but comes as part of an internal and foreign political ideology agenda, and we are sorry that the president did not pay attention to that."
The announcement has drawn criticism from the region's religious scholars. In a public statement, Abbas Shuman, deputy of grand imam Ahmad Al-Tayyib of the Egyptian religious authority Al-Azhar, the highest religious authorities in Sunni Islam, wrote that the potential reform to inheritance was, "unjust for women and is not in line with Islamic Sharia".
In regard to inter-faith unions, he said: "Such a marriage would obstruct the stability of marriage."
theguardian.com/global-development/2017/sep/04/we-are-an-example-to-the-arab-world-tunisias-radical-marriage-proposals
--------
Pak girl killed in border fire
September 05, 2017
RAWALPINDI : Indian army's unprovoked firing on civil population claimed the life of a little girl in Polas village in Chirikot sector.
According to an ISPR statement, the girl was celebrating Eid in her home. Pakistan Army befittingly responded, it added.
"A five-year-old girl was walking outside her house when a lone bullet fired by Indian troops pierced through her head," local government official Tahir Mumtaz told AFP.
The girl was rushed to hospital but died on the way, he said, adding that villagers held a protest rally and condemned the firing on the day they were celebrating Eid. Another government official Sardar Sajid confirmed the casualty.
Kashmir has been divided between Indian and Pakistan since the end of British colonial rule in 1947. Both claim the territory in full. Tensions reached dangerous levels last September, with both sides blaming one another for cross-border raids. There have since been repeated outbreaks of firing across the frontier, with both sides reporting deaths and injuries including of civilians.
In November, at least nine people were killed when Indian cross-border fire hit a passenger bus in the Neelum Valley, the same region where four Pakistani troops were allegedly killed.
nation.com.pk/national/05-Sep-2017/pak-girl-killed-in-border-fire
--------
Sabah faces threat of militant women, kids from Philippines
Zam Yusa
September 5, 2017
KOTA KINABALU: Security forces in the Eastern Sabah Security Zone (EssZone) are not discounting a possible new threat from southern Philippine women and children.
They believe militants from the conflict zone in the Philippine island of Mindanao are now trying to get women and children to enter Sabah by sea.
This comes in the wake of reports of a new twist to the conflict in Marawi City between Islamic State-affiliated terrorists and the Philippine army.
The security forces encountered armed resistance from women and children as troops made a final push to end the fighting that began in May.
"We are not sparing women and kids during our checks at security points in the EssZone," Eastern Sabah Security Command (EssCom) commander Hazani Ghazali told FMT.
"We know that the IS militants are using all that they have, including women and children.
"The terror group even uses them as suicide bombers. So we're not ruling out such a threat from women and children as well.
"From the start, we've been vigilant towards everyone, not just men," he said.
Hazani said it was standard operating procedure to have female security personnel to check on the women.
"We are aware that there are no women on the government's most wanted list, but that does not mean we are taking a relaxed approach in our security screenings.
"Even with children entering our borders, we are being careful," he said.
Lieutenant-General Carlito Galvez, who heads the Philippine military in western Mindanao, recently said the rebels had resorted to enlisting women and children for battle.
"The number of fighters is diminishing. A small number of women and children, most likely family members of the rebels, are now engaged in combat," he was quoted as saying by Reuters.
"Our troops in the field are seeing women and children shooting at them, so that's why it seems as if they are not running out of fighters."
Security in the east coast of Sabah has been beefed up due to its proximity to conflict areas in southern Philippines.
On Feb 9, 2013, a group of Filipino militants, following Agbimuddin Kiram, who claimed himself as "crown prince of the Sulu Sultanate", entered by boat in stages and infiltrated into Felda Sahabat 17, Kampong Tanduo, Lahad Datu.
The area turned into a battlefield between the country's security forces and the Sulu invaders, who claimed they wanted to regain power over Sabah on behalf of the "Sulu royalty".
The incident resulted in the death of 63 militants and 10 members of the Malaysian security forces.
On May 16 this year, Sabah police said they were investigating a report of five armed Philippine men in camouflage attire sighted at a plantation in Lahad Datu. They were said to be among 37 people who had landed in the state to "save" the people.
freemalaysiatoday.com/category/nation/2017/09/05/sabah-faces-threat-of-militant-women-kids-from-philippines/
--------
URL: https://www.newageislam.com/islam-women-feminism/isis-increasingly-trying-attract-women/d/112439
New Age Islam, Islam Online, Islamic Website, African Muslim News, Arab World News, South Asia News, Indian Muslim News, World Muslim News, Women in Islam, Islamic Feminism, Arab Women, Women In Arab, Islamophobia in America, Muslim Women in West, Islam Women and Feminism