New Age Islam News Bureau
28 May 2016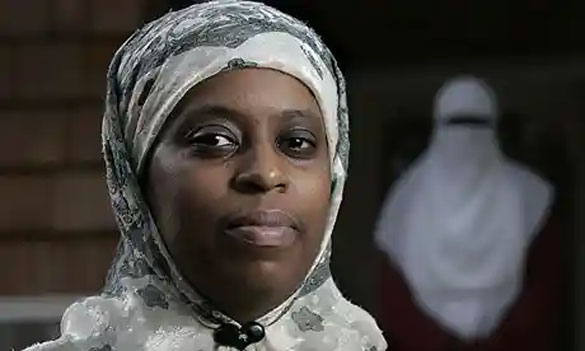 Lisa Valentine was arrested after a Georgia judge charged her with contempt of court after refusing to take off her headscarf. Photograph: John Amis/AP
----------
• Judge Throws Muslim Woman in Jail for Refusing To Remove Headscarf in Court
• Facebook Page Promotes Islamic Female Circumcision
• Child Marriage Shame: 30% Hindu, Muslim Indian Women Tie Knot before Turning 18
• Take a Look at a Century of the Hijab's History
• Muslim Woman after Egypt Mob Riot: I 'Had No Affair' With Christian Man
Compiled by New Age Islam News Bureau
URL: https://newageislam.com/islam-women-feminism/isis-fining-women-$10-showing/d/107457
----------
ISIS Is Fining Women $10 for Showing Their Eyes
05.26.16
As the U.S. and other countries continue airstrikes on targets in Syria and Iraq, ISIS is losing territory — and with it population and resources. The map below, created by the IHS Conflict Monitor, offers a visual representation of how ISIS's territory has changed by gains and losses between January 2015 and March of this year.
Despite those recent territorial losses, however, ISIS is still rolling in the cash — to the tune of about $56 million a month, according to the IHS. In order to keep a strong bottom line amid its population and land setbacks, ISIS has resorted to implementing new taxes and fines on the people who live within the borders of the so-called Islamic State. Women, a group that's especially abused by the terror extremists (a fact that hasn't prevented the group from somehow having a strange allure with some Western women), have been subjected to some of the new taxes and fines. For instance, ISIS will fine women $10 for showing their eyes. Women who wear a cloak that's too tight will be hit with a $25 fine, and not wearing socks or gloves will cost them $30 in fines.
In a bizarre twist of sexism, men are actually fined double what women are fined for being found in possession of cigarettes. Men who are caught with a pack of smokes are slapped with a $46 dollar fine, while women are charged only $23. Smoking a cigarette comes with a fine of $25 for both genders. All of these seemingly arbitrary fines are bound to drive one to drink. But be careful not to enjoy a libation, because if you're caught consuming alcoholic beverages, the punishment is a $50 fine along with 50 lashes. As one 16-year-old girl who was lucky enough to escape ISIS recently observed, living in the caliphate "was a really hard life." Below is a complete list of taxes and fines ISIS has been levying on women and men for numerous types of infractions.
nytlive.nytimes.com/womenintheworld/2016/05/26/isis-is-fining-women-10-for-showing-their-eyes/
--
Judge Throws Muslim Woman in Jail for Refusing To Remove Headscarf in Court
05.26.16
In the past eight days, a judge in Georgia has sparked controversy after barring two Muslim women wearing Islamic headscarves from entering his courtroom, and landing one of them behind bars. Now, he has prompted an inquiry from the civil rights officer at the U.S. Department of Justice.
Judge Keith Rollins of Douglasville, Georgia reportedly ordered 41-year-old Lisa Valentine to jail after she refused to remove her scarf before entering the courtroom. Judge Rollins pointed to rules that governed appropriate dress as listed by the state.
This is not the first time Rollins had made the controversial call. Last week, Sabreen Abdulrahmaan was forced to leave his court before her son's probation hearing because she would not remove her scarf.
Valentine was handcuffed by security and sentenced to 10 days in jail when she declined to defend her actions at the security checkpoint, her husband Omar Hall reports.
worldpoliticus.com/judge-throws-muslim-woman-jail-refusing-remove-headscarf-court/
--
Facebook Page Promotes Islamic Female Circumcision
May 27, 2016
A Facebook community page entitled "Islamic Female Circumcision" is promoting the unnecessary removal of the clitoral hood, a procedure that has been condemned as genital mutilation by international human rights groups.
The page includes a picture of smiling Muslim women (above), and features a posting on May 19 that says "circumcision is obligatory for males and females" in Islam.
The post goes on to describe the "prepuce of the clitoris" as a "dirty little piece of skin covering the clitoris like a hood."
The post claims that removing the clitoral hood reduces "smelly smegma beneath the clitoris" and "prevents urinary tract infections so common in women."
The same post also says that this procedure "prevents transmission of HPV virus to male partners who engage in oral sex, thus preventing throat cancer," and "helps women achieve sexual fulfilment by exposing the surface area of the clitoris for greater stimulation."
None of these dubious assertions cite any medical evidence.
There are other posts on the Facebook page that echo these same themes, and even deny that female circumcision and female genital mutilation are the same thing.
The World Health Organization (WHO) notes on its website that female genital mutilation is defined as "procedures that intentionally alter or cause injury to the female genital organs for non-medical reasons."
WHO also states that the "procedure has no health benefits for girls and women" and "can cause severe bleeding and problems urinating, and later cysts, infections, as well as complications in childbirth and increased risk of newborn deaths."
WHO adds that the procedure is "a violation of the human rights of girls and women."
The United Nations Population Fund says that an estimated 200 million girls and women have been subjected to the procedure mostly in sub-Saharan Africa and Arab States, and in parts of Asia, Latin America, Europe, North America, Australia and New Zealand. The UN lists some of the complications as "severe pain, shock, hemorrhage, tetanus or infection, urine retention, ulceration of the genital region and injury to adjacent tissue, wound infection, urinary infection, fever, and septicemia. Hemorrhage and infection can be severe enough to cause death."
There are numerous negative comments on the Facebook page and calls for it to be taken down. It's not clear who created the page.
opposingviews.com/i/religion/facebook-page-promotes-islamic-female-circumcision
--
Child Marriage Shame: 30% Hindu, Muslim Indian Women Tie Knot Before Turning 18
May 28, 2016
Official statistics on married Indian women released on Friday show 31.3% Hindu women and 30.6% Muslim women were 17 or younger at the time of their wedding.
There is little difference between Hindu and Muslim families when it comes to marrying off their daughters at an early age.
One in three married women from either community tied the knot well before their 18th birthday, making them vulnerable to not just higher maternal mortality rates but also domestic violence.
Official statistics on married Indian women released on Friday show 31.3% Hindu women and 30.6% Muslim women were 17 or younger at the time of their wedding. Many of them hadn't even turned 10.
The legal age for marriage is 18 for women and 21 for men. Any marriage below the stipulated age is considered child marriage under the law.
Sikh, Christian, Buddhist and Jain women fared far better, the census report on the decadal headcount in 2011 said. Only 6% of men were married before 18.
"It is shocking that decades after having laws prohibiting child marriage, the practice is still so rampant," said Ranjana Kumari, director of the Delhi-headquartered Centre for Social Research.
Data released by the home ministry's census commissioner revealed 6% of all Hindu women were married before they turned 10.
The corresponding figure for Muslim women was 5%.
But the silver lining is that the practice is on the decline.
The 2001 census found 43% of women were married before 18 years of age. In 2011, the figure stood at 30%.
And the proportion of women wed before 18 years of age between 2001 and 2011 was 20%. In absolute terms, this still means there were 15 million child marriages in the last decade.
Kumari said the decline would have been sharper if the law on child marriage was strictly enforced.
In 2014, for instance, police registered only 280 cases across the country under the 2006 Prohibition of Child Marriage Act. Of the 103 cases decided by courts the same year, convictions were secured in only 15 — or 14.6% — cases.
India has long outlawed child marriage but was unable to enforce the law that was first enacted by the British in 1929. The Child Marriage Restraint Act fixed the age of marriage for girls at 14, and boys at 18 years. It was last raised to 18 years for girls in 2006.
The Unicef calls child marriage a "death sentence" for young girls as they are more likely to bear children before they are physically ready. Studies show girls who give birth before turning 15 and the infants of child mothers are at greater risk.
Moreover, underage marriages typically interrupt education and most child brides are unable to negotiate with their spouses and in-laws, making them more liable to domestic violence.
hindustantimes.com/india/child-marriage-shame-30-hindu-muslim-women-tie-knot-before-turning-18/story-aLH8c4fnBoEEeztIsuZZlJ.html
--
Take a Look at a Century of the Hijab's History
MAY 27, 2016
The fashion industry is (slowly) paying more attention to Muslim women, gradually upping the ante in terms of what's on the market for modest dressers — and that includes, of course, Hijabs. While we catch wind of the occasional controversy surrounding the head covering, many of us may not know much about how Hijab styles differ by country, and how it's changed over the years. A new video series from feminist modest fashion blog MuslimGirl.com is about to change that.
"We want to push back against the idea that Muslim women are a monolith, and instead showcase how we come from all walks of life through time and place,"Amani Al-Khatahtbeh, the site's founder and editor-in-chief, told Refinery29.
The first video in the series, out earlier this week, looks at the hijab's history in MENA (Middle East and North Africa) and Asia over the past century (á la WatchCut's one-minute-long "100 Years Of..." videos you've seen, well, everywhere). That region was chosen for the series' kickoff video to "portray the selection of countries that has made up the average American understands of Islam, 'the Middle East,' and, by extension, the Muslim people," Al-Khatahtbeh said.
The video depicts how the hijab was worn in 11 countries, spanning from 1910 to 2010. "We included countries like Palestine that have been royally screwed by the outcome of the World Wars at the start of the century, all the way up to our recent military campaigns in countries like Pakistan, Afghanistan, and Iraq," she explained. "We also wanted to include countries and time periods in which the hijab was forced upon — or off of — Muslim women, because the fight for control over the headscarf has been a core part of its history and our autonomy, and represents so much about our personal empowerment."
Interestingly, the model's hair is exposed in a number of the looks; according to Al-Khatahtbeh, that was the model's discretion, not artistic direction. "[The model] wears a headscarf regularly, and ultimately it was her decision how much hair she chose to show in the video — autonomy!" she said.
As for #MyHijabIsNotYour, the hashtag displayed prominently in the video: "Right now, the fashion industry is loving modest fashion. While that can be a great thing, it's so easy to commodify the hijab because it's hot right now in a way that exploits, rather than empowers, Muslim women," Al-Khatahtbeh said. "At the same time, we're living in an age when some Muslim governments are forcing women to wear headscarves, some Western governments are forcing women to remove it, and corporate media is perpetuating contentious inaccuracies about what Hijab represents." So, #MyHijabIsNotYour aims to "push back against all these competing forces and reclaim the Hijab for ourselves," she said.
While much of the feedback on the video thus far is positive, some of the comments on Facebook have asked why there aren't any Sub-Saharan African nations represented; Al-Khatahtbeh tells us that a video dedicated to the piece's evolution in that region is in the pipeline.
Another aspect that's garnering attention: The model flips the bird during the Iraq segment, pegged to the 2000s. While some commenters found it tasteless, others were all for it " I think all Iraqis who had to live through the 2000s in Iraq deserve the right to [give the] finger [to] whoever they want," wrote one Facebook user.
"The middle finger is probably my favorite part of the video now, because of the incredible conversation it has created... It's instigated a lot of viewers to revisit their definition or expectation of 'modesty' as applied to Muslim women, and how it relates to political expression and our entitlement to feelings of anger in response to oppression," Al-Khatahtbeh said. "I think people having a problem with a veiled Muslim woman giving the middle finger in response to something as devastating as the Iraq War is a testament to that double standard."
Stay tuned for further instalments of the series, for a truly global look at the many ways the hijab can (and has) been donned over the years. "The headscarf isn't just a fashion trend," she said. "It has been so intertwined in our expression as Muslim women and is so representative of our identities and struggles over the past. Even today, it has evolved into an important political symbol in the face of Islamophobia."
refinery29.com/2016/05/112135/100-years-hijab-muslim-girl-video
--
Muslim Woman after Egypt Mob Riot: I 'Had No Affair' With Christian Man
Friday, 27 May 2016
A Muslim woman in an Egyptian village who was rumoured to be in a relationship with a young Christian man – an incident which prompted an angry mob to attack Christian homes and strip naked the man's mother – claims that rumours of her love affair are false.
During the violence, an armed Muslim mob looted and torched seven Christian homes, and stripped naked the elderly mother of the Christian man, according to local media reports.
Egyptian authorities have arrested 11 men in relation to the attack, which took place in the village of Karma in the province of Minya, south of Cairo.
Anba Makarios, Minya's top Christian cleric, told a talk show host on the private Dream TV network that the 70-year-old woman was dragged out of her home by the mob who beat her and insulted her before they stripped her off her clothes and forced her to walk through the streets as they chanted Allahu Akbar, or "God is great."
However, a Muslim lady intervened and helped the elderly lady cover her naked body, according to the Arabic language website of Al Arabiya News Channel.
Najwa, the Muslim woman who was believed by the mob to be in love with a Christian man, said that the rumors were untrue, and started after she asked her husband for a divorce, she told Al Arabiya.
To spite her, the relatives of her husband spread a story her a romantic affair with a Christian young man, she told the channel's website. Al Arabiya reported that Najwa was in her forties and had three children.
Taboo topic
The hashtag "Egypt stripped naked" on Twitter gained traction shortly after it was introduced.
Extramarital affairs or sex between unmarried couples are taboo among Muslims and Christians in Egypt. They often attract violent reactions in rural areas, where questions of honor can lead to deadly family feuds that endure for years or result in ostracizing the perpetrators.
Christian men cannot marry Muslim women in Egypt unless they convert to Islam first, but Muslim men can marry Christian women. An affair between a Christian man and a Muslim woman takes such sectarian sensitivities to a much higher and dangerous level and often lead to violence if found out.
According to a statement Wednesday by Makarios, the Minya cleric, police arrived at the scene of Friday's violence two hours after the attack began. The family of the Christian man had notified the police of threats against them by Muslim villagers the day before the attack, he added.
"No one did anything and the police took no pre-emptive or security measures in anticipation of the attacks," the cleric said, speaking in another TV interview, also Wednesday night.
"We are not living in a jungle or a tribal society," he told Ahmed Moussa, a prominent, pro-government talk show host on the private Sada el-Balad television.
Christians, who make up about 10 percent of Egypt's population of more than 90 million people, have long complained of discrimination in the mostly Muslim nation.
Sisi, in office since 2014, has sought to address some of their grievances, changing election laws to allow more Christians into the national legislature and easing restrictions on building new churches and renovating old ones.
english.alarabiya.net/en/News/middle-east/2016/05/27/Muslim-mob-in-Egypt-attacks-Christian-homes-after-rumor-over-love-affair.html
URL: https://newageislam.com/islam-women-feminism/isis-fining-women-$10-showing/d/107457
New Age Islam, Islam Online, Islamic Website, African Muslim News, Arab World News, South Asia News, Indian Muslim News, World Muslim News, Womens in Islam, Islamic Feminism, Arab Women, Womens In Arab, Islamphobia in America, Muslim Women in West, Islam Women and Feminism