New Age Islam News Bureau
4 Nov 2014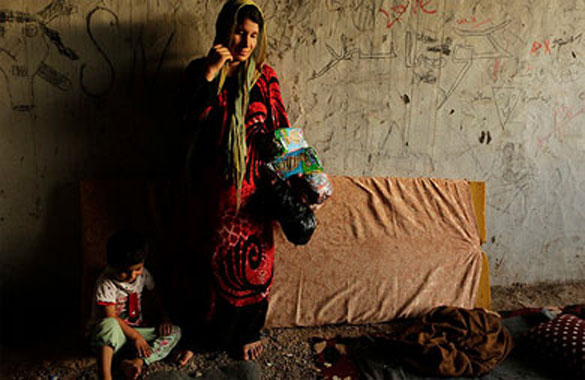 Islamic State has set fixed prices to sell Yazidi and Christian women Reuters/Youssef Boudlal
----------
• Afghan Govt against 'Degrading' Use of Women in Ads
• Saudi Arabia Outlaws Female 'Tempting Eyes'
• "We need more women like Malala Yousafzai"
• ISIL Takfiris Bartering Over Iraq Izadi Sex Slaves: Clip
• Iran Arrests Journalist Covering Acid Attacks on Women
• Muslims Say French Feminism Shuts Them Out
• 82% of Saudi Women Want To Work From Home
• Jihadist Jane: Islamic State Seeking Out Women
Compiled by New Age Islam News Bureau
URL: https://www.newageislam.com/islam,-women-and-feminism/new-age-islam-news-bureau/isis-introduces-'price-scheme'-for-selling-enslaved-women-and-girls/d/99864
------------
ISIS Introduces 'Price Scheme' For Selling Enslaved Women and Girls
November 04, 2014
Islamic State has set fixed prices to sell Yazidi and Christian women who have been abducted by members of the militant group, Iraqi media have reported. The barbaric tariffs range from around $40 for older women to $170 for children.
The group, also known as ISIS or ISIL, says they will execute anyone who violates the controls, which have been implemented. $43 is the price for a Yazidi or Christian women who is aged between 40 and 50. For those aged between 20 and 30, the price is $86. The sickening trend continues, with girls falling into the 10 to 20 age group being sold for $129 and children up to the age of nine, commanding the highest prices of $172 or 200,000 dinars.
The document states that there has not been so much interest in purchasing slaves recently. "The market to sell women and spoils of war has been experiencing a significant decrease, which has adversely affected ISIS revenue and financing of the Mujahideen," said the document, which was obtained by the website IraqiNews.com.
The document also says that no individual is allowed to buy more than three slaves. However there are no exceptions for foreigners, such as those from Turkey, Syria and the Gulf States.
Read More: 'Can one take 2 slave girls?' ISIS militants joke about selling Yazidi women (VIDEO)
Nevertheless, according to a recently shared video, it would seem the slave girl trade is still very much alive amongst some Islamic State (IS) fighters. Captured on film, they were laughing and joking about getting their share of the spoils.
"Today is the day of female slaves and we should have our share," declares a bearded militant, flanked by fellow fighters on a couch. The video, which has not been independently verified, was released by Islamic State last month and has been newly translated by Al Aan TV, a Dubai-based TV station.
"Where is my Yazidi girl?" one man asks repeatedly as others laugh. The video was shot in the Iraqi city of Mosul, an Islamic State stronghold, captured in June, reports Al Aan.
"Whoever wants to sell his slave, whoever wants to give his slave as a present…everyone is free to do what he wants with his share," says the bearded fighter, eager to obtain a slave girl of his own.
Read More: 'Won't even let us kill ourselves': Ordeal of enslaved Yazidi women
IS has bragged about the enslavement of women and girls from territories they have captured. They see it as the revival of an ancient custom, under which captured women and girls were treated as trophies from the spoils of war.
In an article in its English-language online magazine Dabiq, the group provides what it says is religious justification for the enslavement of defeated "idolators."
"After capture, the Yazidi women and children were then divided according to the Shariah amongst the fighters of the Islamic State who participated in the Sinjar operations, after one fifth of the slaves were transferred to the Islamic State's authority to be divided as khums," it said, which was reported by Reuters. Khums is a traditional tax on the spoils of war.
In September, over 120 prominent Muslim scholars wrote an open letter to the Islamic State leadership, denouncing them and their barbaric interpretation of the Koran and Sharia law.
http://rt.com/news/202071-isis-slaves-girls-prices/
------------
Afghan Govt against 'Degrading' Use of Women in Ads
November 4th, 2014
KABUL: Afghanistan on Monday launched a drive against female models being used "as decoration" in advertising campaigns, saying some commercials spread immorality among young people in the conservative Muslim nation.
Billboards and television advertisements selling everything from mobile phones to insurance have sprung up since the fall of the Taliban regime in 2001 as the country opened up to international trade and modern marketing.
Many adverts feature young women to entice consumers, but the Afghan government said that female models should not be exploited for commercial gain.
"All commercials in which women are used as decoration and fashion, and as a tool to earn money and an image, are in fact degrading the position of Afghan women," a statement from the ministry of information and culture said.
"We ask all media to avoid broadcasting all commercials that can promote cultural destruction, and spread immorality and can lead our youths' minds to immoralities.
"Under the Taliban's 1996-2001 rule, Afghanistan was cut off from almost all western influences, television was banned and women were not allowed outside the home unless wearing an all-encompassing burqa.
http://www.dawn.com/news/1142328/afghan-govt-against-degrading-use-of-women-in-ads
------------
Saudi Arabia Outlaws Female 'Tempting Eyes'
By MARY CHASTAIN
2 Nov 2014
Saudi Arabia has developed an international reputation for regularly violating women's rights, one the nation continues to feed with a new law issued by the country's religious police, the Committee for the Promotion of Virtue and the Prevention of Vice, outlawing "tempting eyes."
From AINA:
What are "tempting" eyes? One Saudi journalist mused on condition of anonymity that they are "uncovered eyes with a nice shape and makeup. Or even without makeup, if they are beautiful, the woman will be in trouble." The Orwellian-named committee did not provide a definition of tempting, but if they happen to rely on Merriam-Webster, then it means "having an appeal." What is an appeal? According to the dictionary, it is "arousing a sympathetic response." And what is sympathetic? "Showing empathy," according to Merriam-Webster.
An unnamed journalist told AINA the law is "so stupid" and "people will oppose" the new law. But the religious police are very powerful in Saudi Arabia. King Abdullah provided the organization $53 million in March. Prince Neif, heir to the throne, supports the police.
"The committee is supported by all sides," he said. "It should be supported because it is a pillar from Islam. If you are a Muslim, you should support the committee."
The police monitor public behavior according to the Wahhabi School of Sunni Islam. A few "crimes" include homosexuality, fornication, attempts to convert anyone away from Islam, and socializing with unrelated males and females. The police make sure stores abide by the Muslim dietary laws and close at prayer times.
Sheik Abdulatif al-Sheik replaced Shaikh Aziz Al Humain as head of the Commission for the Promotion of Virtue and Prevention of Vice in January 2012. He promised to help improve the woman's place in society.
"I cannot deny that there were several violations committed by members of the force, some of which happened because of the lack of clear guidelines or understanding," he said. "So we are planning, God willing, to introduce clear guidelines and mechanisms for the field work of the members of the force."
Yet, women are still oppressed in Saudi Arabia. A court sentenced a businesswoman to 50 lashes because she cursed at the religious police. The officers checked her café for breaches of morality, and the men claim a few of her employees ran away because they were illegal.
In February, Saudi women rebelled when the CPVPV passed a law that forbids a woman to attend a doctor's appointment without a male guardian.
"Islamic law does not permit women to visit their doctors without male guardians. Women are prohibited from exposing body parts to male doctors in Islamic law, especially during childbirth," said Council of Senior Scholars member Qais al-Mubarek.
In October 2013, Saudi women took to the streets to protest the Saudi law against women drivers. Sheikh Saleh Al-Loheidan added more international outrage when he said driving harms a woman's ovaries.
"If a woman drives a car it could have a negative physiological impact," he said. "Medical studies show that it would automatically affect a woman's ovaries and that it pushes the pelvis upward. We find that for women who continuously drive cars, their children are born with varying degrees of clinical problems."
http://www.breitbart.com/Big-Peace/2014/11/02/Saudi-Arabia-Outlaws-Female-s-Tempting-Eyes
------------
"We Need More Women like Malala Yousafzai"
NOVEMBER 2, 2014
In 2013, I started playing Fara Sherazi on Homeland. I love playing her, not just because she's a strong woman, but because for the first time, a Muslim woman is being portrayed on television as a regular person, rather than a cliché or collection of stereotypes.
It's tougher for women than men in Hollywood, period, if you ask me. As with most professions, women have generally not found equality with men when it comes to income and influence. There aren't as many female directors, producers, and writers, which translates to fewer complex roles for women. And then to add the layer of ethnicity on to that, it does become even more difficult.
I decided to start acting in my mid-twenties. I studied pre-med and I have a bachelor's degree in Biology, so when I decided to pursue a different career, I got a lot of, "What on earth are you doing?" But, I gave myself a year and thought, you know what, I'm going to just beat the odds.
Luckily, things went well for me.
But things aren't that simple for thousands of women all over the world which is one of the many reasons I became a spokesperson for Amnesty International USA, focusing primarily on women's rights.
In particular, I've been very involved in bringing attention to the unjust conviction and treatment of Iranian youth, women and prisoners of conscience, meeting with political leaders, collaborating with other prominent human rights defenders, and endorsing human rights petitions to the United Nations.
Malala Yousafzai became the youngest ever recipient of the Nobel Peace Prize this month and we need more people like her.
The committee praised her "heroic struggle" for girls' right to an education, and commended her for battling against the "struggle against the suppression of children and young people".
Malala is such a great role model for us all. She is just a teenager and she took a bullet in the head by the Taliban because she stood up against injustice. We should all be inspired by that.
Fara's first scene in Homeland involved her walking in to the CIA wearing a headscarf and everyone looking at her suspiciously. Sadly, that's probably the exact same reaction some viewers had, saying, "Oh, we don't trust this woman."
Then you have to ask yourself, why do we react that way? She hasn't done anything to show that she's a bad person, so does that distrust simply stem from her wearing a headscarf?
I was born in Iran, which has a predominantly Muslim population, and I have relatives who are devout Muslims, so I know what it means to be judged based on your appearance and what you're wearing. But your ethnicity and your clothing do not define who you are.
In fact, women in the Middle East have the same aspirations and desires as the rest of us. They dance, laugh with their girlfriends, have sex, fall in love and do everything that we do in the West. I'm a firm believer that if we focus on our similarities, then we can start to bridge our differences.
The universality of Malala's message is what makes her relatable to the world, Muslims and non-Muslims alike. And hopefully her courage, dignity and intelligence will challenge our preconceptions about women who wear a veil.
http://www.cosmopolitan.co.uk/reports/news/a30460/we-need-more-women-like-malala-yousafzai/
------------
ISIL Takfiris Bartering Over Iraq Izadi Sex Slaves: Clip
Nov 4, 2014
A new shocking video has emerged online showing the ISIL Takfiri terrorists negotiating about the price of captured girls from Iraq's minority Izadi community at a "slave market."
"Today is the slave market day," an ISIL terrorist tells the audience during the video clip, adding that each militant will get "his share."
The footage also shows Takfiri terrorists, who are believed to be Saudi nationals because of their accents, discussing how much an Izadi girl with green or blue eyes is worth.
"Whoever wants to sell his slave, whoever wants to give his slave as a present, everyone is free to do what he wants with his share," says one of the Takfiri terrorists.
It is said that the video was filmed in the ISIL-controlled city of Mosul in northern Iraq.
In September, Amnesty International said that ISIL terrorist groups use "hundreds, if not thousands" of Izadi women and children as "slave."
The extremist group also officially admitted to the barbaric practice.
According to the latest report by the UN mission in Iraq, nearly 500 Izadi and Christian women and girls have been given to the ISIL or trafficked for sale at markets in Mosul in Iraq and Raqqa in Syria.
"Women and girls are brought with price tags for the buyers to choose and negotiate the sale. The buyers were said to be mostly youth from the local communities," the UN said in a statement last year.
The ISIL controls large areas of Syria's east and north. The group sent its militants into Iraq in June, seizing large parts of land straddling the border between Syria and Iraq.
They have carried out heinous crimes in the two countries, including mass executions and beheadings of people.
http://www.presstv.ir/detail/2014/11/04/384713/isil-auctioning-izadi-sex-slaves-video/
------------
Iran Arrests Journalist Covering Acid Attacks on Women
November 4th, 2014
New York, October 29, 2014--Iranian authorities have detained for almost a week a journalist affiliated with the semi-official Iranian Students' News Agency (ISNA), a media outlet that has covered a series of acid attacks on women in the country, according to news reports. Four other staff members affiliated with the agency were arrested on Monday and have been released, the reports said.
This month, more than half a dozen women have been attacked with acid, leading to protests in the cities of Isfahan and Tehran and stirring debate in Iran over women's rights, Islamic values, rule of law, and government accountability, news reports said.
On October 19, ISNA published a report entitled "Isfahan's Acid Climate" that criticized the government for its failure to crack down on the perpetrators as it had on women who had not adhered to the dress code. ISNA's coverage also included ways to deal with acid burns and interviews with families of the victims and women from Isfahan.
Hardline government officials said the media was attempting to unfairly influence the debate over a parliamentary bill that would empower morality vigilantes to enforce the government's interpretation of Islamic values on the street.
Police arrested Aria Jafari, a photojournalist who contributed photos to ISNA, on Thursday, one day after he covered protests in Isfahan calling for justice for women targeted in acid attacks, news reports said. His photos were picked up by Agence France-Presse and Getty Images.
Some news reports said Jafari is ISNA's head of photo services in Isfahan, but in a statement on Tuesday, ISNA said Jafari worked as a freelancer and that the station would address his case through "legal channels." No official charges have been filed against him, according to reports.
"The arrest of a journalist working with ISNA shows that it doesn't matter who you work for in Iran--if you step out of line, your next step might be into a jail cell," said CPJ's Middle East and North Africa program coordinator, Sherif Mansour. "We call on authorities to release Aria Jafari immediately and allow journalists to report freely on issues of public interest, which include these acid attacks."
Four journalists and staff members affiliated with ISNA were arrested on Monday, according to the BBC. Two employees, who were not identified in the reports, were released the same day, but ISNA's editor-in-chief in Isfahan, Zahra Mohammadi, and social issues editor Sanam Farsi were detained until today, the reports said.
ISNA's statement on Tuesday did not mention these arrests, but said it did not endorse any statements about its "ISNA colleagues," and rejected any attempts to use Jafari's arrest for anti-state purposes.
According to the Iran Wire news website, ISNA received a letter on October 23 from the Supreme National Security Council, a body nominally chaired by the president and effectively controlled by the Supreme Leader that warned the outlet against continuing to associate the acid attacks with failure to adhere to the female dress code.
Isfahan parliamentary member Hasan Kamran said Iran's press supervisory board would investigate media outlets that "make headlines out of false reports to make our enemies happy," Radio Free Europe/Radio Liberty reported citing the local Tasnim News Agency. The conservative Ayatollah Ahmad Khatami, who leads Friday prayers in Tehran, called for the prosecution of any media outlets found to be lying about the Islamic Republic, news reports said.
https://cpj.org/2014/10/iran-arrests-journalist-covering-acid-attacks-on-w.php#more
------------
Muslims Say French Feminism Shuts Them Out
By Hajer Naili
November 3, 2014
PARIS (WOMENSENEWS)--Many French Muslim women say the doors of national sisterhood are closed against them if they wear a religious head covering.
"They have always viewed the veil as a symbol of enslavement, submission, alienation," Marie Laure Bousquet, a retired English teacher, told Women's eNews during a recent interview at her home on the outskirts of Paris.
A key moment of realization about that, says Bousquet, came a decade ago, when feminists in France sided with the government when it passed a law in 2004 banning religious signs in public schools.
The law, which has had a discouraging effect on schoolgirls who wear the hijab, breaks a key rule for Bousquet. As a French Muslim feminist and a teacher she believes it is mandatory to never refuse access to education to girls after years spent fighting to earn that right.
Islam and feminism, she says, are often viewed as an impossible combination in Western countries, such as France. "Muslim feminists are denied existence here….It is an odd feeling when you find yourself in a gathering of feminists and for them you are non-existent." (Her comments and those of the other women quoted in this article have been translated from French.)
Bousquet currently serves as secretary for the Paris-based French Collective of Feminists for Equality, which has been demanding the cancellation of the 2004 ban. The group members say the ban is discriminatory because the main group it singles out is Muslim women who wear the hijab.
Ismahane Chouder and Louisa Belhamci are co-presidents of the French Collective, whose members include Muslims and non-Muslims. Chouder wears the veil and Belhamci does not, a combination that reflects the group's mission to both represent and promote diversity and tolerance.
"We do not promote the wearing of the veil yet we defend the right for each woman to choose," Chouder told WeNews in an interview at the group's office. "That is the root of feminism. Things are locked in France because we don't discuss rights but we look at issues in a binary way, you are either for or against."
Seeking Broader Agenda
Although Muslim feminists have their own fights to lead, Chouder chafes at being constantly tied to a fight over how women choose to practice their religion. "I am a feminist! We have to stop using the term Muslim feminist because somehow it restricts the possibility that I could show solidarity to women and people who are not necessarily Muslim."
Like the other women interviewed for this article, Chouder criticizes those who base their gender equality arguments on France's 1905 law of "laicite" or secularism, separating church and state.
"It is nonsense to think secularism gave French women their rights when in the '40s we were still fighting to get the rights to vote," says Chouder. French women attained voting rights in 1945, 25 years after suffrage for U.S. women.
In France, male lawmakers have no interest in gender equality, Chouder says, but they suddenly become feminists when it comes to imposing a restrictive law on Muslim women.
French "feminism has been redefined by the State and is selling this image of a woman freed from spirituality and religion," Chouder says.
The women interviewed all underlined the interconnection of sexism, racism and feminism in France.
Shadows of Colonial History
Like others who were interviewed, Elsa Ray, spokesperson of the Collective Against Islamophobia in France, or CCIF, links France's restrictions on the veil to its history in North Africa.
As a former colonizer of several countries in that region whose populations are mostly Muslim, France has developed what Ray calls "a misconstrued vision of the indigenous woman, head down and wearing a veil."
"We have to understand that there is a diversity of feminism across the world," Ray says.
Chouder, however, says few non-Muslim French feminists grasp that. "They are convinced that they are on an emancipatory mission to civilize women born in France but from various ethnic backgrounds," she says.
Chouder says French politicians are ignoring the realities in France and keep referring to abuses perpetrated against women in foreign countries. Saudi Arabia and Iran are often used as indicator countries when it comes to the status of women in Muslim countries.
"Should I be held accountable for all the violations committed towards women in these countries?" wonders Chouder. "Every time, we try to engage in a discussion in France, we are being told about abuses and practices happening somewhere else."
Rahba Chatar is a mother of three who can no longer accompany her children for school outings due to a ministerial ruling issued in 2012 by the Ministry of National Education. Along with 12 other mothers, she petitioned a court to overturn the rule. She refuses to be viewed as a "submissive" woman.
"I think I proved it through my legal actions that I am far from being silent. I am far from being that mom who spends hours in her kitchen like they think. I have a professional life. I have a personal life and I have a social life," she told WeNews in a phone interview.
Chatar denounces the double standards of French policies. "They sell us this idea of gender equality and how much they want women to take a bigger place in the society, yet they have excluded Muslim women from the French society."
Hajer Naili is a New York-based reporter for Women's eNews. She has worked for several radio stations and publications in France and North Africa and specializes in Middle East and North Africa women in Islam.
http://womensenews.org/story/equalitywomen%E2%80%99s-rights/141101/muslims-say-french-feminism-shuts-them-out#.VFlf6TTF8qM
-----------
82% of Saudi Women Want To Work From Home
4 November 2014
Eighty-two percent of women prefer to work from home or remotely, according to a study conducted recently by the Khadijah bint Khuwaylid Center for Businesswomen at the Jeddah Chamber of Commerce and Industry.
Basma Omair, executive director of the centre, was quoted as saying recently that 77 percent of men surveyed want women to work at home or remotely.
Omair said that allowing women to work from home or away from the office would see further economic development in the country.
Women aged 25 to 44 prefer to work from home but said that the country has to develop proper infrastructure for this to happen effectively. They said that companies must start looking at ways to employ more Saudi women, in line with the directives of the Council of Ministers.
Maha Fathi, head of the centre's forum, said that women can work effectively from home or remotely if they have support from their companies and dependable electronic communication systems.
Fathi said that working remotely, as opposed to being employed at home, involves women representing their companies out in the field in various industries including designing, translation, advertising and consulting.
She said the Ministry of Labour does not have statistics on the number of women working remotely. However, the ministry has committed itself to developing proper infrastructure and regulations.
Muna Abu Suleiman, who works in the media, said some companies have not introduced this form of work because they are afraid the productivity of women might drop. She said that women could work effectively from home by providing accountancy and various other customer services.
Bassam Fatini, a media consultant at Herafia Society for Handicrafts, said the delay is understandable because the Labor Ministry has to develop regulations around this form of work.
The government also wants to prevent a situation where there is fake employment of women at home, similar to the recent situation where women were registered with the social insurance system without their knowledge.
http://www.arabnews.com/saudi-arabia/news/654771
------------
Jihadist Jane: Islamic State Seeking Out Women
Nov. 1, 2014
BEIRUT, Lebanon - As a growing number of women travel abroad to join the Islamic State, the militant group is using the female jihadists as a tool to expand its base in Western countries and bring new blood to their fight in the Middle East.
"The Islamic State is trying to promote the idea of a mixed society, one that is normal and includes both women and men," said Alain Marsaud, a French parliament member who was also a former counterterrorism judge. "Women are also used through their (presence) and messages on the Web to encourage men on the path of jihad."
Many of the women joining the militant group experience a strong desire to find an alternative to a world dominated by Western structures - mental, physical and political - that they believe to be profoundly unfair and exclusive, especially when it comes to Islam, said Geraldine Cassutt, a researcher at the University of Fribourg in Switzerland who studies female jihadists.
What's unclear - and for many people hard to fathom - is why women are joining an organization known for gruesome killings, systematic rape and the brutal subjugation of women.
The three American teenage girls caught en route to Syria last week are just the latest in a series of young women who attempt to - and sometimes succeed at - making the journey.
The Clarion Project, an independent, non-profit organization countering extremism, says about 60 women from the United Kingdom have traveled in the past year to join the group in Iraq and Syria - where the Islamic State has taken large swaths of land in recent months.
In France, 80 teenagers - both boys and girls - have attempted to join jihadist networks abroad since that country's civil war began in 2011, says Dounia Bouzar, an anthropologist who heads the France-based Center for the Prevention Against Sectarian Excesses Linked to Islam. Marsaud estimates that more than 100 women have traveled to Syria in the same time frame.
In September, the CIA estimated between 20,000 and 31,500 Islamic State fighters across Iraq and Syria. That wide range shows how little is known about the makeup of the Islamic State, yet female fighters are almost certainly - by design and demographics - a tiny percentage of Islamic State forces.
The growing role of female recruits led the Islamic State to create a female battalion in the Syrian city of Raqqa, which the group captured this year. The Al-Khansaa Brigade - which the militant group announced earlier this year, according to the Terrorism Research and Analysis Consortium - is exclusively made up of women 18 to 25 whose primary role is to search female residents of the town for weapons and make sure they dress and behave according to Sharia law.
The radical jihadi website Minbar al-Tawhid Wal Jihad provides guidelines for women participating in a jihadi war, saying they can only do so if accompanied by a male family member. It further stipulates their duties must be centered on catering to their husbands' needs, ensuring the families follow strict Islamic customs and encouraging their children to join the cause.
Despite those limiting rules, women's role within the Islamic State appears to be expanding, as the militant group uses them to "spread radical messages and attract new militants," Bouzar said.
The Gatestone Institute, an international policy council and think tank based in New York City, reported in September that several British women are engaged in Islamic State recruiting efforts both in the U.K. and abroad, using social media platforms such as Facebook and Twitter to encourage a new wave of British jihadists to travel to Syria and Iraq.
Aqsa Mahmood, a 20-year-old woman from Glasgow who left Syria in November 2013, played an active role in recruiting for the militant group through Twitter, encouraging other British women take up jihad, according to the Clarion Project. Her account was later suspended. In one tweet under her account dubbed Umm Layth, Arabic for "Mother of the Lion," Mahmood called on Muslims to imitate those who murdered a British soldier outside his barracks in London last year.
Similarly, another woman, who goes by Waziristan on Twitter, retweets jihadi statements and pictures of disfigured Syrian children to show the violent repression of the Syrian regime while boasting the virtues of dying as a martyr.
Female jihadists' involvement in the Islamic State comes despite the militant group's dark history of how it treats women. In August, the U.S. confirmed the militant group kidnapped and imprisoned Yazidi women so they could be sold or married off to its fighters, the Associated Press reported.
"We think that the terrorists by now consider them slaves and they have vicious plans for them," Kamil Amin, the spokesman for Iraq's Human Rights Ministry, told the AP. "We think that these women are going to be used in demeaning ways by those terrorists to satisfy their animalistic urges in a way that contradicts all the human and Islamic values."
In mid-October, Human Rights Watch reported hundreds of Yazidi men, women and children were still being help captive by the group in Iraq and Syria. The report noted the Islamic State had "separated young women and teenage girls from their families and has forced some of them to marry its fighters."
For Muslim women living in countries where Islam is sometimes misunderstood, joining the Islamic State or other jihadist groups is a tool for rebellion against the negativity directed toward them, Cassutt said.
"The women who embrace jihad generally include those who want to defend oppressed populations and seek to restore a certain of sense of justice," she said.
While religion can be a draw, Bouzar said a majority of the teenagers she meets who are interested in becoming jihadists are from non-religious families and have different motives for joining the extremist groups.
"They all want to be in altruistic professions like doctors or social workers, and they are initially indoctrinated through the humanitarian lens by radical groups," she said.
Another reason: For some women it's a way to find a "virtuous" husband. In July, a 19-year-old Denver woman was arrested on terrorism charges for allegedly plotting to travel to Syria and join an Islamist extremist she had met online and was planning to marry.
"Others who have a more romantic conception of jihad try to find ... a husband who is as virtuous in his fighting in Allah's name as he is in his married life," Cassutt said.
http://archive.pnj.com/usatoday/article/17823977
------------
URL: https://www.newageislam.com/islam,-women-and-feminism/new-age-islam-news-bureau/isis-introduces-'price-scheme'-for-selling-enslaved-women-and-girls/d/99864