New Age Islam News Bureau
26 Jul 2014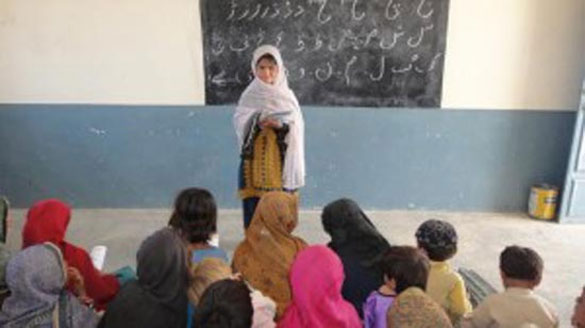 Photo: Girls' Right to Education Threatened in Balochistan
--------
• Acid Attacks Cast Shadow of Fear over Women in Balochistan
• Girl's Nose Chopped off for Refusing Proposal in Pakistan
• Chibok Girls - We Are Trying to Avoid the Chechnya
• Kazakh Volleyball Player Sabina's Mesmerising Good Looks Distracting Fans from the Game
• 70 Saudi Women Employed In Production Line
• "Indecent Dressing" Debate Flares Again In Iran
• Girls' Right to Education Threatened in Balochistan
• Islamic State order in Mosul for FGM probably a hoax
Compiled by New Age Islam News Bureau
URL: https://newageislam.com/islam-women-feminism/isis-diktat-women-full-veil,/d/98313
------------
ISIS diktat for women: full veil, shapeless clothes, no perfume
Reuters | Baghdad | July 26, 2014
Islamic State, the al-Qaeda offshoot that seized large swathes of northern Iraq last month, has warned women in the city of Mosul to wear full-face veils or risk severe punishment.
The Sunni insurgents, who have declared a caliphate in parts of Iraq and Syria and have threatened to march on Baghdad, also listed guidelines on how veils and clothes should be worn, part of a campaign to violently impose their radical brand of Islam.
"The conditions imposed on her clothes and grooming was only to end the pretext of debauchery resulting from grooming and overdressing," said the Islamic State in a statement.
"This is not a restriction on her freedom but to prevent her from falling into humiliation and vulgarity or to be a theater for the eyes of those who are looking."
A cleric in Mosul told Reuters that Islamic State gunmen had shown up at his mosque and ordered him to read their warning on loudspeakers when worshippers gather.
"Anyone who is not committed to this duty and is motivated by glamour will be subject to accountability and severe punishment to protect society from harm and to maintain the necessities of religion and protect it from debauchery," said the Islamic State.
The insurgents, formerly called the Islamic State of Iraq and the Levant (ISIS), have been systematically stamping out any religious or cultural influences they deem non-Islamic since their lightning sweep through the north.
US military and Iraqi security officials estimate the Islamic State has at least 3,000 fighters in Iraq, rising towards 20,000 when new recruits since last month's advance are included.
The Islamic State provided guidelines on how women should dress in Mosul, one of Iraq's biggest cities. The hands and feet must be covered. Wear shapeless clothes that don't hug the body. No perfume.
The insurgents run vice patrols in Mosul which answer to a morality committee which has shut Mosul's college of fine arts and physical education, knocked down statues of famous poets and banned smoking and waterpipes.
Women have been told to never walk unaccompanied by a male guardian. The Islamic State even ordered shopkeepers to cover their store mannequins with full-face veils.
A man was recently whipped in public for sexually harassing a woman.
Islamic State militants view Iraq's majority Shias as infidels who deserve to be killed and have told Christians to either convert to Islam, pay a religious levy or face death.
Islamic State's radical views have alarmed many Iraqis, but there are no signs that their leaders will be able to regain control of captured areas anytime soon.
http://indianexpress.com/article/world/middle-east-africa/isis-diktat-for-women-full-veil-shapeless-clothes-no-perfume/
----------
Acid attacks cast shadow of fear over women in Balochistan
26 July, 2014
QUETTA: 35-year-old Noor Jehan, an acid attack survivor lies on a bed in Quetta's largest medical facility, the Bolan Medical Complex Hospital. Only a few days ago, her misery made headline news when armed militants sprayed acid on her face in Quetta's Killi Kamalo area.
Dressed in the traditional Balochi dress, she speaks in measured sentences to narrate her ordeal.
"I was shopping for Eid when suddenly somebody sprayed acid on my face," Noor Jehan tells Dawn.com as her voice breaks.
At least six women were injured in Balochistan in two separate acid attacks in Quetta and Mastung three days back.
Like Noor Jehan, the other victims, including two teenage girls, are also admitted to BMC's Burn Ward.
"Thank God my dress saved me from the acid," she said.
Surrounded by their grief-stricken parents and frightened family members, the acid attack victims had covered their faces.
According to doctors, three per cent of Noor Jehan's face was damaged in the attack. She had agreed to speak to Dawn.com after covering her face and declined to be photographed.
"Now I pray for immediate recovery," Noor Jehan said, asking whether "the treatment will bring back my identity".
The acid had burnt her shawl and clothes.
An eye witness, who requested anonymity, told Dawn.com that the women cried for help in the aftermath of the attack.
"The terrified women were screaming in the market after the acid attack," he recalled.
He revealed that some other women also suffered acid wounds but they preferred not to make it public and come to the hospital for treatment.
"The shopkeepers selling cosmetics pulled down their shutters," he said.
The tortured movement still haunts Noor Jehan and other acid victims. Besides, burn injuries, they also suffer from psychological traumas.
"I cannot forget that horrific moment," she said.
Growing radicalisation and militarisation in society has undermined women's rights in Balochistan, plagued by growing sectarian violence and an on-going insurgency.
Balochistan, Pakistan's least developed province, has remained under the grip of violence for over a decade and has claimed thousands of lives.
There has been no claim of responsibility for the two acid attacks, while law enforcement appears to be clueless about the identity the assailants.
"This is a barbaric act and the perpetrators must be brought to book," Home Minister Balochistan Mir Sarfaraz Bugti told Dawn.com.
"Chief Minister Balochistan Dr Malik Baloch has ordered an inquiry into the acid attacks. A team comprising of senior police officers have been tasked to probe into the incidents," said the home minister.
"Such barbarians will not be spared," he said in a statement issued to the press. Bugti said there was no room for such kinds of incidents in Islam and under Baloch traditions and norms.
The attacks have drawn severe criticism from women and human rights groups who have expressed outrage over the unfolding events in Balochistan.
Visibly, the entire society was shaken in the aftermath of twin attacks at women shopping for fast-approaching Eid in Balochistan.
"Fundamentalists want to intimidate and terrorise us," said Agha Hassan Baloch, the Central Secretary Information Balochistan National Party.
He expressed these views during a protest demonstration inside the hospital where the women were being treated.
Dozens of Baloch nationalists gathered inside the hospital and chanted full-throated slogans against government and law enforcement agencies for their failure to protect the women in Balochistan.
"We are a secular society, fundamentalism is being imposed on us," Baloch lamented.
Activists said that during the last three years in Balochistan, there have been seven acid attacks on women.
"It is an alarming situation indeed," Haroon Dawood, the Resident Director of Aurat Foundation, a non-government organisation said.
In all incidents, the attackers used a syringe to spray acid on the women's faces.
Dawood stated that women were injured in acid attacks in Kalat, Dalbandin and Quetta earlier.
"The assailants are still at large", he added.
In all cases, the victims' families have dispelled the impression of any personal dispute or enmity.
"We have no dispute with anyone," Manzoor Ahmed, the brother of one of the victims told Dawn.com.
Ahmed sits along with other grief-stricken relatives outside the Burn Ward of BMC where their loved ones were admitted.
"My sister is innocent and she had covered her face while shopping," Ahmed said.
Mercifully it appears that the injuries sustained by those targeted are not of a very severe nature.
But the message is terrifying for women, who are being made fair game if they choose to venture independently into the public domain.
Ahmed stated that unknown militants had distributed pamphlets in Killi Kamalo where the women were attacked, warning the women not to come out of their homes.
"Nobody considered it a serious threat," he added.
"Their faces are partially injured," Dr Hidayatullah, a doctor on duty inside Burn Ward of BMC told Dawn.com.
However, the facilities inside the ward were not up to the mark. Poor cleanliness coupled with inefficient staff was further compounding the problems of patients.
Such incidents have spawned horror among the women in Quetta and other restive parts of Balochistan.
Women in Mastung, Kalat and some parts of Quetta were forced to cover their faces or get accompanied by a male family member while walking in markets in the incidents aftermath.
Attacks such as these have now forced women to be confined to their homes in troubled areas of Balochistan.
http://www.dawn.com/news/1121558/acid-attacks-cast-shadow-of-fear-over-women-in-balochistan
--------
Girl's nose chopped off for refusing proposal in Pakistan
26 July, 2014
BAHAWALPUR: Two men allegedly chopped off the nose of a young girl on Thursday night in Yazman, about 30km from here.
According to police, Shahid Baloch wanted to marry the girl, but she refused. An infuriated Baloch along with his accomplice, Nazik, allegedly confronted the girl, chopped off her nose and fled from the scene.
She was rushed to Bahawal Victoria Hospital where her condition was stated to be serious.
Yazman police registered a case against the suspects and were conducting raids for their arrest.
CHOLISTAN: Taking serious notice of officials' poor performance, negligence, inefficiency and slow pace of work in the implementation of various projects announced by the chief minister under the Cholistan Package, Commissioner Javed Akbar, a retired captain, ordered constitution of sub-committees to gear up work in the desert.
According to a handout, presiding over a meeting of Cholistan's implementation committee on Friday, the commissioner directed that members of the sub-committees would inspect uplift projects in the desert and officials and employees found responsible for substandard work would be severely dealt with and taken to task.
He made it clear that transparent implementation on Cholistan Package projects was a challenge and the departments concerned should coordinate among themselves for its smooth implementation.
Cholistan Development Authority Managing Director Iqbal Husain claimed there was adequate drinking water and grass for livestock and Cholistanis did not move from their houses.
TOP STUDENTS: Punjab Minister for Industries Chaudhry Muhammad Shafiq, MNA Begum Parveen Masood Bhatti, MPA Begum Fauzia Ayub Qureshi and Board of Intermediate and Secondary Education Chairman Dr Mehmoodul Hasan on Friday distributed cash prizes, laptops, medals and commendation certificates among students securing top positions in the 2014 matriculation examination.
HIGH ALERT: Security was on high alert across the district on the occasion of Al-Quds Day and Jummatul Wida.
According to the DPO, as many as 1487 police personnel were deployed at 465 mosques and imambargahs.
The main rally was taken out under the auspices of Majlis-i-Wahdatul Muslimeen. The participants, led by Shia leader Mureed Husain and MPA Syed Waseem Akhtar, after marching through Circular Road reached Farid Gate where the leaders addressed them.
Speakers condemned Israel's attacks on the people of Palestine and urged world nations to unite to rescue Palestinians.
Two other rallies were taken out from different imambargahs.
http://www.dawn.com/news/1121680/girls-nose-chopped-off-for-refusing-proposal
--------
Chibok Girls - We Are Trying to Avoid the Chechnya
26 July, 2014
The need to avoid a repeat of the 2004 experience when 300 children were killed in an attempt by Russians to free hostages held by Chechens in the North Caucasus region of Russia is responsible for the seemingly slow process of rescuing the over 200 schoolgirls kidnapped by Boko Haram insurgents from Government Day Secondary School, Chibok, Borno State.
The explanation was given yesterday by the Senior Special Assistant to the President on Public Affairs, Dr. Doyin Okupe, at a Chatham House lecture series held at the Royal Institute of International Affairs in London.
Okupe, who spoke on the topic: "Priorities and Progress in Nigeria: Imperatives for Stability and Growth", said the Nigerian military and other security agencies as well as their international allies are well able to secure the freedom of the kidnapped girls from their abductors but would rather weigh all options to ensure that they are brought back alive to reunite with their families.
The presidential aide described tackling the current insecurity in the North-eastern part of the country as the major priority of the Federal government and lamented that the various acts of insurgency was slowing down growth in other equally important sectors of the economy.
According to Okupe, "We are taking advantage of the offers from our international military and intelligence allies to get a greater understanding of the landscape and identify key locations. We are working with our neighbours to secure the borders and limit the movements of the Boko Haram fighters, building on the agreements reached at the recent summits in Paris and London."
He added that government was also working on blocking domestic and international sources of funds to the insurgents.
While speaking on the various milestones attained by the administration of President Goodluck Jonathan in the last three years, Okupe said the reduction of Nigeria's food import bills by half as well as successful implementation of reforms in critical sectors of the economy are crucial to the attainment of social and economic stability .
He asserted that since Nigeria attained independence in 1960, no administration had done as much as the Jonathan administration in guaranteeing food sufficiency, better power output, effective transportation and general macroeconomic stability.
While describing the reforms carried out in the transportation sector in the last three years as unprecedented, Okupe said: "President Jonathan inherited a road transport network that was near total collapse. Critical economic roads, such as the Lagos-Ibadan expressway, the Shagamu- Ore- Benin road; the Kano-Maiduguri expressway, the Abuja-Abaji-Lokoja expressway, the Enugu- Port Harcourt road, and the East-West road were in a state of total or near total disrepair resulting in countless accidents and needless loss of lives with the attendant extreme frustration of commuters who spend countless hours travelling across the country but massive reconstruction and rehabilitation of the roads have been undertaken.s He added that train services which were almost non-existent in 2011 had been revitalised with old rail lines rehabilitated and new modern ones being constructed.
He said the completion of 10 new power plants as well as successful privatisation of the power infrastructure has increased the capacity of the Nigerian power sector to gradually meet the needs of the 165 million Nigerian population and that within the next few years, most Nigerian cities would be having a minimum of 18 hours uninterrupted power supply.
Meanwhile, Niger, Chad and Cameroun have expressed the readiness to join Nigeria in creating a 2800-man military force to combat Boko Haram, which they accept poses a "growing regional threat" despite only being localised to Nigeria.
Reuters and BBC both reported that the countries agreed to present 700 soldiers each to the force, in another effort to mount a regional response to Nigeria's terrorism challenge.
"This step is proof of our commitment to do everything possible to eradicate this curse," Niger's Minister of Defence, Karidio Mahamadou, was quoted as saying at the end of a meeting of the defence ministers of the four countries.
http://allafrica.com/stories/201407250446.html
------------
Kazakh Volleyball Player Sabina's Mesmerising Good Looks Distracting Fans from the Game
Kazakh volleyball player Sabina so attractive nobody watches the sport anymore
26 July, 2014
A Kazakh volleyball player is facing a tough time from her team-mates because her mesmerising good looks are distracting fans from the game.
Sabina Altynbekova was just another 18-year-old girl before she turned up in the Taiwanese capital Taipei to compete for Kazakhstan in the Asian Under-19 Championships.
Now local media that would normally only write a couple of lines about the competition are devoting 10 page picture features about her and artists are turning out anime fantasies about her.
But her sudden move to centre stage has left members of her own team slightly miffed, and now media in her homeland have slammed the obsession with her.
'Fans just stare at her and they are not following the championship anymore,' reported Vesti, a respected Kazakh daily paper.
Even her coach on Kazakhstan's Under-19 national team has complained about it. Nurlan Sadikov told Tengrin News: 'It is impossible to work like this.
'The crowd behaves like there is only one player at the championship.'
Their complaints have had absolutely no effect on South East Asia's obsession with Miss Altynbekova.
Every photo of her attracts huge numbers of comments and Facebook pages claiming to represent her are attracting tens of thousands followers, mostly from China, Vietnam, Taiwan, Japan, South Korea, Malaysia and the Philippines.
I was flattered at first but it's all getting a little bit much...
She has said she is very flattered by the attention, but she appealed for fans to stop setting up social media pages in her honour and instead focus on the volleyball..
'I was flattered at first but it's all getting a little bit much,' she said. 'I want to concentrate on playing volleyball and to be famous for that, not anything else.'
http://www.dailymail.co.uk/news/article-2704625/Kazakh-teen-volleyball-player-turned-teammates-attractive-watches-sport-anymore.html
------------
70 Saudi women employed in production line
26 July, 2014
QURAYYAT — An agricultural company has employed 70 Saudi women in its production and packaging department in Qurayyat. The company's CEO, Ibrahim Abu Abah, said they have provided the women with a suitable working environment, which is completely separate from male workers, in addition to securing them transportation facilities. He pointed out that the company pays a monthly allowance for female workers who do not wish to utilize company-provided transportation.
http://www.saudigazette.com.sa/index.cfm?method=home.regcon&contentid=20140726212722
------------
"Indecent Dressing" Debate Flares Again In Iran
26 July, 2014
TEHRAN — "Indecent dressing," or "bad hijabi" in Persian, isn't worse than before in Iran, according to a deputy-governor of the Tehran province. Shahabeddin Chavoshi, who is responsible in the capital province for social and political affairs, chided critics who accuse the government of Iran's moderate President Hassan Rouhani of neglecting public morals.
"Studies show that the state of the hijab and modesty" isn't in a worse situation than it was eight years ago, when radical conservative Mahmoud Ahmadinejad was president, said Chavoshi. Still, the Rouhani government was aware of the imperfect state of public modesty in the country, he told the reformist daily newspaper Shargh on Thursday.
"Unfortunately, some stores send people onto the streets as roaming models to promote fashion, which hardly befits the dignity of our society," Chavoshi said.
The deputy-governor said that Iranians needed to be educated, and respect a state of modesty that would follow "the law and the Supreme Leader's statements." Yet he didn't threaten to launch a clampdown in the Tehran province — a repression that often takes the form of periodic arrests of young people in the streets of Tehran.
"Inappropriate dressing doesn't mean bad intentions," Chavoshi added.
Also on Thursday, District Governor of Tehran, Isa Farhadi, complained that economic factors were forcing Iranian girls to dress improperly. "Shocking clothes are cheaper, which is why our girls and women buy them," the governor said. Tights, for instance, cost so much less than jeans in the country, he added.
Farhadi urged Iranian companies to produce affordable "Islamic clothes." This Youtube video probably features the type of clothing Iranian officials are currently fretting about.
"Indecent dressing" is one of the often-repeated charges conservative politicians level against reformist governments in post-revolutionary Iran. This isn't entirely insincere or politically motivated. The country has in principle strict clothing norms, particularly for women. Females in Iran are expected to wear headscarves and a body veil, or a overall, to cover their personal clothing and body shapes.
http://www.worldcrunch.com/default/-quot-indecent-dressing-quot-debate-flares-again-in-iran/rouhani-hijab-women-rights-ayatollah-islamic-clothes/c0s16583/#.U9QJq-NdU4V
------------
Girls' Right to Education Threatened in Balochistan
Sharnoff's Global Views
26 July, 2014
If the Pakistani government doesn't effectively combat the terrorist assault against women's education, Balochistan will be pushed back in to the Stone Age.
baloch-female-studentsThreats to girls for abandoning education in Pakistan's Panjgur district and in other areas of Makran, has unfortunately failed to gain media attention or response from International human rights organizations.
Tanzeem-ul-Islami-ul-Furqan, is another Boko Haram in Balochistan, that has got forcibly closed down all private running schools and English learning centers in Panjgur district opposing coeducation and Western-style learning.
In May 2014, Tanzeem-ul-Islami-ul-Furqan distributed pamphlets warning all private schools in the district to shut down girls' education or to suffer the consequences. The pamphlets denounced female education as haram, an Islamic term referring to things forbidden.
The intimidation by this militant group on May 7 has caused panic and closure of all private educational institutions for last two months in Balochistan's southern district of Panjgur. The armed men of Tanzeem-ul-Islami-ul-Furqan attacked and burned a school van of the Oasis School carrying female students in Panjgur on May 14.
The students remained unhurt but the attackers beat the school head Major (retired) Hussain Ali, who was driving female students to school. After this attack all private school owners had decided to shut down the schools for an indefinite time considering the lack of security
Since the first day of receiving threats by militants, the students, teachers, human rights organizations and civil society are protesting against threats and demanding security. However, security officials made an announcement during a press conference in Panjgur on June 16 to reopen all non-government schools and English learning centers on June 23. Yet militants once again threatened to keep schools closed.
Balochistan is the largest province of Pakistan in terms of area but the least populated. Despite its natural resources, Balochistan is very backward; only 36 percent of girls are receiving an education and 44 percent of boys are enrolled in school. But Panjgur is marked with an outstanding position in Balochistan and Pakistan due to its quality education. This credit goes to around 30 private institutions, including schools and English language centers, in the district.
Failure of government in reopening of schools and provision of security
The government of Balochistan claims to have imposed an educational emergency in Balochistan. The government assured action against extremist elements threatening private schools in Panjgur. However, the teachers and students still fear vengeance from extremists. Even in a seminar held in Quetta, Balochistan, Chief Minister Abdul Malik Baloch vowed to fight terrorists.
Senator of the ruling party Mir Hasil Khan Bizenjo emphasizes that Balochistan's issues can be resolved through education and he says that there is no restriction on girls' education in the province. He underscores the need for at least 26,000 primary schools in the province. However, the reality differs with the senator's statements when we see educational institutions being closed after threats by religious extremists and government fails to ensure security.
Closure of schools a great menace
The closure of schools by extremists is a great menace to the already backward region. Human Rights Commission of Pakistan (HRCP) observed this as the latest sign of extremism gnawing at the vitals of the country. HRCP in its official statement condemning the threats said, "These events intimidated most private schools — at least 35 private schools and 30 English language centers – and forced them to close their doors to about 25,000 students."
HRCP explains
"The drive for stopping girls from going to school is not new in Pakistan – the attack on Malala Yousafzai is just the most infamous example – but it now seems to be spreading to parts of the country that had previously been spared. The Panjgur move is the latest attempt to deprive girls of education."
On October 9, 2012, Malala Yousafzai, an education and peace campaigner, faced a deadly attack as a result of her campaign for girls education in Swat District of Pakistan's northwestern Khyber Pakhtunkhwa province, where the Taliban had at times banned girls from attending school.
Answering a question to this writer on July 20, 2014 via email regarding school closures in Balochistan, Malala said
"What is happening to girls in Panjgur, we faced in Swat from 2007 to 2009. When more than 400 hundred schools were bombed or burnt and girls were banned to be going to school. Children, especially girls need complete safety and security to continue their education. It is the responsibility of the government to make schools safe havens not a place of terror and fear. Both teachers and pupil must be protected from all terror and violence."
Seventeen-year-old Malala has received the EU's Sakharov Prize for Freedom of Thought. She has motivated thousands of women and leaders to educate women.
Considering the issue a great threat Ziauddin Yousafzai, the UN adviser on Global Education urged: "We strongly condemn the closure of schools by the terrorist organization. The federal government, provincial government and the law enforcing agencies must take an action to ensure the girls come back to school and resume their studies."
Senior Baloch journalist Shahzada Zulfiqar wrote,
"The people of Panjgur suspect that security forces are involved in supporting Islamist groups to punish the Baloch people, who are considered to have liberal inclinations when it comes to education. According to them, the military establishment believes that their liberalism is the root cause of the on-going separatist movement."
The rise of Talibanization and religious extremism in Balochistan is very alarming. The extremists' moves against education – mainly girl's education – are a great menace to the already deprived and backward land of Balochistan.
It is the responsibility of the state to address the issue otherwise Balochistan may become Nigeria for another Boko Haram because the students and teachers' lack security and are unable to continue their education.
If the government, international community and human rights organizations keep silence over this burning issue and the misinterpretation of Islamic teachings regarding education remain uninterrupted, the moves of extremists will push Balochistan back to the Stone Age.
Yousaf Ajab Baloch is a journalist and human rights defender. He is editor-in-chief of The Balochistan Point, an online English newspaper. He is author of a Book: A Battle Field for Balochistan. Follow Yousaf on Twitter @YousafAjab. Read other articles by Yousaf.
http://www.sharnoffsglobalviews.com/girls-education-balochistan-362/
------------
Islamic State order in Mosul for FGM probably a hoax
26 July, 2014
Mosul - Reports about the "bad guy" should always be looked upon with some suspicion. The "good guys" will always try to demonize the "bad guys" because they need support and taxpayer money to fight against them.
The Islamic State (ISIS) are a group that are indeed bad guys. They have committed war crimes by executing Iraqi troops and others and also persecuted Christians in Mosul. However, the Iraqi government who are at least supported by the "good guys" such as the US and allies have also committed war crimes by killing Sunni prisoners and also using barrel bombs in areas controlled by rebels.
On Thursday a senior UN official, Jacqueline Badcock, told reporters that there was a new religious edict issued in the name of ISIS or the Islamic State in the city of Mosul occupied by ISIS. The edict ordered all girls and women in Mosul between 11 and 46 to undergo female genital mutilation FGM. She told reporters:
"This is something very new for Iraq, particularly in this area, and is of grave concern and does need to be addressed. This is not the will of Iraqi people, or the women of Iraq in these vulnerable areas covered by the terrorists."
Badcock is the U.N. humanitarian aid coordinator in Iraq. Badcock herself should have been cautious given that the practice would be very new to Iraq. Not only that, but this is not an issue that jihadists have emphasized. Indeed, as many analysts have pointed out, it really has little to do with Islam except that almost all--but not all- who practice it are Muslims. There do not seem to have been reports of the Islamic State insisting on the practice in other areas they control.
Journalists who actually had contacts in Mosul began to receive tweets suggesting the edict was a hoax. Jenan Moussa a reporter with Al Anan TV tweeted:
"My contacts in #Mosul have NOT heard that 'Islamic State' ordered FGM for all females in their city."
Another freelancer Shaista Aziz said:
"Iraqi contacts say #Mosul story is fake. Iraqi contact on #FGM story: "ISIS are responsible for many horrors, this story is fake and plays to western audience emotions.'"
Finally Naional Public Radio's bureau chief in Cairo also claimed the story was not true tweeting: "#UN statement that #ISIS issued fatwa calling 4 FGM 4 girls is false residents of Mosul say including a doctor, journalist and tribal leader."
The text of the edict and a translation can be found here. Shiraz Maher, a Middle East specialist at Kings College London said that FGM was more of a cultural issue than a feature of Islam. Jihadists he claimed have not taken up the issue or preached about it. There are many different types of FGM identified by the WHO. Type I usually involves removal of the clitoris with type type II removing labia as well. Type III is much more invasive causing much pain and often complications:
Type III (infibulation) is the removal of all external genitalia and the fusion of the wound. The inner and outer labia are cut away, with or without excision of the clitoris.[10] A small hole (2–3 mm)[11] is created for the passage of urine and menstrual blood by inserting something into the wound, such as a twig or rock salt. The wound is then closed with surgical thread, agave or acacia thorns. The girl's legs are tied from hip to ankle for 2–6 weeks until the tissue has bonded.[5]
There is wide support for the practice among women, not just men, in areas where it is commonly practiced. The terms used to refer to the practice in areas where it is the norm are emotively positive. The practice used to be described often as cutting or female circumcision in western accounts but now with many groups in the west and also the UN trying to stamp out the practice they have sufficient power to at least enforce the terminology of female genital mutilation. Critics of the campaign point out that male circumcision is not described as genital mutilation even though it involves cutting the penal foreskin that occurs naturally. The comparison however would work only for Type I and II of the practice and even then there is nothing corresponding to cutting off the clitoris. However, the general point about cutting a naturally existing part of the genitalia is quite correct.
The practice is no doubt associated with cultures where males are dominant and is in part meant to control women's sexuality. However, the practice often has even stronger support among women than men because they see it as giving them both honor and authority:
The practice is an ethnic marker, rooted in gender inequality, ideas about purity, modesty and aesthetics, and attempts to control women's sexuality.[13] It is supported by both women and men in countries that practise it, particularly by the women, who see it as a source of honour and authority.[14]
The issue in the past has also involved opposition to colonialism since colonists and missionaries often opposed the practice and attempted to stop it. The prevalence of the practice in a large swathe of Africa is astonishing:
According to UNICEF, the top rates are in Somalia (with 98 percent of women affected), Guinea (96 percent), Djibouti (93 percent), Egypt (91 percent), Eritrea (89 percent), Mali (89 percent), Sierra Leone (88 percent), Sudan (88 percent), Gambia (76 percent), Burkina Faso (76 percent), Ethiopia (74 percent), Mauritania (69 percent), Liberia (66 percent), and Guinea-Bissau (50 percent).[8]
http://www.digitaljournal.com/news/world/op-ed-islamic-state-order-in-mosul-for-fgm-probably-a-hoax/article/392604#ixzz38bmFlP3M
------------
URL: https://newageislam.com/islam-women-feminism/isis-diktat-women-full-veil,/d/98313