New Age Islam News Bureau
17 Jun 2016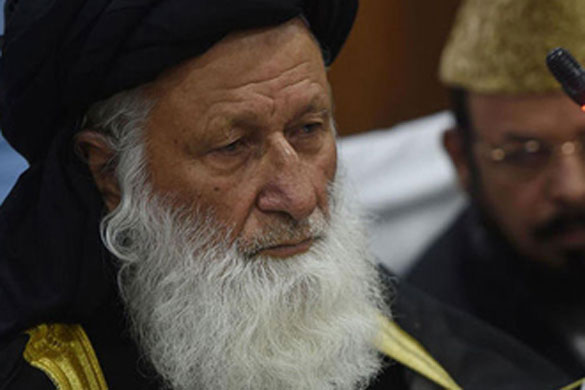 Photo: Pakistan's Council of Islamic Ideology (CII) is the top Islamic advice body in Pakistan
-----------
• Pakistan Government's Islamic Advisor Defends the Right to Beat Woman for Refusing Sex
• ISIS Beheads 4-Y-O Girl Then Forces Mother to Soak Hands in Daughter's Blood
• Family 'kills seven months pregnant woman for honour' near Gujranwala
• Bulgaria Follows France and Netherlands in Move to Ban the Veil
• Elegant Simple Silk Dresses for Muslim Women
• How One Muslim Entrepreneur Is Making It Easier To Work Out In a Hijab
• Ibtihaj Muhammad on the Future of Muslim Women in Sports
Compiled by New Age Islam News Bureau
URL: https://www.newageislam.com/islam-women-feminism/isis-actively-recruiting-non-muslim-american-teen-girls-marriage-domestic-attacks/d/107677
-----
ISIS Actively Recruiting Non-Muslim American Teen Girls for Marriage, Domestic Attacks
June 16, 2016
Hackers targeting the Islamic State are witnessing a chilling trend on the rise: recruiters preying on young teen American, non-Muslim girls to convince them to be ISIS sex slaves or to conduct attacks at home.
In a lengthy conversation with PJM today, BinarySec operatives described these girls reaching out to members of the group of Anonymous hacktivists and security analysts through Twitter when they've realized they're in too deep and their lives are in danger.
It's on the social media platform that these recruiters, with accounts cloaked in innocent avatars of babies or kitten photos, are finding their targets and moving in.
"The most disturbing thing, other than the usual gore videos, is the targeting of young teen girls," said a BinarySec operative who goes by the name AnonyMissy. "The number of 13- to 15-year-old American non-Muslim girls being targeted for recruitment has definitely gone way up."
"I used to have one girl every three weeks or so contact me in a panic when she realizes she's in over her head; now it is every week," she added. "They seek out the lonely. Invite them to Skype chat. The recruiters are men and women."
The founder and main coder of BinarySec, who goes by the name Binary, seconded that ISIS is targeting young teen girls to "recruit them for whatever they can do."
"I've seen them recruited to launch attacks on U.S. soil, I've seen them recruited for marriage purposes, and even sex slave purposes," Binary said. "ISIS members when targeting out a female seek the lonely. They start by sending them little cutesy type of stuff, like messages."
The recruiters use what is known as "sock" accounts on Twitter. "They tend not to tweet anything out ISIS-related. They look almost normal," Binary said. When they use an image of a baby as their profile photo, it's almost always white. "I think they may think it helps them blend in. But it really sticks out like a sore thumb."
Binary added that the group has "intel to believe there are recruiters on U.S. soil," though they're "mostly overseas."
AnonyMissy noted that "it is very subtle" by recruiters "in the beginning -- just being friends, chatting with the lonely gals."
"Depends on the girl, by the time she realizes after a month or so that she has been brought into an ISIS group, she's been befriended by women and bonds of trust have been built," she said. "She has isolated herself from 'infidel' friends and family. Lonely teen girls seeking acceptance, they are easy targets."
"Once they realize it's real, and in exchange for all of that attention they need to travel or steal -- or worse -- they end up in my [Twitter direct message] asking for advice."
Binary said they've seen American girls make it to the travel planning stage, with ISIS concurrently trying to convert the girl and bring her into the fold with a gang mentality of having a family, a place to belong. If a girl tries to back out of the new relationship, it can mean trouble. "The ISIS members start making threats, even death threats."
Asked if girls had revealed details to the hackers about what ISIS recruiters had demanded they do, Binary replied, "Very much so."
"I've had a girl who told me they asked her to blow up a major place in her town, which I won't specify for her safety. And they even forwarded her bomb instructions."
AnonyMissy noted that "by the time these girls realize they are in trouble, the jihadis have all of their info."
"I'm usually contacted after they cannot get rid of the recruiters," she added. "I would be very interested to see how many missing or 'runaway' teen girls were chatting, knowingly or not, with ISIS recruiters before they disappeared. And does anyone even know to look?"
"...I've mostly been told about them being taught to steal to get money to travel. Beyond that, because they are children, I put them in touch with law enforcement to protect them."
BinarySec operatives devoted to the #OpISIS mission are divided into those gathering intel and the "weaponry" section.
"The intel's job is to scour any possible ISIS websites, determine if they are ISIS-related or Islamic extremist-related and maintain a target list for weaponry. When this is done, our weaponry division starts scouring websites for vulnerabilities. If none are found then we flood the website with traffic and tell the host to take it down," Binary said.
"We will always go to the company and usually they are pretty good about removing it. However, there are a handful of companies who refuse to remove it. So we just continuously [denial-of-service attack] the website until they do."
Of those who refuse to take terrorist propaganda and communications down: "Some are U.S companies. Some are foreign. It's a mixture of both."
A BinarySec operative going by the name Zombie Ghost said the group does "work through official channels where we can."
"We have actually developed some good working relationships with some web hosts and they will take down material we identify quickly. There are other content delivery services like [U.S. company] CloudFlare who have made public statements they will not remove ISIS materials and in these cases we have to look at alternative methods," Zombie Ghost said.
Those without a drop of hacking skills are helping in the #OpISIS effort by reporting jihadist accounts or materials spotted online. Hacktivist groups involved in the fight each take reports via website forms or Twitter messages.
"We depend heavily on the non-hacker community to assist us with removing Twitter accounts, especially. We can't be everywhere, and this is a volume issue. Through our bot @tool_binary anyone can look through ISIS accounts and report the ISIS materials to have them removed; they don't have to be technically inclined," Zombie Ghost said. "Most hosts don't really review the material they host. They depend on people reporting the ISIS sites to them and the responsible ones will remove it."
AnonyMissy called the latest Twitter update "a great hindrance to having accounts removed."
"ISIS run block lists and import them up to new accounts. Prior to this update, even blocked, we could still see and report the accounts; now the accounts have no reporting option available if you are blocked," she said. "Obviously, the accounts that are blocking #OpISIS are typically more active than accounts that are not."
pjmedia.com/homeland-security/2016/06/16/isis-actively-recruiting-non-muslim-american-teen-girls-for-marriage-domestic-attacks/
--
Pakistan government's Islamic advisor defends the right to beat woman for refusing sex
June 16, 2016
THE leader of Pakistan's Islamic Council has defended the right to inflict domestic abuse, claiming it is in accordance with Islam.
Pakistan's Council of Islamic Ideology (CII) is the top Islamic advice body in Pakistan and interprets the Quran for the Government.
The religious body provoked international outrage last month after drafting a bill which encouraged a husband to "lightly beat" his wife.
The bill advised husbands to beat their wives if they refuse sex, ignore demands or stop bathing.
The recommendation came in response to the 'women's protection act', passed earlier this year, which provided women with protection from domestic, psychological and sexual violence.
The CII declared the Parliament's new act as "un-Islamic", saying "the whole law is wrong", according to Pakistan's Express Tribune.
The bill, which is not legally binding, also banned women from visual advertisement and talking to strangers.
Female nurses should be banned from taking care of male patients and there should be no-co-education after primary school, according to the bill.
A month on from the controversy, Mr Sheerani has refused to back down over his recommendations.
He told the BBC: "These recommendations are according to the Quran and Sunnah, the prophet's teachings. No one can dispute that.
"When we draft a bill concerning women we have to consider all possible situations.
"If a woman does not fulfil her responsibilities in marriage first you advise her, if that doesn't work, then you consult her relatives.
"If that doesn't work then you desert her in bed. If all of this doesn't work, then light beating is allowed.
"What is the solution to this issue? If a woman doesn't respond to advice, doesn't listen to her relatives, after you've used all the options, what should be done?"
He insisted that husbands were often left without a choice if they felt their wives were not listening to them.
Mr Sheerani clarified his advice by insisting: "The beating should not cause any kind of physical damage or even scratches. Resort to light stuff, nothing serious."
When asked about the massive media response to the proposal, the Mullah said: "Society is not the media, they're two different things. We will not reconsider the recommendations.
"This is according to the Quran, you cannot ask someone to reconsider the Quran."
express.co.uk/news/world/680581/Leader-Pakistan-s-Islamic-Council-right-domestic-abuse
--
ISIS Beheads 4-Y-O Girl Then Forces Mother to Soak Hands in Daughter's Blood
June 16, 2016
Islamic State terrorists have beheaded a 4-year-old girl in the group's Syrian stronghold of Raqqa and forced her mother to soak her hands in her daughter's blood, an Iranian news outlet has reported.
A Syrian woman who recently escaped the wrath of IS (also known as ISIS, ISIL and Daesh) told the Tehran-based Al Alam International News Channel on the condition of anonymity about a terrifying incident that led to the decapitation of an innocent child.
"A mother told her 4-year daughter to go home and she refused and then the mother told her unintentionally 'go home and I swear to God that I will behead you if you don't,'" the woman recalled. "And one of the ISIS members heard this and told the mother 'since you swore to God you should behead her,' but the mother strongly opposed."
After the mother refused to behead her daughter, the Syrian woman said IS militants took it upon themselves to execute the child.
"But they beheaded the little girl and soaked her mother's hands in her daughter's blood," she said.
While the woman's story has not been confirmed, numerous reports have emerged in the last two years since IS took over large swaths of area in Iraq and Syria about how the militant group has mistreated, tortured and killed young children.
Earlier this year, a senior official from an Iraqi-state sponsored Shiite militia claimed that IS had executed a 4-year-old boy in Iraq's al-Shirqat district by detonating an explosive device "that was attached to the child through a remote-controlled device so that his organs would be blown apart."
The official said the murder of the boy came after the group had executed the boy's father for killing two IS fighters.
In October of last year, it was reported that IS militants executed 11 Christian missionaries and a 12-year-old boy near Aleppo.
The leader in charge of the ministry affiliated with the missionaries told the Virginia-based Christian Aid Mission that before killing the boy, the IS militants chopped off his finger tips in front of his father. They allegedly told the father that they would stop torturing his son if he would embrace Islam.
In August 2014, Canon Andrew White, also known as the Vicar of Baghdad, spoke of how the 5-year-old child of his congregants at St. George's Church in Baghdad was cut in half by IS militants.
Later in December 2014, White told of how IS militants beheaded four children who refused to renounce their love for Christ.
"ISIS turned up and they said to the children, 'you say the words that you will follow Muhammad.' The children, all under 15, four of them, they said, 'no, we love Yasua [Jesus]. We have always loved Yasua. We have always followed Yasua. Yasua has always been with us.'" White explained. "[the militants] said, 'say the words!' [the children] said, 'no, we can't do that.' They chopped all their heads off."
As the Syrian Observatory for Human Rights estimated in March that IS had executed over 2,100 civilians in Syria since the group rose to prominence in 2014, the woman who spoke to Alalam explained that IS has lined the streets of Raqqa — from Tal Abyaz street to al-Naeem square — with the decapitated heads of its victims in order to intimidate the citizens of Raqqa to follow IS' strict rule of law.
"They rape women, take children to war, loot houses and threaten people in Raqqa with beheadings if they don't agree with their daughters' marriage with the ISIS members," the woman said.
christianpost.com/news/isis-beheads-4-y-o-girl-then-forces-mother-to-soak-hands-in-daughters-blood-165283/
--
Family 'kills seven months pregnant woman for honour' near Gujranwala
Thursday, 16 June, 2016
LAHORE: Relatives slit the throat of a young mother, who was pregnant with her second child after she married against their will, officials said Friday, the latest in a spate of so-called "honour killings".
Muqaddas Bibi, a resident of Butranwali near Gujranwala, married Taufiq Ahmed three years ago in defiance of her family, who considered a marriage for love ─ rather than an arranged marriage ─ shameful, police investigator Mohammad Arshad told AFP.
Bibi's ties with her family were severed after the marriage, Arshad said, but her mother and brother allegedly approached her at a clinic where she was having a check-up on Thursday and convinced her to come home, saying they accepted her decision.
Local police station chief Gohar Abbas said that when Bibi reached her parents' house, her father, brother and mother cut her throat with a knife and she died on the spot.
Bibi had a 10-month old daughter and was seven months pregnant when she was killed, he added.
An earlier version of this story appeared in Dawn, which did not mention that Muqaddas was seven months pregnant.
Abbas said that her family fled from their house after the murder in the village of Butranwali, some 75 kilometres north of Lahore.
Police are hunting for them and have already detained another relative for inciting the killing, he said.
Last week sixteen year-old Zeenat Bibi was killed in Lahore by her mother for marrying a man of her own choice in a case that sparked condemnation throughout the country.
It was swiftly followed by another killing, of a couple in Lahore who married without their family's consent. On Sunday a young girl was killed by her brother for insisting on marrying the man of her choice in Sialkot.
dawn.com/news/1265457/family-kills-seven-months-pregnant-woman-for-honour-near-gujranwala
--
Bulgaria follows France and Netherlands in move to ban the veil
June 16, 2016
Bulgaria is on course to become the latest European country to ban the wearing of niqabs or burqas in public places, following France and the Netherlands in prohibiting clothing that covers the face.
The bill, which was tabled by the nationalist Patriotic Front (PF), was backed by 108 MPs, with just eight voting against it, at its first reading on Wednesday.
Bulgaria's second-largest opposition party, the Movement for Rights and Freedoms (MRF), tried to get the reading postponed by suggesting the measures be covered in counter-terrorism legislation instead, but the move was rejected.
The law states that clothing hiding the face may not be worn in central and local government offices, schools, cultural institutions, and places of public recreation, sports and communications.
Tuncher Kardzhaliev, an MRF MP, said the bill had no value and did not solve a single major problem, the Sofia Globe reported. The way it was drafted meant it would apply to beekeepers as well as religious clothing, he said.
Those who violate the law face a fine of 200 leva (£80) for the first offence, and for second and further offences, 1500 leva and deprivation of social benefits, the website reported.
Muslims make up about 12 percent of Bulgaria's 7.2 million population and most belong to a centuries-old community, largely ethnic Turks, among whom full-face veils are not common.
The move at a national level follows a ban in several towns in Bulgaria, starting in Pazardzhik in April. At the time, the local government of the town, which has a population of 70,000 people, said it would prevent tension among communities and boost security in the wake of the terrorist attacks that shocked France and Belgium.
"I am tired to hear that Pazardzhik is the town of the burqas. We want to say aloud that we are not that, but a town of responsible people and we will be associated with other achievements," Mayor Todor Popov told the national radio.
Part of the Roma minority practices an ultra-conservative form of Islam and its women have started wearing full-face veils in recent years, angering nationalists and bewildering other residents of Pazardzhik.
Many Bulgarians are concerned that the migrant inflows into Europe may pose a threat to their predominantly Orthodox Christian culture and help radicalise part of the country's long-established Muslim minority.
In February, 13 men - most from Pazardhik's Roma minority -went on trial charged with helping people join the Islamic State group in Syria, propagating an extremist ideology and inciting to war.
France in 2010 banned full-face veils after years of debate, while in May, the Netherlands introduced a partial ban on wearing a veil in schools, hospitals and on public transport.
The subject has long been debated in Britain. In January, David Cameron, the Prime Minister, refused to endorse a French-style blanket ban but made clear that individual organisations can choose to stop Muslim women wearing the veil.
Background | History of the Burqa
the Koran enjoins all Muslims – whether male or female – to dress modestly and refrain from revealing "any parts of their bodies, except that which is necessary".
Beyond this general instruction, the holy book offers no specific guidance on female clothing. Its pages contain no mention of the burqa or, for that matter, of the other varieties of dress that are now associated with Islam, including the hijab, or veil.
The burqa appears to have originated in Persia in the 10th century, before slowly spreading to the Arabian Peninsula and present-day Afghanistan and Pakistan.
In Arabia, a variant known as the "niqab" was promoted by the ultra-conservative Wahhabi school of Islam; in South Asia, the burqa was adopted by the Deobandis, the local strand of fundamentalism.
When the Taliban captured Kabul and seized power over most of Afghanistan in 1996, they made it compulsory for all women to wear the burqa.
Elsewhere in the Muslim world, the garment remained largely unknown until relatively recently. It was the rise of the Wahhabi and Deobandi traditions which spread the burqa to areas where it was previously invisible, including West Africa.
Hardly any women wore the burqa in West Africa until two or three decades ago. Today, it remains rare in most countries in the region, explaining why some governments have imposed a ban without a public backlash.
The burqa is a reflection of culture rather than an accepted interpretation of Islam and it remains an alien imposition in large areas of the Muslim world. Since the rise of Boko Haram, it has also come to be seen as a security risk, hence the gradual spread of the ban through West Africa.
telegraph.co.uk/news/2016/06/16/bulgaria-follows-france-and-netherlands-in-move-to-ban-the-veil/
--
Elegant Simple Silk Dresses For Muslim Women
June 16, 2016
Silk dresses are a simple way for Muslim women to look elegant. They are easy to carry and have a great royal look to them. Silk dresses can easily be carried to formal and informal events, however they are mostly worn for a formal look. They have a really soft texture thus many women find them really comfortable. A silk hijab is a perfect matching accessory with these dresses as no Islamic look is complete without a headscarf. Silk nowadays is available in a various colors and prints; giving women a wide range to choose from. Digital prints on silk are the ones that are the most popular amongst young girls these days. They can be seen in all the latest fashion collections of 2016-17. These fashion collections suggest that digital printing will be in fashion in the upcoming year as well. The only drawback of these prints is that it is quite expensive making it difficult to afford by the general public. However, in my opinion, everyone can invest in these dresses once a year as they are a must have. Women mostly prefer to wear silk dresses in winters as they can make you feel quite warm in the sunny days. The robe style dresses made from silk are my absolute favorite so grab one of these dresses girls! Looking elegant and graceful is the top priority of Muslim women hence simple silk dresses are just perfect for them.
hijabiworld.com/dress-simple-muslim-elegant/
--
How One Muslim Entrepreneur Is Making It Easier To Work Out In A Hijab
June 16, 2016
The fashion industry is slowly but surely catching on to Islamic styles and the needs of Muslim women looking for modest, trendy clothing. But in the realm of activewear — a multi-billion dollar industry — options for Muslim women are sorely lacking.
Arshiya Kherani, a Muslim entrepreneur based in New York City, endured years of awkward and uncomfortable workouts before deciding to start her own activewear company, Sukoon, specifically tailored to Muslim women who love to exercise.
Sukoon joins brands like Capsters and Veil Garments that produce hijabs specifically designed for exercise, but of the three it's the only one that was actually founded by a Muslim hijabi woman.
"I am part of the demographic that needs this product," Kherani told The Huffington Post.
After years of playing competitive sports growing up, Kherani started wearing a hijab in college and said finding clothes to work out in became a challenge.
She tried wearing scarves, bandanas, and beanie hats to cover her head and long-sleeved shirts to cover her arms while exercising, but the items weren't intended as activewear and were "unreliable," at best, she said.
Kherani also tried working out at home and exercising at women-only gyms where she wouldn't need to be covered but felt limited by her options.
"It was just really not fun to work out," she said.
In May, Kherani and a small team of friends launched a Kickstarter for their activewear brand, Sukoon, which offers lightweight exercise hijabs and shirts. The team set their fundraising goal at $10,000, which Kherani said they reached in the first nine days. Now halfway through their 30-day campaign, the Kickstarter has raised over $13,000 and received dozens of emails from Muslim women supporting the project. Products are currently available for pre-order through Kickstarter.
"I have been wearing the prototype for six months, and this is becoming my new standard," said Kherani, who spends her workout time running, hiking and doing yoga.
The company's name, "sukoon," is an Urdu word which means relief or serenity. It's a word that Kherani, whose family is originally from India and speaks Urdu, has always loved and felt would capture the spirit of the brand.
"I just thought it was so perfect because relief is the exact thing you're looking for when you're doing something really grueling," she told HuffPost.
All the funds raised for Sukoon on Kickstarter will go toward production, Kherani said, but she has pledged to match a percentage of funds raised to donate to the Zaatari Taekwondo Academy, a non-profit organization based in Jordan that teaches Syrian refugee children martial arts.
Sukoon is currently working with freelancers to make small batches of hijabs and shirts at a time, Kherani said, and the team hopes to secure a factory space by the end of the summer to move forward with production.
Kherani said she's excited for Sukoon to join the growing marketplace for Muslim fashion and hopes more Muslim women follow suit by launching their own clothing brands.
"It's so cool that someone like me can go to Uniqlo and there's a hijab section. It's a dream come true," she said. "But it's also really important for Muslim women like myself to start our own companies so we can get our visions of how we see fashion out into the world."
huffingtonpost.com/entry/sukoon-exercise-hijab_us_576081fde4b09c926cfd7b7e?section=india
--
Ibtihaj Muhammad On the Future of Muslim Women In Sports
June 16, 2016
Ibtihaj Muhammad is unlike any other athlete we've seen before—and that's not just because she's one of the best fencers in the world. When Muhammad—an observant Muslim (and one of Time's 100 Most Influential People this year, NBD)—heads to Rio this summer, she'll be the first American to rep Team USA while wearing a hijab. But she's hoping she won't be the last.
"A large part of why I'm so involved in sport has to do with the small numbers of Muslim women who do wear the hijab who are involved in sports at the elite level," explains Muhammad, who has joined VISA's roster of Olympic-bound athletes under the platform of acceptance and inclusion. (Check out other Muslim women in sports in our 20 Iconic Sports Moments Featuring Female Athletes.)
"I remember in 2011 someone mentioned to me that I was the first Muslim woman to wear the hijab to represent Team USA on the international stage. With qualifying for the U.S. Olympic team, I wanted to further challenge that notion that Muslim girls and women don't participate in sports or aren't involved in sports at the elite level. I wanted Muslim girls to know they can be a part of Team USA."
Muhammad explains ignorance is a huge issue Muslim women—especially young girls—face in this country. "In American society, we're not necessarily always aware of the harassment and bullying that Muslim girls in particular face day-to-day in school for wearing the hijab," she says.
"I know that even for myself growing up it was very, very difficult to be different from everyone else and to wear the hijab and then on top of that be involved in a sport where it's historically a lot of white men," she says. "I looked different from everyone else so I wasn't automatically accepted and I was challenged because of my race and my ethnicity. That's something I've been challenged with for my entire career."
She goes on to explain that "it's not just about wearing a piece of cloth on your head," but rather always being out of uniform in a sense—"if your teammates wear shortsleeves, you wear longsleeves, and if they wear shorts, you wear pants. You are constantly being questioned for being different and it can be really difficult. A lot of times, it's a deterrent for a lot of Muslim women to even try to be on sports teams."
Even as an elite athlete, Muhammad is no stranger to blatant discrimination (which she also calls out on her Twitter account)—she recalls that she was even asked to remove her hijab just a few months ago at SXSW in Texas. "My initial reaction was to laugh. I thought maybe he was kidding at first. But he continued, even when I explained it was for religious reasons, he kept saying, 'Well, everyone needs to remove their hat,' essentially like I wasn't special," she says in the video below.
Still, when asked if she sees the future changing, she says yes—she's received countless messages from Muslim girls thanking her for encouraging them to continue playing on their basketball team or keep running track, she says. And, there have been small steps forward, like Danish sportswear brand Hummel creating soccer jerseys with built-in hijabs.
For now, athletes like Muhammad or the Australian teen determined to become the first ballerina in a hijab and other stereotype-shattering Muslim athletes might be the exception to the norm, but these history-making women are undoubtedly paving the way for future Muslim American athletes to come. (Meet the refugee athletes making Olympic history.)
"I think that if girls can see that there are other Muslim women who have done it successfully, that will change the rhetoric," Muhammad says.
shape.com/celebrities/interviews/ibtihaj-muhammad-future-muslim-women-sports
URL: https://www.newageislam.com/islam-women-feminism/isis-actively-recruiting-non-muslim-american-teen-girls-marriage-domestic-attacks/d/107677
New Age Islam, Islam Online, Islamic Website, African Muslim News, Arab World News, South Asia News, Indian Muslim News, World Muslim News, Womens in Islam, Islamic Feminism, Arab Women, Womens In Arab, Islamphobia in America, Muslim Women in West, Islam Women and Feminism