New Age Islam News Bureau
7 Feb 2017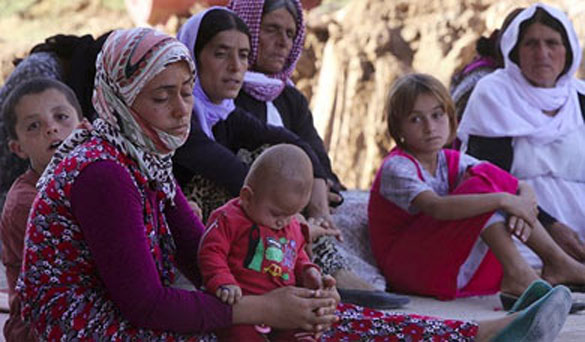 Local sources in North-eastern Syria disclosed on Monday that ISIL has evacuated a number of its female captives from Mosul and sent them to Syria's Hasaka.
----
• Female Genital Mutilation Falls Sharply In Northern Iraq - Survey
• Saudi Arabian Starbucks 'Temporarily Banned Women', Asked To Send In Drivers Instead
• Typical Girl-Meets-Girl in Malaysia Gets Married In Indonesia Story
• Saffron Shawl Vs Hijab: ABVP's Goonda Elements Demand Burqa Ban in College
• Lucknow's all-Women Mosque to Be Powered by Solar Energy
• Man Admits Ripping off Muslim Woman's Niqab in UK
• UAE to be in the Forefront of Women's Empowerment
• Vogue Arabia's Princess-in-Chief Wants Arab Women to Be Seen as More Than Just Big Spenders
Compiled by New Age Islam News Bureau
URL: https://www.newageislam.com/islam,-women-and-feminism/new-age-islam-news-bureau/isil-terrorists-transfer-female-captives-from-iraq-s-mosul-to-syria/d/109990
--------
ISIL Terrorists Transfer Female Captives from Iraq's Mosul to Syria
Feb 06, 2017
The sources said that ISIL has relocated a number of female captives from Iraq's Ezadi minority to the town of Merkadeh in Southern Hasaka under strict security measures on Sunday.
The Ezadi girls were in the Northern city of Mosul.
The sources added that commander of ISIL's Women Battalion in Merkadeh received the Ezadi girls, adding that one of the vehicles coming from Mosul was carrying 20 girls.
They added that some of the girls will possibly be transferred to Raqqa.
An Iraqi source said late in October that nearly 70 Kurdish Ezadi captives were freed from the ISIL militants since the Iraqi joint forces launched the military operation aiming to liberate Mosul from the ISIL terror group.
The source said despite the majority of Ezadi captives were moved from Mosul to Syria by ISIL militants, there were a number of abductees in the city, BAS News reported.
According to the source, the 70 rescued Ezadis, consisting of women and children, were brought to safety.
After the fall of Mosul back in mid-2014, the ISIL terror group attacked the predominantly Ezadi town of Sinjar, killing and abducting thousands of civilians.
Nearly 5,000 kidnapped Ezadi women and children were later sold on ISIL slavery markets, traded for cheap prices among militants and tortured if refused to obey them.
Since then, according to local officials, nearly 1,800 of them have been either rescued or managed to escape by themselves.
http://en.farsnews.com/newstext.aspx?nn=13951118001272
--------
Female genital mutilation falls sharply in northern Iraq - survey
6 February 2017
By Emma Batha
LONDON, Feb 6 (Thomson Reuters Foundation) - The practice of female genital mutilation has fallen dramatically in northern Iraq, campaigners said on Monday as they urged religious leaders to use sermons and fatwas to help stamp out the ancient ritual.
A survey of nearly 6,000 women with daughters aged four to 14 in Iraq's Kurdish region indicated almost 45 percent had undergone FGM compared to less than 11 percent of their daughters.
"We're very encouraged," said Hannah Wettig, coordinator of the Stop FGM Middle East campaign.
"We're quite certain that we can eradicate FGM in one generation if efforts continue," she told the Thomson Reuters Foundation on International Day of Zero Tolerance for FGM.
Worldwide an estimated 200 million women in at least 30 countries have been affected by FGM which is internationally condemned as a major rights abuse.
The ritual, which can cause physical, psychological and sexual problems, is most commonly associated with Africa, but is also practised in parts of Asia and the Middle East.
Stop FGM Middle East was set up by German charity WADI which has spearheaded efforts to end FGM in the mostly Muslim Kurdish region of northern Iraq since first uncovering it in 2004.
The ritual is performed on girls between four and 12 by a female relative or traditional cutter. The girl's clitoris is usually cut with a razorblade and the wound may be covered with ash to stop bleeding, WADI said.
The study, conducted by U.S.-based anti-poverty group Heartland Alliance with the support of the Kurdistan government and U.N. children's agency UNICEF, showed religion was the most common reason women gave for continuing the ritual, even though FGM predates Islam and is not mentioned in the Koran.
Many mothers also cited tradition and some believed their daughters would not be able to marry unless cut.
The authors said the study, whose findings came out last year but were not publicised, showed it was crucial to engage religious leaders in the fight to end FGM.
"They should be encouraged to include messages about ending (FGM) in their local communities in Friday prayers and sermons," the authors said. "Issuing a fatwa condemning the practice ... is another powerful step religious leaders and religious-based political parties could take."
The last few years have seen a growing momentum to eradicate FGM, but rates remain stubbornly high in some African nations.
Wettig said she thought one reason for the marked decline in Iraqi Kurdistan was that it was a society open to change. The regional government banned FGM in 2011.
"It is a young democracy and the government - after some resistance - really embraced this campaign," she said.
(Editing by Ros Russell; Please credit the Thomson Reuters Foundation, the charitable arm of Thomson Reuters, which covers humanitarian news, women's rights, trafficking, corruption and climate change. Visit news.trust.org to see more stories.)
http://news.trust.org/item/20170206175245-8i4mj
--------
Saudi Arabian Starbucks 'temporarily banned women', asked to send in drivers instead
Feb, 07 2017
Starbucks has come under fire for temporarily banning women from a coffee shop in Saudi Arabia — and asking their drivers to place their orders instead.
A sign posted on the door of the Ridyah branch in both Arabic and English reads: "Please no entry for ladies only. Send your driver to order. Thank you." It was first tweeted by @manarn8 and has since gone viral with some women boycotting the chain.
She captioned the tweet: "#Starbucks store refused 2 serve me just because I'm a WOMAN & asked me 2 send a man instead@Starbucks".
Starbucks denied there was a ban in place, tweeting that "it was a temporary sign during a store renovation".
But local media said the country's religious police closed the cafe to female customers after discovering a 'gender segregation wall' had given way during a routine inspection. Saudi Arabia has strict laws on gender segregation which company's such as Starbucks must adhere to in order to trade. Saudi women require male permission to work, study and travel. They are not allowed to drive or open a bank account.
A spoksperson told CNN: "At Starbucks, we adhere to the local customs of Saudi Arabia by providing separate entrances for families as well as single people. In addition, all our stores provide equal amenities, service, menu, and seating to men, women and families.
"We are working as quickly as possible as we refurbish our Jarir store so that we may again welcome all customers in accordance with local customs."
Some, though, have questioned whether Starbucks should be trading under such strict laws, especially after the company pledged to hire 10,000 refugees in response to President Trump's travel ban.
http://honey.nine.com.au/2017/02/07/11/18/saudi-arabia-starbucks-women-banned
--------
Typical Girl-Meets-Girl in Malaysia Gets Married In Indonesia Story
February 6, 2017
PETALING JAYA: Two Indonesian women, who had met in Malaysia as migrant workers, are now under investigation after getting married in the hometown of one of the women in Sumatera, The Jakarta Post reported yesterday.
The same-sex marriage, which is illegal in Indonesia, took place after one of the women was found to have disguised herself as a man, according to police.
The two women returned from Malaysia last November and the "male spouse" using the name Farel, was officially married to Salmah at the latter's hometown of Tanjongbalai in North Sumatera. Two days later, Farel went to Malaysia, as her "wife" remained.
The whole affair came to light after Farel was found to have given birth last Thursday just a week after returning from Malaysia. She had dumped the baby just 50 meters from Salmah's house.
Residents confronted the couple after becoming suspicious that it was Farel who had abandoned the baby.
"Farel told us she was a widower with a child, so we were not suspicious when she married Salmah," Daman Wuri, who lives nearby, was quoted as saying by The Jakarta Post.
An officer with the Tanjungbalai police said Farel acknowledged being a woman, saying she dumped her baby to cover her disguise.
Meanwhile, Salmah claimed to be innocent of the charge of same-sex marriage, telling police that she did not know Farel was actually a woman.
According to police, Salmah said she also did not have any intimate relationship with Farel, even after their marriage.
"I am still normal," she was quoted as saying by Jakarta Post, adding that if she had known, she would not have married Farel.
http://www.freemalaysiatoday.com/category/nation/2017/02/06/typical-girl-meets-girl-in-malaysia-gets-married-in-indonesia-story/
--------
Saffron Shawl Vs Hijab: ABVP's Goonda Elements Demand Burqa Ban in College
Feb, 07 2017
Shivamogga: ABVP activists demanding to continue the ban against HIJAB that has been lifted following a directive from the varsity.
According to Times of India reports, the Sahyadri Science College, affiliate to Kuvempu University on Friday has lifted the restrictions against the Muslim girls' hijab or headscarf that had been in force since the start of the current academic year.
Although the college has no objection to the Muslim girls wearing hijab or headscarves but the male students reportedly protesting that they would continue to sport saffron shawl till hijab was banned on the campus.
The Muslim students staged a protest in front of the Deputy Commissioner office against atrocities on Muslim girls, Mangalorean.com reported.
Addressing the protesters Shabana said, "From the past two days ABVP members are opposing Muslim girls from entering the campus wearing the Burkha. The students who come wearing the Burkha have been harassed and physically assaulted. We the Muslim girls do not have protection in the college. We need safety while pursuing our education. Two days ago the Kuvempu University has clarified that there is no dress code for students, but the ABVP are creating problems for the Muslim girl students", she said.
They also alleged that goons from outside come to the campus and create problems and the lecturers support them.
A month ago, anti-hijab agitators of the college, who apparently vow loyalty to hard-line Hindutva groups demanded the college authorities to impose ban on hijabs on the college campus.
H Shakuntala, Principal of Sahyadri Science College said, "It was the university's decision. I cannot comment on the issue."
http://www.siasat.com/news/saffron-shawl-vs-hijab-abvps-goonda-elements-demand-burqa-ban-college-1125918/
--------
Lucknow's all-women mosque to be powered by solar energy
February 7, 2017
Lucknow (Uttar Pradesh) [India], Feb. 7 (ANI): Shaista Amber, president, Muslim Women Board Law Board, who has been an almost-lone crusader in the fight for the fundamental rights of Muslim women, now has another laurel to her name.
In a unique move towards improving Lucknow's air quality, the city's first all-women mosque will now be powered by solar energy. The mosque on the PGI Road will operate on 100 percent clean and renewable energy, all credits to Amber.
The foundation stone for the Amber mosque was laid by famous Islamic scholar and prominent personality late Hazrat Ali Miyan Nadvi.
Amber founded the All-India Muslim Women's Personal Law Board as a counter to the Muslim Law Board in order to provide a better life to the Muslim women.
The mosque that was established way back in February 1997 was initially built for women. It later was thrown open to men as well.
The mosque helps the women of the Muslim community to deal with things such as 'talaaq' and helps educating the girl child, providing medicine and so on. It's said that Amber opened this mosque in defiance against the patriarchy that exists within the Muslim community.
The decision to power it by solar energy came after studies showed the harmful effects of coal on the establishment.
Amber says the motivation to build the mosque came after she was denied entry in a mosque in 1997.
"Once, me and my eight-year-old son went to visit a Mosque in the city. He was allowed inside, but I wasn't. The bias against the women shook me, which motivated me to build this mosque. Everybody, irrespective of the gender or economical status, can offer their prayers in this mosque," she said.
"Then, I realised the state of pollution in the environment. And hence, took up this challenge of powering it through solar power. Through this, I want to give a message to all to start using renewable sources of energy," she added.
Amber further motivated the people to protect and utilise God's gifts.
Amber had founded the Board almost two decades back to address the issues of Muslim women, like triple talaq, girl education and much more as well as to counter the patriarchal norms of other Muslim law boards of the country. (ANI)
http://www.india.com/news/agencies/lucknows-all-women-mosque-to-be-powered-by-solar-energy-1817043/
--------
Man admits ripping off Muslim woman's niqab in UK
February 6, 2017
A 55-year-old British man today admitted in a UK court to ripping off a Muslim woman's niqab or full face veil in a shopping centre and yelling "you are in our country now". Peter Scotter, of Roker, Sunderland, appeared at Newcastle crown court to admit racially aggravated assault by beating and a separate charge of racially aggravated harassment.
Both offences were based on Scotter's hostility towards a particular religious group, namely Islam, the court heard. Tony Hawks, defending, said Scotter had been diagnosed with a serious cancerous tumour under his tongue last week and was due to have an operation next Monday.
"I have seen some documentation showing that the diagnosis is pretty bad," the barrister was quoted as saying by the Press Association. The judge, Stephen Earl, was quoted as saying that he would sentence Scotter later, once he had heard more details about the diagnosis.
"This is a custodial-band sentence, given his record and the nature of his actions," the judge said.
A previous hearing at Sunderland magistrates court heard how Scotter left his victim terrified when he attacked her in July. Laura Lax, prosecuting, told the hearing the woman was waiting with her nine-year-old son for her husband outside a store in Bridges shopping centre in Sunderland when a man "purposefully" walked towards her and grabbed her niqab or the full face veil.
The force he used almost threw her to the ground and the niqab came away from her face, exposing her and causing pain to her neck. A witness heard Scotter shout, "Here, take that (expletive) off, you are in our country now."
Scotter's previous convictions include actual bodily harm and racially aggravated criminal damage.
http://indianexpress.com/article/world/man-admits-ripping-off-muslim-womans-niqab-in-uk-4511068/
--------
UAE to be in the forefront of women's empowerment
February 6, 2017
Dubai: The UAE aims to be among the top 25 nations worldwide excelling in the field of women's empowerment, speakers at a panel meeting on women's empowerment said on Monday.
The first meeting of the United Nations Secretary General's High-Level Panel on Women's Economic Empowerment in the Middle East and North Africa (Mena) region, was hosted by the UAE Gender Balance Council in Dubai. The event, which was inaugurated by Shaikh Hamdan Bin Mohammad Bin Rashid Al Maktoum, Crown Prince of Dubai, was attended by government representatives and leaders from business, academia and civil society.
Women's empowerment is a key target in the UAE's national strategy, aimed to be achieved by 2021, Shaikha Lubna Al Qasimi, Minister of State for Tolerance, said at the opening ceremony. "As a part of our strategy, we aim to place the UAE as one of the countries at the forefront of women's empowerment. Providing equality in education opportunities is a key in achieving women's economic empowerment," she said.
Shaikha Lubna emphasised the need for governments to form partnership with different entities, NGOs and international organisations to remove obstacles that hinder opportunities for women. She stressed the need to create equal opportunities of entrepreneurship for women.
Shaikha Lubna highlighted the cooperation between the UAE and the UN in electing the UAE as member in the UN Women, the United Nations Entity for Gender Equality and the Empowerment of Women, for two terms (2013-15 and 2016-18). Al Qasimi said UAE contributions to UN Women amounted to $12 million and the UAE Government supported the establishment of the UN Women's office in Abu Dhabi to liaise with Gulf Cooperation Council countries.
Phumzile Mlambo-Ngcuka, United Nations Under Secretary General and Executive Director of UN Women, said the UN is targeting partners that can help achieve our targets. "These partners include the G20 governments, who in 2014 agreed to bring more than 100 million women into the labour force," she said.
Mlambo-Ngcuka said that currently, only one per cent of goods and services are procured from women. "We are here to highlight some of the key initiatives not only in countries where women are significantly left behind, but also in countries that are relatively advanced, because at this point there is no country that has attained gender equality," she said.
The ongoing discussions are also pushing for initiatives to address equal pay for work of equal value between men and women. The report, which will be themed — "strengthening the global call to action and sharpening our recommendations, especially through partnerships — is set to be published in March 2017.
170 years to achieve gender equality
Speakers also addressed findings drawn from statistics, showing that at our current pace, gender equality will take 170 years to achieve. "We are pushing forward for work that we need to do in the rest of the world in changing laws that discriminate against women in 80 per cent of countries. Only one in eight countries in the world are free from [discriminatory laws]," said Mlambo-Ngcuka.
She further explained that efforts to address stereotypes and norms that continue to discriminate against women, as well as the issue of violence against women — a challenge that exists in every country — are also ongoing. "We will only know that a country has attained equality when it has addressed all its economic issues, but in particular it is free from violence against women," added Mlambo-Ngcuka.
Gender equality in UAE
Women make up 66 per cent of public sector workers, and 30 per cent of them are in leadership roles.
Women aged 15 years and above constitute 46.6 per cent of UAE's labour force.
Women occupy about 75 per cent of positions in education and health sectors.
The UAE has eight women ministers, making it one of the highest rates of ministerial representation in the region.
Women representation in the Federal National Council stands at 20 per cent.
95 per cent of female high school graduates pursue higher education.
UAE ranked first in the 2015 World Economic Forum report on the literacy rate indicator and on women's enrolment in secondary education index.
UAE ranks first among 132 countries in the 'women treated with respect' indicator in the Social Progress Index 2015 report.
http://gulfnews.com/news/uae/society/uae-to-be-in-the-forefront-of-women-s-empowerment-1.1974098
--------
Vogue Arabia's Princess-in-Chief Wants Arab Women to Be Seen as More Than Just Big Spenders
Feb, 07 2017
Vogue Arabia is launching a print edition under its first editor-in-chief, Princess Deena Aljuhani Abdulaziz. (Yes, a princess.) And she's faced with the challenge of running a magazine that has to present high fashion in a moderately conservative light, with a few restrictions.
The debut print issue, which hits newsstands this spring, will expand Vogue Arabia beyond its digital presence and follows a digital edition of the magazine that was released in October. As is required of most Vogue leaders, Abdulaziz is a fascinating character.
In a lengthy New York profile titled "The Anna Wintour of the Middle East," writer Amy Larocca describes Abdulaziz, 42, as a big student of fashion with a "throaty voice" and "a theatrical way of announcing things, a sort of Diana Vreeland lite." Born in California, she traveled wherever her dad went as an economist/professor, living in both the U.S. and Middle East. She first became obsessed with magazines when she was six, reading Tatler. A DJ Khaled congratulations video is in her Instagram feed.
"I discovered fashion and I never looked back. And when I first discovered Vogue, I was like, There are other people that do this!" she says. "I didn't grow up with a Vogue of my own, one that reflected my identity, that reflected my background, my area, my authenticity. So for me to actually be present for that? It makes it very, very beautiful."
Vogue Arabia happens to be launching in print at the perfect time, with growing anti-Muslim sentiment around the world, a lot of it from our own president. One might expect the magazine to take bold political stances, but it comes with limitations. Before its launch, the magazine, per the Financial Times, revealed that it intends to "avoid nudity and religious symbolism; while gay designers will feature, it will be without discussion of their sexuality."
Abdulaziz considers political discussions to be largely outside of her job's purview, though she does share strong views on the ways the Western world sees Middle Eastern women as spenders and not influencers. Larocca writes:
Abdulaziz declines to comment on political issues several times over the course of our meeting, insisting that she does not view her role that way. But it is clear that she is frustrated by what she sees as the very limited ways in which the West treats Arab, and Muslim, women — frustrated that the accomplishments of her friends are often overlooked, that while Middle Eastern women are welcome in fashion as long as they spend huge amounts of money, this welcome comes with limits (and, frankly, prejudice). She fears that many in the West see Muslim women as a monolithic emblem of oppression, and she is emphatic that nothing is so simple.
Even if it's within the context of a high-end glossy fashion magazine, Abdulaziz wants to present a more nuanced perspective of Arab women and no doubt these views inherently inform her leadership. "Arabs have been responsible for making couture stay in business from the late '60s through today," she says. "I would like to shed light that we have actually been around way before other emerging areas came into the picture, and I'd like to understand why we are undervalued and looked on as people who just spend money. That bothers me. Of course it does. For good reason."
The New York story goes on to describe the Arabian Peninsula, especially Dubai, as a center for couture and spending, citing a Thomson Reuters stat that "Muslim consumers spent $243 billion on clothing in 2015 (11 percent of the global market); the figure is predicted to reach $368 billion by 2021."
Vogue Arabia now has the task of reflecting that consumerism while also showcasing the style that originates in those regions:
Early pages from the print edition of Vogue Arabia indicate that the clothing featured lies somewhere between the British and French Vogues where modesty is concerned. (The French still love nothing more than printing a nipple; the British and Americans do not, and tend, in the end, toward a fairly conservative ideal.) Abdulaziz is looking for models who reflect the region, a task she concedes is difficult, as many Muslim families see the profession as "one step from harlot," but as the world changes, she is hopeful that this, too, might change.
Abdulaziz herself has undeniable style (Christian Louboutin named a shoe after her):
So it's no surprise that she'd already appeared in New York's fashion-on-the-streets Look Book section prior to this profile (there, she copped to loving Jessica Simpson's lip gloss). The writer, Larocca, describes meeting Abdulaziz in front of Barneys New York in 2004:
She was well dressed but normally so for the neighborhood, an uptown woman out for a stroll in expensive but quiet versions of things: a Prada T-shirt, Miu Miu shoes, an Hermès bag. I was scouting for a photo shoot for this magazine's "Look Book," and we stopped her and asked her to pose. She declined at first, citing privacy concerns to do with her family. A picture in a magazine? Never! But her husband, the Saudi prince Sultan bin Fahad bin Nasser bin Abdulaziz, whom she married in her early 20s, encouraged her, and we took her picture right there on 61st Street.
At the time, Abdulaziz was a stay-at-home mom with three kids, living in both New York and Riyadh, where she later opened her own boutique, D'NA. She talks about going to extravagant parties attended solely by women back home:
When Abdulaziz is home in Riyadh, most socializing is segregated by sex, she explains, which means the fashion stakes are even higher. "Let's face it," she says, "who do we really dress for?" At these female-only parties, members of the country's elite often wear full, current runway seasons hidden beneath abayas until the doors are closed, and some of the women in Abdulaziz's set even employ makeup styles to replicate the accompanying runway beauty. "She told me, 'Every single night, it's basically the Met Ball,'" says one American friend who visited Abdulaziz in Riyadh.
"You're never going to see an Arab girl trying to look like the French — lank hair, no makeup," Abdulaziz explains. "I mean, no. That is not what we do." She laughs. "Who thinks it looks better to not wear makeup?" She shakes her head at the inanity.
Larocca writes:
Here was a woman fashion women could relate to, and her high profile made her an obvious choice when Condé began hunting for someone to helm its magazine. She sold her boutique (which had expanded with a second location in Doha) and started commuting to the magazine's offices in Dubai in 2016.
The writer notes that "many of Vogue's potential readers are excited by the idea of a magazine with the desire to show off the work of Arab women." The profile also breaks down Condé Nast's road to launching Vogue Arabia.
http://jezebel.com/vogue-arabias-princess-in-chief-wants-arab-women-to-be-1792050348
--------
URL: https://www.newageislam.com/islam,-women-and-feminism/new-age-islam-news-bureau/isil-terrorists-transfer-female-captives-from-iraq-s-mosul-to-syria/d/109990
New Age Islam, Islam Online, Islamic Website, African Muslim News, Arab World News, South Asia News, Indian Muslim News, World Muslim News, Womens in Islam, Islamic Feminism, Arab Women, Womens In Arab, Islamphobia in America, Muslim Women in West, Islam Women and Feminism, Moderate Islam, Moderate Muslims, Progressive Islam, Progressive Muslims, Liberal Islam