New Age Islam News Bureau
31 October 2020
• Muslim Women's Forum Condemns The Murders Of Samuel Paty And Three Others In A Church In Nice
• Activist Naish Hasan Advocates Equal Rights For Muslim Women
• Bahrain Vows Support For Global Woman Empowerment Efforts
• Women Leaders Essential To Global Peace, Progress, UN Chief Tells Security Council
• Sindh Govt Will Approach Courts To Review Underage Christian Girl Marriage Case: Bilawal
• Mehwish Hayat Rejoices Reunion Of Pakistan's Women Football Team
Compiled by New Age Islam News Bureau
URL: https://www.newageislam.com/islam-women-feminism/iraqi-women-activists-slam-second/d/123333
--------
Iraqi Women's Activists Slam Second-Marriage Loans For Encouraging Polygamy
31 October 2020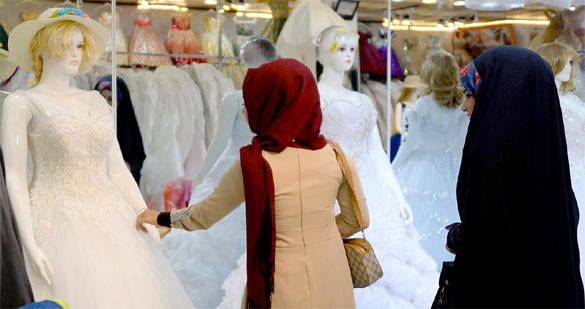 Iraqi women look at wedding gowns outside a bridal shop in the central Iraqi city of Diwaniya (AFP)
-----
A move by one of Iraq's largest banks to offer loans to civil servants for second marriages has been condemned by lawmakers and women's rights activists as promoting polygamy.
With the government passing through a deep financial crisis and nearly a month behind in paying public sector salaries, the state-owned Rashid Bank on Wednesday announced it was offering a 10m dinar ($8,389) loan to government employees - either men or women - for the purpose of arranging a second marriage. The loan is to be paid back in five years, with an interest rate of six per cent.
In a statement, the bank said the loan was for "employees who are divorced and widowed and want to marry for the second time," adding that those applying "should not have previously availed of marriage finance, and must have at least two years in service".
Although the bank said the loan was aimed at the divorced and widowed, some have suggested the scheme will incentivise polygamous marriages.
Polygamy is legal in Iraq, though rare, with less than 2 percent of people living in polygamous households, according to a 2019 Pew Research report.
Nevertheless, activists have raised concerns about the scheme.
"Marriage is a sacred process, but the bank's second-marriage loan might encourage some people to exploit women until they receive the sum, or prompt poor families or relatives of the widowed to force them to marry men who have another wife just for the sake of getting the 10 million dinars," Srud Ahmed, head of the Iraqi Al-Amal Association Kirkuk office told MEE.
Ahmed said that it could also incentivise divorce in some cases.
She also noted that the second-marriage loan would not deal with the issue of thousands of Iraqi widows who needed jobs and projects in order to be able to raise their children.
Iraq has millions of widows as a result of wars with Iran and Kuwait as well as due to internal conflicts.
According to a survey by the Iraqi planning ministry in 2016, nearly two million Iraqi women were widowed or divorced. The bank has said its second-marriage loan was in response to increasing demands.
However, Ahmed said the government should be employing the women by offering loans for small-business projects, not giving them loans in order to encourage them to "buy a man" and said she had asked Iraqi Prime Minister Mustafa al-Kadhimi to intervene to remove the offer.
Hanan Al-Fatlawi, an adviser to Kadhimi on women's affairs, has already tweeted her condemnation of the loans.
"It is shameful that such a statement comes from a respectable government bank... women are not a commodity to be displayed or sold," she tweeted.
Wrong priorities
Iraq's 1959 Personal Status law, introduced by the left-wing president Abd al-Karim Qasim, heavily restricted the ability of men to take more than one wife, requiring the permission of a judge, proof of the husband's financial capability, and a justification such as the inability of his first wife to bear children.
In 2017, lawmaker Jamila al-Obeidi advocated for the government to offer financial incentives for husbands to take multiple wives as a means of dealing with the growing number of widows in the country a result of Iraq's many conflicts.
With Iraq's economy in freefall, however, some politicians and economists in Iraq have argued the marriage loan is a misapplication of ever dwindling funds.
Rezan Sheikh Dler, a Kurdish lawmaker in the Iraqi parliament, told MEE in a phone interview that the loan turned "women into commodities".
"In a country like Iraq the conditions for polygamy are very simple," she said.
"Iraq's circumstances are very hard; the government should prioritise finding jobs and paying loans for the youth."
The United Nations Development Programme in its October report on the impact of the Covid-19 pandemic on the Iraqi economy warned that the country's gross domestic product was expected to fall by nearly 10 percent in 2020, while the fiscal deficit was forecast to reach the unprecedented level of nearly 30 percent of GDP in 2020.
Economists caution that the loan will have serious negative implications on Iraq's rentier economy, which is already shrinking due to the international oil price decline.
"The offer will lead to pouring a lot of Iraqi dinars into the market and boosting the demand on marriage needs; therefore it will increase inflation, drop the purchase power as well as the price of the Iraqi dinar versus the US dollar," Khalid Haider, professor of economy at the University of Sulaimani told MEE.
"If the bank had to offer the loans for working-age youths and engage them in small-businesses, I think it would be better than just a second-marriage loan and eventually be more advantageous for the Iraqi community."
Speaking to MEE, Rashid Bank's spokeswoman, Amal al-Shuwaili, said the loan scheme came as a result of increasing demand from both male and female divorcees and widows.
"We are neither promoting nor forbidding the second wife - this is not related to our duties. Social media pages have created such uproar and misunderstanding," she said.
She pointed out that government employees now have low incomes and the costs of marriage are too high. She added that the source of the bank's capital was deposits from the rich, clarifying that the bank has nothing to do with paying salaries to government employees.
https://www.middleeasteye.net/news/iraq-bank-women-second-marriage-loan
--------
Muslim Women's Forum Condemns The Murders Of Samuel Paty And Three Others In A Church In Nice
31.10.20
Pheroze L. Vincent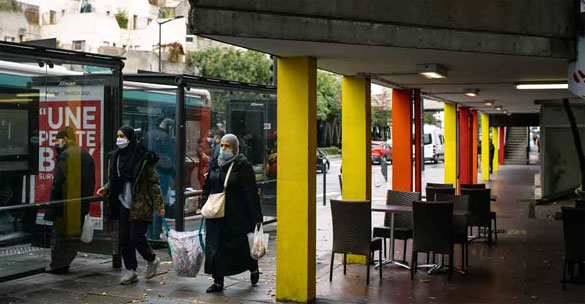 Shoppers in Ivry-sur-Seine, a working-class suburb east of Paris, France
NYTNS
-----
Two among the largest organisations of Indian Muslims have focused on the reaction of the French government to the beheading of schoolteacher Samuel Paty rather than on the knife attacks.
But an unequivocal condemnation of the murders of Paty and three others in a church in Nice on Thursday has come from the Muslim Women's Forum, India. The forum works for the empowerment, inclusion and education of Muslim women.
A statement signed by former Planning Commission member Syeda Hameed, one of the founders of the forum, and others said on Thursday: "We remind ourselves of the Quranic injunction — 'killing an individual is like killing an entire quam (humanity) (Surah 5:32)'. Such an act cannot be accepted by any democratic and civilised society. We want that the perpetrators of the crime are brought to justice quickly."
One of the signatories, civil rights activist Shabnam Hashmi, told The Telegraph: "Most people are caught up with politics within the country, on which Islamophobia is present. They find it difficult to come out of that prism and do not see extremists among Muslims too. In the last few decades, conservatism has grown in the community. In my youth, we could speak about topics that are called blasphemous today."
Bhopal, Mumbai, Hyderabad and Aligarh have seen protests against France amid calls in some places for a boycott of French goods.
N.P. Ashley, who teaches English at St Stephen's College in Delhi and is part of education programmes in his community of Moplah Muslims in Kerala, said the protests in India had brought together conflicting streams of Muslim politics.
"We are seeing two kinds of protests: one by conservatives who feel that you can't insult the Prophet. The conservatives may be illiberal but they aren't communal. The second is by Islamists who seem to view the developments as a rerun of the crusades. This is communal and it rejoices in acts like the conversion of the Hagia Sofia into a mosque by Urdugan (Turkish President Recep Tayyip Erdogan)," Ashley said.
"Islamists think of Islam as a civilisation, just like the Islamophobes. The fear of majoritarian targeting or anti-Muslim bigotry should not make Muslims lose their sense of ethics or perspective."
Author and journalist Ziya Us Salam said: "Outside France reacts to the perceived actions of the French government — which is not a civil society response. When the government puts pictures of the Prophet on buildings, coupled with the statements of Macron, these are seen as acts in bad spirit which are deliberately provocative. No one in a proper frame of mind has justified the killings."
Paty was beheaded by Chechen refugee Abdoullakh Abouyedovich Anzorov in a Paris suburb on October 16 for displaying cartoons on the Prophet Muhammad during a class on free speech. Such cartoons are seen as blasphemous by Muslims.
Cartoons published by satirical weekly Charlie Hebdo in 2006 and 2012 had been cited as a motive for the attacks on its offices in 2011 and 2015 in which 12 cartoonists were killed.
Macron has supported the slain teacher and the right to publish cartoons, which have been projected on public buildings in the country after the incident.
On October 21, Macron said: "We will defend the freedom that you (Paty) taught so well, and we will strongly proclaim the concept of laïcité (secularism). We will not disavow the cartoons, the drawings, even if others recoil. We will provide all the opportunities that the Republic owes all its young people, without any discrimination."
This, as well as his speech on October 2, in which he called Islam a "religion in crisis", drew condemnation from Turkey, Pakistan, Saudi Arabia and Iran.
India has condemned the language being used against Macron, after Erdogan said Macron needed a mental health check.
Twitter has deleted a post by former Malaysia Prime Minister Mahathir Mohamad saying Muslims had the right "to kill millions of French people" for the atrocities of colonialism — a sentence he said was taken out of context.
The full posts of Mahathir said: "Muslims have a right to be angry and to kill millions of French people for the massacres of the past. But by and large, the Muslims have not applied the 'eye for an eye' law. Muslims don't. The French shouldn't."
On Tuesday, the Jamaat-e-Islami Hind, one of the oldest conservative political groups among Muslims, condemned Macron for his alleged Islamophobia.
Jamaat president Syed Sadatullah Hussaini said: "French President Emmanuel Macron is openly exhibiting Islamophobia, one of the reasons for which is his government's failure on various fronts. For the past few years, one has observed a fair degree of extremism among the Far Right political and non-political groups. It appears as though Macron is resorting to Islamophobia to discredit these organisations…. The French government should objectively evaluate the issue of teacher Samuel Paty, the act by the Chechen student and its aftermath in the context of politics, sociology and psychology."
On Wednesday and Thursday, the Jamiat Ulama-i-Hind, a national body of clerics led by Maulana Mahmood Madani, had issued statements condemning Macron and the Indian government's support for him.
Terrorism was condemned but the group blamed France for "encouraging terrorism".
Madani said on Thursday: "This attitude of the Government of India reflects hostility towards Islam and Muslims. This will no doubt inflict hurt upon not only the 20 crore Muslims of the country but Muslims of the entire world as well secular-minded people."
In a statement, his group said: "Jamiat condemns every form of terrorism committed by any individual, organisation or State. But at the present, France itself is encouraging terrorism."
https://www.telegraphindia.com/india/no-ifs-and-buts-muslim-womens-voice-stands-out/cid/1796097
--------
Activist Naish Hasan advocates equal rights for Muslim women
Oct 29 2020
New Delhi, Oct 29 (IANS): Women's rights activist and granddaughter of freedom fighter late Nazim Ali, Naish Hasan, who hails from Lucknow, has become the voice of Muslim women today. For the past two decades she has been fighting for women's rights which include complete freedom for Muslim women.
She is the first woman in the country having a Ph.D in the study of Muslim women who are victims of practices like Nikah-Halala. She had approached the Supreme Court against practices in the Muslim community such as Nikah-Halala, Nikah-Mut'ah, Misyar marriage, polygamy and the current Sharia law of 1937.
Naish Hasan hails from Teri village in Sultanpur district of Uttar Pradesh. In 1916, her grandfather Nazim Ali at the age of 20 dedicated his life to the freedom struggle and continued to fight till 1947. After Independence, he was elected the first MLA from Jaisinghpur assembly constituency.
Naish Hasan, an M.Phil in Sociology from Lucknow university and a Ph.D from Shakuntala Mishra university, told IANS that her grandfather faced taunts from the society when he encouraged his daughters to study. But her grandfather was a progressive thinker who always swam against the tide and kept motivating all young Muslim women to study. He was among those Muslim leaders who vociferously opposed the Muslim League.
Pursuing her higher studies, Naish Hasan came across many cases where Muslim men had given 'triple-talaq' to their wives and thrown them out of the house over small issues. Hearing the painful stories of such women, Hasan decided to become the voice of Muslim women.
Since 2005, she has been raising her voice against 'triple talaq'. She became the most vociferous voice in the Shah Bano case for which she faced widespread criticism and opposition within the Muslim community.
However, carrying forward the legacy of her grandfather Nazim Ali, Naish stayed firm on her mission. 'Triple-talaq' became a topic of discussion in the country due to her raising the issue repeatedly. Following this, the women who were victims of triple-talaq also started coming forward to fight for their rights.
Naish Hasan told IANS that she started researching extensively to know more about 'Triple-talaq, Nikah- halala, Nikah- Mut'ah and Sharia. For this she made several trips from Mumbai to Hyderabad. Now she can debate on them with any lawyer. Through logic and facts, she is gradually succeeding in changing the mindset of the people in the society.
Hasan told IANS, "Many things were spread in the society. When I started investigating the prevalent practices in the society, I came to know that the Quran does not mention any such practices. These are all Muslim clergy's interpretations. To oppose such evils, I started raising my voice against them."
Hasan said the women waiting for justice were shattered in 1986 when the verdict in the Shah Bano case was overturned. After a long time when another woman Shayara Bano approached the court, Muslim women's demand for justice received a fillip. After the abolition of triple-talaq, Muslim women are now waiting for the eradication of Nikah-Halala and Nikah- Mut'ah. A speedy verdict is expected soon on the petition pending in the Supreme Court on these two issues.
On the issues relating to the country and religion, Naish Hasan said the patriotism of the Muslims in India is as intense as ever. It is shameful for some people to doubt their patriotism or emphasize more on their religious identity.
She said, "I believe that a person has many identities, it is wrong to link it only with his/her religious identity. Being a Muslim is one of many identities, but yet it is regarded the primary identity. There are both good and bad people in the society."
She added, "It is dangerous to target a specific community. My grandfather Nazim Ali is an example of patriotism and mutual harmony who sacrificed his life for the country. Those with extremist ideology used to be jealous of him. He loved his country which was not acceptable to some small-minded people that is why after his death the prayers during his funeral were not read by the people with radical views. Muslims are as patriotic as everyone else."
Do you feel discriminated against as a Muslim? Naish Hasan said it is shocking that religious identity matters more in big cities than in small ones. On some occasions she felt discriminated against especially when looking for a house on rent.
http://www.daijiworld.com/news/newsDisplay.aspx?newsID=765986
--------
Bahrain Vows Support For Global Woman Empowerment Efforts
October 30, 2020
MANAMA — Bahrain affirmed its support for all international efforts for the advancement of women, achieving gender balance in all developmental and humanitarian fields, and enhancing their contribution as an active partner in security, peace, and sustainable justice.
This came during a speech delivered by Bahraini Permanent Representative to the United Nations Ambassador Jamal Faris Al-Ruwaie to the Security Council during a virtual meeting held by the council on women, peace, and security.
The permanent representative said that this year marks the celebration of events concerned with women, security and peace, the 75th anniversary of the establishment of the United Nations, the 25th anniversary of the adoption of the Beijing Declaration and Platform for Action, the 20th anniversary of the adoption of Security Council Resolution 1325, which provides for equal participation for men and women at all levels, and to involve women in the processes of maintaining peace in light of disasters and conflicts that befall humankind.
He explained that Bahrain, under the leadership of King Hamad bin Isa Al Khalifa, supports the participation of women in decision-making posts and public affairs, and aims to enhance women's role as an equal partner in dealing with current and future challenges and opportunities.
He also indicated that the Supreme Council for Women, presided by Princess Sabeeka bint Ibrahim Al Khalifa, wife of the king, launched specific initiatives to provide the needs of Bahraini women in line with the 2030 Agenda for Sustainable Development while continuing to respect their international commitments contained in the Beijing Declaration and Platform for Action, in addition to Security Council Resolution 1325.
He pointed out that based on Bahrain's belief in the importance of education in empowering girls and women, the Kingdom took the initiative to establish a number of schools in the Syrian refugee camps in the countries neighboring Syria, as well as in the Gaza Strip.
The permanent representative also stressed that in light of the emerging global crisis, there is a need to lay the foundations for peace, reiterating Bahrain's support for the call made by the secretary-general of the United Nations in the first months of the pandemic for an immediate global ceasefire and harnessing international efforts to confront COVID-19. — Bahrain News Agency
https://saudigazette.com.sa/article/599759/World/Mena/Bahrain-vows-support-for-global-woman-empowerment-efforts
--------
Women leaders essential to global peace, progress, UN chief tells Security Council
October 30, 2020
NEW YORK — Women continue to be under-represented in key decision-making over the battle against COVID-19, the chief of the UN gender empowerment agency said on Thursday, addressing the Security Council, adding that the situation is even "worse for women in conflict areas".
"In war zones and everywhere in the world", individuals are "calling for inclusion and representation, which is one of the main reasons why so many ordinary people are taking to the streets, organizing protests and raising their voices", UN Women Executive Director Phumzile Mlambo-Ngcuka emphasized to the 15-member body.
Meanwhile, UN Secretary-General António Guterres reiterated his call for a global ceasefire, underscoring that the COVID-19 pandemic is "the greatest test" the international community has faced since World War II.
"I appealed for an immediate global ceasefire so that we could focus on our common enemy: the COVID-19 virus", he said.
Pointing to the 20-year-old landmark resolution 1325, he noted that in supporting the global ceasefire, the Security Council made a "strong and valuable link" to the women, peace and security agenda.
Citing the resolution, Guterres observed that COVID-19 is having a disproportionately negative impact on women and girls, leaving them victims of rising gender-based violence while simultaneously diverting resources from their health care, including sexual and reproductive services, as well as threatening long-term impacts on women's employment and girls' educations.
"This will contribute to the continued marginalization of women from political decision-making and peace processes, which damages everyone", he upheld.
Moreover, women are on the front-line responses of the pandemic, keeping communities, economies, and societies running through their crucial work as care givers, nurses, teachers, and farmers, among other vital services. And they are peacebuilders at the local level and in communities around the world.
"We must also recognize women who step up every day in conflict zones to help those at risk, mediating between groups to enable access by civilians and humanitarian aid, building trust and strengthening social bonds", Guterres continued.
Noting that the resolution calls for women to be in positions of leadership and decision-making, the top UN official remarked their "remarkable" successes in containing the pandemic while also supporting livelihoods.
"This confirms an obvious truth: Institutions, organizations, companies, and yes, Governments work better when they include half of society, rather than ignoring it", he stressed, saying that women are "essential to peace and progress for all".
In addition to turning the climate crisis around, reducing social divisions, and making sustained peace, "women's leadership in all spheres will be critical to finding the fastest, safest route through this pandemic, and to building a more peaceful and stable future", added the secretary-general.
Over the past two decades that the resolution was adopted, women have made important strides toward inclusion, but gender equality remains aloof.
The UN chief painted a picture of power structures dominated by men, including that women lead only seven percent of the world's countries; mostly men make decisions about international peace and security; and while women are represented in UN mediation teams, "they remain largely excluded from delegations to peace talks and negotiations".
Women's meaningful participation in mediation "broadens the prospects for peace, stability, social cohesion, and economic advancement", stated the secretary-general, advocating for innovative, "rapid and decisive' solutions to include them in peace processes.
"Women must be included as a priority from the outset", he said urging all states to use their "political influence, funding and support to incentivize and create conditions for women's equal representation and participation in peace talks".
The UN chief outlined his work in ending discrimination against women within the Organization and affirmed the importance of women's "full participation for uniformed personnel".
He commended the Council for passing the first resolution this year focused on women in peacekeeping, noting that although the numbers are still too low, they continue to increase significantly, which is an important trend as women bring their own perspectives and expertise to every issue, including peace and security.
The women, peace, and security agenda challenges the relentless focus on the interstate conflict at the expense of measures to protect women with 20 years of research and practice demonstrating the close links between gender equality, conflict prevention, and peace.
"For Governments and international institutions everywhere, gender equality is one of the surest ways of building social cohesion and trust, and inspiring people to be responsible, participating citizens", he flagged.
"We cannot wait another twenty years to implement the women, peace and security agenda", concluded the secretary-general. "Let's start that work together, today".
Adding her voice, UN Women Goodwill Ambassador Danai Gurira, who is also an actor and award-winning playwright, said that when women make their mark "in spite of impossible odds" it was not because they were given "space and the opportunity, but because they protested against their exclusion and persisted".
In her briefing, Zarqa Yaftali, Afghan activist and executive director of women and children legal research foundation said that "peace cannot come at the cost of women's rights".
"All we have achieved hangs in the balance in the current negotiations between the Taliban and the Afghan Government", she asserted. — UN news
https://saudigazette.com.sa/article/599761/World/America/Women-leaders-essential-to-global-peace-progress-UN-chief-tells-Security-Council
--------
Sindh govt will approach courts to review underage Christian girl marriage case: Bilawal
30 Oct 2020
PPP chairperson Bilawal Bhutto-Zardari on Friday said the Sindh government will approach the relevant courts to seek a review in the case of Arzoo, a teenage Christian girl who was allegedly abducted from her Karachi residence before being forcefully converted and married off to a Muslim man.
Bilawal's statement comes a day after a sessions court in Karachi granted post-arrest bail to three suspects detained for allegedly abducting Arzoo, who is said to have converted to Islam.
"GOS (Government of Sindh) will approach the courts to review the #ArzooRaja underage marriage case, clear up any misunderstanding the honourable court may have, and do everything in their power to provide justice," the PPP chairman said in a tweet.
He added that the PPP-led provincial government had passed the Sindh Child Marriages Restraint Act in 2013 and it will "continue to fight for it to be implemented".
The alleged abduction of 13-year-old Arzoo had sparked protests from human rights groups against her purported forced conversion and underage marriage with a Muslim man.
Police claimed to have booked her purported husband Syed Ali Azhar and detained his two brothers — Syed Shariq Ali and Syed Mohsin Ali — along with his friend Danish over their alleged involvement in Arzoo's abduction on October 13. All the three detained men were said to be police officials.
On Thursday, the three detained suspects moved applications before additional district and sessions judge (South) Faiza Khalil seeking grant of post-arrest bail to them.
Their defence counsel Hidayat Ali Leghari contended that an application was filed with the judicial magistrate concerned for recording Arzoo's statement under Section 164 of the Criminal Procedure Code (CrPC). However, the same could not be done.
He further said that later the girl purportedly recorded her statement before the Sindh High Court, in which she stated that she had embraced Islam out of her free choice and had solemnised a free-will marriage with Azhar Ali without any fear or pressure.
The counsel told the judge that in view of the reported statement of the teenage girl, the SHC had purportedly restrained police from arresting her husband Azhar Ali and his family members. Therefore, he asked the court to grant post-arrest bail to applicants Shariq Ali and Mohsin Ali, who are brothers of Azhar Ali, and Danish — all of whom are policemen.
After hearing arguments from the state prosecutor and the defence counsel, the judge granted post-arrest bail to Shariq Ali, Mohsin Ali and Danish, who is said to be posted at the Frere police station, against a surety of Rs50,000 each. The court directed the suspects to cooperate with police during the investigation of the case.
Arzoo's family members earlier this month told Dawn that her purported husband Azhar lived in a house opposite to their's along with his family and he is at least 45 years old. "The rascal who abducted her has prepared fake papers to show that she is 18 years old," her mother said.
According to the first information report of the case registered on his complaint, Arzoo's father Raja stated that on Oct 13, he and his wife went to work while their son Shahbaz had gone to school. The complainant said his three daughters, including Arzoo, were present at their home in Railway Colony when he received a call from a relative, who told him that Arzoo was missing from the house.
Raja said he reached home and contacted their neighbours, but could not trace his daughter. He subsequently lodged a case regarding the abduction of his daughter against unknown persons at the Frere police station.
https://www.dawn.com/news/1587815/sindh-govt-will-approach-courts-to-review-underage-christian-girl-marriage-case-bilawal
--------
Mehwish Hayat rejoices reunion of Pakistan's women football team
October 31, 2020
Film and television actor Mehwish Hayat recently re-tweeted a video shared by the Pakistan Football Federation (PFF) featuring its women football team.
The clip showed the footballers gathering after seven long years for a training camp, with the video claiming, "A new era of Pakistani football has begun."
To mark the occassion, Hayat wrote, "So refreshing to see this, both for sports and the women of our country."
She went on to send her wishes to the players, "I wish the team all the best and am sure that they will make us proud!"
"Small steps, but in the right direction, will help regain our former glory in sports of days gone by. #Pakistanzindabad!" concluded the Chhalawa actor.
https://tribune.com.pk/story/2270547/mehwish-hayat-rejoices-reunion-of-pakistans-women-football-team
--------
URL: https://www.newageislam.com/islam-women-feminism/iraqi-women-activists-slam-second/d/123333
New Age Islam, Islam Online, Islamic Website, African Muslim News, Arab World News, South Asia News, Indian Muslim News, World Muslim News, Women in Islam, Islamic Feminism, Arab Women, Women In Arab, Islamophobia in America, Muslim Women in West, Islam Women and Feminism