New Age Islam News Bureau
15 April 2022
• First-Ever All-Women Media Team Launches In Somalia
• Pakistani Women Hit Taboos For Six In Ramadan Night Tournament
• Muslim Student Requests Karnataka CM to Allow Them to Appear for Exams Wearing Hijab
• Women Employees At Saudi Islamic Ministry Accomplish 100% Performance Results
• Iran Underlines Afghan Women's Right to Educate, Work
• 'Change The Vision': Iran Women Push To Break Football Barriers Amid Fan Ban
• Nadia Murad Advocates Action On Sexual Violence In War
Compiled by New Age Islam News Bureau
URL: https://www.newageislam.com/islam-women-feminism/iraqi-patriarchy-police-forces/d/126798
--------
Iraqi Women Reject Patriarchy By Joining Police Forces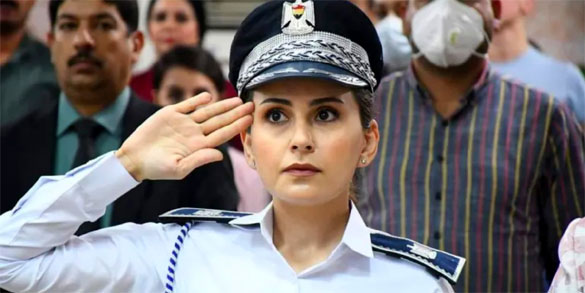 Saja al-Abayji , Iraq Police
-----
15TH APR, 2022
Saja al-Abayji was apprehensive about the rigorous military-like exercises and concerned about society's opinion of women in the police force as she began her training at the police academy.
She was one of just two female officers in her 2011 graduating class, which included hundreds of male officers, all aspiring to serve in Iraq's Ministry of Interior (MOI), which would be responsible for the country's police and border control.
But a decade later, the 34-year-old Iraqi traffic cop is now a senior traffic officer in Baghdad, where he has worked for years at the General Traffic Directorate. Al-Abayji is one of hundreds of female officers in Iraq's police and border control who are not part of a limited group of women in the country's internal security services.
According to al-Abayji, as the number of female police officers on Iraq's streets increased, society gradually began to accept women's position in law enforcement.
Some felt women couldn't thrive in the police force because they thought it wasn't their place to be there. " Al-Abayji said that many people saw female police as "intruders" on the field because of this.
Societies started to perceive things differently as time went on, though.
The Iraqi MOI's agencies – the police, highway patrol, traffic department, and border enforcement, to mention a few – had no female officers until roughly a decade ago, despite the fact that Iraqi women have been worldwide pioneers in many fields of life, including medicine, engineering, and the arts.
A difficult path
As Al-Abayji pointed out, several of her female classmates left the Higher Institute for Security and Administrative Development during their time in training at the police academy due to their families' lack of support for a career in law enforcement.
When it came to women's roles at the time, "this represented where society was," said al-Abaiji, who was fortunate enough to have the utmost support from her family and fiancé.
"My family and now spouse pushed me to apply to the institution after I earned my degree in computer science," said al-Abayji. Without them, I would not have been able to deal with all the negativity in my environment.
There were several hurdles on the path to become a police officer for al-Abayji.
"At first, I didn't tell anybody I'd recently met about what I was doing. In addition to not wearing my police uniform to and from work, I did it because I wanted to remain anonymous, she said. "I didn't want to be judged, that's all.
What made me wonder was why society was so appreciative of males who did the same work as me." Al Jazeera quoted her as saying, "I realised I had to open myself out in order to influence people's perceptions.
Al-second Abayji's major issue was adapting to her new job and responsibilities.
First, al-Abayji said, she struggled with the thought of putting on a male outfit and holding a weapon.
According to al-Abayji, "I wore a lot of gorgeous skirts and heels while I was in college." Later, I found myself participating in military training and honing my target shooting skills. As a result, I was in a state of shock."
Despite the difficulties, al-"keenness Abayji's to succeed flowered" as her physical capability and confidence improved, and she became enthusiastic about rising up the ranks.
Progress
Major-General Saad Maan, the interior ministry's spokesperson, said from his office in downtown Baghdad that the ministry began encouraging women to join the internal security forces in 2010 in order to highlight the significance of growing women's public role in Iraq.
"Women's participation has been useful and vital and represents the ministry's growth and success," he said.
Female police officers continue to be held back by the patriarchal culture of society, which also prevails in the Ministry, Maan remarked.
"Men in the police force struggle because the patriarchy instilled in them," stated Maan, to address female officers using their assigned titles.
However, Maan claims that there has been a lot of growth overall. "At first, we pleaded with women to join the force. Every year, we get tens of thousands of applications."
Looking forward
In the past, women in the police force were restricted to administrative positions, but this is no longer the case, according to Esraa al-Saadi, 32, a media and public relations officer for the interior ministry.
In the past, "guys were the ones who did everything," said al-Saadi, referring to male officials who made arrests, interrogated suspects, and conducted investigations and searches.
"Iraqi culture is growing more open and tolerant of the police as a place for women, too," said Al-Saadi, who has worked as a police officer for the last five years.
Al-Abayji acknowledged that society has gone a long way, but she opined that women in law enforcement still have a long way to go before they can hold positions of leadership.
"We have junior and senior female police officers, but no women majors, lieutenants or brigadier generals," al-Abayji added. As a female Iraqi police officer, I want to one day see my female colleagues rise to the top ranks of the force. We're getting closer, but there's still a lot of work to be done.
Nonetheless, al-Abayji continued: "Now, I stroll the streets of Baghdad in my uniform and people applaud and take pleasure in what I do."
Source: Bol News
https://www.bolnews.com/latest/2022/04/iraqi-women-reject-patriarchy-by-joining-police-forces/
--------
First-Ever All-Women Media Team Launches In Somalia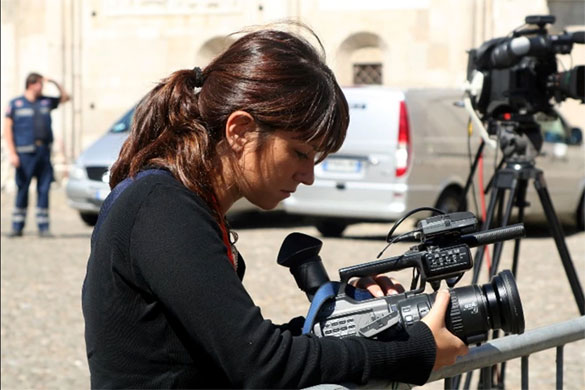 Image Credit: Wikimedia
-------
April 13, 2022
LONDON: Somalia launched its first-ever all-women media unit on Monday, aiming to promote decision-making authority and a harassment-free workplace for women journalists.
Called Bilan, or "bright and clear" in Somali, the unit is funded by the UN Development Program, and will be stationed inside Dalsan Media Group's offices in Mogadishu.
Led by one of the few female senior news producers in the country, the team of six will produce content for TV, radio and online media on issues such as gender-based violence, women in politics and female entrepreneurs.
"For too long, Somali women journalists have been treated as second-class citizens and Somali news has ignored the stories and voices of half the population; now we are in charge of the boardroom and the narrative," said Nasrin Mohamed Ibraham, Bilan's chief editor.
"Some people might not like the fact that I play football and lead a media team. But nobody will ever change my mind."
Bilan Deputy Editor Fathi Mohamed Ahmed said: "As a women-only media house we are going to be able to bring taboo subjects into the open. Our sisters, mothers and grandmothers will talk to us about issues they never dare speak about with men."
The project is a year-long pilot, but UNDP's resident representative in Mogadishu, Jocelyn Mason, is confident that it will become a permanent project and potentially extend into Somalia's regions.
"We hope this will be a game-changer for the Somali media scene, opening up new opportunities for women journalists and shining a light on new subjects that have been ignored, particularly those that are important for women," said Mason.
Women journalists in Somalia have reported being harassed not only on the streets, but even inside their own offices. They are often denied training opportunities and promotions, and when a woman does reach a position of authority, she is often ignored while junior male figures call the shots.
UNDP will also provide a long-term program of training and mentoring, bringing in some of the biggest names in Somali and international journalism, as well as creating opportunities to engage with women journalists working in similarly challenging environments around the world.
"I believe Bilan will be a game-changer for me and for women in Somalia. I hope it will give us the freedom and safety to do a different kind of journalism beyond the usual diet of politics and conflict," said Bilan journalist Naciima Saed Salah.
Source: Arab News
https://www.arabnews.com/node/2062711/media
--------
Pakistani Women Hit Taboos For Six In Ramadan Night Tournament
Naimat Khan
April 15, 2022
KARACHI: The batter swung the bat with all her might, sending the ball flying out of Karachi's Kokan Park, hitting for six the taboo that only men can venture out into the night during Ramadan to play cricket.
The scene was from the final match of Khelo Khavateen, meaning "Play Women," a night cricket tournament for women in the Pakistani megapolis that culminated this week.
In the teeming port city each Ramadan, while the devout fast by day, at night they come out on the streets to play cricket. For years, however, the street matches and tournaments have been dominated by men.
Karachi-based journalist Hadeel Obaid wanted to change this trend and in 2015 came up with the idea of a platform where women could also safely play cricket late at night during Ramadan. Khelo Kricket (Play Cricket) was thus born, an online startup that promotes sports among Pakistani women.
A year later, Obaid started the Khelo Khavateen night tournament, which has since seen hundreds of girls registering to play night cricket in Ramadan. A few participants have even gone on to play for the national women's team.
"No one experimented with the idea that women too are interested in coming out to play cricket at night," Obaid told Arab News after the final of the Ramadan tournament, which was held this year after a two-year-long COVID-19 hiatus. "We wanted to create a safe space for girls to play cricket."
But launching a successful women's cricket tournament in Pakistan was not easy, said Obaid, who had to face criticism, as the idea of women playing cricket late at night — and that too in the holy month of Ramadan — did not go down well with many people.
"When you first start anything, it is always hard because change is something that nobody likes," she said.
"When nothing has been happening for so many years, and then all of a sudden somebody wants to try and do something new, you're always faced with a little backlash," she said.
But Obaid brushed aside the negativity and as time progressed, she experienced firsthand how families and communities embraced the initiative, which has become a launching pad for professional players.
Last week, Pakistani cricketer Fatima Sana was awarded the International Cricket Council's Women's Emerging Cricketer of the Year 2021 award, becoming the first Pakistani to bag the honor. Sana launched her career at the Khelo Khavateen tournament in 2016, the first edition of the series.
"She was 12 or 13 years old when she played our very first tournament," Obaid recalled. "At that point, she was an incredible talent. We had never seen a bowler like that."
Urooj Mumtaz, a renowned Pakistani cricket commentator, television host and former cricketer, described the Khelo Kricket initiative as "wonderful."
"We all like to play cricket during Ramadan," she said. "It's not just restricted to men. It's also now (getting bigger) with girls … It's more about recreation and attracting more girls to the sport."
Obaid said she had planned to take the tournament to other cities in Pakistan, but the COVID-19 pandemic had thrown a spanner in the works. Now, however, with an improving disease situation, she hopes to revive her plans.
"We have a lot of people from Rawalpindi writing and telling us that they would like for the tournament to be played in the city. We got a lot of girls from Lahore writing," Obaid said. "And so, we do want to take this there, maybe not in Ramadan, but maybe some point in the year.
"We're hoping that in 2023 and 2024 we can keep the momentum up and actually grow it."
Source: Arab News
https://www.arabnews.com/node/2063566/world
--------
Muslim Student Requests Karnataka CM to Allow Them to Appear for Exams Wearing Hijab
APRIL 14, 2022
A Muslim girl student, who approached the Karnataka High Court to revoke the ban on hijabs inside classrooms in the state, on Thursday appealed to Chief Minister Basavaraj Bommai to allow a section of students to appear for second pre-university examinations beginning on April 22, wearing headscarves.
In a tweet to the CM, she said, "You still have a chance to stop our future from getting ruined. You can make a decision to allow us to write exams wearing hijab. Please consider this. We are the future of this country."
Following the High Court order last month upholding the state government's decision not to allow hijabs in classrooms, Aliya Assadi, who was one of the six petitioners who started the protest, had said that she would write examinations only if they were allowed to wear headscarves. If we are allowed to write exams, they need to allow us with hijab. Otherwise, we will not attend classes. We will not go to college without hijab, she had said.
The Karnataka HC had stated in its order that wearing a hijab is not an essential religious practice of Islam and that uniform rule should be followed in educational institutions, while dismissing the petitions.
While many Muslim girl students attended educational institutions and appeared for examinations without wearing hijabs, 40 girls from the Udupi had abstained from the first pre-university exam.
The petitioners had also challenged the High Court order in the Supreme Court, but their plea for an urgent hearing before the examinations was rejected by the Apex court.
Source: News18
https://www.news18.com/news/india/muslim-student-requests-karnataka-cm-to-allow-them-to-appear-for-exams-wearing-hijab-4985971.html
--------
Women Employees At Saudi Islamic Ministry Accomplish 100% Performance Results
April 15, 2022
RIYADH — The women employees at the Department of Beneficiary Services under the Ministry of Islamic Affairs, Call and Guidance have accomplished 100 percent performance results in handling the communications received during the period from the beginning of Shaban till Ramadan 10 (March 4-April 11).
During this period, they received 6,875 communications and telephone and online contacts, and these were pertaining to mosque services, propagation affairs, and the Holy Qur'an memorization societies.
According to a statistical report released by the ministry, these included 4,324 reports related to mosque services, nine pertaining to propagation affairs, four concerned with the Holy Qur'an memorization societies, and 71 related to other ministry services.
The number of complaints received against mosque employees reached 1150, while complaints against mosque employees' services stood at 796, whereas complaints related to loudspeakers and mosque maintenance stood at 726 and 918 respectively.
The report indicated that the department received 1,326 communications in the Riyadh region, 974 in the Makkah region, 401 in the Eastern Province, 418 in Asir, 247 in Madinah, 265 in Qassim, 203 in Jazan, and 197 in Hail. There were 107 communications in the Tabuk region, 126 in Al-Jouf, 62 in Al-Baha, 52 in Najran, and 35 in the Northern Border Region.
In its report, the ministry emphasized the role of citizens in reporting any violations or observations related to the ministry's various services. It also underscored the importance of their joint role with the ministry so as to redouble efforts to avoid any shortcomings, and deal with all communications received as soon as possible by contacting the number 1933 of the Unified Communications Service Center.
Source: Saudi Gazette
https://saudigazette.com.sa/article/619402/SAUDI-ARABIA/Women-employees-at-Islamic-Ministry-accomplish-100-performance-results
--------
Iran Underlines Afghan Women's Right to Educate, Work
2022-April-14
The situation in Afghanistan, where the Taliban have recently taken over state affairs, is gravely affecting women's rights, Ershadi said on Wednesday, addressing the high-level open debate on the theme "conflict-related sexual violence: accountability as prevention — ending cycles of sexual violence in conflict" organized by the Security Council.
Citing a UN report, the Iranian official said Afghan women and girls are the target of widespread systematic violence as part of a campaign to impose restrictions on their social and political lives.
Afghan women's right to educate, work and political inclusion must be recognized by Taliban, Ershadi said.
She also referred to the situation of Palestinian women, whose land has been under Israeli occupation for decades, and women in Afghanistan, which has been ravaged by two decades of militancy and foreign invasion.
Ershadi described occupation, terrorism and foreign invasions as the main threats to the security of women in the troubled Middle East, saying women will continue to be the target of abuse unless such menaces are uprooted.
The primary threats to the security of women in the Middle East, including foreign occupation, invasion and terrorism, totally disregard the rights and lives of women, she said.
The senior Iranian diplomat said the "heinous crime" of sexual violence is commonly used as a tactic in military conflicts and acts of terrorism, which mainly targets women, girls, and other vulnerable groups.
Armed conflicts also involve risks of human trafficking, which similarly target women and children either forcefully displaced or fleeing their countries.
Ershadi said the four Geneva Conventions and their two Additional Protocols explicitly and implicitly condemn different forms of sexual violence as serious violations of humanitarian law, with all States and non-State parties to the conflict being duty-bound to comply with the relevant obligations.
Despite all the existing laws, she added, preventing and combating that inhumane practice requires a collective effort and will not be successful until its root causes — namely the circumstances surrounding the occurrence of an armed conflict — are addressed.
"Unfortunately, as long as terrorism, violent extremism, foreign occupation and foreign interference persist, such a solution will remain elusive," she said.
Ershadi reiterated that Iran's position on the debate's topic, saying issues concerning women and girls should be dealt with by the General Assembly and other UN bodies, and that the Security Council should only address those issues if they are directly related to international peace and security.
In Security Council resolution 1820 (2008), conflict-related sexual violence was first established as a self-standing security issue over a decade ago.
According to the world body, despite the robust resolutions, conventions and treaties that have followed, sexual violence continues to occur in many conflicts across the world, with almost total impunity.
Source: Fars News Agency
https://www.farsnews.ir/en/news/14010125000410/Iran-Underlines-Afghan-Wmen%E2%80%99s-Righ-Edcae-Wrk
--------
'Change the vision': Iran Women push to break football barriers amid fan ban
John Duerden
14 Apr 2022
Female fans not being allowed inside stadiums has long been the overriding international image when it comes to women and football in Iran and unsurprisingly so. Just over two weeks ago a number of Iranian women tried to get into the Imam Reza Stadium in the north-eastern city of Mashhad to watch the men play their final 2022 World Cup qualifier against Lebanon.
They could not see the game – the ban has largely been in place since not long after the 1979 revolution – and then, according to some reports, they were treated to pepper spray by security guards. Despite requests from Fifa, criticism from around the world and calls from the players, authorities have yet to budge.
Now, though, Iranian women are competing around the world and aiming to change minds in Tehran. In January, the national team played at the Women's Asian Cup, their first international tournament. The opening game produced a creditable 0-0 draw with India in Mumbai. A Covid outbreak meant the hosts withdrew from the competition and their results were voided. For Iran, it meant that only their 7-0 and 5-0 losses at the hands of the eventual winners, China, and Taiwan respectively will go down in the record books. There was more to it than mere scorelines however.
The coach, Maryam Irandoost, is confident the more the women play competitively around Asia, and one day the world, the greater the push will be to introduce equality in the stands back home, where the regime has made the occasional gesture in allowing women inside only to backtrack soon after. "I have tried for years to change this," she says. "Our girls qualifying for and playing in the Asian Cup has changed the beliefs of a lot of people in Iran and I think this barrier will disappear in the near future.
"Going into stadiums is not only about watching the matches and not only about increasing the number of fans. It will also change the vision of women's football in Iran."
Irandoost, born at the height of the revolution, days after Ayatollah Khomeini returned from exile in Paris to take power, was delighted with the performances in India. "I am not disappointed with the tournament at all," she says. "Our girls have good potential technically. We have areas in which we have to work on but if there is the same kind of investment and infrastructure as there has been over the past year then we will be at the same level with the best teams in Asia in five or six years."
Given Iran are ranked 70 in the world, behind Fiji and Haiti, to match Japan, the 2011 World Cup winners, Australia and China by the end of the decade would be quite an achievement for a team only just getting going. "There is a gap of 50 years behind the best teams in the world," Irandoost says, "but families here are very interested in football and this encourages girls to play."
Irandoost, whose father, Nosrat, was a professional player and now coaches the second-tier men's club Malavan FC, estimates there are about 2,500 female players in the top league and local clubs. "There has never been money in female football but the grassroots game is becoming more and more professional. We have a good infrastructure. The interest in the last three or four years has increased significantly. In the past nine months, the federation has had a good plan and that helps us qualify for the Asian Cup."
She says the reasons for the federation's recent investment and support are complicated. Footballing wise it makes sense because Iran wants to host international tournaments. Recent investment from Saudi Arabia in women's football – its national team recently played its first international fixtures –has been noted and there is a feeling Iran has the talent to compete on the world and not just the Asian stage.
The men do just that and are preparing for a third successive World Cup and a group containing England and the United States in Qatar. "It is hard to say which team will advance but our men's national team have always shown that they can face bigger teams and get good results." Irandoost says. "If federation support continues then we can also play England and the USA at the World Cup in 10 years."
At the moment, Irandoost just wants to build on the progress from the Asian Cup. "That was very important. Before, many thought that it is OK for girls just to play football but after the Asian Cup people are saying that we could be in big tournaments and even win. Our goals have become much bigger in many ways."
Source: The Guardian
https://www.theguardian.com/football/2022/apr/14/change-the-vision-iran-women-push-to-break-football-barriers-despite-fan-ban
--------
Nadia Murad advocates action on sexual violence in war
14/04/2022
UNITED NATIONS—
In Ukraine, allegations of sexual violence mount against women by Russian soldiers. In northern Ethiopia, a woman taken to an Eritrean Defence Forces camp was raped by 27 soldiers and contracted AIDS. In the Central African Republic, the bodies of a woman and two girls were found days after their kidnapping and rape by armed fighters. And in Iraq, 2,800 Yazidi women and children have been captives of the Islamic State extremist group for eight years, many subjected to sexual violence.
These are some of the examples raised at a UN Security Council meeting Wednesday on accountability for such acts in conflicts by Pramila Patten, the UN special representative on sexual violence in conflict and Nobel Peace Prize laureate Nadia Murad, a member of Iraq's Yazidi religious minority forced into sexual slavery in 2014 who escaped her Islamic State captors.
Patten's opening words were aimed squarely at the UN's most powerful body, which has approved five resolutions that focus on preventing and addressing conflict-related sexual violence. What do those resolutions mean right now, she asked, for a woman in Ukraine, Afghanistan, Myanmar or Ethiopia's northern Tigray region?
At this time of "great global turbulence marked by multiple crises," she said, the world has seen "increased militarisation, including an epidemic of coups, which have turned back the clock on women's rights." And every new war has seen human tragedies "including new waves of war's oldest, most silences, and least-condemned crime", sexual violence and rape in those countries and others whose victims "cry out for justice and redress."
Patten said the gap between commitments by the Security Council and compliance and reality is evident. The latest UN report covering conflicts in 18 countries documents 3,293 UN-verified cases of sexual violence committed in 2021, a significant increase of 800 cases compared to 2020. Again, she said, the highest number,1,016, was recorded in Congo.
Patten also cited examples in other conflict areas: two women from the Rohingya minority in Myanmar's Chin state were gang-raped by government soldiers resulting in unwanted pregnancies; a woman allegedly raped at gunpoint by a Puntland police officer in Somalia where she said "abduction, rape and forced marriage are rampant;" documented cases in Colombia of sexual violence against women ex-combatants and their familie and the torture and killing of a female police officer who was eight months pregnant in Afghanistan's Ghor province.
'Cry out for justice and redress'
The UN special representative said the few cases of courts convicting perpetrators "are still the exception that proves the rule of justice denied." Justice must be delivered in communities as well as courtrooms and victims must receive reparations to rebuild their shattered lives, she said, stressing that "justice, peace and security are inextricably linked."
Murad said at moments of global instability, like today's world shaped by the COVID-19 pandemic, a climate crisis and war, issues like conflict-related sexual violence "tend to be pushed aside as though they are somehow secondary to the real issues." But she said, "the truth is these are precisely the moment when protecting, supporting and investing in women and girls should be urgent priorities."
History shows that when conflict erupts, brutality comes to the fore and "we are seeing this in Ukraine as we speak, with reports of sexual violence that should alarm us." Later, she told reporters, "my heart is with the people of Ukraine, especially the women and girls out there that are facing this brutality."
"Sexual violence is not a side effect of conflict," Murad said. "It is a tactic of war as old as time."
Last year, a German court convicted an Islamic State member of genocide in a Yazidi girl's death in a historic verdict, she said. But despite reams of evidence documenting atrocities ISIS committed against women and girls, she said the extremist perpetrators have faced few, if any, consequences.
Murad said survivors need "more than moral outrage" and urged the Security Council to vote to refer the Islamic State extremist group to the International Criminal Court to be tried for genocide and sexual violence, against Yazidis. In the meantime, she urged other countries to follow Germany's example and use the principle of universal jurisdiction to try alleged perpetrators for war crimes.
"If you want to establish deterrence, if you want to assure Yazidi women and survivors everywhere that you stand with us, do not delay justice anymore," she said.
Britain's Minister of State Lord Tariq Ahmad, who chaired the meeting, joined her in launching "The Murad Code" which aims to tell investigators, journalists and others in the international community how to support survivors of sexual violence by reducing the burden on them and ensuring that their experiences are recorded safely and strengthen the pursuit of justice.
"The pathway to justice must have obstacles removed," he said. "So ultimately, it's all about survivors, that they know what their options are. ... They have to be the center of our response."
Source: The Arab Weekly
https://thearabweekly.com/nadia-murad-advocates-action-sexual-violence-war
--------
URL: https://www.newageislam.com/islam-women-feminism/iraqi-patriarchy-police-forces/d/126798
New Age Islam Islam Online, Islamic Website, African Muslim News, Arab World News, South Asia News, Indian Muslim News, World Muslim News, Women in Islam, Islamic Feminism, Arab Women, Women In Arab, Islamophobia in America, Muslim Women in West, Islam Women and Feminism