New Age Islam News Bureau
12 Feb 2020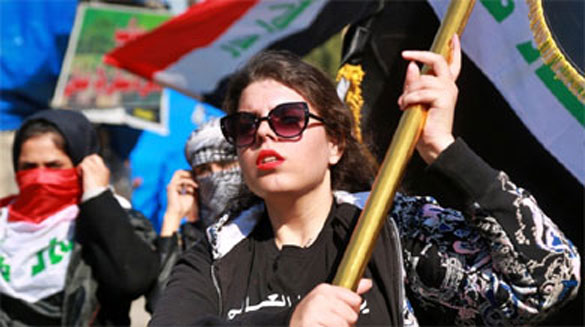 Students and other demonstrators hold national flags during a protest to condemn a militia attack on Najaf protesters last week
------
• Iran Arrests Restaurant Managers after Video Showing Men and Women Dancing
• Madhya Pradesh: Man Booked For Giving Triple Talaq to Wife
• Jamia: DCP Denies Assault Claims despite Women Hit On Private Parts
• Iranian Woman Dies of Suspected Coronavirus Infection: Media
• Meet The Two Women Who Spread Christianity to Hundreds in Iran's Evin Prison
• Why Are Punjab Women Getting Stuck In Arab Countries They Go To For Work
• Doctors In Egypt Launch Anti-Genital Cutting Campaign After Girl Dies
Compiled By New Age Islam News Bureau
URL: https://www.newageislam.com/islam-women-feminism/iraqi-women-issue-appeal-international/d/121044
--------
Iraqi Women Issue Appeal for International Support Amid A Rise In Attacks By Armed Militias
FEBRUARY 11, 2020
IRAQI women have called for urgent international action to deal with growing violence against protesters amid a rise in attacks by armed militias.
Today the Iraqi Women's League condemned the "excessive violence committed by the Iraqi security services."
At least 600 people have been killed since the anti-government uprising started in October.
At a meeting in Baghdad, those gathered called for the United Nations and other international organisations to "hold the Iraqi government to account" for the spiralling violence that has seen scores killed in attacks on protest camps in recent days.
Observers have warned that the withdrawal of support for the uprising by the influential Islamist cleric Muqtada al-Sadr has paved the way for the return of the militias; the presence of his supporters previously kept them at bay.
Mr Sadr has urged support for new Prime Minister Mohammed Tawfiq Allawi, but members of the protest movement have rejected him as part of the corrupt elite they are fighting to overthrow as they demand sweeping political change.
Women have been subjected to particularly brutal and repressive violence as the situation has deteriorated the Women's League stated.
A number have been killed by the security services, including leading women's activists Sarah Taleb, Huda Khutheir, Zahra Karlusy and Jenan Shahmani, who were shot dead during protests.
A police official in Najaf told the Star today that many officers have joined the protests but warned that armed militias are now controlling the country, even taking over police headquarters.
"Police are scared of the militias. They are controlling Iraq. But teachers are protesting, lawyers are protesting, doctors are protesting, workers are protesting because of poverty and corruption," he said.
Despite the "brutal repression and threats to life," Iraqi Women's League spokeswoman Ahlam Kadoom told the Star "the uprising continues to gather strength and support."
"Marches attract thousands of people and university students remain on strike in eight major cities across Iraq, including the capital Baghdad." she said.
"Kidnapping and disappearances have become commonplace and this has increased in the last month.
"Militias and other shadowy groups are employing new tactics such as setting fire to tents where activists have been gathering and launching attacks on sit-ins.
"Live ammunition is also being used by these groups, further escalating the threat to life."
But she urged protesters "to stand fast at the protest squares and continue the peaceful demonstration and not allow agents provocateurs to deflect the course and distort the just and non-violent demands of the demonstrations."
https://morningstaronline.co.uk/article/w/iraqi-women-issue-appeal-for-international-support
--------
Iran Arrests Restaurant Managers after Video Showing Men and Women Dancing
11 February 2020
Iranian authorities arrested restaurant managers after a video showing men and women dancing together was shared online, the semi-official Tasnim news agency reported on Monday.
The manager of Ferdowsi hotel as well as the manager of the hotel's restaurant were arrested for allowing "men and women to mix and dance together," according to the report.
The managers and singers of two other restaurants – Shabestan and Divan – were also arrested for the same reasons, according to Tasnim.
The detainees have been charged with "creating an atmosphere conflicting with religious and moral standards," Tasnim reported, adding that the three restaurants have also been shut down.
Farnaz Fassihi
✔
@farnazfassihi
Another #Iran slice of life video: dance is on & no hijab. Adorable granny in chador dancing in her chair!
Embedded video
383
2:54 AM - Feb 3, 2020
Twitter Ads info and privacy
185 people are talking about this
Iran's police announced last summer that over 500 restaurants were shut down in Tehran for breaking "Islamic principles" and playing "illegal music."
https://english.alarabiya.net/en/News/middle-east/2020/02/11/Iran-arrests-restaurant-managers-after-video-showing-men-and-women-dancing.html
--------
Madhya Pradesh: Man Booked For Giving Triple Talaq to Wife
February 11, 2020
A 35-year-old man was booked for allegedly giving triple talaq to his wife over phone in Anuppur district of Madhya Pradesh, police said on Tuesday.
An offence was registered against Mohammed Ramzan under Muslim Women (Protection of Rights on Marriage) Act, 2019, which bans instant triple talaq, Bhalumada police station in-charge Ramnath Armo said.
According to complainant Afsana Bi (30), her husband said talaq (divorce) thrice to her over phone at around 5 pm on Sunday.
Afsana Bi had married Ramzan, a resident of Kholi village under Chachai police station of Anuppur district, in April 2012 and the couple has a five-year-old daughter.
The complainant said her husband had started ill-treating her soon after their marriage and threw her out of his home three years ago, following which she has been staying with her mother and brother.
The woman filed a complaint with the police on Monday and the probe is underway, Armo said.
Under the law that came into force last year, triple talaq can attract a prison sentence of upto three years and a fine.
https://indianexpress.com/article/india/madhya-pradesh-man-booked-for-giving-triple-talaq-to-wife-6263037/
--------
Jamia: DCP Denies Assault Claims despite Women Hit On Private Parts
FEBRUARY 11, 2020
BY YOUNUS
New Delhi: With reports, images of Jamia Millia Islamia students gravely injured after Police resorted to lathi-charge are all over the internet, the police sources claim the Police personnel had only used mild force to push the protestors back.
A scuffle broke out between hundreds of anti-CAA protesters and the police near Holy Family Hospital yesterday that resulted in brutal assault by cops on unarmed students, protestors. The cops further went on to detain nine protestors from the scene.
As many as Twenty-nine protesters injured in the brutal police assault went to Al-Shifa Hospital.
"One girl complained of pain in her private parts; initial investigation revealed there are no external injuries. We have conducted an ultrasound to check if there are internal injuries. The report will come on Tuesday," said the hospital's Director Abdul Nazar.
The detained students too alleged they were beaten up — Shaheen Abdulla, a Jamia student, said he was "kicked and punched on the face", while another student Abu Darda was roughed up by police.
Rubbishing these assault claims, DCP (South East) R P Meena said: "There was no lathicharge. There were male and female personnel present at the site. There was a minor scuffle near the barricades. Nine protesters were detained but later let off. Over 350 Delhi police personnel, including 12 SHOs and eight companies of paramilitary, were deployed at Jamia today."
Last time a similar march to Parliament was carried out, a student named Shadab Farooq was shot by a juvenile.
Around 2 pm, the march reached Holy Family Hospital where heavy police barricades welcomed them.
The Delhi Police demanded the protestors to return claiming no such permission was granted to the Jamia Organization to hold the protest.
Around 3 pm, the Chief Proctor made an appeal to students to retreat: "You have registered your protest, now please move back. Don't get into a confrontation with the police."
DCP Meena told the students: "Please go back. You don't have permission. Your protest has been registered. If there is a memorandum, please submit it to us. We will submit it to the government."
When the agitated protesters refused to budge, the police claim to have used "mild force" to push the protestors back following which few protesters fainted due to exertion, while others alleged police brutality.
The scuffle intensified by 6 pm as students refused to budge and a group of protesters gheraoed Sukhdev Vihar police station with Sukhdev Vihar Metro station un operational for sometime.
Additional PRO Anil Mittal said a case is being registered against the "violent crowd" under IPC sections 186, 353, 332 and sections related to damage of property. "Police… showed a lot of patience in handling aggressive Jamia students near Holy Family Hospital…," he added.
https://www.siasat.com/jamia-dcp-denies-assault-claims-despite-women-hit-pvt-parts-1823009/
--------
Iranian Woman Dies of Suspected Coronavirus Infection: Media
12 February 2020
An Iranian woman has died of a suspected coronavirus infection, the state daily newspaper IRAN reported on Wednesday, without citing any sources.
The 63-year-old woman died in a Tehran hospital on Monday, the newspaper said, and an investigation has been ordered into the cause of her death.
A spokesman for Iran's Health Ministry, Kianush Jahanpour, denied the report.
"There have been no cases of coronavirus in Iran," he said.
Iranian health authorities have repeatedly said there were no confirmed cases of coronavirus in the country.
The coronavirus now officially named as COVID-19 has killed more than 1,100 people in China, with total confirmed cases there topping 44,650 as of February 11.
Hundreds of cases have been reported in dozens of countries and territories around the world.
https://english.alarabiya.net/en/News/middle-east/2020/02/12/Iranian-woman-dies-of-suspected-coronavirus-infection-Media.html
--------
Meet The Two Women Who Spread Christianity to Hundreds in Iran's Evin Prison
11 February 2020
When Iranian authorities sentenced two women to death in 2009 for spreading the message of Christianity, international observers feared the worse from the regime's latest attempt to crush religious freedom in Iran.
But the regime's punishment backfired when Maryam Rostampour and Marziyeh Amirizadeh evangelized hundreds of fellow prisoners, and even prison guards, in the 259 days before they were released following intense international pressure.
The women's story is just one example of how the Islamic Republic's severe attempts to suppress its own people, especially religious minorities, have failed.
Evangelizing behind bars
Rostampour and Amirizadeh initially prayed for a quick release after being sent to Tehran's Evin prison, which is notorious for cruel and prolonged torture, using methods such as threats of execution or rape, sleep deprivation, electroshock, and severe beatings.
However, the friends soon realized "God had a purpose for being in that dark place," according to Amirizadeh.
"At first we were praying for our release. But after a few days we realized that by meeting other women in the prison - some who were homeless or addicts - God had given us an opportunity to share the message of Christianity with people who needed to hear it the most," said Rostampour in an interview with Al Arabiya English.
The women educated hundreds of fellow prisoners about Christianity and led Christian prayers.
"We were not allowed to have a Bible, but we lived out its teachings in the prison," said Amirizadeh in an interview with Al Arabiya English.
Some of the prisoners initially expressed disdain for the women, calling them 'dirty Christians,' according to Amirizadeh, but later accepted the women and apologized for the comments.
Even some of the prison guards came to trust them.
"A female guard came to my cell and asked me to pray for her, but to keep it confidential. She said she believed that if I prayed for her, she would overcome fertility issues and become pregnant," said Amirizadeh.
The duo gained a reputation in the women's ward and men's ward for their steadfast faith in the face of persecution by prison authorities.
"In prison in Iran, people don't have any rights and it was worse for us because of our Christian faith," said Rostampour, adding that she and Amirizadeh were physically threatened by guards and refused medical care by prison doctors.
"Whenever we got sick and went to the clinic, the doctors would first ask what our charge was before they asked how we were feeling. As soon as we said that our charges were because of our Christian faith, they would refuse to give us medication," said Amirizadeh.
More free in prison
Despite the oppressive circumstances, Amirizadeh said she felt more free in prison than on the streets of Tehran.
"The guards couldn't stop us from talking to prisoners about Christianity and that made them furious. We were already in prison, so what more could they do to us?" said Amirizadeh.
In the three years before their imprisonment, Rostampour and Amirizadeh had held church services in their apartment in Tehran and distributed over 20,000 Bibles to Iranians. Both acts are illegal under Iranian law.
Christians in Iran are sentenced to prison terms for holding private Christmas gatherings, organizing and conducting house churches, and constructing and renovating houses of worship, according to the US Commission on International Religious Freedom's 2019 report.
In Iran, suppression for all
Rostampour said the victims of Tehran's persecution are not just religious minorities, but all Iranians, who have been oppressed by the government since its start in 1979.
"After over forty years of oppression, the time for suppression is over. Today people in Iran understand their rights. They are tired of the Islamic regime and are standing up for freedom, going to the streets, and fighting for rights," said Rostampour.
Anti-government demonstrations began to spread across multiple cities in Iran in November and Iran's security forces have responded by killing about 1,500 protesters, according to Reuters.
Rostampour and Amirizadeh, who now live in the US after being granted asylum, continue to speak out against Iran's leadership. Amirizadeh said she supports the Trump administration's "maximum pressure" campaign, which is "really working" to help the Iranian people and stop the malign behavior of the regime.
"My message to the Iranian regime is: you can't suppress 80 million people. You can't prosecute everyone against you in Iran. There aren't enough prisons for that," said Amirizadeh.
"We believe that one day Iran will be a free country," added Rostampour.
https://english.alarabiya.net/en/features/2020/02/11/Meet-the-two-women-who-spread-Christianity-to-hundreds-in-Iran-s-Evin-prison.html
--------
Why Are Punjab Women Getting Stuck In Arab Countries They Go To For Work
by Anju Agnihotri Chaba
February 11, 2020
With AAP MP Bhagwant Mann highlighting the case of 11 women from Punjab who have sent an SOS from Muscat, the capital of Oman, asking authorities in India to help them return home, the focus is back on women taking up jobs in Arab countries and getting stuck. ANJU AGNIHOTRI CHABA explains why so many women from the state keep walking into the trap.
Is this a new trend?
Though men from Punjab have been going for work to Arab countries for decades, this trend among Punjabi women is new. Punjab has never seen women going abroad alone for work. It is being seen as a new emerging menace of female human trafficking from Punjab by unscrupulous travel agents. The trend also shows a social shift, claim activists.
When did these cases start coming into limelight?
It was in April 2017 when an SOS went viral on social media in which a Punjabi woman was seen crying incessantly and pleading, "Please rescue me from here, save me, bring me back otherwise they will kill me. They beat me badly, don't give me food, lock me in a room and I am very sick." A Jalandhar-based woman had sent that video from a city in Saudi Arabia. After this, a series of similar messages came out in the open, following which around a dozen women were rescued by the Centre. All these women, who hailed from Doaba region, the NRI belt of the state, had gone there to work as housemaids.
But recent case reveals that women from other regions of the state are also falling prey to this menace. Out of 11 women, 7 are from other regions of Punjab including Malwa region.
What is the background of these victims?
All of them are either illiterate or semi-literate, and majority belong to Dalit families living in harsh condition here. They take up these jobs to improve the poor economic condition of their families. In most cases, they are taken on a 90-day tourist visa, which according to their agents would be extended for two years. They are promised a salary of Rs 21000-22000 monthly.
In every case, a local acquaintance from their village or area has been found to have led them to local women agents who had some connection with Delhi-based agents, including a woman agent named Neha, according to police records.
Akwinder Kaur, who was rescued from Saudi Arabia, said, "A girl, Neelam, from my village had gone to Saudi Arabia and offered me to come there as house maid. She told me that I will get Rs 20,000-22,000 for doing 4-5 hours household work….My husband, who is partially blind and earns just Rs 5,000, allowed me and we paid Rs 40,000 to the person Neelam asked us to pay." She added that another woman agent got her thumb impression on some paper as she does not know how to write. "My only aim was to give a good life to my children," she said.
What difficulties do these workers face in Arab countries?
Most of them are forced to work 16-17 hours in a day. They are not allowed to call home and even forced to live in inhuman conditions and are sold from one household to other by local agents. Some are jailed and even abused physically. Also, their salaries are held back for months, while their families are already under stress back home due to debt they have taken to send them abroad. Most of them pay Rs one lakh to Rs 2.5 lakh to take such jobs.
What do registered travel agents say about this trend?
"All our registered travel agencies send youth on study and work visas but hardly anyone is sending women labourers to Saudi or any other country," said a senior member of Association of Consultants for Overseas Studies, a registered body of travel agencies in Doaba. He said that they have launched several awareness programmes but still unscrupulous travel agents are quite successful in alluring poor women.
What do families of these women say?
The families back women taking up these jobs, but add that the Union government should ensure safety of its citizens who go abroad for work.
What does the police say?
An SSP from the Doaba region said that they are looking into all such complaints and have arrested few local agents and one Delhi-based agent Shakil Khan. He advised people to verify the antecedents of agents before taking up a job abroad. A senior police officer said these women are sold by local agents to their employers in Arab countries as slave labour at the rate of Rs 2 to 3.50 lakh.
What is the MEA's view?
MEA sources informed that the ministry has been making all efforts to bring the issue to the notice of respective Arab governments. "In the past one year, the agents have been able to send over a couple of dozen women from Punjab and Indian embassy in Riyadh was also aware about it. It is a racket in which unscrupulous agents are earning big bucks from Saudi people by selling these women," said a senior officer, requesting anonymity, in Ministry of External Affairs (MEA).
People at Saudi Embassy in New Delhi revealed that incidentally, there is a growing demand for such household workers in Saudi Arabia and other Arab countries and travel agents are taking advantage of it.
What do social activists make of the trend?
Gian Chand, member of Punjab SC/ST Commission and general secretary of Samaj Sewa Trust as well as prominent Dalit leader frim Doaba, said such immigration of women folk indicates a vulnerable condition of their families here and only poverty is forcing them and their families to send women alone abroad for work. He said that they will take up the matter with government.
https://indianexpress.com/article/explained/why-are-punjab-women-getting-stuck-in-arab-countries-they-go-to-for-work/
--------
Doctors In Egypt Launch Anti-Genital Cutting Campaign After Girl Dies
February 12, 2020
CAIRO (Thomson Reuters Foundation) – Doctors in Egypt have taken time out of their surgeries for a campaign to raise awareness of the dangers of female genital mutilation (FGM) after the death of a 12-year-old girl, saying they do not want their white coats "stained with blood".
Genital cutting of girls was banned in Egypt in 2008, but it remains persistent – a 2016 survey by the UN Children's Fund showed 87 percent of women and girls aged 15-49 had undergone the procedure.
The campaign, entitled "White Coats", saw posters with the slogans "No to FGM" and "FGM is a Crime" put up at a Cairo metro station, where doctors in white coats gave out leaflets about the dangers of the practice.
Organizer Randa Fakhr al-Deen, head of the NGOs' Union Against Harmful Practices on Women and Children, said the doctors had faced challenges from proponents of FGM at the station, but the campaign was important.
"We want to send a message to other doctors that we do not want our white coats to be stained with blood as well as to citizens that medicine refuses this practice," she told the Thomson Reuters Foundation.
"Some ultraconservatives were not convinced of what we were saying, but we opened a discussion with them, responded to their arguments and answered all their questions."
World leaders have pledged to eradicate FGM by 2030, but campaigners say the ancient ritual, which typically involves the partial or total removal of the external genitalia, remains deeply entrenched in many places.
It can cause long-lasting mental and physical health problems including chronic infections, menstrual problems, infertility, pregnancy and childbirth complications.
Last month Egyptian authorities arrested a retired doctor on charge of carrying out illegal FGM surgery and causing the death of a 12-year-old girl. The girl's parents were also arrested.
All have since been released, but investigations are continuing and campaigners against FGM say they expect them to face trial.
The ritual is underpinned by the desire to control female sexuality, but is often justified for cultural or religious reasons in conservative societies.
Women and children's rights groups in Egypt say the ban has not been well enforced and that much of society is permissive of FGM, which is widely practiced by both Christians and Muslims.
The majority of FGM procedures are carried out by doctors and nurses at private clinics, with the rest done at home, according to the Egypt Demographic and Health Survey of 2014.
"It is a religious thing. Do you want to change religion?" said metro user Ibrahim Hassan in response to the "White Coats" campaign. "You only listen to what the West is saying."
In response, Fakhr El Deen told Hassan that FGM had no basis in religion and was not taught in medical schools in Egypt.
Reporting by Menna A. Farouk, Editing by Claire Cozens. Please credit Thomson Reuters Foundation, the charitable arm of Thomson Reuters, that covers humanitarian news, women's rights, trafficking, property rights, and climate change. Visit www.trust.org
https://www.egyptindependent.com/doctors-in-egypt-launch-anti-genital-cutting-campaign-after-girl-dies/
--------
URL: https://www.newageislam.com/islam-women-feminism/iraqi-women-issue-appeal-international/d/121044
New Age Islam, Islam Online, Islamic Website, African Muslim News, Arab World News, South Asia News, Indian Muslim News, World Muslim News, Women in Islam, Islamic Feminism, Arab Women, Women In Arab, Islamophobia in America, Muslim Women in West, Islam Women and Feminism