New Age Islam News Bureau
26 Feb 2018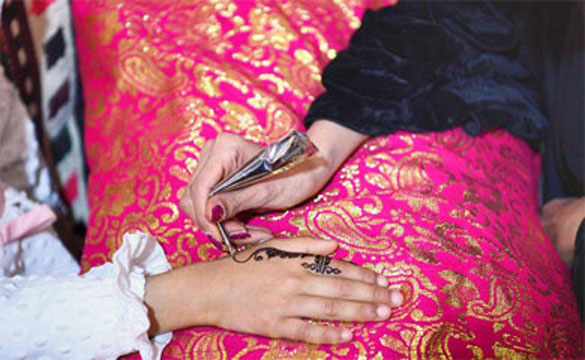 Henna art is an ancient tradition, which continues to be popular among women in the Middle East and the subcontinent. Henna is a herbal dye used for temporary tattooing. (SPA)
------
• Saudi Arabia Starts To Enlist Female Soldiers
• Saudi Women Apply To Work as Public Security 'Soldiers'
• Cultural Barriers, Hurdle To Women's Participation in Politics – Badiyya
• Henna Art A Big Hit among Janadriyah's Female Visitors
• Indian-Origin Woman with Alleged ISIS Links Arrested In South Africa
Compiled by New Age Islam News Bureau
URL: https://www.newageislam.com/islam-women-feminism/iraq-court-sentences-16-turkish/d/114416
--------
Iraq court sentences 16 Turkish women to death for joining Isis
25 Feb 2018
An Iraqi court has sentenced 16 Turkish women to death by hanging for joining Islamic State, a judiciary spokesman said on Sunday.
Iraq is conducting the trials of hundreds of foreign women who have been detained, with hundreds of their children, by Iraqi forces since August, as Isis strongholds crumbled.
The central criminal court issued the sentences "after it was proven they belong to the Daesh terrorist group and after they confessed to marrying Daesh elements or providing members of the group with logistical aid or helping them carry out terrorist attacks", said Judge Abdul-Sattar al-Birqdar, referring to the militant group using an Arabic acronym.
All the verdicts were subject to appeal, he said.
Thousands of foreigners have fought on behalf of Isis in Iraq and Syria since at least 2014. Many foreign women came – or were brought – from overseas to join the militants.
More than 1,300 women and children surrendered to Kurdish peshmerga in August after government forces expelled the jihadist group from the northern Iraqi city of Tal Afar. Their numbers have since swelled to about 1,700 as more foreign nationals surrendered or were captured during operations to root out the militants, according to aid officials.
Another Turkish woman was sentenced to death last week and 10 others of various nationalities to life in prison, all for alleged Isis membership.
A German woman was sentenced to death last month for belonging to the group and a Russian fighter was also sentenced to death in Iraq last year for joining it.
Iraq has handed over to Russia four women and 27 children suspected of having ties to the group, the foreign ministry said on Thursday, adding that they were "tricked" into joining the militants.
Iraq declared victory in December over Isis, which had seized control of nearly a third of the country in 2014. The group has been driven out of all population centres it once controlled on both sides of the Iraqi-Syrian border, but members have continued to carry out bombings and other attacks in Iraq.
https://www.theguardian.com/world/2018/feb/25/iraq-court-sentences-16-turkish-women-to-death-for-joining-isis
--------
Saudi Arabia starts to enlist female soldiers
Feb 26, 2018
Saudi Arabia has begun to permit women to join its armed forces as part of the kingdom's Vision 2030 social program.
According to a statement released by the country's General Security division on Sunday, women can now apply for enrollment with the rank of soldier.
In order to be accepted the female candidates must fulfill 12 conditions, including being Saudi nationals brought up in the country. They also must be 25 to 35 years old, have high school education, and must pass a medical test. They must also be taller than 155 centimeters, with a suitable weight to height ratio.
Women married to non-Saudis, women who have a criminal record, and women with previous government employment history cannot apply.
The announcement comes as part of Riyadh's social and economic reform push, dubbed "Vision 2030," which was launched by Saudi Crown Prince Mohammad bin Salman.
In January, Saudi Arabia allowed women to enter stadiums to watch men's football matches for the first time.
In September, Riyadh removed the driving ban on women as part of its recent reforms to undo the damage the ultraconservative kingdom has suffered for decades of human rights violations both inside and outside of Saudi Arabia. Saudi Arabia was the last country in the world to permit women to obtain driving licenses.
The move came several days after women were also permitted access into a sports stadium, for the first time, to watch a concert.
Unveiled on 25 April 2016 by the then-Deputy Crown Prince bin Salman, the plan was touted as an assured way of transforming the country economically by the year 2030. The plan, he said, was aimed at ending Saudi Arabia's "addiction" to oil, and it envisaged raising non-oil revenues from 163.5 billion riyals (43.6 billion dollars) in 2015 to 1 trillion riyals (267 billion dollars) by 2030.
Mohammed bin Salman, the Saudi prince in charge of the economy, who was recently elevated to crown prince status, is also believed to have been the architect of the Yemeni war, as he holds the defense portfolio as well.
http://www.presstv.com/Detail/2018/02/26/553620/saudi-arabia-women-military
--------
Saudi women apply to work as Public Security 'soldiers'
Feb 26, 2018
Riyadh: Saudi women have started applying to become 'soldiers' in the Public Security.
The Department of Public Security announced that candidates can submit their applications in Riyadh, Mecca, Medina, Al-Qasim, Asir, Al-Baha, and the Eastern province.
Women applicants should be Saudi nationals, aged 25 to 35, at least 155 centimetre tall and have a high school qualification as a minimum to be accepted.
The Ministry of Interior has offered other jobs for Saudi women to work in the departments of traffic, training, road security, police patrols, provincial police, haj and Umrah police, weapons and explosives, intellectual and moral guidance.
Saudi women who lived with their fathers who held official positions abroad and those who are married to non-Saudi husbands will not be allowed to join the Public Security.
http://www.gdnonline.com/Details/319605/Saudi-women-apply-to-work-as-Public-Security-soldiers
--------
Cultural Barriers, Hurdle To Women's Participation In Politics – Badiyya
By Sardauna Francis
February 25, 2018
Dr. Badiyya Hassan Mashi, the Katsina State Commissioner, Ministry of Women Affairs and Socient (MWASD), on Sunday identified cultural barriers as a major threat to women's participation in politics in the country.
She enumerated gender discrimination, gender based violence and lack of financial capacity, as other challenges bedevilling women in politics.
The commissioner disclosed this in an exclusive interview with our correspondent while distributing 2000 goats to 1000 women at Kaita local government as part of Governor Aminu Masari efforts of alleviating the plights of the less privilege in the state.
"These reasons among others are the major hurdles faced by women in politics. This present limited participation of women in political life is fundamentally an expression of their underprivileged situation in the society.
"However, women should know that Islam as a religion is not a barrier to women participation in politics. So women who hide under Islam to avoid political activities should desist from such," she said.
While admonishing women to participate actively in next year's election, Dr. Mashi said there was a need for capacity building to enhance women's skills and knowledge on how to participate in political activities.
https://independent.ng/cultural-barriers-hurdle-womens-participation-politics-badiyya/
--------
Henna art a big hit among Janadriyah's female visitors
26 February 2018
RIYADH: Women visiting the Janadriyah festival flocked to the Eastern Province's pavilion to have their hands decorated with beautiful henna designs by Maryam Al-Shrida.
Henna art is an ancient tradition, which continues to be popular among women in the Middle East and the subcontinent. Its popularity has now even reached the West. Henna is a herbal dye used for temporary tattooing.
Al-Shrida turns the hands of her clients into works of art, reflecting a hobby and a craft passed down to her from her mother.
She also introduced some modern modifications to her henna designs.
"Henna is used for treating hair and skin diseases and for cosmetic purposes, like dyeing the hair and the skin," she explained.
According to Al-Shrida, women adore henna designs, which come in many types — Indian mehndi, Sudanese, Emirati, Bahraini, Moroccan, and many others.
"Most young women prefer simple designs, Indian designs, flowers, bracelet designs, and letters, as well as having their names written on their palms," she said, "especially during Eid holidays and weddings."
Al-Shrida added: "Most women prefer to mix henna with other ingredients, such as sugar, Prunus mahaleb, vinegar, orange juice, lemon juice, coffee, oil, and others, in order to create the desired color or create a hair mask."
She pointed out henna used for drawing body art is usually prepared using ground green henna, lemon juice, and ground sugar.
http://www.arabnews.com/node/1254291/saudi-arabia
--------
Indian-origin Woman With Alleged ISIS Links Arrested in South Africa
February 26, 2018
Johannesburg: South African special police unit Hawks have arrested an Indian-origin woman and her partner, both allegedly linked to ISIS, on charges of abducting a British couple. Fatima Patel and Safydeen Aslam Del Vecchio also face charges of robbery and theft after they went on a spending spree using the couples credit cards, building up a stash of jewellery, camping equipment and electronic devices which were found at a remote location where an ISIS flag was being flown.
The Hawks declined to provide any further information due to the sensitive nature of the case as the search continues for the couple whose vehicle was found abandoned more than 300 kms away from where they were last seen on February 9. But the weekly Sunday Times, quoting a charge sheet after their court appearance, reported that Patel and Del Vecchio also stand accused of contravening the Protection of Constitutional Democracy Against Terrorism and Related Activities Act by hoisting an ISIS flag at a modest homestead in a rural area.
Del Vecchio also faces another terrorism-related charge for allegedly participating in "extremist web forums that support ISIS and offering to supply phone numbers and sim cards that are not traceable."
Yousha Tayob, the lawyer representing Patel and Del Vecchio, confirmed that the pair had appeared in the court and were remanded in custody at Westville Prison in KwaZulu-Natal province.
The incident had prompted the British government to issue a travel advisory about possible terrorist attacks on foreign nationals in South Africa, but local Muslim organisations have dismissed this as an "overreaction".
Ebrahim Deen of the Afro-Middle East Centre told the weekly that South African Muslims posed no threat to travellers and that the incident was more related to crime than an ISIS attack.
"Muslims are largely integrated in (South African) society, are not disillusioned and they face little discrimination like in Europe and elsewhere," he said.
Martin Ewi of the Institute for Security Studies said South Africa was regarded as a "logistics base" for terror cells in transit, and is not traditionally a target for attacks, although the arrests of Patel and Del Vecchio confirmed the presence of an active terror cell in South Africa.
"We in the counter-terror fraternity suspected that they were working as members of an active cell, and the kidnapping will confirm the presence of an active IS cell," Ewi said.
http://www.news18.com/news/world/indian-origin-woman-with-links-to-isis-arrested-in-south-africa-1672257.html
--------
URL: https://www.newageislam.com/islam-women-feminism/iraq-court-sentences-16-turkish/d/114416
New Age Islam, Islam Online, Islamic Website, African Muslim News, Arab World News, South Asia News, Indian Muslim News, World Muslim News, Women in Islam, Islamic Feminism, Arab Women, Women In Arab, Islamophobia in America, Muslim Women in West, Islam Women and Feminism