New Age Islam News Bureau
12 Apr 2014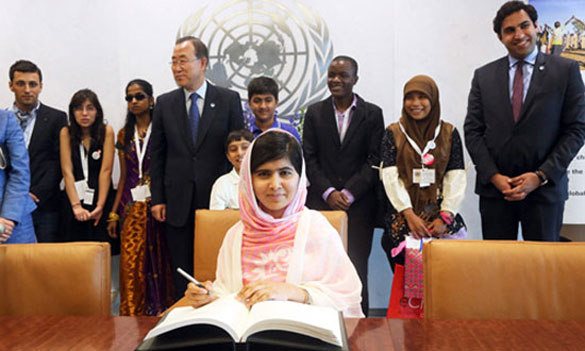 On July 12 last year, Malala addressed the United Nations General Assembly and the event was dubbed as "Malala Day". — File photo
-------------
• Afghan Army Female Trainers Shape Up
• $7 Million from Malala Fund for Education Project in Remote Areas of Pakistan
• UK Firm to Run Three Women's Colleges in Kingdom
• Pakistan Court Drops Attempted Murder Case against Baby
• Afghan Female MP: We Will Not Surrender To the Taliban
• Saudi Arabia: Accelerate Reforms for Girls' Sport in State Schools
• The Irreversible Journey of Afghan Women in Elections
• GOSI Urges Women Not To Cash in Pensions
• Health Advocates Warn Nigeria on Poor Girl-Child Education, Underage Marriage
• Tanzania: Concrete Strategies Needed To Combat Child Marriages
• UAE to Host Gathering Of 'Women of Meaning' Next Month
Compiled by New Age Islam News Bureau
URL: https://www.newageislam.com/islam,-women-and-feminism/new-age-islam-news-bureau/iraq-children-lose-their-innocence-to-marriage/d/66519
-----------
Iraq Children Lose Their Innocence to Marriage
12 Apr 2014
Children who learn about sexuality before their pubescence are stripped of their innocence. Those who learn about it firsthand through childhood marriage know life akin to slavery. Their lives are effectively ended before they have begun. In Iraq a new law is set to pass as the parting statement of the ruling Shi'a Islamist Virtue Party prior to the April 30 elections: children – that is, girls – at nine years old or younger will be allowed to be married-off. The losses to individual human rights, family, and community are uncountable.
The proposed Ja'afari Personal Status Law has received criticism from human rights activists. Basma al-Khateeb, a women's rights activist, says the law legalizes inequality. Even the former Iraqi Prime Minister Ayad Allawi issued a warning that the passage of this law would certainly bring about abuse of women. The law would mirror a similar one from Shi'a-dominated neighbour Iran, and would alter Iraq's current legal age limit of 18 (or 15, with a guardian's approval).
Other aspects of the law include requiring a wife to submit to her husband's sexual demands, which the U.S. group Human Rights Watch identifies as condoning marital rape, and the ruling establishes regulations surrounding polygamous marriages. There are provisions for women – well, girls, age nine and up – to divorce their husbands.
However, the penalty in the law for divorce – whether the choice is of the female or is forced upon her – is the permanent loss of her children. Fathers are automatically granted custody of all children over the age of two from divorces. Hanaa Edwar of the women's rights group, Al-Amal (Hope in Arabic), says this law is "a crime against humanity" and means the deletion of female rights in Iraq. In fact, the law would violate the international Convention on the Rights of the Child.
The political reason for this new impending Iraq law is the garnering of Shi'a Moslem votes. Supporters of the impending law say that it will not greatly change protections, status or legalities in Iraq, since many specific cases are handled through the religious courts. They say that this law will enhance religious freedom without needing to go to court to do so.
For families in Iraq, however, they face the loss of their children as well as the innocence and childhood of their girls. Parents worldwide comply with such laws for differing reasons, ranging from tradition to poverty, including gender roles and what they see as security for their daughters. Sometimes marrying their daughters off is the only way that parents can assure that they will be fed. Often a dowry is less if a bride is young and uneducated.
Early marriage is one of the key barriers that adolescent girls face in getting an education. (Other obstacles to education include child labour, natural disasters, gender violence, violent conflict, insufficient access to healthcare, and human trafficking.) Every extra year in school is a gain for the girl and the economic system as a whole, and every year marriage is delayed is a gain.
Throughout the world, the number of girls married as children numbers 14 million per year, a staggering amount. It is estimated that, without any intervention, that tally will climb to 142 million by the end of the decade. Of the top 20 most affected countries, child marriage is most prevalent in Africa: Niger, Central African Republic, Chad, Guinea, Mali, South Sudan, Burkina Faso, Malawi, Mozambique, Eritrea, Somalia, Sierra Leone, Zambia, and Ethiopia, in that order. It is also common in some Asian countries: Bangladesh, India, and Nepal. And, it can be found in the Caribbean/Central American countries of Dominican Republic and Nicaragua.
According to the organization, Girls Not Brides, solutions to ending child marriage must be rooted in the fabric of each unique community and its circumstances. The group has issued a technical brief, entitled Ending Child Marriage: What Works? A Look at the Evidence. In general, some ways that communities can delay the age of marriage are first, to educate and empower girls. Empowerment can happen when girls have support networks and safe places to congregate outside of their homes. This can reduce girls' vulnerability and their sense of isolation. (See video below.)
Other ways to reduce loss of children to marriage – in Iraq and elsewhere – are to engage an entire community, by appealing to men and traditional leaders, by working to enact minimum legal age for marriage, by introducing incentives, by raising public awareness through the media, and by educating entire communities. In this way, not only innocence, but lives can be maintained.
http://guardianlv.com/2014/04/iraq-children-lose-their-innocence-to-marriage-video/
-----------
Afghan army female trainers shape up
12 Apr 2014
In just over two months, the new Afghan National Army Officer Academy will be opening its doors to the first class of female officer cadets. In preparation, eight female instructors are currently being put through their paces.
Sergeant Humeira, Trainee instructor said, "I always wanted to join the army, so that's why I'm here."
She said, "Currently we are doing the teacher training course for two and a half months, after which we will be delivering training for the female cadets."
Sergeant Rukhshana, another Trainee instructor said, "All my brothers are in the army and my family really encouraged me to join up."
"The army is not just a job for men, but for women too. When the men are conducting operations and searching houses, they can't search the women. But women can search women, so that's why it's important," Sergeant Rukhshana said.
These new female instructors are being trained by both Afghan and international soldiers.
Captain Danielle Huggins, Platoon commander mentor said, "The whole point of us being here at ANAOA is to encourage the development and support of the women in the ANA and the defence course in general."
Lieutenant Kambez, Afghan National Army platoon commander instructor said, "We prepare them in this academy to be in field and be in same equal as men do. They can run, they can teach, they can fire, they can go through any difficult situation, as men go through. We are preparing them as such as the men get training in this academy."
But unlike previous courses run for female soldiers, this one is conducted with their male counterparts; a radical step in a country where the sexes are traditionally divided.
Lt Kambez said, "First two days, they were having problems, lot of problems, sitting on the same benches in the same class as the men. And they were having problems doing exercises, running with them. After a few days, they have improved. And they are really happy. They are saying that "we're really happy from getting trained as equal as men."
Sergeant Rukhshana said, "It was very hard when I was new here. But step by step we are progressing with the training alongside the men. So now we are like one big family."
The physical side of the training is also a huge undertaking for the cadets as many have never done exercise before, least of all alongside men. But true to form, they are rising to the challenge.
Staff Sergeant Kate Lord, Physical training instructor said, "As soon as they came in, it was a bit …You could see it straight away. One wasn't even able to do one press up and then today, six weeks on, they are doing 5-6 press ups in one go with really good form."
All the men seem to be accepting the females. Who would have thought, five months in the tour and the females are alongside their male counterparts doing physical training."
And the benefits to all are palpable. "We've seen them become more confident, they are really keen to actually do the lessons with the men, so that they are getting taught exactly the same thing. I think they've seen a lot of segregation, so they are enjoying working with the men and learning the same as what they do," Captain Huggins said.
And for the soldiers themselves, inviting women to be officers can only be a good thing. "It's an honour for us, that women born in Afghanistan, raised in Afghanistan and living in Afghanistan are able to serve their country," Dari Sergeant Humeira said.
Lt Kambez said, "We need them actually. We need them and their country needs them."
http://www.khaama.com/afghan-army-female-trainers-shape-up-2987
-----------
$7 Million from Malala Fund for Education Project in Remote Areas of Pakistan
12 Apr 2014
ISLAMABAD: A number of people in the country may hold an uncharitable opinion about Malala Yousufzai's worldwide efforts to promote girls' education but the government has decided to make use of money from a fund set up by her for an education project.
The sceptics are not only laymen who doubt whether the young education activist was actually shot at by the Tehreek-i-Taliban Pakistan (TTP) but also people holding powerful positions in the government who have downplayed her internationally recognised efforts.
The young Malala — who shot to instant worldwide fame after TTP militants attacked and severely injured her in Swat in October 2012 for promoting the cause of girls' education — has set up the Malala Fund to "empower girls to raise their voices, unlock their potential and demand change".
In February, the ministry of finance signed an agreement with the United Nations Educational Scientific and Cultural Organisation under which $7 million from the Malala Fund would be spent on an education project which would focus on remote areas of the country.
The 36-month project will be executed in three phases. A blueprint of the project will be prepared in the first phase which would last six months. Work on it started on March 18.
The second phase will be of implementation of the project and will spread over two years. Activities will be launched to widen girls' access to education and improve the retention and completion rates of girls through improvement in quality of education.
The third phase will be of documentation.
From the day one when Malala was attacked, the TTP apologists came up with a conspiracy theory and said it was a CIA-managed incident to defame the country, although a TTP spokesperson had accepted responsibility for the shooting.
But the world rallied behind the cause of education for girls. Malala was showered with international awards for her courageous act and even nominated for the Noble Peace Prize.
On July 12 last year, she addressed the United Nations General Assembly and the event was dubbed as "Malala Day".
The response of Punjab Chief Minister Shahbaz Sharif to her speech surprised many. He was reported to have said in a tweet: "Good speech by Malala could have been better — seemed to be written for global consumption and tried to please everyone at home & abroad."
The comment was criticised and the tweet was immediately removed.
In January this year, the PTI-led Khyber Pakhtunkhwa government barred Peshawar University from hosting a ceremony for launching Malala's biography "I am Malala".
This prompted Pakistan Tehreek-i-Insaf chairman Imran Khan to criticise the government of his own party.
Later, it came to be known that the government had stopped the university administration from holding the ceremony because of the fear of Taliban reprisal.
https://www.dawn.com/news/1099347/7-million-from-malala-fund-for-education-project-in-remote-areas
-----------
UK firm to run three women's colleges in Kingdom
12 Apr 2014
A UK education company has been selected to develop and manage three new vocational colleges for women in the Kingdom.
The Oxford Partnership, comprising Activate Learning, GEMS Education Solutions and Moulton College, will run the colleges in Al-Jouf, Arar and Qurayyat, it was announced at a press conference here by the Colleges of Excellence (CoE).
It is among 27 international companies and universities taking part in an ambitious Saudi plan to provide applied skills training for its young population, to occupy available jobs and another 800,000 posts within the next five years.
Matthew Hancock, England's minister of state for skills and enterprise, told Arab New: "I visited Saudi Arabia earlier this year in support of UK bidders and am particularly pleased that they will soon be offering high quality practical skills training to an additional 24,000 Saudi students including 14,000 Saudi women."
Canadian Ambassador Tom MacDonald told Arab News on the sidelines of the event that this was a "great opportunity for the Kingdom to pay much-needed attention to technical training."
He said that Canada's educational institutions have set up three campuses, including one in Jazan, and the Niagara College that will focus on hospitality. "We have almost 20,000 Saudi students in Canada and it's wonderful that we now bring Canadian education here directly to the Kingdom."
The first 10 CoE colleges opened in September 2013, with a further 27 due to open in September 2014. New purpose-built facilities provided by the Saudi government will cater to up to 500 students per college in the first year, rising to 2,000 per college in five years.
Students will focus on English language training and basic information technology skills in the first year, before specializing in vocational areas including health care, business, finance, hair and beauty, fashion design and agriculture. Subject areas have been chosen by the government to support growing employment needs in certain parts of the country.
Sally Dicketts, chief executive of Activate Learning, previously Oxford & Cherwell Valley College Group, said: "This project exemplifies our group vision, to transform lives through learning. The colleges represent a significant investment in the training and development of women in Saudi Arabia, empowering them to develop the technical skills and qualifications required for successful futures."
Chris Kirk, chief executive officer of GEMS Education Solutions, said: "A program of this scale recognizes the vital importance of vocational and technical education in achieving sustainable economic growth for the Kingdom of Saudi Arabia."
This is a program that will work closely with employers — from design to delivery — linking learning to future employment opportunities, said Stephen Davies, chief executive of Moulton College.
"We are best placed with our partners to make a significant difference to young adults in Saudi Arabia in delivering best in-practice technical vocational education and training, and excited by the opportunities this expansion provides for our own UK-based staff and students by broadening experiences on a global scale."
http://www.arabnews.com/news/554461
-----------
Pakistan court drops attempted murder case against baby
12 Apr 2014
LAHORE: A Pakistani court has thrown out charges of attempted murder against a nine-month-old baby, in a case that highlighted endemic flaws in the country's legal system and provoked widespread ridicule.
The court also launched a separate case to look into how police pressed charges against baby Mohammad Musa after his family clashed with gas company officials in a working class neighbourhood in the eastern city of Lahore.
Police lodged a case against the whole family.
The case drew international attention and sparked ridicule against the Pakistani criminal justice system, after the toddler was photographed crying his lungs out while being fingerprinted in court.
His grandfather was later seen trying to comfort him with a milk bottle.
Inspector Kashif Muhammad, who was at the crime scene and pressed attempted murder charges against the baby, has since been suspended.
The charges were in direct contradiction with Pakistan's minimum age of criminal responsibility, which was raised from seven to 12 years in 2013 except in terrorism cases.
Police told judge Rafaqat Ali Qamar Saturday that the baby was "no longer required in the case".
Musa's grandfather, Muhammad Yasin, subsequently withdrew a bail application for the baby as the court dropped the case.
Yasin had accused police of fabricating the charges because they were colluding with a rival party who wanted to see the accused evicted from their land and had obtained an order to remove their gas connections.
http://www.arabnews.com/news/554556
-----------
Afghan Female MP: We Will Not Surrender To the Taliban
12 Apr 2014
Kabul, Asharq Al-Awsat—Shukria Barakzai is perhaps the most well-known of the female MPs in the National Assembly of Afghanistan, largely because she has been a very outspoken advocate for women's rights and a vocal critic of Taliban influence in the Assembly. She attributes her election to the votes of university students, women and liberal thinkers. They, like her, fear the return of Taliban rule and their desire to "turn back the clock" to the days of Shari'a, she says.
She also alleges that the Taliban are not the only ones who threaten her, and that there is a prominent "mafia culture" among businessmen, former Mujahideen leaders and members of the National Assembly, who think women should stay at home. She explained: "They hate me. I knew that going into this. But I pay no attention to the criticism."
Asharq Al-Awsat previously met with Barakzai during the 2009 election in a wing of the Assembly building. She said then that if the Taliban returned to power in Afghanistan, she would leave the country with her five children and never return, because they wanted women to be second-class citizens. But now she is more defiant and more determined, declaring: "Even if the Taliban returned to power, we would not leave our country."
Q: Have Afghans grown accustomed to the pattern of violent Taliban attacks that have disrupted life across the country?
The people are disgusted by the killing of innocents and foreign journalists. Even children are not safe. [AFP reporter] Sardar Ahmad's entire family was wiped out by one of these attacks. His wife, his two children . . . for what crime? They had gone to the Serena Hotel to celebrate Nowruz, like everyone else. We saw that the streets were deserted on the eve of the election. But I say to all Afghans: do not be afraid of them. Afghanistan does not suffer from the Taliban alone, but also from the corruption that plagues everyday life. And that is why we need a new president who is able to establish security and peace in our country and at the same time extend a hand to the poor and the marginalized and tackle the Taliban's corruption.
Q: What do you think of the future of Afghanistan after foreign forces pull out?
They will leave our country by the end of the year, and we will have nothing before us but our army and our police. But the security situation is not that bad. You can see how secure the polling stations have been. All 34 provinces have been secured against Taliban attacks. The Taliban merely wants to generate media buzz that says they disrupted the election. But that will not happen.
Going forward, we will rely on our national forces not only to provide security during the election, but in everyday life as well. Yes, we must be vigilant against evil and corruption in the armed forces, but I do not think that the Taliban will return to power. I am confident of that. They had their chance in the 1990s. Even after foreign troops withdraw, we hope they will provide assistance and expertise to Afghan forces until they can take over entirely.
Q: You are a human rights activist and MP who has openly challenged the Taliban and Mujahideen chieftains. Aren't you afraid of them?
I was in Afghanistan when the Taliban assumed power and took control of Kabul. I saw the suffering of the Afghan people when girls were denied education and radio and television were banned. Before that we lived in the crucible of civil war between the Mujahideen in which leaders of the jihad exchanged artillery fire over control of the capital. Afghans welcomed the Taliban as a respite from the bloody ethnic wars of the Mujahideen. Today, however, Afghans enjoy democracy, freedom of the press, television, [there are] girls' schools across the nation, and health clinics and government hospitals. The Taliban banned all of these things and now they are thinking of returning to power. They want another chance, but they are out of time.
I usually raise my voice in protest at parliamentary bills. If I see something I don't like regarding girls or sexuality, I yell and I do not stop, even if they yell back or demand silence. I must acknowledge that part of Afghan tradition is that women must not raise their voices in the presence of men, a custom that pleases the Mujahideen; but today we are in a changing world. There are problems: deteriorating security, rampant drug cultivation and domestic violence against women, among others. We must shout with one voice to the National Assembly. We must be given the opportunity to express the suffering inflicted upon the women of Afghanistan.
There are currently 68 female MPs out of 249 in the National Assembly of Afghanistan, a break from traditional taboos that were forced upon us during the years of jihad. Women today have a powerful voice in the Assembly, one which the Mujahideen want to silence because they believe women belong at home.
Even if the Taliban relinquishes violence, puts down their weapons and takes power through political participation, they would reinstate the same laws that made women second-class citizens.
Q: With so many restrictions on women, how do you go about your everyday life? Have you received threats from the Taliban before?
I came today with my private driver, and I go with him to the markets to buy the necessities. My driver takes me to the Assembly headquarters without a guard. As to the threats, they are incessant, be they from the Taliban or the drug mafia. The threats became more substantial, often threatening death, when I pushed for more investigations into the reasons for the rampant opium cultivation on Afghan soil and the government's weakness in confronting the remnants of the Taliban. The drug problems Afghanistan suffers in the Helmand river valley are a real issue for the country.
Q: What role have women been playing in the 2014 election cycle?
There have been larger and larger rallies of Afghan women across the country, demanding women's rights and improved living conditions. They focus particularly on violent crimes against women in Afghanistan, which hit record levels and increased in brutality in 2013. Even the presidential candidates that did not talk about women's issues still made promises to improve the quality of life for women in Afghanistan. We want to move forward and solve Afghanistan's problems. There are many Mujahideen elite who do not accept that we are working in the interests of the millions of women who have been denied their rights for many years. The former Mujahideen do not want women to have a voice in opposition. They don't want us to ask questions. The leaders of jihad have not grown to accept women's right to play a part in public life, but times have changed. We must carry the voices of the women who were marginalized under the Taliban. They [the Taliban] hate me, and they want to see me fall, but they will fail as they always have.
There are many pressing issues, such as deteriorating security on Afghanistan's streets, how to allocate foreign aid and economic issues such as unemployment and decreasing standards of living. We want to see results on the ground in security, health, education, infrastructure, and so on.
http://www.aawsat.net/2014/04/article55331070
-----------
Saudi Arabia: Accelerate Reforms for Girls' Sport in State Schools
12 Apr 2014
(Beirut) - In a welcome move that could advance rights for women and girls, Saudi Arabia's Shura Council has directed the Education Ministry to study the possibility of introducing physical education for girls in Saudi public schools. The council, the kingdom's highest consultative body, voted overwhelmingly - 92 votes to 18 - in favour of the recommendation, but the Ministry of Education must draft and present regulations, and the Shura Council and Cabinet must approve them before sports for girls in public schools becomes a reality, Human Rights Watch said. "The Shura Council vote shows that the Saudi government can buck the conservative establishment and take steps to end discriminatory practices against women when it wants to," said Sarah Leah Whitson, Middle East and North Africa director. "It's a good sign that Saudi authorities appear to realize letting all girls in Saudi Arabia play sports is important to their physical and mental wellbeing."
Saudi authorities previously ruled in May 2013 that female students enrolled in private girls' schools could take part in sports so long as they wear "decent clothing" and are supervised by female Saudi instructors within the tight regulations of the country's Education Ministry. On May 22, 2013, Human Rights Watch wrote a letter to Saudi Arabia's Education Ministry requesting a timetable for the adoption of a proposed national strategy to promote sports for girls at all levels of education, but did not receive a response. As Human Rights Watch documented in its February 2012 report, "'Steps of the Devil': Denial of Women's and Girls' Rights to Sport in Saudi Arabia," Saudi Arabia is the only country in the world that still effectively bars girls from taking part in sport in government schools. There is no state sports infrastructure for women, with all designated buildings, sports clubs, courses, expert trainers, and referees restricted to men. Discrimination against girls and women in sports still takes place at multiple levels in the kingdom, including:
The continued denial of girls' physical education in state schools; The denial of women's representation on national sports bodies, which means there are no competitive sports events for Saudi women athletes in the kingdom; and The denial of government financial support for Saudi sportswomen in national, regional, or international competitions.
Human Rights Watch said that these restrictions violate Saudi Arabia's international obligations and are also in clear contravention of the Olympic Charter's non-discrimination clause. Human Rights Watch called on the government to set out a clear strategy and accelerated timeline for rolling out physical education for girls in public and private schools, to lift its ban on licensing gyms for women, and to instruct the General Presidency for Sport and Youth Welfare - the kingdom's sports regulatory body - and the National Olympic Committee to open women's sections and to demand the admission of women members in all sports each body oversees in the kingdom.
In a positive development, authorities began allowing licenses for private sports clubs for women in March 2013, and the first such club opened in the Eastern Province city of Khobar in June 2013. After delays and resistance, Saudi Arabia finally agreed to allow two female athletes to represent Saudi Arabia in the 2012 London Olympics: Wujdan Shahrkhani, in judo, and Sarah Attar, in track and field. The International Olympic Committee (IOC) hailed the change, with the president, Jacques Rogge, announcing: "For the first time in Olympic history, all the participating teams will have female athletes. This is a major boost for gender equality." The Education Ministry has previously given indications that it might approve sports programs for girls in government schools. In December 2011, the Deputy Minister for Girls' Affairs, Nora al-Fayez, wrote to Human Rights Watch:
The issue of girls' physical education is under serious consideration as one of the priorities of the ministry's leadership that regards physical education in schools as one of the necessities helping male and female students to stay healthy. The ministry is currently working on a comprehensive educational curriculum, starting with laying the infrastructure for the project and finishing with health and nutritional education, all within the national strategy for girls' and boys' physical education.
The government recently has carried out encouraging, modest reforms for women over the last two years, Human Rights Watch said, including a law criminalizing domestic abuse for the first time. However, Saudi Arabia's discriminatory male guardianship system remains intact. Under this system, ministerial policies and practices forbid women from obtaining a passport, marrying, travelling, or accessing higher education without the approval of a male guardian, usually a husband, father, brother, or even a son. Authorities also fail to prevent some employers from requiring male guardians to approve hiring adult female relatives or some hospitals from requiring male guardian approval for certain medical procedures for women. All women remain banned from driving in Saudi Arabia. "Saudi Arabia has a long way to go to end discriminatory practices against women, but allowing girls to play sports in government schools would move the ball down the field in ways that could have major long-term impact," Whitson said.
http://www.trust.org/item/20140412053513-q5z21/?source=hppartner
-----------
The irreversible journey of Afghan women in elections
12 Apr 2014
Afghans turned out in strong numbers for the presidential and provincial council elections on April 5, with an estimated seven million people casting their votes for the candidates of their choice. The presidential election is Afghanistan's first ever democratic transition of power, with current President Hamid Karzai, the dominant political figure of the past 12 years, unable to run again. However, much more is at stake than a power shift from Karzai to whomever succeeds him; the country's stability after the pending withdrawal of US and Nato forces at the end of 2014, civil liberties and women's rights all hang in the balance.
As such, Afghan women took their civic duty seriously — according to the Independent Election Commission of Afghanistan, 35pc of the 16 million eligible voters in 2014 were women. However, with votes still being counted and preliminary results that might lead to a run-off scheduled to be announced next week, there are now indications that the percentage of Afghan women voters might be much higher.
In 2009, due to security threats and rampant election fraud, only 4.6 million votes were cast from a voting population of 15 million, with women constituting 38pc of registered voters. In 2004, when the country was filled with optimism and the Taliban threat was minimal, women represented 42pc of the eligible voting population, then totaling 12 million registered voters.
This election season also featured pictures of female candidates alongside male contenders. That fact alone speaks volumes about the country's transition from the oppressive rule of the Taliban more than 13 years ago, when women were considered non-citizens and were forbidden to participate in public life.
In 2014, 323 female politicians openly campaigned for seats in the provincial councils, elevating the status of Afghan women in a traditionally patriarchal society. Both young and old, ambitious female contenders used promising mottos such as the one on Khatera Ishaqzai's provincial council campaign poster promising to "ensure justice, human rights and women's rights" for all Afghans. A civil society activist, Ishaqzai is running for a seat on Kabul's provincial council.
Although there was no female candidate for president, there were three women vying for the position of vice president. Habiba Sarabi is the most prominent, having once served as Afghanistan's first female governor in Bamiyan province. Her current bid to become Afghanistan's first female vice president has been part of an effort to get out the women's vote as candidates realised they needed them to win. "Of course, to be in politics as a woman is a risky task," Sarabi said recently. "But we have to take the risk; otherwise we cannot achieve our goal."
The top three presidential candidates were vocal proponents of Afghan women's rights during the campaign season, courting the women's vote. Top contender Ashraf Ghani Ahmadzai broke tradition by including his wife, Rula, a Lebanese-American Christian, to speak at an International Women's Day rally, as did his running mate, Uzbek warlord Rashid Dostum, whose wife, Zubaida, also participated.
Because of security problems, most female candidates limited their campaign outings to Kabul. The Taliban had openly threatened to disrupt the election process, saying that they would kill candidates as well as their supporters. The Taliban claimed that the election would be another ploy by the United States to continue its stranglehold of Afghanistan. Since early February, nearly two dozen election workers were killed by the Taliban, and the Afghan National Police reported that 24 people were killed and 43 civilians wounded during attacks on Election Day.
Yet despite claims of fraud and not enough paper ballots due to the high turnout, the presidential and provincial elections went better than expected and should be seen as a victory for the Afghan people. More importantly, the elections will determine to what degree the gains of the past decade in women's rights will be safeguarded during the transition and by the new government. Afghan women worry that those gains could easily be reversed if extremists come back into power, or if Western support dwindles. Those concerns have added urgency to this campaign season for women who are fighting to make their leadership more acceptable in a still deeply conservative society.
Afghanistan cannot afford to ignore its women, to slip back into the past, and neglect half of its population. Most importantly, Afghanistan cannot afford to lose the gains of the past decade — for to do so would mean it would lose its place in the global community and its regional sphere of influence. No matter who wins the elections, Afghanistan must guarantee that its women continue to participate in public life and contribute to a more peaceful, just, and stable society.
https://www.dawn.com/news/1099080/the-irreversible-journey-of-afghan-women-in-elections
-----------
GOSI Urges Women Not To Cash in Pensions
12 Apr 2014
The General Organization for Social Insurance (GOSI) has urged women contributors not to cash in their pensions if they decide to leave their jobs because this would see them lose retirement, disability and other benefits.
If they hold onto their GOSI membership, it would allow them to link their previous service to any new government job they decide to take up, said Abdullah bin Muhammad Al-Abduljabbar, GOSI's spokesman and director general of insurance information.
If they do not take up new jobs, they should find a way to complete the contracted contribution period.
He said that if women do not cash in their pensions they would qualify for various benefits, including a retirement pension at 55 after completing a contribution period of 120 months; an early retirement pension after completing 300 months; a non occupational disability pension after completing 12 months, and an heir's pension after completing three months.
"If the Saudi female contributor takes up a government job, she will have the right to aggregate her contribution periods to qualify for a pension, provided that she does not settle her insurance entitlements under the social insurance scheme."
Currently more than 433,000 Saudi female contributors are registered with GOSI, he said.
GOSI has 21 field offices in a number of regions and governorates in the Kingdom. Its social insurance scheme covers workers in the private sector and a group of workers in the public sector.
It also provides the contributors and their families with support after leaving work due to retirement, disability or death; medical care for contributors afflicted with work injuries or occupational diseases; and compensation in the event of occupational disability or death.
http://www.arabnews.com/news/554431
-----------
Health Advocates Warn Nigeria on Poor Girl-Child Education, Underage Marriage
12 Apr 2014
Human development and health advocates warn of bleak future for Nigeria if girls' education, health and overall human development are not urgently improved.
In a report released by Africa Health, Human & Social Development Information Service (Afri-Dev. Info); Africa Coalition on Maternal Newborn and Child Health, and Pan African Campaign Against Forced Marriage of Under Age Children, there is a link between poor girl child education and poor development indices and there are impending consequences for Nigeria unless something is urgently done to arrest the situation.
Scorecards underline the link between poor educational attainment of girls, forced 'marriage' of underage children and under age child bearing.
From the report, eight states including Kebbi, Sokoto, Bauchi, Jigawa, Yobe, Zamfara, Katsina, and Gombe have the worst performance across all indicators on (1) Lowest girl child education; (2) Highest female illiteracy; (3) Highest adolescent girl ' marriage'; (4) Highest under-18 child bearing; (5)Highest under-15 child bearing placing them in the highest risk category for maternal death and injury.
Scorecards underline that although worst performing states are from the North it's a serious national problem affecting all states – For instance, Ebonyi State at number 12 (57.8%) for highest percentage of girl children not in secondary school – scores worse than North Central, North East and North West states – such as, Nasarawa 56.7%; Benue 56.4%; Adamawa; 53.1%; Kaduna 45.3%; Plateau 45.3%; Kogi 36.4%; and Kwara 35.4%.
Similarly, for a number of adolescent girls in 'marriage' Bayelsa State, (The state where President Goodluck Jonathan was previously governor) is at number 13 (with 23.8% of girls in 'marriage') scoring worse than Adamawa 20.4%; Benue 20.2%,;Taraba 18.1%; and Nasarawa 16.1%.
Also in the indicator of females (aged 20 to 24 years) but who had a live birth before age of 18 years – Bayelsa is again at number 13 with 31.7% scores worse than Adamawa 30.5%; Taraba 29.3%; and Niger 24.9%. These three Northern states in turn score better than Delta 22%; Rivers 19.9%; and Anambra 18.9%.
Human development and health advocates have therefore called for urgent national and state level action including improved policy and investment by the presidency and national assembly, in state governors and state houses of assembly.
Speaking on the scorecards, Rotimi Sankore, lead advocate for the groups, stated that "The basic ability to read and write is absolute minimum condition to function in a modern society, to escape from poverty and to contribute to community, national and African development.
"But the evidence also underlines very strongly that poor educational attainment for girls, underage marriage and underage childbearing is not a northern or religious based problem – but a national problem.
"The fact that Ebonyi State for instance scores worse than some northern states on the percentage of girls in secondary school; or that Bayelsa where President Goodluck Jonathan was previously Governor, scores worse than some northern states on both under age marriage and under age child bearing is evidence of this. We need evidence based policy making in Nigeria."
http://businessdayonline.com/2014/04/health-advocates-warn-nigeria-on-poor-girl-child-education-underaged-marriage/#.U0h7p6hdU4U
-----------
Tanzania: Concrete Strategies Needed to Combat Child Marriages
12 Apr 2014
Dodoma — CONSTITUENT Assembly (CA) women members have been holding meetings over the weekends in Dodoma, to speak as one voice when pressing for their issues to be included in the new Katiba.
This group meets irrespective of their members' political affiliations, place of origin, and their status in community. What brings them together is their gender and not anything else.
According to Tanzania Media Women Association (TAMWA) Executive Secretary Ms Valerie Msoka, the new constitution should stand firm on women's rights, especially the right age for marriage.
"Women should join efforts to end child marriage -- a fundamental human rights violation that impacts all aspects of a girl's life" she says. According to Ms Msoka, women who are CA members should make sure that there is a provision in the new Katiba that clearly promotes girls' empowerment and the fulfilment of their rights.
Such a provision may prompt the government, civil society actors and the international community to take urgent action to end the harmful practice of child marriage, she says.
Ms Msoka says that as the constitution making process continues in Dodoma, the government, civil society, international agencies and the private sector elsewhere should also come together and accelerate a decline in the practice of child marriage.
In recent days there have been all-encompassing social media campaigns aimed at raising awareness about the need to reverse the fate of girls who are far too often married off at a very young age. Although Tanzania has seen some progress over the last few years in reducing child marriage by as much as 13 per cent, today, one in six girls aged 15 to 19 years is married.
According to recent reports released by United Nations Populations Fund (UNFPA) , child marriage results in early and unwanted pregnancies, posing life-threatening risks for girls.
The report says that a girl who marries later is more likely to stay in school, work and re-invest her income into her family and community and she is also more empowered to choose when, where and how many children to have.
UNFPA Tanzania Representative Ms Mariam Khan says investing in girls helps break the cycle of poverty in the family and community - longer schooling, later marriage leads to healthier, wealthier families.
The chairperson of Tanzania Women Parliamentary Group (TWPG), Mrs Anna Abdallah, insists that child brides may suffer vulnerability to HIV and AIDS. "Future husbands may already be infected from previous sexual encounters -- a risk which is particular acute for girls with older husbands. Access to contraception is also an issue," she says.
According to Mrs Abdallah, only 15 per cent of married and 40 per cent of unmarried sexually active adolescents use modern methods of contraception. She says that with such poor use of protection, many of the adolescent girls are vulnerable to getting infected with HIV.
"Girls who marry early are more likely to suffer abuse and violence, with inevitable psychological as well as physical consequences. Almost three-quarters of girls report to have experienced physical violence prior to the age of 18 by an adult or intimate partner," Mrs Abdallah says.
Working with the Tanzanian government, UNICEF has already taken part in developing state action plans and has also supported the establishment of girls' clubs and collectives that were trained on child rights on how to work with the community to stimulate a dialogue about ending child marriage.
Mrs Abdallah told her fellow CA women members that child marriage is an appalling violation of human rights and robs girls of their education, health and long-term prospects. According to her, a girl who is married as a child is the one whose potential will not be fulfilled.
Since many parents and communities also want the very best for their daughters, the society must work together and end child marriage. Mrs Abdallah insists that education is one of the most effective strategies to protect children against marriage, simply because when girls are able to stay in school an attitudinal change can also occur towards their opportunities within the community.
UNICEF data released recently say that the proportion of child brides has decreased over the last 30 years but child marriage persists at high rates in rural areas. The report says that Tanzania has one of the highest child marriage prevalence rates in the world.
On average, it says, almost two out of five girls are married before their 18th birthday. In 2010, about 37 per cent of the women aged 20-24 were married/in union before age 18. Data shows a 10 per cent decline since 2004 (41 per cent).
While child marriage is common in Tanzania, prevalence is highest in Shinyanga (59 per cent), followed by Tabora (58 per cent), Mara (55 per cent), Dodoma (51 per cent), Lindi (48 per cent), Mbeya (45 per cent), Morogoro (42 per cent), and Singida is 42 per cent.
Others are Rukwa (40 per cent), Ruvuma (39 per cent), Mwanza (37 per cent), Kagera (36 per cent), Mtwara (35 per cent), Manyara (34 per cent), Pwani (33 per cent), Tanga (29 per cent), Arusha (27 per cent), Kilimanjaro (27 per cent), Kigoma (26 per cent), Dar es Salaam (19 per cent) and Iringa (8 per cent).
Urgent action is needed to take solutions to scale and prevent the thousands of girls in Tanzania today from being married in the next decade(s).
In 2010, 764,000 women aged 20-24 were married/ in union before age 18, says the report. If present trends continue, 1,382,000 of the young girls born between 2005 and 2010 will be married/in union before age 18 by 2030.
This projection is almost double the 2010 estimate of married girls, an increase that is compounded by high fertility and low mortality in the recent past.
http://allafrica.com/stories/201404020092.html?viewall=1
-----------
UAE to host gathering of 'women of meaning' next month
12 Apr 2014
A UAE-based businesswoman has joined hands with an American woman entrepreneur to organize a four-day retreat for top women executives in in Ras Al Khaimah from May 17 to 20.
Theda Muller, who has lived in the UAE for the past 10 years and is also a writer on recovering from personal debt crisis, said she is partnering with Diana Dentinger, who has lived in Turin in Italy for 25 years, to hold the 'Women of Meaning Gathering' at the Banyan Tree next month. Both the women together have 50 years of experience as personal and professional development trainers.
Mueller said the gathering, which aims at helping to "empower women to achieve their potential and live their lives to the fullest", is being held in the UAE for the first time.
"Unless you attempt to do things beyond what you already do, you will never grow," says Mueller. "More than ever before women are ready to move beyond the traditional roles set for them by society. That's why we are conducting this transformational retreat for high-calibre women."
"At a certain age women have achieved a number of significant life experiences, but then there's a calling for more," Dentinger explains. "So while there is a certain degree of satisfaction with what's been accomplished, there is an equal or greater desire for more."
"Women spend so much more time, energy and money on things like shoes, clothes, jewelry and other ways to compensate for their overall unhappiness, but if just a small fraction of this were to go toward their personal growth and evolution it would make such a positive impact on their lives and on the world," added Dentinger.
http://www.emirates247.com/news/emirates/uae-to-host-gathering-of-women-of-meaning-next-month-2014-04-11-1.545177
-----------
URL: https://www.newageislam.com/islam,-women-and-feminism/new-age-islam-news-bureau/iraq-children-lose-their-innocence-to-marriage/d/66519