New Age Islam News Bureau
26 May 2018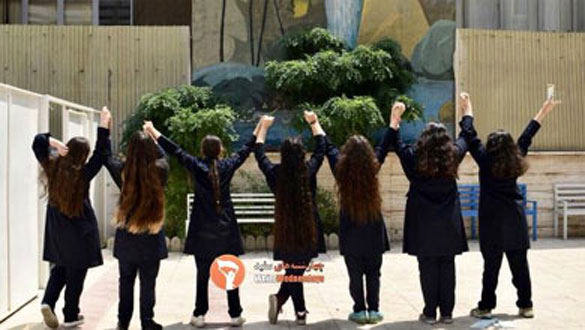 Students participating in the movement against obligatory hijab #White Wednesdays
----
• Malala Elected Social Secretary at Oxford College
• Dialogue Session: Women MPAs Admit Making Pro-Women Legislation A Tough Task
• On Uniform Civil Code, Law Panel Asks Muslim Groups: Why Deny Some Rights to Women
• Saudi Women 'Taking Control of Their Finances'
• Women Ready for Top Jobs in SCTH, Says Saudi Arabia's First Female Tour Guide
Compiled by New Age Islam News Bureau
URL: https://www.newageislam.com/islam-women-feminism/iranian-women-go-online-protest/d/115364
--------
Iranian Women Go Online To Protest Forced Hijab
26-05-2018
In Iran, it has been obligatory for women to wear a head scarf, or hijab, since 1983, in the wake of the 1979 revolution. Since then, women have been forced to wear the long, loose-fitting chador, and the hijab. To make sure the law is respected, morality police patrol the streets. But two major online movements are showing people -- inside and outside the country -- that Iranian women want to choose.
The movements are known as #MyStealthyFreedom and #White Wednesdays. The women in the videos are not necessarily opposed to wearing the hijab, but they are opposed to being forced – by law – to wear it. And they are willing to risk everything for the right to choose.
Birth of the movements
Masih Alinejad, an Iranian journalist now living in exile in the United States, is the woman behind these two movements. In 2014, she had posted a photo of herself running down a street in London with her hair flying in the wind. Beneath the photo she wrote "every time when I run in a free country and I feel the wind in my hair, it reminds me of the time when my hair was like a hostage in the hands of the Iranian government".
That message connected with many Iranian women across the country. Soon Alinejad posted another photo of herself driving unveiled in Iran. This time she added the caption "I am a woman and I know there are many other women in Iran who do not believe in hijab [and] they have such pictures". Soon enough "I was bombarded by pictures and videos from women inside Iran unveiling themselves, walking in the streets taking pictures of themselves in the streets, in front of police cars or in [the] seaside, or nature" explains Alinejad. And so the movement my Stealthy Freedom was born.
To keep the momentum and the pressure on the Iranian government to end compulsory hijab, Alinejad says she decided to launch White Wednesdays last year on 24 May. White, because it's the colour of peace.
In this movement she asked the women to identify each other in public while taking of their white headscarves. Again, she got "many videos of women…..sometimes walking shoulder to shoulder with their husbands, their fathers, their boyfriends and saying no to compulsory hijab in public".
Punishable crime in Iran
Not wearing a hijab in Iran is a punishable crime. Women risk ten months to two years in prison for being caught without being properly covered. Alinejad explains that from the young age of seven, girls are forced to wear the hijab. Without it, a girl will not be able to access school, to get a job, or just generally to live in the country, because at all times you are being monitored by the morality police. In short, she says "being a woman means that you leave in a dangerous situation in Iran".
Obligation of the hijab
In 1979, Iran deposed its Shah and established a theocracy. Since then, the laws of the country have been tied directly to Islamic law, or Sharia. It's the job of the top religious cleric, the Supreme Leader, to ensure the government's interpretation of Islam is respected – particularly by women.
But where did this obligation for women to cover their hair come from?
Koran
In Islam the main beliefs come directly from the Koran, the holy book. For Muslims, the word of god was dictated directly to the prophet Mohamed. Religious leaders point to its verses, to explain why Muslims have to behave in a particular way.
Merryl Wyn Davies is an Islamic scholar and former director of the Muslim Institute in London. She says that although there are eight references to the hijab in the Koran, none of them have anything to do with clothing or refer to terms that one would understand to be a hijab, a chador, or an abaya.
The verse that many point to as a reference for the hijab is in chapter 24, verse 31 which calls upon women "to lower their gaze and be mindful of their chastity and to draw their head coverings over their bosoms". But, stresses Davies, the passage actually begins in chapter 24 verse 30 where it calls upon men "to lower their gaze and be mindful of their chastity".
The conclusion taken from this, she explains, is that the Koran is speaking about modesty within a person, and less about "uniforms and pieces of cloth" which reduce both men and women to objects based on appearances.
Hadith
Another major source for Muslims is the Hadith, a record of the sayings and life of the Prophet Mohammed. "The hadith is debateable territory" adds Davies, as it opens up room for interpretation, rather than it dictating specifics. It's for that reason she believes if you were to sit down a group of Muslim and Islamic scholars and ask them if it is obligatory for women to cover their hair "they will tell you 'well actually not'."
In the case of Iran, the religious clerics have interpreted the Koran to include this obligation on women. It has also been extended to women not being allowed "to be a judge, to ride a bicycle…to sing solo…to travel abroad" or get a passport without permission from their husbands or fathers explains Alinejad. And to the Iranian government, says Alinejad, these rules come from Sharia and must be respected. In response to such rules, which are only enforced mainly in Iran and Saudi Arabia, the creator of the movement says if there is an overriding interpretation of such laws "then this is their responsibility to condemn anything that is happening in the name of Sharia laws and Islamic laws inside Iran and other Islamic countries".
Davies stresses that the Koran is about helping a person make the world a better place and not about "how you lead narrow, prescriptive lives and think you're going to get to heaven".
Momentum of online movement
Until such overriding authority is removed, women have started to speak up. A similar online media movement has pushed certain boundaries already in Saudi Arabia, such as the right to drive. And this current movement in Iran continues to gain momentum, despite the risks. Already one activist in March was sentenced to two years in prison for protesting without her hijab.
But as Alinejad highlights, the surge in women risking everything for change has forced the Iranian government to take notice. "For 40 years they were just the people of Iran, especially the women that had the fear inside their hearts. But now it is the government that fears its own people; especially the women of Iran.
http://en.rfi.fr/20180525-hijab-iran
--------
Malala Elected Social Secretary At Oxford College
May 26, 2018
LONDON: Nobel Peace Prize winner Malala Yousafzai has been elected as a social secretary at her Oxford College.
She was elected to the post by her fellow students. The new responsibility will allow Malala to plan and organise social events in the college. She is currently finishing the first year of a degree at Lady Margaret Hall.
She was chosen to join the Junior Common Room (JCR) Executive Committee in elections at the college last week
President of Lady Margaret Hall's JCR, Lana Purcell, said its responsibilities included organising and promoting social events.
Among the events organised by the JCR this year were an outdoor movie night, a jazz night, and a garden party, reported the BBC.
In August last year, Malala secured a place at the Oxford University College.
Yousafzai has been living in the UK since October 2012. She was shifted from Pakistan to a hospital in Birmingham in a precarious condition after she had sustained a bullet in her head in a targeted attack by the banned Tehreek-e-Taliban Pakistan (TTP) in Swat. She was on her way home in a school van with other girls after taking an exam when the TTP men opened fire on them. Two other girls also sustained gunshot wounds.
Yousafzai was granted the Nobel Peace Prize aged 17 in 2014.
Malala began her campaign aged just 11, when she started writing a blog — under a pseudonym — for the BBC's Urdu service in 2009 about life under the Taliban in Swat, where they were banning girls' education.
In 2007 militants had taken over the area, which Malala affectionately called "My Swat", and imposed a brutal, bloody rule.
She opened a Twitter account on her last day of school in July 2017 and now has more than a million followers.
"I know that millions of girls around the world are out of school and may never get the opportunity to complete their education," Malala wrote at the time.
https://www.pakistantoday.com.pk/2018/05/25/malala-elected-social-secretary-at-oxford-college/
--------
Dialogue session: Women MPAs admit making pro-women legislation a tough task
Akhtar Amin
May 26, 2018
PESHAWAR: The female lawmakers of Khyber Pakhtunkhwa Assembly have complained about having faced difficulty in making legislation for women in the province.
They maintained that two important draft bills about the Domestic Violence and Child Marriages have been left pending as the provincial assembly is going to complete its five-year term on May 28.
"The women lawmakers faced many challenges in the assembly," said Najma Shaheen, Member Provincial Assembly (MPA) affiliated to the Jamiat Ulema-e-Islam-Fazl (JUI-F).
She was speaking at a dialogue session titled "Devising Strategies/Proposing Solutions to Minimise the Hurdles Faced by Women Parliamentarians as Lawmakers." The Blue Veins, a non-governmental organization, had organised the session.
Najma Shaheen recalled that when the Khyber Pakhtunkhwa Domestic Violence Bill 2017 was tabled in the assembly the women lawmakers faced opposition from some of their male counterparts.
She pointed out that the bill was opposed by creating an impression that it was against the ideology of Islam.
She argued that there was nothing against Islam in the bill and it was forwarded to the Council of Islamic Ideology (CII) to seek its input and advice.
The lawmaker said the bill was cleared after some amendments proposed by the CII, but it was not tabled before the assembly.
However, she admitted that majority of the women lawmakers were inexperienced who took their time to learn about the rules of business.
The JUI-F MPA said that the role of women lawmakers was confined to 'yes' or 'no' in the assembly as they didn't bother to read the bills in a bid to speak their mind on a point of order.
She suggested that training sessions should be held to guide the new female lawmakers about the rules of business and their role as lawmakers.
Najma Shaheen recalled that when women lawmakers' caucus was established in the KP Assembly some three years back, the male MPAs questioned it.
Jamaat-e-Islami (JI) MPA Rashida Riffat, who had the honour of passing the Khyber Pakhtunkhwa Marriage Functions (Prohibition of Ostentatious Displays and Wasteful Expenses) Act, 2018 also shared her experiences as lawmaker.
She said the women caucus was established as a result of efforts made by Anisa Zeb Tahirkheli of the Qaumi Watan Party (QWP) to train female lawmakers.
Rashida Riffat said that after formation of the caucus, the female MPAs were asked to take up the cases of violence against women in their respective districts.
She said membership was also given to some likeminded male lawmakers, including Noor Saleem Marwat of JUI-F and Syed Jaffar Shah of Awami National Party (ANP), to strengthen the women caucus.
Rashida Riffat said that there were differences between the male and female lawmakers over the Domestic Violence Bill. She maintained that the women lawmakers prepared the bill in the light of teachings of Quran and Sunnah.
Anisa Zeb Tahirkheli, a former minister, recalled that she helped form the women caucus in an effort to train the fresh female lawmakers and familiarise them with the assembly business. She said the caucus provided training platform to the women legislators.
Former ANP MPA Shagufta Malik said that the political parties should give tickets to experienced women MPAs as they would be better able to take part in the proceedings.
Asia Khattak, a Pakistan Tehreek-e-Insaf (PTI) woman councillor in district government, said that educated women should be given the opportunity to become lawmakers.
Lawmakers Ziaullah Afridi, Noor Saleem Marwat and Mehmood Zeb also took part in the discussion and said that male legislators supported their women colleagues.
Quratul Ain of Blue Veins made a brief presentation about the role of women MPAs in the provincial assembly.
She said that expect KP, the other three provinces adopted laws on domestic violence.
She vowed that her organisation would continue its advocacy programme for the women lawmakers when the next government is formed after the July 2018 general election.
https://www.thenews.com.pk/print/321673-dialogue-session-women-mpas-admit-making-pro-women-legislation-a-tough-task
--------
On Uniform Civil Code, Law Panel Asks Muslim Groups: Why Deny Some Rights to Women
by Kaunain Sheriff M
May 26, 2018
The Law Commission of India, which has started consultations to formulate recommendations for a uniform civil code (UCC), has sought the views of Muslim groups on at least seven key issues including custody of children, inheritance and adoption, it is learnt. Sources said that the panel has also asked various stakeholders to recommend a model Nikahnama and Talaqnama that can be implemented uniformly across the country.
Sources told The Indian Express that the panel asked about Muslim personal law not allowing a mother to be the natural guardian and also cited the differences in the interpretation of Hanafi, Shafi'i, Maliki or Hanbali law.
The Commission headed by Justice B S Chauhan is presently holding consultations with over 30 individuals and religious institutions. It has already held deliberations with former law minister Salman Khurshid, BJP leader and lawyer A K Upadhyay and various Muslim groups including the All India Muslim Personal Law Board.
On inheritance, the panel is learnt to have sought detailed legal opinions on daughters inheriting half the share of what sons inherit. During the deliberations, sources said, the panel looking through the lens of "gender justice" asked stakeholders to submit citations from the Quran or Hadees about the circumstances under which daughters and sons can inherit property equally.
The panel has also sought opinions on maintenance and share in the property to the wife and children of a predeceased son. The Commission also asked about the duty of the father and father-in-law in maintenance to a widow and her children.
Referring to the custody of children, it is learnt that the panel asked Muslim groups to cite different precedents where the "best interest of the child would prevail". The panel has sought opinions on issues related to 'hizanat' (custody): the distinction between the legal and natural heir and who can maintain custody of the child without guardianship.
The Commission, sources said, has cited differences between Shia and Sunni law concerning custody of children. Citing Shia law, where a mother loses custody of the son after two years and Sunni law, in which custody is with the mother till puberty and 7 years of age for boys, the panel asked if there existed a religious source that advises otherwise.
The panel also sought opinions on whether there are dar-ul-qaza (Islamic court) judgments in which the best interest of the child would prevail. It has also asked for religious sources on reasons Muslim personal law does not permit a mother to be a natural guardian.
On the issue of adoption, it is learnt that the panel sought opinions around sections of the Juvenile Justice Act, 2015, which allows a relative of the child to adopt, and asked if the same could be part of the UCC. The Commission also asked stakeholders to produces religious texts in which Islam specifically allows adoption in specific circumstances and the rights of the adopted child.
http://indianexpress.com/article/india/on-civil-code-law-panel-asks-muslim-groups-why-deny-some-rights-to-women-5191525/
--------
Saudi Women 'Taking Control of Their Finances'
May 26, 2018
JEDDAH: Women in Saudi Arabia are taking more control of their finances in both their personal and professional lives, according to a leading UK finance expert.
Amy Bryant, deputy chief executive officer at Jersey Finance, said the knowledge on wealth management gained by the current generation of Saudi women would also "influence the approach future generations take toward their finances."
Bryant was speaking on the sidelines of a women-only talk hosted by Jersey Finance, the global finance group.
Growing demand
More than 50 women attended the event, Jersey Finance's fifth in partnership with the Department for International Trade — but this was the first female-only talk.
The event was organized in response to the growing demand by Saudi women for greater control over their financial future.
The event's keynote speaker was Ida Beerhalter, co-head of IOME, a Riyadh-based private investment partnership of women principals from the GCC region.
Topics included: Learning about and managing finance as a woman; understanding and managing offshore accounts; wealth protection for the future and succession planning; living with newfound wealth; the impact of children's decisions — financial and otherwise — on family wealth; and the effect of health on wealth and finances.
Wealth management
"As the Saudi landscape evolves, the level of enthusiasm displayed at events such as this shows that more women are looking to become involved in business, their own finances and that of their family," Bryant said.
"Women are taking a much more direct and hands-on role in wealth management — or at least educating themselves more on the subjects — in the scope of both their personal and professional lives. This knowledge could also influence the approach future generations take toward their finances," she said.
Jersey Finance was established in 2001 to promote Jersey and work with foreign direct investment. The non-profit company aims to create a safe and secure environment for investors and families, and also works to strengthen local and international companies.
The finance group has increased its investment in the region, in particular with Saudi Arabia.
In recent years, it has collaborated with the British Embassy in Riyadh and the British Consulate in Jeddah to host annual receptions, and also developed relationships with key industry professionals.
http://www.arabnews.com/node/1309746/saudi-arabia
--------
Women Ready for Top Jobs in SCTH, Says Saudi Arabia's First Female Tour Guide
May 26, 2018
JEDDAH: A prominent female tour guide has called on the Saudi Commission for Tourism and National Heritage (SCTH) to grant women leadership positions as they are now "qualified to shoulder high-profile jobs" within SCTH.
Saudi Arabia's first female tour guide, Maryam Al-Harbi, who was named as the best tour guide for 2017 by SCTH, told Arab News that Saudi women are capable of being appointed to leadership positions.
Al-Harbi was one of two speakers at a workshop held on Thursday night.
The panel discussion was part of the Makkah Economic Forum 2018 activities. The other speaker was Maria Mahdaly, a Saudi entrepreneur.
"It is true that any successful work needs the full collaboration of both genders, but women in Saudi Arabia have shown great interest in learning and developing themselves in the field of archaeology," said Al-Harbi, who recently obtained an MA degree from King Saud University's college of tourism and archaeology.
Besides speaking Arabic and English, Al-Harbi also speaks Turkish and is working on improving her Chinese language skills.
She guides visitors to Madinah, including private delegations, school students and university groups, as well as Umrah and Hajj visitors, and helps delegations visiting the provinces of Al-Oula, Madain Saleh, Khaibar, and Badr.
Al-Harbi said that there was still a need to have more departments at Saudi universities where female students could study archaeology.
"We only have one college for archaeology studies at King Saud University. This department offers only MA and Ph.D. degrees," she said.
She added that students in many universities had not found jobs in the tourism sector so they opted to join other sectors such as education.
Language skills
The workshop discussed the importance of languages for tour guides. Abeer Abu Suleiman, first Saudi woman tour guide and moderator of the gathering, said that a tour guide needed to be acquainted with as many languages as possible, but English was a must as it is so widely spoken.
The gathering discussed Saudi Arabia's rich traditions and tourism sites and highlighted the country's competence to host hundreds of thousands of visitors. They gave the Hajj season as an example of the Kingdom's ability to host gatherings of people from different cultural backgrounds.
http://www.arabnews.com/node/1309751/saudi-arabia
--------
URL: https://www.newageislam.com/islam-women-feminism/iranian-women-go-online-protest/d/115364
New Age Islam, Islam Online, Islamic Website, African Muslim News, Arab World News, South Asia News, Indian Muslim News, World Muslim News, Women in Islam, Islamic Feminism, Arab Women, Women In Arab, Islamophobia in America, Muslim Women in West, Islam Women and Feminism