New Age Islam News Bureau
29 August 2020
• First Batch of Dubai Police Female Officers Honoured
• Small-Scale Factories to Encourage Saudi Women Investors
• UAE- Sheikha Fatima bint Mubarak awarded 'Exemplary Woman Medal' at Arab Woman Forum
• Emirati Women Are True Support for Homeland: Mansour Bin Zayed
• Shooting Fails To Deter Afghan Woman On Taliban Talks Team
• Women Social Security and Challenges in Afghanistan
• Saudi Arabia Supports Yemeni Women in Reproductive Health
• Iranian Musician Faces Jail Over Women Dancers and Singers
Compiled by New Age Islam News Bureau
URL: https://www.newageislam.com/islam-women-feminism/iranian-women-taken-twitter-break/d/122746
--------
Iranian Women Flood Twitter with Stories of Sexual Abuse
28 August 2020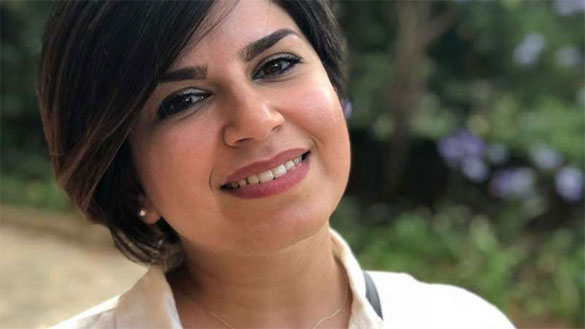 © Courtesy Sara Omatali Sara Omatali, a Washington-based educator and former Iranian journalist, is one of the many who said she had suppressed memories of sexual assault and hopes for a future when women will feel comfortable speaking about trauma publicly.
-----
Iranian women have taken to Twitter to break years of silence and share detailed stories of sexual abuse, including intrafamilial incidents, naming alleged abusers with hashtags such as #rape, #assault and #NoMeansNo.
Some alleged abusers are well-connected and famous figures in Iran -- stars of sports and media and the arts, doctors, teachers and professors.
It all started with a tweet in early August by an anonymous user explaining how one could convince a woman to engage in sexual activity on a first date by kissing her without asking and pretending it was because "her beauty was striking." That user later deactivated his account after facing a huge backlash.
The unprecedented support of Twitter users encouraged not just women but also men to reveal the names of their alleged perpetrators, which even led to revealing some individuals accused of serial abuse.
In one case, multiple women said they'd similarly been raped after being drugged with a perpetrator's homemade wine. Tehran Police arrested that suspect -- introduced as "Mr. K.E." -- and called for others who have possibly been assaulted by this person to come forward, as the Islamic Republic News Agency reported on Tuesday.
"We assure the anonymity of all complaints," said Hossein Rahimi, Tehran's head police general, encouraging other survivors to speak to authorities.
Domestic media started to cover the issue just after the police acknowledged the online movement by arresting the alleged serial rapist. But the issue hasn't been covered on national television.
"It takes time until the taboo of disclosing sexual assaults breaks down in a wider scale," Mahboubeh Hosseinadeh, an Iranian women's rights activist, told ABC News.
Sara Omatali, a Washington-based educator, is one of the many who said she longed for the day when women got the opportunity to lighten their traumatic burdens by speaking about them publicly.
Omatali said she suppressed bitter memories of being sexually assaulted by a famous Iranian painter for years. As the #MeToo Movement took shape in the U.S. in 2017, those memories came flooding back.
"All these years I remained silent, as I was afraid of those who would tell me I had no evidence to prove my claim ... but now, I feel that it is below my dignity to stay silent out of fear," she wrote on Twitter.
Even with so many sharing such intimate stories, many still were surprised to see the names of friends and colleagues among accusers and abusers.
"I burst into tears reading about those women who were assaulted by some people known as women's rights activists," Hosseinzadeh said. "It was the last thing I could imagine I had to get prepared for."
Lawyers have joined in the social media surge, offering to help survivors pro bono to pursue justice against alleged abusers.
"I am ready to represent victims of rape and sexual assault on women for free and to be with them at all stages of the proceedings. My share in the fight against sexual assault on women," Marziyeh Mohebi, a lawyer, wrote on her Twitter page Wednesday.
In a turn of events, while some of the women who exposed their alleged rapists wrote that they would bring legal cases against abusers, others said they wouldn't pursue a legal remedy because they don't agree with execution, the legal punishment of rape in Iran.
"The fact that some of the survivors of sexual assault are against the execution and say it is why they would not file a case at the court shows how our people are ahead of the existing law," Hossesinzadeh said. "For example, based on the current law, if a man kills his own child, he would only face three to 10 years in prison, but the punishment for rape is execution."
Hosseinzadeh pointed to a recent honor killing.
"The law lags behind the public in this case," she said, "and it is up to the media and NGOs to seize the momentum for future positive changes."
https://abcnews.go.com/International/iranian-women-flood-twitter-stories-sexual-abuse/story?id=72575083
--------
First Batch of Dubai Police Female Officers Honoured
August 28, 2020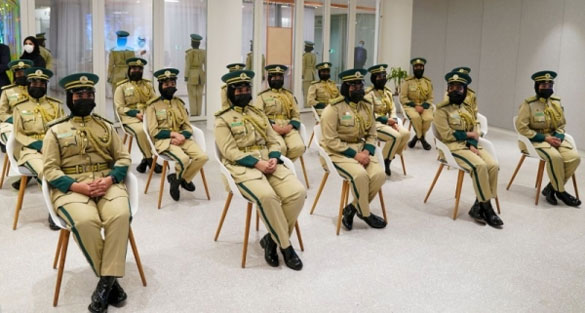 Dubai Police
----
DUBAI — Sheikh Hamdan Bin Mohammed bin Rashid Al Maktoum, the crown prince of Dubai, met with the first batch of 29 female cadets graduating from Dubai Police Academy during an event here on Friday.
Speaking on the occasion, Sheikh Hamdan, who is also chairman of Dubai Executive Council, said the UAE leadership's support has enabled Emirati women to prove their merit and make a mark not only locally and regionally but also globally. By showing the highest levels of competence, they have demonstrated their ability to excel in leadership roles.
Lt. Gen. Abdullah Khalifa Al Marri, Dubai Police Commander-in-Chief; Mohammed Ahmed bin Fahd, Assistant Commander-in-Chief of Academic Affairs and Training at Dubai Police; Brigadier Dr. Ghaith Ghanim Al Suwaidi, Director of the Dubai Police Academy, and a number of officers and trainers also attended the event.
"We are proud to witness the graduation of the first batch of female cadets who have taken on the task of serving and protecting the nation and ensuring the safety and security of its people," the crown prince said.
Sheikh Hamdan congratulated the cadets on graduating from the Dubai Police Academy with distinction. He also commended them on winning local and regional sports championships. He urged the graduates to excel in all the tasks they are entrusted with and be stellar representatives of Emirati women in the security and police force.
"Since the first woman was recruited by Dubai Police in 1967, women have excelled in various roles in the police force. They have demonstrated their distinction in administrative, field, military, and applied science capacities. Today, we are happy to honor these cadets who have made the best of the opportunities made available by the Dubai Police Academy in the first such course offered in the Arab world."
"Their success is an immense source of pride for us and vindicates the UAE's efforts to enhance women's empowerment and ensure a high ranking for the country in global gender balance indexes," Sheikh Hamdan said.
https://www.saudigazette.com.sa/article/597241/World/Mena/First-batch-of-Dubai-Police-women-officers-honored
--------
Small-Scale Factories To Encourage Saudi Women Investors
27 Aug,2020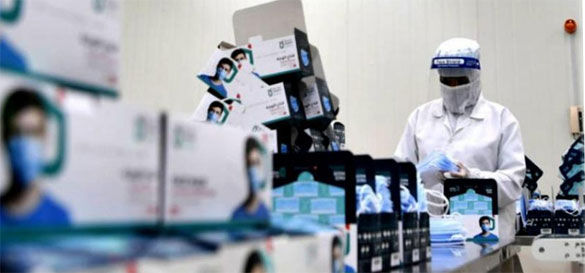 Saudi mobilization to encourage the work and investment of Saudi women in the industrial sector | Asharq Al-Awsat
----
Seeking to empower women entrepreneurship in the industrial sector, the Saudi Organization for Industrial Estates and Technology Zones (MODON) announced plans to establish fully equipped small-scale factories that sit on top of 200 square meters each.
MODON Director-General Khaled Al-Salem revealed that the plan for launching these model factories will start in April next year in Dammam, eastern Saudi Arabia.
Salem said the shift towards smaller factories followed claims laid by businesswomen who complained that ready-made factories were too big and exceed the size of their businesses.
In a virtual workshop hosted by Asharqia Chambers, Salem confirmed that the new factories will resolve the issues presented by businesswomen, and noted that a host of incentives have been secured to empower and increase female investment in the industrial sector.
With a modest 1% of total sector investments, the presence of businesswomen in the industrial sector is still weak, Salem pointed out. He explained that Saudi women investors still believe that the sector is reserved for major capital investors who can withstand market instabilities.
As for women labor in Saudi factories, the MODON chief said that the number of Saudi women working in the industrial sector had reached 17,000 in 2019.
"There are very successful experiences of some factories in providing a suitable environment for women to work," Salem said.
When asked by Asharq Al-Awsat about the ability of factories to overcome the effects of the coronavirus pandemic, Salem stated that MODON factories have benefited greatly in the past period.
"Paying rents has become better than it was before the pandemic," he said.
Factories focused on producing building materials, according to Salem, have particularly improved with the new housing programs.
Salem also revealed that MODON is working on methods to fast track women investor's participation in the industrial sector.
He stressed that the industrial sector offers very promising opportunities to women, whether investors or laborers.
https://salaamgateway.com/story/small-scale-factories-to-encourage-saudi-women-investors
--------
UAE- Sheikha Fatima bint Mubarak awarded 'Exemplary Woman Medal' at Arab Woman Forum
8/28/2020
(MENAFN - Emirates News Agency (WAM)) ABU DHABI, 28th August, 2020 (WAM) -- H.H. Sheikha Fatima bint Mubarak, Chairwoman of the General Women's Union (GWU), President of the Supreme Council for Motherhood and Childhood, and Supreme Chairwoman of the Family Development Foundation (FDF) was awarded the 'Exemplary Woman Medal' by the Arab Women Campaign, at the first edition of the Arab Woman Forum, which convened virtually Friday, in sync with the celebrations marking the Emirati Women's Day.
The award comes in recognition of H.H. Sheikha Fatima bint Mubarak's contributions and achievements in areas of women's empowerment and gender equality in the UAE and beyond.
The event was attended by an array of dignitaries from the UAE, United Nations, and the European Union, who shed light on the UAE's achievements in the field of women's empowerment and gender equality .
A number of UAE women were honoured during the event in recognition for their contributions to the development drive in the nation.
https://menafn.com/1100712375/UAE-Sheikha-Fatima-bint-Mubarak-awarded-Exemplary-Woman-Medal-at-Arab-Woman-Forum
--------
Emirati women are true support for homeland: Mansour Bin Zayed
August 28, 2020
ABU DHABI — Sheikh Mansour Bin Zayed Al Nahyan, deputy prime minister and minister of presidential affairs, has stated that Emirati women, thanks to Sheikha Fatima Bint Mubarak, chairwoman of the General Women's Union (GWU), president of the Supreme Council for Motherhood and Childhood, and Supreme Chairwoman of the Family Development Foundation (FDF), are true support for the homeland and key partners in building the country's future, which is preparing for the next 50 years of its history.
In a statement, he made to mark Emirati Women's Day, Sheikh Mansour said, "On this day when our country is marking Emirati Women's Day, we extend greetings and congratulations to Sheikha Fatima "Mother of the Nation" whose efforts resulted in providing care to women, their social and financial well-being, constitutional protection of their rights, political empowerment, full participation in decision-making and accomplishing achievements.
"Thanks to these efforts, Emirati women today represent true support for the nation and key partners in building the future of the country while preparing to the next 50 years of its history."
"Every year, Aug. 28 is the day on which we salute the Emirati mothers, sisters, daughters, housewives and mothers of martyrs. On this day we glorify their roles in all walks of life and domains where they are full partners to men with competence, excellence and success," he added.
Sheikh Mansour said, "On this day, that coincides with the 45 anniversary of establishing the GWU, we appreciate and pray to Allah Almighty to rest the soul of the Founding Father, the late Sheikh Zayed Bin Sultan Al Nahyan in Paradise as he said, 'Nothing pleases me more than seeing women playing their distinguished role in society.'"
He noted, ''Now, women are on the frontlines and playing their role in society thanks to the unstinted support and care from President Sheikh Khalifa Bin Zayed Al Nahyan, Sheikh Mohammed Bin Rashid Al Maktoum, vice president, prime minister and ruler of Dubai, Sheikh Mohamed Bin Zayed Al Nahyan, crown prince of Abu Dhabi and deputy supreme commander of the UAE Armed Forces, and the Supreme Council members, rulers of the Emirates."
''Emirati women will always be the pillar of stability and solidarity, together, we will work to place our country among the top 25 countries on the Gender Balance Index by 2021 to achieve the UAE Vision 2021. We greet Emirati women in their day under the logo, 'Planning for the next 50 years ...Women are the support of the homeland.'" he said. — WAM
https://saudigazette.com.sa/article/597225/World/Mena/Emirati-women-are-true-support-for-homeland-Mansour-Bin-Zayed
--------
Shooting fails to deter Afghan woman on Taliban talks team
Shadi Khan Saif
AUGUST 27, 2020
KABUL (Thomson Reuters Foundation) - Afghan women's rights advocate Fawzia Koofi had nightmares for days after a volley of bullets was fired at her car as she travelled with her daughter in the restive province of Parwan.
Just two weeks later and with her arm still in a cast, Koofi, one of the few female members of the Afghan team negotiating a peace deal with the Taliban, is planning to return to the area, where floods have killed more than 150 people.
It is a sign of the determination of a woman who has survived two apparent assassination attempts to keep fighting for a more equal, just and stable future for her country after decades of war.
"It was a narrow escape," said Koofi of the Aug. 14 attack. "All the way to hospital (my daughter) held my bleeding arm tight and kept telling me not to close my eyes," she told the Thomson Reuters Foundation at her now fortified home.
The Taliban has denied responsibility for the attack, which came as the Afghan government prepared for talks with the Taliban following a U.S. peace deal with the militants signed in February.
Many Afghan women worry the deal does not safeguard their rights, and fear that a U.S. troop withdrawal and the re-emergence of the Taliban in Afghan politics could destroy their hard-won gains, from education to freedom of movement.
Koofi, a former lawmaker, believes the role of female negotiators in the talks with a group that once banished women from public life is key.
"At previous meetings with the Taliban ... even if we (Afghan women) do not speak, our presence indicates we stand for independence, equality and women's rights", she said.
Talks with the Taliban were to have begun this month in Qatar, but on Thursday Kabul's top negotiator said they would be put back to September after disagreements delayed a planned prisoner swap.
The Taliban enforced a strict interpretation of Islamic law that included public lashings, flogging and stonings.
Under their rule from 1996 to 2001, Afghan women were obliged to cover their faces and could not study, work or leave the house without a male relative.
The group has said it would allow women to be educated and employed, but within the limits of Islamic law and Afghan culture.
'I WOULD NEVER STOP'
This month's attack was not the first time Koofi has been targetted. In 2010, the Taliban attacked her convoy after she became Afghanistan's first female deputy speaker of parliament, firing bullets from a mountain top.
"But this time, someone getting so close to me, knowingly trying to kill me was much different," she said.
Human rights group Amnesty International said there had been an "extremely worrying" rise in attacks on film actors, political activists and human rights defenders in Afghanistan in recent months.
On Wednesday, three gunmen in Kabul opened fire on the vehicle of prominent female Afghan film director, actress and police officer Saba Sahar, leaving her with four bullets in the stomach. The 44-year-old is also a critic of the Taliban.
Koofi said she planned to soon travel to Parwan to extend her support to thousands of people affected by recent flash floods.
"I would have to be more careful, plan twice before any trip. I have increased my security and I plan to carry on. I would never stop", she said.
"I would not be me if I stopped reaching out to people."
https://www.reuters.com/article/us-afghanistan-taliban-women-interview-t/shooting-fails-to-deter-afghan-woman-on-taliban-talks-team-idUSKBN25N2KQ
--------
Women Social Security and Challenges in Afghanistan
By Nasima Bari
28 Aug 2020
A prerequisite for any economic, social, cultural and political development is a sense of security – especially the security of a woman. Awareness of such sense among inhabitants of a society has an effective role in recognizing the challenges and presenting development strategies. In Afghanistan, one of the most important things that affects development is the inability of women, unlike men, to have a sense of security. This is more noticeable for women in a conservative, yet traditional, society such as Afghanistan. Therefore, women are the most vulnerable segment of society in relation to the issue of women's security and categories such as social support that has affected the sense of social security of Afghan women in all cities.
Afghanistan is still ranked as the worst place in the world for woman to live. According to the Afghanistan Independent Human Rights Commission (AIHRC) and Human Rights Watch, women operate daily under extremely dangerous situations in the South and Southwest regions of the country – mainly in Helmand and Kandahar provinces. With no choice, they are mandated to observe use of Burqa, advised not to carry any sort of handbag or laptop bag, as well as, their phones should be off so it is never heard ringing. Working outside homes in Afghan administrations is a taboo and talking directly about women's rights could be punishable.
In Afghanistan, women are discriminated in various ways, for they are born girls. Women and girls are banned from going to school or educational centers, working in their desired jobs, leaving the house without a chaperone, showing their skin in public, accessing healthcare delivered by men (with women forbidden from working, healthcare is virtually inaccessible), and not to mention, banned from being involved in politics or speaking publicly. There are many other ways in which basic human rights are denied to them. Women are essentially invisible in public life; imprisoned in their homes. Specifically, in southern Afghanistan, the residents are ordered to cover their ground and first-floor windows so women inside could not be seen from the street. If a woman left the house, it is in a full-body veil (burqa), accompanied by a male relative – she has no independence at all. If she disobeyed these mandated laws, punishments are harsh. A woman could be flogged for showing an inch or two of their skin under her full-body burqa, beaten for attempting to study, stoned to death if she is found guilty of adultery; while rape and violence against women and girls are rife.
The deteriorating and fragile situation of human rights defenders in Afghanistan is another burning issue. Recently on Jun 29, 2020, a sticky mine explosion killed two employees of the Afghanistan Independent Human Rights Commission in capital Kabul. Through a discussion of security challenges identified through a human security perspective, research shows how these threats are severe obstacles, limiting women from participating in community life and pursuing their ambitions. Violence, oppression, lack of education and employment opportunities, and limited access to legal protection are highly critical threats for many urban and rural Afghan women.
In the past, under the Mujahedin and Taliban's regime, women endured unspeakably harsh conditions and were deprived of basic rights. In the present scenario, after late 2001, the hope of Afghan women were revived with a new presence of the international community and budding support for women's participation in social, economic, and cultural aspects of life. Despite impressive efforts made since 2001 and some significant strides in education, some aspects remain extremely difficult for Afghan women. The Era has changed, challenges took a new shape, but its core remained still for women.
Findings from The Asia Foundation's Survey of the Afghan People reveal Afghan women face the biggest problems. The social security tops the list, followed by education and illiteracy, lack of job opportunities and equal rights for women and domestic violence. These problems are interconnected and have a reciprocal effect on each other – making lasting solutions even more difficult.
­After 20 years of Afghan women's struggles, today, the media are an important source of depictions of women that differ from the traditional, conservative roles imposed during the Taliban era. Television and the Internet in particular have a significant impact on perceptions of women's rights and their social security. Afghans who rely on the Internet and television to obtain news and information are more supportive of equal educational opportunities for men and women (89.8% Internet and 87.5% television) than radio listeners (82.2%). Television also exposes Afghans to the notion of women working outside the home. ­Those who use television (77.1%) and the Internet (76.3%) are the most likely to support women working outside the home. When asked about appropriate dress for women in public, Afghans who rely on television select more liberal, westernized clothing. But, about 22% of the population is urbanite and the remaining 78% live in rural areas with no access to television. The women's issue becomes more complicated and women's problems remain unresolved.
Although security is important, many women think feeling safe is more important than security per se. Even if there seems to be security in Afghan society, women may not feel safe. Among them, women are the most vulnerable in society, and categories such as: social support impacts on women's feeling in all aspect throughout the country.
Another point is, the position and personality of women in the minds and public beliefs of Afghan society. The image that a nation's public culture presents of women is, in fact, the attitude and view of the people towards Afghan women, and the Afghan nation can be evaluated by the images in the patriarchal attitudes, gender's hegemony, traditional customs, religious traditions, men-dominated literature and the common values which produced by the shadows.
In Afghan society, women do not have independent social maturity and are socially dependent; their connection is considered social security and their separation is their social insecurity. In today's Afghan society, most human traits are registered in the name of men and are considered as male traits. Like good mood, courage and hard work are masculine traits and, on the contrary, easy-going, forgiving, unfaithful are considered feminine traits. Although Afghanistan is not only struggling in such areas, concerns over increasing insecurity makes women more discouraged in Afghanistan.
All types of male-organized newspapers and their hegemonic literature is also a killing instrument. If we look at the face of women in Afghan literature, we will find the view of the Afghan society towards women in the past and today; As one of the common points of our literature with public culture is the pessimistic attitude towards women from both sides, and in the national literature, which is the language of public culture, women are considered as a symbol of weakness and fear. Everywhere and in all different angles of the works of writers and poets of yesterday and even today, a woman is a fragile and unstable element, and this issue has progressed to the point the negative perception of female personality in the soul, mind and language of women poets and cultural design has also infiltrated.
The Afghan common culture has also likened good and successful women to men, and bad men have always been treated as women. So much so, the worst trait for men is equal to being a woman and the best trait for a woman is masculinity. What emerges from popular culture and popular beliefs is that it is as if God created women only for housekeeping and that the courage and bravery of women in popular culture is a strange phenomenon; because it has always been called "weak" and if we say "brave woman", we have attributed an adjective to a person who is unlikely and we should say "do not say woman, but so and so". Common values in Afghan society and adherence to them in the society are very important from the perspective of the people of Afghan society. To the point, it happens the defect of the law enacted by the government is not considered very anti-value in the eyes of the people.
The feeling of security is a category beyond the mere existence of security in Afghanistan. Factors such as marital status, satisfaction with appearance, family support, how others treat them, religious commitment, and… are some of the factors affecting the sense of social security among women, among which family support has the greatest impact.
Given the country's current social, political, cultural situation, there are a variety of factors that exacerbate these problems. The need to create safe urban spaces for Afghan women in the position of the most vulnerable sections of society is one of the important and significant issues that are related to issues such as crime, violence, victimization, prevention of helplessness and depression. Eliminating legal and legal bottlenecks, designing supportive, educational, preventive programs, and providing the necessary context for women's empowerment and the necessary legal and social support are among the policies that should be considered in formulating policies and macro-plans.
https://www.khaama.com/women-social-security-and-social-challenges-in-afghanistan-8698796/
--------
Saudi Arabia supports Yemeni women in reproductive health
August 29, 2020
RIYADH: The UN Population Fund (UNFPA), with the support of the King Salman Humanitarian Aid and Relief Center (KSRelief), has provided, since the beginning of 2020, treatment services for more than 58,500 Yemeni women in reproductive health.
UNFPA seeks to fund maternity facilities and health centers by helping pregnant women ensure a safe delivery, so that their children can be healthy and stable.
This initiative is part of the support provided by the Kingdom, represented by KSRelief, to UNFPA with the aim of promoting the health of women and children in Yemen and various countries around the world.
https://www.arabnews.com/node/1726186/saudi-arabia
--------
Iranian musician faces jail over women dancers and singers
August 29, 2020
AMMAN: Iranian musician Mehdi Rajabian said he is under house arrest as he awaits trial for working with female dancers and singers, in the country's latest move to stop women artists performing.
Rajabian, 30, said he was arrested on Aug. 10 following media reports that his latest project will include women singing and the publication of a video of a woman dancing to his music — both of which can be deemed immoral under Iranian law.
Iran's Justice Ministry and the Ministry of Culture and Islamic Guidance did not respond to requests for comment.
"Even if I go to prison hundreds of times, I need female singing in my project, I need female dance," said Rajabian, who has been jailed twice before over his music.
"Whenever I feel the need to produce this music, I will definitely produce it. I do not censor myself," he told the Thomson Reuters Foundation via text message from the northern city of Sari where he is currently out on bail.
Iran has long censored art and music and arrested hundreds of performers under vaguely defined morality laws that target women and sexual minorities, according to Human Rights Watch.
There are no laws banning women in music but religious decisions issued under Iran's Islamic rulers, who came to power in the 1979 revolution, have been used arbitrarily, said Hadi Ghaemi, executive director of Center for Human Rights in Iran.
"The government would like to propagate ... a traditional attitude toward women's presence in public in general," he said. "It doesn't have to be about performance."
Hunger strike
The legitimacy of the Islamic republic's rulers was challenged by nationwide protests last year, sparked by fuel price hikes, which were met with a violent crackdown.
Many young Iranians are disillusioned with laws that limit women's freedom, with fines and jail terms for having their hair uncovered or for wearing clothes deemed immodest. Thousands have protested by removing their hijabs in public in online videos.
The video which led to Rajabian's latest arrest features Iranian dancer Helia Bandeh, who lives outside Iran, performing to a track from his 2019 peace album "Middle Eastern" by Sony Music, which features about 100 artists.
Rajabian spent three months in solitary confinement in 2013 for propaganda against the state and in 2015 he served 2 years behind bars until he was released after a 40-day hunger strike.
https://www.arabnews.com/node/1726206/middle-east
------
URL: https://www.newageislam.com/islam-women-feminism/iranian-women-taken-twitter-break/d/122746
New Age Islam, Islam Online, Islamic Website, African Muslim News, Arab World News, South Asia News, Indian Muslim News, World Muslim News, Women in Islam, Islamic Feminism, Arab Women, Women In Arab, Islamophobia in America, Muslim Women in West, Islam Women and Feminism