New Age Islam News Bureau
14 Aug 2013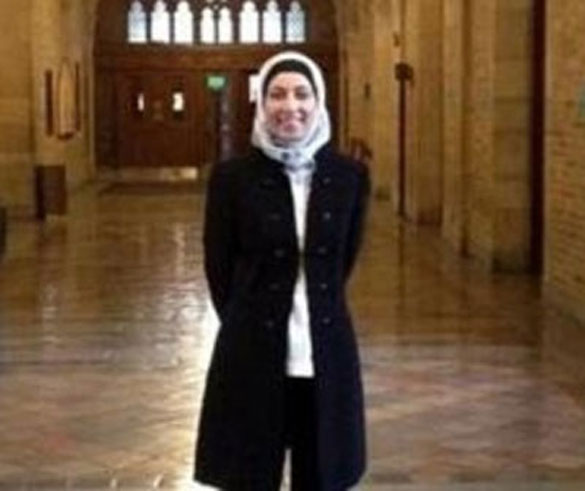 U.S. Muslim law student asked to remove Hijab
-----------
• Iranian President Picks Female Vice-President after Vow to Back Women
• Afghanistan Woman MP Abducted in Ghazni
• Muslim Clerics Globally Feel Posting Photos of Women on Facebook Is Un-Islamic
• Massachusetts Bar Examiners To Review Religious Wear Rules
• Law Requiring Women to Remove Burqa to Prove Their Identity Introduced To WA Parliament
• Saudi Seeks To Employ Women ... Through Lingerie
• Jeddah: Should Housemaids Get Psychological Tests Before Deployment?
• Daughter Arrested in UAE for Stealing 20kg Of Mother's Gold
• Marriage Registration to Become Mandatory In India
• HIV Positive Women Prime to Cervical Cancer - Expert
• Star Wars Style: Girl Makes Hijab into Princess Leia Headwear
• Jeddah: 40 Lashes for Harassing Girls
• Indian girl, Pak boyfriend arrested for smuggling
Compiled by New Age Islam News Bureau
URL: https://www.newageislam.com/islam,-women-and-feminism/new-age-islam-news-bureau/iranian-woman--too-sexy--for-council-career--religious-conservatives/d/13029
-----------
Iranian Woman 'Too Sexy' For Council Career: Religious Conservatives
HUGH TOMLINSON
The Times August 14, 2013
IRAN'S women have been promised sweeping improvements to their civil rights under the country's new President, Hassan Rowhani, but change has not come soon enough for one city councillor, who has been barred from office for being too sexy.
Nina Siakhali Moradi, 27, has found her political career cut short after religious conservatives overturned her election to the city council in Qazvin, the ancient capital of the Persian empire, north-west of Tehran.
Despite polling more than 10,000 votes in June's election, finishing 14th out of 163 candidates and winning a council seat, the engineer and website designer has in effect been told that she is too attractive to take up the post.
"We don't want a catwalk model on the council," said one senior official in Qazvin, explaining the decision to the local press.
Ms Moradi's candidacy had been vetted and approved by Iran's judiciary and intelligence services. Under the slogan "Young ideas for a young future", she urged more women's rights in Qazvin, the restoration of the old city and greater youth involvement in town planning. Her liberal stance appeared to strike a chord with the electorate.
Digital Pass $1 for first 28 Days
Ms Moradi made no play of her looks during the race. Her campaign posters showed her dressed in strict hijab without a strand of hair on display. They were still too racy for Qazvin's religious groups. The moment that her election was confirmed, conservatives launched protests demanding her disqualification.
In a letter to the governor of Qazvin, a coalition of religious groups condemned Ms Moradi's "vulgar and anti-religious posters", which they said breached Islamic law. The complaint was challenged, but in the end she was disqualified for not "observing the Islamic norms".
Mr Rowhani's presidency is expected to begin a new era in women's rights. In a televised debate during the campaign, he declared: "I will form a women's affairs ministry to return their trampled rights to them." Ms Moradi's travails in Qazvin underline the scale of his task.
http://www.theaustralian.com.au/news/world/iranian-woman-too-sexy-for-council-career/story-fnb64oi6-1226697127458
-----------
Iranian President Picks Female Vice-President after Vow to Back Women
By Ladane Nasseri
August 14, 2013
Iran's President Hassan Rohani, who has promised to back women's increased participation in Iranian society, appointed Elham Aminzadeh as his vice-president for legal affairs.
Rohani cited her "scientific competence and judicial qualifications as well as legislative experience and moral merits" in his appointment letter, which was published on the president's website. Rohani appointed former industry minister Eshagh Jahangiri as his first vice-president a day after he took the oath of office.
During his presidential campaign, Rohani pledged to create more jobs for women. Rohani, a cleric and trained lawyer, has also criticized the government of former president Mahmoud Ahmadinejad for having increased police patrols and the use of force to ensure women's hair and body curves were covered.
Aminzadeh, a former member of the parliament, holds a doctorate in international law from the University of Glasgow and teaches at the Allameh Tabatabaei University in Tehran, according to the official Islamic Republic News Agency and the state-run Fars news agency. Aminzadeh's doctoral thesis was titled "The United Nations And International Peace and Security: A Legal and Practical Analysis."
Some female activists had criticized Rohani for nominating only men for his 18-member cabinet. The candidates' background and qualifications are being reviewed by the parliament this week for approval.
'Good Step'
The appointment is a "good step" in battling the discrimination felt by Iranian women in the workplace, said Shahla Ezazi, a sociologist and the director of the women's studies group at Iran's Sociology Association in Tehran.
If Aminzadeh "has been active in politics and management and has been identified by the president as one of the top people in this country, then it is her right," Ezazi said in a phone interview. It wasn't "a favour."
Ezazi said she wasn't familiar with Aminzadeh and unable to comment on her accomplishments or suitability for the role.
The presence of women in the Iranian government isn't unprecedented. Mohammad Khatami, president from 1997-2005, appointed a female vice-president for the first time. It was under Ahmadinejad, who was president for eight years until earlier this month, that Iran's Islamic Republic got its first female cabinet minister.
The president may appoint as many deputies as he wants to perform his duties under the Islamic Republic's constitution, which doesn't specify a cap on their numbers.
http://www.bloomberg.com/news/2013-08-13/iran-s-rohani-picks-female-vp-after-pledge-to-back-iranian-women.html
-----------
Afghanistan Woman MP Abducted in Ghazni
August 14, 2013
TEHRAN (FNA)- The Taliban have kidnapped a female Afghan MP as she and her children were traveling in a rural area South of the capital Kabul, the authorities said.
Police said Fariba Ahmadi Kakar was abducted by armed men while travelling in the central province of Ghazni with her three daughters, BBC reported.
It is the first time a female MP has been snatched by insurgents.
Police said the kidnappers had demanded the release of four Taliban prisoners in exchange for Kakar.
Kakar's children were later released in an operation involving NATO forces and Afghan intelligence - but she is said to be being held in a separate location.
The abduction marks a sinister milestone in violent attacks against prominent women in Afghanistan, says the BBC's Karen Allen in Kabul.
Just last month, the most senior policewoman in Southern Helmand province was shot dead on her way to work.
And last week, Afghan senator Rooh Gul and her husband survived an attack in Ghazni in which their daughter was killed.
http://english.farsnews.com/newstext.aspx?nn=13920523000270
-----------
Muslim Clerics Globally Feel Posting Photos of Women on Facebook Is Un-Islamic
13 August 2013
NEW DELHI: A Pakistani website quotes Muslim clerics in India agreeing with their counterparts in Pakistan that posting pictures of girls on Facebook is un-Islamic.
The website moremag.pk says 'this problem is not just limited to Pakistan where social media has become subject of criticism but Muslim leaders all over the world are somehow trying to establish their writ on social networks where it is virtually impossible to ban anything permanently.'
It says Muslim clerics in India have shown reservation on posting pictures of girls on Facebook. The viewpoint is divided and according to few, it is un-Islamic to post pictures of girls on Facebook since it becomes a cause of social evils and creates problems for girls.
Abul Irfan Naim ul Halim of Sunni sect said, "There are so many crimes taking place each day. The animal instincts of men are not sparing girls even within the four walls. In such a case posting pictures is extending an open invitation to such crimes."
A Shia cleric Maulana Saif Abbas Naqvi also endorses the thoughts of Abdul Irfan. He says that hundreds of Muslims call on helplines asking about if making an account on facebook and twitter is permitted in Islam or not.
"There is no harm in making accounts on social networks as it is a practice to gain knowledge but posting a picture of women on internet for public without hijab is un-Islamic. Purdah should be practiced if it is important to post a picture", Maulana Saif added.
To some, it is better to maintain a physical relation than getting involved in virtual relation because the latter is more deceiving in case one of them is playing with a fake picture.
But there are few like Ali Nasir Syeed who is of the view that the definition of Purdah should be clear and that there is nothing un-Islamic in posting a picture of facebook or other social networks without hijab.
To him, coping up with the technological advancement is more important for Muslims today rather than getting lost in vague things.
http://www.indiantelevision.com/headlines/y2k13/aug/aug77.php
--------
Massachusetts Bar Examiners To Review Religious Wear Rules
By Lisa Wangsness
August 14, 2013
Iman Abdulrazzak, an observant Muslim, realized at the last minute that she needed special permission to wear her headscarf while taking the Massachusetts bar exam. She scrambled to fax her request for an exemption to the ban on hats and other headwear. She called the board's office in Boston repeatedly to make sure it got through.
No one said anything about her headscarf when she arrived at Western New England University School of Law in Springfield to take the high-stakes test to become a lawyer Aug. 1. But halfway through the morning session, a proctor placed a note on her desk: "Head wear may not be worn during the examination without prior written approval. . . . Please remove your head wear and place it under your desk for the afternoon session."
"I was like, 'Do I leave now? Is it even worth continuing?' " said Abdulrazzak, of Pittsfield, who is 24 and has worn the Hijab since she was 12. "For 10 minutes, I was terribly confused. I tried telling one of the proctors that I had authorization — he kind of shushed me."
She kept working on the test. The problem was cleared up during the lunch break, when a proctor supervisor called the Board of Bar Examiners in Boston and confirmed that the office had approved Abdulrazzak's request for a religious exemption.
But Abdulrazzak said that the distraction and distress cost her about 10 minutes in the morning session and that she was not able to fully answer all of the essay questions.
'It is such an intrinsic part of religious iden-tity, it would be . . . distressing to be asked to remove it.'
Quote Icon
"I just tried my best to get down the bare minimum of the answers in the time left and hoped for the best," she said.
The results of the exam will be posted by Nov. 1.
Marilyn Wellington, executive director of the Massachusetts Board of Bar Examiners, called the mix-up "very unfortunate" and said the board takes responsibility for the mistake.
She said the board may consider revising its rule requiring prior authorization for religious headwear. The rule was established to prevent people from concealing notes or other information that could be used to cheat on the exam, she said, not to inhibit religious practice.
Normally, the Board of Bar Examiners notifies proctor supervisors of any test-takers who have obtained authorization to wear religious headgear during the exam.
Abdulrazzak said the proctor supervisor in her case seemed unable to find a notation of the authorization in her official binder. But she said the supervisor "was really nice."
"She apologized right away and made sure I had a complaint form," Abdulrazzak said.
The legal website Above the Law first reported the story.
Wellington said the board is looking into what happened and would take a close look at its policies and training practices "to make sure they make sense and that they don't result in issues such as this."
"It shouldn't have happened, and we won't let it happen again," she said.
Quesiyah Ali, a member of the board of the New England Muslim Bar Association, questioned why a proctor would interrupt a test-taker, rather than raise the issue before the test began.
Ali also said proctors should be made aware that asking a Muslim woman to remove her hijab in public is "a violation of the highest order," not remotely akin to asking someone to remove a baseball cap indoors.
"It would be like a nun being asked to remove a [veil] or a Sikh being asked to remove a turban," Ali said.
"It is such an intrinsic part of religious identity, it would be extremely distressing to be asked to remove it," she said, especially in the midst of a high-stress exam.
Charles C. Haynes, director of the Religious Freedom Education Project at the Newseum in Washington, said that as the nation becomes more diverse, requests for religious accommodation are becoming more common in schools, workplaces, and other arenas.
"Incidents in themselves may be small and may seem not so important," he said. "But the big picture is, it's calling us to work out how we are going to deal with these differences in our public spaces as we become more religiously diverse in this country."
At least one other similar instance happened during the administration of the Massachusetts bar exam two years ago. Hania Masud, 28, a New York lawyer who took the bar in Boston in 2011, said she had not realized she needed a special exception to the no-hats rule in order to wear her hijab during the exam. During a break, she said, she was summoned to the front of the room, where a proctor told her she needed preauthorization to wear her head scarf and that they would address the issue after the test was over.
"I went back to my seat and burst into tears, which was really, really embarrassing; I never, ever cry," she said. "I was really scared they would invalidate my test scores after taking the exam."
Her brother, who was also taking the exam, urged her to focus, so she collected herself and tried her best. Afterward, another proctor told her there was no problem. The board never contacted her about it, Masud passed the test, and she never filed a complaint.
Abdulrazzak and Masud said they see no reason why bar exam-takers should need advance approval to wear religious headwear.
"If anything, maybe at the door you could sign a statement saying this is for religious reasons, so it could be used against you if you are lying," said Abdulrazzak.
Both women sat for the bar exam in other states before taking the Massachusetts exam — Abdulrazzak in Connecticut and Masud in New York — and neither encountered problems. Both states ban secular headwear such as baseball caps or hoods, but religious headwear like a hijab or yarmulke is permitted, and no prior authorization is required to wear them.
"If it's obviously religious headgear, we allow them to wear it," said Kathleen B. Harrington, administrative director of the Connecticut Bar Examining Committee.
Rhode Island has a similar policy. In New Hampshire, proctors must approve of any religious headgear at the exam site. Maine does not allow hats, and its policy is silent on religious exceptions.
Deborah Firestone, executive director of the Maine Bar of Board Examiners, said the issue has not come up in recent memory, but the no-hat rule implies that an individual should obtain advance approval to wear religious headgear to the exam. If someone fails to do so, she said, the item may be subject to inspection on site before the test starts.
"It might be time to have a written policy, though," she wrote in an e-mail.
John J. McAlary, executive director of the New York State Board of Law Examiners, said that on one occasion, a woman arrived to take the New York bar wearing a niqab, a veil that covers the face up to the eyes. Proctors needed to confirm her identity, so a female proctor took her into a private room before the test and asked her to remove her veil briefly so the proctor could make sure her face matched her photo ID. He said proctors now receive training to handle such situations.
Martha I. Hicks-Robinson, bar admissions administrator for the Vermont Board of Bar Examiners, said she would personally examine any religious headgear before the test to make sure it contained no cheating materials, as she once did in the case of a man wearing a yarmulke.
"To interrupt someone in the middle of the exam — we absolutely wouldn't do something like that," she said, unless the person appeared to be cheating.
http://www.bostonglobe.com/metro/2013/08/12/massachusetts-bar-examiners-reexamine-policies-religious-head-wear-after-episode-involving-test-taker-hijab/Tb6CAARefwTYUmcEDgpfpK/story.html
-----------
Law Requiring Women to Remove Burqa to Prove Their Identity Introduced To WA Parliament
August 14, 2013
A NEW law that would require Muslim women to remove a Burqa or Niqab to prove their identity to West Australian police has been introduced to the state's parliament.
The legislation was drafted in specific response to public outcry about the case of Burqa-wearing mother-of-seven Carnita Matthews, who had a conviction of knowingly making a false statement quashed.
Ms Matthews was originally given a six-month jail sentence after being found guilty of falsely accusing a senior constable of forcibly trying to remove her Burqa when she was pulled over while driving in Woodbine in Sydney's southwest in June 2010.
She was later acquitted on appeal after the prosecution could not prove she was the woman who signed the statement while wearing the garment.
As part of WA's Criminal Investigation (Identifying People) Amendment Bill, the law will require ``a person to remove headwear or do other things to facilitate the officer being able to confirm a person's identity''.
Officers will also get explicit powers to detain a person while they comply.
It will apply to an item of clothing, hat, helmet, mask, sunglasses or ``any other thing worn by a person that totally or partially covers the person's head''.
The WA parliament will be told the law was in direct response to the NSW case.
``Having regard to that case, the government has taken action to ensure that similar injustices do not occur in Western Australia,'' Attorney-General Michael Mischin said.
``The amendments provide a explicit power ... where the subject person refuses to remove an obstruction that is preventing the officer from being able to identify the person's face.''
http://www.perthnow.com.au/news/western-australia/law-requiring-muslim-women-to-remove-burqa-to-prove-their-identity-to-police-introduced-to-wa-parliament/story-fnhocxo3-1226693739768
-----------
Saudi seeks to employ women ... through lingerie
Arab News.com
August 14th, 2013
The Labor Ministry announced on Tuesday that it would toughen its stance against businesses that violate the rule of employing Saudi women at lingerie shops.
"Employment of women at these shops is mandatory and we'll not show any leniency toward violators," said Fahd Al-Takhify, assistant undersecretary at the ministry.
He said violators would face punishment designated for Nitaqat's red category firms, adding that they would not receive any service from the ministry. "We'll also impose fines on the violators," he added. However, he did not disclose the number of firms fined by the ministry during the past weeks.
Al-Takhify emphasized the ministry's plan to expand job opportunities for women to cut down unemployment among them. "The government decision aims at creating a suitable working atmosphere for Saudi women," he said.
The ministry had deployed female inspectors for lingerie shops in various parts of the country to make sure they comply with new labor regulations. "Our officials conducted 11,020 inspections in 2012 and found that 5,226 shops were following the rules while 2,608 were violators," he said.
Last year, the ministry's dispute settlement commission imposed fines worth SR11.1 million ($3 million) on firms that violated various labor regulations including Saudization rules. The commission found out 1,513 violations of the Labor Law in 2012, said a source at the ministry.
"The ministry's preliminary commission handled 10,523 cases in 2012 registering an increase of 22 percent compared to 2011," the source said. The commission's women branches received 653 cases and issued verdicts in 229 cases.
He said that 81 cases out of a total of 309 women's cases received in Riyadh province were settled while in Jeddah verdicts have been issued in 97 women's cases out of 204.
Statistical reports said out of 1,979,103 firms covered by the Nitaqat system, 67,769 were in the red category, while 146,548 were in green in 2012. The report also showed that only 11 out of the 807 biggest companies failed to reach the green zone with regard to Saudization. They failed to employ the required percentage of Saudis. It also found that 101 out of 2,434 large companies were in the red category.
The report also pointed out that 65,265 small and medium enterprises were in the red category, while 125,648 SMEs were in the green zone during the same period. It said 2,392 medium-sized firms remained in the red category against 17,958 green category companies.
http://www.albawaba.com/editorchoice/saudi-seeks-employ-women-through-lingerie-513455
-----------
Jeddah: Should Housemaids Get Psychological Tests Before Deployment?
August 14, 2013
JEDDAH – In recent months several murders involving housemaids killing their sponsors' children have taken place around the Kingdom.
Usually maids undergo medical checkups before working at homes.
However, although many crimes have been committed by housemaids, psychological tests are still not carried out on maids before they are recruited.
Back in July, two children were murdered by their Ethiopian maids.
Afat Al-Shaalan, four, died after sustaining severe burns from boiling milk that had been spilt on him.
Later, the household's maid claimed that she caused his death.
Israa, a 10-year-old Syrian girl, was stabbed to death by an Ethiopian housemaid, who knifed her several times in the head and neck.
She slept in the same room as Israa and had hidden the knife there before committing her crime.
Israa's father said his daughter was asleep when the housemaid stabbed her. He added that his family had not mistreated the housemaid and had not noticed anything strange about her behavior.
Also, a 26-year-old Ethiopian maid confessed to killing her sponsor's six-year-old daughter Lamis inside the family home in Houtat Bani Tamim by slitting her throat with a meat cleaver. Police found Lamis dead in the bathroom in a pool of blood while the maid was found hiding inside a storage room with a cleaver in her hand.
She tried to attack police officers with the cleaver but surrendered a few minutes later.
She admitted to the crime and said she got sick and tired of the way the family had been treating her and decided to exact revenge on them by killing the girl.
The case has been referred to the Bureau of Investigation and Prosecution.
In addition to these crimes, an Indonesian maid was charged with decapitating four-year-old girl Tala with a cleaver while her parents were away at work and her sisters were at school.
The maid was sentenced to death.
In court, the maid responded to the judge's question about why she committed the murder by saying: "Not me, it was the devil who killed her".
The Ministry of Labor has suspended the recruitment of domestic helpers from Ethiopia following these incidents. However, these murders are not new, with similar incidents happening in the past.
While it could be difficult for the society to give up on housemaids now, there are calls for the government to come up with an alternative solution to minimize the risks posed by such workers.
Nadia Salama, a 32-year-old mother of two, said maids should undergo psychological evaluations before they are allowed to work at homes here.
She said: "I believe if a maid reached a level of committing murder, it means she must be treated really badly. However, there are some maids who already have criminal backgrounds that we don't know of and they should be investigated before they are sent here."
Salama said that many of the murders were said to have involve various rituals and sacrifices, which she did not believe to be true.
However, she said the Kingdom should not recruit maids with different or unfamiliar ideologies so employers could at least communicate better with them.
Rimal Jaber, a 36-year-old mother of four, said that she does not want to bring new maids into her house due to these incidents.
She said: "I have two Indonesian maids. One of them has been with me for four years and I still worry about leaving my kids with them all the time.
"I would never bring Ethiopian maids after those kids were brutally murdered.
Jaber also believes that household workers should be interviewed and checked for criminal records or behavior, not just have blood tests.
The Center for Housemaids' Affairs in Riyadh has hosted 200 Ethiopian maids over the past two months for refusing to work due to psychological problems, Al-Riyadh newspaper reported.
The Ministry of Labor in coordination with the Ministry of Interior has temporarily halted the recruitment of Ethiopians until necessary studies of available data regarding crimes committed by them are completed. The ministry said a final decision would be made based on the findings of these studies.
The Kingdom was rocked by the gruesome murders committed by Ethiopian maids against children of their sponsors, with some believing religious beliefs contributed to the murders, while others believed the maids suffered from psychological and mental problems.
In recent months, a citizen and her child in Yanbu managed to escape from their maid who was trying to kill them, while a citizen in Zulfi governorate narrowly escaped his cleaver-wielding maid.
Other crimes committed by maids include the killing of a child in Al-Ras, multiple stabbings of children in Hafr Al-Batin and Al-Ras and a hammer attack against a citizen.
Head of the psychiatric ward at Al-Amal Hospital, Dr. Abdullah Al-Waylee, said: "These crimes do not excuse us from the responsibility of allowing the culprit the chance to commit the crime.
"Such crimes typically take place due to poverty and mental and behavioral disturbances these maids experience. In addition, some housemaids may be subjected to abuse at the hands of their host family and this results in a violent response."
He said studies show family members are at an increased risk of violence in their homes than any other place. "Maids running away or committing crimes is an indication that they have been abused."
http://www.saudigazette.com.sa/index.cfm?method=home.regcon&contentid=20130814176804
-----------
Daughter arrested in UAE for stealing 20kg of mother's gold
August 14, 2013
A 20-year-old has been arrested in the United Arab Emirates after allegedly trying to escape with gold jewelry worth 3 million dirhams ($816,771) belonging to her mother, Dubai-based Gulf News reported.
The Indian woman, referred to by police as N.K.D, was arrested at the airport of the emirate of Sharjah.
Her mother had left her waiting in a taxi holding the 20 kilograms of jewelry outside the customs department in the free zone of the airport, while she finalized documents to take the gold back to India, the newspaper reported.
The mother, believing her daughter had been kidnapped, called Sharjah police to report her as missing, police told Gulf News.
However, the girl was arrested at the airport hours later.
Police believe she had turned off her phone and taken her mother's gold to her boyfriend, with whom she was planning to elope.
The man, who is Pakistani, was planning to follow his girlfriend after securing a way to transport the jewelry outside the country, police said.
http://english.alarabiya.net/en/variety/2013/08/13/Daughter-arrested-in-UAE-for-stealing-20kg-of-mother-s-gold.html
-----------
Marriage Registration to Become Mandatory In India
TNN | Aug 14, 2013,
NEW DELHI: The Rajya Sabha on Tuesday passed a bill to make registration of marriages, irrespective of religion, mandatory under the Registration of Births and Deaths Act, 1969, which currently only regulates registration of births and deaths.
The amendment to the bill seeks to amend the Act to include the registration of marriages within its purview.
The Registration of Births and Deaths (Amendment) Bill, 2012, which was passed by voice vote, defines marriage to include marriage solemnized between a male and female belonging to any caste or religion. It also includes re-marriage.
Marriages already registered under the Anand Marriage Act, state laws or any other existing law are not required to be registered under the Bill.
Moving the amendment bill for consideration and passing, the law minister Kapil Sibal said the government will file a review petition in the Supreme Court against its earlier order in 2006 where it had sought to scrutinize the law after it was passed by Parliament.
"The Supreme Court had rendered this judgment in 2006 that the law once passed in Parliament must be placed before the court for scrutiny. We are not entirely happy with this direction...We will be filing a review petition. This part of judgment should be expunged," Sibal said.
Noting that there were enormous benefits of registering marriages, the minister said people should not be penalized for not doing the registration. There is "enough leeway" in the Act and state governments are free to make rules. The Bill is not quasi-judicial power for determining whether marriages are valid or invalid, he said in response to the debate on the bill.
The amendment bill will benefit women as the registration certificate would provide evidential value in matrimonial and maintenance cases and prevent unnecessary harassment meted out to them. It will also provide evidential value in matters of age of parties, custody of children and right of children born out of such marriages.
Muslim community leaders welcomed the move to register marriages, but with a rider. Zafarul-Islam Khan, president, All India Muslim Majlis-e Mushawarat (AIMMM) — an umbrella body of Muslim organizations — said, "This is a welcome move by the government."
However, the All India Muslim Personal Law Board working committee member S Q R Ilyas said registration of marriages should be optional and not compulsory due to social and legal reasons. "A large chunk of our population lives in rural areas where facilities for registration are hard to come by. Also, think about the poor. Unless the government ensures that marriage registration facilities are accessible to all, it should not be compulsory," he said.
Besides, Muslim marriages are solemnized by a qazi or imam. "The government should have a provision to recognize the qazi or the imam who issues the nikahnama," said Ilyas.
http://timesofindia.indiatimes.com/india/Marriage-registration-to-become-mandatory/articleshow/21814554.cms
--------
HIV Positive Women Prime To Cervical Cancer - Expert
August 14, 2013
ABUJA - A Reproductive Health Expert, Dr Oscar Ambani, has said that HIV positive women are more at risk of contracting cervical cancer due to their weakened immune system.
Ambani also told newsmen in Abuja that a recent study had revealed that women usually waited until they felt weak and unwell before visiting the hospitals.
He said it was saddening because most of these women already had cancer of the cervix without knowing.
The doctor said, "When we talk about the causative organism in cervical cancer, it is HPV, which is the Human Papilloma Virus.
"Actually in HIV, we are talking about immune suppression because of the viral infection, this organism, HPV, takes advantage of the fact that the body's mechanism of defence is low.
"This increases the chances of the woman going into the worst stages of the disease."
Ambani said that statistics had shown that the number of cancer cases that had "gone to fatalities'' were women who visited the hospitals for the first time for treatment.
According to him, cervical cancer is the second leading cause of cancer deaths in women and it is responsible for about 270,000 deaths worldwide annually.
Ambani said that although the main cause of cancer was not known, it could be prevented by healthy lifestyle, increased physical exercises, and reduced fatty foods, among others.
He said that there was the need to curtail the disease at the early stage by ensuring early detection as the disease could be managed if detected early.
Ambani said that cervical cancer usually occurred in women between the ages of 30 years and 45 years, and stressed the need for yearly screening for women in the reproductive age bracket.
He said that women exposed to sexual intercourse at an early age were at a greater risk of contracting cervical cancer.
The expert recommended that women should go for cervical cancer screening at least every three years till the age of 65 to ensure early detection and treatment.
He urged women, who were still ovulating to examine themselves a day after their menstrual period, while menopausal women should have self-breast examination monthly.
Ambani also called on government at all levels to improve the capacity of doctors through training to enable them handle "pre-cancerous conditions''.
http://nigerianobservernews.com/13082013/news/news12.html
-----------
Star Wars Style: Girl Makes Hijab into Princess Leia Headwear
August 14, 2013
American YouTube user Nye Armstrong has nearly 12,500 subscribers, and there's a good reason why!
Posting hilarious tutorials on her YouTube channel, this DIY diva's videos have a twist. Nye is a Muslim and wears a Hijab and all her videos are aimed at a similar audience - she posts how to put on appropriate Eid makeup, tips for the modern girl during Ramadan and how to get your Hijab to look amazing.
One tutorial in particular has caught the eye of 23,000 viewers - and it's one where she shows her audience how to easily transform their Hijab into Princess Leia hair buns, Star Wars style!
Recently featured on BuzzFeed, we have a feeling that her channel, with hilarious videos like this one, will soar in popularity!
May the force be with you!
http://www.albawaba.com/editorchoice/star-wars-hijab-youtube-513320
-----------
Jeddah: 40 Lashes for Harassing Girls
August 14, 2013
JEDDAH – Jeddah District Court sentenced a young man to 40 lashes for harassing girls at a resort in Jeddah. The girls reported the man to security guards who called the police immediately. The man admitted the charges in court.
http://www.saudigazette.com.sa/index.cfm?method=home.regcon&contentid=20130814176767
------------
Indian girl, Pak boyfriend arrested for smuggling
August 14, 2013
Dubai An Indian girl and her Pakistani boyfriend have been arrested for trying to rob and smuggle 20 kilograms of her mother's gold jewellery in order to settle down outside the country, Sharjah police have said.
The 20-year-old girl, identified only by her initials as NKD, disappeared after her mother left her in a taxi giving the impression that she has been kidnapped.
However, it turned out that the two eyed around Rs. 5 crore (3 million dirhams) worth of gold for a new life abroad.
According to reports, her mother was preparing documents to take the gold back to India at the Sharjah Customs Department when the incident happened.
The police said the mother informed them that her daughter had gone missing but it was later discovered that she was not kidnapped.
The girl switched off her phone and took the gold to her boyfriend identified as MAM, a Pakistani, who had conspired with her to quietly slip out of the country.
The plan was that he would follow his girlfriend after finding a way to transport the jewellery, police said.
Police said it quickly formed an investigative team which arrested the girl within hours as she tried to escape through one of the country's airports.
According to police, the duo have confessed to their crime and have been referred to Sharjah Public Prosecution.
http://www.hindustantimes.com/world-news/RestOfAsia/Indian-girl-Pak-boyfriend-arrested-for-smuggling/Article1-1107963.aspx
-----------
URL: https://www.newageislam.com/islam,-women-and-feminism/new-age-islam-news-bureau/iranian-woman--too-sexy--for-council-career--religious-conservatives/d/13029