New Age Islam News Bureau
13 July 2022
• "Ms. Marvel "On Disney Plus Has Resonated With Muslims in the West
• Netflix Launches Section for Films by Female Arab Directors
• In UAE, Women Led the Way to Launch Businesses after Pandemic Disruption
• Afghan Girls Face Bleak Future As Ban On Secondary Education Persists
Compiled by New Age Islam News Bureau
URL: https://newageislam.com/islam-women-feminism/iranian-rights-activists-unveil/d/127471
-------
Iranian Rights Activists Urge Iranian Women to Publicly Unveil To Protest Crackdown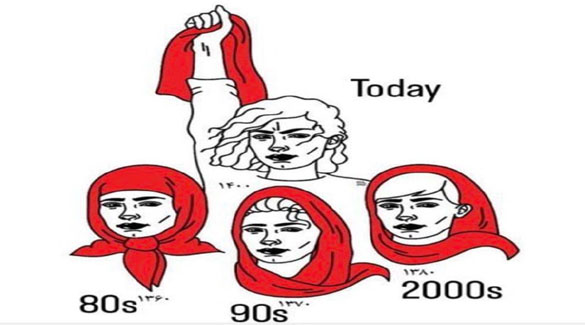 A poster, depicting the appearance of women in Islamic Iran, widely shared on social media. (Photo: Twitter/@@SharOBalaa)
-----
12 July, 2022
Iranian rights activists have urged women to publicly remove their veils on "National Day of Hijab and Chastity" on Tuesday, risking arrest for defying the Islamic dress code as the country's hardline rulers crack down on "immoral behavior."
Under Iran's Islamic law, imposed after the 1979 revolution, women are obliged to cover their hair and wear long, loose-fitting clothes to disguise their figures. Violators face public rebuke, fines or arrest.
But decades after the revolution, clerical rulers still struggle to enforce the law, with many women of all ages and backgrounds wearing tight-fitting, thigh-length coats and brightly colored scarves pushed back to expose plenty of hair.
Critics and activists see the establishment's stepped-up efforts to enforce hijab compliance as part of a wider clamp-down on dissent amid deepening resentment over economic hardship at home and growing Western pressure on Iran over its disputed nuclear program.
As the state holds ceremonies across the country to celebrate the "National Day of Hijab and Chastity," rights activists have criticized the move and called on women to remove the veil.
"The National Day of Hijab and Chastity is only an excuse to target women and launch a new wave of repression against Iranian people and in particular women," dozens of prominent women's rights activists said in a joint statement on Monday.
In a display of civil disobedience, the hashtag #No2Hijab has been widely distributed on social media for days by Iranians outside and inside the country.
Videos of women removing their hijab as they walk in the streets or resisting the morality police have flooded social media. Reuters could not verify the authenticity of the videos.
"I should have the right to decide what I want to wear and not be imprisoned because of my choice. #No2Hijab," tweeted a female user.
No veil to remove
Some women who voluntarily wear a veil and men have joined the campaign too.
"I don't have a veil to remove. But I will come to the street to support and defend the women and girls of my land. #No2Hijab," tweeted @mashmolak.
The New York-based International Campaign for Human Rights in Iran (ICHRI) said on Monday there were "serious concerns over more potential violence and detentions on July 12."
Iran's semi-official Fars news agency said several people were arrested on Monday.
The #No2Hijab campaign overlapped with months of protests by teachers, retirees, workers and government employees over unpaid wages, low pensions and sky-rocketing food prices that have hurt the establishment's legitimacy with protesters calling for political change.
"This is like pouring fuel on fire. People are already angry because of high inflation and rising prices. They are very frustrated," said a former Iranian government official. "Coercion has never worked."
Waves of the hijab protests have hit the clerical establishment in the past years. In 2014, rights activist Masih Alinejad started a Facebook campaign "My Stealthy Freedom", where she shared pictures of unveiled Iranian women sent to her.
It was followed by a campaign in 2017 for women to wear white headscarves on Wednesdays and the hijab protests in 2018 when women took to the streets holding their veils aloft. Dozens of women have been jailed in Iran for their activism against forced veiling, according to rights groups.
"The establishment fears a revolution by women that has already started today," Alinejad told Reuters.
Source: Al Arabiya
https://english.alarabiya.net/News/middle-east/2022/07/12/Activists-urge-Iranian-women-to-publicly-unveil-to-protest-crackdown-
-------
"Ms. Marvel "On Disney Plus Has Resonated With Muslims in the West
Ms. Marvel as a Pakistani Muslim woman
----
Jul 13, 2022
Jumana Zakir knows who she is going to be for Halloween this year. Hint: Her new favorite superhero is a lot like her – female, teen, Muslim, American and "totally awesome."
"Kamala Khan is me," said the exuberant 13-year-old from Anaheim, California. "She is just like me."
Khan is the Marvel Cinematic Universe's first Muslim superhero to headline her own television show. "Ms. Marvel," which launched on Disney+ June 8, has struck a chord with South Asian Muslims in the West because of its relatability and how it portrays Muslim families. Advocates for inclusion and representation hope the show will open the door to more nuanced on-screen portrayals of Muslims and their rich diversity.
The show tells the story of Khan, played by Pakistani Canadian actor Iman Vellani, getting her powers from a magical bangle that allows her to walk on air and conjure glowing light shields. But she is also a regular South Asian Muslim teen who goes to mosque, performs wudu or ritual ablution before praying, sometimes wears traditional attire called shalwar kameez, dances to Bollywood numbers at her brother's wedding, and breaks curfew to hang out with her buddy Bruno Carrelli at AvengerCon.
The final episode of the series is expected to drop Wednesday.
Munir Zamir, who is British Pakistani and grew up in East London, said seeing a "brown, Pakistani Muslim girl from New Jersey" in the comic books and, now, watching "Ms. Marvel" with his teenage children -- has been powerful. Zamir, 50, has been a Marvel fan since he was 7 and has followed the evolution of Kamala Khan since Ms. Marvel's inception in comic books in 2014.
"For Muslims in particular, representation matters a lot because, for many years, misrepresentation has mattered too much," he said.
Zamir points out that there are other Muslim superheroes in the Marvel universe like Sooraya Qadir also known as Dust. She wears a flowing black outfit, covers her hair and face, and can transform her body into a cloud of dust.
"Even in that description there are some classic tropes," Zamir said. "But Kamala Khan is not some exotic woman from a Muslim country. That instantly sets her apart in the Marvel universe."
The diverse experiences of Muslim women in "Ms. Marvel" are among aspects that stand in contrast to findings of a report published last year examining Muslim representation across 200 top-grossing movies from the U.S., the U.K., Australia, and New Zealand that were released between 2017 and 2019.
The study found women were particularly underrepresented, with just 23.6% of Muslim characters in these movies being female. Conducted by the University of Southern California's Annenberg Inclusion Initiative, with support from others, it also found that 90.5% of these films didn't feature Muslim speaking characters and yet 39% of "primary and secondary" Muslim characters were perpetrators of violence.
Making Ms. Marvel more relatable was intentional, said Sana Amanat, one of Kamala Khan's creators and an executive producer on the show. She wanted to portray a Muslim character who "feels like someone you know."
"She is not put on a pedestal," she said. "She is awkward. She is funny. She is a sweet person who ultimately wants to do better."
Amanat and her co-creators felt it was important to show Khan's everyday life as a Muslim American teen.
That idea of normalcy resonated with Hiba Bhatty, a Pakistani American fan of the show. She particularly liked how Khan's father, Yusuf, was portrayed as "a loving dad," as opposed to a scary stereotype.
Bhatty, a Los Angeles-based architect, previously displayed Ms. Marvel comics on her desk at work as conversation starters. Now, she is getting ready to give co-workers a "Ms. Marvel" presentation. To her, it exemplifies how many in her community have moved beyond wanting to just be portrayed as "normal Americans," to actually telling their own nuanced stories.
"Ms. Marvel" is also "reclaiming language that has been weaponized against Muslims," said Arij Mikati, managing director of culture change for the Pillars Fund, which supports Muslim civic leaders and artists.
In one scene, Khan and her family joyously break into chants of "Allahu akbar," or "God is great," in celebration of her brother's wedding.
"When you hear the call to prayer, that's usually a sign that you're somewhere unsafe on television," Mikati said. "And all of these things are being reclaimed in this show.... That's really beautiful because those day-to-day, small moments of our faith have really been taken from us in the media."
Pillars Fund's initiatives include a Muslim artist database, created in collaboration with and support from The Walt Disney Company, to bring more Muslims into the filmmaking process.
"A superhero story is not a genre where you expect a Muslim to be, and I love that this story is changing that," Mikati said.
The show touches on issues from surveilling mosques to what wearing head scarves means for some. Khan's friend, the hijab-wearing Nakia Bahadir, is played by Yasmeen Fletcher. One of the most important conversations between Khan and Bahadir happens in the girls' restroom, where Bahadir talks about how she feels like herself, with a purpose, when she dons her hijab.
Jumana, the teen from Anaheim who plans to wear a hijab in a year or two, said she appreciated the show's portrayal of what the hijab means to some young girls like her.
"My non-Muslim friends already know about my decision and respect it," she said. "But if more people can realize that by watching this show, that's great."
Fletcher said she has been touched by such powerful responses.
"The whole point of Nakia's character is to break down the stereotypes around hijabi women," she said.
For the show's seven writers – four of whom are Pakistani – representing Muslims and South Asians realistically was crucial, said the show's head writer Bisha K. Ali, who is British Pakistani.
"We felt a hunger for being seen in a way that was celebrated and beautiful, and comes from a place of love and compassion," she said.
While it's impossible to capture the experience of nearly 2 billion Muslims, Ali said the writers leaned into telling the story of this one family in an authentic way.
The show takes a similar approach to talking about the Partition in 1947 when British India was divided along religious lines into India and Pakistan, triggering one of the largest mass migrations in history. The violence from tensions between Hindus and Muslims led to a refugee crisis, which the show weaves in as part of Khan's family history.
Ali said the show's goal was not to point fingers in any direction, but to tell one family's story of the inter-generational trauma triggered by this chapter of history, and convey "a sense of empathy for the amount of pain on all sides."
Ali described the mood in the writer's room as "incredibly emotional," as they talked about what their mosques were like growing up and contacted relatives on WhatsApp to gather more details.
Sitting in the belly of Marvel Studios in a windowless conference room, Ali said she had lost count of the number of times the writers looked at each other as if to ask: "Are we really here? Are we really doing this?"
Source: The Daily Star
https://www.thedailystar.net/entertainment/tv-film/news/muslim-fans-see-reflection-their-lives-ms-marvel-3069101
-------
Netflix launches section for films by female Arab directors
David Tusing
Jul 12, 2022
Netflix has released a catalogue of 21 films that it hopes will shine a light on and "celebrate the creativity of the Arab world's greatest female storytellers".
Spanning various genres including documentary, drama and romance, the films are accessible under a dedicated collection called Because She Created, and include works by acclaimed directors from Algeria, Egypt, Jordan, Kuwait, Lebanon, Morocco, Palestine, Saudi Arabia, Sudan, Syria and Tunisia.
"Women filmmakers have beautiful, complex, and nuanced stories to tell — stories which have the power to resonate with people not just in the Arab world, but across the globe. Arab women have been telling these stories for decades," the streaming service said.
Titles include Let's Talk by renowned Egyptian filmmaker Marianne Khoury. A dive into the life of legendary Egyptian director Youssef Chahine, who is also Khoury's uncle, the 2019 documentary film is told from the perspective of four women representing different generations in the family.
Stateless by Moroccan director Narjiss Nejjar looks at North African history from a female perspective, while Suha Arraf's Villa Touma, her debut feature which was released in 2014, is set in Ramallah and follows three Palestinian sisters who cling to their aristocratic past and whose lives are turned upside down when their niece comes to live with them.
Tunisian filmmaker Leyla Bouzid's A Tale of Love and Desire is a love story set in Paris between a French-Algerian freshman and his Tunisian classmate, and how their attraction to each other clashes with their respective values.
Meanwhile Saudi actress Ahd Kamel directs and stars in Sanctity, about a recently widowed and pregnant woman who tries to make ends meet while fending off a persistent suitor.
"While these stories are distinctly and authentically Arab, the themes will resonate with women across the world, uniting women from all walks of life through beautiful and poignant series and film," Netflix said.
"We hope these voices provide inspiration for the wider creative community and highlight the importance of equitable representation storytelling, and why it matters."
Netflix launched the Because She Created platform last year as a virtual panel discussion hosting Arab women filmmakers to talk about the evolving role of women in the Arab film industry. It also teamed up with the Cairo International Film Festival in December to host a second event as a fireside chat with renowned actress Hend Sabry.
Earlier this year, Netflix awarded a grant to five female Arab filmmakers to help them bring their projects to life on screen.
The one-time grant worth $250,000 was awarded through its Netflix Fund for Creative Equity launched in 2021 in partnership with the Arab Fund for Arts and Culture.
The 21 films in the Because She Created collection can be found at netflix.com/becauseshecreated.
Source: The National News
https://www.thenationalnews.com/arts-culture/film/2022/07/12/netflix-launches-special-section-for-films-by-arab-women/
-------
In UAE, women led the way to launch businesses after pandemic disruption
July 13, 2022
Dubai: The pandemic sure had positive outcomes too – more women in the Middle East and elsewhere used the disruptions to launch startups. It was effectively about women seeking to take 'control of their careers', according to new data from LinkedIn.
In a way, these women by launching their own businesses were doing their bit to close the gender gap. In 2020, women-owned startups were up 68 per cent in the UAE while those launched by men recorded a 46 per cent increase compared to 2019.
"Women's careers faced many challenges during the pandemic as they were more likely to work in service sector jobs such as retail and hospitality, which were most affected by lockdowns," the report states. "The pandemic also saw many women bear the double responsibility of work and caregiving, forcing them to seek greater flexibility than they were offered by their employers."
According to Sue Duke, Head of Global Public Policy at LinkedIn, "The pandemic hit working women harder than men, as traditional gender roles took hold and female-dominated sectors bore the brunt of lockdowns."
Gender diversity problems persist
LinkedIn released these finds as part of the 2022 Global Gender Gap Report, which shows women remain under-represented in leadership positions globally. In the UAE, they hold only a fifth of leadership roles. "While women hold almost a third of entry-level roles in UAE, they hold under a quarter (22 per cent) of managerial roles and a little over one eighth (13 per cent) of C-suite leadership roles," LinkedIn finds.
The UAE government has passing laws in these three years towards ensuring equal pay and a 50:50 representation in the Federal National Council. All publicly-listed companies must have at least one woman as board member. It also enacted legislation that prohibits all forms of discrimination in the workplace on the basis of gender, race, color and national origin.
The new LinkedIn findings also record gender bias in internal promotions, with men being almost a quarter more likely (22 per cent) to receive internal promotions to leadership roles than women in 2021 on average. This goes up to 33 per cent for men at the global level.
The sectors that saw the largest share of participation from women in the UAE were education (54 per cent), wellness and fitness (50 per cent) and healthcare (44 per cent). Even within these sectors, female leadership was still below parity at 44-, 38- and 26 per cent, respectively.
"The serious lack of women in leadership positions continues to be a real problem, yet data shows that male colleagues are far more likely to be promoted into leadership roles," said Sue.
Source: Gulf News
https://gulfnews.com/business/markets/in-uae-women-led-the-way-to-launch-businesses-after-pandemic-disruption-1.1657697541964
-------
Afghan Girls Face Bleak Future As Ban On Secondary Education Persists
13 July, 2022
Kabul [Afghanistan], July 13 (ANI): The Taliban's ban on secondary education has already caused girls in Afghanistan to lose 300 days of their studies with devastating consequences for them, their families, and the country's future, New York-based Human Rights Watch (HRW) said on Wednesday in a new video feature.
The video features six prominent Afghan women: Tamana Ayazi, a filmmaker; Sahar Fetrat, a Human Rights Watch researcher; Yalda Hakim and Zahra Joya, journalists; Elaha Soroor, a musician; and Heela Yoon, an activist. They discuss how education changed their lives and the devastating consequences of the current ban for this generation of Afghan girls.
"It feels beyond belief that we could be having a conversation in 2022 about whether girls should be allowed to study," said Sahar Fetrat, assistant women's rights researcher at Human Rights Watch and the producer of the project. "We're so grateful to the strong Afghan women who spoke with us. The world should listen to them and do more to end this shocking abuse. Every day, millions of Afghan girls are losing opportunities and dreams they can never get back."
The Taliban took over Afghanistan in August 2021 and imposed policies severely restricting basic rights–particularly those of women and girls. They dismissed all women from leadership posts in the civil service and prohibited girls in most provinces from attending secondary school. According to HRW, Taliban decrees prohibit women from traveling unless accompanied by a male relative and require women's faces be covered in public–including women TV newscasters.
The Taliban have carried out broad censorship, limiting critical reporting, and have detained and beaten journalists. Taliban forces have carried out revenge killings and enforced disappearances of former government officials and security force personnel.
On September 18, 2021, a month after taking over the country, the Taliban ordered the reopening of boys' secondary schools but made no mention of girls' secondary schools. This was interpreted as a ban on girls' secondary education. In several provinces, under community pressure, Taliban officials allowed girls' secondary schools to reopen, but the vast majority of these schools remained closed.
On March 21, 2022, the Taliban pledged to reopen all schools on March 23, but on that date they closed girls' secondary schools again. An indefinite ban remains in place with no clarity about when or if these schools will reopen. Yalda Hakim, a BBC news presenter who participated in the project, has been counting down on Twitter the days since the ban began, on July 14 it will be 300 days. (ANI)
Source: The Print
https://theprint.in/world/afghan-girls-face-bleak-future-as-ban-on-secondary-education-persists/1036869/
-------
URL: https://newageislam.com/islam-women-feminism/iranian-rights-activists-unveil/d/127471
New Age Islam Islam Online, Islamic Website, African Muslim News, Arab World News, South Asia News, Indian Muslim News, World Muslim News, Women in Islam, Islamic Feminism, Arab Women, Women In Arab, Islamophobia in America, Muslim Women in West, Islam Women and Feminism